Buongiorno and welcome to Stefano Rome Tours, Rome's leading tour company for private Rome Tours, Tuscany Tours, and Amalfi Coast Tours from Rome
If you're dreaming of a journey to some of Italy's most enchanting destinations like the Eternal City of Rome, Tuscany, the sparking Amalfi Coast, the verdant Umbria, or the bucolic Roman Countryside, you've made a perfect choice. Italy is a country that bewitches with its rich history, breathtaking landscapes, and sumptuous cuisine.
However, deciding when to travel to Italy can make all the difference in your experience. Each season offers its unique charm and character - as well as upsides and downsides. In this guide, we'll explore the best time of year (and the worst time of the year for balance) to visit these mesmerizing locations to help you make the most of your trip.
Best Time to Visit Rome, Tuscany, Amalfi Coast,
& Other Italy Top Destinations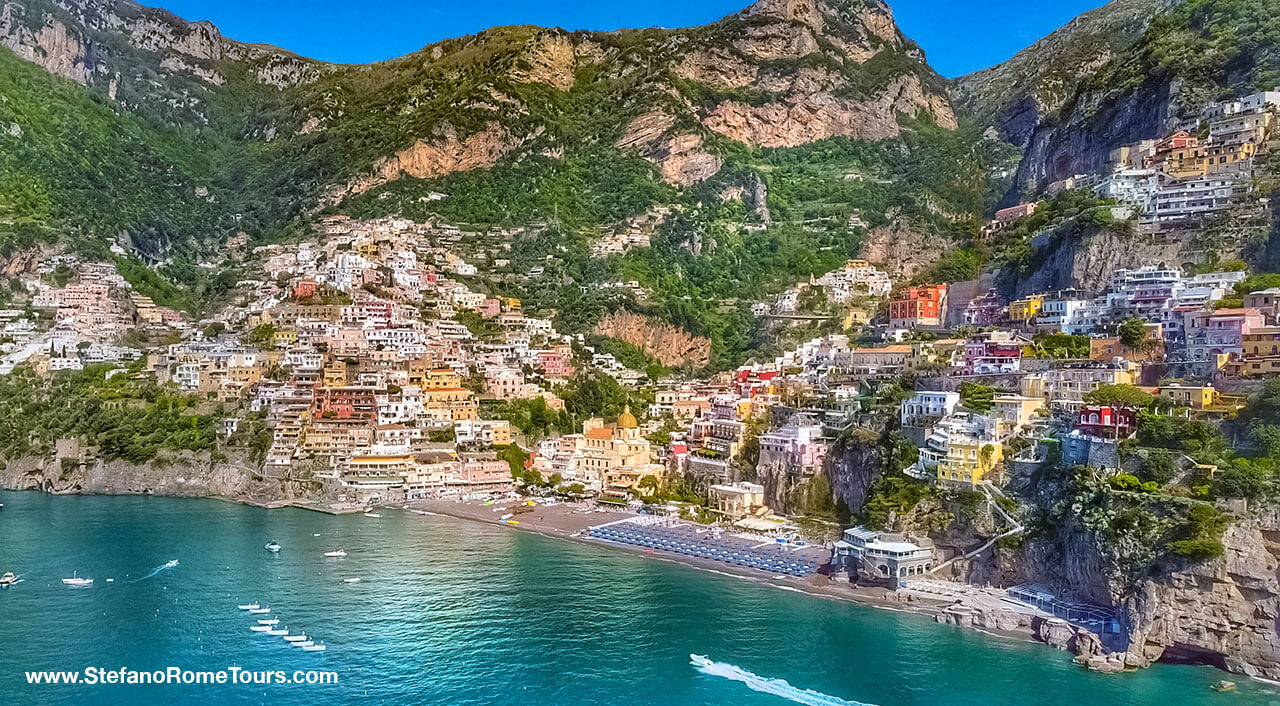 Visiting Italy in Spring: March to May
Spring in Italy is a time of rebirth and renewal. The landscapes burst into vibrant colors, and the weather is pleasantly mild, making it one of the best times to visit Rome, Tuscany, Amalfi Coast, Umbria, and other enchanting locations in Italy.
Tuscany in the Spring is at its most picturesque with rolling hills carpeted in wildflowers and vineyards awakening from their winter slumber. When you wonder what are the best months of the year to visit Tuscany, spring months top the list.
For wine enthusiasts, it's a dream come true, as spring allows you to enjoy a splendid wine-tasting tour in a tranquil setting, avoiding the bustling crowds that often descend on Italy's wine country during the busy summer season and fall months during the grape harvest.
Don't miss exploring historic cities such as Montepulciano and Pienza from Rome, or Cortona and Arezzo for some Under the Tuscan Sun adventures when they are bathed in soft spring sunlight. Our Majestic Tuscany tour from Rome takes you to some of the most breathtaking Tuscan villages and awe-inspiring valleys that are glorious in spring.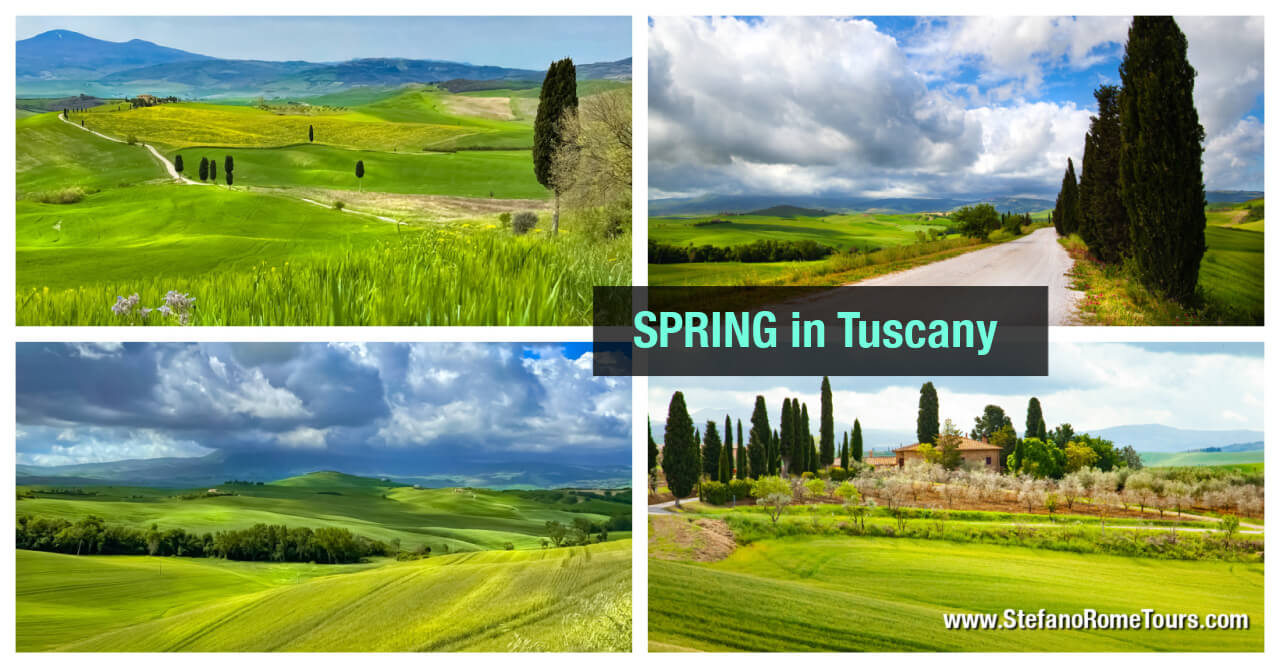 The Coast of Amalfi also comes to life in spring. The weather is perfect for Amalfi Coast Tours from Rome to explore the charming coastal towns of Positano and Sorrento without the summer tourist influx. The scent of lemon blossoms fills the air, and you can savor limoncello to your heart's content.
Spring in Rome is a season of rebirth and vibrant beauty. As winter recedes, the city bursts with color. Cherry trees bloom in EUR, the scent of orange blossoms fills Giardino del Arancio on Aventine Hill, and wisteria vines drape buildings in enchanting purple flowers.
The Spanish Steps are adorned with azalea flowers, creating a breathtaking floral display. Rome's parks and gardens, like Villa Borghese and the Rose Garden, offer fragrant settings for leisurely strolls. Sidewalk cafes are bustling with locals and tourists enjoying Italian espresso and gelato while people-watching. With milder weather and fewer crowds than summer, spring allows you to explore Rome's history, art, and culture at a relaxed pace.
Spring is often considered the best time to visit Italy for several compelling reasons.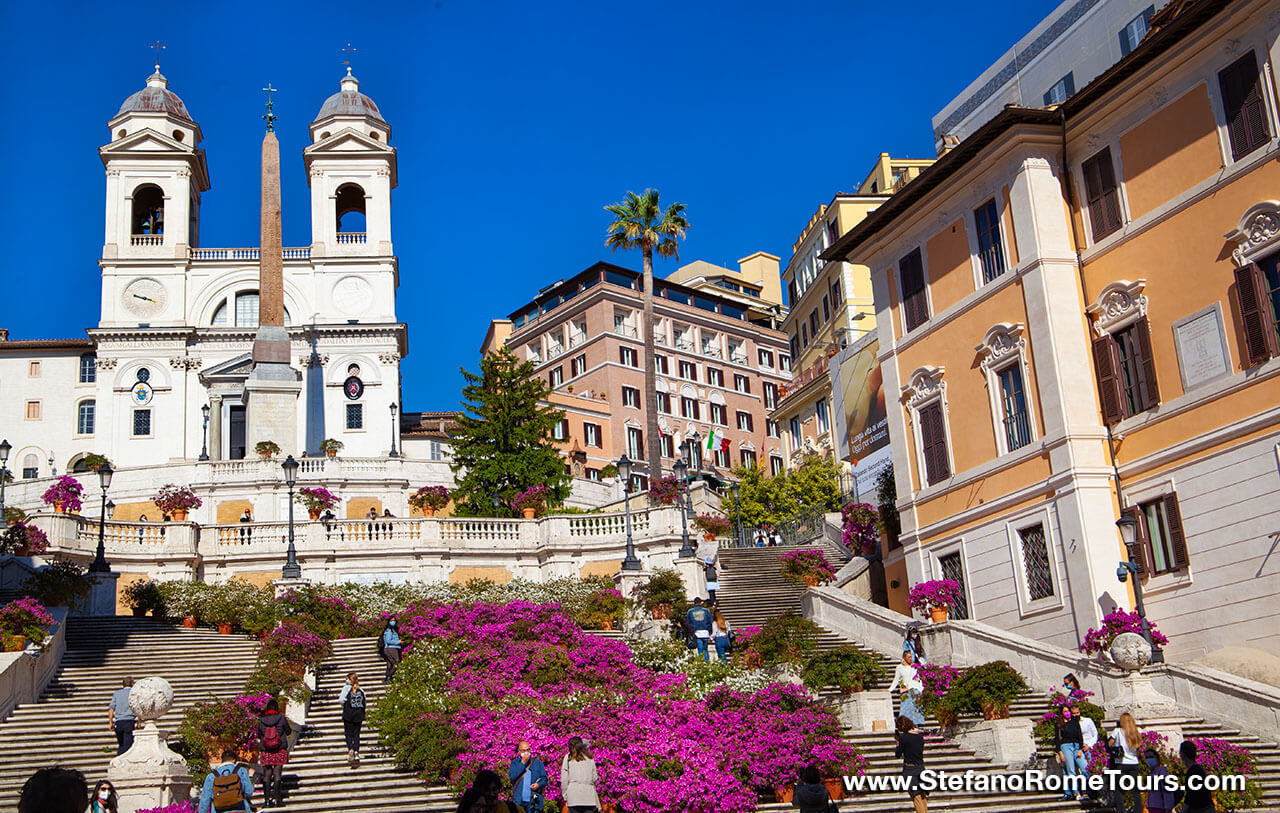 Top Reasons Why You Should Visit Italy in the Spring
Mild Spring Weather in Italy
Spring brings pleasant and mild weather to these regions. Daytime temperatures are typically warm but not scorching hot, making it ideal for outdoor activities and exploration. You can comfortably enjoy hiking, sightseeing through the cities, and alfresco dining without the discomfort of extreme heat.
If you plan to visit the Amalfi Coast for its beautiful beaches and coastal towns, the sea temperatures in spring are becoming suitable for swimming and water activities but haven't reached their peak warmth, making it refreshing and invigorating.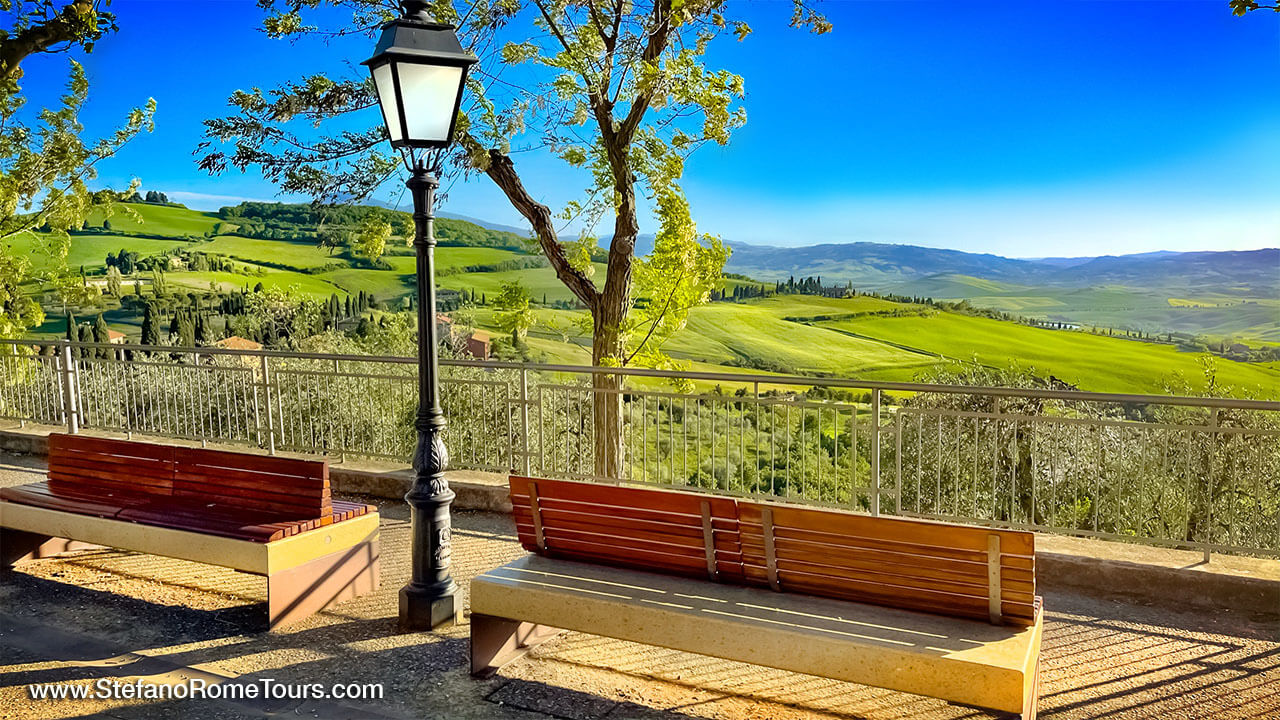 Blooming Landscapes during the Spring months
The countryside comes alive with vibrant colors during spring when flowers bloom and trees gain new leaves.
The rolling hills of Tuscany burst with wildflowers, and the Amalfi Coast's terraced gardens showcase a riot of blossoms. This makes for stunning, picturesque scenery and great photo opportunities and it's a wonderful time to explore Tuscany.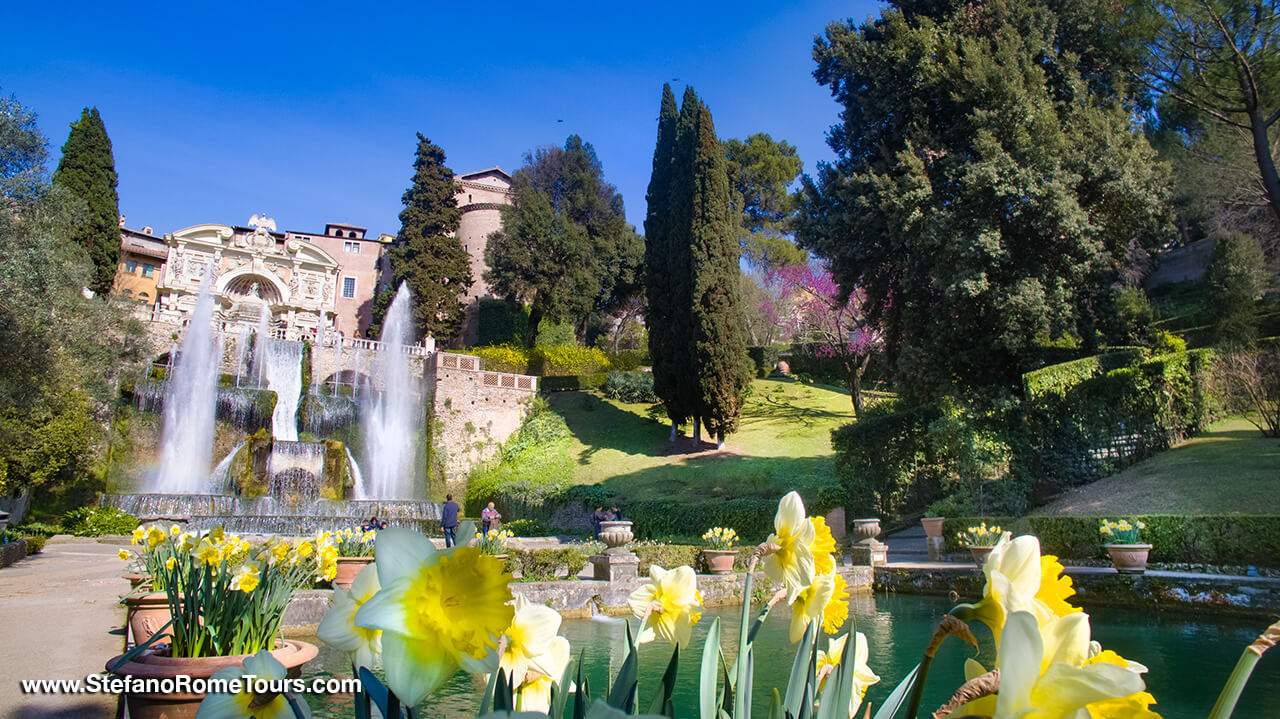 Spring is also a wonderful time of the year for a Tivoli Villas tour from Rome. Immerse yourself in the breathtaking gardens of Villa d'Este, where vibrant spring flowers and cascading wisteria adorn the landscape, enhancing the allure of its numerous fountains. Meander through the expansive imperial realm of Hadrian's Villa, relishing the mild temperatures and sun-drenched days that make this season ideal for exploration.
Rome, as mentioned above, becomes a burst of vibrant flowers that welcome the warm spring.


(enjoy this short video from our sister company RomeCabs)
There are Fewer Crowds in Italy in the Spring
Spring falls outside the peak tourist season, which means fewer crowds at popular attractions and a more relaxed atmosphere. You can explore museums, historic sites, and charming villages without long lines and crowded streets.


More Availability in Spring than in Summer
Spring, particularly in March through early April, presents tourists with an advantage in terms of accommodation and travel-related costs. During this period, you'll have a wider array of choices for places to stay and activities to enjoy.
However, it's important to note that after Easter, especially when Easter aligns with the pleasant weather of April, prices tend to rise, and availability starts to decline.
May marks the arrival of numerous cruisers in Rome, either in Rome Pre-Cruise, Post Cruise from Civitavecchia, or docking for the day for shore excursions from various ports along the Italian coast. This influx of cruise visitors can affect crowds, availability, and prices, so planning ahead remains a smart approach to making the most of your spring visit.
Spring Festivals in Italy and Cultural Events
Spring in Rome isn't just about the beautiful blooms and pleasant weather; it's a season filled with cultural events and festivals. Easter, celebrated grandly in Vatican City, offers awe-inspiring processions, the Pope's address at St. Peter's Square, and stunning floral decorations in the city's churches.
Immerse yourself in Italy's culinary heritage through food festivals, savoring authentic flavors. If you appreciate the arts, spring brings outdoor concerts and art exhibitions in picturesque settings, enhancing your cultural tapestry. Traditional historical festivals, like Assisi's Calendimaggio, also emerge from Italy's rich history, enriching your spring visit to Italy.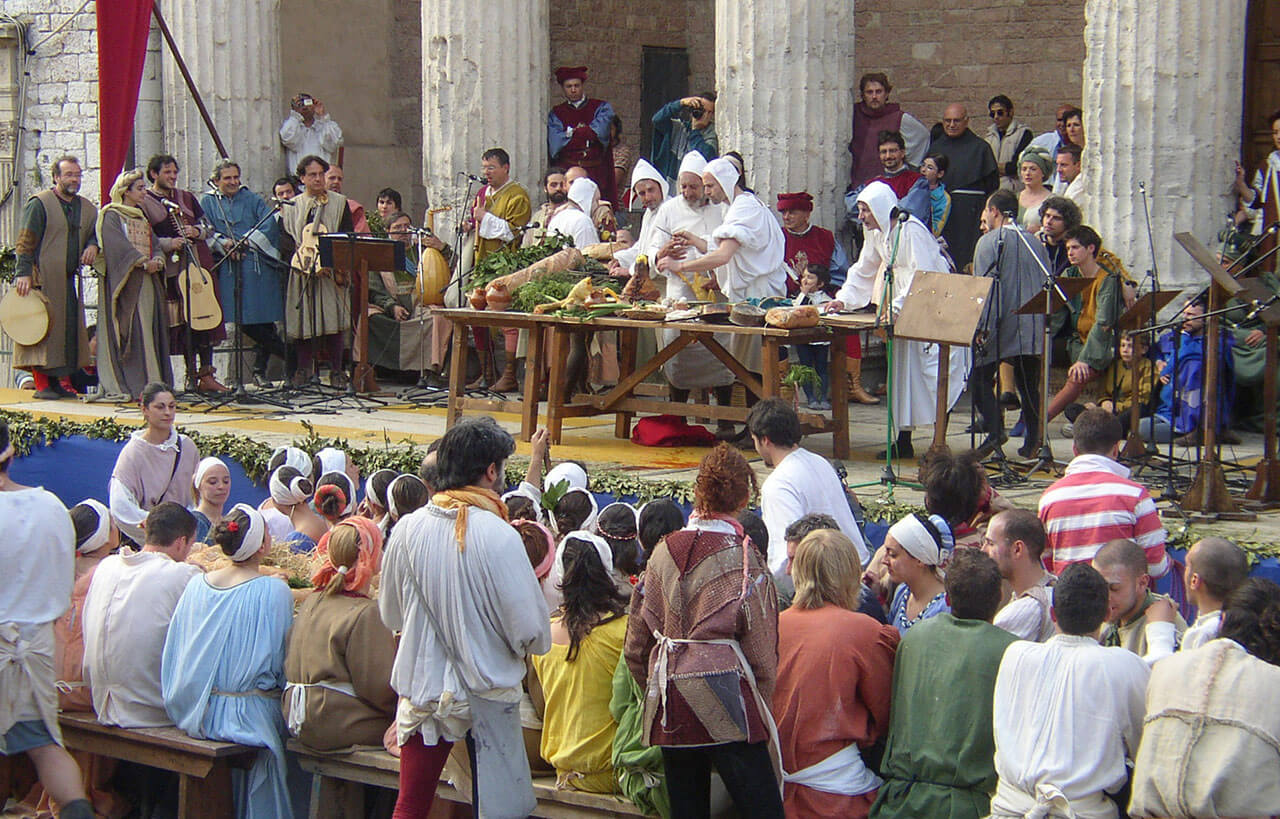 Comfortable Exploration during the spring months
You can explore historic cities in Tuscany and charming villages along the Amalfi Coast without the stifling heat of summer. Spring allows for comfortable sightseeing and leisurely strolls.
Spring Gastronomic Delights
Spring is the season for fresh, local produce. You can savor seasonal dishes featuring asparagus, artichokes, and other spring vegetables at local restaurants. Wineries also open up for tastings.
Overall, spring offers the perfect blend of favorable weather, fewer tourists, and the beauty of nature coming back to life, making it an excellent time to experience the enchantment of Tuscany and the Amalfi Coast.
Challenges of Traveling to Italy in the Spring


While visiting Tuscany and the Amalfi Coast in the spring offers numerous advantages and ranks as one of the best times of the year to visit Italy, there are also some potential downsides to consider.


Occasional Rain and Variable Weather in the Spring
While spring brings milder temperatures and sunny days, it can also bring occasional rain showers. Be prepared for some wet weather, especially in the earlier part of the season.
While spring generally brings pleasant weather, it can be somewhat unpredictable. You might experience warm and sunny days, but also cooler temperatures, especially in the evenings. Packing layers is advisable.
Tourist Crowds grow in later Spring
As mentioned above, late April through May is the most popular springtime to visit Italy by land and cruise, so you can expect more tourists compared to March or during the winter months.
April and May its not as crowded as the peak summer season, but many attractions (like the Colosseum and Vatican) and popular spots would still have long lines and larger crowds.
If you prefer to visit Italy in spring with fewer visitors, plan on traveling to Italy in March through early-mid April (or until Easter).
Higher Prices and decreasing Availability in Late Spring
With the increase in demand during the late spring months, prices for accommodations, tours, and activities may be higher than in the winter because spring also welcomes the start of the cruising season with hundreds of ships beginning their Mediterranean cruises that, as mentioned previously, either stop on Italy's shores for the day, or they begin and end at a Port in Italy such as Civitavecchia.
Due to the popularity of the late spring season with travelers and cruisers, popular accommodations and activities like Transfers and Tours in Italy can be booked quickly - especially in May through early June. It's important to plan and book ahead to ensure you get the experiences you desire.

Overall, spring emerges as the prime season for exploring Rome, Tuscany, the Amalfi Coast, and other top destinations in Italy. With its ideal weather, blossoming landscapes, and manageable tourist numbers, it strikes a harmonious balance.
While certain inconveniences like higher prices and advance bookings may arise, they are outweighed by the opportunity to witness these regions at their most picturesque and vibrant. Spring truly encapsulates the essence of Italy, making it a delightful choice for travelers seeking a well-rounded experience.
Visiting Italy in the Summer: June to August



Summer is the peak tourist season in Italy, drawing travelers from all over the world. If you don't mind the huge crowds and baking summer heat, the summer months offer many cultural festivals, open-air concerts, and lively street markets.
The beaches on the Amalfi Coast are inviting, and the crystal-clear waters are perfect for swimming and boating.
Savor exquisite Tuscan cuisine in the enchanting ambiance of open-air dining beneath the starlit sky.
As you explore the Tuscan countryside during June and early July, you'll witness the breathtaking sight of golden fields, ripe with wheat and ready for harvest, adding to the magical allure of your visit.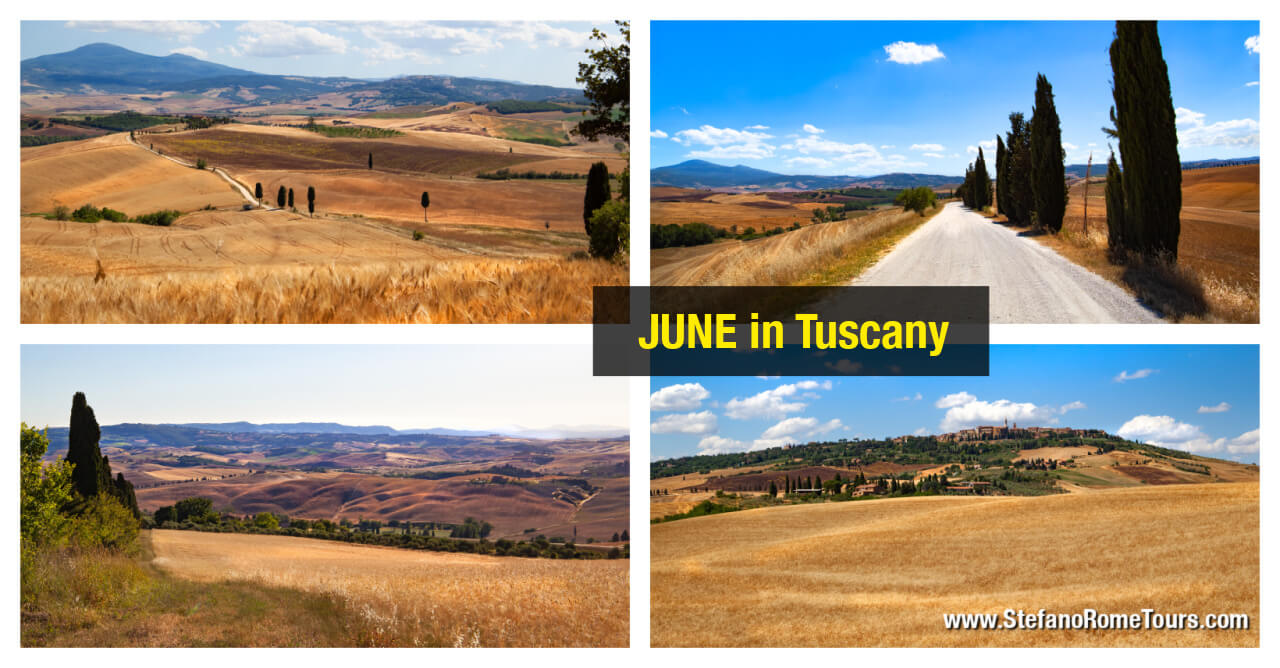 Summer in Rome extended daylight hours, ideal for exploring the city's iconic attractions and historical sites. With school summer breaks, families embark on memorable vacations. The warm evenings set the stage for open-air dining, indulging in a creamy Italian gelato, and immersing oneself in the vibrant atmosphere of summer festivals.
While summer can be a fantastic time to visit Italy, it may not be the best choice for everyone due to many drawbacks. Here is why we think summer is not the ideal time to travel to Italy.
Why Summer is NOT the best time to visit Italy
Huge Summer Crowds in Italy
Summer is the peak tourist and cruising season in Italy. Travelers from all over the world flock to these regions during this time by land or by sea. The result is crowded attractions, endless lines, and a less intimate experience.
In Rome, renowned sites become bustling hubs for tourists, while Tuscany's charming towns find themselves inundated with summer visitors. Along the enchanting Amalfi Coast, seaside towns teem with beachgoers, and the once tranquil beaches take on a crowded disposition.
If you seek a more serene and peaceful ambiance, summer might not be the best time to visit Italy.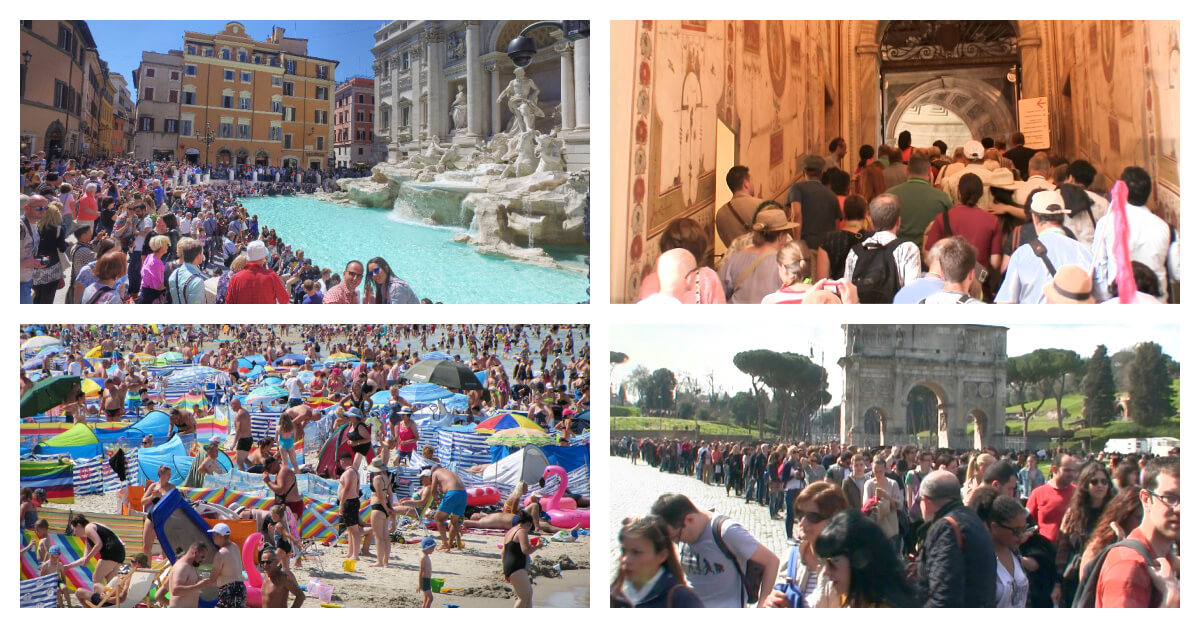 High Prices in the Summer Travel Season
Due to the high demand during summer, prices for accommodation, tours, and even food can be significantly higher.
Scorching Hot Summer Weather in Italy
While many people enjoy warm weather, the Italian summer can be scorching, especially in July and August. High temperatures can make outdoor activities uncomfortable (and even unbearable), making it important to stay hydrated and protect yourself from the sun.
These past summers saw days where temperatures reached low 100s making it impossible to spend days outdoors under the dangerously scorching sun.
Limited Availability in the Summer
Popular accommodations and restaurants can get fully booked well in advance during the summer months.
Tours in Italy, transportation, and Admission Tickets are also limited during the summer months when cruising in the Mediterranean is at its peak. This means you may have to compromise on your choices or plan your trip far ahead of time to ensure availability.
Lack of Authenticity in the Summer
Some travelers find that the presence of huge crowds and tourist-oriented services can detract from the authenticity and quality of their experience. If you're looking for a more immersive and local experience, you might prefer the quieter seasons.


In summary, a summer trip to Italy promises a thrilling escapade for those who delight in vibrant settings, seaside serenity, and basking in the warmth of sunlit days.
Although the drawbacks of sizable crowds, increased expenses, and potential booking hurdles are factors to consider, they may be justifiable for travelers who crave the quintessential summer retreat, are bound by school calendars, or have limited vacation time available. Ultimately, the choice to embark on this adventure during the summer hinges on your individual tastes and the kind of travel experience you aim to create.
Visiting Italy in the Autumn: September to November
Autumn combines favorable weather, cultural richness, culinary delights, and the beauty of changing landscapes, making it an ideal time to explore Tuscany and the Amalfi Coast without the summer crowds and heat. It offers a unique and authentic experience in these enchanting Italian destinations.
Autumn in Tuscany: September and October are ideal for a visit, as the weather remains pleasant, and the grape harvest season begins. It's an excellent time for wine tours and food festivals celebrating the harvest.
Autumn in Positano and Sorrento along the Amalfi Coast: Enjoy the Amalfi Coast without the summer hustle. September is perfect for exploring coastal towns. You'll find fewer tourists, which means more tranquility and room to savor local delicacies.


Traveling to Rome in the autumn is a delightful experience. As the city bids farewell to the scorching summer heat, the weather becomes more pleasant for exploration. Although September and October are still busy with fall travelers and cruisers, it's not as crowded as during the summer months. By November can expect even fewer tourists crowding the iconic sites, allowing for a more intimate experience. Plus, fall is the perfect season to savor authentic Roman dishes in cozy trattorias.
Along with Spring, Autumn is often considered the best time to visit Italy and top destinations like Rome, Tuscany, or the Amalfi Coast for a variety of compelling reasons:
Reasons Why You Should Visit Italy in the Autumn
Autumn boasts Mild Weather
Autumn offers pleasant and mild weather with comfortable temperatures. The scorching summer heat has subsided, making outdoor activities, sightseeing, and exploration enjoyable without the discomfort of high temperatures.
While the sea temperatures start to cool down in the fall, they are still pleasant for swimming and water activities along the Amalfi Coast. The beaches are less crowded, allowing for a peaceful coastal experience.
The landscapes of Tuscany and the Amalfi Coast are transformed into a tapestry of vibrant colors during autumn. The vineyards and rolling hills of Tuscany turn golden, and the Amalfi Coast's terraced gardens continue to flourish with lush greenery. The fall foliage adds an extra layer of beauty to the region.


Fewer Crowds in Italy in the Fall
As the huge summer crowds disperse, you can explore popular attractions, museums, and historic sites without the long lines and congestion. This allows for a more relaxed and immersive experience.


Lower Travel Prices in the Fall
Accommodation and travel costs tend to be more budget-friendly during the late autumn shoulder season compared to the peak summer months. You can find better deals on accommodations, flights, and activities if you travel later in the fall (late October through November) than in September through mid-October.


Wine Harvest (Vendemmia) in Italy
If you're a wine enthusiast, you'll love our Wine Tasting Tours in Tuscany during the grape harvest season. You can witness the winemaking process, participate in wine tastings, and enjoy the freshest vintages.
Many of our guests book our Wine Tours from Rome in September and October which are ideal months for wine tours. Whether you prefer the Vino Nobile of Montepulciano or relish Brunello of Montalcino, you will find the best Tuscany wine tours to suit your taste that will surely be the highlight of your trip to Italy.
If you prefer Umbrian wine, why not book a wine-tasting tour to Orvieto with a visit to a local winery tucked in the enchanting hills of Umbria?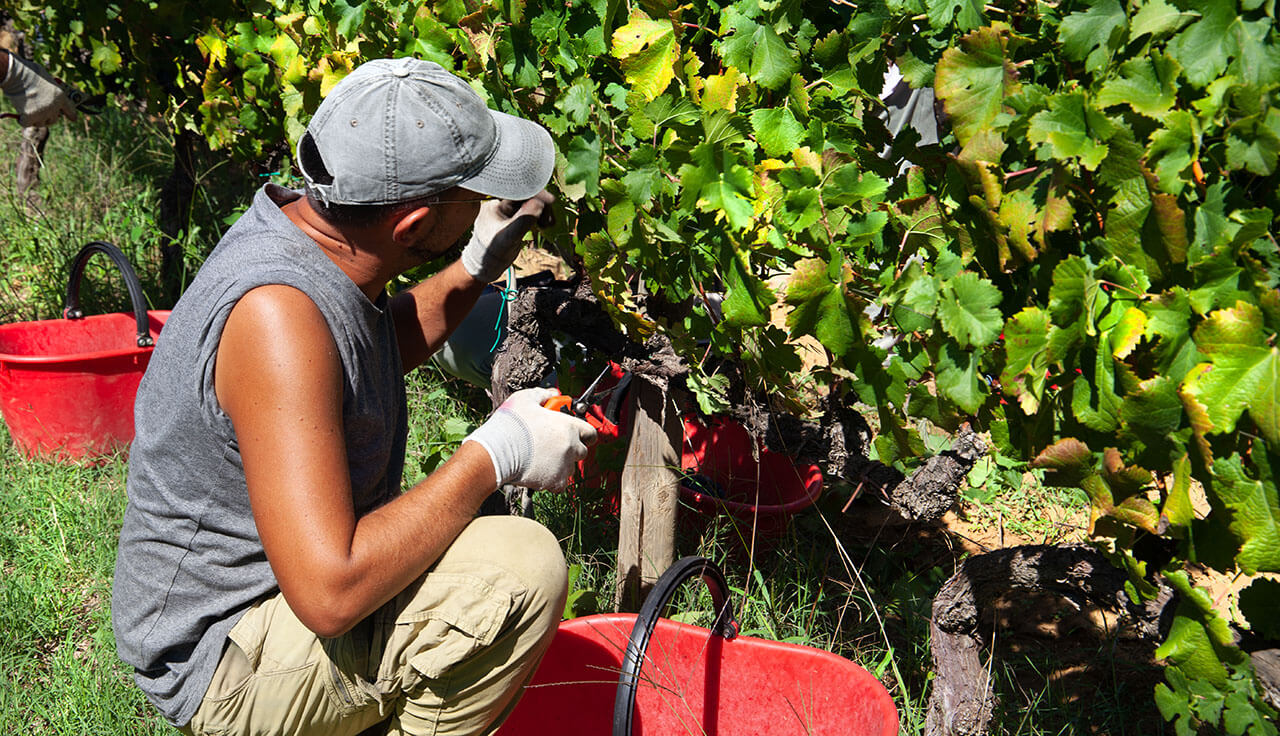 Italy's Autumn Gastronomic Delights
Autumn is a culinary delight in Italy. It's the season for truffles, porcini mushrooms, chestnuts, and a variety of other seasonal ingredients. You can savor hearty, flavorful dishes at local trattorias and restaurants.


Fall Festivals and Cultural Events
Numerous festivals and cultural events take place in the fall, celebrating the region's rich history and traditions. Chestnut festivals, medieval festivals, food festivals, and wine festivals occur during the autumn months.
The soft, golden light of autumn enhances the region's beauty, making it a photographer's paradise. You can capture stunning sunsets, colorful vineyards, and picturesque villages in their full glory.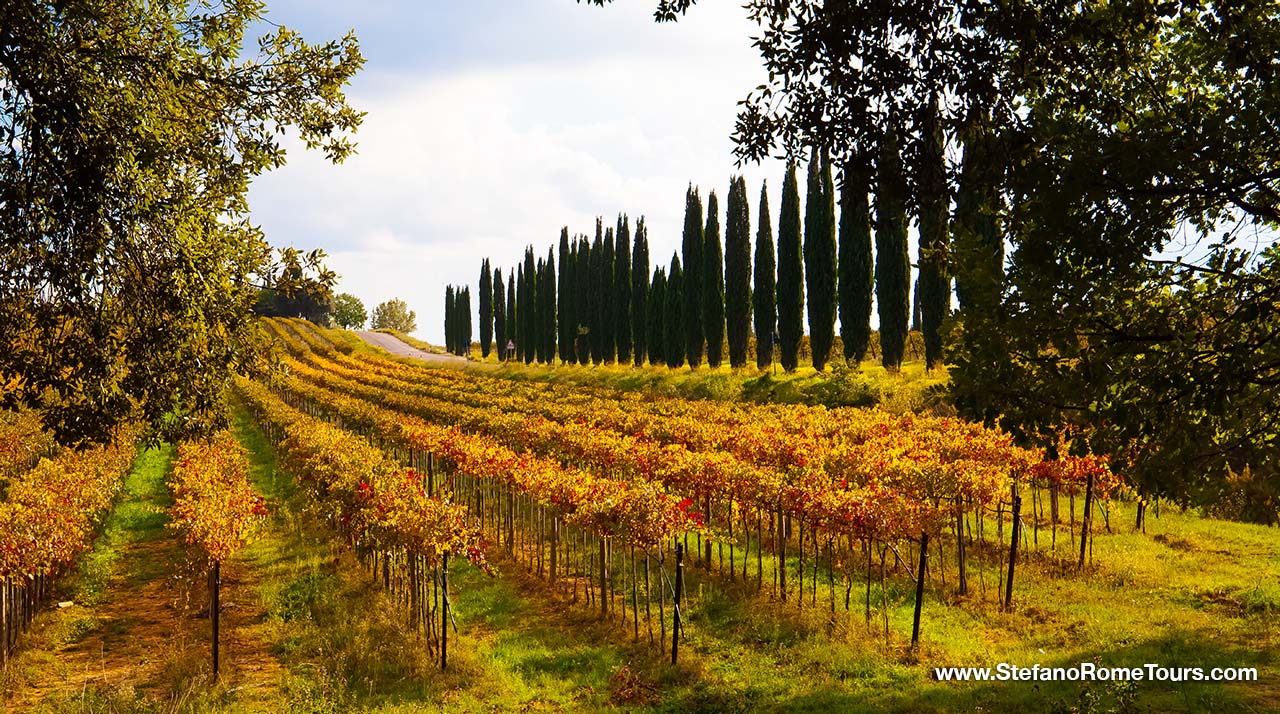 While visiting Italy in the autumn offers many advantages making it one of the best times of the year to travel to Italy along with Spring, there are also some potential downsides to consider:
Disadvantages of traveling to Italy in the Autumn


Rainfall and cooler temperatures in the Autumn
While autumn is generally drier than spring, there can still be occasional rainfall, particularly from late September through November. Be prepared for some rainy days and pack accordingly.
As autumn progresses, temperatures begin to drop, and evenings can become quite chilly. Be sure to pack your umbrella and plan to dress in layers as days can still be warm while mornings and evenings chilly.
With the approach of winter, the days become shorter, and daylight hours decrease. This can limit the amount of time you have for outdoor activities and sightseeing.


Wine Harvest Season Crowds
While autumn is generally less crowded than summer, the grape and olive harvest season in Italy can attract many tourists to wine regions in Tuscany. Wineries and agritourism sites often get quite busy during this time.
If you plan to visit Italy's wine regions like Tuscany or Umbria and enjoy visiting wineries, be sure to book your winery visits (or your wine tours) at least a few months in advance as most wineries in Italy accept wine tasting with advance reservations at specific time slots offered by the winery.


If you are hoping to enjoy beach activities, keep in mind that the sea temperature starts to drop in the autumn, making swimming less inviting.


Despite these potential minor drawbacks, autumn remains one of the best seasons to travel to Italy, offering pleasant weather, beautiful fall foliage, and a more relaxed atmosphere compared to the summer months.
Traveling to Italy in the Winter:
December to February



Italy in winter has its unique charm, offering a quieter and more intimate experience.
Tuscany in the winter: While the weather may be colder, and dormant landscapes with leafless trees and muted earthy tones mixed with velvety green, historic cities exude a tranquil cozy atmosphere during the festive season. Visit Christmas markets, sip hot chocolate or hot mulled wine (Vin Brule), and enjoy art museums without the crowds.
Amalfi Coast in the Winter: Amalfi Coast itself is always beautiful. However, as many businesses may close for the season, you'll have the towns nearly to yourself.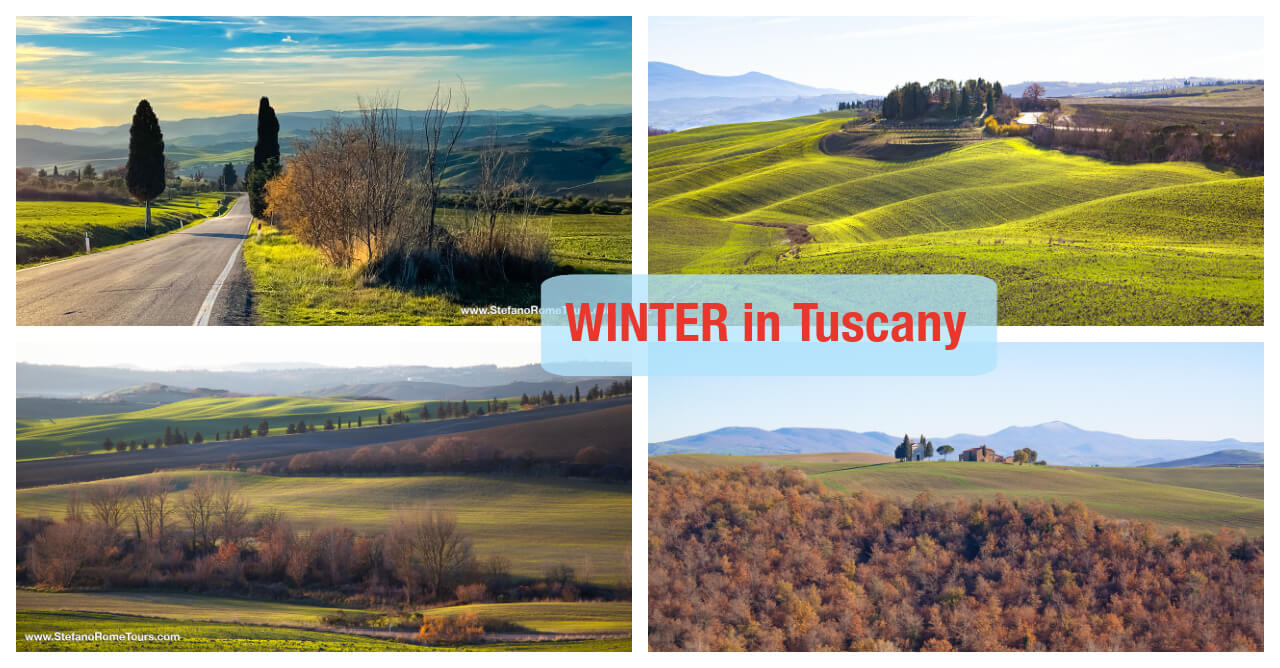 While winter may not be the most popular time to visit Tuscany and the Amalfi Coast, it has its own unique charm and advantages that make it an appealing option for some travelers:
PROS of Visiting Italy in the Winter
Fewer Tourists in Italy in the Winter
Winter is the offseason for these regions, which means significantly fewer tourists. You can enjoy a more intimate and peaceful experience at popular attractions, avoiding long lines and crowded streets.
In the winter you will encounter more Italians than tourists for a more authentic experience.
Italy has Mild Winter Weather compared to other European countries
Italy (especially Rome, Tuscany, and Amalfi Coast) experiences relatively mild Mediterranean winters compared to many other parts of Europe. While it can get chilly (and even cold sometimes), especially in the evenings, temperatures are generally above freezing and mostly in the 50s, making it comfortable for outdoor exploration.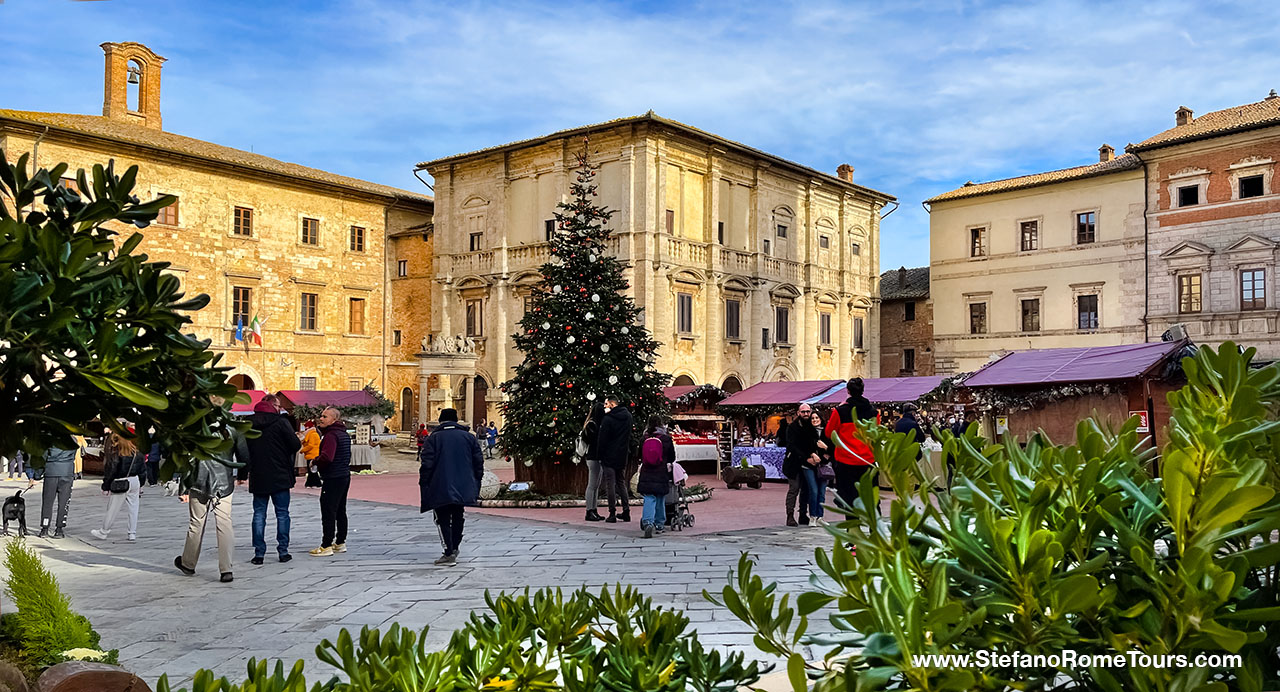 Lower Prices in Italy the Winter
Traveling in winter often means lower prices for accommodations, flights, and activities. You can find excellent deals on luxury accommodations and enjoy the region's offerings without breaking the bank.
After the first week of January, you will encounter WINTER SALES. So if you enjoy shopping and you travel to Italy after the first week of January plan to take advantage of the winter sales and enhance your wardrobe.


Winter Festivals and Christmas Cultural Experiences
Winter is a time for festive markets and cultural events. You can partake in Christmas and New Year's celebrations, including local traditions, nativity scenes, and Christmas markets.
Living Nativity Scenes in Italy, known as "Presepe Vivente" in Italian, are a cherished Christmas tradition that brings the nativity story to life in various Italian towns and villages. These reenactments typically take place during the Advent season and continue through Epiphany. Most nativity scenes re-enact biblical times, while others take on a medieval theme.
In these living nativity scenes, locals dress in traditional biblical attire to portray Mary, Joseph, the shepherds, the Magi, and even animals, creating an immersive experience for spectators. These scenes are set against the backdrop of historical streets, ancient buildings, or natural landscapes, adding an authentic touch to the reenactments.
Visitors can stroll through the scenes, interact with the characters, and witness key moments of the nativity story, from the Annunciation to the birth of Jesus and the arrival of the Wise Men. Often, there are also craft markets, food stalls offering regional delicacies, and festive music that add to the atmosphere.
Some of the most famous Living Nativity Scenes in Italy can be found in Greccio, where Saint Francis of Assisi is believed to have created the first nativity scene in 1223, as well as in Matera, Assisi, and other historic towns.
There are also Living Nativity Scenes near Rome in the countryside in towns such as Tarquinia, Chia, Vejano, Sutri, Corhiano, and sometimes even at Bracciano Castle (as in the video below). These events provide a unique opportunity to experience the spirit of Christmas and the rich cultural heritage of Italy during the holiday season.
The La Befana Festival in Urbania, Italy, is a celebrated event that takes place from January 5th to January 6th. During this festival, the picturesque town of Urbania in the Le Marche region is adorned with festive decorations and lights, creating a joyful atmosphere dedicated to La Befana.
The highlight is the arrival of La Befana, a beloved Christmas witch-like character, in a grand procession. The festival includes parades, traditional music, street performances, and food stalls offering Italian treats.
Urbania's La Befana Festival is a family-friendly event, and children play a central role. They eagerly await La Befana's arrival and the gifts she brings. In many cases, there are activities and workshops specifically designed for kids, including craft stations where they can create their own Befana-themed art.
The event is a memorable celebration of Italian culture and the holiday spirit.
Winter Indoor Attractions
Towns in Italy offer many indoor attractions, such as museums, art galleries, and historic sites. Winter is an excellent time to explore these places without the crushing summer crowds.


The cooler weather creates a cozy atmosphere in the region's charming towns. You can relax in front of a fireplace with a glass of wine or a hot chocolate and enjoy the slower pace of life.
CONS of Visiting Italy in the Winter
Winter is also considered the worst time of year to visit Tuscany and the Amalfi Coast for several reasons.


Although mild, Winters in Italy can be Cold and Wet
The weather during winter can be quite cold and damp, especially in January and February. Rainfall is more common during this season, and there can even be occasional snowfall in some areas. The chilly and wet conditions may not be ideal for outdoor activities and sightseeing.
Limited Hours and Closures
Many attractions, restaurants, and shops operate on reduced hours or may close altogether during the winter off-season. Most wineries also close in the winter. This can limit your options for things to do and places to eat, and you may miss out on some cultural experiences.
Winter days are shorter, which means fewer daylight hours for exploring. If you prefer to have longer days for sightseeing, winter might not be the best choice.
Lack of Vibrancy and Liveliness
The landscapes, especially in Tuscany, can appear drab during the winter months. Vineyards and olive groves are bare, and the vibrant green hills that characterize the region in spring and summer are absent.
Beach towns along the Amalfi Coast are known for their lively atmosphere and water-related activities. In winter, these towns can feel deserted, with many beachfront businesses closed for the season.
Limited Outdoor Activities
The colder temperatures and potentially rainy weather can limit outdoor activities like hiking, swimming, and enjoying the beaches. Water-based activities may not be as enjoyable during this season.
Less Festive Atmosphere in January and February
While there are holiday festivities around Christmas and New Year's, the overall atmosphere is less festive in January and February compared to other seasons. The regions might feel quieter and less vibrant.


Fewer Tourist Services in the Winter
Some services, such as guided tours and transportation options, may have reduced availability in the offseason. It's essential to plan your activities and transportation carefully and book in advance.


Visiting Tuscany and the Amalfi Coast in winter offers fewer crowds and cost savings, with serene landscapes. Yet, reduced hours for attractions and chilly, occasionally wet weather are drawbacks, limiting outdoor activities. It's a trade-off between tranquility and budget-friendliness versus potential limitations.


In conclusion, the best time to visit Rome, Tuscany, Amalfi Coast, and other enchanting Italian destinations depends on your preferences. Spring and autumn offer a balanced experience with pleasant weather and fewer tourists making them the best time of the year to visit Italy.
Although crowded, hot, and expensive, summer is ideal for beach lovers, for those who enjoy a lively atmosphere, or for families with children home for the summer vacation. Winter - although colder and wet with short days - provides a unique, cozy, and intimate experience in Italy's historic cities. Therefore, summer and winter tend not to be the best time of the year to travel to Italy.
Whenever you choose to explore these remarkable locations, each season promises its own special magic and a deep connection to Italy's rich cultural heritage. So, plan your trip wisely, and get ready to fall in love with Italy's diverse landscapes, charming towns, and warm hospitality. Whichever season you choose, Italy will undoubtedly captivate your heart.


Thank you for reading our travel blog and for choosing Stefano Rome Tours for your private tours in Italy!