Buongiorno and welcome to Stefano Rome Tours, we've been offering day trips from Rome to Tuscany for almost 20 years throughout the year.

Each season is uniquely different in Tuscany as the landscapes change dramatically each season, and they even change month by month. Our extensive experience with Tuscany tours from Rome has helped us select the best months of the year to visit Tuscany if you are planning a trip to Italy. If you can't decide when it's the best time of the year to travel to Italy and visit Tuscany, we hope this guide will help you.

Tuscany is gorgeous all year round, but taking into consideration the weather, scenery, and amount of tourism, we would suggest the best months of the year to visit Tuscany are April, May, June, September, and October.

If you wish to learn more about why these are the best times of the year to visit Tuscany, READ ON…
What are the best months of the year to visit Tuscany?

Visiting Tuscany in April and May

In mid-April through May the weather in Tuscany is still cool and fresh, the days grow longer, and tourism is not yet in full swing. These months allow travelers to experience the beauty of spring in Tuscany, without the throngs of tourists that start arriving in the summer.



What is spring like in Tuscany?


In April and May, undulating hills and pastoral lands are vibrantly green as though covered by a vast emerald-colored velvet blanket.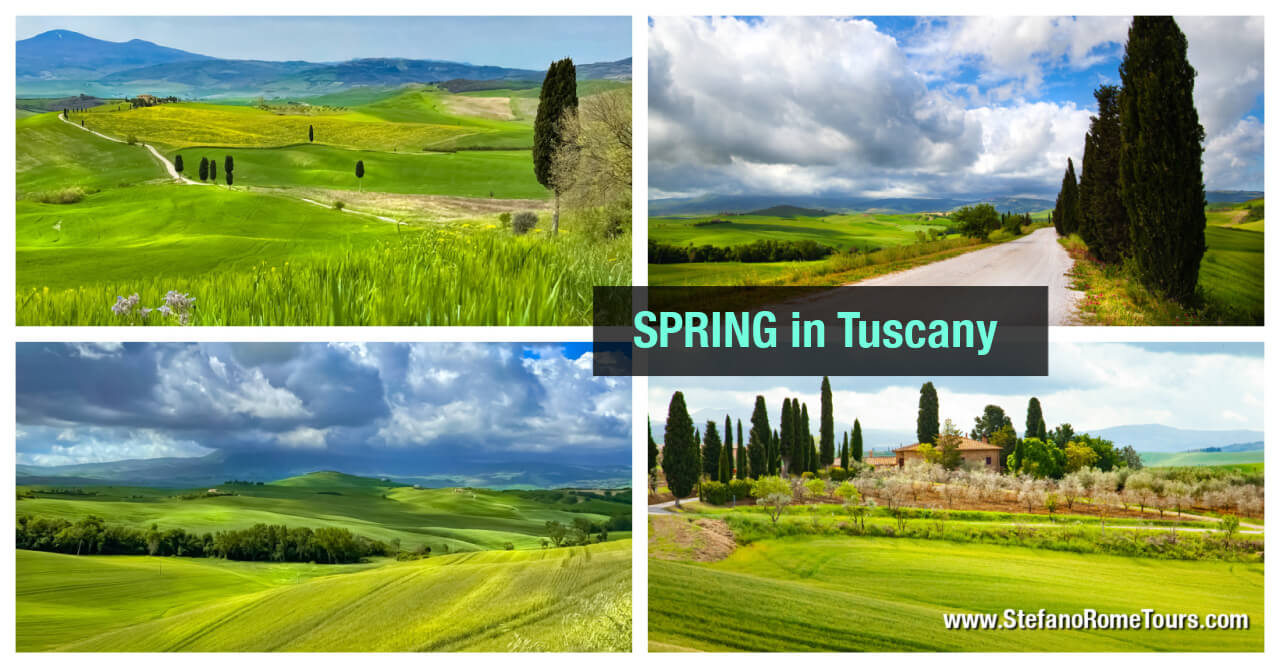 Spring flowers bloom in the meadows, the trees are full and green, and spring has never looked more beautiful than in Tuscany!

Outdoor cafes are once again popular in the balmy spring temperatures and sunny days.

Which Tuscany Tours from Rome are recommended for Spring?


Popular Tuscany tours such as Cortona, Arezzo, Montepulciano, Pienza, San Quirico d'Orcia, Bagno Vignoni, and Monticchiello are wonderful all year round, but in the spring you will not find them as crowded and hot as during the summer months.

UNDER THE TUSCAN FUN Tour from Rome - This popular Tuscany Tour from Rome takes you to Cortona and Arezzo, two magnificent Tuscan towns that were both featured in famous films like Under the Tuscan Sun and Life is Beautiful.

MONTEPULCIANO AND PIENZA Day Tour from Rome - Surrounded by breathtaking views of Val d'Orcia and Val di Chiana, both remarkable towns are among the most favored Tuscany destinations on day trips from Rome. Montepulciano is elegant with its grand palazzi, and Pienza is considered a Renaissance Utopia and its historical center is a UNESCO World Heritage Site.

MAJESTIC TUSCANY TOUR FROM ROME - take in the splendor of Tuscany's Val d'Orcia (Valley of Orcia), one of Tuscany's most photographed and filmed regions for its iconic beauty. Visit the resplendent towns and charming villages of Val d'Orcia and enjoy scenic drives through Tuscany's most picturesque places that are vibrantly green and lush in spring.
Visiting Tuscany in June

While in June it begins to get pretty hot out and tourism is at its peak, you can't beat the stunning beauty of Tuscany in June before the harvest.

In June, sunflowers adorn fields, the wheat is ripe, the field grasses dry, and the landscapes turn gold dazzling you with their rare beauty.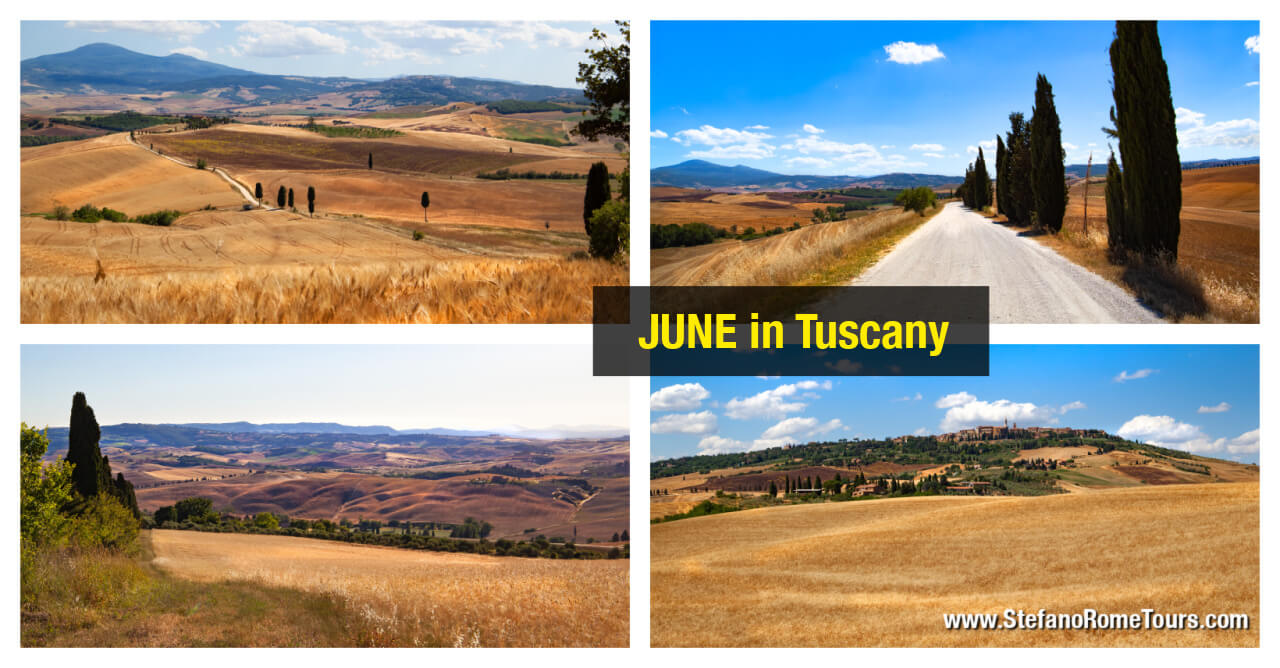 The temperatures often reach the 80s in June, and while the days are hot and sunny, evenings are cool and perfect for outdoor dining. June is also very busy with summer travelers, and you can expect popular towns in Tuscany to be crowded and frequented by bus tours as well as independent travelers.

If you are not planning to stay in Tuscany in June, you can easily enjoy the glories of Tuscany during this magical month on a day tour from Rome,
What Tuscany tours are recommended for summer in June?


If you are planning to visit Italy in June and would like to enjoy a day trip from Rome to Tuscany, these tours are perfect for summer travelers:

MAJESTIC TUSCANY TOUR - in June, the picturesque valley of Val d'Orcia dramatically changes into a mesmerizing sea of gold as fields of wheat ripen and sunflowers kiss the sun. June is quite a glorious month to experience the wondrous beauty of Tuscany.

DIVINE TUSCANY CASTLES AND WINE TOUR FROM ROME - this fun-filled Tuscany wine tour from Rome is also perfect in the summer with visits to some of Tuscany's most famous towns that produced celebrated wines like Vino Nobile di Montepulciano and Brunello di Montalcino, and a stop for a relaxing wine tasting experience at the elegant wine shop of the captivating Castello Banfi in the heart of Tuscany's wine country.


Visiting Tuscany in September and October

Early autumn is also a wonderful season to visit Tuscany. In September and October, the landscapes shed their green and gold mantles when harvested fields are tilled.
The now dry landscapes become earthy and umber-colored, an almost serene lunar or desert appearance interrupted by characteristic cypress-tree-lined country roads, isolated farmhouses, and silvery green olive groves.

The weather is once again cool and fresh without the intense summer heat. With travel season winding down, you will also experience fewer crowds for a more enjoyable experience of Tuscany's majestic towns and villages.
September and October in Tuscany are perfect for wine tours

If you book our Tuscany Wine Tours from Rome, in September or October the vineyards have been harvested and the ripe grapes transported to the winery to start the process of winemaking.

From late August through early September, you might even witness the flurry of grape harvesting throughout Tuscany's wine country (known in Italian as vendemmia) as grapes are hand-picked by the winemakers and their team of helpers, piled in containers to be taken directly to the winery where the winemaking journey begins.

In the fall, leaves on the vines turn vibrant red, warm orange, and vivid yellow for a stunningly beautiful kaleidoscope characteristic of autumn in Tuscany. The vineyards are probably most picturesque in October.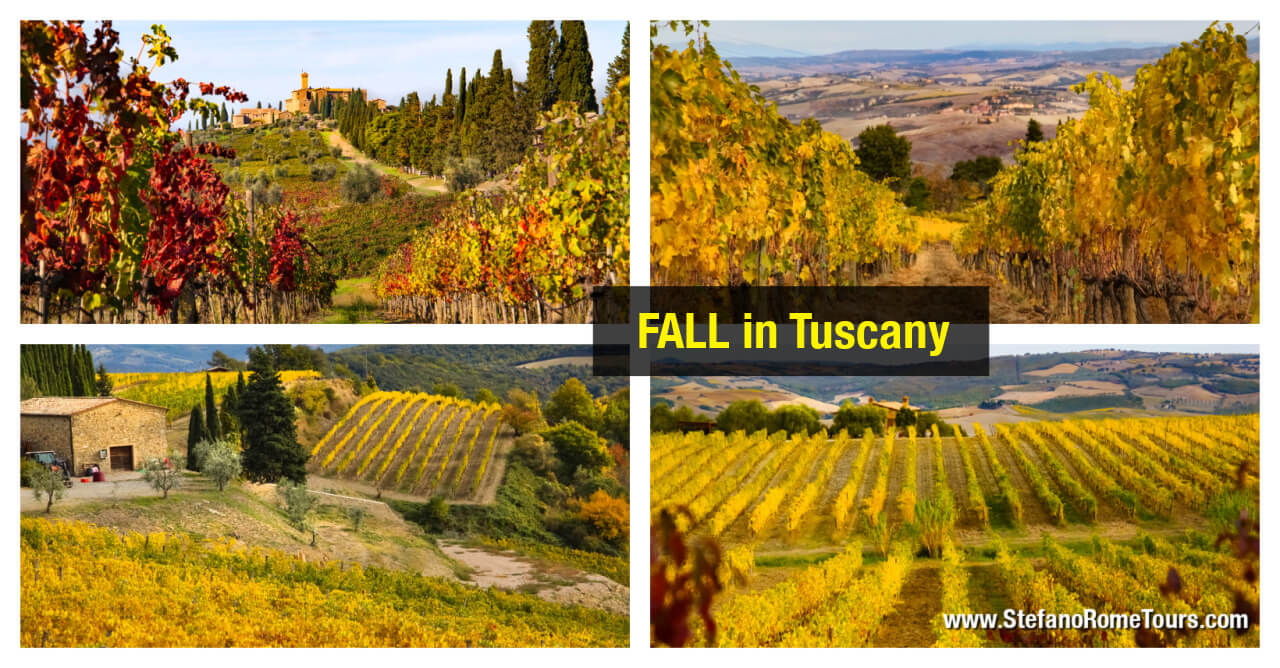 Which Tuscany Wine Tours from Rome are recommended for Fall?

If you will be visiting Italy in the fall, particularly in September and October, you would enjoy wine-tasting tours from Rome. Magnificent towns such as Montepulciano and Montalcino reign supreme as two of Italy's most important wine towns. You can also pair Tuscany with Orvieto as Umbrian wines are also excellent!

Montepulciano was hailed as King of All Wines according to Francesco Redi, the famous 17th-century Italian poet, and physician, in his famous poem, Bacchus in Tuscany. Montalcino is also well known for its Brunello di Montalcino. While both towns offer their own unique wines worth sampling, both towns are magnificent to visit.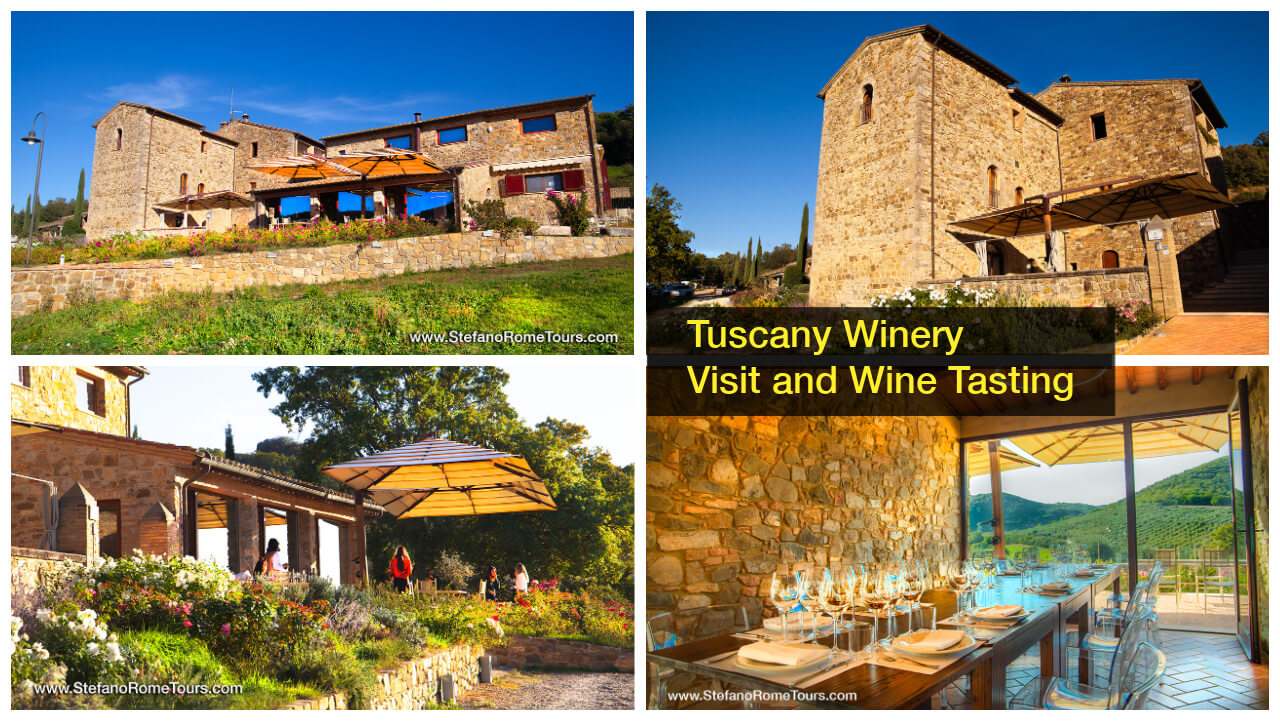 TUSCANY, VINEYARDS, AND WINE TOUR - Very popular with wine lovers, this extended wine tour to Tuscany from Rome includes visits to Montepulciano and Montalcino, famous for their Vino Nobile di Montepulciano and Brunello di Montalcino, a brief stop at the mystical Abbey of Sant'Antimo, and a visit to a local winery estate for a cellar tour and wine tasting experience in the heart of Tuscany's wine country.

Wine tasting is also possible at local wine shops in Montalcino and Montepulciano where you will have the opportunity to both enjoy sightseeing and wine tasting. In Montepulciano, you will also find wine shops like Ercoani with underground historic wine cellars that you can visit.

TUSCANY BRUNELLO WINE TOUR - for wine lovers who appreciate the distinctive flavors of Brunello di Montalcino, this tour will take you to a winery estate for a cellar tour and wine tasting, a stop to see Abbey of Sant'Antimo and a visit to Montalcino for lunch and sightseeing. Opportunities for additional wine tastings are possible throughout the town at local wine shops.
Savor Autumn flavors in Tuscany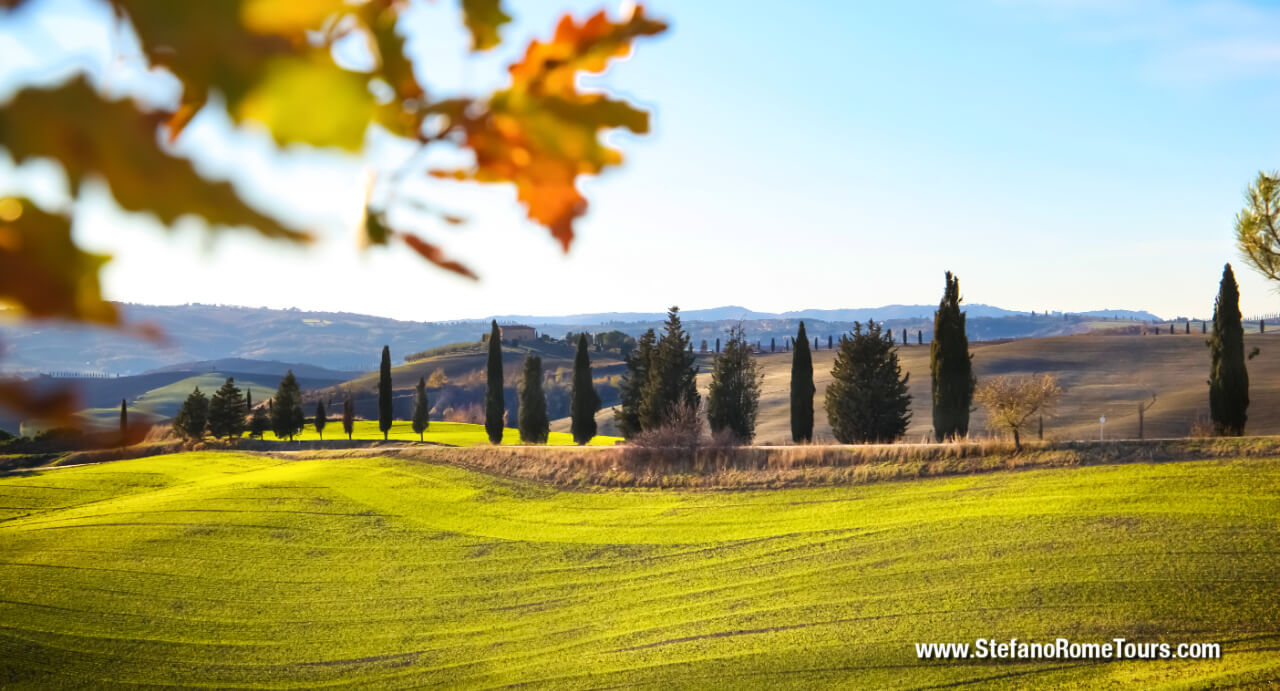 If you are planning to visit Tuscany in the fall, you will also have the opportunity to savor the seasonal dishes of autumn that include mushrooms, truffles, chestnuts, and extra virgin olive oil.
Restaurant menus may even boast seasonal cuisines that feature tasty in-season ingredients that create delectable dishes. Look for daily chef specials outside the menu for in-season and fresh ingredients.

Many fall festivals revolve around food, celebrating seasonal harvests and unique local cuisines based on seasonal ingredients. You might even discover a food festival (sagra) when traveling to Italy during the fall months. Chestnut festivals in October tend to be the most popular food festivals.

If staying in Rome, consider visiting Montepulciano and Pienza on a Tuscany day trip from Rome. With Montepulciano famous for its local Vino Nobile di Montepulciano, and Pienza famous for its award-winning Pecorino di Pienza cheese, foodies and wine lovers alike overwhelmingly book this popular Tuscany day tour from Rome. Celebrate your day in Tuscany with a hearty glass of Vino Nobile with your tasty lunch of Tuscan in-season delicacies for lunch, and savor the delectable pecorino cheese for an unforgettable enogastronomic experience.

We hope this travel blog has helped you decide for yourself what is the best month of the year to visit Tuscany on your next trip to Italy.

Thank you for stopping by and for choosing Stefano Rome Tours for your private tours in Italy. We look forward to showing you beautiful places in Tuscany and helping you create new and wonderful memories you will treasure for a lifetime.