description

Join us on an enchanting day tour from Rome that transcends centuries and reveals the magnificence of ancient Rome and the Italian Renaissance. Our Tivoli Villas Tour beckons you to explore two UNESCO World Heritage Sites: Hadrian's Villa and Villa d'Este. Let the echoes of ancient history and the timeless beauty of Renaissance art envelop you.
Your personal Stefano Rome Tours English-speaking driver will meet you at your Rome hotel or accommodation at 9:00 AM, and in the comfort of your private deluxe vehicle, you will journey through the Roman countryside to Tivoli.
TIVOLI VILLAS TOUR FEE:


For up to 4 persons from Rome Hotel 400 EUROS
For up to 6 persons from Rome Hotel 450 EUROS
For up to 8 persons from Rome Hotel 500 EUROS
* DATES on the Booking Form Calendar that are NOT Selectable, are NOT AVAILABLE.
* On Mondays, Villa d'Este opens at 2 PM
Enjoy a visual journey of the beautiful locations on our Tivoli Villas Tour VIDEO:



VILLA ADRIANA (HADRIAN'S VILLA) - Ancient Roman Imperial Complex


Step into the captivating realm of Roman Emperor Hadrian, a commanding figure in the annals of ancient Rome. Born in 76 AD, Hadrian's ascendancy to the imperial throne marked a pivotal era, succeeding the revered Emperor Trajan. His enduring legacy is enshrined within the opulent tapestry of Hadrian's Villa, a sprawling complex crafted during the 2nd century AD, a testament to his unparalleled vision and insatiable wanderlust.
This grand estate, meticulously overseen by Hadrian himself, bears the unmistakable imprint of his global odyssey. Within its sprawling embrace, you'll encounter a mesmerizing array of over 30 remarkable structures, each a testament to the empire's zenith. Behold the grandeur of a palatial residence that once served as the epicenter of imperial power, where emperors deliberated over the fate of nations.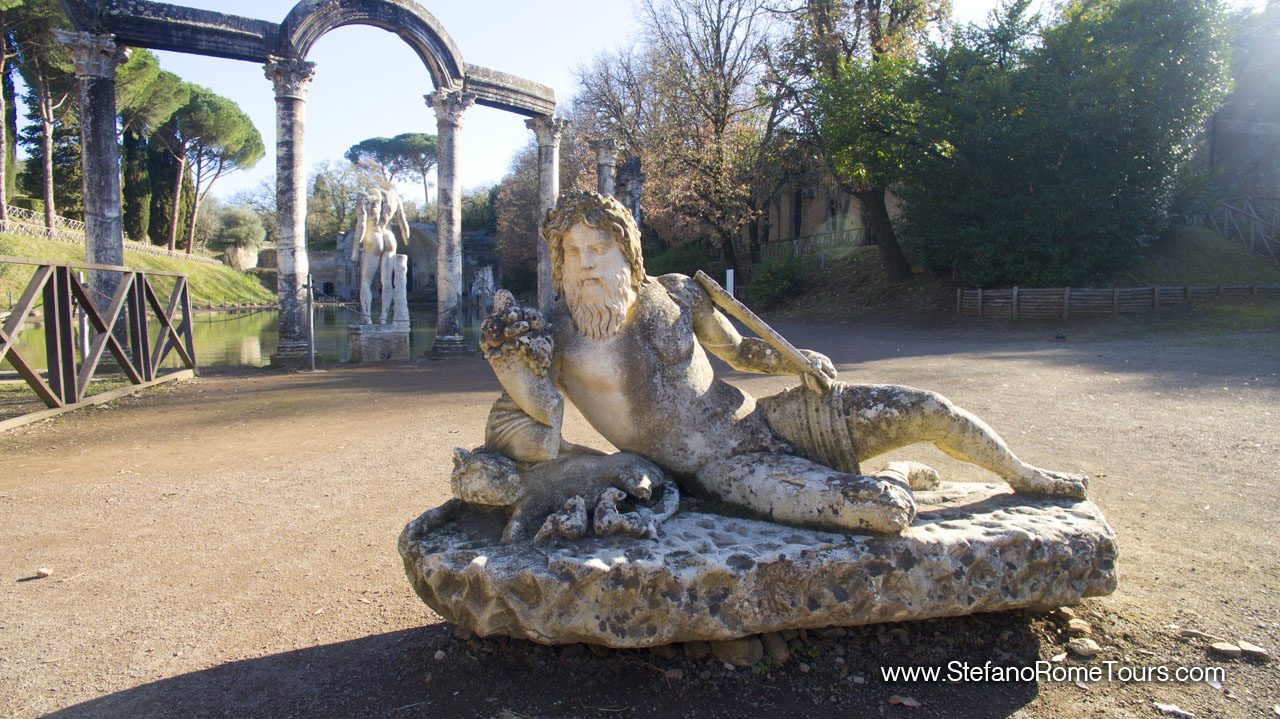 Discover the serenity of majestic pools that mirror the azure skies, ruins of once opulent baths that echo with the whispers of centuries, and theaters that once reverberated with the drama of antiquity.
Marvel at the divine temples, where ancient gods and mortals converged in worship, and explore elegant apartments that bore witness to the voices of emperors, their influence stretching across the ancient world. Meander through the grand remains of the Imperial Palace, where corridors echo with the weight of history.
Delve into the depths of the villa, uncovering a labyrinth of enigmatic passages and tunnels, their purpose shrouded in the mists of history. Here, Hadrian is believed to have governed the sprawling Roman Empire, orchestrating the destinies of countless lives from this sanctuary in Tivoli.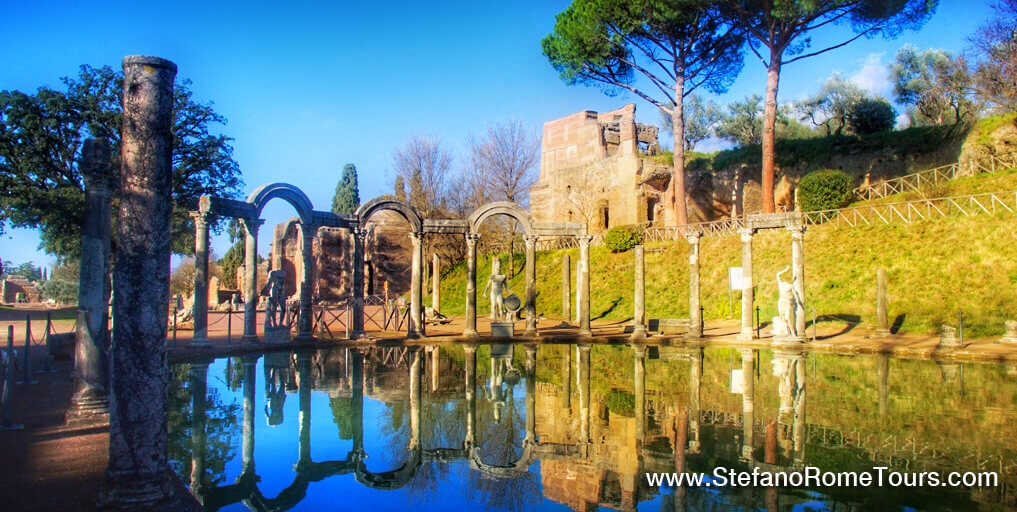 As you explore Hadrian's Villa make sure you stop to admire the Canopus, a magnificent pool lined with statues, reminiscent of the Egyptian city it was named after. Marvel at the enigmatic Maritime Theatre, an architectural wonder featuring a circular pool surrounded by Doric columns. The Three Exedras, an arrangement of three semicircular buildings, once served as spaces for contemplation and discourse.
Don't miss the opulence of Piazza d'Oro, the Golden Square, adorned with statues and porticos. Not to miss are the thermal baths, where ancient Romans sought rejuvenation and relaxation amidst the grandeur of their surroundings.
Though the relentless march of time may have claimed many of the original structures, each corner of Hadrian's Villa conceals delightful surprises, waiting to be unearthed by modern-day explorers, like you.
TIVOLI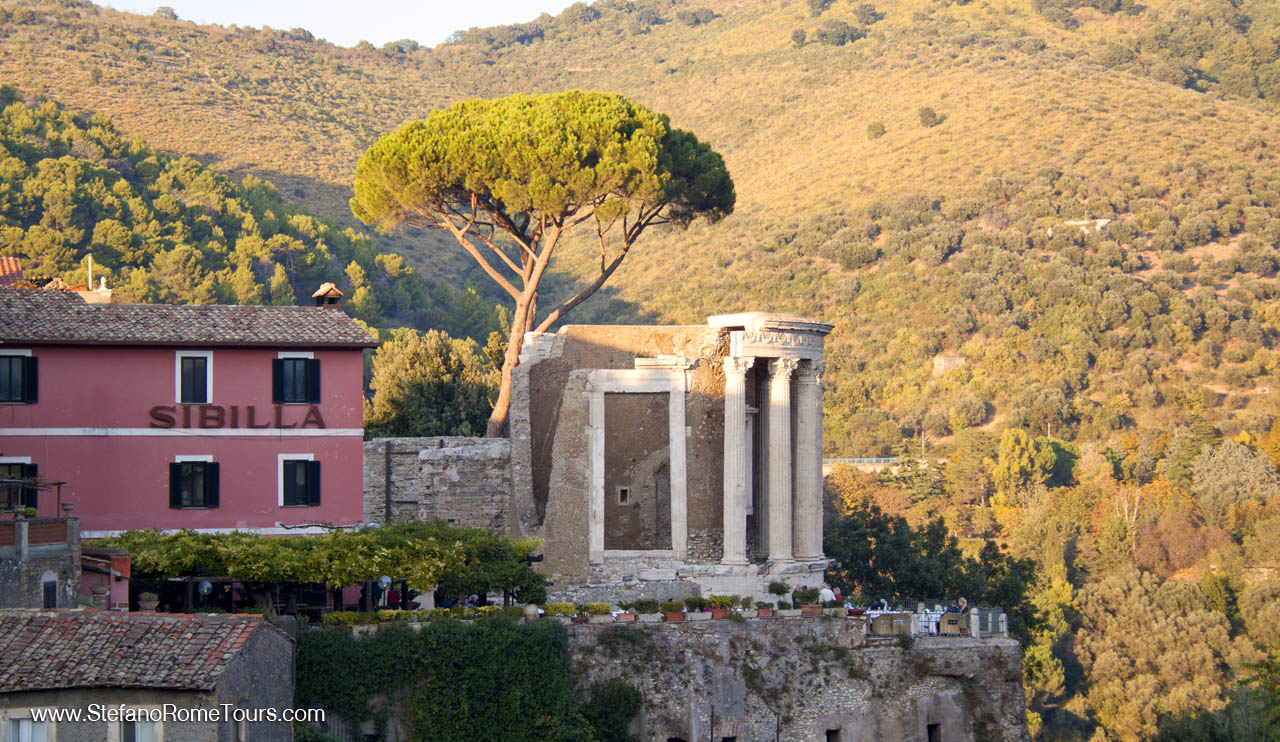 On this Tivoli Villas Tour, you will also appreciate time on your own for a relaxing lunch and a stroll through the charming town of Tivoli.
A historic hilltop city with ancient roots shrouded in legends of Greek mythology, Tivoli may have been settled as far back as the 13th century BC. Tivoli thrived through the millennia from the ancient Etruscans to Romans, then the Middle Ages and Renaissance that have left vestiges of the city's glorious past.
Overlooking the vast Roman countryside, Tivoli has been coveted by Roman Emperors (such as Emperor Hadrian) and Popes as a preferred countryside retreat.
After lunch, your Tivoli Villas tour will continue to Villa d'Este. On Mondays, Villa d'Este opens at 2 PM.
VILLA D'ESTE - Renaissance Italian Gardens and Opulent Villa


Your Tivoli Villas tour continues to Villa d'Este, a genuine Renaissance masterpiece that stands as a testament to the era's unparalleled architectural splendor and artistic creativity.
Commissioned in the 1550s by Cardinal Ippolito D'Este, this villa was designed to be a visual and sensory marvel. Its walls, adorned with frescoes that push the boundaries of imagination, serve as a canvas for the genius of artists who graced this illustrious era. These frescoes offer a window into a world where art, culture, and creativity flourished.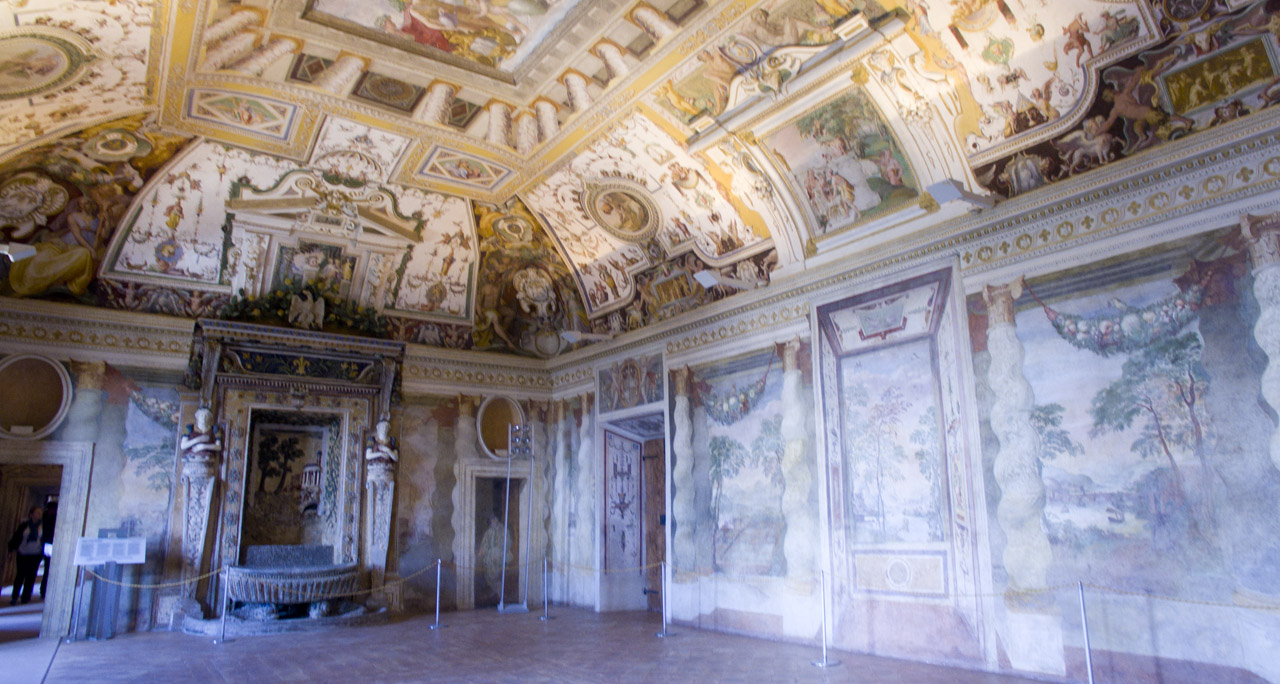 But it's when you step into the sumptuous Italian-style garden that Villa d'Este truly enchants. Here, you're welcomed by an orchestrated symphony of fountains, natural grottoes, and meticulously crafted stone sculptures. These crystalline pools, gracing the villa's elegant slopes, are not mere adornments; they mirror the grandeur and opulence of the Renaissance.
The villa's external fountains are veritable water theaters, each with its unique narrative. The Rometta, also known as "Little Rome", features a sculpture of an enthroned divinity representing the city of Rome itself. Then there's the impressive Fontana dell'Ovata, better known as the Fontana di Tivoli and the row of fountains known as One Hundred Fountains.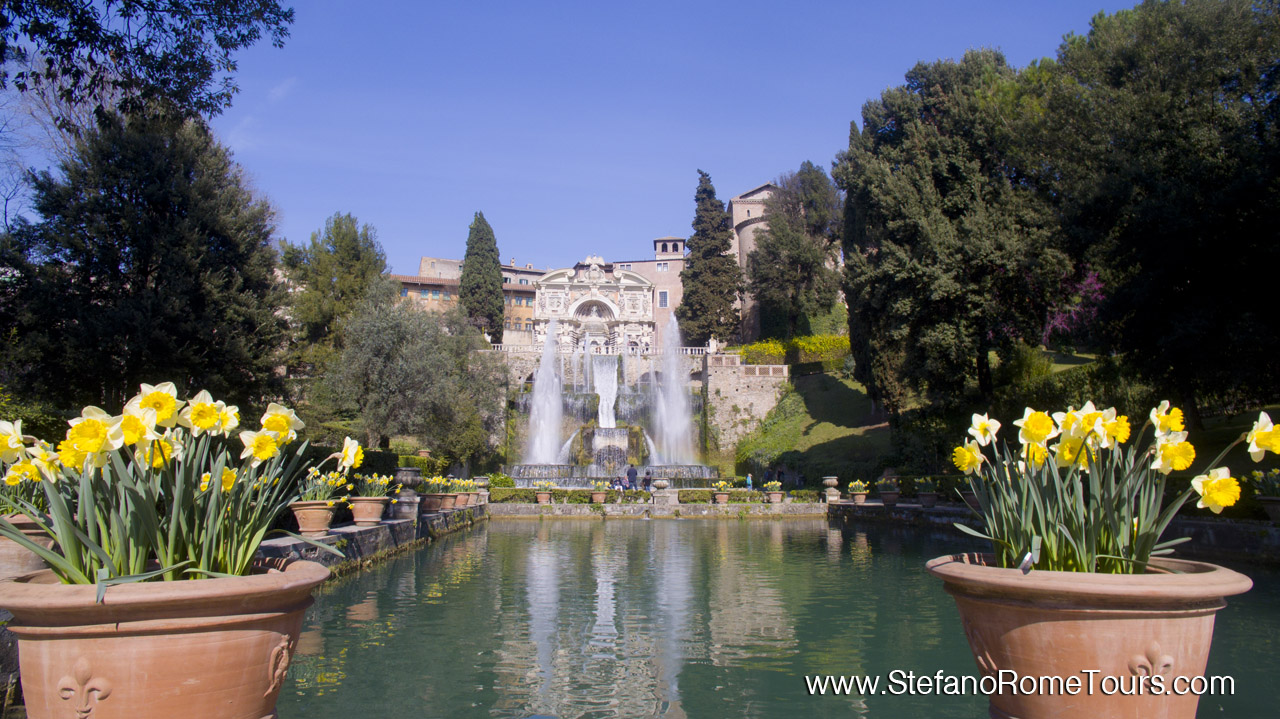 Not to be missed are the Fontana del Bicchierone, a creation by the masterful Gian Lorenzo Bernini, and the renowned "musical fountains" – the Fontana degli Uccelli and the Fontana dell'Organo, which was intended to produce mesmerizing musical sounds as water flows through them. The Fontana della Proserpina, characterized by its austere structure and central nymphaeum guarded by two spiral columns, was once believed to be the Fountain of the Emperors.
And lastly, the delightful Fountain of Neptune, one of the most photographed spots for tourists and townspeople alike, adds an extra layer of allure to this already captivating landscape. Villa d'Este is not just a destination; it's a journey through time, where art, architecture, and nature unite to create an enduring masterpiece for all to behold.
Your fun-filled day in Tivoli concludes as you rejoin your private driver. In the comfort of your deluxe vehicle, you will journey through the idyllic countryside back to Rome, your camera filled with cherished moments and your heart brimming with the unforgettable memories of your enchanting day in Tivoli.
We thank you for booking our Tivoli Villas Tour from Rome, and for choosing Stefano Rome Tours for your Day Tours from Rome and Italy Private Excursions. We look forward to showing you Italy!


Guests who booked this Tivoli Villas Tour also enjoyed the following Day Tours from Rome:


Important Information

Please READ the important information below as well as Read & Accept our TERMS OF SERVICE and Privacy Policy prior to placing your reservation request(s).


PAYMENT OPTIONS for Tivoli Villas Tour:
Payment for this Tivoli Villas Tour can be made in Euro funds at the end of your journey directly to your driver, or you may prepay in advance via PayPal or Credit Card online when you Confirm your Tour.
CANCELLATION POLICY:
We kindly ask that cancellations be made at least 7 days in advance so we can rebook your service and your reserved driver does not lose work for that day. We thank you for your cooperation and consideration.
** PREPAID SERVICES can only be Refunded the Net Rate we receive from your prepayment. Net Rate is the actual service price minus the fees retained by PayPal/Credit Card that are not reimbursed to us in case of refunds. We can only refund the portion we receive from the PayPal/CC company.
EMAIL INQUIRIES / BOOKING REQUESTS
Please allow up to 24 hours for email correspondences in response to email inquiries and tour reservation requests.
We reply to ALL emails and booking requests we receive. If you don't receive correspondence from us within 24-48 hours please CHECK YOUR SPAM FOLDER, or send us an email from a different E-mail account.
TIVOLI VILLAS ADMISSION TICKETS


* HADRIAN'S VILLA Ticket Prices are currently 10 Euros per person. Tickets can be purchased on site, on arrival.
* VILLA D'ESTE Ticket Prices are currently 10 Euros per person. Tickets can be purchased on site, on arrival. On Mondays, Villa d'Este opens at 2 PM.
** Ticket prices are subject to change without notice.
YOUR STEFANO ROME TOURS DRIVER
* This Tivoli Villas tour provides an English speaking Driver who is NOT a licensed tour guide.
Italy laws permit only licensed tour guides to accompany guests to sightsee on foot away from the vehicle. To be compliant with Italy laws, your driver cannot lawfully guide you into the sites, and will be obliged to remain with the vehicle while you SELF TOUR away from the vehicle.


PRIVATE GUIDED TOUR OF THE HADRIAN'S VILLA:
Licensed Tour Guide can be booked upon request for an informative private walking tour of Hadrian's Villa at ADDITIONAL Tour Guide Fee. Tour Guides are paid separately at the end of their tour as they don't work for us. Please inquire within about private guided tours and fees.
Meeting Point for Tivoli Tours from Rome hotel / accommodation:
For hotel pick ups, your driver will meet you inside your hotel lobby, or area permitted by your hotel.
For Apartments or B&B's without a lobby, your driver will meet you at your address outside the main entrance.
* If your hotel / accommodation is situated on a street or in an area restricted to vehicle traffic, your driver will park the vehicle as close as lawfully as possible, and will meet you on foot at your Address. From there, your driver will accompany you to your parked vehicle. Door to Door service may not be possible on streets or areas restricted to traffic or stops.
TIPS for Tivoli Tours:


Be sure to wear comfortable clothing and walking shoes on this tour.
Hadrian's Villa is an archaeological site with dirt and uneven terrain, please watch your step during your visit.
Villa d'Este gardens are located on a terraced slope that includes steps and pathways at an incline. The gardens as well as the villa include steps and flights of stairs when exploring the estate. This location may not be suitable for wheelchair users.
This tour may not be suitable for visitors with mobility concerns.
During the summer months we recommend wearing sunscreen, sunglasses and summer hats to protect yourself from the sun.
Be sure to bring your cameras as you will find many picture perfect places while exploring Hadrian's Villa and the gardens of Villa d'Este