description
UNDER THE TUSCAN FUN TOUR PRICE LIST

TOUR FROM ROME HOTEL
For up to 2 Persons from Rome Hotel: 500 EUROS
For up to 4 Persons from Rome Hotel: 600 EUROS
For up to 6 Persons from Rome Hotel: 650 EUROS
For up to 8 Persons from Rome Hotel: 750 EUROS
* DATES on the Booking Form Calendar that are NOT Selectable, are NOT AVAILABLE.


Enjoy a visual journey of Arezzo and Cortona on our Tuscany Tour VIDEO:


This exciting Under The Tuscan Fun Day tour with Stefano Rome Tours will take you to two of Tuscany's most resplendent towns: Cortona and Arezzo.
Whether you are a fan of the popular films "Under the Tuscan Sun" and "Life is Beautiful" or just wish to experience the superlative beauty Tuscany is legendary for, you will enjoy spending a day in the picture-perfect Tuscan countryside, reveling in the medieval atmosphere, savoring the local flavors, and creating lifelong memories of your special day in Tuscany.
AREZZO - the Tuscan city steeped in ancient history

Like many remarkable Italian towns, Arezzo has ancient beginnings dating back to the Paleolithic Era, and later on in the 9th century BC becoming an Etruscan capital named Arretium.
Over the course of its long history, Arezzo flourished into one of the most significant cities in Tuscany boasting incredible churches, monuments, and museums. In Arezzo, you will discover riches and treasures of all kinds: from beautiful architecture and art to precious gold jewels as Arezzo is one of the main centers of Italy for goldsmiths.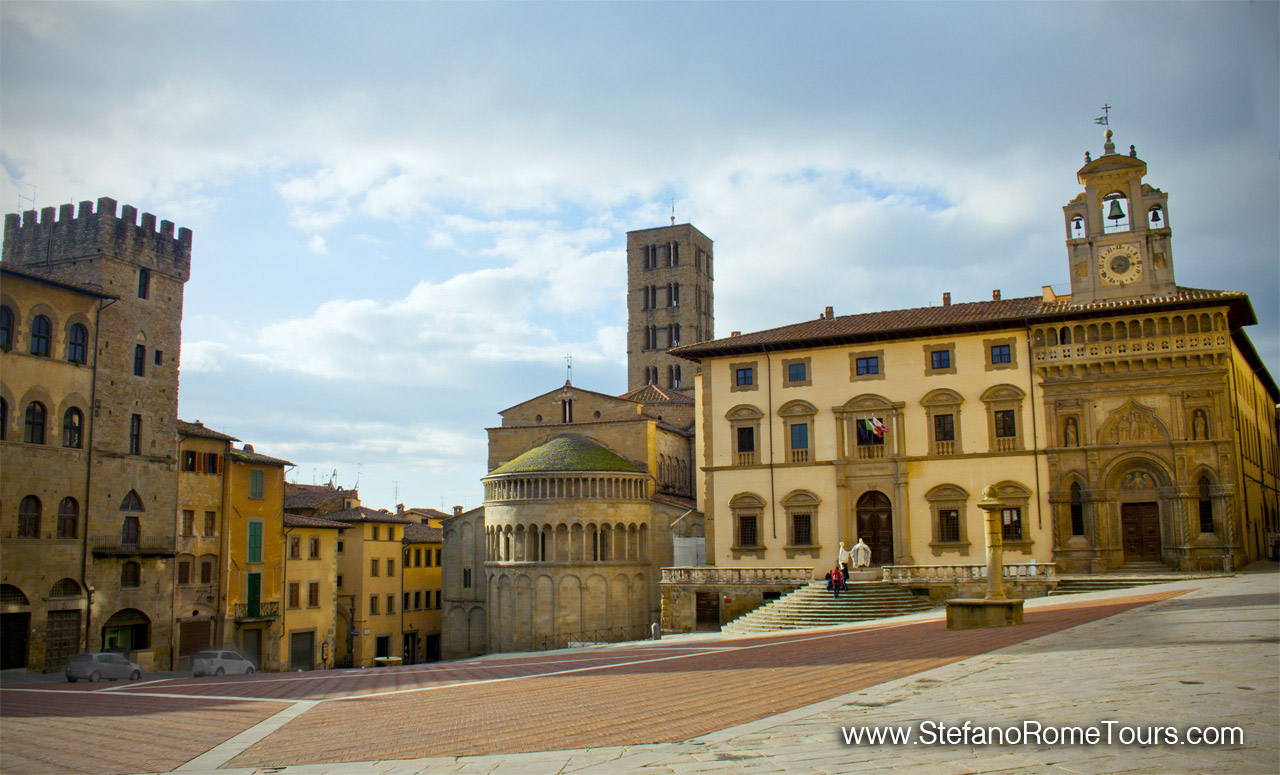 In Arezzo, you will enjoy some free time to stroll through Piazza Grande, the medieval square surrounded by a melange of Medieval and Renaissance palaces, churches and towers vying for your admiration. The award-winning film "A Beautiful Life" starring Roberto Benigni was also filmed here - and not surprisingly, the actor himself was born here as well.
Welcome free time on your own to savor the local cuisine for lunch at any restaurant of your preference in Arezzo.
CORTONA - Tuscany's fabled hilltop town


Your Tuscany tour continues to Cortona, the hilltop jewel surrounded by breathtaking panoramas of soft rolling hills, lush valleys, and characteristic cypress trees that make up the picturesque Tuscan countryside.
Well known in its own right as an outstanding artistic and cultural attraction, Cortona captured the hearts and imagination of millions through the memoir "Under The Tuscan Sun" written by author Frances Mayes that later became a popular film by the same name starring Diane Lane and Raul Bova. Many of the scenes in the movie were filmed here.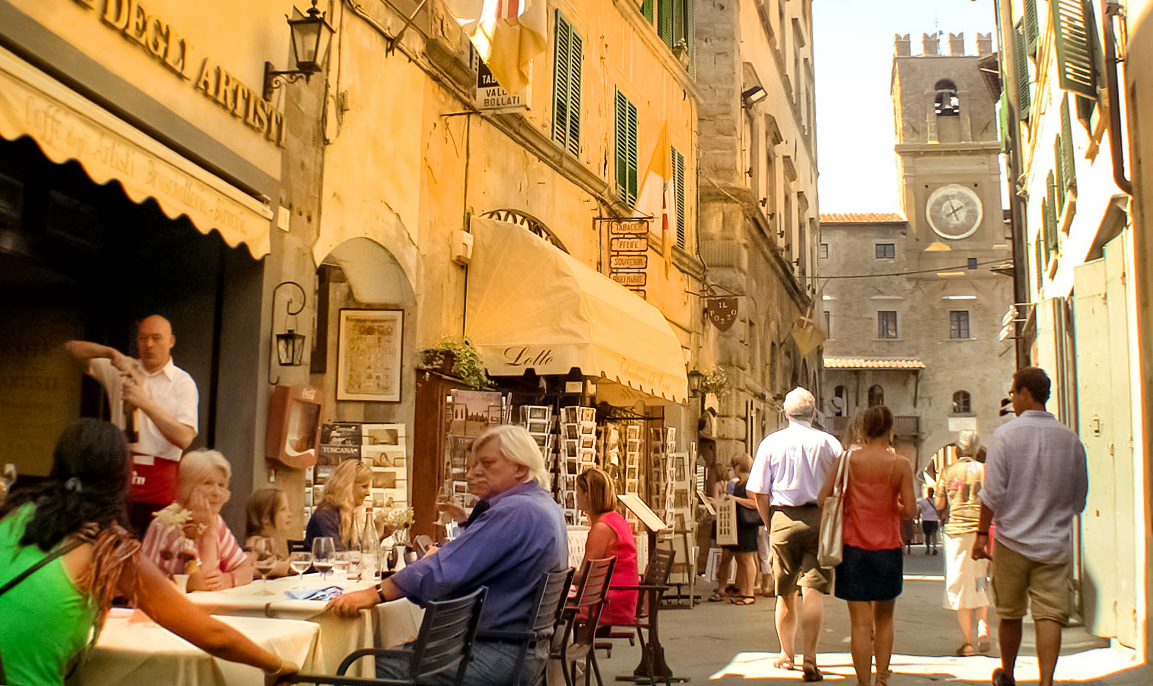 On a stroll through the Medieval streets and historic piazzas of Cortona you will be greeted by small shops, contemporary boutiques, outdoor and indoor cafes, art galleries, wine shops and restaurants that offer locally crafted items, wines and gastronomical products from the region.
Cortona's distant origin is lost in the mists of many mysteries of Noah's Flood, tales of Troy, and legends of Ulysses and Pythagoras passed down from classical times, but it's documented history mirrors Arezzo in that Cortona was also once a powerful Etruscan capital with its ancient origins still visible in its 3,000 years old Etruscan walls. Cortona's antiquity can be appreciated in a popular local quote: "Cortona: the Mother of Rome".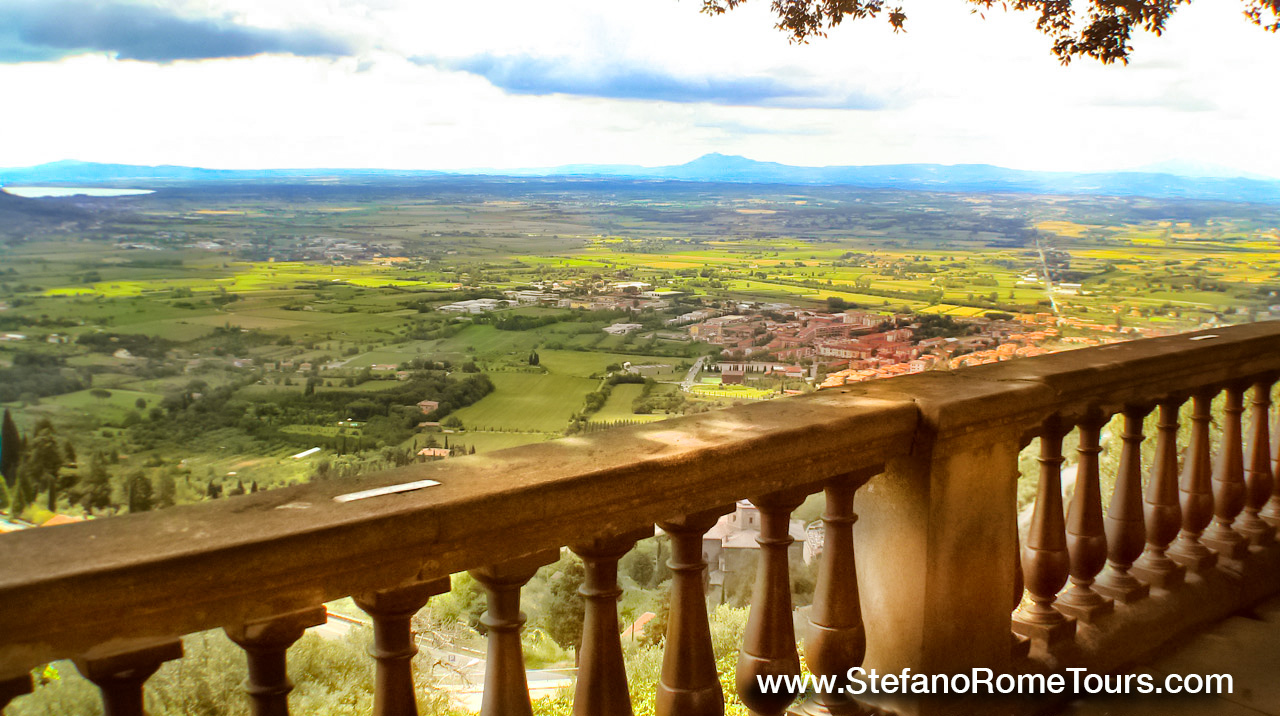 This marks the end of your Under the Tuscan Fun Tour. From Cortona, you will enjoy a leisurely drive through the countryside back to your accommodation in Florence or Rome.
Thank you for choosing Stefano Rome Tours for your Tuscany Day Tours and Italy Shore Excursions. We look forward to seeing you soon in Italy!
Important Information

Please READ the important information below as well as Read & Accept our TERMS OF SERVICE and Privacy Policy prior to placing your reservation request(s).


PAYMENT OPTIONS for Under the Tuscan Fun Tour:
Payment can be made in Euro funds at the end of your journey directly to your driver, or you may prepay in advance via PayPal or Credit Card online.

CANCELLATION POLICY:


We kindly ask that cancellations be made at least 7 days in advance so we can rebook your service and your reserved driver does not lose work for that day. We thank you for your cooperation and consideration.
** PREPAID SERVICES can only be Refunded the Net Rate we receive from your prepayment. Net Rate is the actual service price minus the fees retained by PayPal/Credit Card that are not reimbursed to us in case of refunds. We can only refund the portion we receive from the PayPal/CC company.
EMAIL INQUIRIES / BOOKING REQUESTS
Please allow up to 24 hours for email correspondence in response to email inquiries and tour reservation requests.
We reply to ALL emails and booking requests we receive. If you don't receive correspondence from us within 24-48 hours please CHECK YOUR SPAM FOLDER, or send us an email from a different E-mail account.
YOUR STEFANO ROME TOURS DRIVER
This tour provides an English-speaking Driver who is NOT a Licensed Tour Guide. Your driver will be happy to provide general touristic information while at the vehicle, but will not be able to accompany you to sightsee away from the vehicle.
* Italy has strict laws and regulations aimed to protect official licensed guides that makes it unlawful for Drivers to act as tour guides or accompany guests to sightsee on foot away from the vehicle. In order for us to comply with Italy's laws, Drivers are required to remain with the vehicle while guests sightsee on their own away from the vehicle.
* On this Under the Tuscan Fun Tour by car you will SELF TOUR (unaccompanied by your driver) when away from the vehicle.
* You will be dropped off as close to the sites as possible in accordance with municipality and traffic laws.
MEETING POINTS TO MEET YOUR DRIVER at your Hotel Accommodation:
From your hotel, your driver will meet you inside the lobby of your hotel or the area permitted by your hotel.
For Apartments or B&Bs without a lobby, your driver will meet you outside the main entrance of your Address.
* If your hotel or accommodation is located on a street or in an area that is restricted to vehicle traffic, your driver will park as close as lawfully possible, and meet you on foot at your Address to accompany you to your parked vehicle. Door to Door service may not be possible on streets and areas that are restricted to vehicle traffic or stops.