description
ROME PRE CRUISE TOUR PRICE LIST


For up to 4 Persons from Rome Hotel: 470 EUROS
For up to 6 Persons from Rome Hotel: 550 EUROS
For up to 8 Persons from Rome Hotel: 600 EUROS


** Dates on the Booking Form Calendar that are NOT Selectable, are NOT AVAILABLE.

If you are taking a Rome Cruise, why just book a regular Civitavecchia Cruise Port Transfer from Rome when you can enjoy a sightseeing tour of Rome concluding at your cruise ship in Civitavecchia for an exciting fun filled way to begin your Rome cruise.
Our Rome Pre-Cruise Tour and Transfer to Civitavecchia combination offers you the exciting opportunity of spending the first half of your day enjoying Rome's most famous sites, and then be transported directly to your cruise ship in Civitavecchia to begin your cruise.
Your luggage will remain safely inside the vehicle under the care of your Private Driver while you Self Tour away from the vehicle on your wonderful morning of sightseeing Rome highlights!
COLOSSEUM SQUARE - Rome's ancient architectural wonders


Your half day Pre Cruise Tour will begin with a stop in Colosseum Square dominated by the ancient 1st century AD Roman amphitheater that for 4 centuries entertained up to 50,000 spectators with gladiatorial games, mock sea battles, theatrical plays, beast hunts, and even public executions.
Today, the Colosseum is the iconic symbol of Ancient Rome's architectural advancements that has inspired contemporary sports arenas world wide. Take the oportunity to walk around this massive monument and see it from different angles as the shape changes from different points of view.
As you stroll through this historic square in the heart of Ancient Rome surrounded by magnificent monuments and ruins, don't miss the nearby Arch of Constantine - the massive triumphal arch of Roman Emperor Constantine that commemorated Constantine's victory over Emperor Maxentius at Battle of Milvian Bridge in 312 AD.
VISIT ROME'S FAMOUS SQUARES
You will have the opportunity on this Pre-Cruise Tour to visit many of Rome's most popular squares often seen in movies and classic films.
Piazza della Rotonda - Rome's magnficient square


As you enter the captivating expanse of Piazza della Rotonda, prepare to be enchanted by the spellbinding sight of the Pantheon and the alluring Fontana del Pantheon.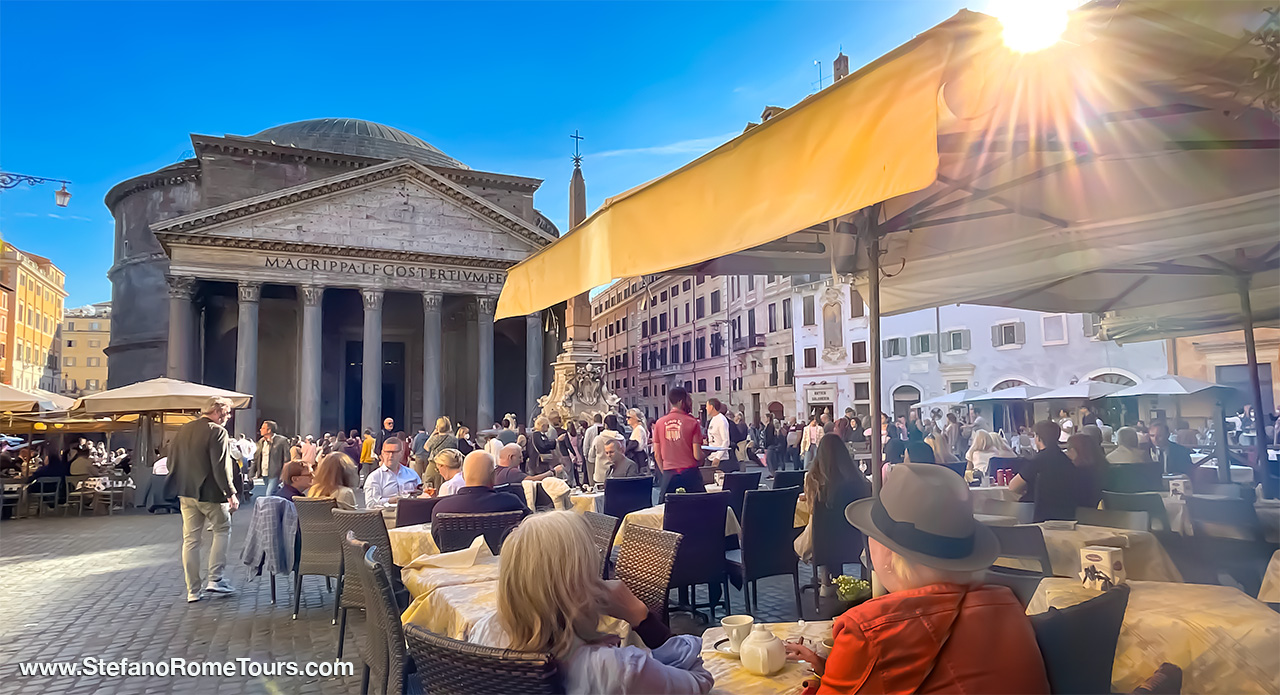 The fountain's charm is elevated by the presence of an exquisite marble Egyptian obelisk, once an integral part of a remarkable pair meticulously crafted for the revered Temple of Ra in Heliopolis. Discover its twin counterpart adorning the front of the Basilica of Santa Maria Sopra Minerva, tucked away just behind the Pantheon.
Stand in awe before the commanding Pantheon, an extraordinary structure that embodies the rich history of ancient Rome, evolving from a pagan temple to the cherished church of Saint Mary and the Martyrs.
Stroll leisurely through the square, where the air resonates with the whispers of time from the venerable palazzi that line its edges. Meander around the Pantheon, and be surprised at the Basilica of Santa Maria Sopra Minerva, enhanced by the renowned statue of Bernini's elephant, bearing the weight of the obelisk on its back. Let your curiosity guide you as you explore enticing shops brimming with exquisite treasures, and indulge in the heavenly flavors of a gelato at one of the nearby gelaterias, immersing your senses in pure bliss.
Please note: Unfortunately, due to long entry lines, even for visitors with hard-to-obtain pre-booked time slot tickets, a visit inside the Pantheon is not included in this tour


Trevi Fountain - a symphony of water and stone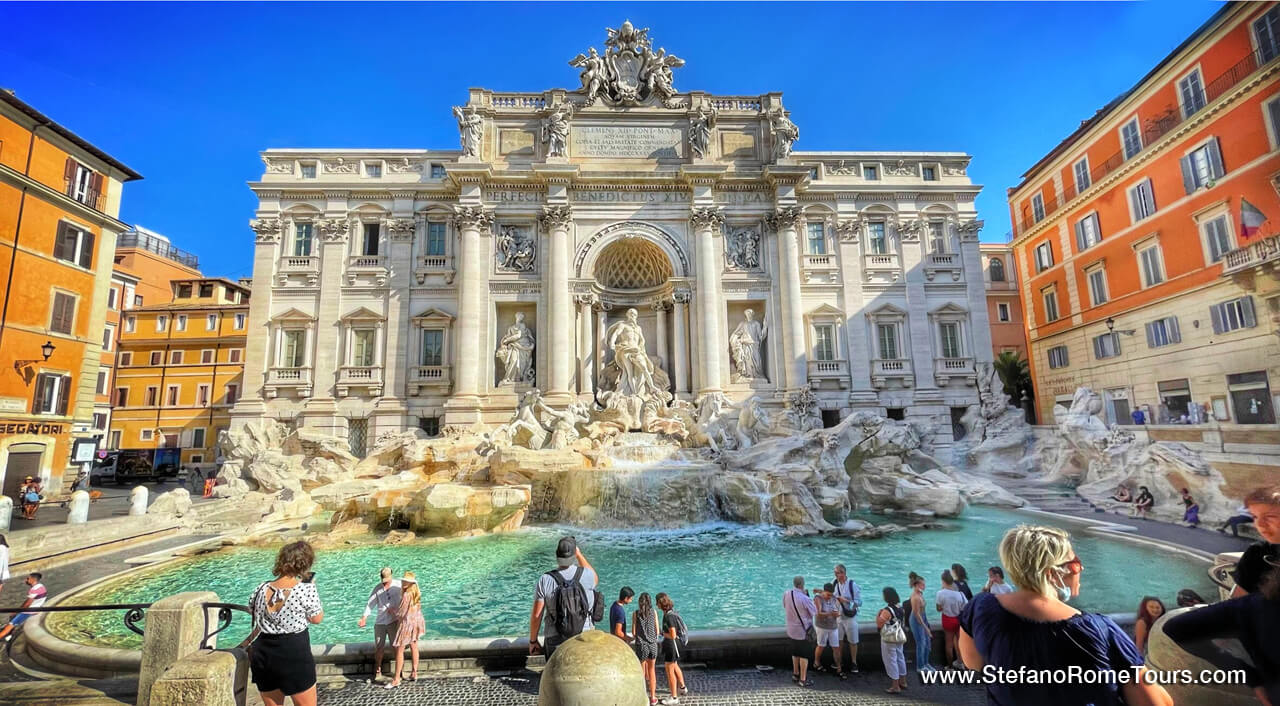 The magnificent Trevi Fountain stands as a true testament to beauty and cinematic history. Its majestic presence and intricate design have made it an enduring symbol of the Eternal City. Immortalized on the silver screen in the iconic films "La Dolce Vita" and "Three Coins in the Fountain," the Trevi Fountain has gained global recognition and holds a special place in the hearts of both locals and visitors alike.

Take a moment to admire the intricate details of the fountain's nautical sculptures, depicting mythological figures and cascading water that seems to dance with joy. It's easy to understand why so many have been captivated by its charm.
To truly immerse yourself in the tradition and folklore of the Trevi Fountain, follow the age-old ritual of tossing a coin into its crystal-clear waters. Legend has it that by throwing a coin over your left shoulder with your right hand, you ensure your return to the Eternal City. Tossing a second coin guarantees a new romance, while a third coin promises marriage. It's a delightful tradition that adds a touch of magic to your visit, and the sight of countless coins glimmering beneath the water's surface is a testament to the dreams and wishes of countless hopeful souls.
Spanish Steps - Baroque elegance


Indulge in the enchantment of the Spanish Steps, a cherished landmark that transcends time and has even graced the silver screen in the timeless romantic comedy "Roman Holiday" (or "Vacanze Romane" in its original title). This iconic attraction beckons you with its elegance and charm.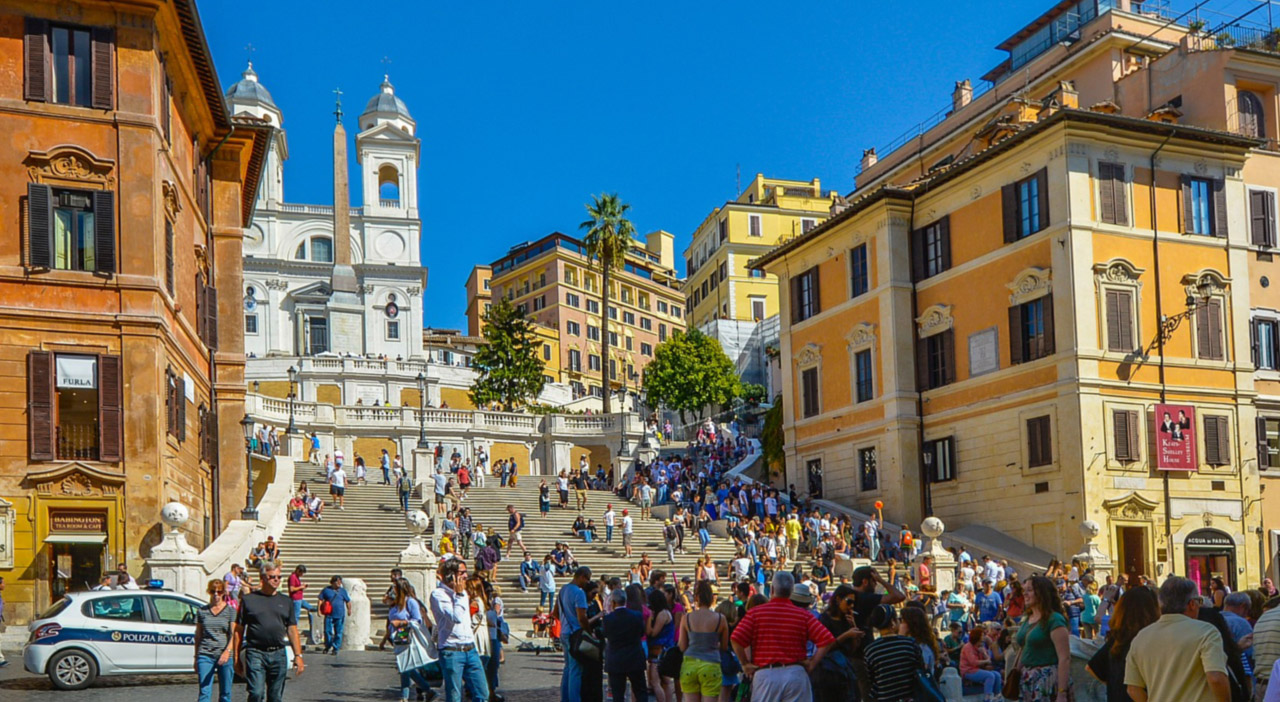 As you ascend this sprawling stairway, a masterpiece of architectural splendor, you'll be treated to breathtaking views of Rome unfolding before your eyes. The Spanish Steps serve as a captivating link between the Church of Trinita dei Monti, perched gracefully atop the summit, and the inviting Fountain of the Old Boat nestled in the square below.
Pause for a moment on one of the terraces, relishing the opportunity to soak in the atmosphere and witness the vibrant energy of the city. The Spanish Steps are not just a staircase; they are an invitation to become a part of the living tapestry of Rome.



Piazza Navona - Rome's lively square


The lively Piazza Navona is a sprawling square that effortlessly weaves together ancient history and vibrant beauty. Stretching across the outline of the ancient Roman Stadium of Domitian, this grand space embraces its oblong shape, serving as a living testament to the city's rich past.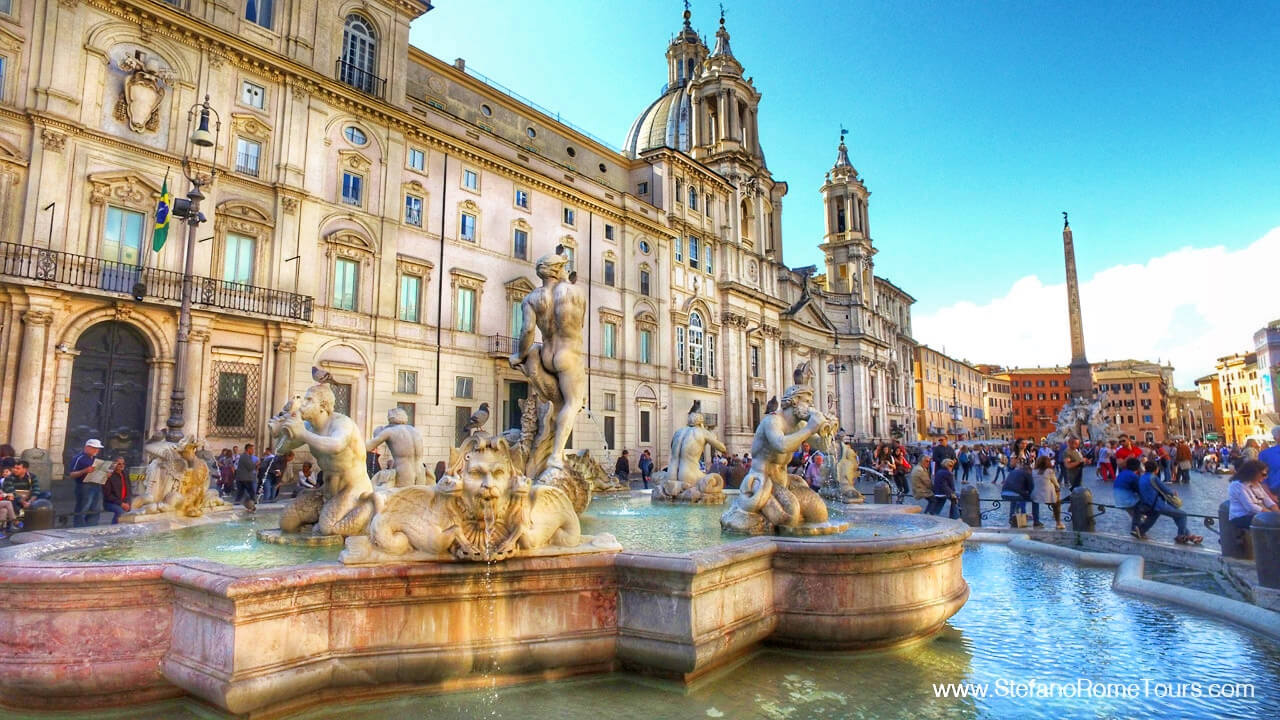 Adorned with colorful buildings, palaces, and the magnificent Church of Sant'Agnese in Agone, the square exudes a sense of timeless splendor.
But the true treasures of Piazza Navona lie within its fountains. The Fountain of the Moor, with its intricate sculptures and graceful water features, tells stories of ancient legends. The Fountain of Neptune, a majestic ode to the sea god, commands attention with its imposing presence and awe-inspiring design.
But the true centerpiece is the majestic Fountain of the Four Rivers, adorned with an imposing Egyptian obelisk reaching toward the sky. Symbolizing the four major rivers of the world, this remarkable masterpiece is a celebration of artistic prowess and cultural unity. Each figure represents a different continent, their poses capturing the essence of their respective lands. Water flows harmoniously, as if breathing life into the stone sculptures.
Immerse yourself in the vibrant energy that permeates Piazza Navona, as the fountains come alive with the dance of water and the voices of street performers fill the air. Take a leisurely stroll along the square, marveling at the architecture and soaking in the atmosphere of this bustling gathering place.
Janiculum Hill - view Rome's majestic skyline


What better way to say "Arrivederci Roma" and bid the Eternal City a fare well than a stop on top of Janiculum Hill. From this vantage point, you'll be treated to an awe-inspiring panoramic view of Rome, a tapestry of characteristic rooftops, ancient monuments, and majestic church domes that adorn the city's skyline.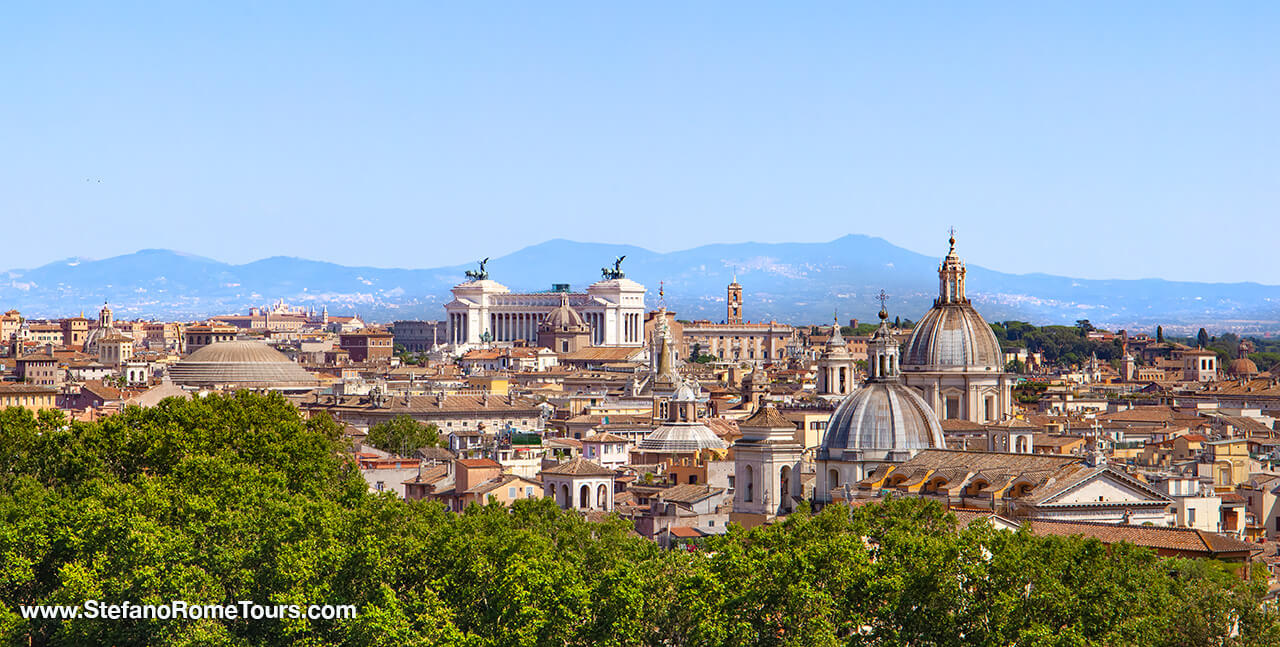 As you take in the sprawling vista before you, let the grandeur of Rome's rich history and architectural wonders wash over you.
This captivating view marks the perfect farewell to the Eternal City, offering a lasting memory of its timeless allure. Bid adieu to the Eternal City and embrace the excitement of new horizons that await you on your cruise from the port of Civitavecchia.
We thank you for booking our private Rome Tour with transfer to Civitavecchia, and for choosing Stefano Rome Tours for your Day Tours and Shore Excursions in Italy. We wish you in advance a wonderful Rome cruise and holiday!

Our Rome Cruise Guests who booked our Rome Pre-Cruise Tour also enjoyed the following Post Cruise Tour:
Important Information

Please READ the important information below as well as Read & Accept our TERMS OF SERVICE and Privacy Policy prior to placing your reservation request(s).


PAYMENT OPTIONS:
Payment for this Pre-Cruise Tour can be made in Euro funds at the end of your journey directly to your driver, or you may prepay in advance via PayPal or Credit Card online when you Confirm your Tour. Upon special request, you may also pay your Private Driver via Credit Card on the day of your morning Rome cruise tour.


CANCELLATION POLICY:
We kindly ask that cancellations be made at least 7 days in advance via Email so we can rebook your service and your reserved driver does not lose work for that day. We thank you for your cooperation and consideration.

** PREPAID SERVICES can only be Refunded the Net Rate we receive from your prepayment. Net Rate is the actual service price minus the fees retained by PayPal/Credit Card that are not reimbursed to us in case of refunds. We can only refund the portion we receive from the PayPal/CC company.


EMAIL INQUIRIES / BOOKING REQUESTS
Please allow up to 24 hours for email correspondence in response to email inquiries and tour reservation requests.
We reply to ALL emails and booking requests we receive. If you don't receive correspondence from us within 24-48 hours please CHECK YOUR SPAM FOLDER, or send us an email from a different E-mail account.

YOUR PRIVATE DRIVER
* This pre-cruise tour by car provides an English-speaking Private Driver who is NOT a licensed tour guide.
Italy laws permit only licensed tour guides to accompany guests to sightsee on foot away from the vehicle. To be compliant with Italy laws, your driver cannot lawfully guide you into the sites and will be obliged to remain with the vehicle while you SELF TOUR away from the vehicle.

LUGGAGE
* Small Car type vehicles priced for up to 2 persons can accommodate up to 2-3 standard suitcases and up to 2 small carryons. If you are a party of 2 anticipating bringing more luggage than can fit into the trunk space of a car-type vehicle please inform us in advance so you will be provided a suitable size vehicle.
* Large vehicles (minivans) can accommodate up to 6 standard check-in suitcases and up to 6 carry ons in total. If you anticipate bringing luggage in excess of what the vehicle can accommodate, please inform us prior to booking this service to determine if all your luggage would fit together in 1 vehicle.
Please do not leave any personal items and valuables inside the vehicle while away from the vehicle.


Where to Meet Your Driver at Rome Hotel / Accommodation:
For hotel pick-ups, your driver will meet you inside your hotel lobby, or area permitted by your hotel.
For Apartments or B&B's without a lobby, your driver will meet you at your address outside the main entrance.
* If your hotel / accommodation is situated on a street or in an area that is restricted to vehicle traffic, your driver will park the vehicle as close as lawfully possible and will meet you on foot at your Address. From there, your driver will accompany you to your parked vehicle.