description
ROME PRE CRUISE TOUR PRICE LIST


For up to 2 Persons from Rome Hotel: 400 EUROS
For up to 4 Persons from Rome Hotel: 450 EURO
For up to 6 Persons from Rome Hotel: 500 EUROS
For up to 8 Persons from Rome Hotel: 550 EUROS


** Dates on the Booking Form Calendar that are NOT Selectable, are NOT AVAILABLE.

Enjoy a visual journey of Rome's epochal highlights on our Rome Pre Cruise Tour VIDEO:


If you are taking a Rome Cruise, why just book a regular Civitavecchia Cruise Port Transfer from Rome when you can enjoy a sightseeing tour of Rome concluding at your cruise ship in Civitavecchia for an exciting fun filled way to begin your Rome cruise.
Our Rome Pre-Cruise Tour and Transfer to Civitavecchia combination offers you the exciting opportunity of spending the first half of your day enjoying Rome's most famous sites, and then be transported directly to your cruise ship in Civitavecchia to begin your cruise.
Your luggage will remain safely inside the vehicle under the care of your Private Driver while you Self Tour away from the vehicle on your wonderful morning of sightseeing Rome highlights!
COLOSSEUM SQUARE - surround yourself with Rome's ancient architectural wonders


Your half day Pre Cruise Tour will begin with a stop in Colosseum Square dominated by the ancient 1st century AD Roman amphitheater that for 4 centuries entertained up to 50,000 spectators with gladiatorial games, mock sea battles, theatrical plays, beast hunts, and even public executions.
Today, the Colosseum is the iconic symbol of Ancient Rome's architectural advancements that has inspired contemporary sports arenas world wide. Take the oportunity to walk around this massive monument and see it from different angles as the shape changes from different points of view.
As you stroll through this historic square in the heart of Ancient Rome surrounded by magnificent monuments and ruins, don't miss the nearby Arch of Constantine - the massive triumphal arch of Roman Emperor Constantine that commemorated Constantine's victory over Emperor Maxentius at Battle of Milvian Bridge in 312 AD.
VISIT ROME'S FAMOUS SQUARES
You will have the opportunity on this Pre-Cruise Tour to visit 3 of Rome's most popular squares often seen in movies and classic films.
Trevi Fountain was made famous in the films La Dolce Vita and 3 Coins in A Fountain. So be sure to toss a coin into the fountain yourself and follow this very popular tradition.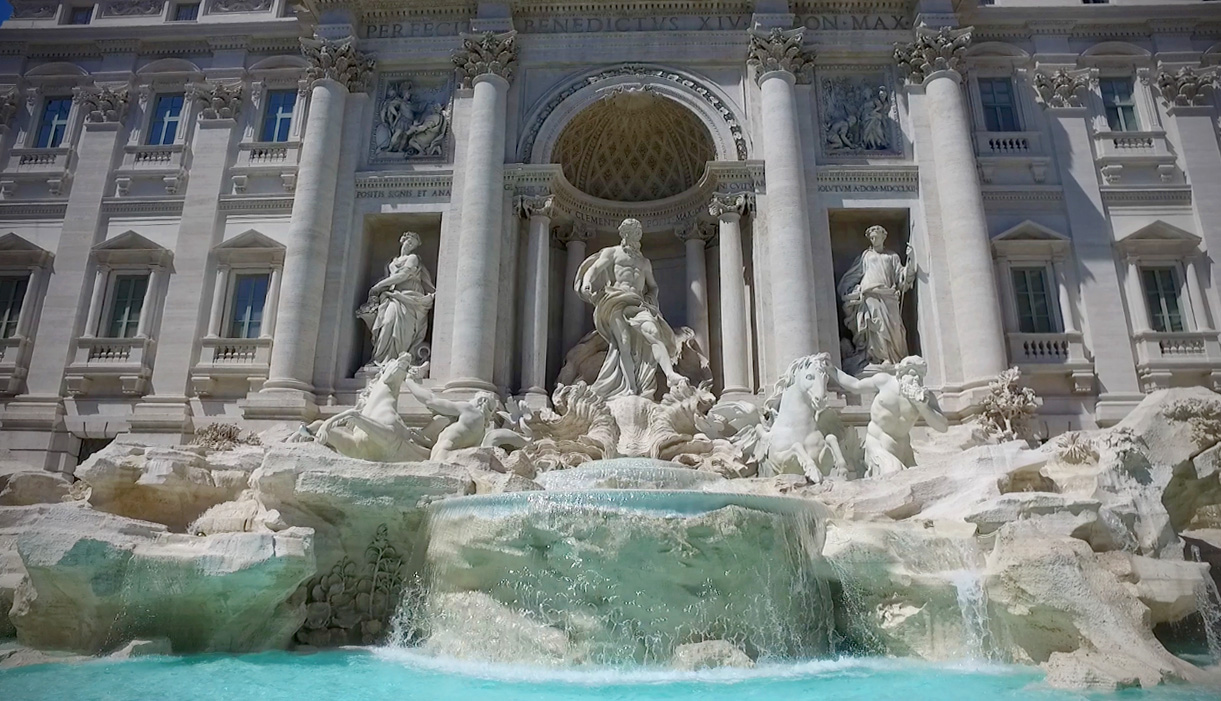 Not to be missed is the Spanish Steps, which was also featured in the classic romantic comedy Roman Holiday / Vacanze Romane). An elegant sprawling stairway conntects the Church of Trinita dei Monti at the top of the Spanish Steps, to the Fountain of the Old Boat in the square below.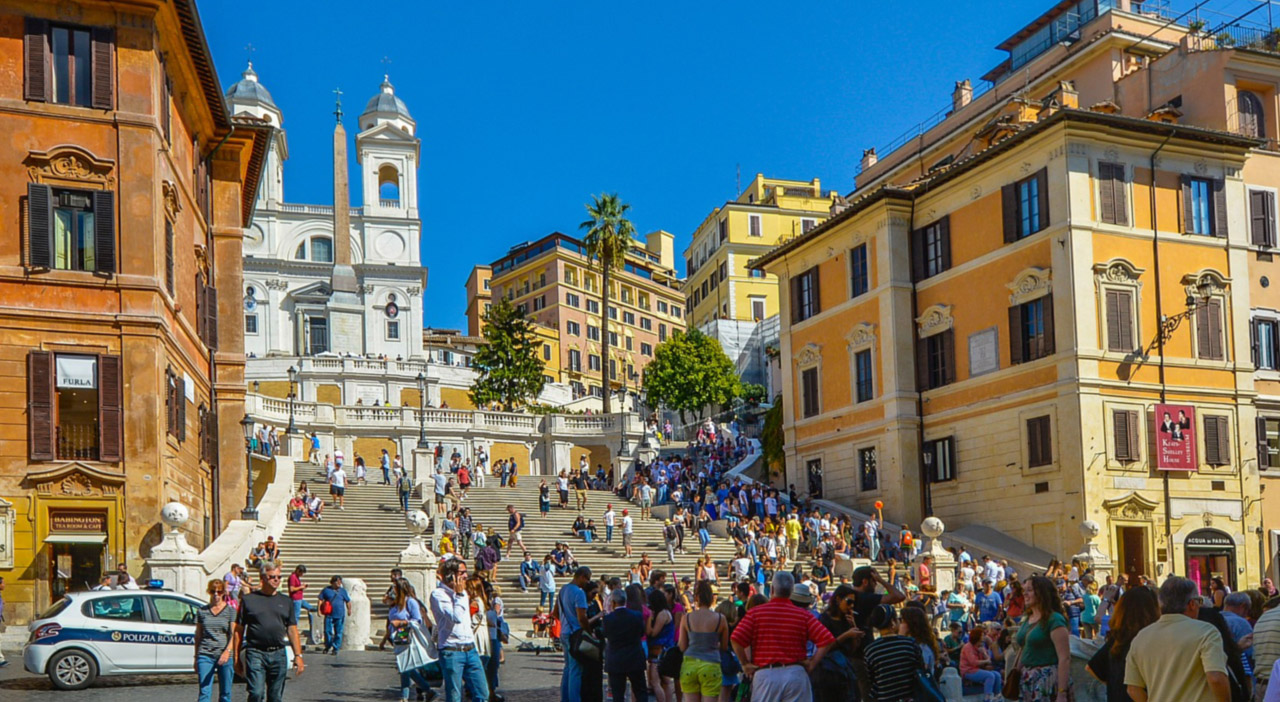 Piazza Navona is one of the largest squares that takes its oblog shape from the outline of the ancient Roman Stadium of Domitian upon which it stands. Ringed by colorful buildings, palaces and Church of Sant'Agnese in Agone, Piazza Navona boasts three fantastic fountains: Fountain of the Moor, Fountain of Neptuine, and the centerpiece: Fountain of the Four Rivers topped with a tall Egyptian obelisk.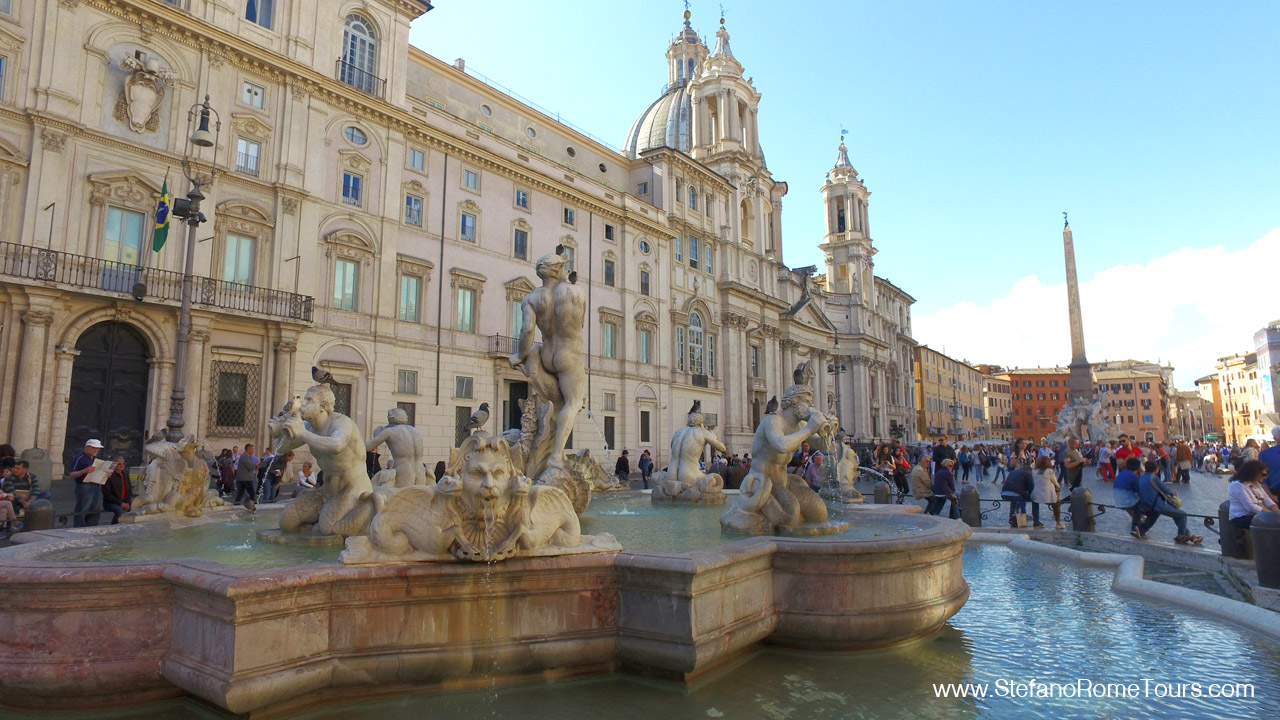 THE PANTHEON - the ancient Roman temple converted into a church
Not to be missed before your Rome cruise is the other Ancient Roman engineering masterpiece: the pagan temple dedicated to all gods, the Pantheon.
Considered the best preserved of all ancient Roman buildings, the Pantheon is the oldest standing domed structure in Rome as well as in continuous use throughout its history.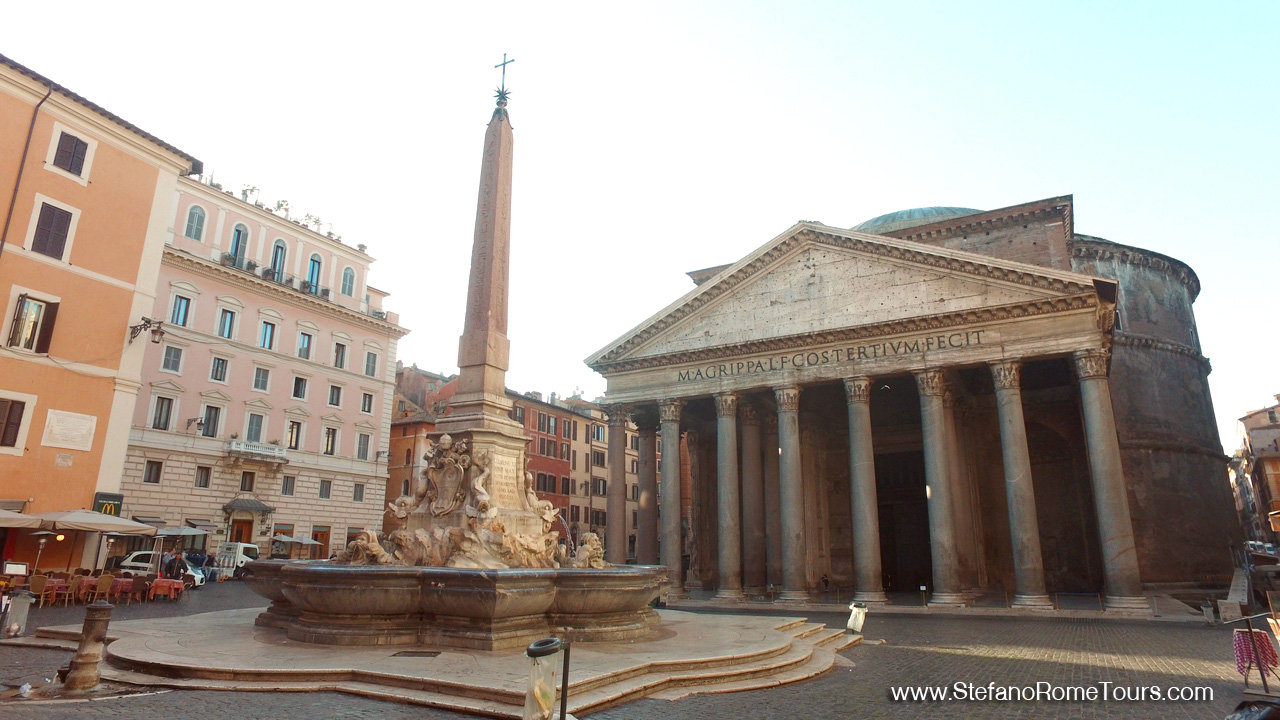 In 6th century AD, the ancient pagan temple was converted into a church and chosen as the burial place for Italy's most illustrious figures including King Umberto I and Queen Margherita, King Vittorio Emanuele II, and the renown Renaissance artist Raphael.
While inside the Pantheon don't forget to look up at the oculus ("eye" in Latin), this circular opening in the center of the dome has allowed nature's light and elements to pour into the interior while serving as an ingenious architectural element.
If you are touring Rome on weekends, the Pantheon requires Time Slot Entrance Tickets to be booked in advance. See more information below.


What better way to say "Arrivederci Roma" and bid the Eternal City a fare well than a stop on top of Janiculum Hill to enjoy the splendid panoramic view of Rome sprawled before you, sprinkled with characteristic rooftops, ancient monuments, and church domes.
From here you will depart for Civitavecchia and sail on your cruise!
We thank you for booking our private Rome Tour with transfer to Civitavecchia, and for choosing Stefano Rome Tours for your Day Tours and Shore Excursions in Italy. We wish you in advance a wonderful Rome cruise and holiday!

Our Rome Cruise Guests who booked our Rome Pre-Cruise Tour also enjoyed the following Shore Excursions from Italy's top cruise ports:
Important Information

Please READ the important information below as well as Read & Accept our TERMS OF SERVICE and Privacy Policy prior to placing your reservation request(s).


PAYMENT OPTIONS for Rome Pre-Cruise Tour:
Payment for this Pre-Cruise Tour can be made in Euro funds at the end of your journey directly to your driver, or you may prepay in advance via PayPal or Credit Card online when you Confirm your Tour. Upon special request, you may also pay your Private Driver via Credit Card on the day of your morning Rome cruise tour.


CANCELLATION POLICY:
We kindly ask that cancellations be made at least 7 days in advance via Email so we can rebook your service and your reserved driver does not lose work for that day. We thank you for your cooperation and consideration.

** PREPAID SERVICES can only be Refunded the Net Rate we receive from your prepayment. Net Rate is the actual service price minus the fees retained by PayPal/Credit Card that are not reimbursed to us in case of refunds. We can only refund the portion we receive from the PayPal/CC company.


EMAIL INQUIRIES / BOOKING REQUESTS
Please allow up to 24 hours for email correspondences in reponse to email inquiries and tour reservation requests.
We reply to ALL emails and booking requests we receive. If you don't receive correspondence from us within 24-48 hours please CHECK YOUR SPAM FOLDER, or send us an email from a different E-mail account.


PANTHEON ENTRANCE TICKETS on WEEKENDS
If you will be touring Rome on Saturday or Sunday, the Pantheon requires booking Time Slot Entrance Tickets in advance. We will provide you with the links and a suitable time slot for your Pantheon Visit. Be sure to book them early as the time slots get booked up fast!
YOUR PRIVATE DRIVER
* This pre-cruise tour by car provides an English-speaking Private Driver who is NOT a licensed tour guide.
Italy laws permit only licensed tour guides to accompany guests to sightsee on foot away from the vehicle. To be compliant with Italy laws, your driver cannot lawfully guide you into the sites and will be obliged to remain with the vehicle while you SELF TOUR away from the vehicle.

LUGGAGE
* Small Car type vehicles priced for up to 2 persons can accommodate up to 2-3 standard suitcases and up to 2 small carryons. If you are a party of 2 anticipating bringing more luggage than can fit into the trunk space of a car-type vehicle please inform us in advance so you will be provided a suitable size vehicle.
* Large vehicles (minivans) can accommodate up to 6-7 standard check-in suitcases and up to 6-7 carry ons in total. If you anticipate bringing luggage in excess of what the vehicle can accommodate, please inform us prior to booking this service to determine if all your luggage would fit together in 1 vehicle.
Please do not leave any personal items and valuables inside the vehicle while away from the vehicle.


Where to Meet Your Driver at Rome Hotel / Accommodation:
For hotel pick-ups, your driver will meet you inside your hotel lobby, or area permitted by your hotel.
For Apartments or B&B's without a lobby, your driver will meet you at your address outside the main entrance.
* If your hotel / accommodation is situated on a street or in an area that is restricted to vehicle traffic, your driver will park the vehicle as close as lawfully possible and will meet you on foot at your Address. From there, your driver will accompany you to your parked vehicle.