description
Buongiorno and welcome to Stefano Rome Tours! If you find yourself torn between exploring Rome or venturing into the captivating countryside, we have the perfect solution for you.
Whether you are staying in a Rome hotel or arriving on a shore excursion from Civitavecchia, on our Rome City and Countryside Tour you can enjoy the best of both worlds!
Embark on a journey that takes you through the heart of Rome, unveiling its most awe-inspiring squares and ancient Roman monuments. Immerse yourself in the grandeur of Rome, stroll through the captivating streets, and marvel at the rich history that surrounds you.
Then, escape the city's hustle and bustle and embrace the serene beauty of the countryside. Delight in the magnificent medieval glories that await you, as you traverse charming historic villages, delight in medieval castles, and bask in the idyllic landscapes and pristine lakes.
With our Rome City and Countryside Tour, you can savor the beauty of the Eternal City and indulge in the medieval charm of the countryside, all in one unforgettable day tour.
ROME CITY AND COUNTRYSIDE TOUR



TOUR FROM ROME HOTEL
For up to 4 Persons from Rome Hotel: 450 EUROS
For up to 6 Persons from Rome Hotel: 500 EUROS
For up to 8 Persons from Rome Hotel: 550 EUROS

SHORE EXCURSION FROM CIVITAVECCHIA PORT
For up to 4 Persons from Civitavecchia Port: 550 EUROS
For up to 6 Persons from Civitavecchia Port: 600 EUROS
For up to 8 Persons from Civitavecchia Port: 650 EUROS


* DATES on the Booking Form Calendar that are NOT Selectable, are NOT AVAILABLE.


ROME CITY HIGHLIGHTS TOUR



SEE ANCIENT ROME WONDERS

Your Rome City and Country tour will begin with stops at many of Rome's most famous squares with opportunities to view some of Ancient Rome's magnificent monuments.

Enjoy a stroll in Colosseum Square dominated by the formidable Colosseum, Rome's iconic amphitheater built between 78-80 AD by Emperors Vespasian and Titus. Built as the largest amphitheater built of its time, it accommodated more than 50,000 spectators who, for centuries, gathered around its oval arena where gladiatorial fights, reenactments of famous battles, mock sea battles, animal hunts, and theatrical dramas, among other spectacles, were held.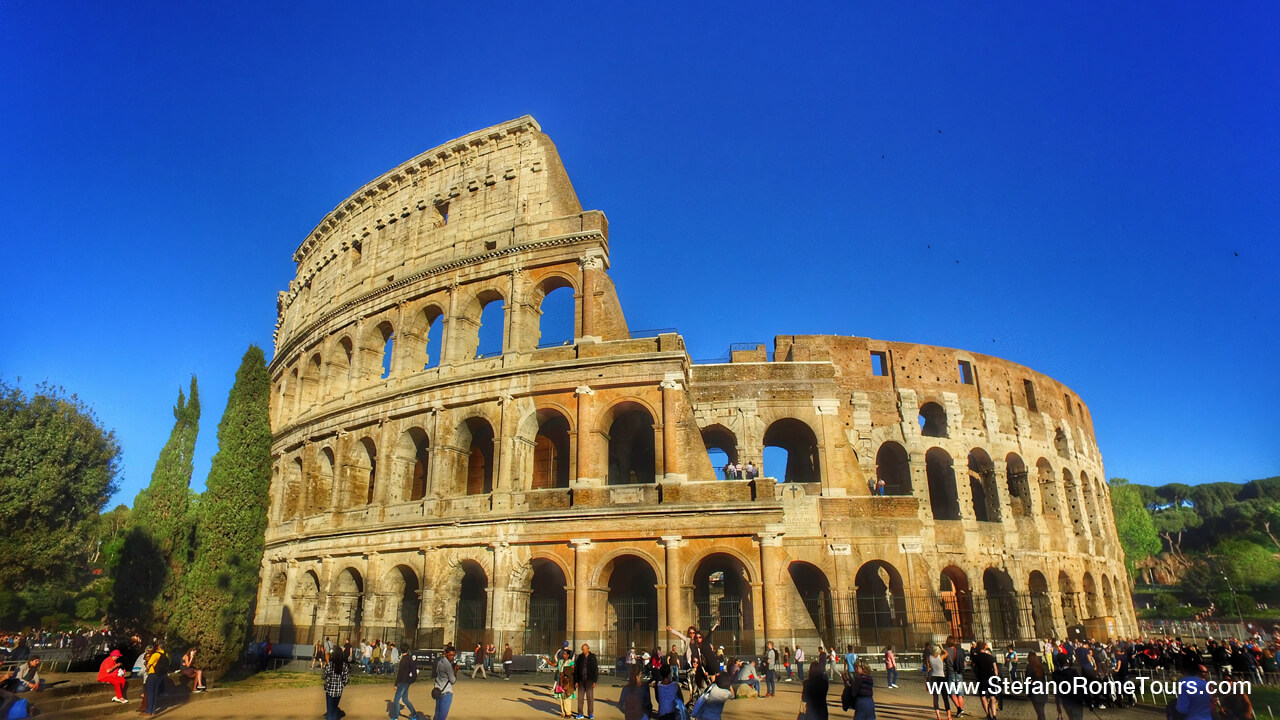 Near the Colosseum is the towering Arch of Constantine, a tall 4th-century AD triumphal arch built to commemorate Emperor Constantine's victory in the famous Battle of Milvian Bridge against Emperor Maxentius.
This tour includes an outside view of the Colosseum. This tour does not include sufficient time to visit the Colosseum.


ROME'S MOST FAMOUS SQUARES

Not to miss on your morning of Rome City and Countryside tour is visiting Rome's vibrant fountains: Piazza della Rotonda, Trevi Fountains, Spanish Steps, and Piazza Navona.
Piazza della Rotonda
As you step into Piazza della Rotonda, your eyes will be irresistibly drawn to the awe-inspiring Pantheon and the captivating Fontana del Pantheon.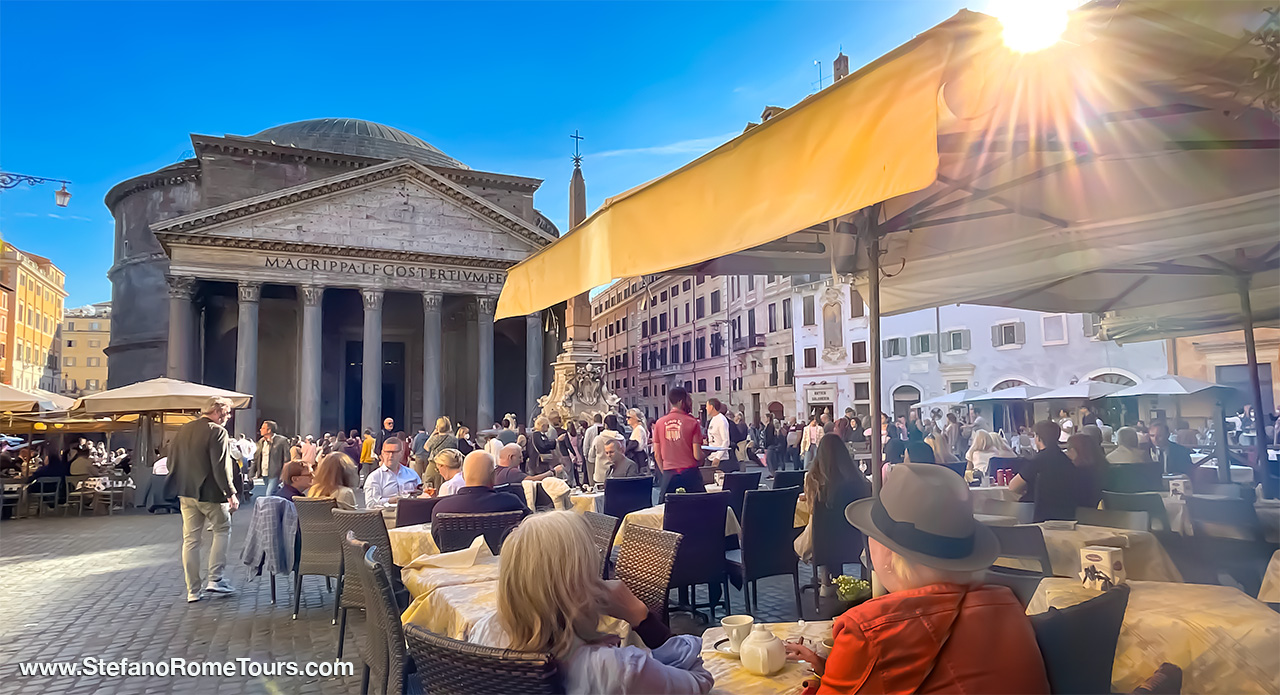 The fountain's allure is further heightened by the remarkable marble Egyptian obelisk adorning its crown, once part of a magnificent duo crafted for the Temple of Ra in Heliopolis. Its twin counterpart proudly graces the front of the Basilica of Santa Maria Sopra Minerva, situated just behind the Pantheon.
Stand in awe in front of the imposing Pantheon, once a pagan temple of ancient Rome that has since been transformed into the cherished church of Saint Mary and the Martyrs.
Take a leisurely stroll through the square where historical palazzi whisper tales of the past. Venture around the Pantheon and marvel at the striking Basilica of Santa Maria Sopra Minerva, fronted by the renowned statue of Bernini's elephant carrying the obelisk. Indulge your curiosity by browsing through enticing shops brimming with unique treasures, and savor the divine flavors of a gelato at a nearby gelateria.
Please note: Unfortunately, due to long entry lines, even for visitors with hard-to-obtain pre-booked time slot tickets, a visit inside the Pantheon is not included in this tour
Trevi Fountain

The Trevi Fountain will beckon you with its unmistakable melody of water gushing from various stone sculptures into its large pool of water. Trevi Fountain is located at a junction of three roads (tre vie), and is the terminal of Acqua Vergine, the revived Aqua Virgo, one of the ancient Roman aqueducts that supplied ancient Rome with spring water since 19 BC. Throwing a coin into the Trevi Fountain is a decades-long tradition said to ensure a future return to the Eternal City!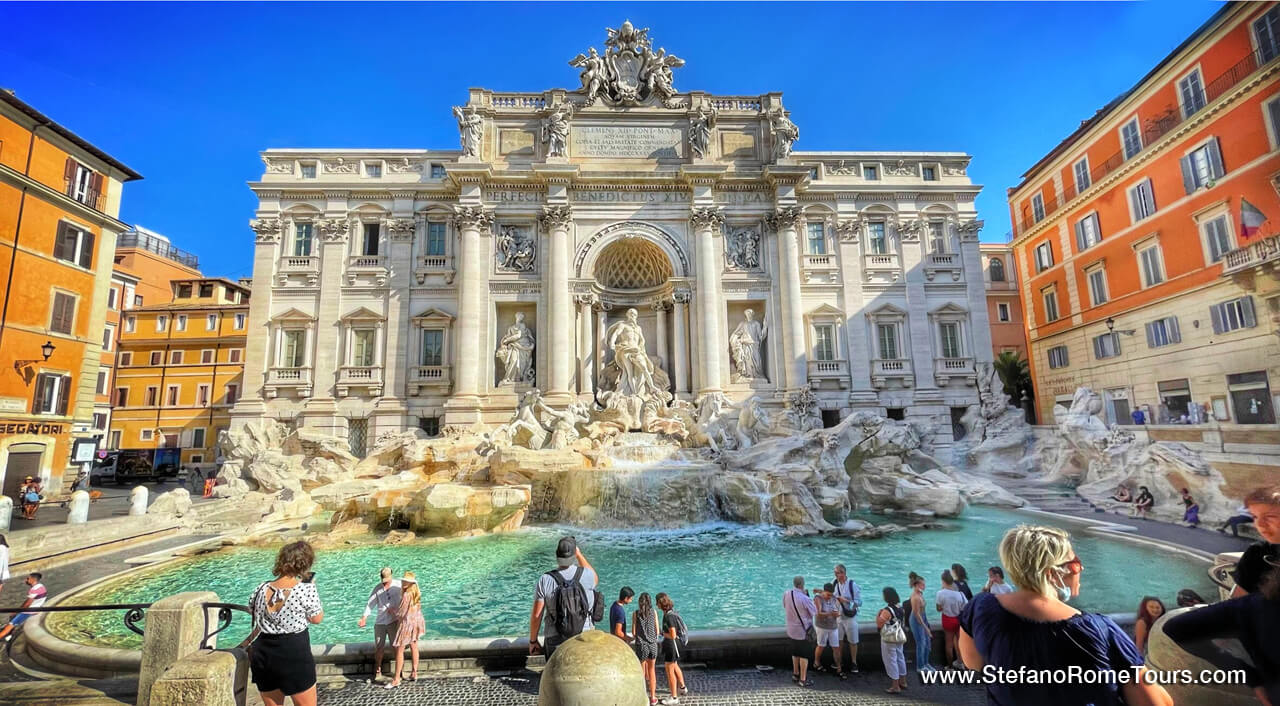 Spanish Steps

The Spanish Steps will welcome you with its elegant stairway that connects the French Church of Trinita dei Monti and the obelisk above to the square below where the Baroque-style fountain "Fontana della Barcaccio" - "The Fountain of the Long Boat" - that appears flooded and half sunk with water overflowing into a shallow pool of water. This unusual travertine masterpiece is credited to Pietro Bernini, the father of the world-famous Gian Lorenzo Bernini.
Piazza Navona

The lively Piazza Navona is an oblong-shaped piazza ringed by beautiful palazzi and bestowed with three magnificent fountains. The unique shape outlines the ancient 1st century AD Roman Stadium built by Emperor Domitian for athletic competitions. The square's current name Navona evolved from the ancient word for "games", 'agones'.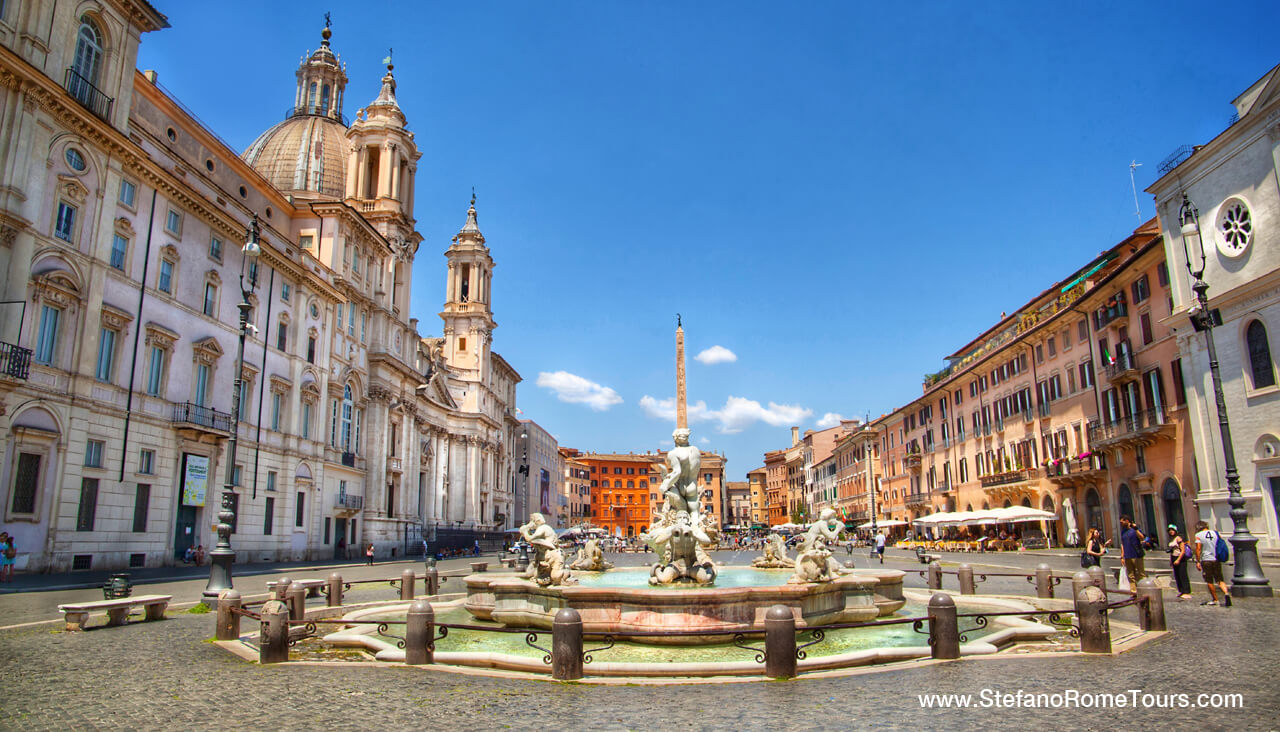 Of the squares threw fountains, its centerpiece fountain is the most elaborate: the Fountain of Four Rivers (Fontana dei Quattro Fiumi) designed by Gian Lorenzo Bernini in 1651. This masterpiece of stone and water represents the four main rivers of the major continents known in that era: Danube (Europe), Nile (Africa), Rio de la Plata (America) and Ganges (Asia). The fountain is surmounted by an ancient Egyptian obelisk erected by Pope Innocent X.


VISIT THE ROMAN COUNTRYSIDE
VISIT THE MEDIEVAL VILLAGE OF CERI

Your Rome City and Countryside Tour continues from Rome through the bucolic countryside to the 13th-century medieval hamlet of Ceri. Dramatically located on a fortified plateau of tuff with reinforced walls gives the village the appearance of a medieval fortress isolated on top of a steep cliff.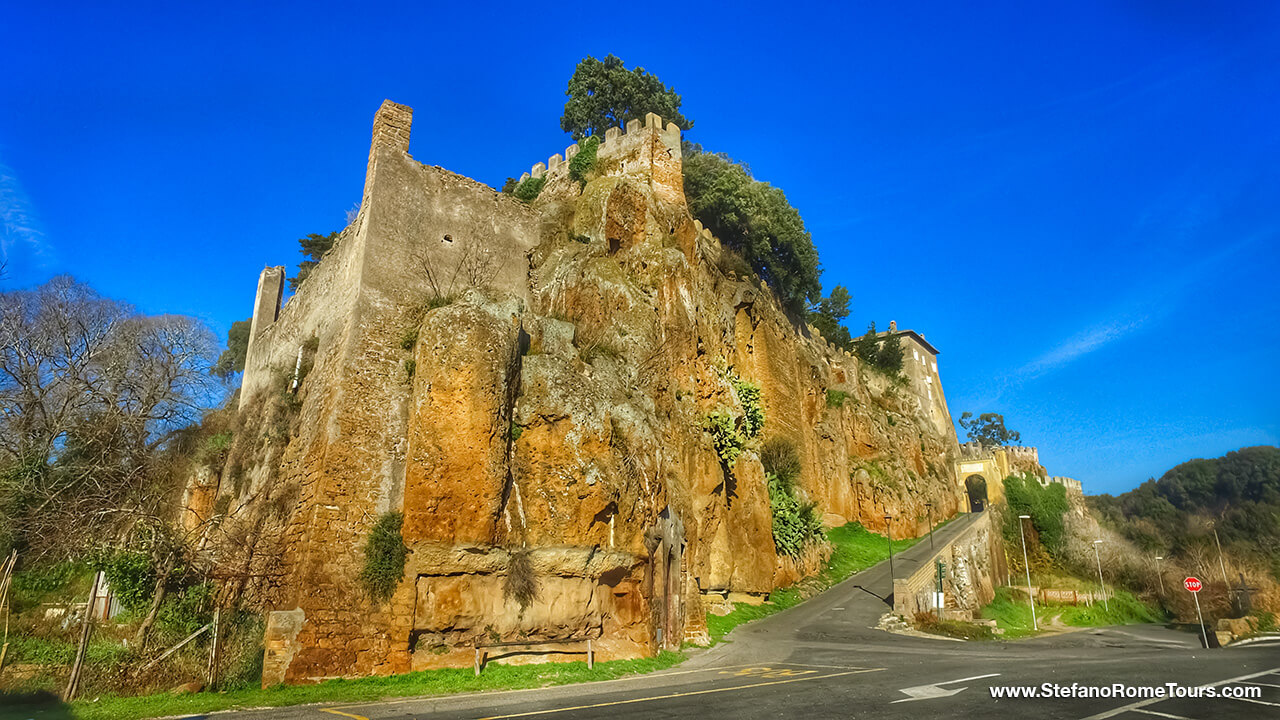 The village's ancient past dominating the present reveals itself as soon as you arrive at the bottom of the cliff. The village is accessed by a single winding road carved into the rock, wide enough for only a single vehicle to pass through at a time.
This unusual traffic problem was resolved with the installation of two traffic lights: one at the bottom of the hill, and one in the main square above where the road ends. The charming town square is surrounded by ochre and sienna-colored medieval buildings aged by the passage of time.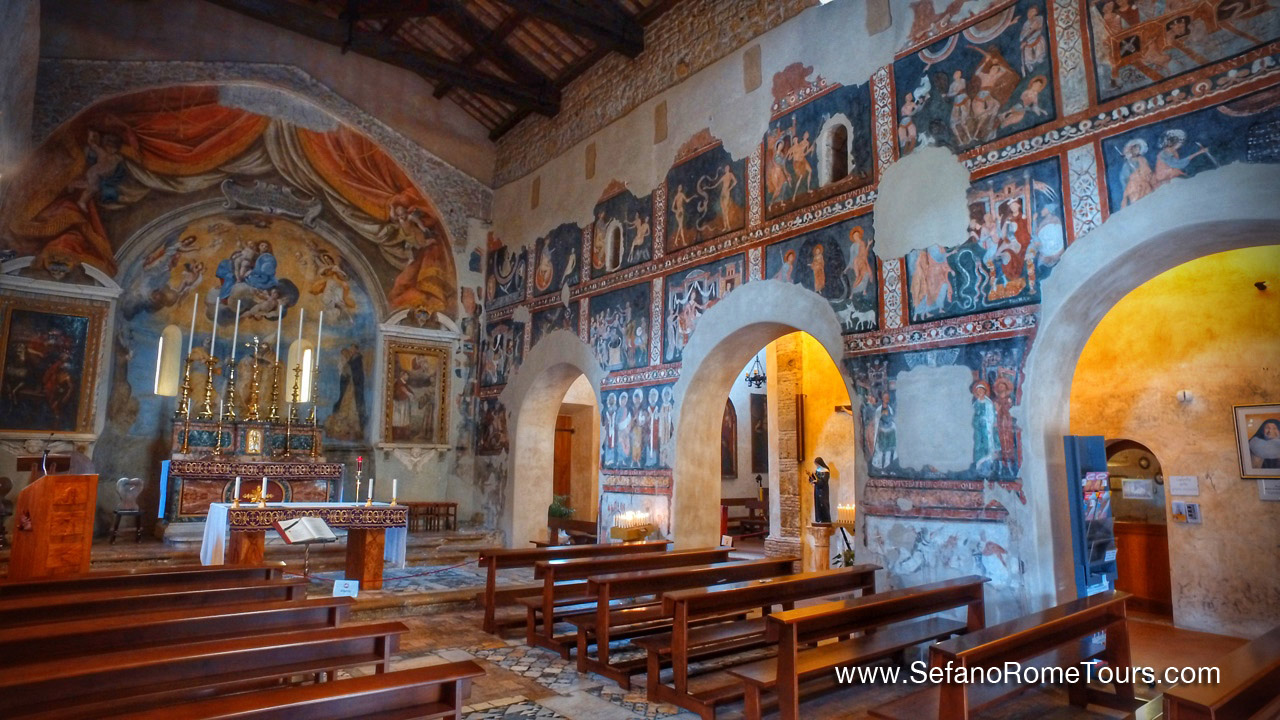 You may visit the beautiful Sanctuary of the Madonna di Ceri, a Romanesque church with an unassuming facade built on top of an ancient temple where ancient Etruscans and Romans venerated the pagan goddess Vesta. The remarkable beauty of the church is found inside the Sanctuary with stunning ancient and medieval frescoes adorning the walls. The Virgin Mary for whom this Sanctuary is named is known for her intercession and for helping people who are experiencing difficulties.

After a delicious traditional Italian lunch at a local family-owned restaurant Ceri, your journey continues through the Roman countryside to the historical town of Bracciano dominated by the imposing 16th-century Castello Orsini - Odescalchi (Bracciano Castle).
VISIT THE FAIRYTALE CASTLE OF BRACCIANO

Bracciano Castle is in remarkable condition and still owned by the Odescalchi family for 400 years. Although privately owned, the multi-level castle serves as a museum enjoyed by countless visitors. You will have the opportunity to visit the castle for up to 1 hour, exploring the sumptuous rooms, atrium, the large castle kitchen, and the ramparts on top of the castle's crenelated defensive walls.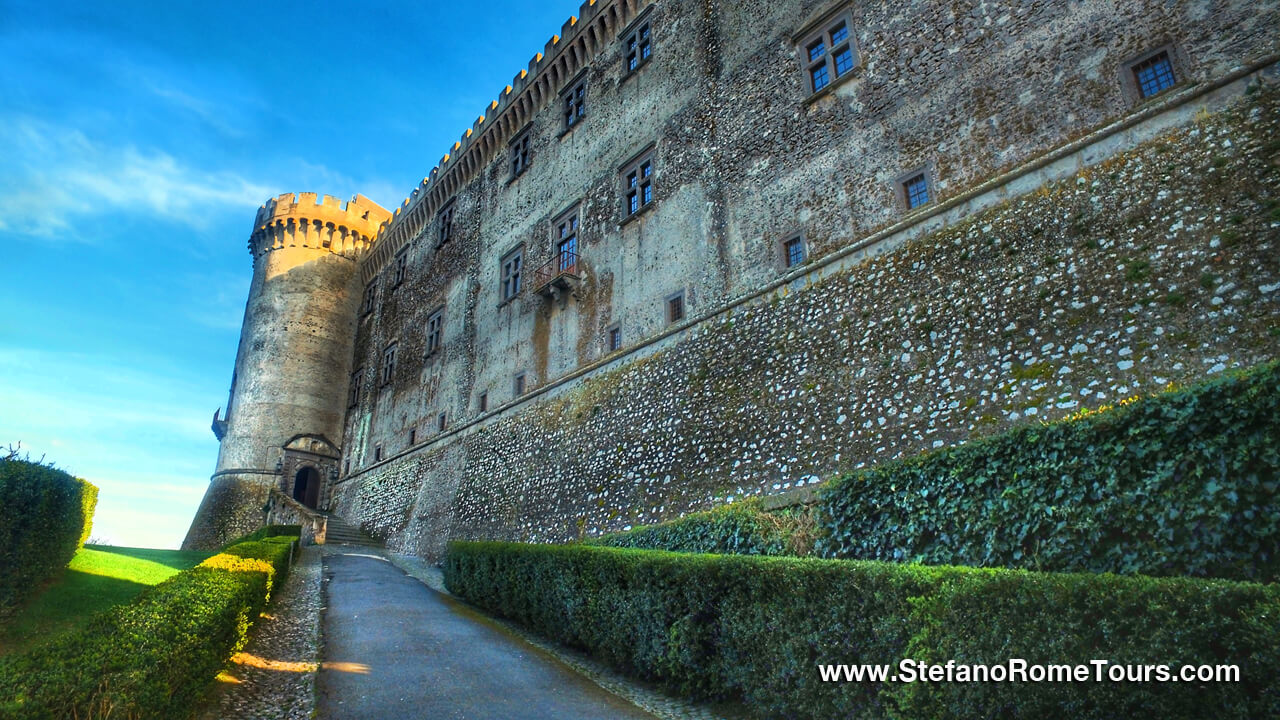 The castle boasts original furniture from the Renaissance era, priceless paintings, ornate ceilings, and exquisite frescoes. As you make your way from room to glorious room you can't help but feel as if you've been transported through time to bygone eras of Kings, Lords, and Knights that fairytales are made of. A medieval stone spiral stairway takes you to the upper level of the castle to further explore the castle's magnificent halls and suites.

Walking up to the ramparts on top of the castle walls will reward you with a splendid view of Lake Bracciano surrounded by the lush countryside. An actual ancient volcanic crater, Lake Bracciano is one of the most pristine lakes in Italy.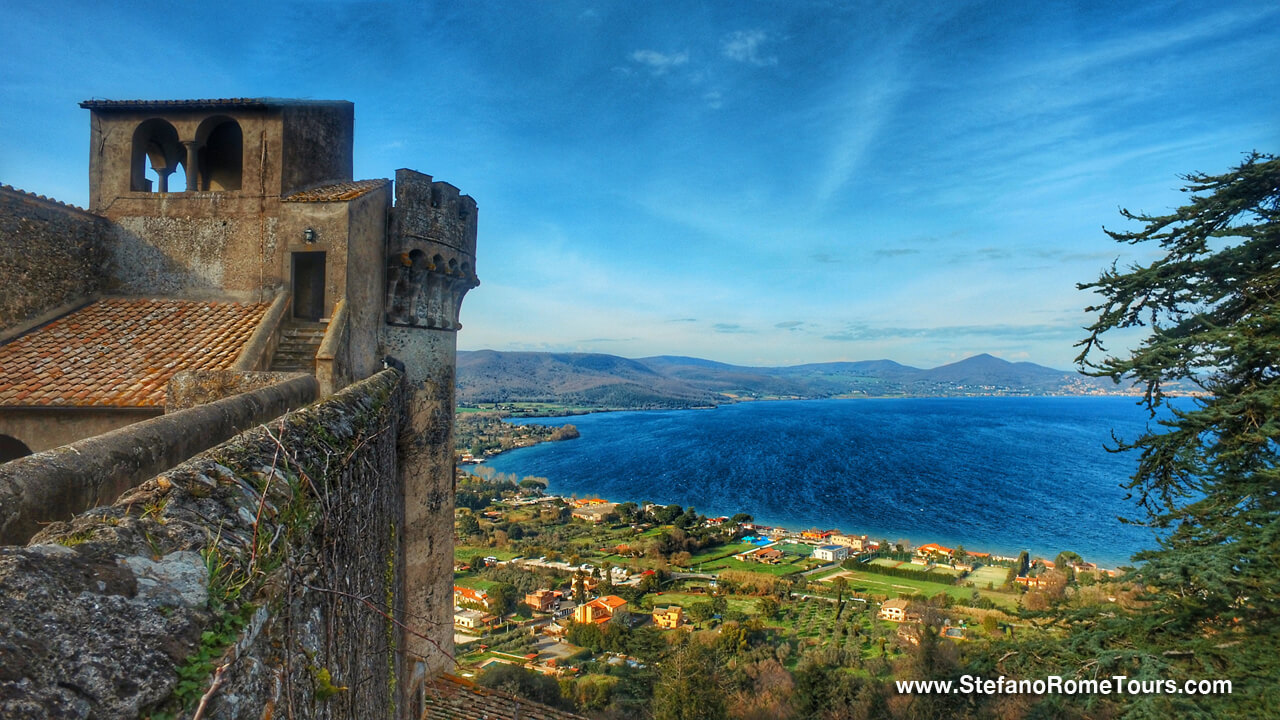 From here you will join your driver for a relaxing journey back to your hotel in Rome, or cruise ship in Civitavecchia reminiscing about the resplendent places you visited on your Rome City and Countryside tour and the wonderful memories you created that will last a lifetime.
Thank you for booking our Rome City and Countryside Tour, and for choosing Stefano Rome Tours for your private Italy Tours and Shore Excursions. We look forward to meeting you in Italy!
Important Information

Please READ the important information below as well as Read & Accept our TERMS OF SERVICE and Privacy Policy prior to placing your reservation request(s).


PAYMENT OPTIONS:
Payment for this Rome City and Countryside Tour can be made in Euro funds at the end of your journey directly to your driver, or you may prepay in advance via PayPal or Credit Card online when you Confirm your Tour.


CANCELLATION POLICY:
We kindly ask that cancellations be made at least 7 days in advance so we can rebook your service and your reserved driver does not lose work for that day. We thank you for your cooperation and consideration.

** PREPAID SERVICES can only be Refunded the Net Rate we receive from your prepayment. Net Rate is the actual service price minus the fees retained by PayPal/Credit Card that are not reimbursed to us in case of refunds. We can only refund the portion we receive from the PayPal/CC company.


EMAIL INQUIRIES / BOOKING REQUESTS
Please allow up to 24 hours for email correspondence in response to email inquiries and tour reservation requests.
We reply to ALL emails and booking requests we receive. If you don't receive correspondence from us within 24-48 hours please CHECK YOUR SPAM FOLDER, or send us an email from a different E-mail account.
BRACCIANO CASTLE TICKETS and PRIVATE TOURS


* BRACCIANO CASTLE TICKETS are currently 10 Euros per person to be purchased on-site upon arrival (ticket prices are subject to change without notice).
* Please NOTE that Bracciano Castle can CLOSE WITHOUT NOTICE for private events or other internal reasons. In the event Bracciano Castle is closed when you arrive, following your visit through the village of Bracciano your driver can take you to visit another lakeside village such as Trevignano or Anguillara.
PRIVATE GUIDED TOUR OF THE CASTLE: Odescalchi Castle offers private guided tours with an English-speaking Tour Guide with advanced Non-Refundable Reservations at just 180 Euros INCLUDING entry tickets. Advance non-refundable prepayment is required as the Castle does not issue refunds for cancellations.
Please inform us upon booking this tour if you wish to have a private guide so we can book a guide on your behalf. Otherwise, you will SELF TOUR the castle on your own.
MEETING POINTS TO MEET YOUR DRIVER


For Day Tours from Rome:
For Day Tours from Rome hotel, your driver will meet you inside your hotel lobby, or area permitted by your hotel.
From Apartments or B&Bs without a lobby, your driver will meet you at your address outside the main entrance.
* If your hotel / accommodation is situated on a street or in an area restricted to vehicle traffic, your driver will park the vehicle as close as lawfully possible and will meet you on foot at your Address. From there, your driver will accompany you to your parked vehicle. Door to Door service may not be possible on streets or areas restricted to traffic or stops.


For Shore Excursions from Civitavecchia:
For Rome Cruise Port Tours, our driver will meet you on the Pier next to your Cruise Ship at your Tour pick up time holding a sign with the NAME in your reservation.
Please do NOT leave the ship area, and do NOT take a shuttle bus outside the Cruise port.
Look for the driver in the same area as ALL the private drivers who will be waiting for their clients to be disembarked.
LUNCH IN CERI
Lunch is available only in the town of Ceri, all restaurants are priced at approximately 20 Euros per person depending on what you order.
There are no panini or pizza places available in the region of this tour, only local restaurants that are famous for their excellent cuisine. To participate in this tour, you are in agreement to lunch in Ceri at any of the available restaurants there. Restaurant choices in this region are limited, and we have no control over the menu options or service provided inside any establishment you lunch at.
YOUR STEFANO ROME TOURS DRIVER
This Rome City and Countryside Tour provides an English-speaking Driver who is NOT a licensed tour guide. Your driver will be happy to provide general touristic information while at the vehicle, but will not be able to accompany you to sightsee away from the vehicle.
Italy laws permit only licensed tour guides to accompany guests to sightsee on foot away from the vehicle. To be compliant with Italy laws, your driver cannot lawfully guide you into the sites and will be obliged to remain with the vehicle while you SELF-TOUR away from the vehicle.