Buongiorno and welcome to Stefano Rome Tours, Rome's leading company for private chauffeur-driven limousine tours.

Are you ready to immerse yourself in the picturesque landscapes, rich history, and exquisite cuisine of Tuscany? Look no further than Stefano Rome Tours for the best Tuscany tours from Rome to uncover the beauty of this enchanting region.

In this blog post, we will guide you through the captivating experience of exploring Tuscany with Stefano Rome Tours, highlighting the unique itineraries, delightful destinations, and unforgettable moments that await you.

But first, here are some most frequently asked questions about day trips from Rome to Tuscany:



Is it possible to do a day trip from Rome to Tuscany?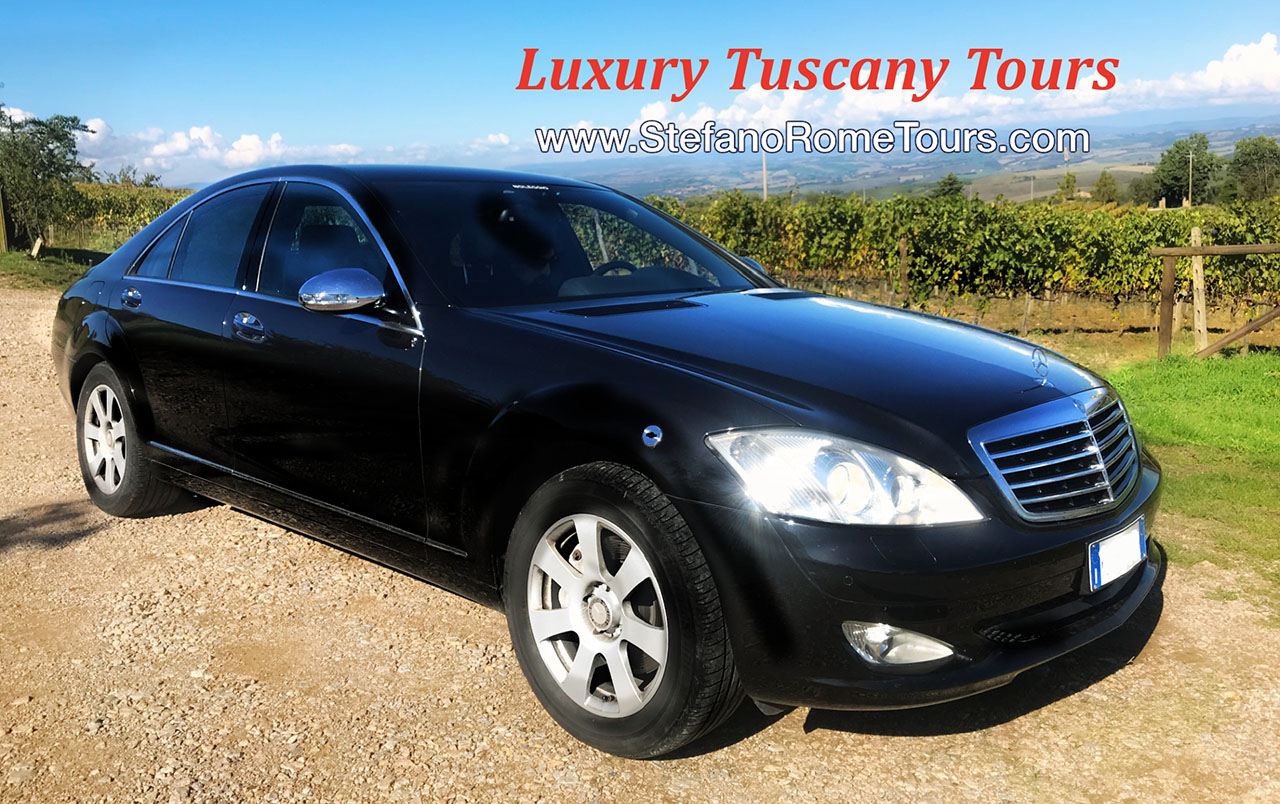 Absolutely! Tuscany is one of the most captivating regions of Italy and we've provided hundreds of private Tuscany Tours from Rome as well as Tuscany Wine Tasting Tours from Rome.

Stefano Rome Tours offers a range of exceptional itineraries designed to showcase the very best of Tuscany. From the rolling hills of Val d'Orcia, to the Montalcino wine region to the timeless charms of hilltop towns, each tour is carefully crafted to provide a comprehensive and immersive experience. Whether you prefer a full-day tour or a multi-day adventure, Stefano Rome Tours ensures that you don't miss any of the region's hidden gems and iconic landmarks.


What are the best places in Tuscany to visit from Rome?

The best region to visit in Tuscany on a day trip from Rome is central and southern Tuscany as it's closest to Rome and has some of the most beautiful and popular destinations in Tuscany.

Our Tuscany Tours include visits to famous Tuscan towns and villages like Pienza, Montepulciano, Montalcino, San Quirico d'Orcia, Cortona, Arezzo, and Florence.



What is the most beautiful drive in Tuscany on a day trip from Rome?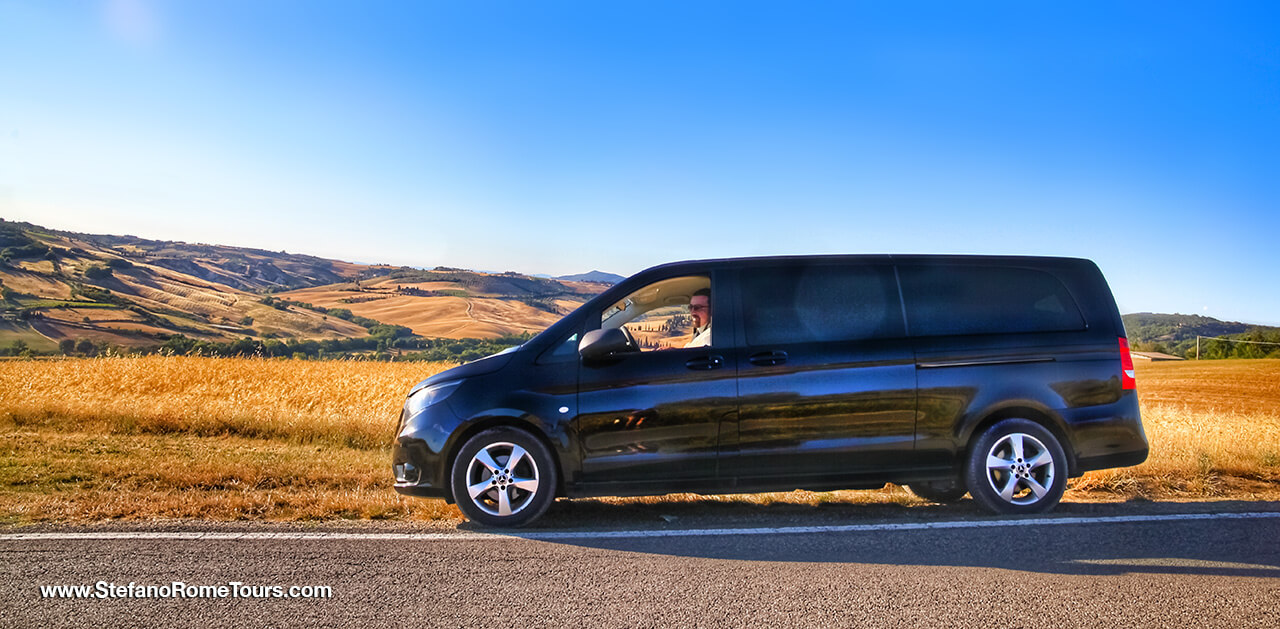 There are so many scenic drives in Tuscany such as Chiantigiana in the Chianti region and le Crete Senese. However, our favorite and most beautiful drive in Tuscany from Rome is through Val d'Orcia - designated a UNESCO World Cultural Landscape.

You too have the opportunity to enjoy scenic drives through the timeless landscapes of Val d'Orica on our Montepulciano and Pienza Tuscany Tour, and Majestic Tuscany Tour from Rome.

Exploring Tuscany: The Best Tours from Rome
to Discover Tuscan Wonders

Embark on a captivating voyage from the eternal city of Rome to the heart-stirring landscapes of Tuscany, where time seems to stand still and extraordinary adventures await to paint your Italian vacation with unforgettable hues.

Delve into the realm of Tuscany's most awe-inspiring destinations featured on these top-rated Tuscany tours from Rome.
MONTEPULCIANO AND PIENZA TUSCANY TOUR FROM ROME:

Leave behind the bustling streets of Rome, and immerse yourself in the serenity of the Tuscan countryside on our Montepulciano and Pienza Tuscany Tour from Rome. Join us on an enchanting day tour that will transport you to the picturesque towns of Montepulciano and Pienza, where every corner whispers tales of ancient history and unveils the secrets of Tuscan heritage.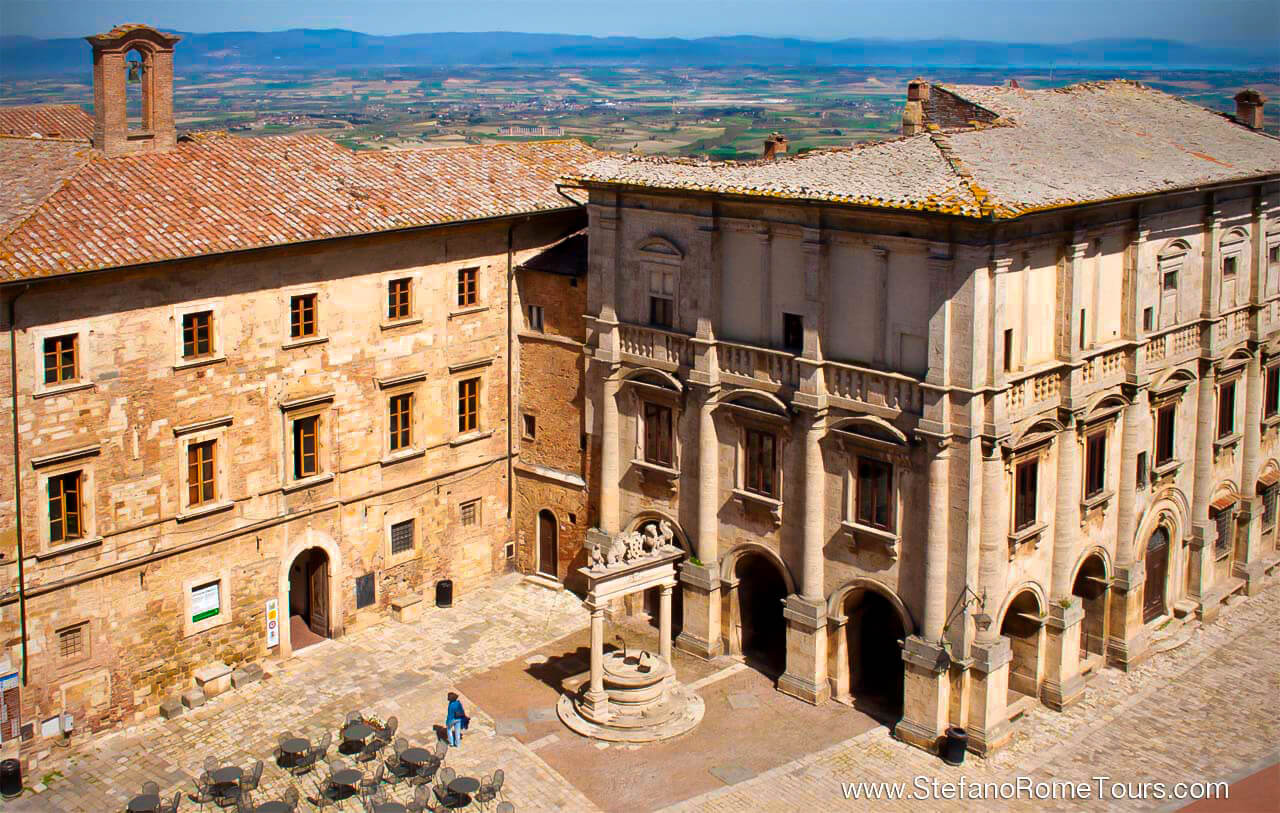 Our first stop, the enchanting town of Montepulciano, emerges like a scene from a medieval dream. Perched atop a hill overlooking the picturesque Val di Chiana valley, this timeless gem beckons with its cobbled streets and historic buildings.
Wander through its narrow alleys, where every step reveals architectural wonders, centuries-old churches, and hidden corners brimming with character. Indulge in the rich flavors of Vino Nobile di Montepulciano, savored by discerning palates around the world, as you explore the town's renowned wine cellars throughout the town.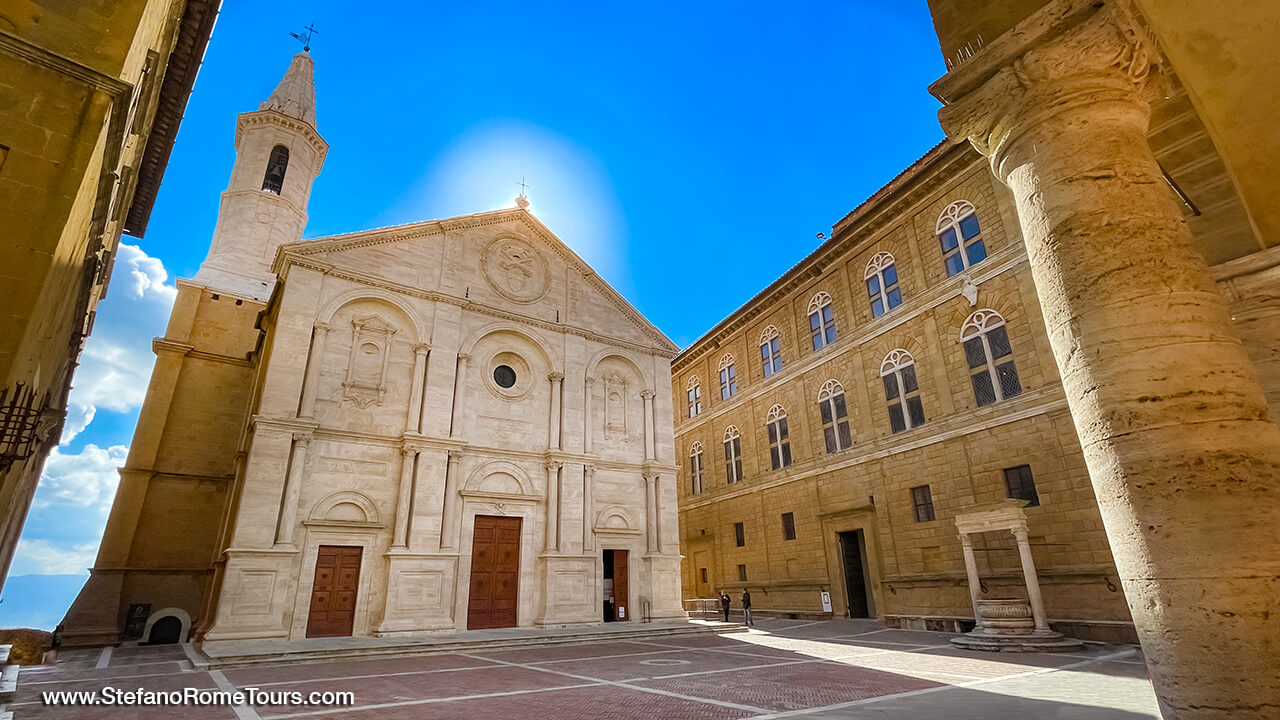 Leaving Montepulciano behind, our journey continues to the captivating town of Pienza, a UNESCO World Heritage Site that embodies the Renaissance spirit. Stroll along the harmonious streets lined with charming boutiques, and artisan workshops as the town's architectural harmony reveals itself in every glance. Indulge in local delicacies, taste the velvety texture of handcrafted cheeses (Pecorino di Pienza), and allow the flavors to transport you to a realm of pure gastronomic bliss.

Breathe in the romance of the Tuscan countryside, feel its gentle rhythm pulsating through your veins, and create memories that will forever be etched in your heart.

Bid farewell to the captivating towns of Montepulciano and Pienza, their charm lingering in your soul. With a sense of awe and fulfillment, we make our way back to Rome, carrying with us the essence of Tuscany's timeless beauty, its profound tranquility, and the unforgettable experiences that have touched our spirits.


Majestic Tuscany Tour from Rome
Welcome to the captivating realm of Tuscany, where our Majestic Tuscany Tour from Rome unveils a breathtaking tapestry of towns and villages that will leave you spellbound. Prepare to embark on an unforgettable journey through the picturesque landscapes of Val d'Orcia to Bagno Vignoni, San Quirico d'Orcia, Pienza, Monticchiello, and Spedaletto, each possessing its own unique charm and stories to tell.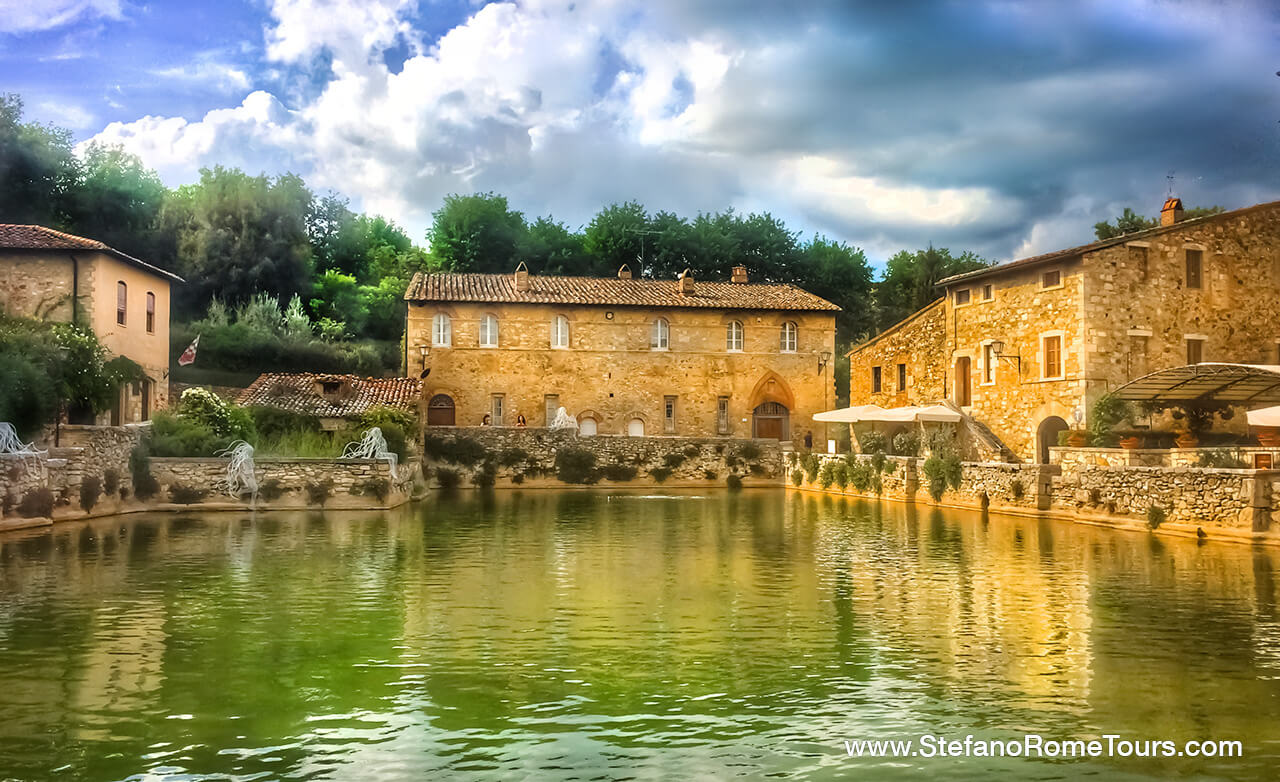 Our first stop, Bagno Vignoni, transports you to a place of timeless tranquility. Nestled in the Val d'Orcia region, this quaint village captivates with its main square, which boasts an extraordinary feature: a thermal pool instead of the traditional piazza: Piazza delle Sorgenti ( "Square of Water").
From the ancient time of the Etruscans to important historical figures like Saint Catherine, Pope Pius II, and Lorenzo de Medici, these healing waters have attracted the attention of so many who traveled to Bagno Vignoni to immerse themselves in its healing waters. As you explore the village, meander through narrow alleys adorned with stone houses, capturing glimpses of bygone eras at every turn. Discover quaint cafés and local artisan shops, and indulge in the region's delectable delicacies.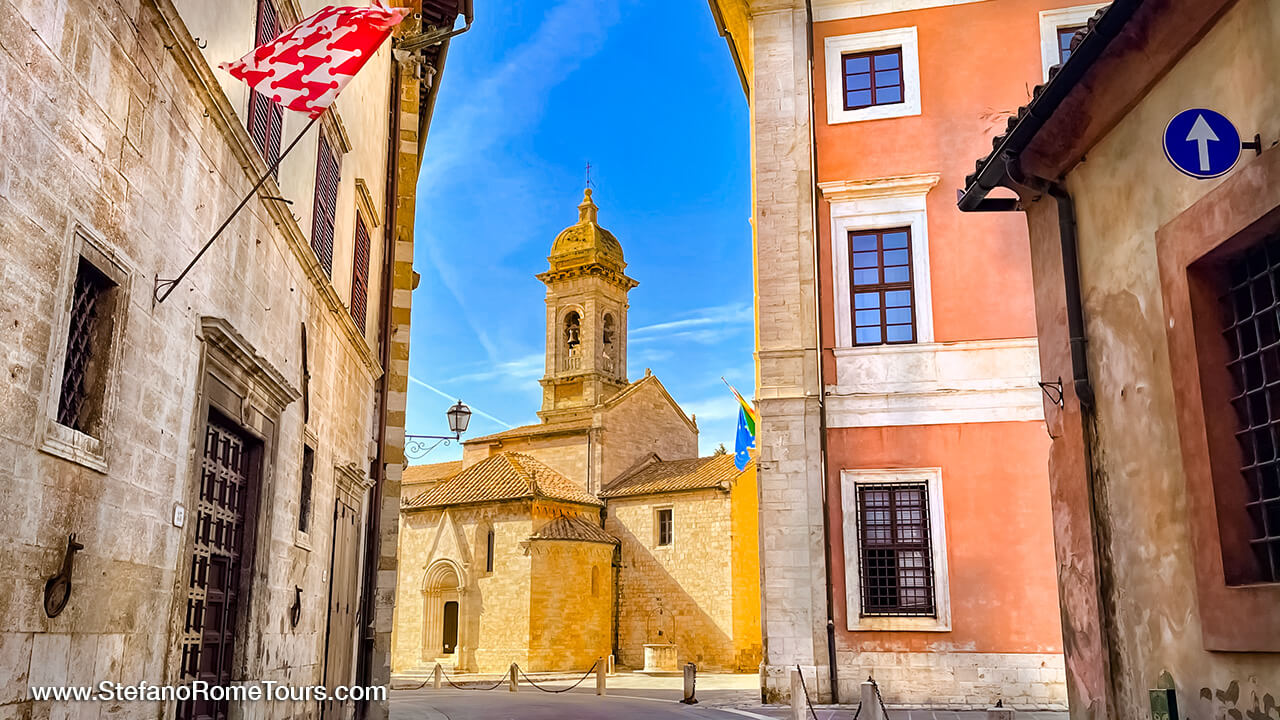 Continuing our journey, we arrive at the picturesque town of San Quirico d'Orcia, a hidden gem among gentle hills. This medieval enclave offers a captivating blend of architectural treasures, including the Collegiate Church of San Quirico, with its intricate details and breathtaking facade. Lose yourself in the maze of winding streets, where every corner reveals a hidden delight, be it a charming café, a flower-covered balcony, or an artisan workshop showcasing local craftsmanship.
Prepare to be enchanted as we arrive at the next destination on our journey, the UNESCO World Heritage Site of Pienza. This jewel of Renaissance architecture exudes elegance and harmony, its layout meticulously planned by Pope Pius II. Marvel at the awe-inspiring Piazza Pio II, where the splendid Cathedral of Santa Maria Assunta presides, its ornate facade drawing your gaze upward. Delve into the town's history and culture as you visit the Palazzo Piccolomini, a testament to grandeur, and sample the delectable Pecorino cheese for which Pienza is renowned.
Stroll to the edge of the village on top of the fortified walls and take a moment to pause and soak in the serene beauty of the Val d'Orcia countryside, which stretches endlessly before you, a feast for the eyes and a balm for the soul.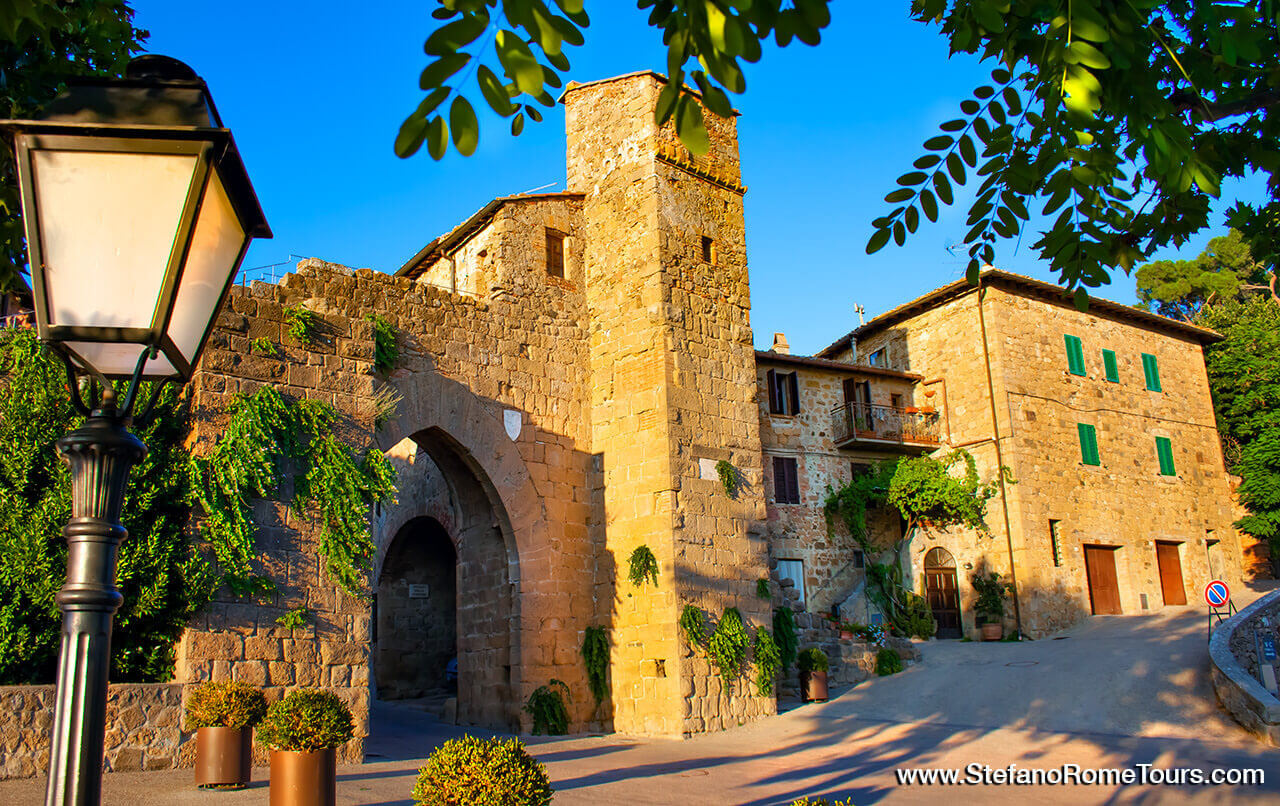 Continuing our exploration, we venture to the charming village of Monticchiello, a place where time seems to stand still. Encircled by ancient walls, this hilltop hamlet reveals a rustic charm that captivates the heart. Stroll along its winding streets, lined with centuries-old grand stone palazzi adorned with vibrant flowers, and immerse yourself in the warm embrace of its tight-knit community.
Our final destination, Spedaletto in Val d'Orcia, offers a serene retreat amidst nature's embrace. Situated in the verdant valley, this fortified castle that is currently an agriturismo invites you to explore its tranquil beauty.
With every step, you will be enchanted by the beauty and authenticity that emanate from these remarkable towns. Prepare to be captivated, inspired, and forever touched by the indelible magic of Bagno Vignoni, San Quirico d'Orcia, Pienza, Monticchiello, and Spedaletto in Val d'Orcia.
Under The Tuscan Fun - Cortona & Arezzo from Rome
Embark on a journey of enchantment and discovery as you venture into the heart of Tuscany with Stefano Rome Tours on our Under the Tuscan Fun Cortona and Arezzo Day Trip from Rome. This immersive experience will introduce you to two captivating towns that epitomize the region's charm and cultural richness: Cortona and Arezzo.
Cortona: A Tapestry of Timeless Beauty


With its ancient roots tracing back to Etruscan times, Cortona exudes an irresistible allure that captivates visitors from near and far. Cortona's panoramic vistas are nothing short of breathtaking.
From its elevated position, the town offers sweeping views of the surrounding Tuscan countryside, with rolling vineyards and olive groves stretching as far as the eye can see. It's a sight that will leave you in awe and inspire a deep appreciation for the natural beauty of this region.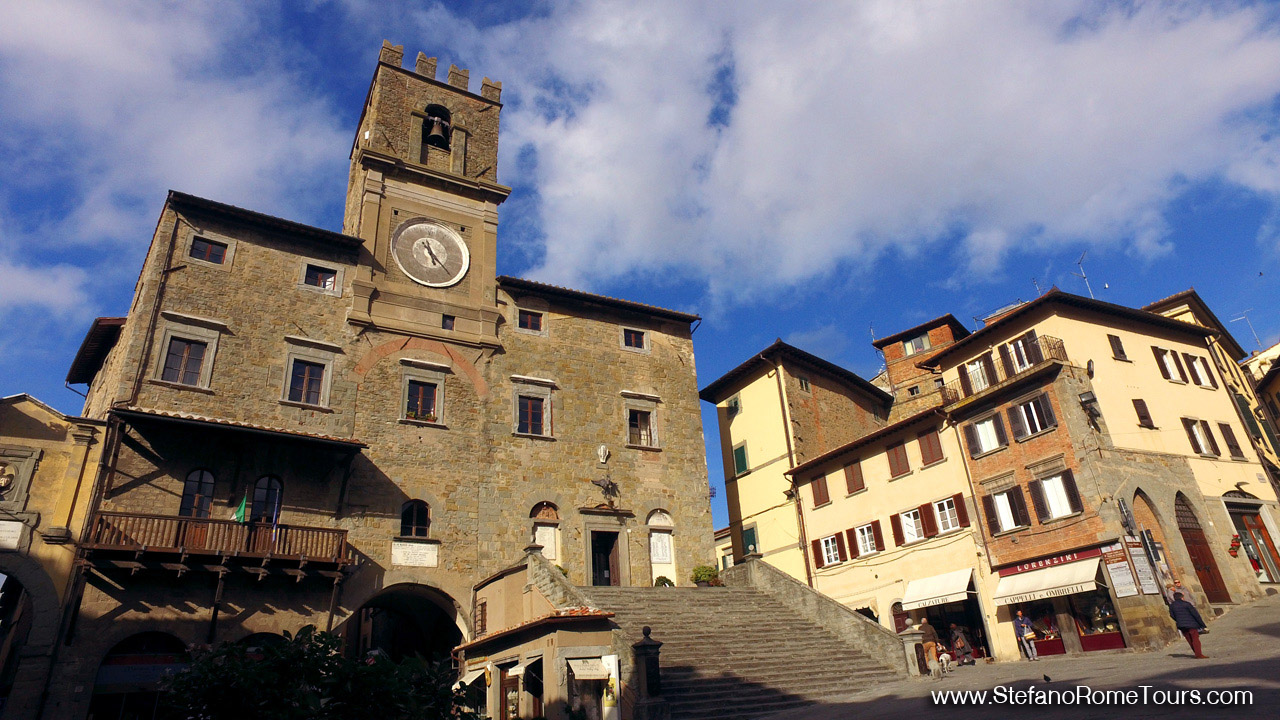 In the heart of the town is Piazza della Repubblica, a bustling square that serves as the social and cultural hub of Cortona. Here, you'll find the impressive Palazzo Comunale, a symbol of the town's governance and a testament to its medieval heritage.
Just steps away from Piazza della Repubblica, you'll discover Piazza della Signoria, a picturesque square that offers a tranquil retreat. This hidden gem invites you to sit beneath the shade of ancient trees and soak up the relaxed ambiance. Take a leisurely stroll around the square and marvel at the Renaissance-style Palazzo Casali, which houses the Museo dell'Accademia Etrusca. This museum is a treasure trove of Etruscan artifacts, and archaeological finds providing a glimpse into Cortona's rich cultural heritage.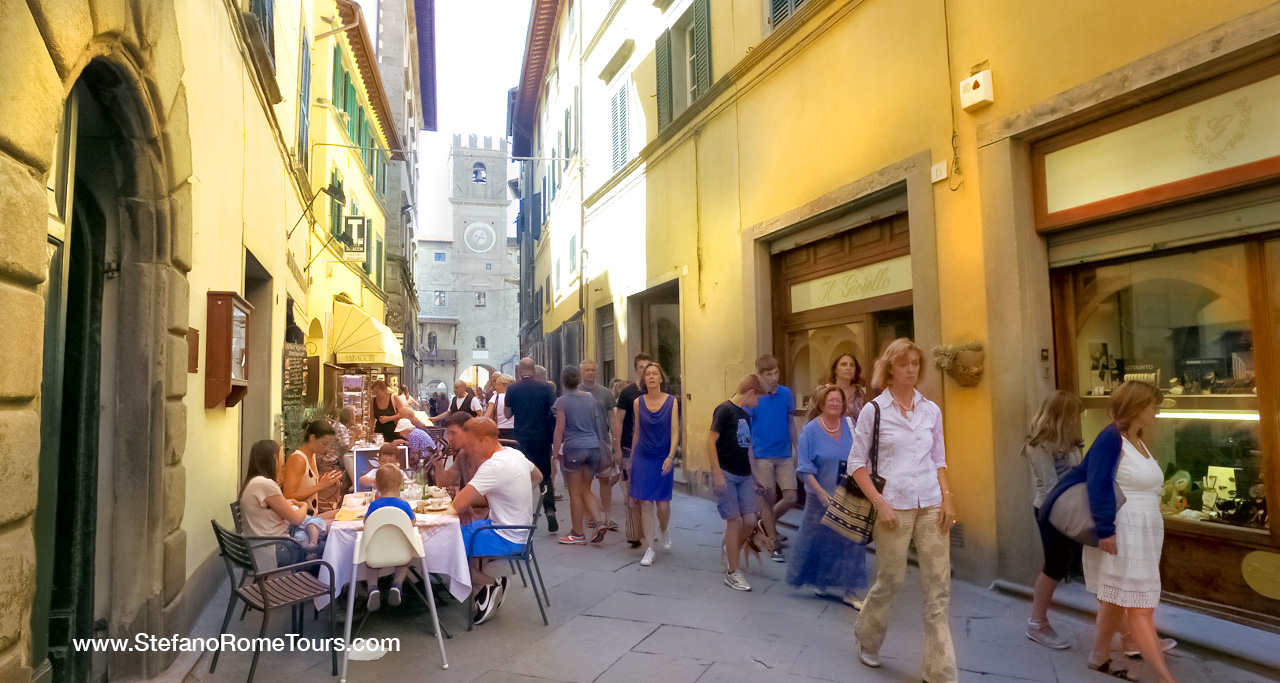 For art enthusiasts, the Museo Diocesano deserves a visit. Housed within the majestic Palazzo Pretorio, this museum showcases a remarkable collection of religious art, including paintings, sculptures, and precious religious artifacts. From masterpieces by Fra Angelico to intricate goldsmith works, the Museo Diocesano offers a captivating journey through the art and spirituality of the region.
Fans of the popular book and movie "Under the Tuscan Sun" will be delighted to explore the town that served as its enchanting backdrop. Follow in the footsteps of Frances Mayes, the book's author, as you wander through the streets that inspired her tale of love, transformation, and Tuscan life. Immerse yourself in the atmosphere that captured her heart and discover the hidden corners that made Cortona an irresistible setting for the story.
As you traverse the ancient streets and take in the sweeping views of the surrounding countryside, you'll understand why Cortona holds a special place in the hearts of its visitors.
Arezzo: A Renaissance Gem


Arezzo is a Tuscan a town that weaves together ancient history, artistic treasures, and cinematic fame. Situated in the heart of Tuscany, Arezzo is a destination that enchants visitors with its rich heritage and captivating landmarks.
Step back in time as you explore Arezzo's Etruscan roots. This ancient civilization left its mark on the town, and remnants of their presence can still be found today. Discover archaeological sites that unveil the mysteries of this early civilization, offering a glimpse into the region's fascinating past.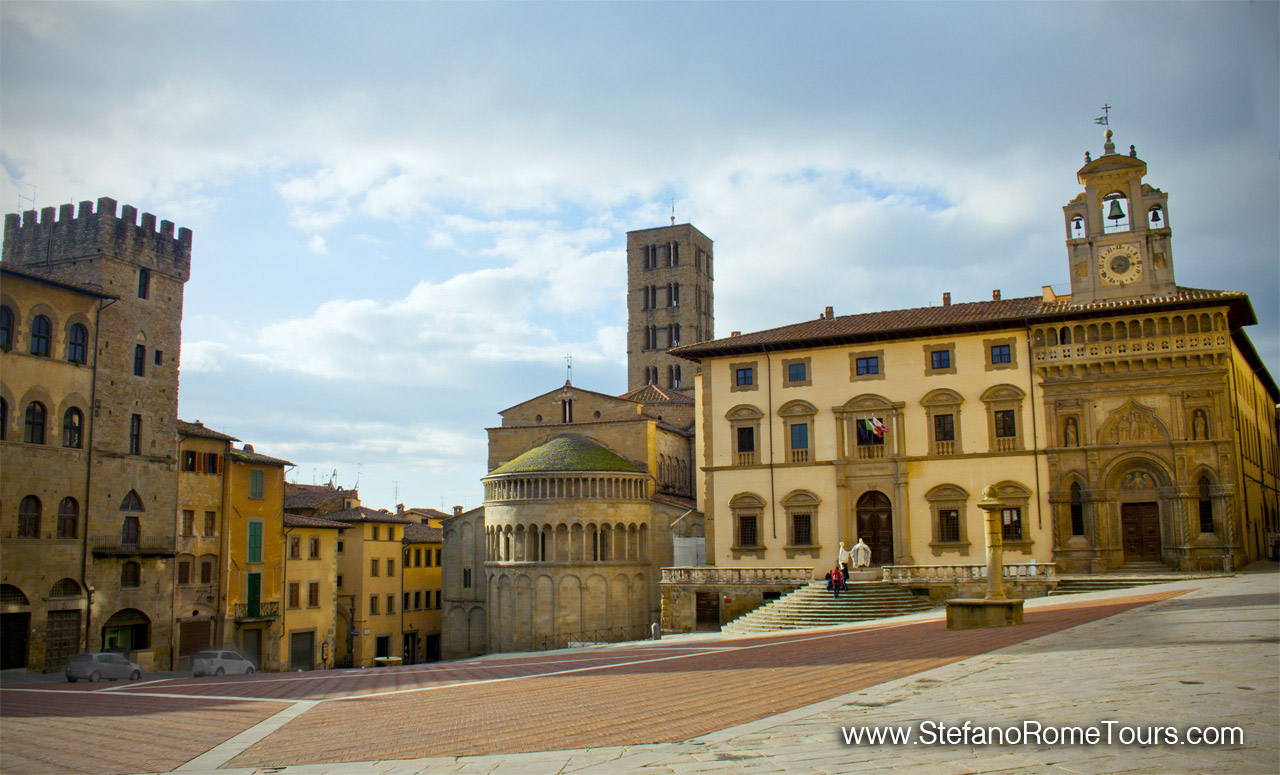 One of the highlights of Arezzo is its Roman amphitheater, a testament to the town's Roman heritage. Wander among the well-preserved ruins and imagine the spectacles and games that once took place within these ancient walls. The amphitheater serves as a vivid reminder of Arezzo's connection to the Roman Empire and its historical significance.
Arezzo is also renowned for its picturesque squares and stunning churches. Piazza Grande, the town's central square, captivates with its medieval architecture and lively atmosphere.
No visit to Arezzo would be complete without exploring its remarkable churches. The Church of San Francesco beckons with its exquisite Gothic architecture and houses the renowned frescoes of Piero della Francesca, considered some of the greatest masterpieces of the Renaissance. The majestic Duomo, Arezzo's Cathedral, is another must-visit. Its stunning façade and interior adorned with precious artwork and intricate details will leave you in awe.
As you explore Arezzo, you'll discover the poignant connection between the town and the critically acclaimed film "Life is Beautiful." Directed by Roberto Benigni, the movie was partly filmed in Arezzo, adding to the town's cinematic allure
In Arezzo, the past and the present merge harmoniously, inviting you to delve into its history, marvel at its architectural marvels, and immerse yourself in its artistic treasures. Whether you're exploring its ancient ruins, admiring its grand squares, or reveling in its cultural offerings, Arezzo promises an unforgettable journey through time and artistry.
Tuscany, Vineyards and Wine Tour from Rome
Embark on a journey through the picturesque towns of Tuscany as Stefano Rome Tours takes you on a captivating Tuscany, Vineyards and Wine Tour from Rome. Discover the rich flavors and breathtaking landscapes that make this region renowned for its wine production and immerse yourself in the beauty of Montepulciano, Montalcino, Sant'Antimo Abbey, and a local esteemed winery for a relaxing wine-tasting experience.
Montepulciano: The Glorious Elixir of Vino Nobile
Your adventure begins in Montepulciano, a charming hilltop town that embodies the essence of Tuscan beauty. As you stroll through its narrow streets, you'll be enchanted by the Renaissance architecture and the warm ochre hues that grace its buildings. Montepulciano is famous for its Vino Nobile di Montepulciano, a red wine that has been produced in the region for centuries. Explore historic wine cellars at various wine shops in town, and indulge in a tasting that will transport your senses to new heights.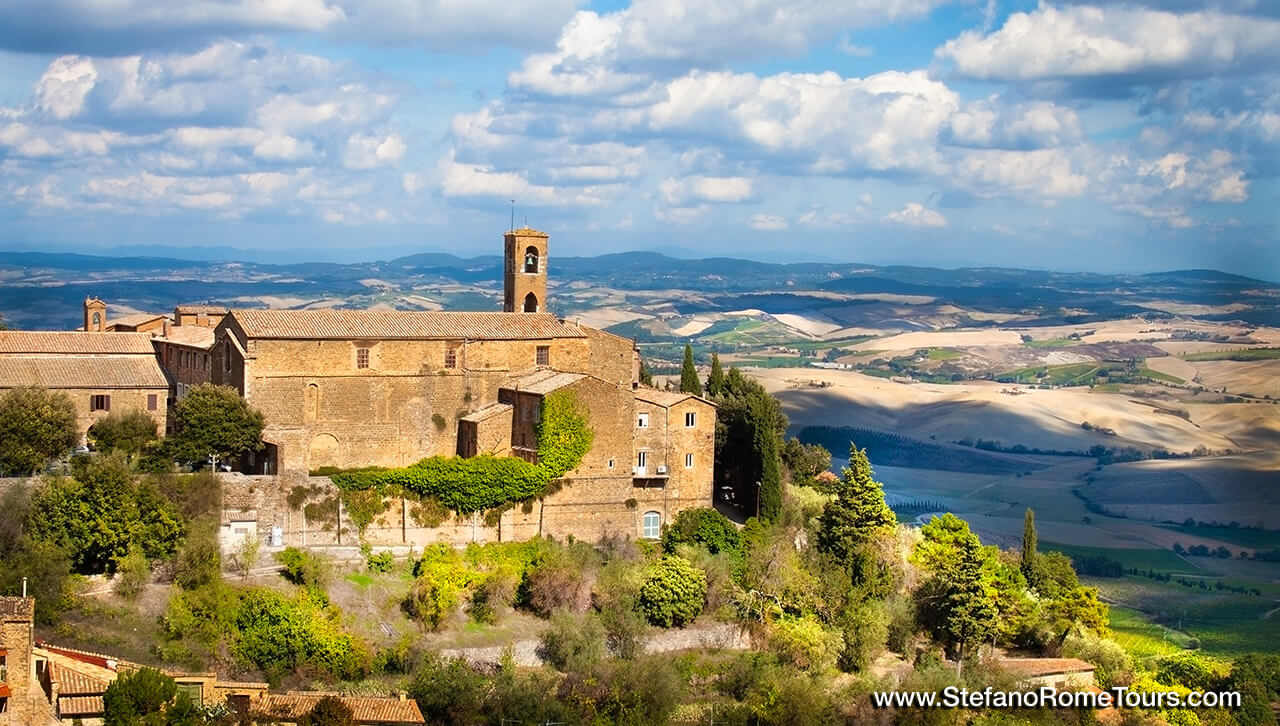 Montalcino: The Revered Realm of Brunello Wine
Continue your journey to Montalcino, a hill town surrounded by fertile landscapes draped with vineyards. This idyllic destination is renowned for its Brunello di Montalcino wine, a celebrated red wine that has garnered international acclaim. Savor the robust flavors of Brunello di Montalcino at various wine shops in town and appreciate the passion and craftsmanship that goes into each bottle.
Sant'Antimo Abbey: A Serene Sanctuary of Spiritual Harmony
Next, make your way to Sant'Antimo Abbey, a serene and spiritual monastery surrounded by the Tuscan countryside. Step inside this ancient Benedictine monastery and soak in the peaceful ambiance. The abbey's elegant Romanesque architecture and stunning views create a serene atmosphere that invites contemplation and reflection.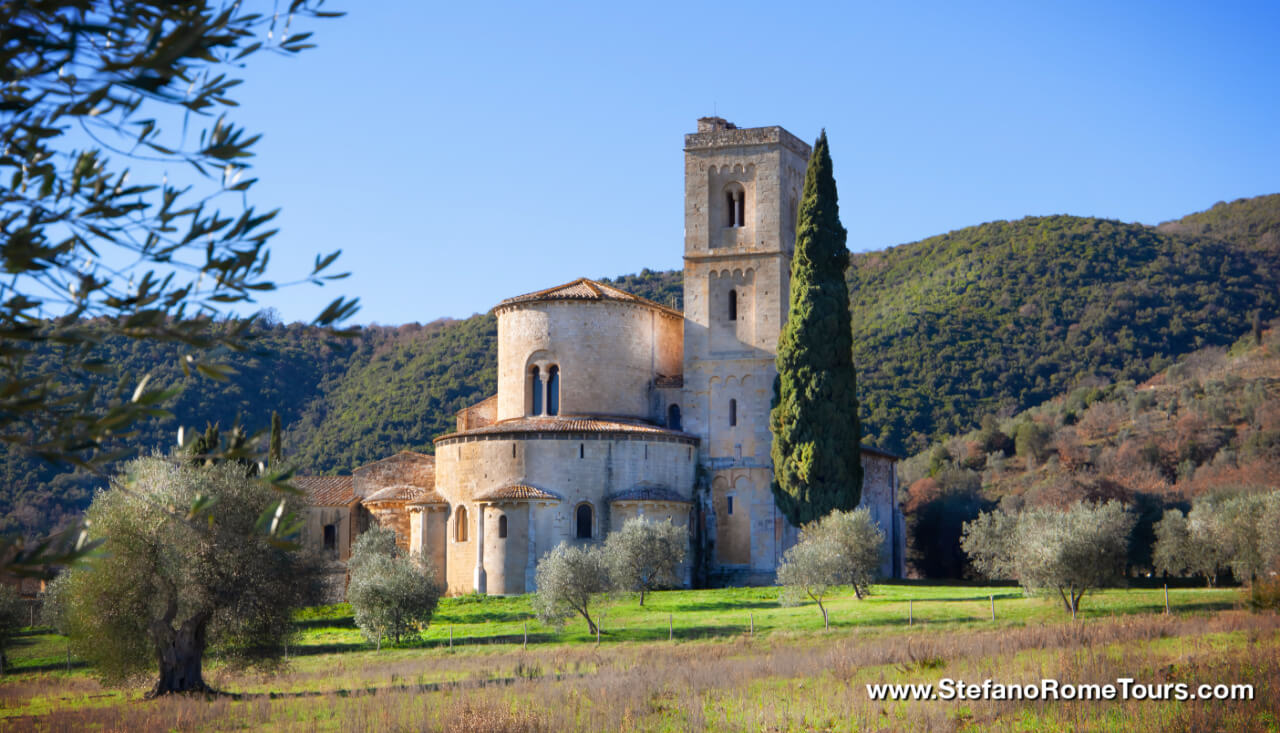 Tuscan Winery: Where Timeless Wines Sing in Harmony


Conclude your wine tour at the Tenuta Fanti winery, a haven for wine enthusiasts. This family-owned winery embraces tradition and innovation, producing exceptional wines that embody the essence of the land.
Take a guided tour through the wine cellar, learning about the winemaking process from grape to bottle. Indulge in a wine-tasting experience that allows you to savor the distinct flavors and nuances of the region.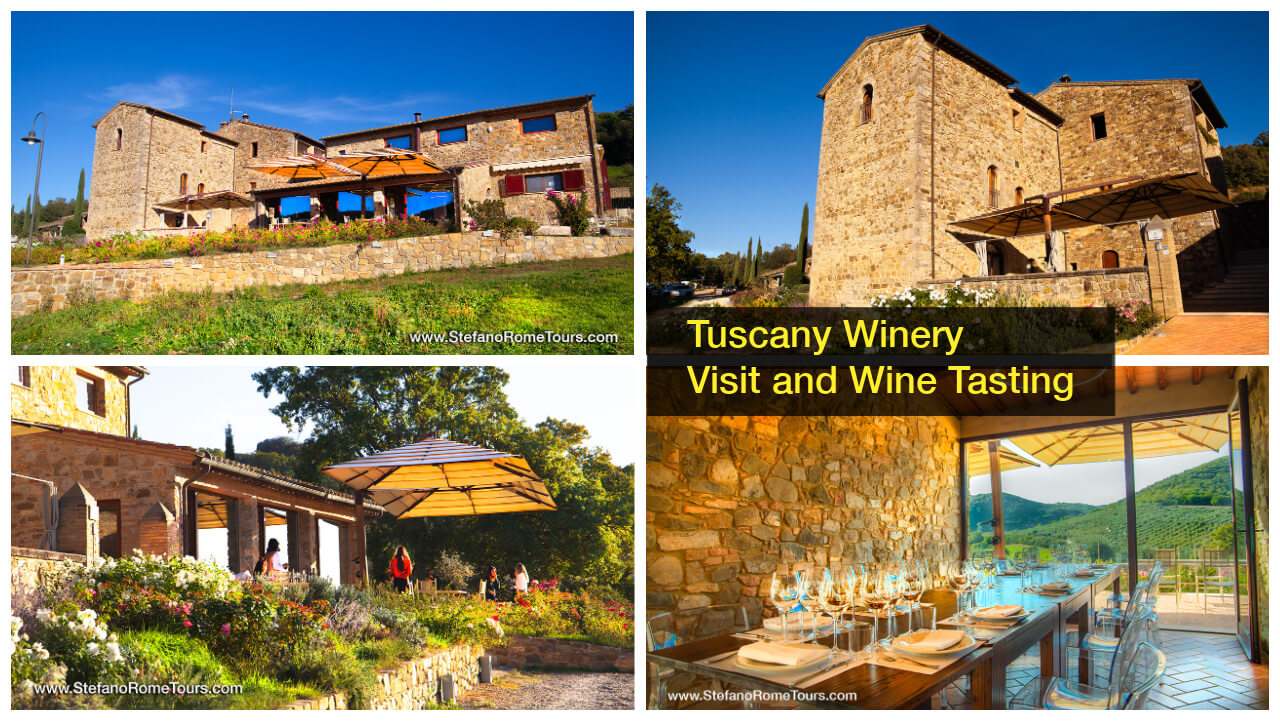 Throughout your journey, you'll be captivated by the beauty of the Tuscan countryside, with its rolling hills, vineyards, and olive groves that stretch as far as the eye can see. These towns and wineries offer a glimpse into the rich cultural heritage and winemaking traditions that have shaped this enchanting region.
Stefano Rome Tours' Tuscany, Vineyards and Wine Tour from Rome provides an immersive and unforgettable experience, allowing you to savor the finest wines, admire breathtaking landscapes, and create lasting memories of Tuscany's beauty and flavors.
DiVine Tuscany Castles and Wine Tour from Rome
Embark on a tantalizing journey with Stefano Rome Tours' DiVine Tuscany Castles and Wine Tour from Rome, where every sip of wine and every glimpse of vineyard-dotted hills and architectural splendor will transport you to a realm where divine flavors and timeless beauty intertwine.
Prepare to be captivated by the timeless allure of Montepulciano and Montalcino, and immerse yourself in the rich history and architectural wonders of Castello Banfi, where wine tasting awaits within its remarkable wine shop, "The Enoteca".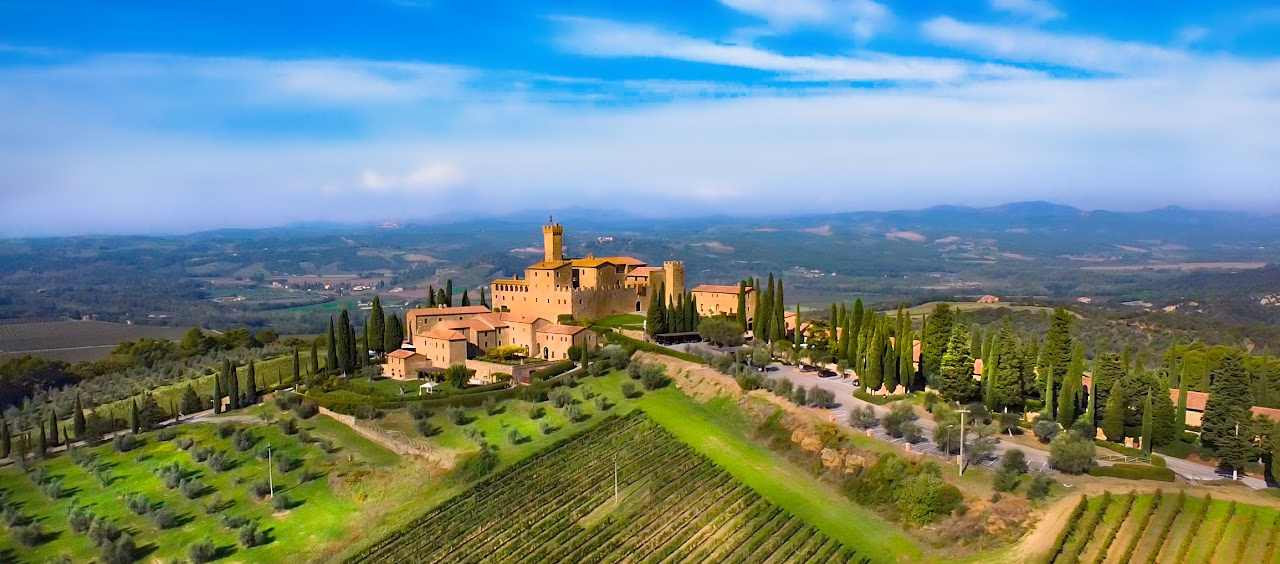 After your visit to Montepulciano and Montalcino, a highlight of the tour is the visit to Castello Banfi, a prestigious castle nestled amidst the vineyards of Montalcino. Situated amidst the rolling hills of Tuscany, Castello Banfi is a remarkable castle that embodies the region's rich history and architectural splendor. With roots dating back to the 12th century, this magnificent castle has witnessed centuries of change, adaptation, and transformation.
Originally built as a defensive fortress, Castello Banfi played a crucial role in safeguarding the surrounding lands and providing protection to its inhabitants during times of conflict. Its strategic location atop a hill offered a commanding view of the surrounding countryside, allowing its occupants to monitor and defend the territory.
Over the years, Castello Banfi underwent architectural modifications that reflect the different periods it endured. From its medieval origins to the Renaissance era, the castle features a harmonious blend of architectural styles. Its robust stone walls, imposing towers, and crenelated battlements evoke a sense of grandeur and strength.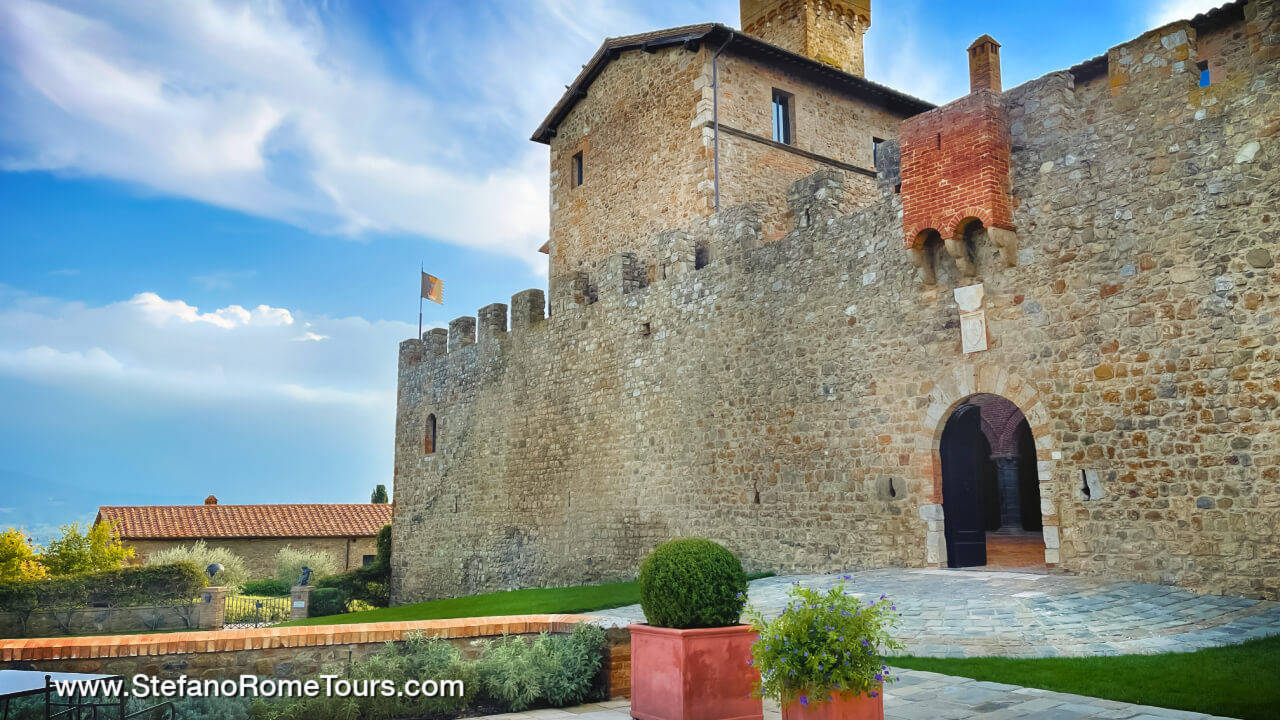 One of the highlights of Castello Banfi is its wine shop known as "The Enoteca." Here, you'll have the opportunity to indulge in a wine-tasting experience like no other. Within the Enoteca, the architecture blends contemporary design with elements that pay homage to the castle's history.
Immerse yourself in the charming ambiance as you sample the renowned wines produced by the Banfi estate, savoring the flavors and aromas that have made them world-renowned. Indulge in a sensory journey through The Enoteca's treasure trove of artisanal delights, where a world of exquisite goods and tantalizing products awaits your exploration.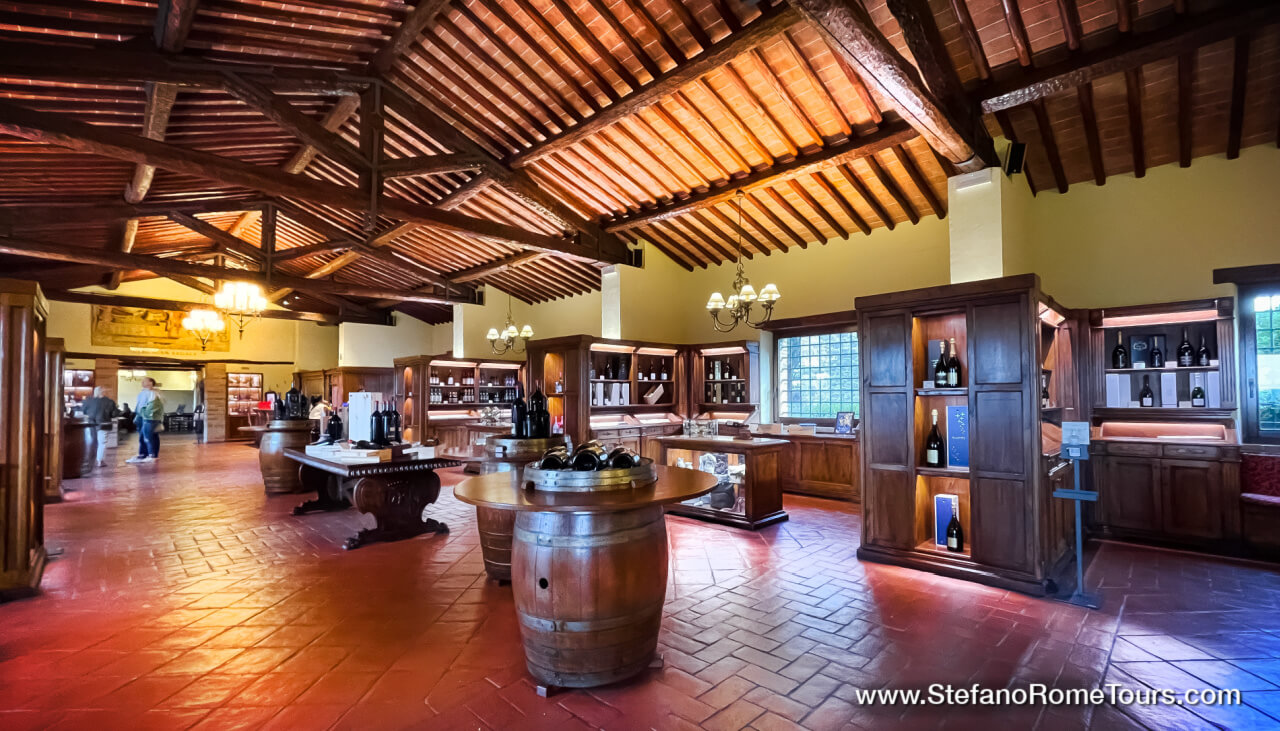 Throughout the tour, you'll be captivated by the breathtaking beauty of the Tuscan countryside, with its rolling hills, vineyards, and cypress-lined roads. The towns of Montepulciano and Montalcino are a true testament to the region's rich cultural heritage, architectural splendor, and viticultural traditions. Stefano Rome Tours' DiVine Tuscany Castles and Wine Tour offers a unique opportunity to indulge in Tuscany's finest wines, immerse yourself in its history and culture, and create unforgettable memories of this remarkable region.
The combination of history, architecture, and wine creates an enchanting experience that captures the essence of Tuscany's wine culture.
Visiting Castello Banfi is an invitation to step back in time, to witness the architectural splendor of a castle that has stood the test of time. It is an opportunity to savor exceptional wines, explore the castle's captivating spaces, and immerse yourself in the rich history and cultural heritage that permeates every corner.
Why book private Tuscany tours from Rome with Stefano Rome Tours?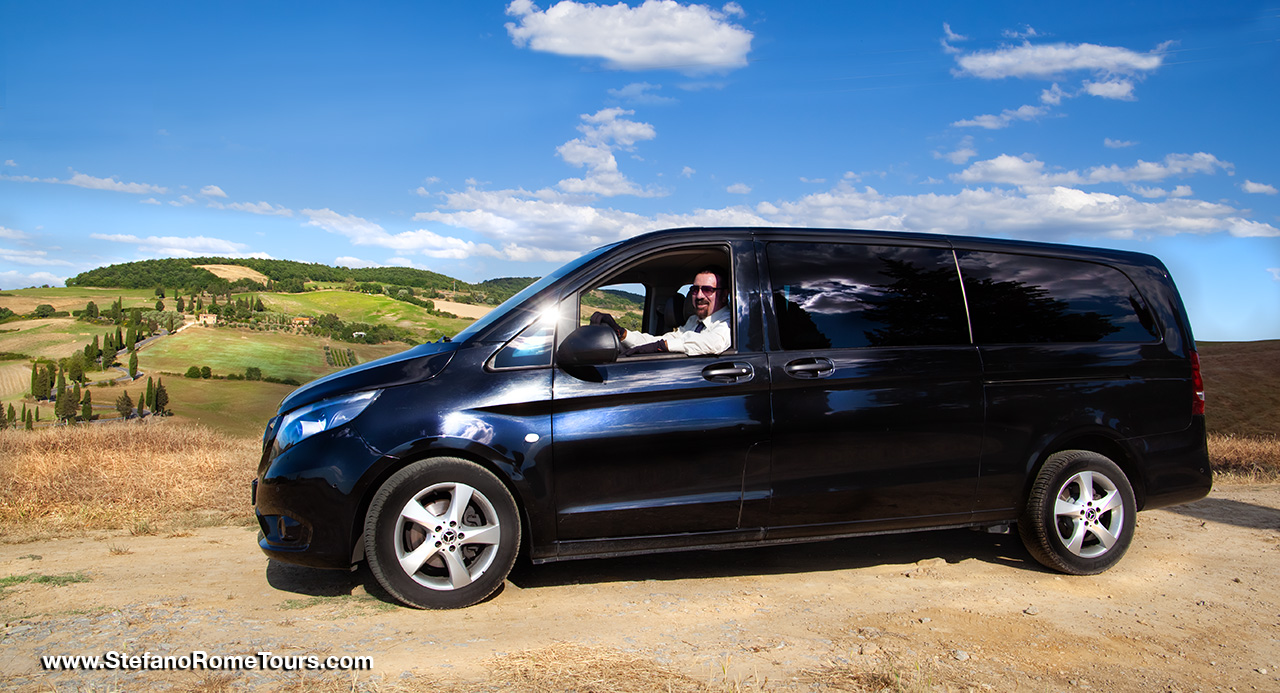 ALSO READ:
Indulge in the epitome of luxury as you explore Tuscany in our deluxe vehicles for your utmost comfort and elegance. Sink into the comfortable seats, enjoy climate control, and relish the spacious interiors that provide a private oasis during your travels.
Stefano Rome Tours' professional and experienced English-speaking chauffeurs are dedicated to providing a seamless, comfortable, and memorable experience.
At Stefano Rome Tours we pride ourselves on providing intimate and personalized experiences with private tours in Italy. Unlike large group tours, our private tours allow for a more personalized approach, ensuring that you receive individual attention from your driver and have the flexibility to adjust your itinerary to suit your preferences.

Embarking on a journey through Tuscany with Stefano Rome Tours is a truly unparalleled experience. Book your private Tuscany tour with Stefano Rome Tours and prepare to be whisked away to the enchanting world of Tuscan beauties, where luxury and exploration converge in perfect harmony.