description
MONTEPULCIANO AND PIENZA TOUR PRICE LIST


For up to 2 Persons from Rome Hotel: 450 EUROS
For up to 4 Persons from Rome Hotel: 500 EUROS
For up to 6 Persons from Rome Hotel: 550 EUROS
For up to 8 Persons from Rome Hotel: 600 EUROS


* DATES on the Booking Form Calendar that are NOT Selectable, are NOT AVAILABLE.
This Tuscany Tour from Rome starts and ends at your hotel or accommodation in Rome.
Enjoy a visual journey of Pienza and Montepucliano on our Tuscany Tour VIDEO:


Explore the enchanting region of Tuscany, legendary not only for its breathtaking beauty, but its exquisite flavors that are authentic of the region. Celebrate all your senses on a day tour in Montepulciano and Pienza with Stefano Rome Tours!
MONTEPULCIANO - "the King of All Wines"

Our enogastronomic Montepulciano and Pienza Tour begins with a relaxing and leisurely drive through the scenic countryside, and through this magical region of Italy as we make our way to Tuscany.
You will pass by ancient hilltop villages, a patchwork of farmlands, vineyards, medieval castles, and undulating hills and dales punctuated with distinctive cypress trees, so be sure you have your camera handy to capture some of these postcard beautiful landscapes.
Montepulciano is an ancient town with Etruscan roots that was built on a ridge of Monte Poliziano from which it got its name.
Perfectly located between the stunning Val di Chiana (Valley of Chiana) and Val d'Orcia (Valley of Orcia), Montepulciano is Tuscany at its finest.
When you arrive, you will see why Siena and Florence repeatedly fought over it, and admire the glory Florence brought to Montepulciano's impressive Renaissance palazzi, churches, and piazzas.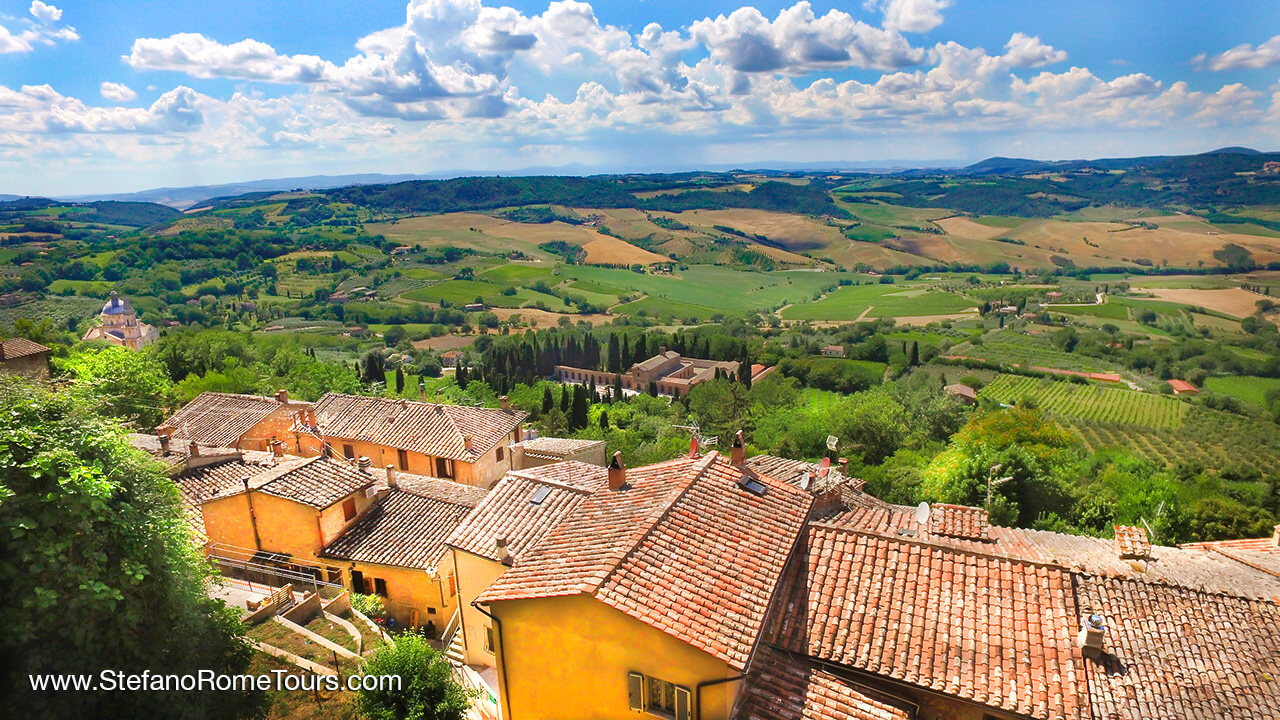 Pedestrian-friendly medieval lanes will lead you to many of Montepulciano's treasures: imposing architecture, local artisan shops, gastronomic boutiques, enoteche, and wine cellars with ample opportunities for wine tastings.
A stroll to the edge of the town's outer walls will reward you with a most spectacular panorama of the exceptional beauty of the Tuscan countryside.
Italians' passion for food and wine is particularly strong in Tuscan kitchens and wineries. During your visit to Montepulciano, you have the opportunity to sample delicious wines and local products at various wine shops in town.
Tuscany is world-renowned for its exceptional wines, but "Montepulciano is King of all wines" according to Francesco Redi, the famous 17th-century Italian poet, and physician, in his famous poem, Bacchus in Tuscany.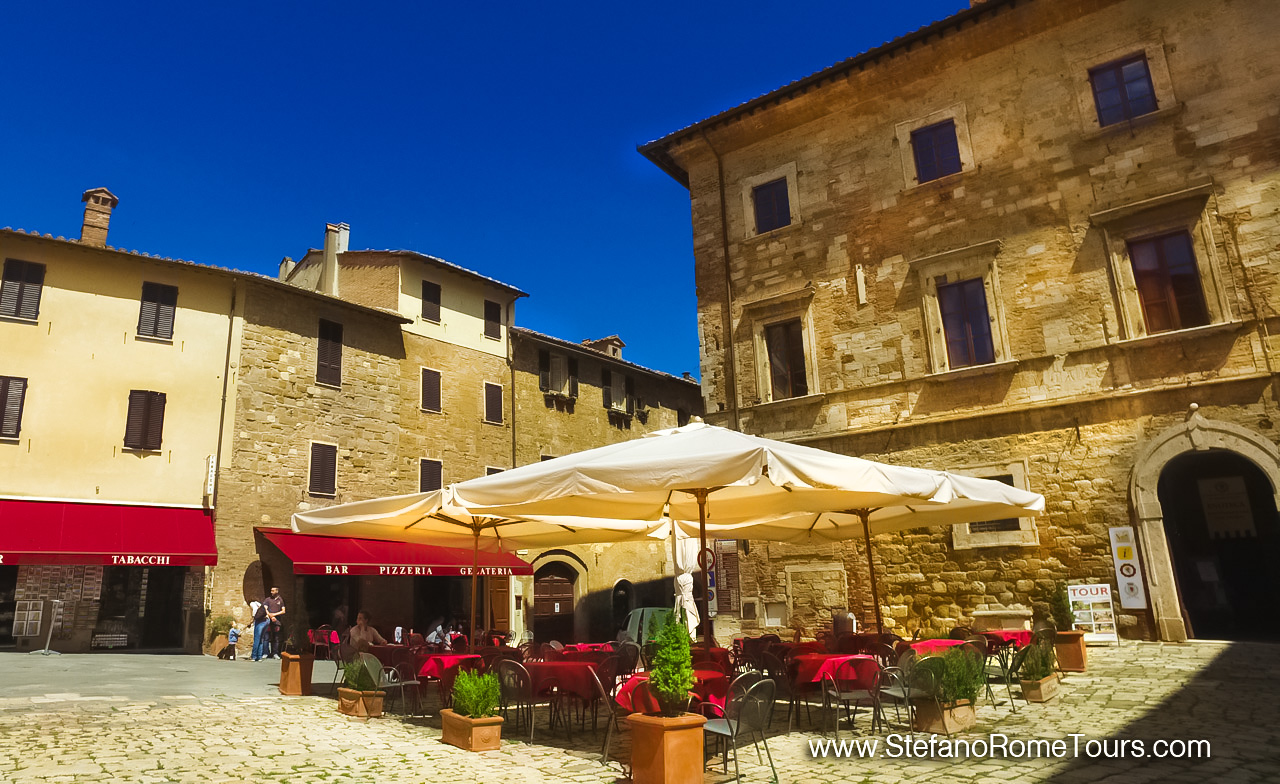 The noble wine of Montepulciano, Vino Nobile di Montepulciano, is one of Tuscany's classic red that has been a favorite among the aristocracy and royalty ever since Lorenzo de Medici in the 15th century.
The Vino Nobile di Montepulciano has also been elevated to the prestigious DOCG status - Denominazione di Origine Controllata e Garantita.
According to the stringent DOCG law, the wine must contain at least 70% Sangiovese grapes from vineyards surrounding Montepulciano, up to 20% Canaiolo grapes, and up to 20% other red varieties.
The wine must also be aged for two years in oak or chestnut barrels before being released, and three years for riserva labels. Vino Nobile di Montepulciano has found its special place in wine collector's cellars and dinner tables worldwide.
PIENZA - the Renaissance "utopian city"


Your Tuscany tour continued with a visit to Pienza, a remarkable Renaissance utopia that revolutionized city planning and earned the prestigious honor of being a UNESCO World Heritage site. The charismatic town will also reward you with breathtaking views of Val d'Orcia - a valley worthy of its own place on the list of UNESCO's World Cultural Landscapes.
Pienza got its name from Pope Pius II, the homegrown pope who transformed the existing village of Corsignano into his vision of the ultimate 15th-century Renaissance "utopian city" where humanistic concepts were applied for the first time to create a model of ideal urban living, a plan that inspired its implementation to other Italian as well as European cities.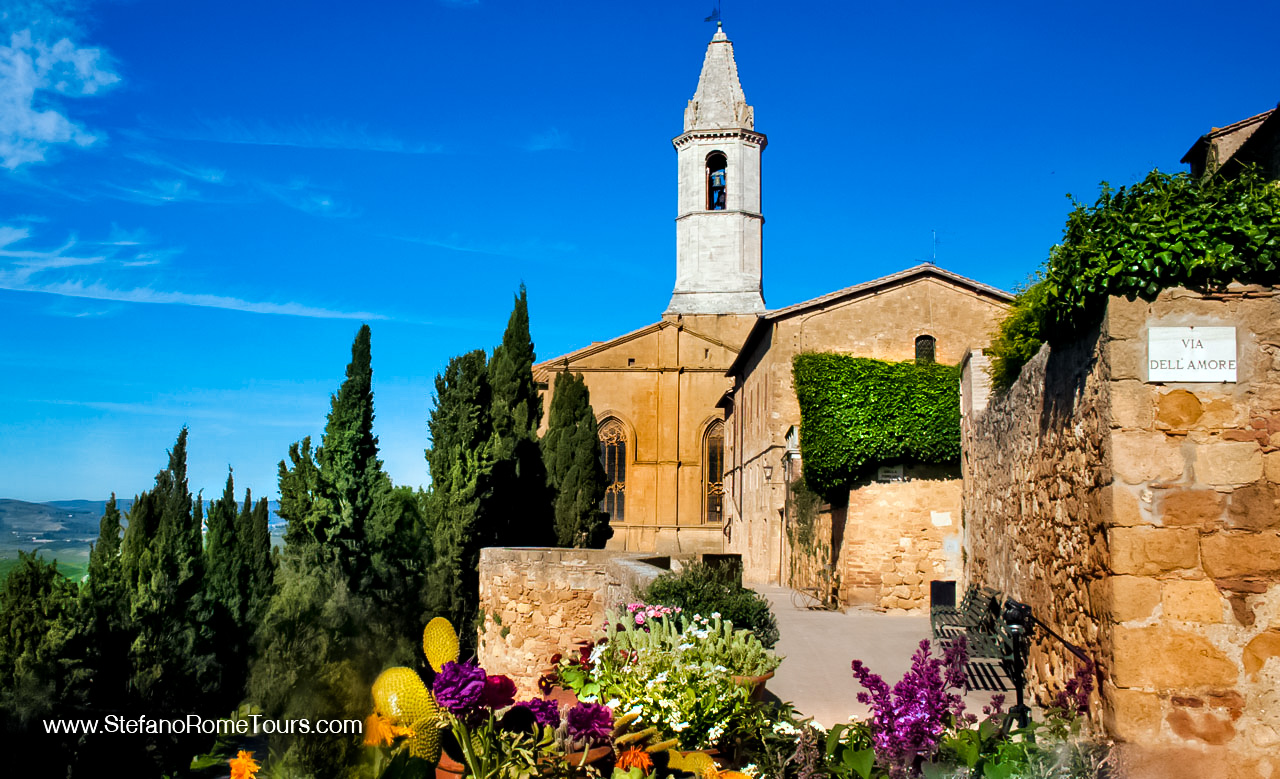 Enchanting views of Val d'Orcia beyond the stone city walls, narrow romantic streets with names like Via dell'Amore (Street of Love) and Via dell Bacio (Street of the Kiss), and medieval nooks and crannies that reveal local treasures within its shops and boutiques, makes this tiny hilltop town an idyllic setting for a stroll.
But for those with a discerning palate for gastronomic delights, Pienza's other claim to fame is their production of the finest pecorino cheese in Italy.
The lush pastoral grasslands surrounding Pienza upon which local sheep graze, contribute to Italy's finest pecorino cheese, or cheese made from ewes' milk. From soft and buttery fresh pecorino (pecorino fresco), to pecorino aged in various coatings and mixed with different subtle flavors (pecorino stagionato), you will be pleased to discover these distinct traditional flavors at the many locally owned gastronomic boutiques throughout Pienza.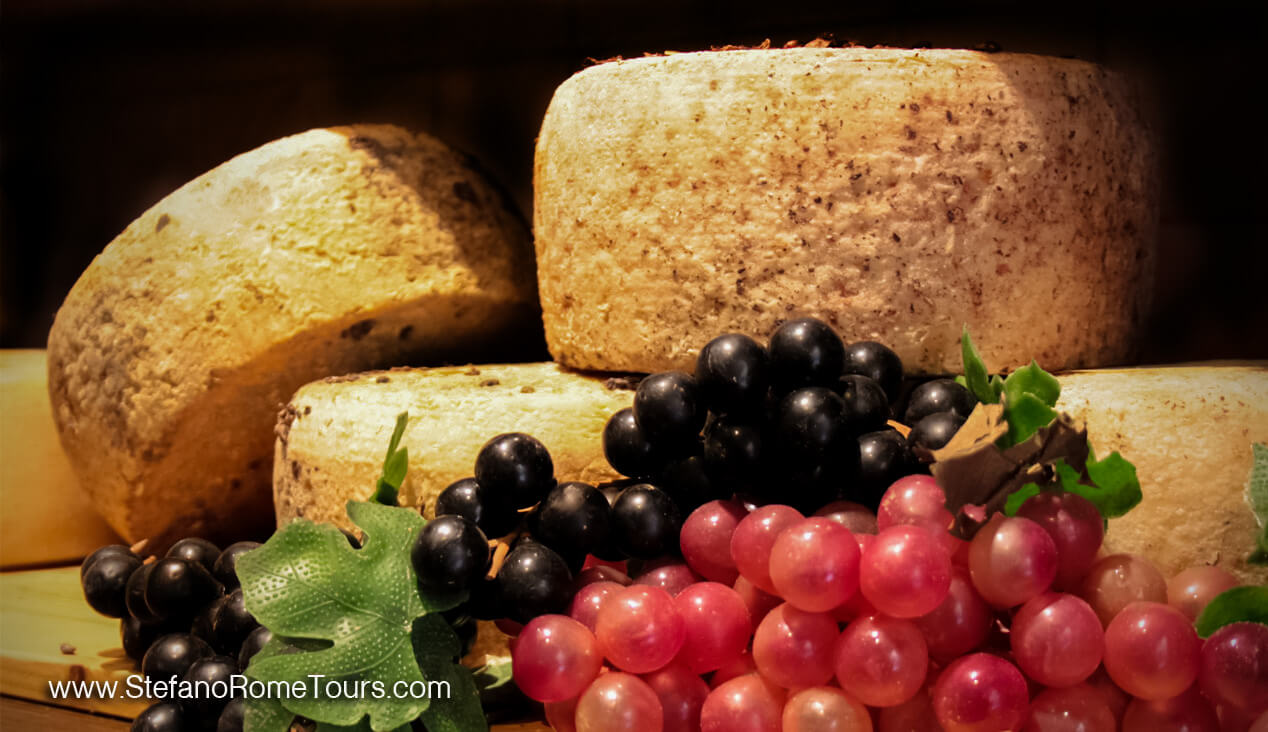 From here we will make our way through the Tuscan countryside again as you sit back, relax, and enjoy the comfortable ride back to the Eternal City of Rome where your professional driver will drop you off at the hotel.
Tuscany charms you with its many impressive historic towns, satisfies you with sumptuous local dishes and wine, and enchants you with evocative vistas that make the journey as memorable as the destinations you arrive at.
We thank you for booking our Montepulciano and Pienza Tour and for choosing Stefano Rome Tours for your Tuscany Day Tours from Rome and Italy Private Excursions. We look forward to showing you Italy!


Guests who booked this Montepulciano and Pienza tour aso enjoyed the following tours to Italy's top destinations:
Important Information


Please READ the important information below as well as Read & Accept our TERMS OF SERVICE and Privacy Policy prior to placing your reservation request(s).



PAYMENT OPTIONS:
Payment for this Montepulciano and Pienza Tour can be made in Euro funds at the end of your journey directly to your driver, or you may prepay in advance via PayPal or Credit Card online when you Confirm your Tour.
CANCELLATION POLICY:
We kindly ask that cancellations be made at least 7 days in advance in writing via E-Mail. Cancellations by phone, text, or 3rd party who is not the person who booked the service are NOT accepted.
** PREPAID SERVICES can only be Refunded the Net Rate we receive from your prepayment. Net Rate is the actual service price minus the fees retained by PayPal/Credit Card that are not reimbursed to us in case of refunds. We can only refund the portion we receive from the PayPal/CC company.
EMAIL INQUIRIES / BOOKING REQUESTS
Please allow up to 24 hours for email correspondence in response to email inquiries and tour reservation requests.
We reply to ALL emails and booking requests we receive. If you don't receive correspondence from us within 24-48 hours please CHECK YOUR SPAM FOLDER, or send us an email from a different E-mail account.
WINE TASTING IN MONTEPULCIANO
* Wine tasting fees vary, and it may cost anywhere between 5-15 Euros per person depending on the wine shop you wish to visit. Wine fees are paid directly to the wine shop.
* Wine tasting in Montepulciano is possible only in town at various wine shops operated by local wine producers. This tour does not include visits to wineries outside of the town of Montepulciano.
* Please taste wine responsibly, and never on an empty stomach. Excessive consumption of wine may interfere with the enjoyment of your tour. In case excessive consumption of wine and/or alcohol results in your desire to return to your hotel early, please be advised that you will not be reimbursed for the remaining portion of the tour, and will be charged the full fare of the tour as originally booked.
YOUR STEFANO ROME TOURS DRIVER
This Montepulciano and Pienza Tour provides an English-speaking Driver who is NOT a Licensed Tour Guide or a sommelier. Your driver will be happy to provide general touristic information while at the vehicle, but will not be able to accompany you to sightsee away from the vehicle.
Italy has strict laws and regulations aimed to protect official licensed guides that make it unlawful for Drivers to act as tour guides or accompany guests to sightsee on foot away from the vehicle. In order for us to comply with Italy's laws, Drivers are required to remain with the vehicle while guests sightsee on their own away from the vehicle.
On this Montepulciano and Pienza Tour by car, you will SELF TOUR (unaccompanied by your driver) when away from the vehicle.
HOTEL MEETING POINT TO MEET YOUR DRIVER

For hotel pick-ups, your driver will meet you inside your hotel lobby, or area permitted by your hotel.
For Apartments or B&Bs without a lobby, your driver will meet you at your address outside the main entrance.
* If your hotel/accommodation is situated on a street or in an area restricted to vehicle traffic, your driver will park the vehicle as close as lawfully possible, and will meet you on foot at your Address. From there, your driver will accompany you to your parked vehicle. Door to Door service may not be possible on streets or areas with restricted vehicle access or stops.