description

Welcome to Stefano Rome Tours! On this DiVine Tuscany Castles and Wine tour from Rome, we celebrate Montepulciano and Montalcino, two of Tuscany's most remarkable hill towns that for centuries achieved distinguished status for their local wines. Visit the spellbinding Castello Banfi, an imposing 13th-century castle surrounded by an enchanting medieval hamlet for wine tasting at its refined wine shop.
The sublime locations in this tour offer visitors fun-filled sightseeing and wine-tasting opportunities, as well as enjoyment for guests who wish not to partake in wine tastings.
DiVine Tuscany Castles and Wine tour from Rome


For up to 2 Persons from Rome Hotel: 590 EUROS
For up to 4 Persons from Rome Hotel: 650 EUROS
For up to 6 Persons from Rome Hotel: 700 EUROS
For up to 8 Persons from Rome Hotel: 750 EUROS


* Additional Wine Tasting Fees at wine shops and Castello Banfi will vary (NOT included in our tour fee)
* DATES on the Booking Form Calendar that are NOT Selectable, are NOT AVAILABLE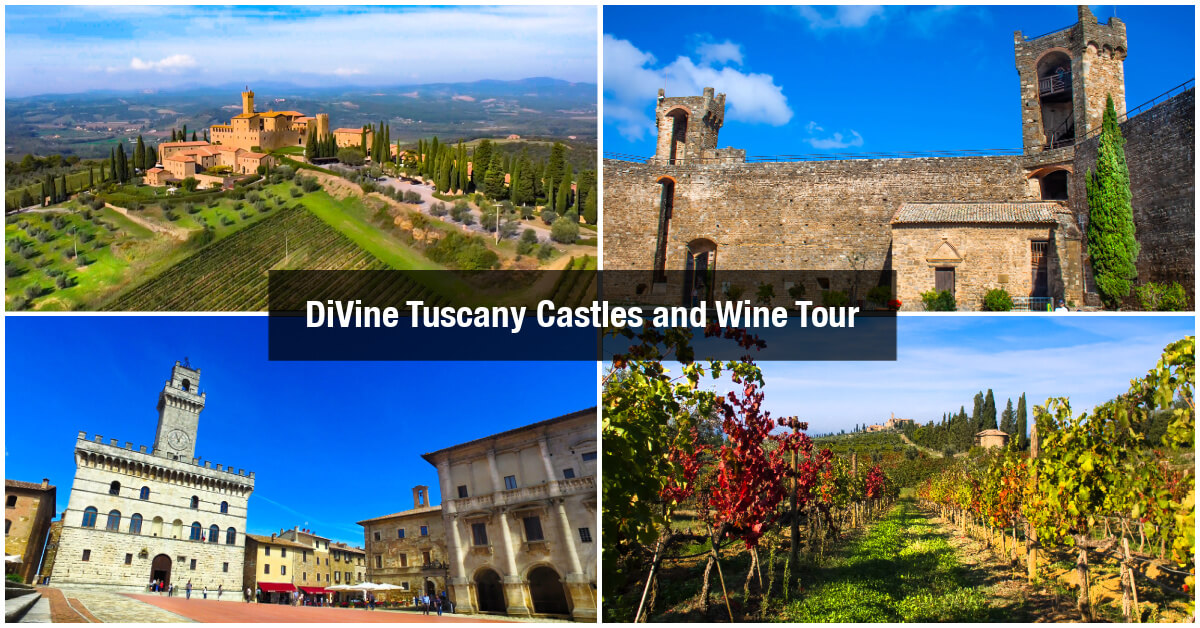 MONTEPULCIANO - the King of Noble Wines


Journey from Rome through the pastoral countryside into southern Tuscany to Montepulciano, a fascinating medieval hilltop town that brims with impressive palazzi, Tuscan charm, excellent wine, and spellbinding views surrounding Valley of Chiana (Val di Chiana).
Montepulciano's history started more than 2,300 years ago as an Etruscan city named Nocera Alfaterna. During the Medieval era, Montepulciano was vied by Florence and Sienna. For centuries Montepulciano reigned as "King of all Wines" as described in his famous poem, "Bacchus in Tuscany" by 17th-century poet Francesco Redi.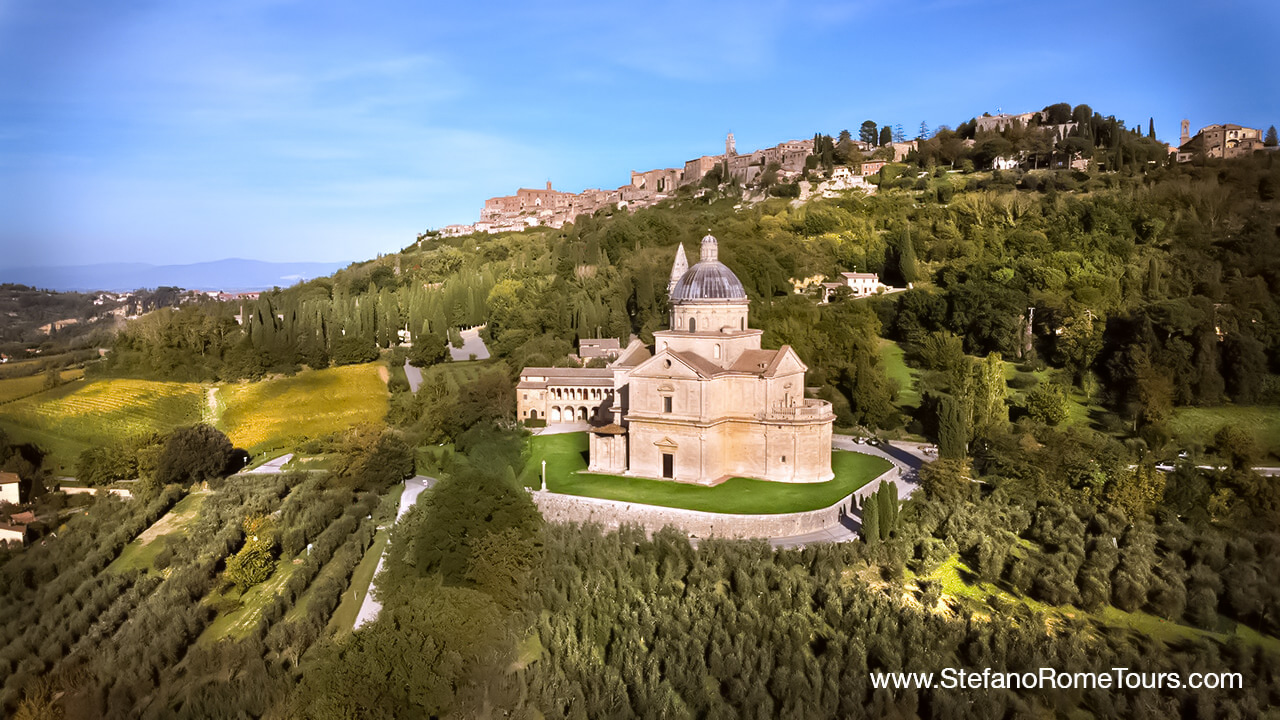 Vino Nobile di Montepulciano (Noble Wine of Montepulciano), is one of Tuscany's most ancient wines documented as far back as 789 AD and for centuries considered a sophisticated wine for the table of nobles.
Since the 15th century Italy's royalty, popes, and aristocrats preferred Montepulciano's red, and Pope Paul III's wine advisor, Sante Lancerio, described Montelcino's wine as "very perfect and suit to the taste of gentlemen".
In 1787 the wine earned its title of "Noble" (Nobile in Italian), a title that still holds firmly to its glory and history. In 1980, Vino Nobile di Montepulciano was exalted to the coveted DOCG status - Denominazione di Origine Controllata e Garantita, guaranteeing its extraordinarily high-quality standard.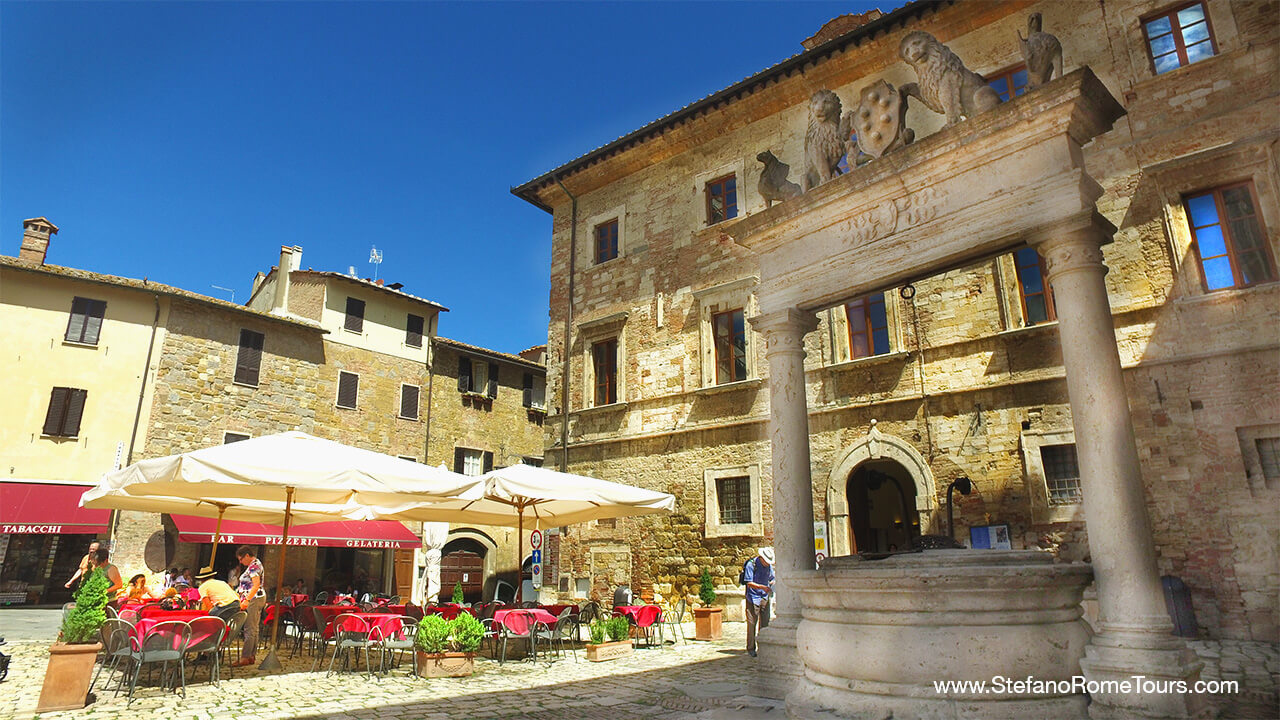 Throughout Montepulciano, you will find wine shops (enoteche) owned by local producers where you may sample various wines. Some wine shops even boast historical wine cellars that guests can visit. In-town wine shops enhance visitors' opportunities to taste and purchase a variety of local wines and regional food products while sightseeing in this fascinating town. Wine tasting fees vary from wine shop to wine shop.
MONTALCINO - home of Brunello wine


Montalcino is another delightful hilltop town in Tuscany surrounded by enchanting views of the surrounding Valley of Orcia (Val d'Orcia). Like Montepulciano, Montalcino is also an ancient town since the Etruscan times. Montalcino's ancient name, Monte Ilcinus, derived from the oak trees that once covered this region. Its modern name, "Montalcino" first appeared in written documents in the early 9th century.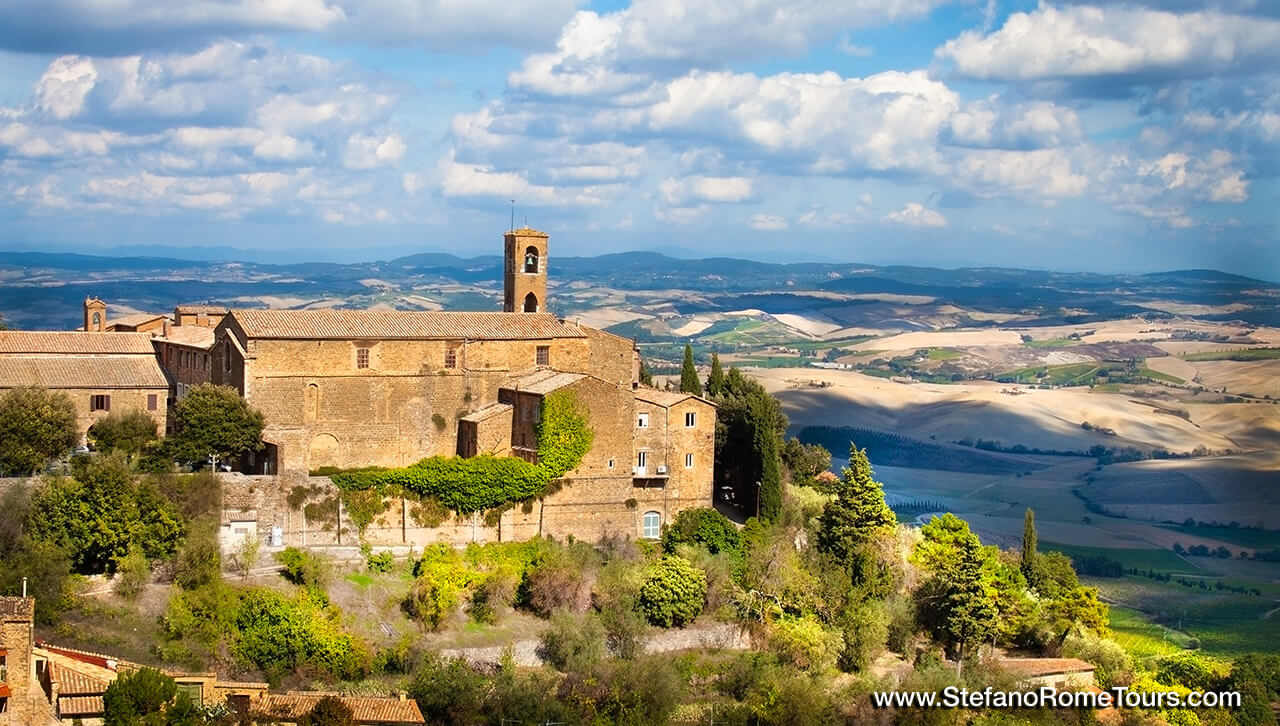 Montalcino is particularly famous worldwide for its Brunello di Montalcino, the prestigious local wine made from the Sangiovese grapevine. Although one of the first records of red wine made in Montalcino Brunello wine was in the early 14th century, Brunello as we know it was created in the mid-1800s by Clemente Santi who intended to diversify local wine production using barrels and specific selections suitable for aging wine.
His formula and methods produced the Brunello, a deep reddish-brown "bruno" colored wine that won awards setting it apart from other wines made from Sangiovese grapes. A strong robust structure characterizes Brunello.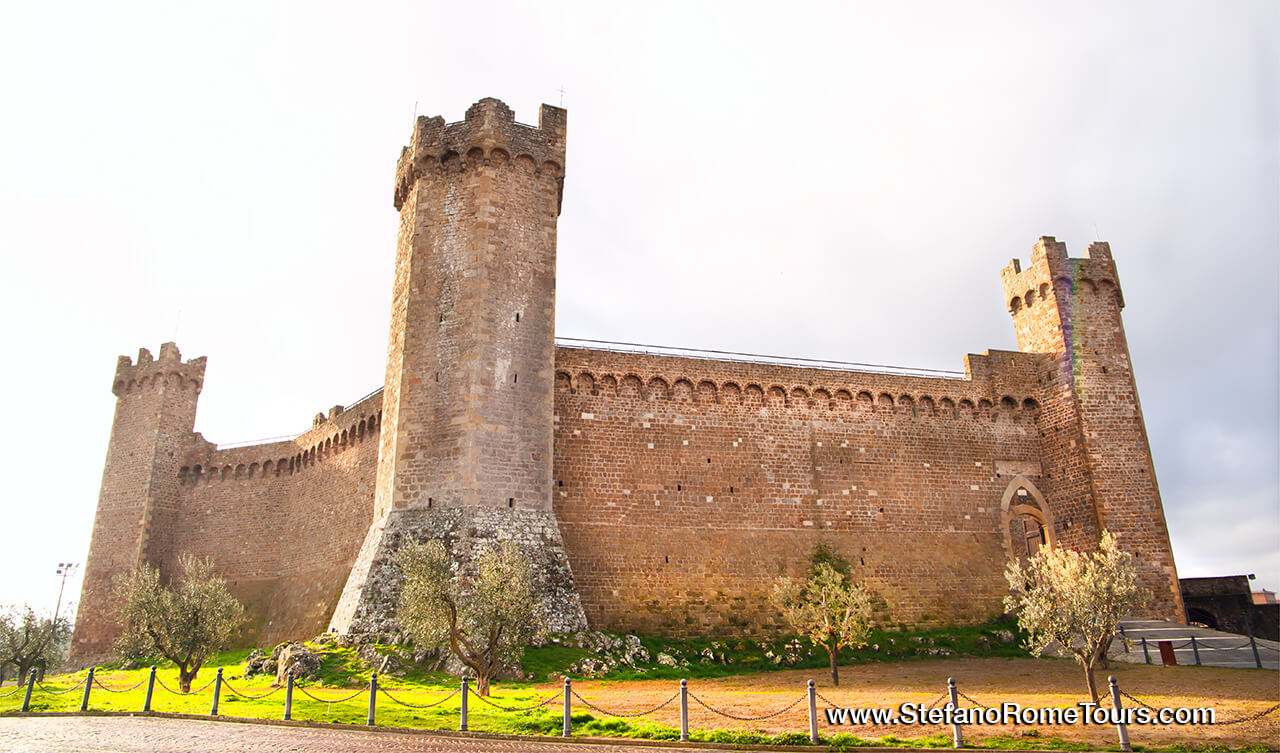 Travelers flock to Montalcino not only for its prestigious wine but also for its historical, artistic, and architectural treasures. Not to be missed is the magnificent 14th-century fortress that served as the last bastion of resistance of the Sienese Republic against Medici's expansion and conquests.
Montalcino's medieval streets tempt visitors with shops and boutiques that sell local products, charming cafes, and wine shops (enoteche). You will enjoy free time on your own to explore the town, lunch on local delicacies at a local restaurant, browse the wine shops and sample elegant Brunello di Montalcino.
CASTELLO BANFI - enchanting castle in Tuscany's wine country


From Montalcino, you will enjoy a relaxing 20-minute drive through Montalcino's wine country to the medieval hamlet of Poggio alle Mura, a cluster of artfully restored 9th-13 centuries buildings dominated by the enchanting 13th-century Castello Banfi.
Settled on a hillock surrounded by 7,000 acres of beguiling vineyards and olive groves, the family-owned castle was transformed into luxury accommodation and the vineyard estate produces some of the region's most celebrated wines.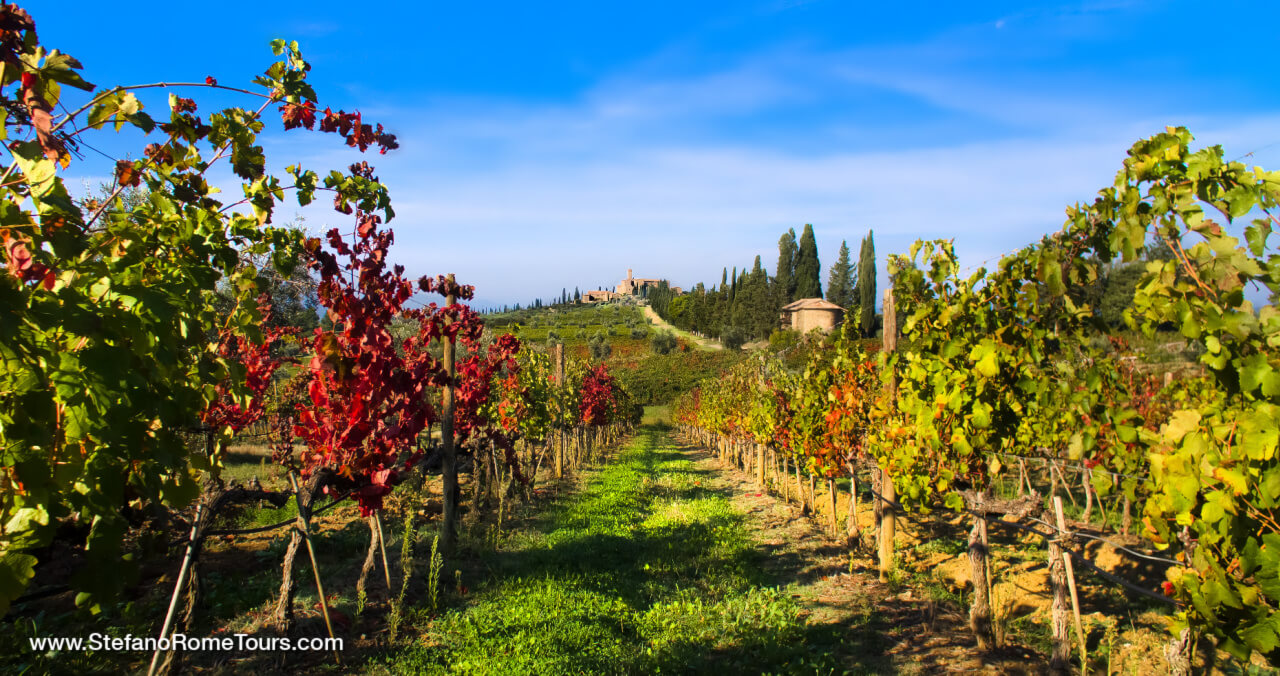 Among the charming medieval buildings is the elegant wine shop (the Enoteca) where you will have the opportunity to delight in the famous Banfi wines.
The Enoteca is a refined Tuscan wine shop where guests can savor elegant estate wines, spirits, and extra virgin olive oil at the wine bar. A convenient wine bar list with prices guide guests to select their preferred tasting options. This uncomplicated and practical wine-tasting approach offers guests flexibility and choice.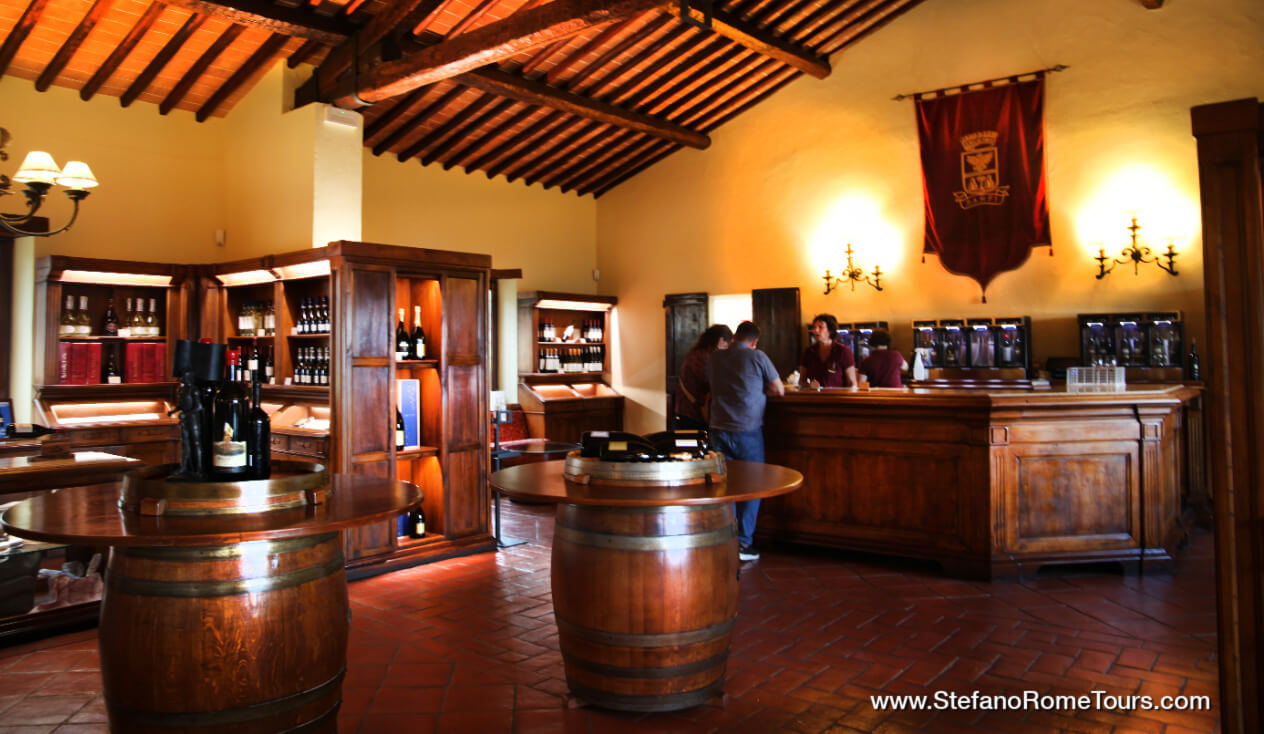 You will also discover various local artisan food and crafts available at the Enoteca. Relish the opportunity to purchase the perfect bottle of wine or other tasty products of Castello Banfi for you or as treasured gifts for your loved ones back home. Raise your glass and toast the day and your adventures in Italy, Cheers!
While at Castello Banfi, discover the "Museum of Bottles and Glass" inside the castle that boasts the world's largest collection of ancient Roman glassware beginning with molded glass from the 5th -4th centuries BC, blown glass from 4th-5th centuries AD, antique wine bottles, as well as ancient and modern glassware from Venice including "The Water Girl" by Pablo Picasso.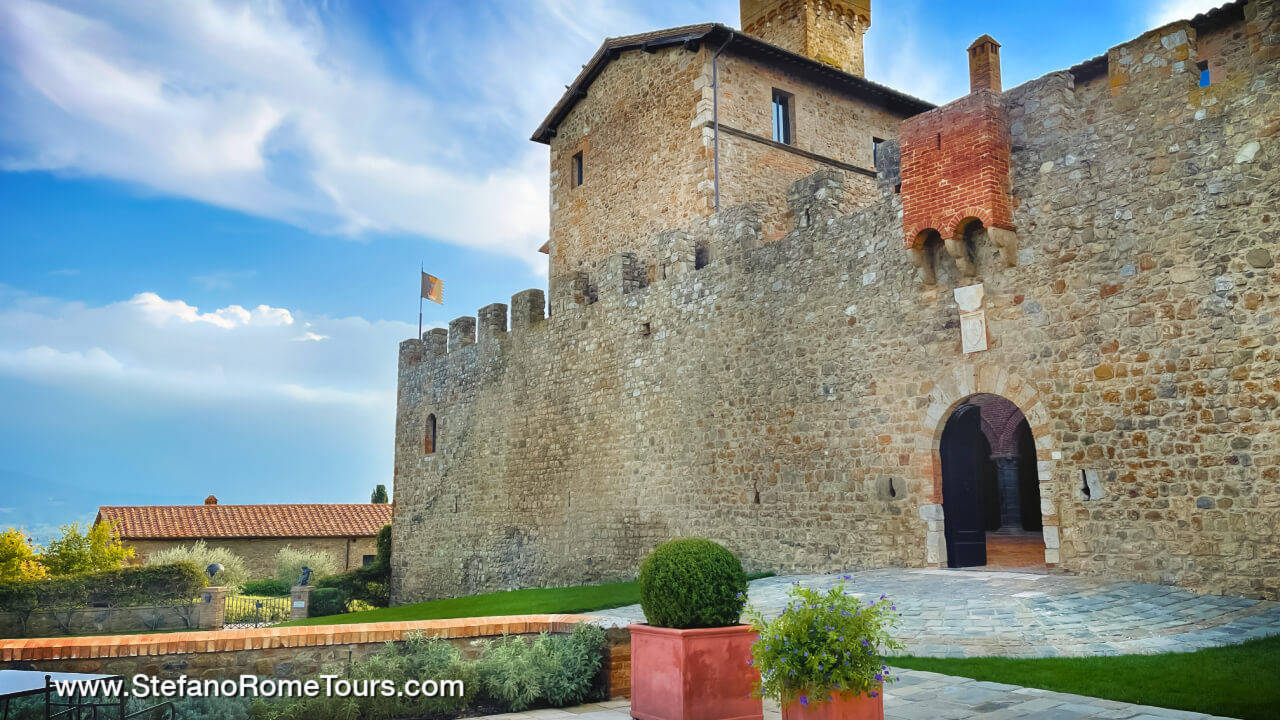 You will once again join your driver for a relaxing journey through the picturesque Tuscan countryside back to your hotel in Rome, reminiscing the exceptional sights and flavors you enjoyed on your wine-tasting tour to Tuscany.
Thank you for booking our DiVine Tuscany Castles and Wine tour from Rome and choosing Stefano Rome Tours for your Italy private tours. We look forward to showing you the best of Italy on our private tours!
Important Information

Please READ the important information below as well as Read & Accept our TERMS OF SERVICE and Privacy Policy prior to placing your reservation request(s).


PAYMENT OPTIONS:
Payment can be made in Euro funds at the end of your journey directly to your driver, or you may prepay in advance via PayPal or Credit Card online when you Confirm your Tour.


CANCELLATION POLICY:
We kindly ask that cancellations be made at least 7 days in advance in writing via E-Mail. Cancellations by phone, text, or 3rd party who is not the person who booked the service are NOT accepted.

** PREPAID SERVICES can only be Refunded the Net Rate we receive from your prepayment. Net Rate is the actual service price minus the fees retained by PayPal/Credit Card that are not reimbursed to us in case of refunds. We can only refund the portion we receive from the PayPal/CC company.


** This Tuscany Wine Tour is offered AS IS without modifications to the existing itinerary, towns, or wine tasting venue. If you wish to make any changes to this wine tour please send us an email and we will gladly assist you with a customized tour to suit your preferences.


TUSCANY WINE TASTING Fees and Information:

** Wine tasting fees at local wine shops in Montepulciano and Montalcino vary depending on the wine shops. Some shops such as Ercolani in Montepulciano offer complimentary wine tastings, other wine shops may offer them at a price or free with the intention to purchase. Inquire with the wine shop you choose to visit for their wine-tasting fees.
Castello Banfi wine-tasting prices vary depending on the wine options selected from the wine bar menu with prices ranging from 16 Euros to 46 Euros per person depending on the vintages, spirits tastings are approximately 15 Euros per person, and Extra Virgin Olive Oil and Balsamico Etrusco tastings are at approximately 8 Euros per person. Wine Tasting is available only at the wine bar in the wine shop (The Enoteca).
Your stop at Castello Banfi is strictly for wine tasting at The Enoteca. It will not include a winery visit or winery tours as the winery facility is in a different location from the castle, and their scheduled winery tours are not compatible with this tour itinerary. Castle grounds tours are not included in this visit. You may inquire at The Enoteca about visiting the glass museum inside the castle.
While Castello Banfi Enoteca is generally open 7 days a week, availability must always be established prior to confirming this tour in case the property might be booked with large events and groups that interfere with visiting the Enoteca.
YOUR STEFANO ROME TOURS DRIVER
This tour provides an English-speaking Driver who is NOT a Licensed Tour Guide or sommelier.
* Italy has strict laws and regulations aimed to protect official licensed guides that make it unlawful for Drivers to act as tour guides or accompany guests to sightsee on foot away from the vehicle. In order for us to comply with Italy's laws, Drivers are required to remain with the vehicle while guests sightsee on their own away from the vehicle.
* On this Tuscany, Vineyards, and Wine Tour by car you will SELF TOUR (unaccompanied by your driver) when away from the vehicle.
MEETING POINT to meet your Driver at your Hotel Accommodation:
From your hotel, your driver will meet you inside the lobby of your hotel or the area permitted by your hotel.
For Apartments or B&Bs without a lobby, your driver will meet you outside the main entrance of your Address.
* If your hotel or accommodation is located on a street or in an area that is restricted to vehicle traffic, your driver will park as close as lawfully possible, and meet you on foot at your Address to accompany you to your parked vehicle.
How is Vino Nobile di Montepulciano made?
Vino Nobile di Montepulciano wines are made from a minimum of 70% Sangiovese grapes with additional varieties such as up to 20% Canaiolo, and a small quantity of other local varieties such as Mammolo and Colorino. The addition of these other grape varieties in small amounts makes the wine a little softer when young.
It is common for many producers to only use 100% Sangiovese grapes for their top wines. The required aging of Vino Nobile of Montepulciano is a minimum of 2 years, and 3 years for Riserva (with 12 months spent aging in oak barrels). The long aging period provides the wine with balance and roundness.

How is Brunello di Montalcino made?
Brunello di Montalcino wine is made 100% from Sangiovese grapes. Traditionally, Brunello wine undergoes a maceration period where the flavor and color are extracted from the grape skins. Following fermentation, the wine is aged in oak casks. Some winemakers choose smaller French barrique for more pronounced vanilla oak flavors.
According to production disciplinary, Brunello di Montalcino must age a minimum of 2 years in cask, and even longer for reserve wines since Brunello was made for aging. Brunello was the first wine to be granted the esteemed Italian DOCG status ( Denominazione di Origine Controllata e Garantita ).