Buongiorno and welcome to Stefano Rome Tours! Since 2004 we've offered luxury Shore Excursions from Civitavecchia to Rome and other surrounding top destinations to thousands of cruisers.

With so many types of Civitavecchia shore excursions available ranging from bus tours, to group tours, and private tours, it's sometimes difficult to choose which shore excursion is best for you.

In this travel blog, we will discuss luxury shore excursions from Civitavecchia so you may make an informed decision on your next Mediterranean cruise to Italy.
LUXURY SHORE EXCURSIONS FROM CIVITAVECCHIA

Our Luxury Shore Excursions from Civitavecchia are Private

Our luxury shore excursions from Civitavecchia are private just for you and your party. Enjoy a private shore excursion just for you and your family or travel companions for the comfort, privacy, and safety of traveling in your own private deluxe vehicle.

Our luxury shore excursions from Civitavecchia cruise port are not shared with strangers because not everyone is comfortable with sharing their once-in-a-lifetime tours in Italy with complete strangers who may not share their interests or touring pace. They may also not feel comfortable sharing their personal space inside the vehicle with complete strangers.

Having your private vehicle to yourself ensures your absolute privacy and comfort. On private shore excursions in Italy, you may also tour at your own pace, and this is much appreciated by travelers who don't wish to have to keep up with others during their tour.
Tour in elegant deluxe Mercedes vehicles for your luxurious comfort
Luxury shore excursions are also referred to as:
Limousine Tours from Civitavecchia
Limo Shore Excursions from Civitavecchia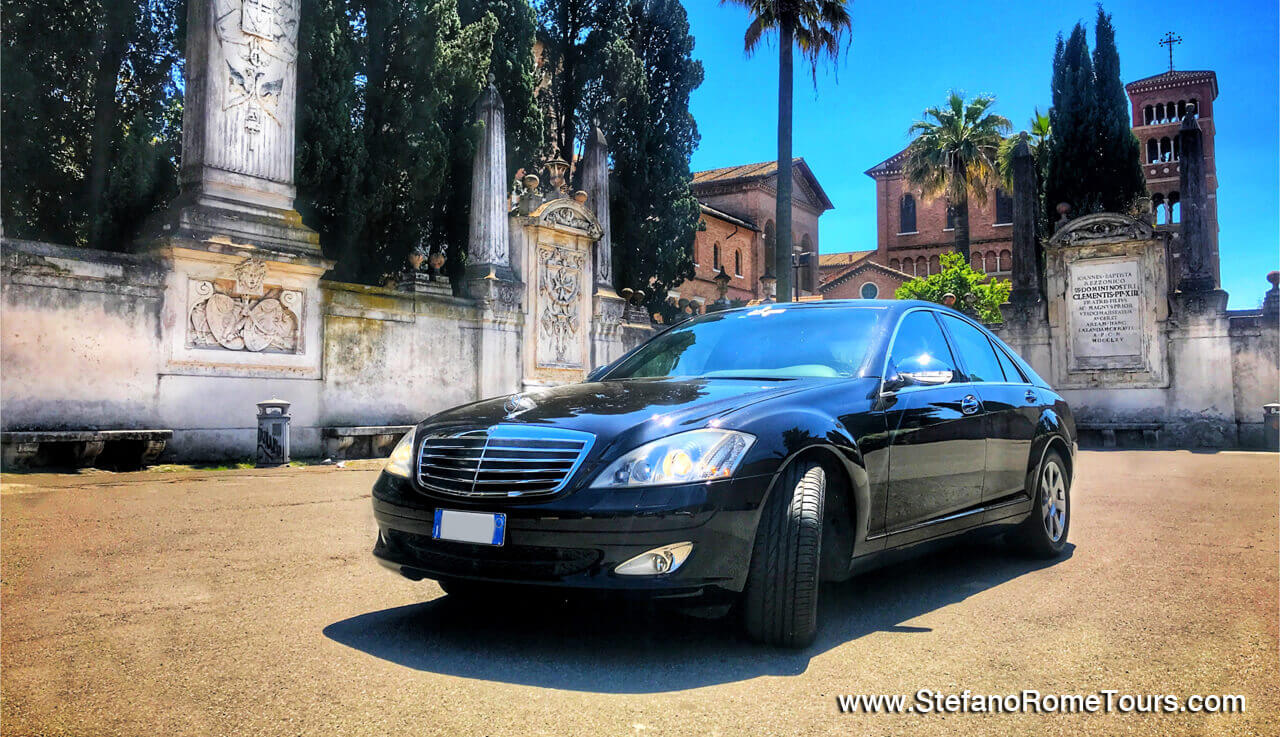 Luxury shore excursions in Italy are enjoyed in climate-controlled deluxe Mercedes vehicles which are considered limousines in Italy (not to be confused with stretch limos).

You will truly feel like a special VIP touring Rome in luxurious vehicles driven by your own personal driver.
Convenient pick-up and drop-off right on the pier next to your ship

Our drivers and vehicles have all the required professional licenses and security clearance to access the cruise port to pick you up and drop you off right on the Pier next to your cruise ship for ultimate convenience and ease.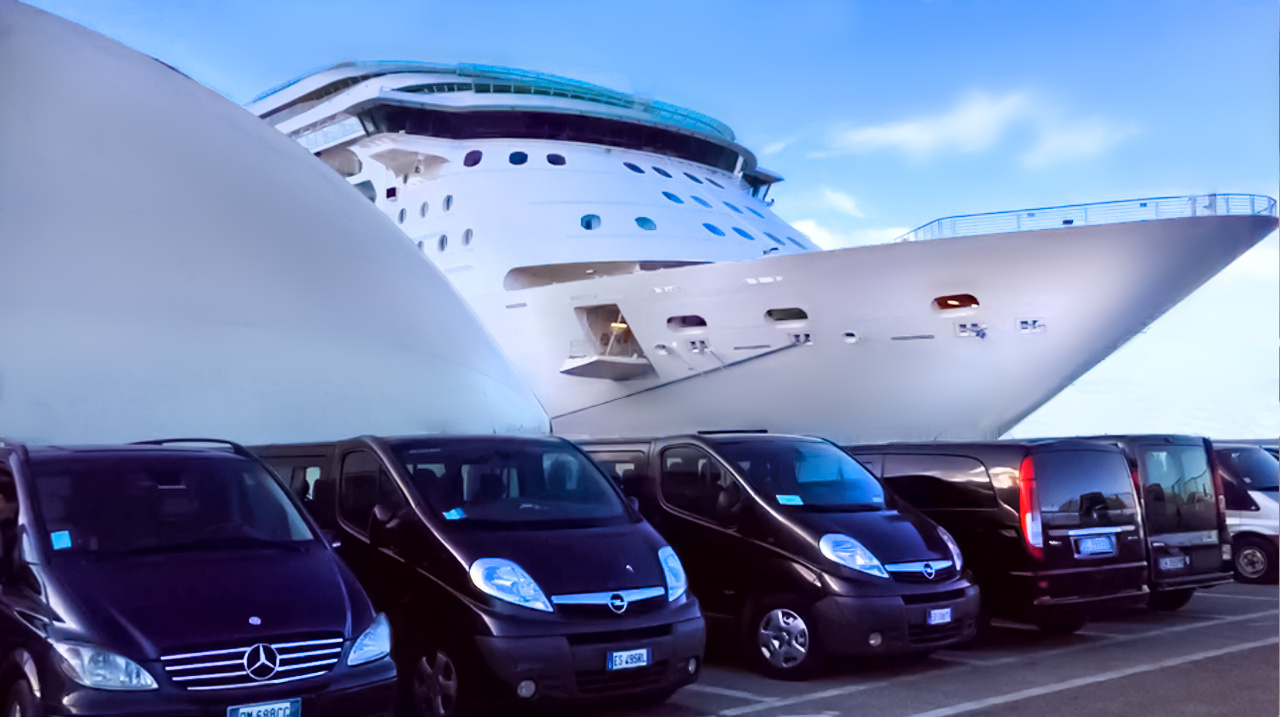 On our shore excursions from Civitavecchia, your personal driver will meet you on the Pier next to your Cruise Ship holding a sign with your name in the reservation. Once you meet, your driver will take you to your vehicle parked nearby, and off you go on your shore excursion adventure!

At the conclusion of your tour, your driver will bring you back to your ship to conveniently board for your departure.

Book the best luxury shore excursions to Rome or the Countryside

Browse through our collection of Civitavecchia Shore Excursions and find the perfect itinerary for you and your family. We crafted a variety of exciting cruise tours that fit perfectly within the ship schedules and allow you to enjoy as much of Italy as possible.

Whether you will be visiting Rome for the first time or you've visited Rome many times and wish to experience more of Rome, we offer a variety of Rome Shore Excursions from Civitavecchia to suit diverse interests.


Cruisers who wish to visit the top attractions in Rome can enjoy our Rome in a Day Tour.


Those who wish to experience Rome on a more leisurely private tour of Rome from the Cruise Ship without the major crowded attractions overwhelmingly book our cruisers' top choice Postcard Rome tour from Civitavecchia.


Cruisers who have been to Rome many times and wish to explore the enchanting Roman countryside have overwhelmingly booked our signature Castles and Lakes Countryside Tour from Civitavecchia with visits to medieval villages and castles, and explore the ancient tombs of Etruscan Necropolis of Cerveteri, a UNESCO World Heritage Site.
If you can't choose between Rome and the Countryside, we offer the wonderful Rome City and Countryside Tour that takes you on a journey to Rome's most famous squares, followed by lunch in a charming medieval hamlet on top of a cliff, and a vist to one of Italy's most beautiful castles that overlooks a pristine volcanic crater lake.


Travel back in time to the middle ages on our Medieval Wonders Countryside Tour that takes you to some of centrally Italy's most significant medieval towns and villages.


Wine lovers can toast the day at an esteemed wine estate in the hills of Umbria on our popular Orvieto Wine Tasting Shore Excursion from Civitavecchia. Following the wine tasting at an organic winery tucked in the idyll hills of Umbria, you will enjoy lunch and a visit to Orvieto, one of the most remarkable ancient cities of Umbria.


History buffs revel in our Etruscan Mystery Tour from Civitavecchia to fascinating ancient towns like Tuscania and to Tarquinia which boasts the unique-in-the-world ancient painted tombs from some 2,500 years ago when central Italy was known as Etruria, the land of the Etruscans.

If you wish to walk in the footsteps of the ancient Romans and Etruscans, you will love our private excursion from Civitavecchia to Ostia Antica and Cerveteri that offers you a taste of these two ancient bygone civilizations whose vestiges are still very much present throughout Italy.
Movie aficionados have been thrilled with our Angels and Demons Shore Excursion and Vacanze Romane / Roman Holiday Tour that take you to top destinations in Rome where these wildly popular movies were filmed.
Minimize walking distance & maximize sightseeing opportunities with our limousine tours
Because our deluxe vehicles have special licenses that can access the historical center, we can take you close to the attractions you visit minimizing walking distances.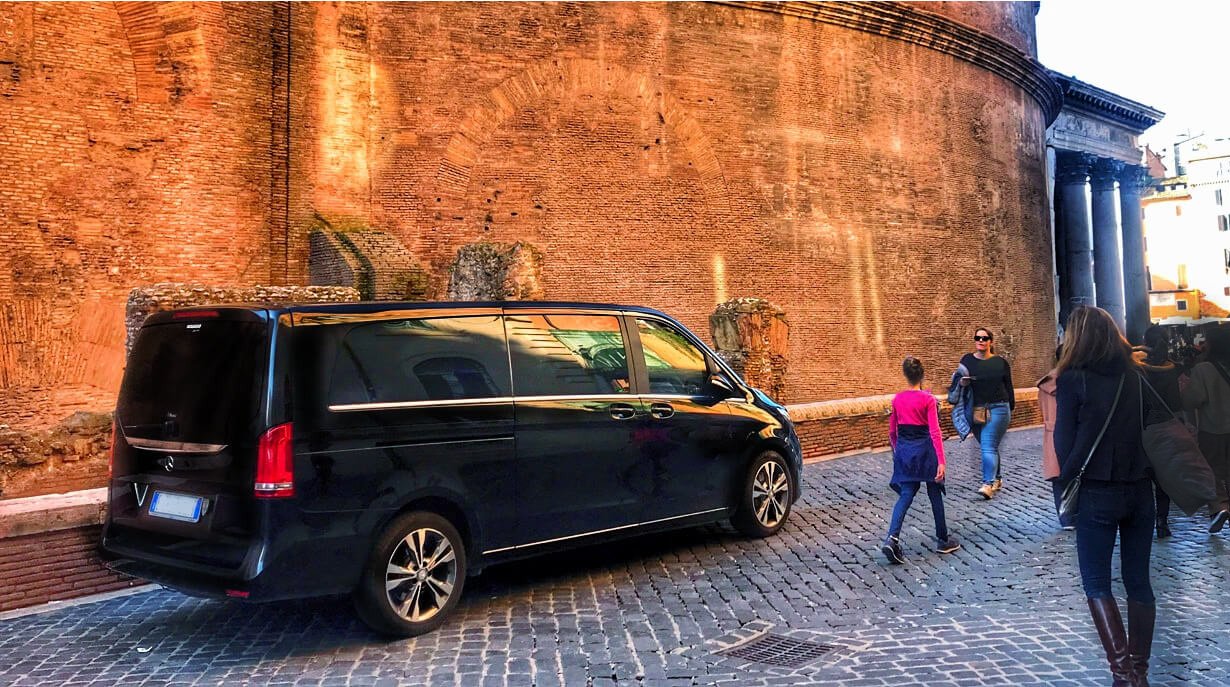 This is ideal for families with children, senior cruisers, and cruisers with mobility limitations. Further, by spending less time getting from place to place, you will have the opportunity to see and visit more sites in Rome effortlessly.
When you see your fellow cruisers on bus tours having to walk for blocks rain or shine from the far away perimeters where buses are permitted to stop because they cannot get close to the center, you will truly appreciate the benefit of booking private tours that minimize walking distances.
Luxury Excursions in Italy with Personal English-speaking Drivers


All our Italy private tours include professionally licensed English-speaking Drivers to make your tours more enjoyable!

Unlike bus tours or group tours, on our private luxury tours from Civitavecchia, you will have your driver's undivided attention, and s/he will be at your service exclusively for personalized service.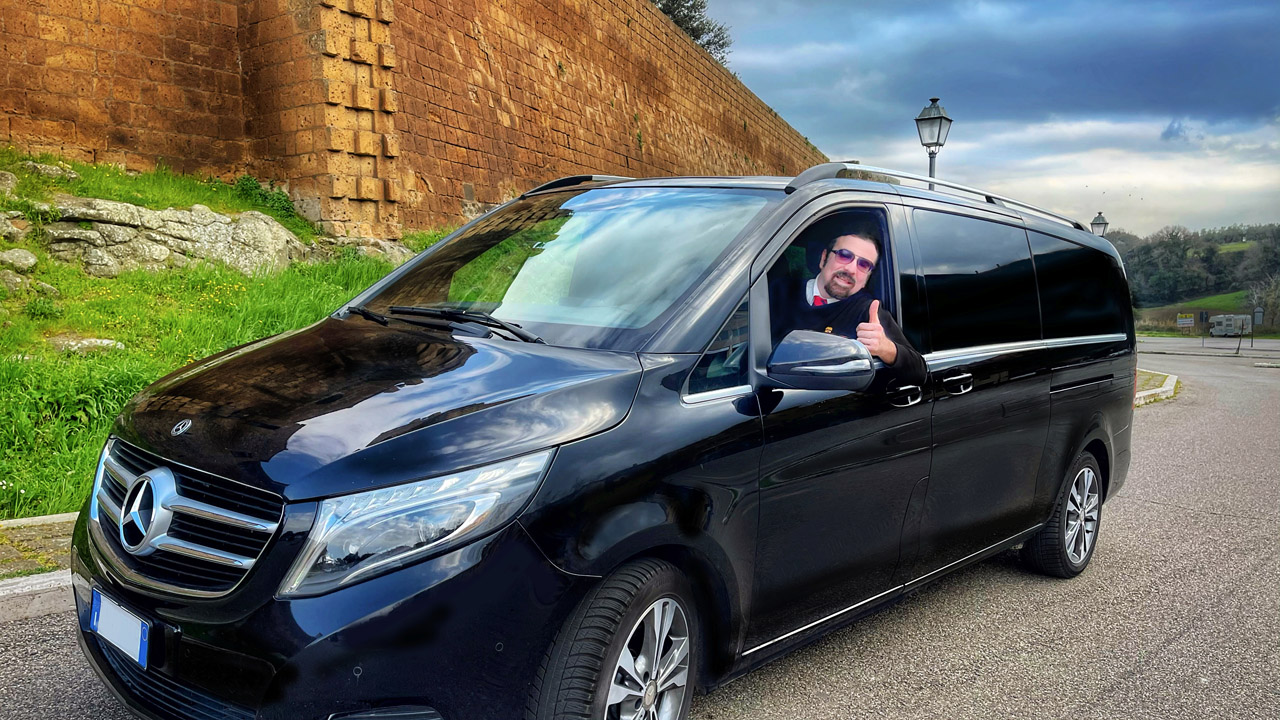 And unlike bus tours or group tours, you will never have to worry about the driver leaving without you if you tour at a slower pace or it takes you longer to visit a site. Your driver will be right there waiting for you no matter what!

Your personal driver will take you as close as lawfully possible to each place you visit and will wait for you with the vehicle for your return.

Tour Drivers are not licensed tour drivers and cannot personally guide guests to sightsee away from the vehicle (due to Italian laws that regulate licensed tour guides and professional drivers). However, your knowledgeable personal driver will be at your service offering general information while at the vehicle, assistance, and guidance if you prefer to follow an independent itinerary.
Enhance your Civitavecchia Excursion with a Private Licensed Tour guide

Whether you wish to be accompanied by a private licensed tour guide for your entire tour, or just reserve a licensed tour guide for key locations, we can reserve a guide for you and make all the arrangements so you will be met by your guide at the appointed time and location.



With a personal tour guide, guests glean insightful information about places of interest and gain an understanding of history, culture, and architecture.

Unlike bus tours or group tours where a tour leader or a guide focuses on the group instead of individual participants, your personal licensed tour guide will be entirely focused on you, answer your questions, and can provide information that is particularly interesting to you.
Customize your Civitavecchia Shore Excursion & Tour at your own pace
As guests on our private excursions, you can also customize your private tour if you prefer to skip certain sites in favor of others. If you have a bucket list of places you dream of seeing, we can work around your ship's schedule to show you as much as possible within the allotted time of your excursion.

On private excursions, guests may also tour at their own pace to accommodate their mobility or preference for a more relaxing or laid-back tour experience. Such welcomed flexibility is not possible on bus tours or group tours that are inflexible.
Just book your Italy private excursion on our website and enjoy!

Our online booking form on our website makes it easy and secure to book your preferred tour from Civitavecchia, with the option to prepay in advance or on the date of service.

Our English-speaking office staff is available to offer you assistance every step of the way.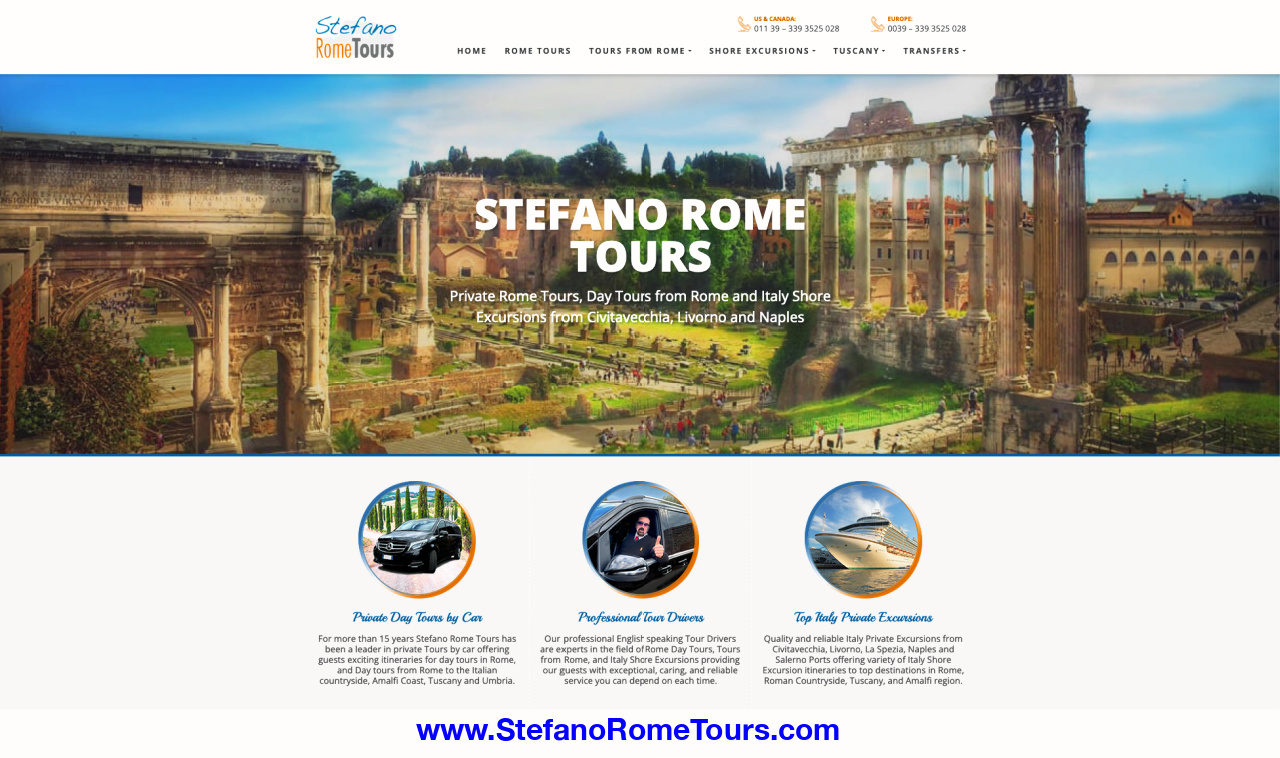 How to SAVE on your Civitavecchia Shore Excursions

Just because bus tours and group tours with strangers are not for you, it doesn't mean you can't SAVE a lot by sharing your preferred Civitavecchia shore excursion with like-minded fellow cruisers you personally choose in advance. Simply create your own Privately Shared Luxury Shore Excursion.

We dedicated an entire page on TOUR SHARING from Civitavecchia with lots of helpful information on creating your own privately shared excursions with all the benefits of a private luxury tour but sharing the fun and expenses with like-minded fellow cruisers. It's a wonderful way to save on your luxury tours AND make new friends!

Thousands of our cruising clients have successfully created their own Privately Shared Shore Excursion and had a wonderful time with their new friends.

Thank you for reading our travel blog and for choosing Stefano Rome Tours for your luxury shore excursion from Civitavecchia. We look forward to meeting you in Italy!