Buon giorno and welcome to Stefano Rome Tours, Rome's leading Tour Company for private Day Tours from Rome, and Shore Excursions from Civitavecchia.
Our popular Castles and Lakes Rome Countryside Tour from Rome and Shore Excursion from Civitavecchia has just gotten even more exciting, thanks to an innovative project set forth as part of Lazio's Cultural Heritage Technology District with the cooperation of the Archaeological Superintendence of Southern Etruria.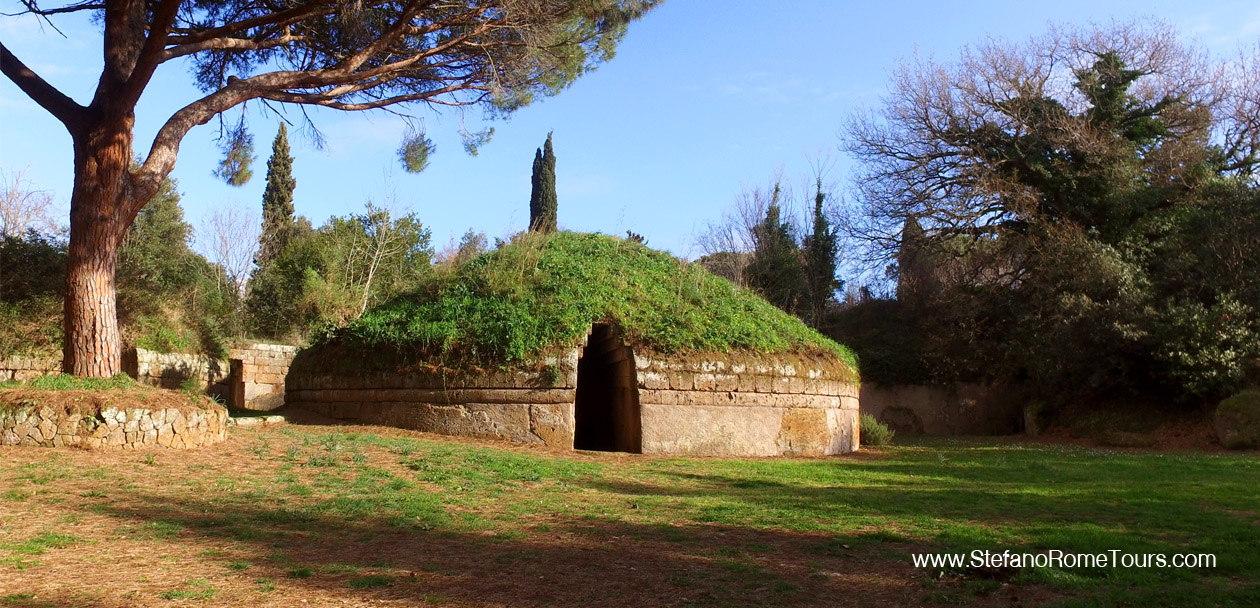 On this visit to the ancient Etruscan necropolis of Banditaccia in Cerveteri, you will experience something never before possible in this city of the dead. As you descend into stone-carved tombs, the dark and eerie chambers suddenly come to life to reveal their ancient secrets to you.
An ancient civilization and modern technology merge to bring forth a remarkable experience that brings dormant history to life. Vibrant displays of light and color reconstruct how some of the tombs appeared two thousand years ago before time and elements stripped them of their beauty, and its precious contents were carted off to museums.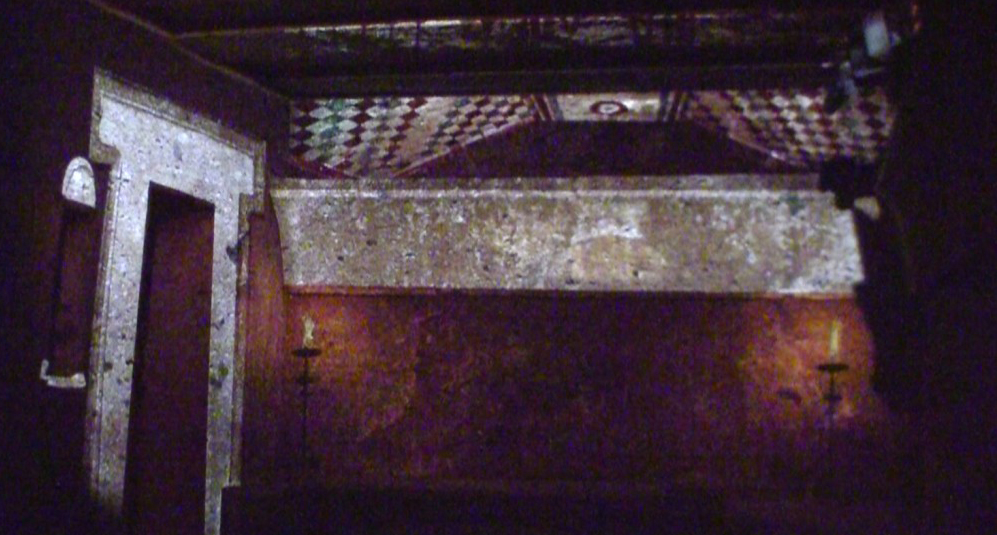 Riveting narratives (in both English and Italian) tell fascinating stories of things unknown while sounds and visual effects propel you into the mysterious world of the Etruscans who once lived and died here more than two thousand years ago!
Sala Mengarelli

Your first stop is at the Sala Mengarelli, where an introduction documentary video welcomes you with a historic background of the Necropolis and its incredible treasures. The second part of this brief educational documentary focuses on incredible findings in the necropolis and is shown in 3-D. Inside the theater room is also a large projection of the geological and morphological history of the necropolis, and large-scale model of a burial mound as seen in the necropolis.
There are 7 tombs that you can visit that are enhanced with Audio and Light, or Audio, Light, and Video.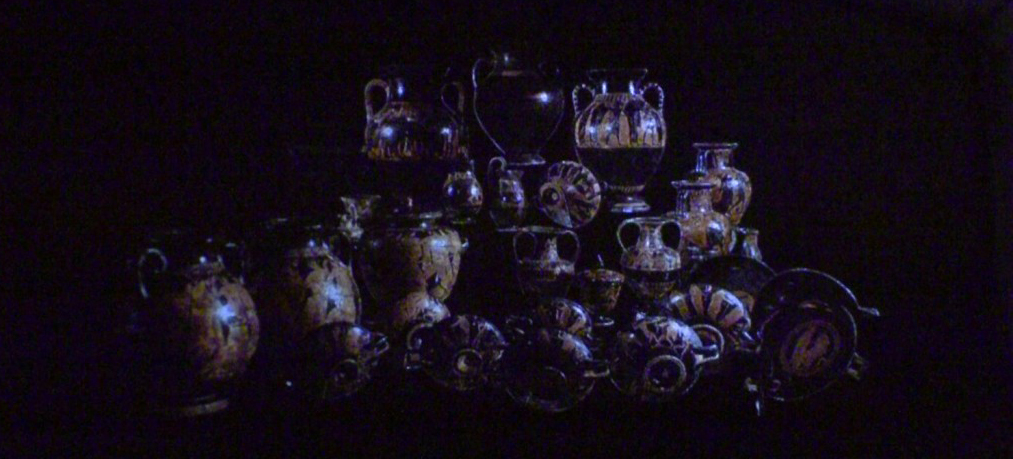 In the Audio, Light, and Video Tombs, the added benefit of the video projected directly on the stone provides a more theatrical experience.
Light beams outline the edges of doorways and furnishing while reconstructing missing pieces and revealing them with colors that have long faded away.
Flickering candles, funeral processions, vases and other precious offerings that were once part of the tomb are beautifully projected onto the stones in tune with the narration. You are wrapped in a multi-sensory visit into an ancient era of this city of the dead.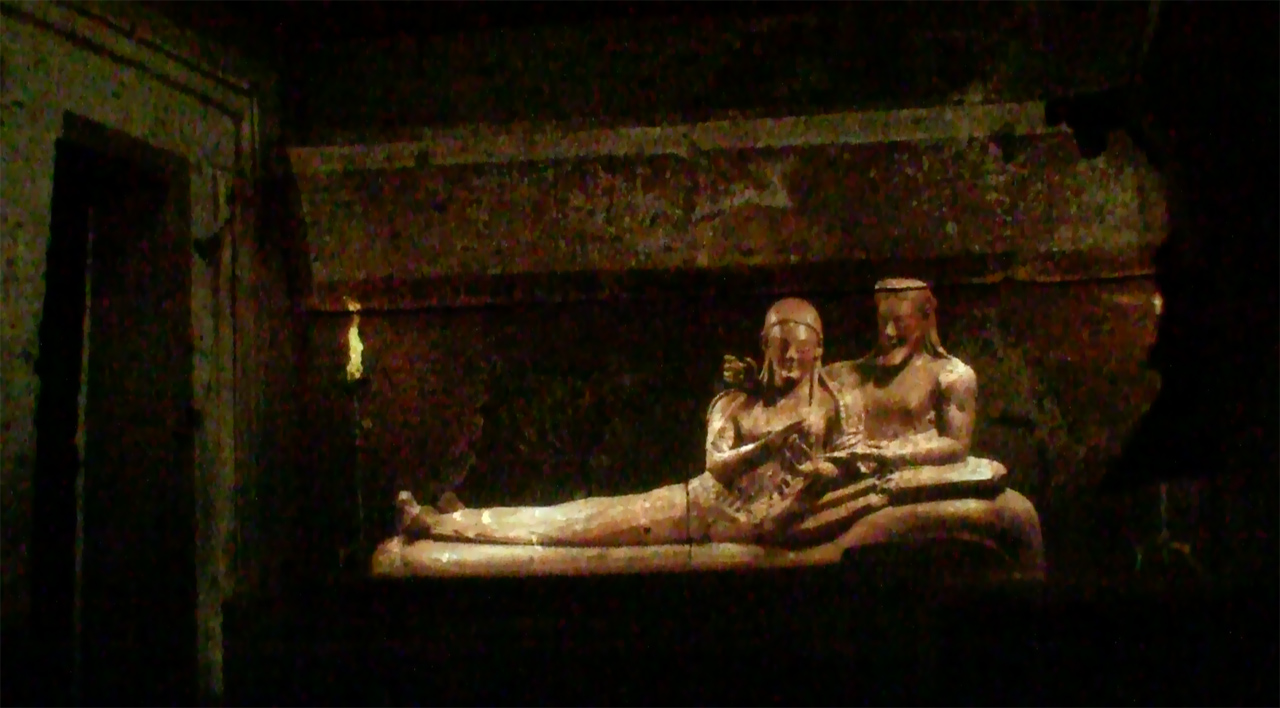 In the Audio and Light Tombs, a narrative explains the story of the tomb, its furnishing, and significance, with spotlights of warm light to accentuate the areas of the tomb being discussed.
Here is a list of the Tombs that provide this multi-media enhanced experience.


Audio, Light and Video
Tomb of the Greek Vases (Tomba dei Vasi Greci)
Tomb of the Cornice (Tomba della Cornice)
Tomb of the Pilaster (Tomba del Pilastro)
Audio and Light
Tomb of the Doli (Tomba dei Doli)
Tomb of the Hut (Tomba della Capanna)
Tomb of the Funeral Beds (Tomba dei Letti Funebri)
Tomb of the Capitals (Tomba dei Capitelli)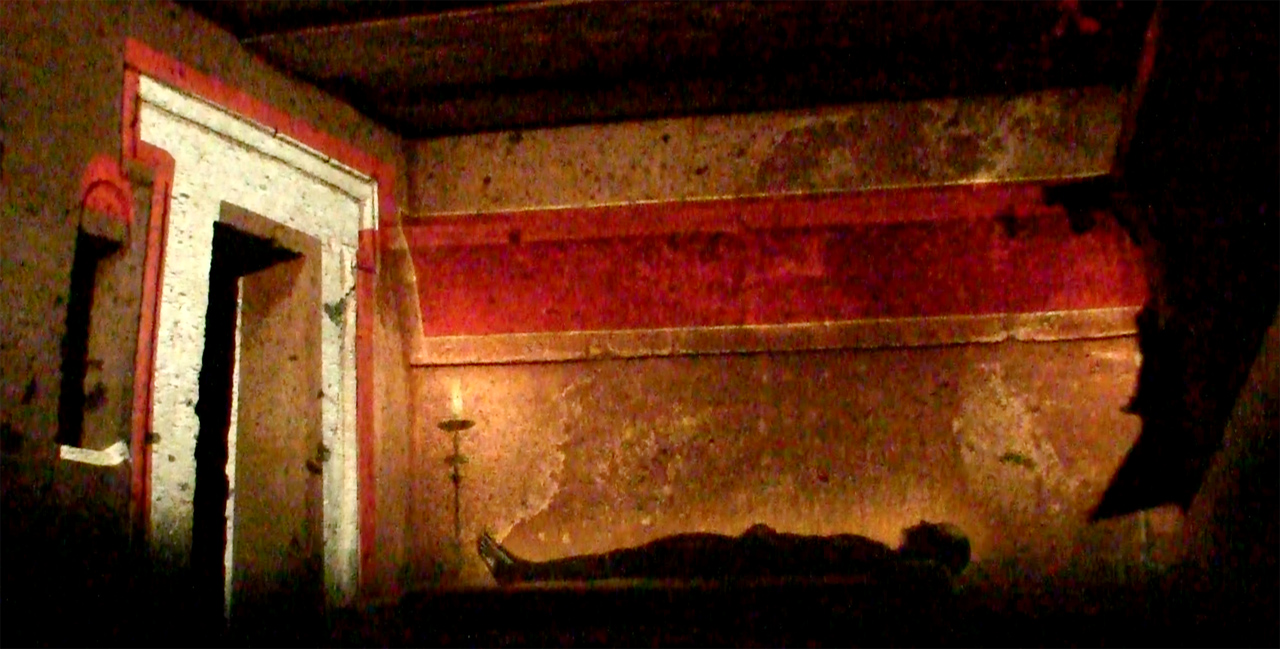 During your visit, all the other tombs that are open to the public can be visited as well.
For more information to visit Etruscan Necropolis in Cerveteri on our Castles and Lakes Day Tour from Rome and shore Excursion from Civitavecchia, and Ostia Antica and Cerveteri Tour and Civitavecchia Shore Excursions, please visit us on our main website.
Thank you for stopping by to read our blog. We look forward to hearing from you and seeing you soon in Italy!

~The Stefano Rome Tours Team