description

The Roman countryside is one of the most beautiful, relaxing, and peaceful regions of Italy steeped in history and charm. Often underrated by the average tourist, the Roman countryside is frequently sought after by discerning visitors seeking to discover compelling less touristed treasures.
CASTLES AND LAKES TOUR PRICE LIST


TOUR FROM ROME HOTEL
For up to 3 Persons from Rome Hotel: 400 EUROS
For up to 6 Persons from Rome Hotel: 450 EUROS
For up to 8 Persons from Rome Hotel: 500 EUROS

SHORE EXCURSION FROM CIVITAVECCHIA PORT
For up to 3 Persons from Civitavecchia Port: 450 EUROS
For up to 4 Persons from Civitavecchia Port: 500 EUROS
For up to 6 Persons from Civitavecchia Port: 550 EUROS
For up to 8 Persons from Civitavecchia Port: 600 EUROS


* DATES on the Booking Form Calendar that are NOT Selectable, are NOT AVAILABLE.
Castles and Lakes Tour is NOT offered on Mondays and Tuesdays as the Banditaccia Etruscan Necropolis is currently Closed on these days.
* Watch our Castles and Lakes Tour VIDEO and see for yourself the splendid places you will enjoy on our tour.


After seeing the beauty of Rome and enjoying its lively and fast atmosphere, you will likely find yourself wanting a bit of relaxation on our Castles and Lakes Tour.
This popular Stefano Rome Tours day tour from Rome and shore excursion from Civitavecchia takes most of our guests by surprise because of the unspoiled countryside that you will enjoy as you travel to Bracciano to visit the famous Renaissance Odescalchi Castle and admire its pristine Lake Bracciano, experience a culinary delight inside the ancient Medieval hilltop fortress of Ceri, and then explore the ancient and mysterious Etruscan civilization inside the park-like Banditaccia Necropolis in Cerverteri.
In this tour, you will not only experience the splendid countryside of Rome, but three eras that contributed so much to Italy's treasures and greatness: Ancient Etruscans that greatly influenced the Romans, the Medieval Era, and the Renaissance.
BRACCIANO - visit the famous Medieval castle

Just a short distance outside of Rome, the region of Lazio possesses some of Italy's greatest historical and archaeological treasures that are nestled in a picturesque landscape that is nothing short of a slice of heaven.
After a pleasant drive through the Roman countryside, we will arrive in the village of Bracciano where you will have the opportunity to visit the impressive Odescalchi Castle.


This 16th century castle is in unbelievable condition and still owned by the Odescalchi family. The castle became famous worldwide when American film star Tom Cruise married Katie Holmes at the castle in November, 2006.
You will have the opportunity to tour the castle and its impressive rooms that were once the private quarters of Kings, Popes and Lords of the Renaissance era.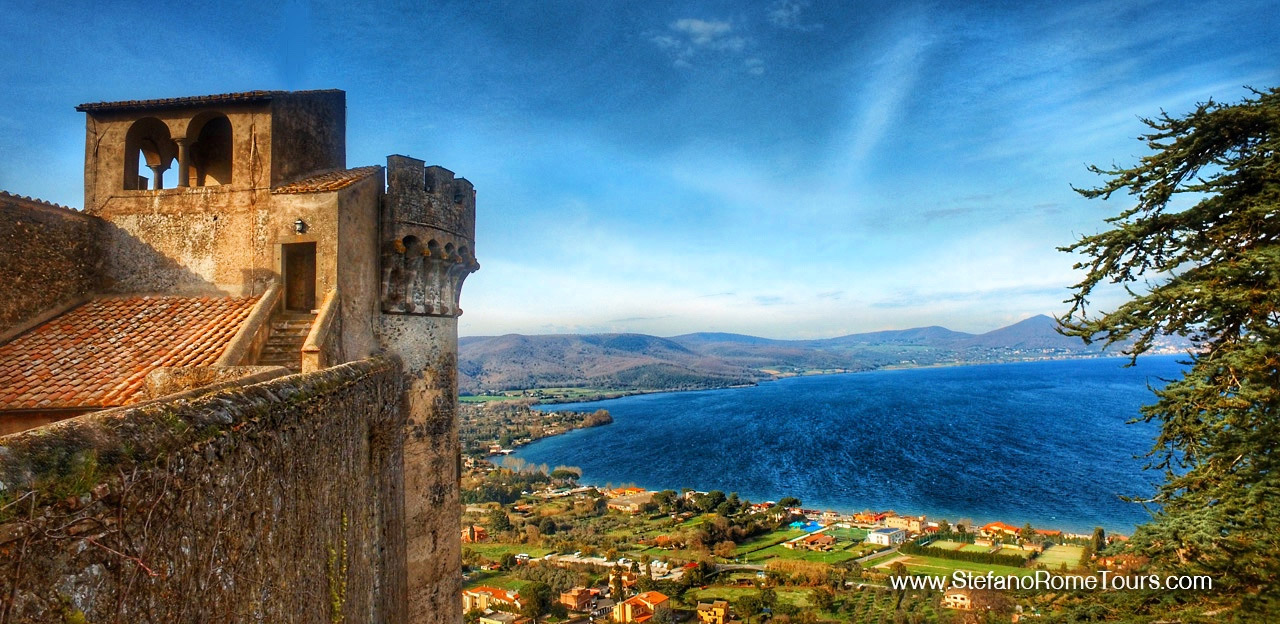 From the top of the castle walls, the ancient ramparts, you have the opportunity to admire the dazzling beauty of Lake Bracciano.
Originally a volcanic crater, this one of the cleanest lakes in Italy due to the absence of motor boats and strict rules against pollution. Its beaches attract visitors who prefer to relax, swim, sail, canoe, and generally escape the hustle and bustle of most crowded seaside beaches.
For more historical information and visiting Odescalchi Castle (popularly known as Bracciano Castle) please click on Odescalchi Castle in Bracciano: Tour Tips.
CERI - charming Medieval clifftop hamlet


Ceri is a 13th century village with fortified walls that gives it the appearance of a medieval fortress isolated on top of a steep hill of tufa, a type of limestone that is very common in Italy, and primarily used by the ancient Etruscans for their tombs, as you will soon discover in Cerveteri.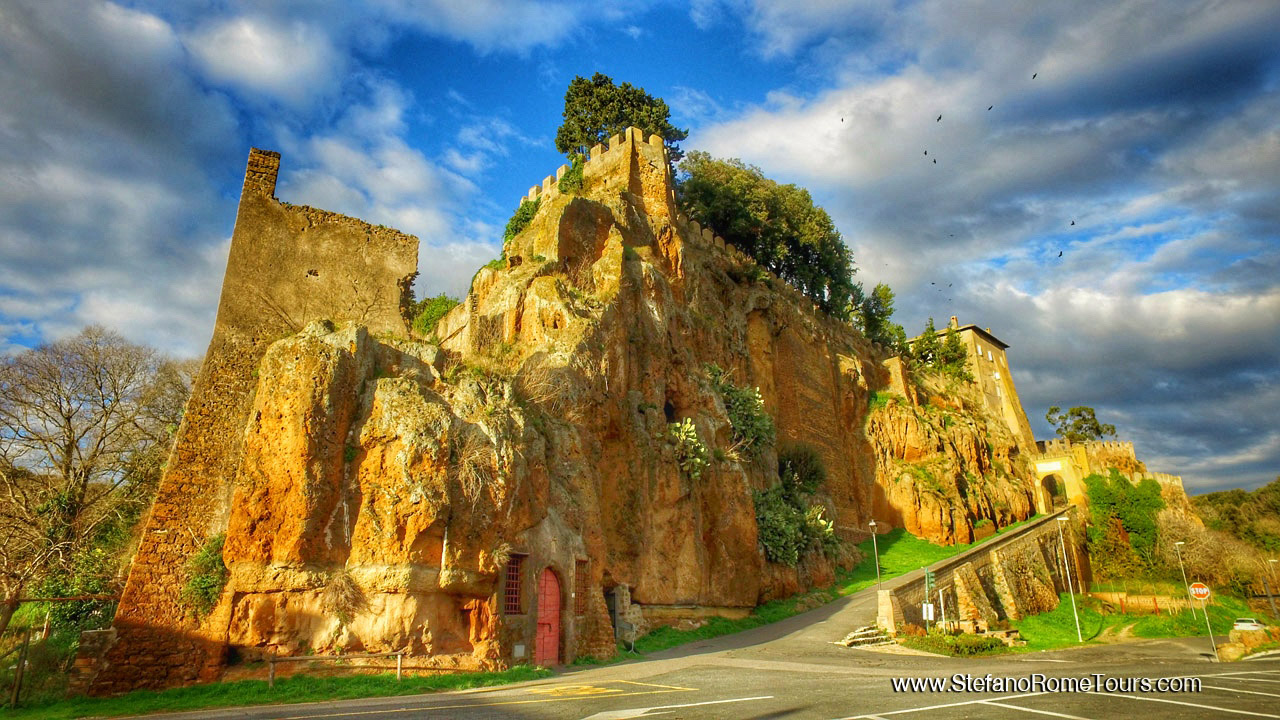 Its medieval past dominating the present becomes apparent the moment we arrive at the bottom of the hill. The only street that passes through the fortified wall and leads you into town is wide enough for just a single vehicle to pass through at a time. This rare traffic problem was resolved by installing two traffic lights: one at the entrance into town, and one where the street ends in the main square.
After reaching the main square, you will have the opportunity to visit the Sanctuary of the Madonna di Ceri, which was built on an ancient site where Etruscans and Romans venerated the pagan goddess Vesta. This Sanctuary is a very special place for the locals. The Virgin Mary for whom this Sanctuary is named is known for her intercession and helping people who are experiencing difficulties.
After a delicious traditional Italian lunch, you will be given the opportunity to visit the captivating town square for a stroll and sightseeing.
CERVETERI BANDITACCIA ETRUSCAN NECROPOLIS - Explore ancient sacred sites


After Ceri, you will drive a short distance to the town of Cerveteri.
To the Etruscans, Cerveteri was known as Cisra Caere (also Caisra and Cisra) . The Latin name given by the Romans was Caere Vetus.
In the heartland of former Etruria is one of the greatest archaeological sites in Europe: the Banditaccia Necropolis.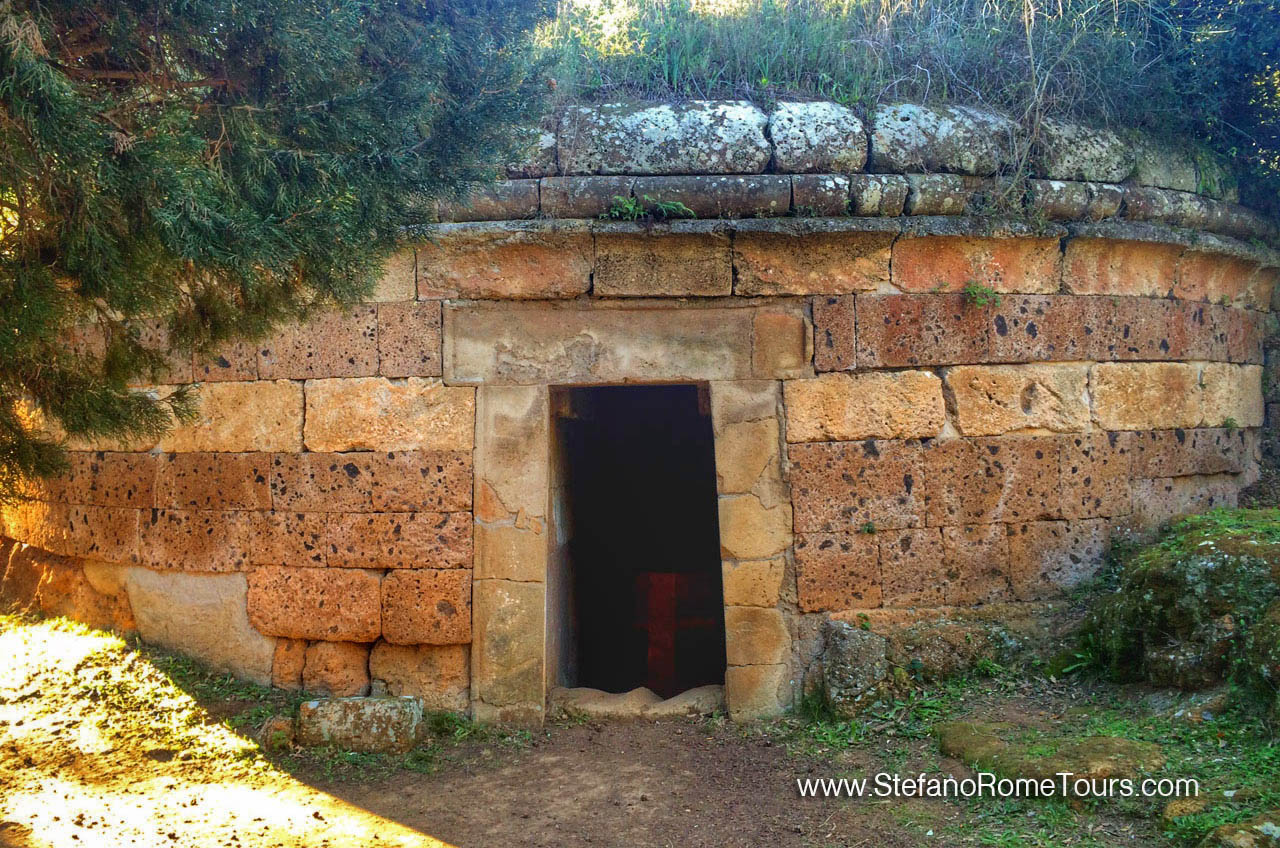 The Banditaccia Necropolis is significant not only because it is the largest ancient necropolis in the Mediterranean area, but also because it contains some of the only examples of Etruscan residential architecture surviving to this day. This special place has been declared a UNESCO World Heritage Site along with the Monterozzi Necropolis in Tarquinia.
One of the most fascinating characteristics of this necropolis is that it spans over 6 centuries of the Etruscan civilization, making this the largest city of the dead in the Mediterranean area.
The earliest major settlements at Cerveteri date from between the 9th and 8th centuries BC and are characteristic of the Villanovan period. At least two villages were established during this time, as evidenced by the finds of biconical and hut shaped cinerary urns at the oldest Necropolis areas of Cava della Pozzolana and Sorbo.
Trading with the Greeks commenced in the mid 8th century BC with Etrusco - Geometric vessels becoming more common in the grave-goods. From the 7th century BC onwards, Caere underwent rapid demographic development, becoming Etruria's chief trading centre.
By the beginning of the seventh century, European influence had been replaced by that of the Corinthian and other Greek colonies which had been established in Southern Italy and Sicily.
Although none of the Etruscan homes survived to this day, you can see the types of homes Etruscans lived in just by walking into their tombs! Considered permanent homes for the dead, the tombs were carved to resemble the interior of residential homes, lavishly designed with gabled roof, crossbeam, stone couches, chairs, and other architectural details.
You can see the progression of the early 9th Century BC Villanovan rock-cut trenches containing urns, to the complex 3rd century BC city-like planning of tombs with roads for processions.
From the Etruscan period are two types of tombs: the mounds and the so-called "dice", the latter being simple square tombs built in long rows along "roads".
The visitable area contains two such "roads", the Via dei Monti Ceriti and the Via dei Monti della Tolfa (6th century BC). In areas, you can still see the grooves of carriages that for centuries have made their way through here, leaving behind their mark.
The mounds are circular structures built in tuff, and the interiors, carved from the living rock, house a reconstruction of the house of the dead, including a corridor (dromos), a central hall and several rooms.
The most recent tombs date from the 3rd century BC. Some of them are marked by external cippi, which are cylindrical for men, and in the shape of a small house for women. Etruscan phallic symbols. "Cippi" indicating that tomb occupants were male
Thousands of tombs exist in the vast cemetery of Cerveteri: they are organized in a city-like plan, with 'streets', small squares and 'neighbourhoods'. The tombs are of different types depending on period, family status and other criteria.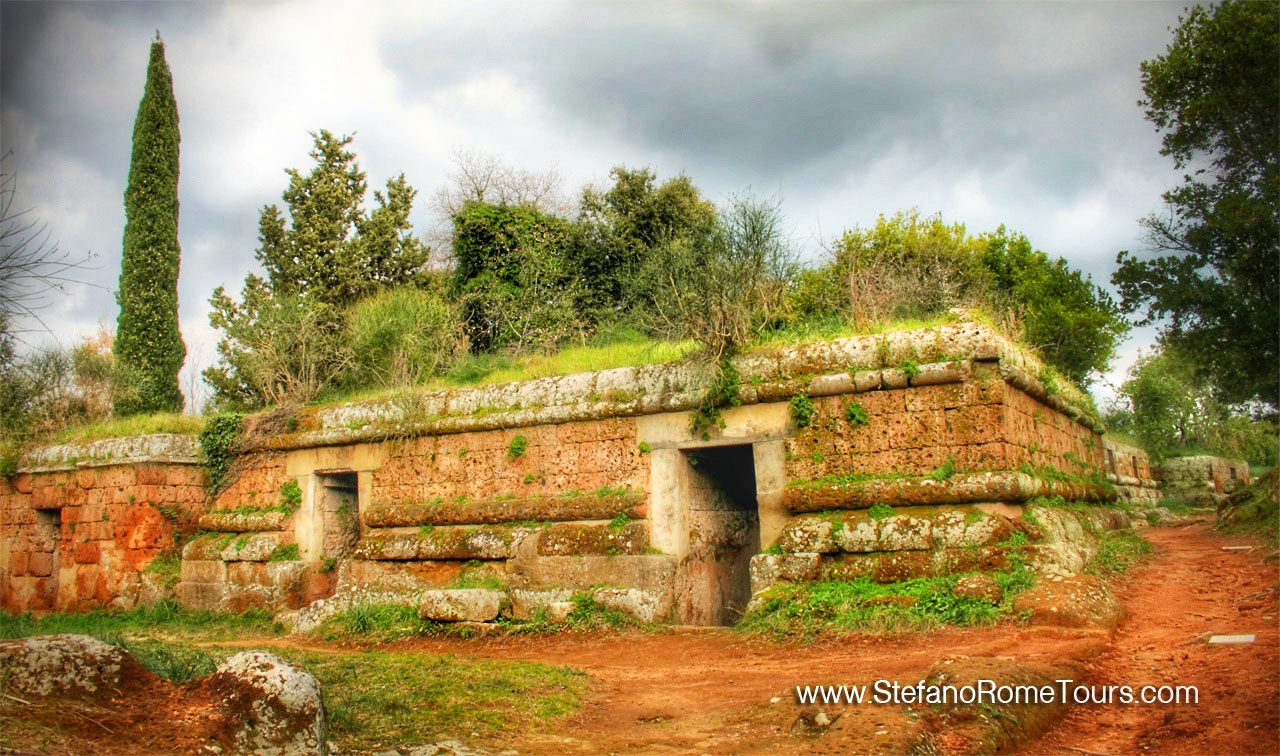 The earliest known are a series of rock-cut trenches holding pottery ossuaries containing the ashes of the deceased. Most famous are the tumuli - tombs often containing more than one tomb under an imposing mound.
A famous example is known as the 'Hut Shaped Tomb', from the 4th century. It presents an excellent rock-cut hut with all structural and building elements, such as gabled roof, main crossbeam, wood and straw roofing materials as well as stone couches next to the walls. This tomb and others, imitating houses, are the best and only evidence of the residential architecture of the Etruscans.
The 6th-century Tomb of the Greek Vases is accessible through a rock-cut dromos (corridor) that imitates an Etruscan temple.
The Tomb of the Moulding ("cornice" in Italian) has two thrones with footstools, cut in the rock, at the sides of its door. It also imitates a contemporary domestic interior.
The Tomb of the Capitals has an imitation wooden floor on its ceiling.
The most famous among the thousands of the Banditaccia tombs is the 'Tomb of Reliefs'.
This 4th-century tomb is accessible via a long rock-cut stairway leading to a large hall with a ceiling supported by two columns with Aeolic capitals. It includes 13 double funerary niches and additional space for 34 bodies on a specially carved ledge. The 13 niches have double cushions with red painted stucco. Many objects are depicted on the stuccoed walls, including weapons and domestic and religious ones.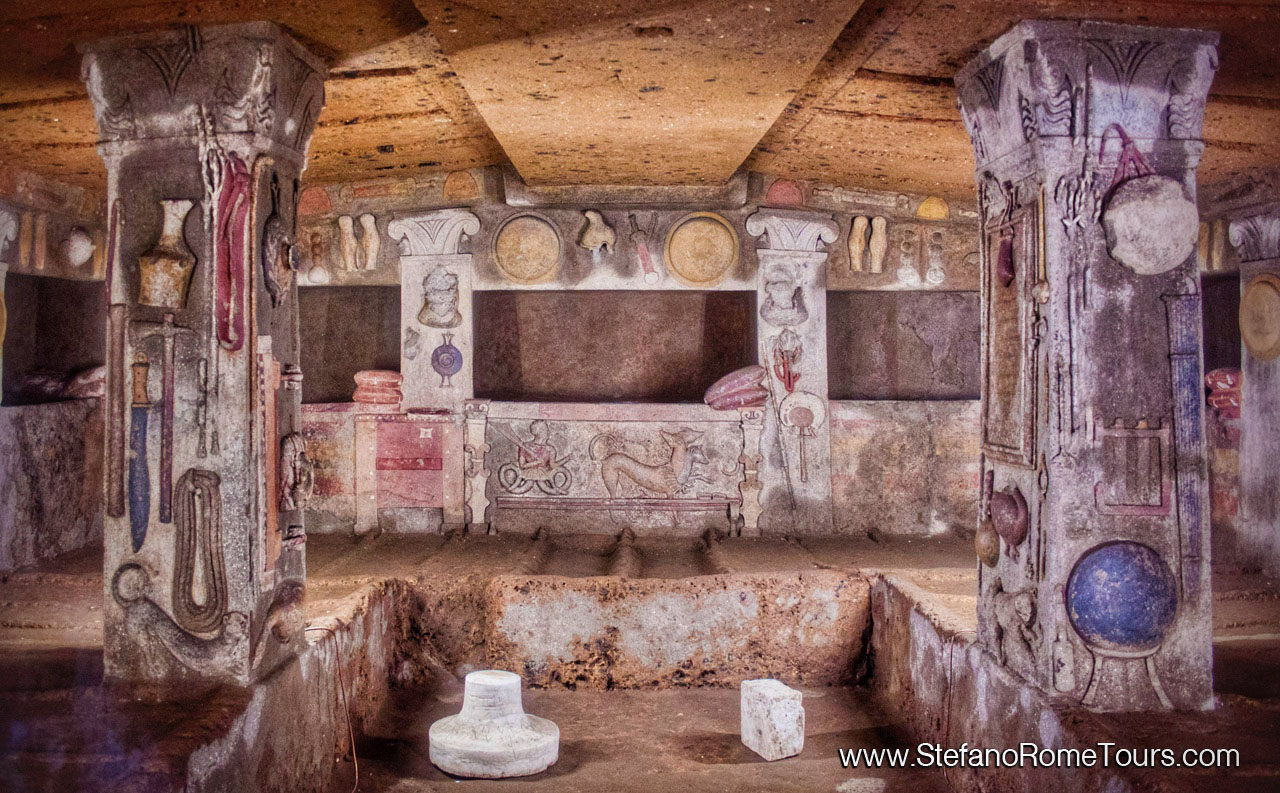 The Banditaccia Necropolis is significant not only because it is the largest ancient necropolis in the Mediterranean area, but also because it contains some of the only examples of Etruscan residential architecture surviving to this day. There are literally thousands of tombs within it, arranged in a plan laid out with city-esque efficiency.
There are not only streets and squares but entire neighborhoods. The tombs come in many different forms - some are trenches cut into the rock; others take the shape of huts or houses rich in structural detail...and together they tell a special story of the lives of an ancient civilization that once thrived in central Italy and although it disappeared absorbed by the ancient Romans, the Etruscans have never stopped inspiring awe ever since.
This marks the end of your Castles and Lakes Tour from Rome and Shore Excursion from Civitavecchia. From here you will return to your hotel in Rome or to your ship in Civitavecchia.
We thank you for booking our Castles and Lakes Tour and for choosing Stefano Rome Tours for your tours and shore excursions in Rome and beyond. We look forward to seeing you soon in Italy!

Guests who enjoyed our Castles and Lakes Tour also booked the following tours:


Important Information

Please READ the important information below as well as Read & Accept our TERMS OF SERVICE and Privacy Policy prior to placing your reservation request(s).


PAYMENT OPTIONS for Castles and Lakes Tour:
Payment for this Castles and Lakes Tour can be made in Euro funds at the end of your journey directly to your driver, or you may prepay in advance via PayPal or Credit Card online when you Confirm your Tour.


CANCELLATION POLICY:
We kindly ask that cancellations be made at least 7 days in advance so we can rebook your service and your reserved driver does not lose work for that day. We thank you for your cooperation and consideration.

** PREPAID SERVICES can only be Refunded the Net Rate we receive from your prepayment. Net Rate is the actual service price minus the fees retained by PayPal/Credit Card that are not reimbursed to us in case of refunds. We can only refund the portion we receive from the PayPal/CC company.


EMAIL INQUIRIES / BOOKING REQUESTS
Please allow up to 24 hours for email correspondences in response to email inquiries and tour reservation requests.
We reply to ALL emails and booking requests we receive. If you don't receive correspondence from us within 24-48 hours please CHECK YOUR SPAM FOLDER, or send us an email from a different E-mail account.
ADMISSION TICKETS and PRIVATE TOUR GUIDE RECOMMENDATION


* BRACCIANO CASTLE TICKETS are currently 10 Euros per person to be purchased on-site upon arrival (ticket prices are subject to change without notice).
PRIVATE GUIDED TOUR OF THE CASTLE: Odescalchi Castle offers private guided tours with an English-speaking Tour Guide with advance Non-Refundable Reservations at just 180 Euros INCLUDING entry tickets. Advance non-refundable prepayment is required as the Castle does not issue refunds for cancellations.
Please inform us upon booking this tour if you wish to have a private guide so we can book a guide on your behalf. Otherwise you will SELF TOUR the castle on your own.

* BANDITACCIA ETRUSCAN NECROPOLIS tickets are currently 10 Euros per person.
You have the option to visit the necropolis on your own (SELF-TOUR), or we can book a locally licensed tour guide on your behalf for a private tour of the necropolis at additional Tour Guide Fee.
PRIVATE GUIDED TOUR OF THE NECROPOLIS: Licensed Tour Guides can be booked upon request, and are paid separately at the end of their tour as they don't work for us. Inquire within about private guided tours and fees.
MEETING POINTS TO MEET YOUR DRIVER
For Day Tours from Rome:
For Day Tours from Rome hotel, your driver will meet you inside your hotel lobby, or area permitted by your hotel.
From Apartments or B&Bs without a lobby, your driver will meet you at your address outside the main entrance.
* If your hotel / accommodation is situated on a street or in an area restricted to vehicle traffic, your driver will park the vehicle as close as lawfully possible and will meet you on foot at your Address. From there, your driver will accompany you to your parked vehicle. Door to Door service may not be possible on streets or areas restricted to traffic or stops.


For Shore Excursions from Civitavecchia:
For Cruise Port Tours, our driver will meet you on the Pier next to your Cruise Ship at your Tour pick up time holding a sign with the NAME in your reservation.
Please do NOT leave the ship area, and do NOT take a shuttle bus outside the Cruise port.
Look for the driver in the same area as ALL the private drivers will be waiting for their clients to be disembarked.

YOUR TOUR DRIVER
* This Castles and Lakes Tour provides an English-speaking Driver who is NOT a licensed tour guide.
Italy laws permit only licensed tour guides to accompany guests to sightsee on foot away from the vehicle. To be compliant with Italy laws, your driver cannot lawfully guide you into the sites, and will be obliged to remain with the vehicle while you SELF TOUR away from the vehicle.

LUNCH IN CERI
Lunch is available only in the town of Ceri, all restaurants are priced approximately 20 Euros per person depending on what you order.
There are no panini or pizza places available in the region of this tour, only local restaurants that are famous for their excellent cuisine. To participate in this tour, you are in agreement to lunch in Ceri at any of the available restaurants there. Restaurant choices in this region are limited, and we have no control over the menu options or service provided inside any establishment you lunch at.


CASTLES AND LAKES Shore Excursion Tour Sharing:

You can save a lot on this Castles and Lakes Shore Excursion from Civitavecchia by sharing your tour with up to 8 other cruisers per minivan! It's very easy: just place an ad on the Cruise Critic roll call and invite others to join you. Share the fun and the expense. LEARN MORE ABOUT TOUR SHARING