description
ETRUSCAN MYSTERY TOUR PRICE LIST
DAY TOUR FROM ROME HOTEL
For up to 2 Persons from Rome Hotel: 425 EUROS
For up to 4 Persons from Rome Hotel: 450 EUROS
For up to 6 Persons from Rome Hotel: 500 EUROS
For up to 8 Persons from Rome Hotel: 550 EUROS
SHORE EXCURSION FROM CIVITAVECCHIA
For up to 2 Persons from Civitavecchia Port: 475 EUROS
For up to 4 Persons from Civitavecchia Port: 500 EUROS
For up to 6 Persons from Civitavecchia Port: 550 EUROS
For up to 8 Persons from Civitavecchia Port: 600 EUROS
* DATES on the Booking Form Calendar that are NOT Selectable, are NOT AVAILABLE.
Etruscan Mystery Tour is NOT offered on Mondays as the Tarquinia Etruscan Necropolis is Closed on Mondays.

Enjoy a virtual tour of the remarkable locations in our Etruscan Mystery Tour VIDEO:



Our Etruscan Mystery Day Tour from Rome and Shore Excursion from Civitavecchia takes you on a journey through the relaxing Roman countryside that during ancient times was known as Etruria, and was ruled by the highly advanced yet mysterious pre-Roman civilization, the Etruscans.
The treasures the Etruscans have left behind in their remarkable tombs have filled museums and fueled imagination. This tour will take you to visit the famous Etruscan frescoed tombs (the only ones in the world!) in Tarquinia, and to Tuscania, the ancient town with one of the most beautiful views in all of Italy.
Our Etruscan Mystery Tour will take you to the Roman countryside is one of the most beautiful, relaxing, and peaceful areas surrounding Rome, not to mention among the richest in ancient history having been previously known as Etruria....the land of the legendary Etruscans, the most advanced and complex pre-Roman civilization to have occupied western Mediterranean.
This ancient civilization continues to mystify intrigue, and inspire us more than 2,000 years after it was vanquished by the Romans. And it so happened, the Etruscans also settled in some of the most enchanting regions of Lazio, adding to the magical ambiance that has perpetually surrounded them.
Our Etruscan Mystery Tour begins in Tarquinia, an impressive medieval town built upon a steep cliff with a serene view of the Tyrrhenian Sea on one side, and lush rolling hills and green valleys on the other.
TARQUINIA - the cradle of Etruscan civilization

Emerging around 8th century BC from mysterious origins, Tarquinia is one of the most ancient Etruscan cities and considered the cradle of the Etruscan civilization. Having also been the most significant of the 12 Etruscan city states known as the "Etruscan League", it was the birthplace of at least two of the seven Kings of Rome: Tarquinius Priscus and Tarquinius Superbus.
The city of Tarquinia we admire today grew in glory during the middle ages with majestic towers and elegant Romanesque architecture.
Today, Tarquinia is famous for the impressive painted tombs we'll visit inside the Monterozzi Necropolis, located on the outskirts of Tarquinia. The necropolis is also rightfully designated as a UNESCO World Heritage Site.
Of the more than 6000 tombs discovered in this area, 150 of them were beautifully decorated with frescoes, but only about a dozen are open to the public.
As we make our way to the tombs, we walk through the evocative necropolis surrounded by a panorama of serene hills, valleys, and the sparkling sea.
As you descend down the steps 2,500 years into history towards the burial chambers, you come face to face with vibrant details that paint a portrait of the daily lives of these enigmatic ancient people.
As we proceed from tomb to tomb, you'll discover through the pictorial gallery of frescoes that in many ways, these ancients were very much like us today: they enjoyed banquets, music, wine, art, sports, wore fashionable garments and intricate jewelry, and were passionate about living life and pursuing happiness through all their senses...and sometimes even bordering on hedonism, garnering criticism from their contemporaries.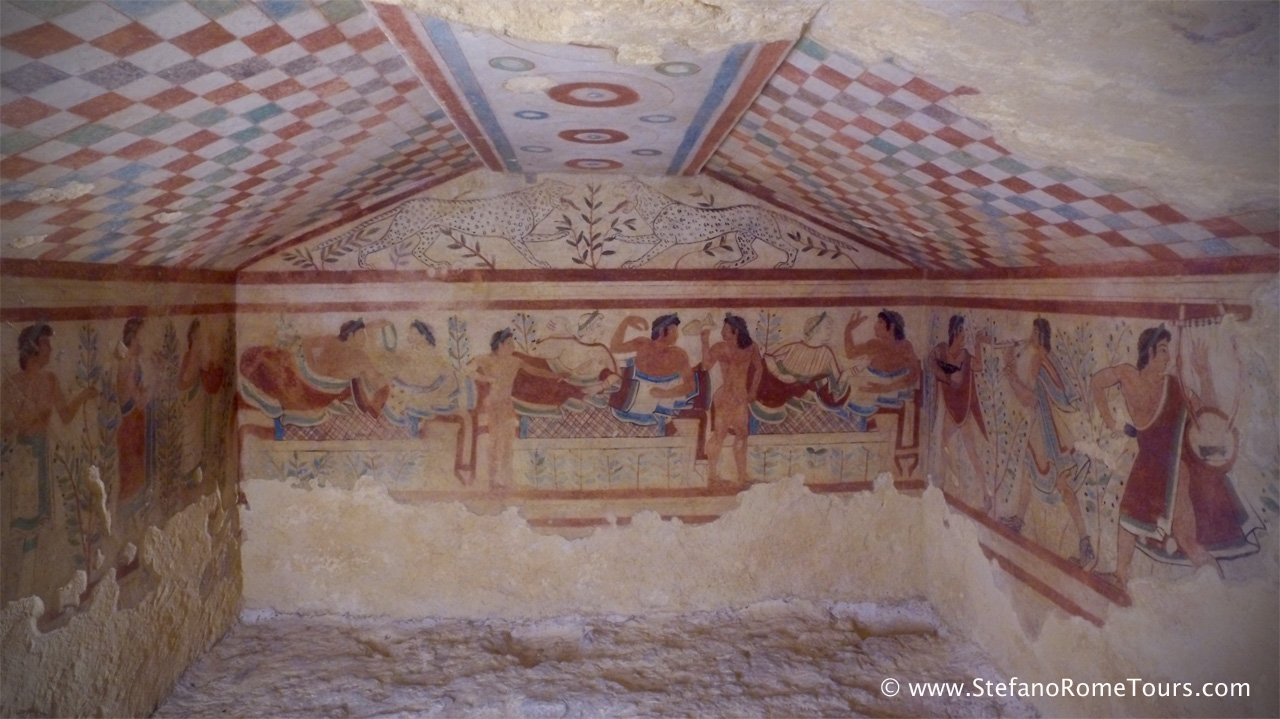 You will recognize from these frescoes many items and activities generally attributed to ancient Rome. On this tour you will learn of the many things commonly believed to have been Ancient Roman innovations, that were actually Etruscan inventions....you'll be seeing Rome in a different light after this tour.
Etruscans left very little in terms of written material about their culture and society, and much of that has not yet been deciphered, so it's mostly what they've left behind after death that serves as an open book for us to learn from.
The burial chambers themselves were carved into rock to architecturally represent the interior of actual houses of that time....creating an eternal home for the soul in the afterlife while celebrating the pleasures of a human life. During the decline of the Etruscan civilization, you'll notice the frescoes take on a much darker tone - both in color and theme, with infernal demons replacing cheerful celebrations.
In no other Etruscan necropolis, and nowhere else in the world would you be able to see so many elaborate ancient frescoes so skilfully painted and so well preserved as these in Tarquinia.
The interior of these tombs contained not only fresco masterpieces, but a treasure trove of precious objects and sarcophagi that further give us a glimpse into the life of the Etruscans and their superior craftsmanship that rivaled even the most advanced ancient civilizations.
To see some of these incredible artifacts, our tour continues into Tarquinia's National Museum inside the elegant Renaissance Palazzo Vitelleschi that features some of the most significant Etruscan archaeological findings in Italy!
From here we head to our next destination: Tuscania. This part of the tour takes most of our clients by surprise because of the unspoiled countryside that you will experience at a relaxing pace.
TUSCANIA - the ancient walled town steeped in Medieval charm



One of the oldest towns in Italy with a history dating back 3,000 years, Tuscania was another Etruscan establishment and one of the most important crossroads of inner Etruria.
What we see now is a medieval town strategically situated hilltop, with a spectacular view of the valley that inspired poets. Upon visiting Tuscania in early 1900's, English novelist and poet, D.H. Lawrence wrote:


"The Most beautiful view in all Italy: the Etruscan valley of Tuscania".


See the valley and countryside for yourself, and discover the breathtaking beauty that inspires not only poets, but each and everyone one of us.
From here you have the opportunity to visit Tuscania's two historically and architecturally significant churches: San Pietro and Santa Maria Maggiore.
It may appear strange that these two fine churches are situated so far outside the town's fortified walls, but that is where the initial settlement, called Civita (City) was established, and why these two medieval churches were built here.
Tragedy struck in the 14th century when the Black Death wiped out much of the town's population, and as a result this site, as well as the churches were abandoned and excluded when the city walls were rebuilt. The lack of buildings surrounding these remote churches adds to the magical feel of the site.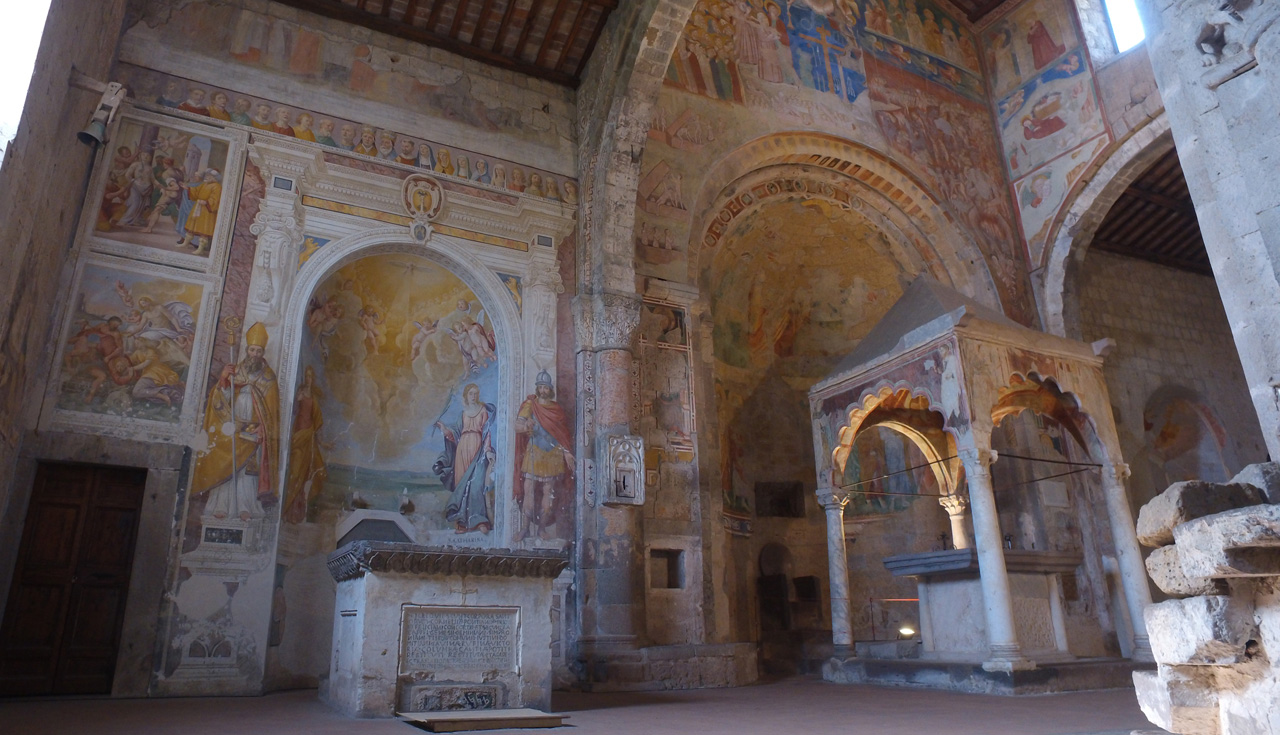 These two churches are unique not only in their Gothic architecture, Pagan influences and Paleo-Christian origins, but are both remarkably preserved considering that San Pietro was built in the 8th century, and Santa Maria Maggiore between the 11th and 12 centuries.
Both churches were built upon ancient Etruscan temples, with St Maria Maggiore built upon the temple of Janus, the 2-faced god of the gateway into the afterworld.
Dominated by a tall bell tower, the facade of Santa Maria Maggiore is adorned with carved and sculpted Christian symbols of the Evangelists and biblical stories. The use of different colored stones gives prominence to its large wheel shaped rose-window. Inside the church's 3 naves characterized by columns and pillars are 13th and 14th century frescoes, and 13th century octagonal baptismal immersion font.
San Pietro has a similar facade with Christian relief symbols of the four Apostles framing a 3 concentric circle rose-window made of marble that represents God as the center of the universe.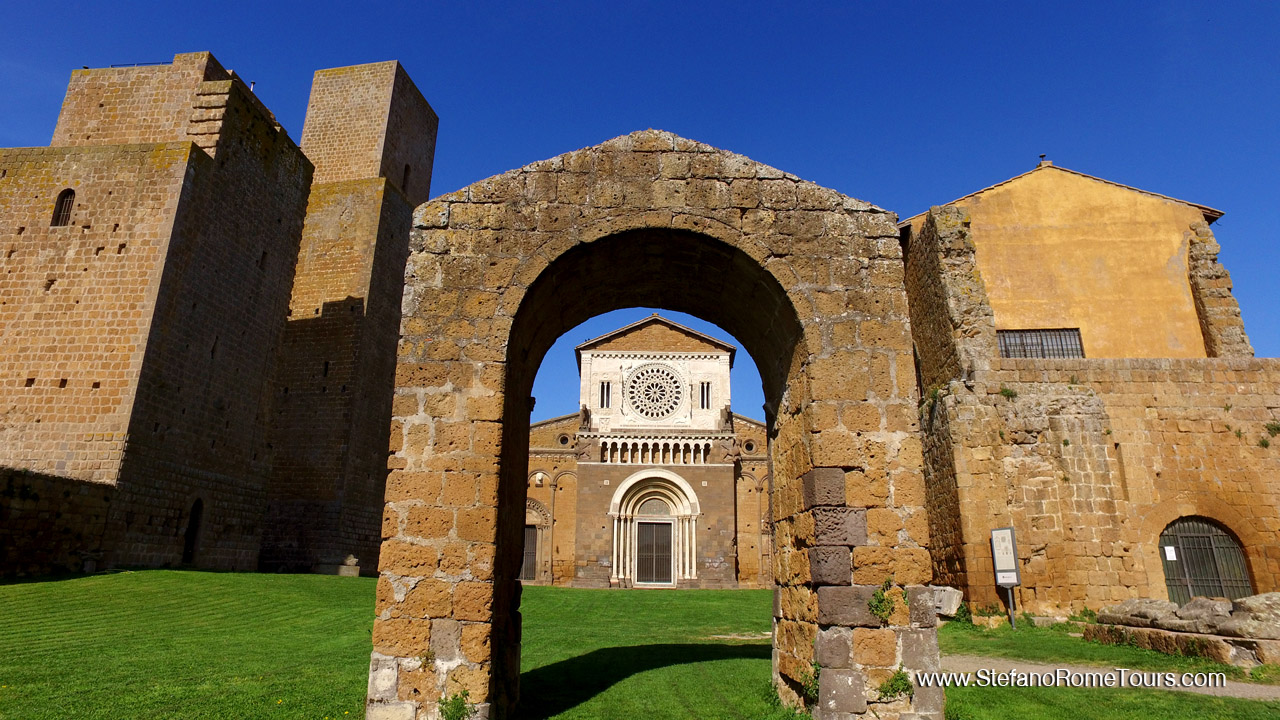 Paganism and Christianity co-existed, and clashed, long after Emperor Costantine legalized Christianity in 313 AD. Etruscan augurs and spiritual beliefs that influenced the Romans survived well into the 6th century.
The ancient Roman Sol Invictus (the Sun god ) cult that paved the way from pagan polytheism to eventually Christian monotheism was still practiced in the 5th century. Paganism did not die with Costantine's Edict of Milan, it was a slow process of decline...a process that was made visible in these two medieval churches.
At the top right side of the facade of San Pietro is a 3-faced demon symbolizing the Kingdom of Evil. It's said to have represented paganism whose false beliefs delivered its followers to the devil depicted at the bottom.
On the left side of the facade that symbolizes the Kingdom of Good and Salvation, the pagan Greek god Atlas represents Christ holding up the church on his shoulders, replacing the previous pagan god Sol Invictus.
There is one incredibly fascinating element that connects these two churches together as well as connecting Christianity to the pagan cult of the sun, Sol Invictus, that coexisted with Christianity during the middle ages. Both these churches were built to orient towards the pagan solstices: Santa Maria Maggiore orients towards the winter solstice, and San Pietro towards the summer solstice.
The archway in front of San Pietro faces the facade which receives the light of the sun during the summer solstice, and it is said to symbolize a corridor that brings you to the 3rd door: The first door is that of St Maria Maggiore, the 2nd door is the archway, and the 3rd door is the entrance into San Pietro - also considered the door of purification.
For all these reasons and more, the Churches of San Pietro and Santa Maria Maggiore in Tuscania are considered to be among the most beautiful and significant must-visit churches in the Lazio region.
We may not solve the mysteries of the Etruscans in one day, but we part from this enchanting region with knowledge and appreciation that although the Etruscan civilization appears to have vanished once defeated and conquered by the Romans, their legacy and influence continued and manifested into some of the greatest marvels of Ancient Rome!
From here you will enjoy a relaxing journey through the countryside back to your hotel in Rome, or your cruise ship in Civitavecchia.
Thank you very much for booking our Etruscan Mystery Tour, and for choosing Stefano Rome Tours for your day tours from Rome and Italy Private Shore Excursions. We look forward to show you beautiful places in Italy!
Important Information

Please READ the important information below as well as Read & Accept our TERMS OF SERVICE and Privacy Policy prior to placing your reservation request(s).


PAYMENT OPTIONS for Etruscan Mystery Tour:
Payment for this Etruscan Mystery Tour can be made in Euro funds at the end of your journey directly to your driver, or you may prepay in advance via PayPal or Credit Card online when you Confirm your Tour.

CANCELLATION POLICY:
We kindly ask that cancellations be made at least 7 days in advance so we can rebook your service and your reserved driver does not lose work for that day. We thank you for your cooperation and consideration.
EMAIL INQUIRIES / BOOKING REQUESTS
Please allow up to 24 hours for email correspondences in response to email inquiries and tour reservation requests.
We reply to ALL emails and booking requests we receive. If you don't receive correspondence from us within 24-48 hours please CHECK YOUR SPAM FOLDER, or send us an email from a different E-mail account.
ADMISSION TICKETS
* Tickets to Tarquinia Monterozzi Necropolis and museum are currently 8 Euros per person (entry ticket prices are at the discretion of the monuments and may change without notice after you book this tour).
VISITING THE MONTEROZZI NECROPOLIS IN TARQUINIA
* You must be able to climb down a flight of stairs at a time in order to visit each underground painted tomb. There are several tombs open at a time for visitation. If you have mobility issues, cannot climb multiple flights of stairs, have any health issues, this tour may not be suitable for you.
PRIVATE GUIDED TOUR OF THE NECROPOLIS:
Licensed Tour Guide can be booked upon request for an informative private walking tour of the Necropolis and Museum at ADDITIONAL Tour Guide Fee. Tour Guides are paid separately at the end of their tour as they don't work for us. Please inquire within about private guided tours and fees.
MEETING POINTS TO MEET YOUR DRIVER


For Etruscan Tour starting from Rome Hotel / Accommodation:
For Day Tours from Rome hotels, your driver will meet you inside your hotel lobby, or area permitted by your hotel.
For Apartments or B&B's without a lobby, your driver will meet you at your address outside the main entrance.
* If your hotel / accommodation is situated on a street or in an area that is restricted to vehicle traffic, your driver will park the vehicle as close as lawfully possible, and will meet you on foot at your Address. From there, your driver will accompany you to your parked vehicle. Door to Door service may not be possible on streets or areas restricted to vehicle traffic or stops.

For Shore Excursions from Civitavecchia:
For Shore Excursions from Civitavecchia, your driver will meet you on the Pier next to your Cruise Ship at your Tour pick up time holding a sign with the NAME in your reservation.
Please do NOT leave the ship area, and do NOT take a shuttle bus outside the Cruise port.
Look for the driver in the same area as ALL the private drivers will be waiting for their clients to be disembarked.


YOUR STEFANO ROME TOURS DRIVER
* This Etruscan Mystery tour provides an English speaking Driver who is NOT a licensed tour guide.
Italy laws permit only licensed tour guides to accompany guests to sightsee on foot away from the vehicle. To be compliant with Italy laws, your driver cannot lawfully guide you into the sites, and will be obliged to remain with the vehicle while you SELF TOUR away from the vehicle.
ETRUSCAN MYSTERY TOUR SHARING from CIVITAVECCHIA PORT
You can save a lot on this Etruscan Mystesry Shore Excursion from Civitavecchia by sharing your tour with up to 8 other cruisers per minivan! It's very easy: just place an ad on the Cruise Critic roll call and invite others to join you. Share the fun and the expense. LEARN MORE about TOUR SHARING
ETRUSCAN MYSTERY TOUR TIPS:
Please wear comfortable shoes and clothing when visiting Tarquinia Necropolis, or any other Etruscan necropolis.

There are many opportunities to take photographs and videos on this tour, so have plenty of film and batteries in your cameras!
During the summer months please be sure to wear sunscreen, sunglasses, and a summer hat in order to keep your head cool.