description

Postcard Rome For Cruisers shore excursion from Civitavecchia with Stefano Rome Tours is a picture perfect, fun filled, relaxing and comfortable tour tailored for cruisers to experience as much of Rome as possible while avoiding crowded tourist attractions, lengthy security lines, and advance admission tickets that restrict flexibility and sightseeing opportunities.
* POSTCARD ROME TOUR PRICE LIST

ROME TOUR FROM ROME HOTEL
For up to 2 Persons from Rome Hotel: 370 EUROS
For up to 4 Persons from Rome Hotel: 390 EUROS
For up to 6 Persons from Rome Hotel: 425 EUROS
For up to 8 Persons from Rome Hotel: 450 EUROS

SHORE EXCURSION FROM CIVITAVECCHIA CRUISE PORT
For up to 2 Persons from Civitavecchia: 475 EUROS
For up to 4 Persons from Civitavecchia: 525 EUROS
For up to 6 Persons from Civitavecchia: 550 EUROS
For up to 8 Persons from Civitavecchia: 600 EUROS

** Dates on the Booking Form Calendar that are NOT Selectable, are NOT AVAILABLE.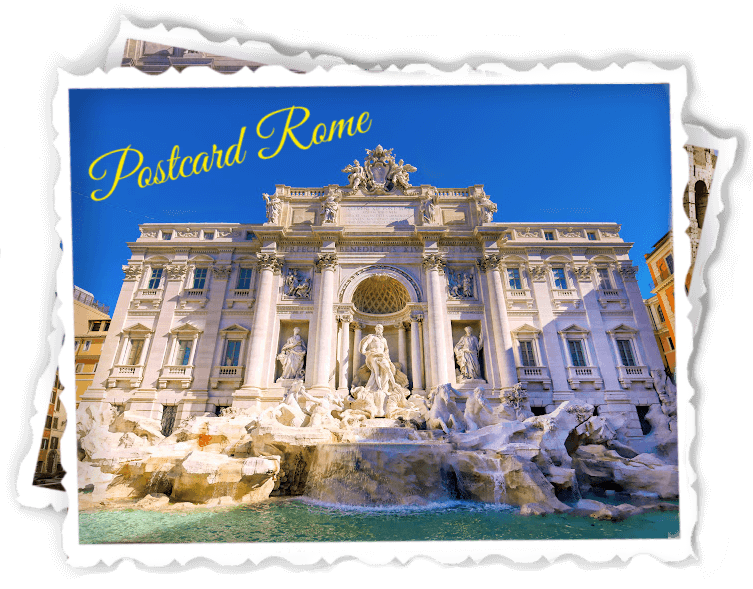 ROME'S FAMOUS SQUARES are "Rome Postcard" perfect



Your postcard-perfect tour of Rome will begin with a taste of La Dolce Vita as you visit some of Rome's most iconic squares and fountains that have made their way into classic films and contemporary movies.



TREVI FOUNTAIN - Rome's iconic Baroque fountain


Your Postcard Rome tour continues to Rome's most famous squares.
The moment you hear the soothing sounds of water gushing forth, you know you're near the Trevi Fountain, dominated by the pagan god Neptune riding a seashell chariot drawn by seahorses.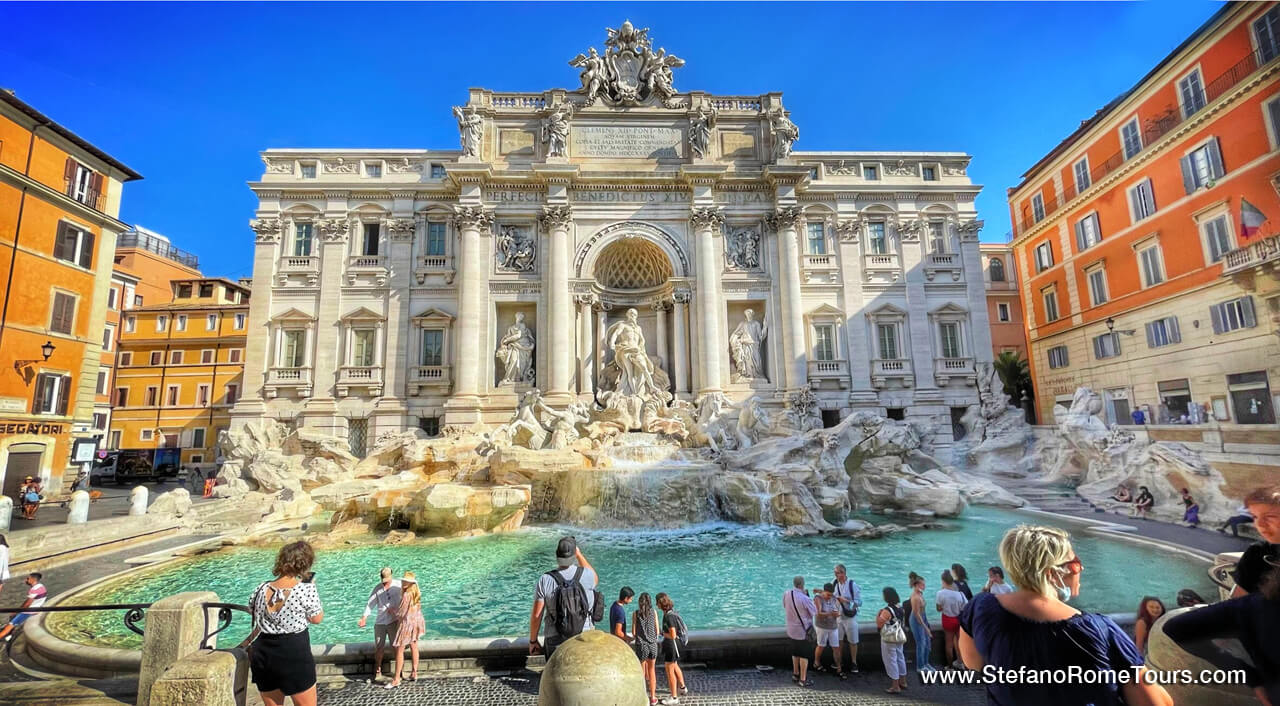 Don't forget to continue the long-enduring tradition of tossing a coin into the fountain to ensure a future visit to Rome. Aside from being one of the most well-recognized fountains in the world, the Trevi Fountain's fame has been cemented in classic films such as "Three Coins in A Fountain", "La Dolce Vita", and "Vacanze Romane".
The sublime SPANISH STEPS


You will feel like you are in a Rome postcard at the picturesque Spanish Steps with its elegant unfurling stairway that connects the Church of Trinity and obelisk above with the square below that features the Fontana della Barcaccia (the Fountain of the Old Boat) below.
The beautiful palazzo to your right, if you are facing the Spanish Steps, is the Keats-Shelley Memorial House, the famous English writer John Keats lived.



The lively PIAZZA NAVONA


The lively Piazza Navona is dominated by 3 fountains situated in a spacious oblong square surrounded by warm-toned historic buildings. A variety of colorful paintings and drawings exhibited by local artists adds to the charm and vibrant atmosphere of Piazza Navona.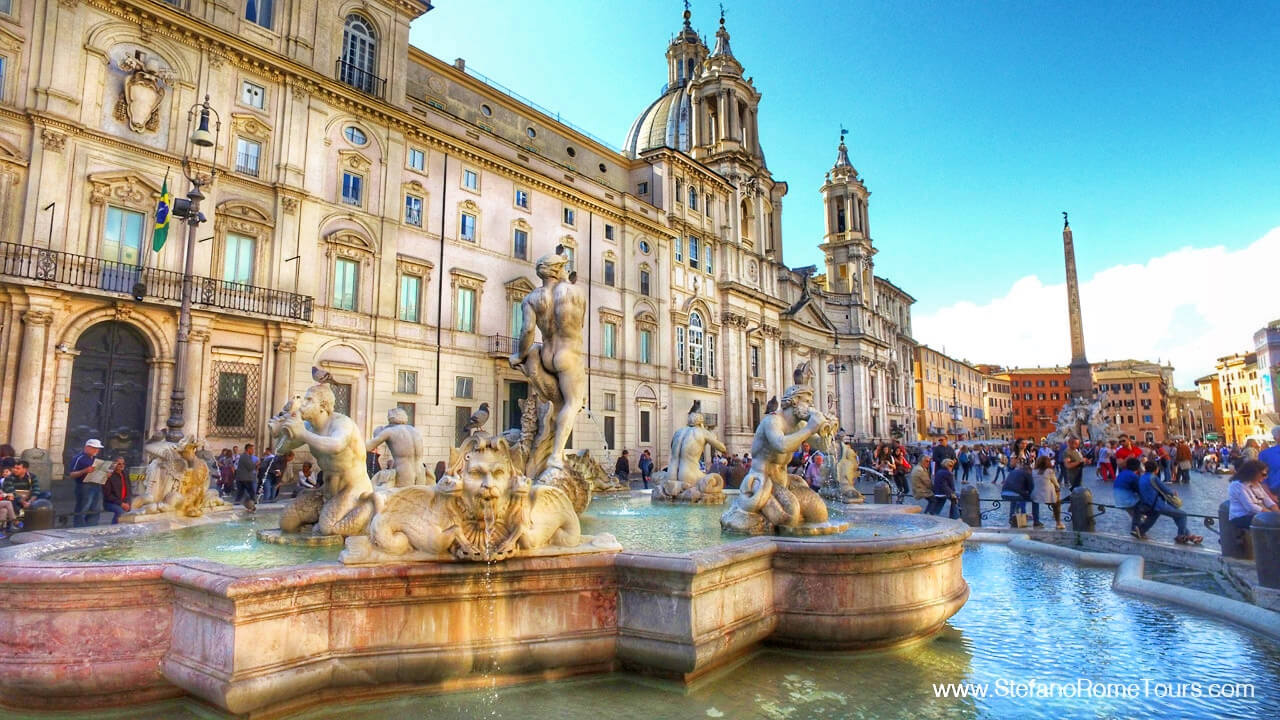 Piazza Navona takes its oval shape and name from the 1st century AD Ancient Roman stadium commissioned by Emperor Domitian to use for athletic games and competitions. The name "Navona" derives from the ancient word for games "agone".
The imposing Baroque 17th-century fountain that dominates the square is the Fountain of Four Rivers (Fontana dei Quattro Fiumi) by Gian Lorenzo Bernini that represents the four major rivers of the four known continents of that time: Rio de la Plata (America), Danube (Europe), Ganges (Asia), and Nile (Africa). The fountain is crowned with an ancient Egyptian obelisk commissioned by Pope Innocent X whose symbol tops the obelisk.



Revel in the magnificence of SAINT PETER'S SQUARE

One of the most esteemed squares in Rome is Saint Peter's Square which welcomes millions of visitors within the embrace of "the maternal arms of the Mother Church".
The sweeping elliptical square was designed by Gian Lorenzo Bernini to define the square and allow a large number of the faithful into the square when the Pope gives his blessings. The 284 colossal Doric columns are arranged in 4 rows. The colonnade is topped with 140 statues of various saints.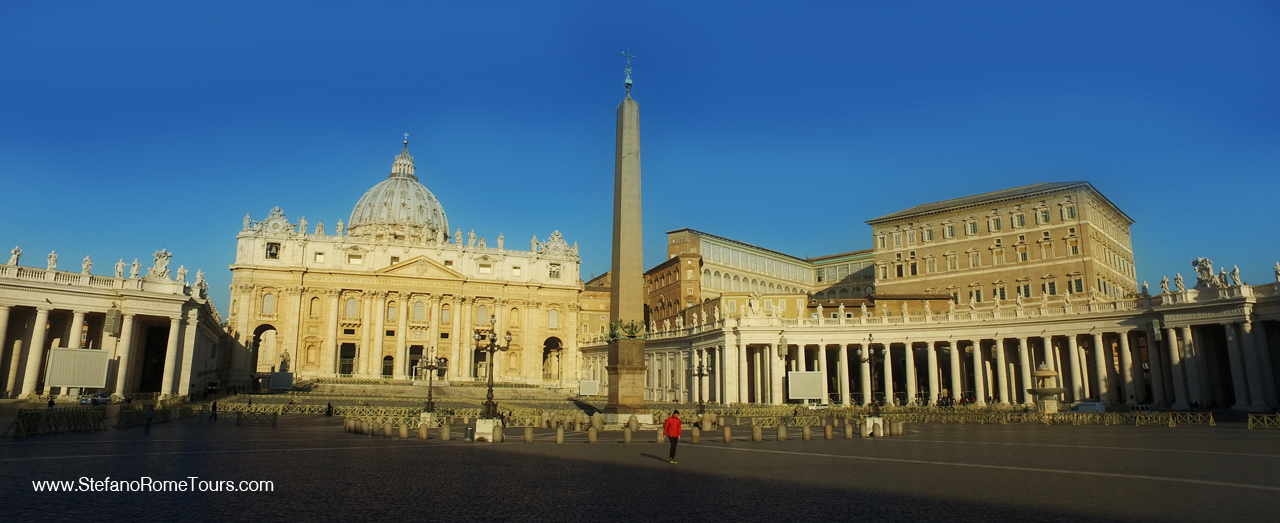 The center of Saint Peter's Square is dominated by the 84-foot tall ancient Egyptian obelisk originally from Heliopolis, Egypt that was brought to Rome in 37 AD by Emperor Caligula.
Between the obelisk and the fountains on both sites, you will find white marble disks on the ground. They mark the centers of each colonnade, and if you stand on the disk it will give you the illusion that there is only 1 row of columns, not 4.
VISIT THE WONDERS OF ANCIENT ROME

Your Postcard Rome tour will then take you to see the wonders of Ancient Rome that grace postcards everywhere.



THE PANTHEON and PIAZZA DELLA ROTONDA


Not to be missed in Rome is the Pantheon, one of Rome's most famous ancient Roman temples that dominates the lively Piazza della Rotonda. Visitors and locals alike gather around the square's large central baroque fountain featuring a 20-foot ancient Egyptian obelisk originally that was originally commissioned by Pharaoh Ramses II for the Temple of Ra in Heliopolis, Egypt.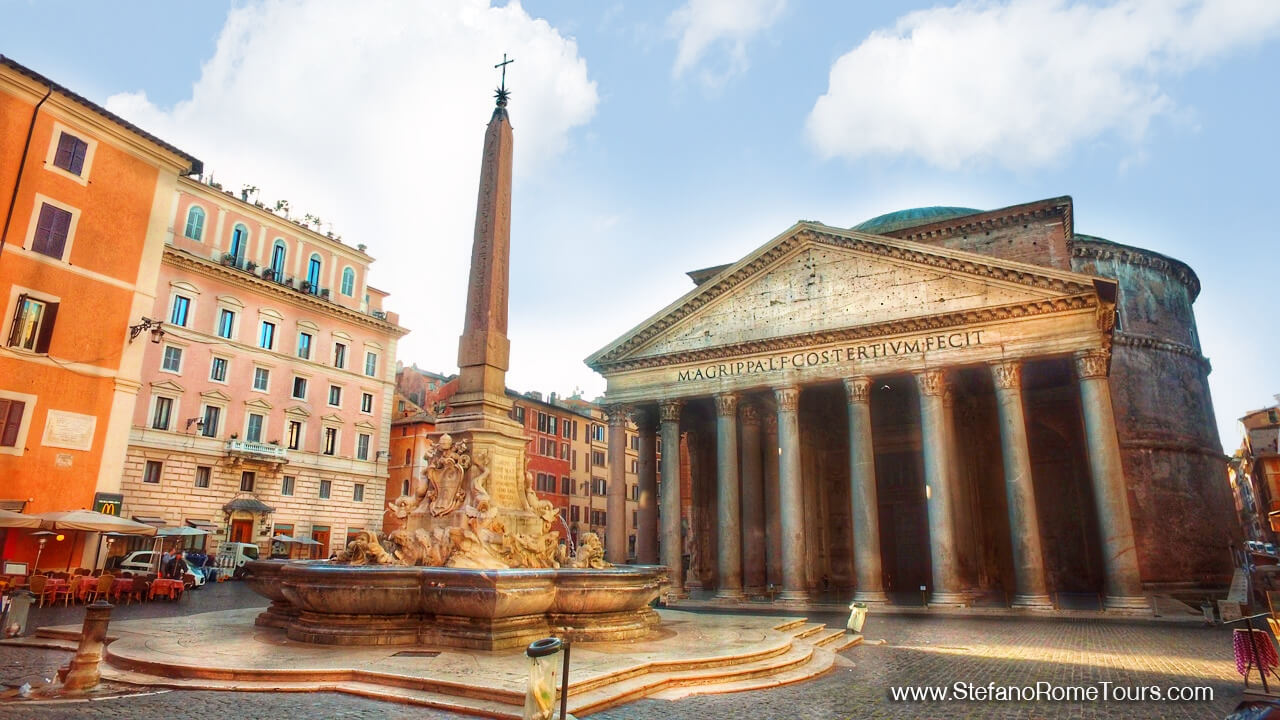 This Pantheon is a remarkable 2nd century AD ancient spherical Roman pagan temple dedicated to all gods that in 609 AD was converted into the Santa Maria dei Martiri church - which helped preserve this ancient monument while many others were stripped and plundered during the Medieval and Renaissance eras.
The Pantheon is not only one of the most inspirational architectural masterpieces of Ancient Rome with the world's largest unreinforced dome that has marveled architects for centuries, but it is also the single ancient monument in the longest continuous use.
When you enter the Pantheon and look up you will see the oculus in the center of the coffered dome that opens to the sky allowing light and rain to fall through. Some of Italy's most distinguished figures are also buried inside the Pantheon, namely Italy's King Vittorio Emanuele II, King Umberto, Queen Margherita, and the famous artist Raphael.


If you are touring Rome on weekends, the Pantheon requires Time Slot Entrance Tickets to be booked in advance. See more information below.


Admire the ANCIENT ROMAN IMPERIAL FORUM

A special stop on a tucked-away terrace behind Capitoline Hill will reward you with a breathtaking panorama of the Roman Forum that graced many a Rome postcard. See where the Roman Empire was governed, the imperial Palatine Hill beyond where emperors and the elite had their opulent palaces and the Colosseum peeking from the distance. Be sure to have your cameras ready as this picturesque spot is one of the most photographed locations in Rome!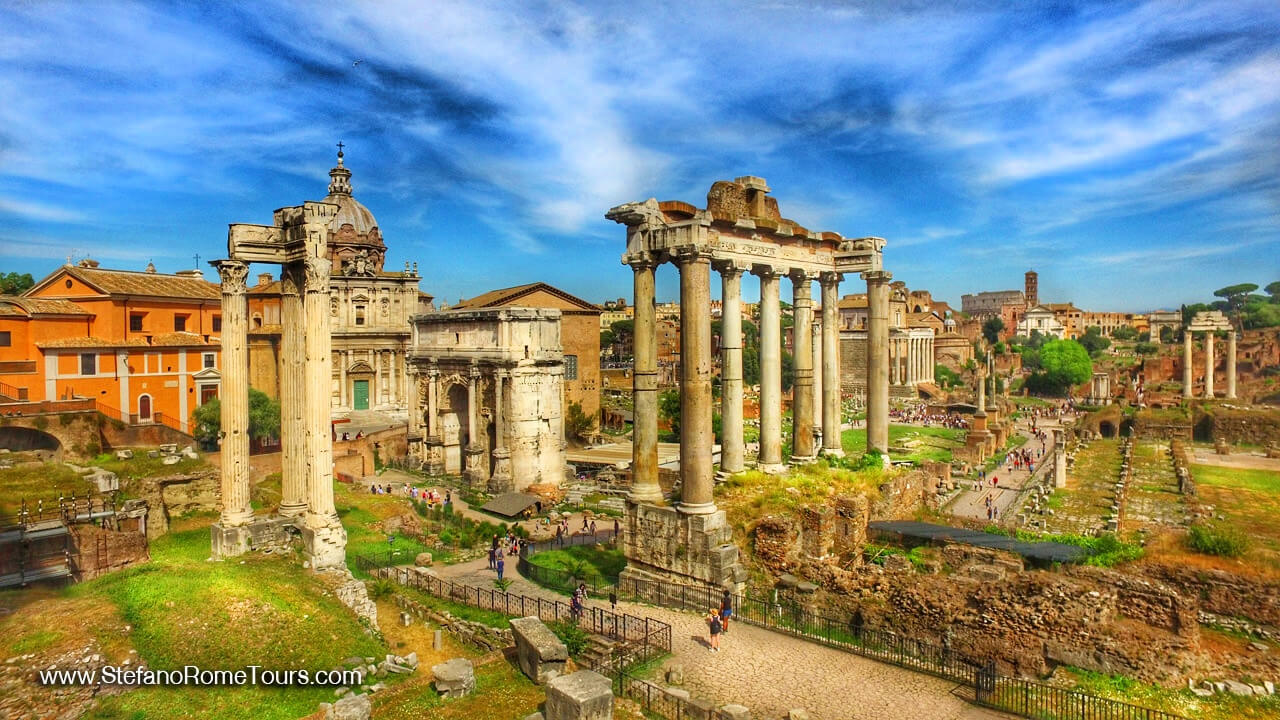 For many centuries the Roman Forum was the main gathering place for the locals and Ancient Rome's political, judicial, commercial, and religious center from where the empire was governed making this rectangular forum the Navel of the City of Rome (Umbilicus Urbis Romae). The impressive ruins of many structures and monuments that once glistened in fine white marble and were covered with terracotta roof tiles are vestiges of Ancient Rome's glorious and powerful past.


PIAZZA DEL COLOSSEO / COLOSSEUM SQUARE


Piazza del Colosseo is a spacious cobblestoned pedestrian square where you will have the opportunity to admire the grandiose Colosseum and the nearby Arch of Constantine.
The Colosseum's most iconic feature (and also most photographed) is the partially ruined monumental facade made up of 4 arcaded levels with the lower 3 levels consisting of 80 arches each. While the travertine stone out of which the amphitheater was built gives it its earthy tones, originally the Colosseum was clad in fine white marble and adorned with 160 larger-than-life statues placed inside niches within the arches.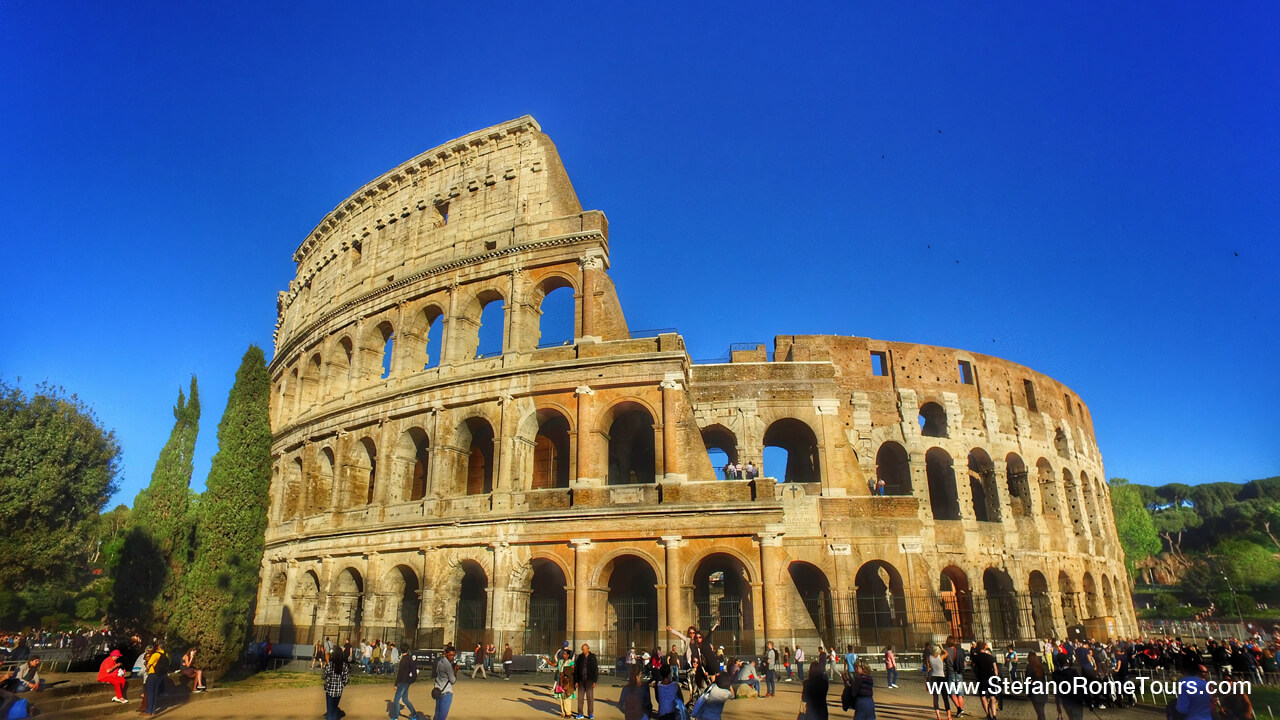 A combination of time, nature, and human activity has taken its toll on this ancient wonder. During the Medieval and Renaissance eras, the Colosseum was quarried for its precious marble, and stones there were recycled as building materials elsewhere in Rome.
Near the Colosseum, the impressive triumphal arch of Emperor Constantine commemorates his victory over Emperor Maxentius at the Battle of Milvian Bridge in 312 AD.
ST PAUL OUTSIDE THE WALLS - one of the four Papal Basilicas

Your Postcard Rome Tour will continue with a visit to the impressive St Paul Outside the Walls, the second largest basilica in Rome and one of the four Papal Basilicas - the highest-ranking churches in Christendom. The Basilica of St Paul Outside the Walls was given the name "outside the walls" as it was built outside the ancient Roman Aurelian Walls.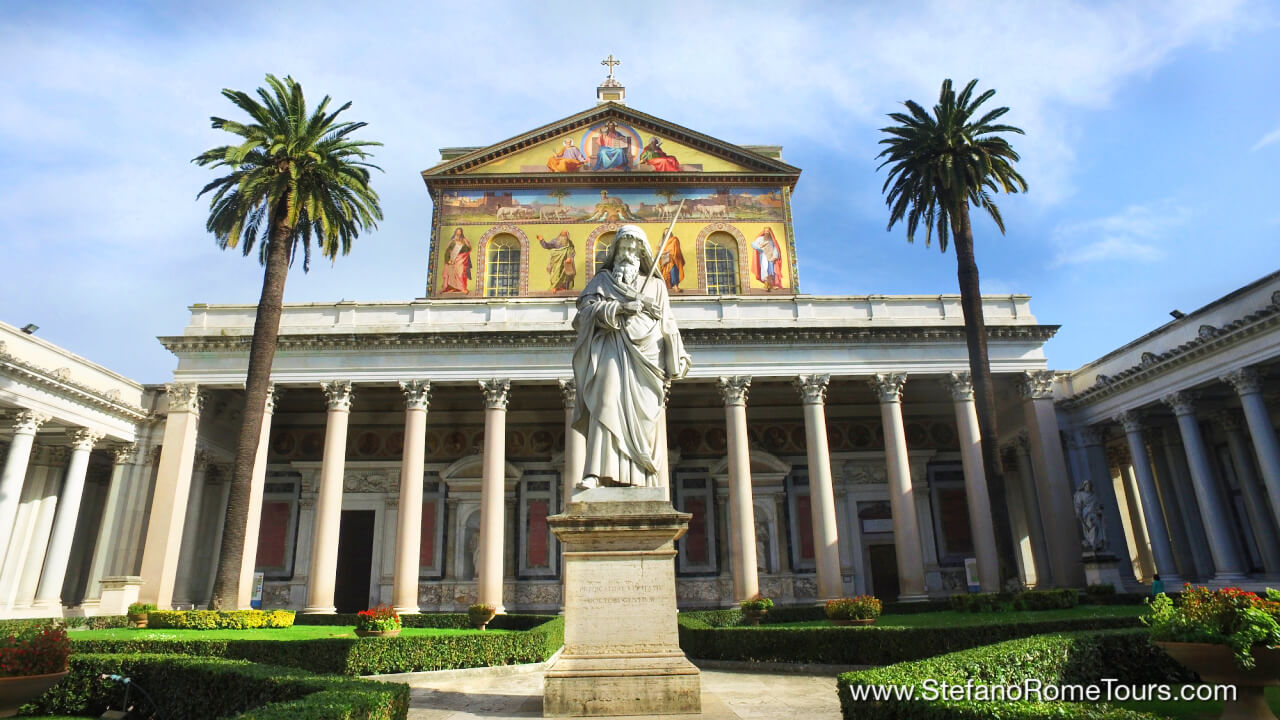 The Basilica was originally commissioned n the 4th century by Emperor Constantine to be built over the burial site of Saint Paul the Apostle. Today, this basilica ranks among the top pilgrimage destinations for millions of Christians around the world. Paul's tomb is situated about 4.5 feet below the altar, placed beneath a marble tombstone inside the crypt.

This remarkable basilica was destroyed by fire in the early 1800s, however, it was perfectly restored to its previous glory thanks to the generosity of donors from around the world.

Apart from being an architectural masterpiece that rivals Rome's major papal basilicas, St Paul Outside the Walls also has a graceful portico and cloister of the monastery. This Basilica is more easily accessible to visitors than St Peter's Basilica where security lines that form in the square are unpredictably long and potentially exhausting.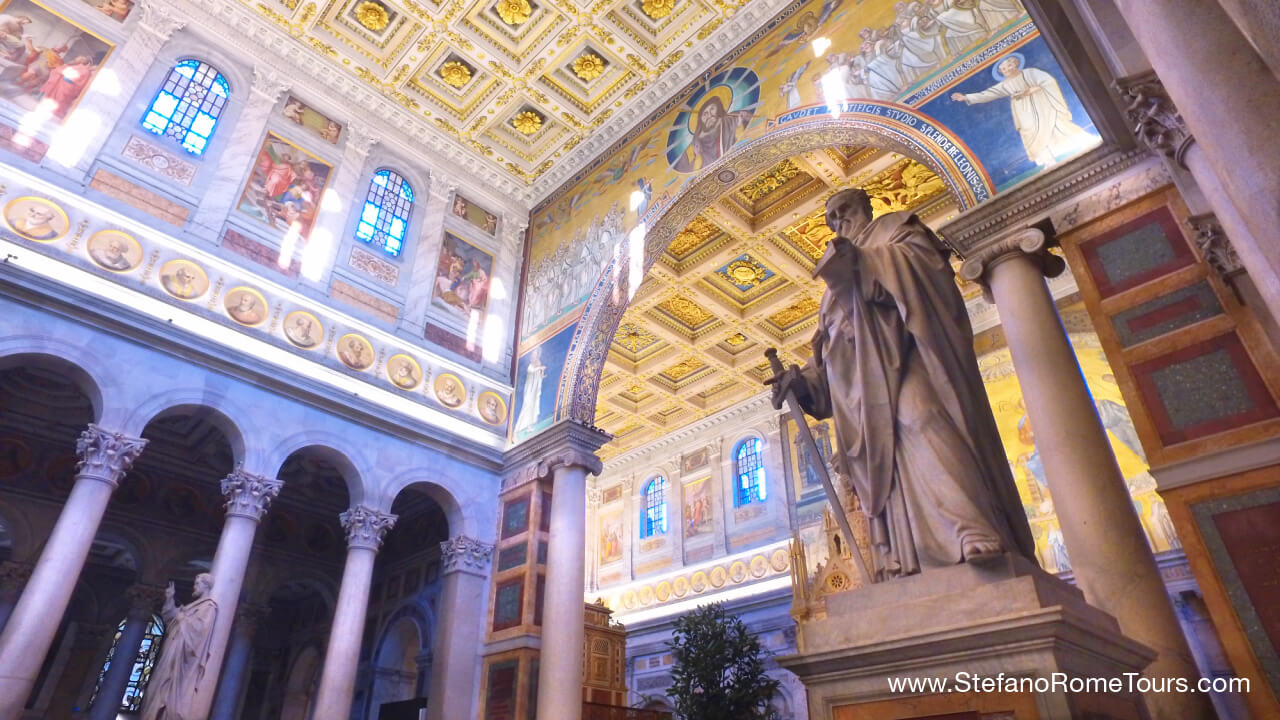 This marks the end of your Rome postcard-perfect day tour. From here you will enjoy a relaxing drive to your ship in Civitavecchia or your hotel accommodation in Rome.


Guests who booked Panoramic Rome Tour also enjoyed the following popular Day Tours from Rome:
Thank you very much for booking our Postcard Rome Tour with Stefano Rome Tours, we look forward to welcoming you to Italy!
Important Information

Please READ the important information below as well as Read & Accept our TERMS OF SERVICE and Privacy Policy prior to placing your reservation request(s).


PAYMENT OPTIONS for Postcard Rome Tour:
Payment for this Postcard Rome tour can be made in Euro funds at the end of your journey directly to your driver, or you may prepay in advance via PayPal or Credit Card online when you Confirm your Tour.


CANCELLATION POLICY:
We kindly ask that cancellations for Rome limo tours be made at least 7 days in advance so we can rebook your service and your reserved driver does not lose work for that day. We thank you for your cooperation and consideration.
** PREPAID SERVICES can only be Refunded the Net Rate we receive from your prepayment. Net Rate is the actual service price minus the fees retained by PayPal/Credit Card that are not reimbursed to us in case of refunds. We can only refund the portion we receive from the PayPal/CC company.
EMAIL INQUIRIES / BOOKING REQUESTS
Please allow up to 24 hours for email correspondence in response to email inquiries and tour reservation requests.
We reply to ALL emails and booking requests we receive. If you don't receive correspondence from us within 24-48 hours please CHECK YOUR SPAM FOLDER, or send us an email from a different E-mail account.
PANTHEON ENTRANCE TICKETS on WEEKENDS
If you will be touring Rome on Saturday or Sunday, the Pantheon requires booking Time Slot Entrance Tickets in advance. We will provide you with the links and a suitable time slot for your Pantheon Visit. Be sure to book them early as the time slots get booked up fast!
YOUR STEFANO ROME TOURS DRIVER
This Postcard Rome tour tour provides an English speaking Driver who is NOT a Licensed Tour Guide.
* Italy has strict laws and regulations aimed to protect official licensed guides that make it unlawful for Drivers to act as tour guides or accompany guests to sightsee on foot away from the vehicle. In order for us to comply with Italy's laws, Drivers are required to remain with the vehicle while guests sightsee away from the vehicle.
* On this Panoramic Rome Tour for Cruisers you will SELF TOUR (unaccompanied by your driver) when away from the vehicle.
* You will be dropped off as close to the sites as possible in accordance to municipality and traffic laws.
MEETING POINTS TO MEET YOUR DRIVER

Rome Tour starting from your Rome Hotel / Accommodation:
For day tours from Rome hotels, your driver will meet you inside the lobby of your hotel or area permitted by your hotel.
For Apartments or B&Bs without a lobby, your driver will meet you outside the main entrance of your Address.
* If your hotel or accommodation is located on a street or in an area that is restricted to vehicle traffic, your driver will park as close as lawfully possible, and meet you on foot at your Address to accompany you to your parked vehicle. Door-to-door service may not be possible on streets, squares, or areas restricted to vehicle traffic or vehicle stopping.

For Shore Excursions from Civitavecchia:
For Shore Excursions from Civitavecchia, your driver will meet you on the Pier next to your Ship at your tour's scheduled pick-up time holding a sign with the NAME in your reservation.
Do NOT leave the ship area, and do NOT take a shuttle bus outside the port.
Look for your driver in the same area on the Pier as ALL private drivers will be waiting for their clients. After you meet your driver you will be accompanied to your vehicle and your Rome private shore excursion will begin with a leisurely drive from Civitavecchia to Rome.
POSTCARD ROME TOUR SHARING from Civitavecchia Cruise Port

You can save a lot on this Postcard Rome tour for Cruisers from Civitavecchia by sharing your tour with fellow cruisers for up to 8 guests per minivan! All you need to do is place an ad on the Cruise Critic roll call and invite others to join you. Share the fun and the expense, Find out HOW: TOUR SHARING