description
* OSTIA ANTICA AND CERVETERI TOUR PRICE LIST


TOUR FROM ROME HOTEL
For up to 4 Persons from Rome Hotel: 450 EUROS
For up to 6 Persons from Rome Hotel: 500 EUROS
For up to 8 Persons from Rome Hotel: 550 EUROS

SHORE EXCURSION FROM CIVITAVECCHIA
For up to 4 Persons from Civitavecchia: 500 EUROS
For up to 6 Persons from Civitavecchia: 550 EUROS
For up to 8 Persons from Civitavecchia: 600 EUROS

** Dates on the Booking Form Calendar that are NOT Selectable, are NOT AVAILABLE.
This tour is NOT available on Mondays and Tuesdays as the sites are closed on these days.

Enjoy a visual journey of these epochal locations on our Ostia Antica and Cerveteri Tour VIDEO:
Not too far from the Eternal City midst the tranquil countryside of Rome lay the last vestiges of Ancient Rome's and Etruria's greatness: Ostia Antica and the Banditaccia Necropolis in Cerveteri.
On our Ostia Antica and Cerveteri Tour you will spend the first half of the day exploring the beautifully preserved 2nd century AD ruins of the once thriving Ancient Roman city of Ostia Antica, and afterwards, walk among the sacred tombs of the mysterious Etruscans who ruled central Italy for centuries as the most advanced civilization west of the Mediterranean until overtaken by the invincible Romans. And with so many stunning medieval towns crowning Lazio's hilltops as well, it is only fitting that we visit one for lunch!


OSTIA ANTICA - walk in the footseps of Ancient Romans


The name "Ostia" means "mouth", referring to the mouth of the Tiber River where Ostia was originally located in its earliest days from 1400-400 BC. Due to silting, it is now situated further inland by 3 kilometers within a lush park-like setting that nature lovers are sure to enjoy.
Ancient tradition suggests that Ostia was founded by the fourth king of Rome, Ancus Marcius approximately 7th century BC.
Most of the buildings that have been excavated were built in the first half of the 2nd century AD when such notable emperors such as Trajan and Hadrian ruled.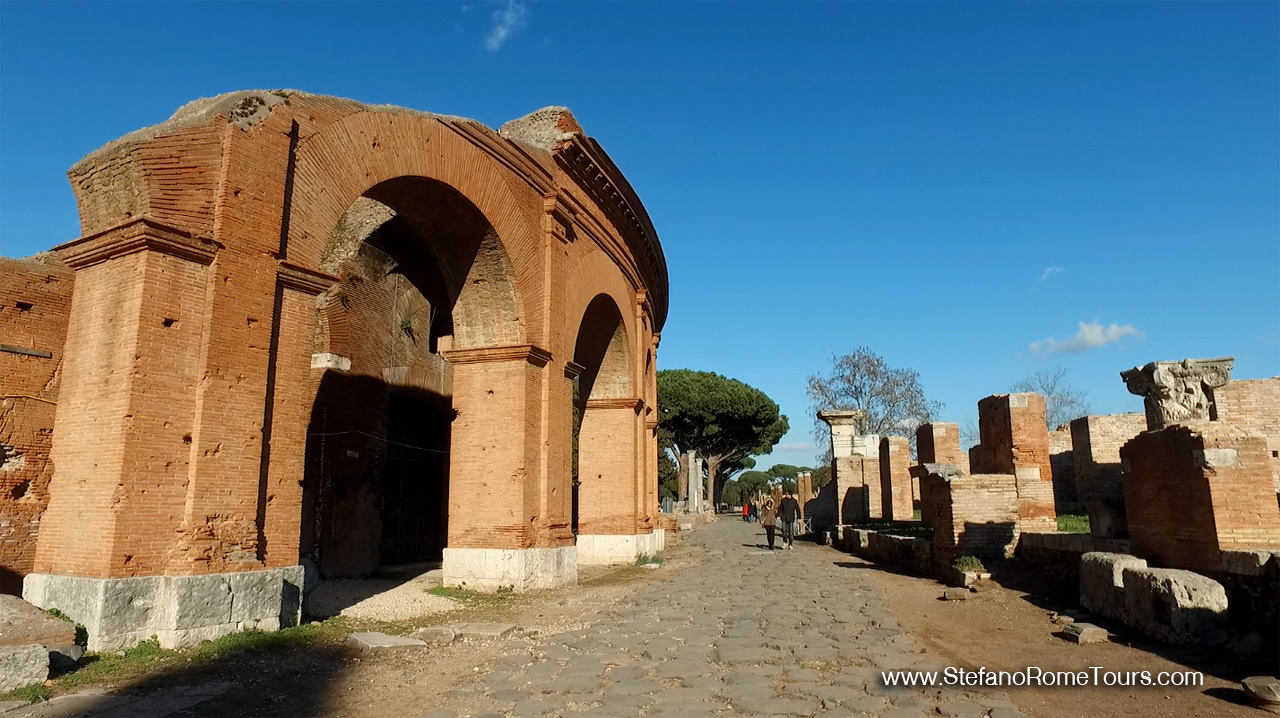 Due to the addition of a harbor district, Ostia became rich and prosperous with a population of roughly 50,000 until the fall of the Roman Empire, and eventually fell into disrepair and ultimately abandoned by the 9th century. It was through its abandonment that this ancient city became preserved beneath deep layers of time.
As your feet settle on the timeworn cobblestones following the footsteps of ancient Ostians, a distant echo of the hustle and bustle of daily life in this once prosperous city magically transports you to the ancient days of Rome as you wander through the remnants Ostia's apartment buildings, cemetery, bars, bakeries, commercial storefronts, outdoor theater, a forum, pagan temples, communal baths and latrines, sculptures, mosaics and more.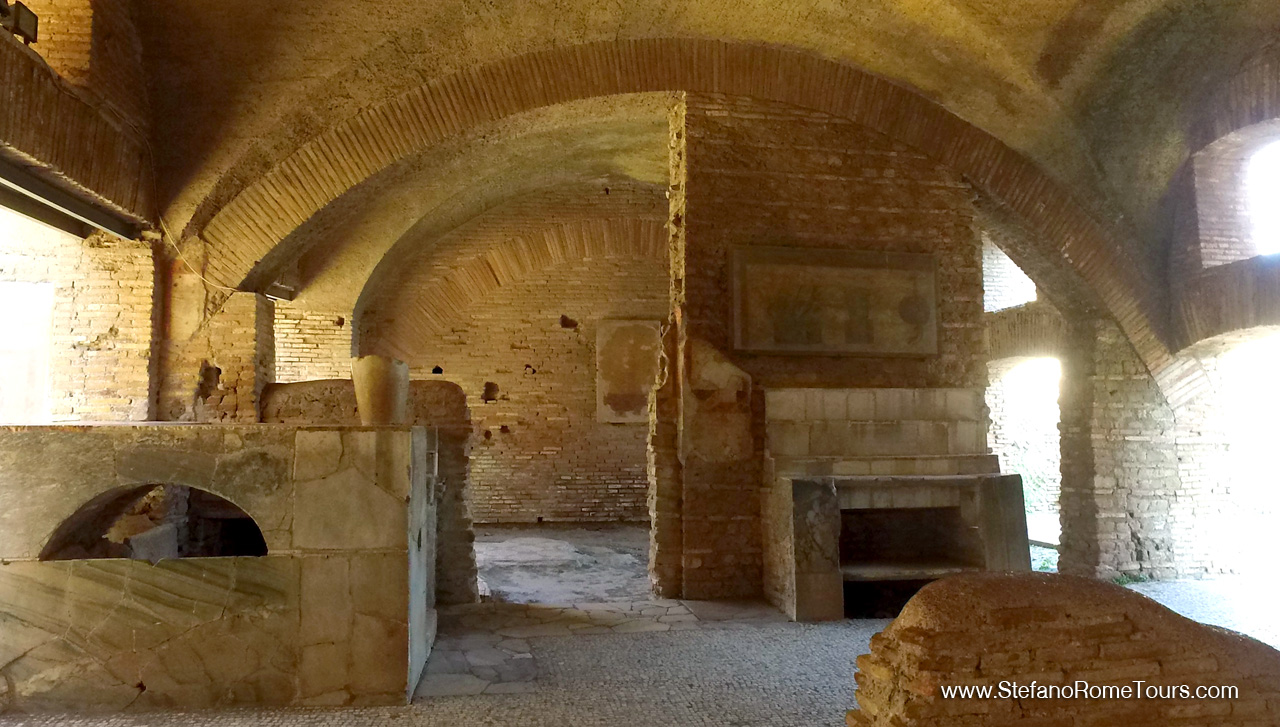 As you explore Ostia Antica you feel as though you are walking in the footsteps of the ancient Romans who thrived in this once vibrant port city.
Your Ostia Antica and Cerveteri Tour continues with a drive to the nearby Ceri, one of the most picturesque medieval villages in Italy.

CERI - the charismatic Medieval hamlet


Ceri is a tiny 13th century village with fortified walls that give it the appearance of a medieval fortress isolated on top of a steep hill of tufa, a type of limestone that is very common in Italy, and primarily used by the ancient Etruscans for their tombs, as you will soon discover in Cerveteri.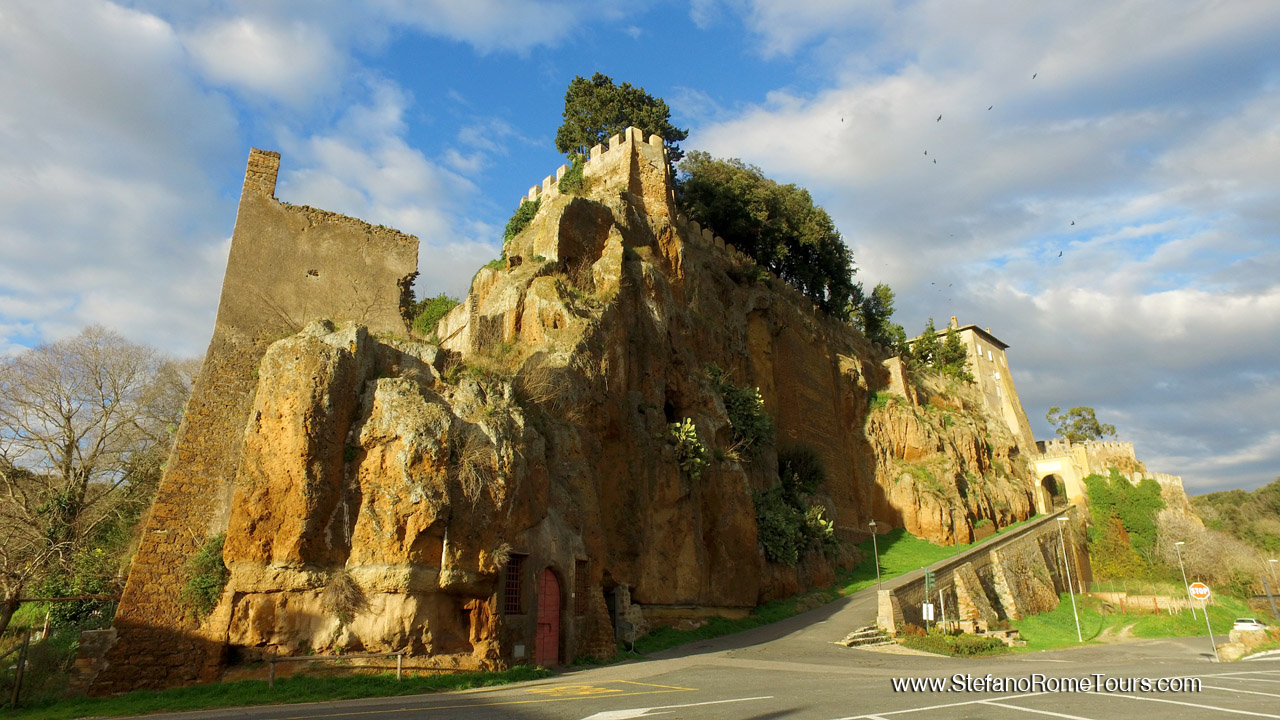 Against the enchanting backdrop of this medieval setting you will have lunch fit for a king. Ceri is famous for its two excellent restaurants, "La Sora Lella" and "La Torre". Both restaurants serve exquisite cuisine in the "Maremma Laziale" style, which is influenced by the Tuscan part of Maremma. This cuisine is more linked to the inland than the sea.
La Sora Lella won many awards and prizes for its Ravioli filled with artichokes, and many tour guests have raved that this particular entrée remains the best meal that they experienced during their visit to Italy. Another entrée that is different and delicious is the polenta served on a traditional wooden board, as it was done in the days gone past.
After free time on your own for a delectable lunch, we will take a short drive to Cerveteri.
CERVETERI BANDITACCIA ETRUSCAN NECROPOLIS


Situated on the outskirts of Cerveteri, the Banditaccia Necropolis has been declared by UNESCO a World Heritage Site along with the Monterozzi Necropolis in Tarquinia.
English novelist D.H. Lawrence wrote in "Etruscan Places":

"The Etruscans were the people who occupied the middle of Italy in early Roman days and whom the Romans, in their usual neighborly fashion, wiped out the entire area to make room for Rome with a big "R".
The Romans were not the first "big" civilization in Italy; the first ones to start commerce and cities were the mysterious yet amazingly advanced Etruscans.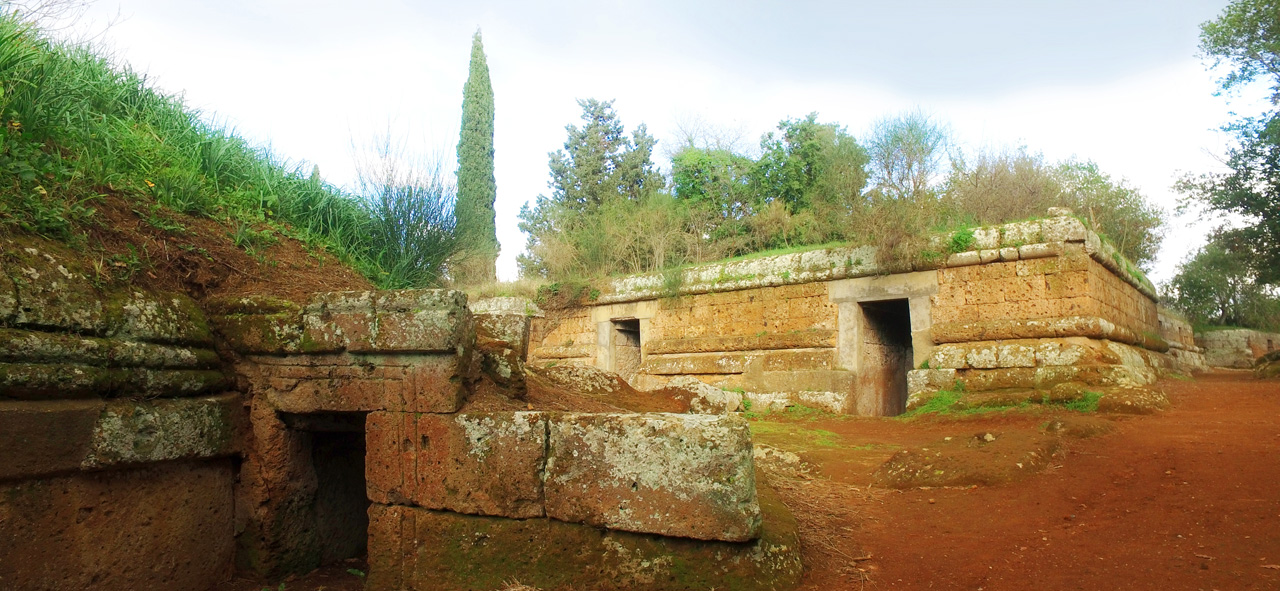 One of the most fascinating characteristics of this necropolis is that it spans over 6 centuries of the Etruscan civilization, making this the largest city of the dead in the Mediterranean area.
You can see the progression of the early 9th Century BC Villanovan rock-cut trenches containing urns, to the complex 3rd century BC city-like planning of tombs with roads for processions.
From primitive pottery ossuaries to elaborate hut shaped tombs carved out of the living tuffa rock and rich in structural details, you can see ancient cultural and architectural advancements unfold all around you.
Although none of the Etruscan homes survived to this day, you can see the types of homes Etruscans lived in just by walking into their tombs! Considered permanent homes for the dead, the tombs were carved to resemble the interior of residential homes, lavishly designed with gabled roof, crossbeam, stone couches, chairs, and other architectural details.
Of the many tombs you will visit, the most famous is the 4th century BC Tomb of the Reliefs that includes multiple funerary niches and relief carvings on the walls representing weapons as well as religious and domestic objects.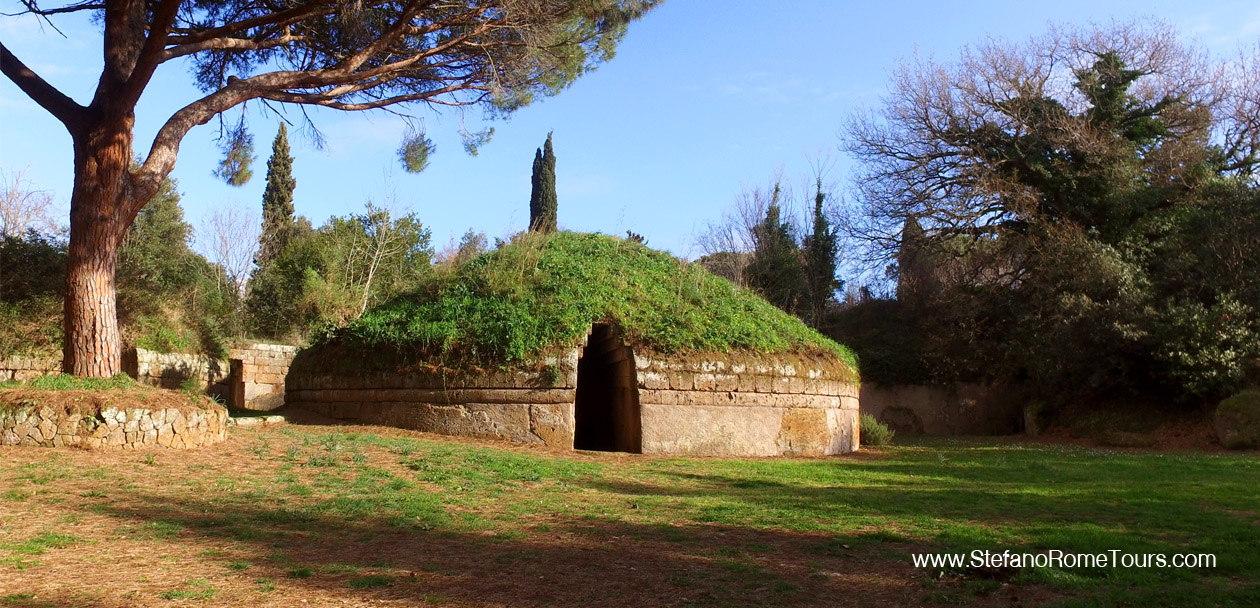 Rarely crowded, this ancient city of the dead surrounded by Lazio's majestic valley makes for a lovely and enjoyable stroll among the tombs. You may even find that you have it to yourself to explore at your leisure, leaving you alone with the overwhelming sense of holiness and peace on this sacred burial place... and if you listen closely enough, you just may hear the souls of the Etruscans speaking their hearts to you.
Your Ostia Antica and Cerveteri Tour ends here, and you will enjoy a relaxing drive back to your hotel in Rome or your cruise ship in Civitavecchia Cruise Port.
Thank you for booking our Ostia Antica and Cerveteri Tour and for choosing Stefano Rome Tours! We look forward to showing you beautiful places in Italy!


Guests who booked this Ostia Antica and Cerveteri Tour also enjoyed the following Day Tours from Rome:
ETRUSCAN MYSTERY - continue along the footsteps of the beguiling Etruscans to Tarquinia and Tuscania
ROME IN A DAY TOUR - revel in the epochal highlights of the Eternal City
MONSTERS AND MYTHS - venture into the spellbinding sacred forest with extraordinary sculptures and revel in the opulent gardens of Villa Lante
Important Information

Please READ the important information below as well as Read & Accept our TERMS OF SERVICE and Privacy Policy prior to placing your reservation request(s).


PAYMENT OPTIONS for Ostia Antica and Cerveteri Tour:
Payment for this Ostia Antica and Cerveteri Tour can be made in Euro funds at the end of your journey directly to your driver, or you may prepay in advance via PayPal or Credit Card online when you Confirm your Tour.
CANCELLATION POLICY:
We kindly ask that cancellations be made at least 7 days in advance so we can rebook your service and your reserved driver does not lose work for that day. We thank you for your cooperation and consideration.
** PREPAID SERVICES can only be Refunded the Net Rate we receive from your prepayment. Net Rate is the actual service price minus the fees retained by PayPal/Credit Card that are not reimbursed to us in case of refunds. We can only refund the portion we receive from the PayPal/CC company.
EMAIL INQUIRIES / BOOKING REQUESTS
Please allow up to 24 hours for email correspondences in response to email inquiries and tour reservation requests.
We reply to ALL emails and booking requests we receive. If you don't receive correspondence from us within 24-48 hours please CHECK YOUR SPAM FOLDER, or send us an email from a different E-mail account.
ADMISSION TICKETS
* OSTIA ANTICA tickets are currently 12 Euros per person. Tickets can be purchased at the site before entering. Ticket prices go up when there are exhibitions inside the site.

* CERVETERI BANDITACCIA ETRUSCAN NECROPOLIS tickets are currently 10 Euros per person which is purchased before entering
YOUR STEFANO ROME TOURS DRIVER
* This Ostia Antica and Cerveteri Tour tour provides an English speaking Driver who is NOT a licensed tour guide.
Italy laws permit only licensed tour guides to accompany guests to sightsee on foot away from the vehicle. To be compliant with Italy laws, your driver cannot lawfully guide you into the sites, and will be obliged to remain with the vehicle while you sightsee
* On this Ostia Antica and Cerveteri Tour you will SELF TOUR (unaccompanied by your driver) when away from the vehicle, unless you wish to Reserve a Licensed Tour Guide for Ostia Antica and/or Cerveteri Necropolis.
PRIVATE LICENSED TOUR GUIDES
You have the option to book a private tour with a Licensed Tour Guide for a 2 HOUR indepth walking tour of Ostia Antica and/or Cerveteri Necropolis. Please inquire via E-Mail for more information and private tour guide fees.
MEETING POINTS TO MEET YOUR DRIVER


For Day Tours from Rome hotel / accommodation:
For day tours from Rome hotel, your driver will meet you inside the lobby of your hotel or area permitted by your hotel.
For Apartments or B&B's without a lobby, your driver will meet you outside the main entrance of your Address.
* If your hotel or accommodation is located on a street or in an area that is restricted to vehicle traffic, your driver will park as close as lawfully as possible, and meet you on foot at your Address to accompany you to your parked vehicle. Door to Door service may not be possible on streets or squares with restrictions to traffic or stops.

For Shore Excursions from Civitavecchia:
For Shore Excursions from Civitavecchia, your driver will meet you on the Pier next to your Ship at your tour's scheduled pick up time holding a sign with the NAME in your reservation.
Do NOT leave the ship area, and do NOT take a shuttle bus outside the port.
Look for your driver in the same area on the Pier as ALL private drivers will be waiting for their clients. After you meet your driver you will be accompanied to your vehicle.
OSTIA ANTICA AND CERVETERI TOUR SHARING FROM CIVITAVECCHIA PORT


You can save a lot on this Ostia Antica and Cerveteri Shore Excursion from Civitavecchia by sharing your tour with up to 8 fellow cruisers per minivan! It's easy: just place an ad on the Cruise Critic roll call with a link to this tour and invite others to join you.
Make new friends and share the fun and the expense, learn how: TOUR SHARING
OSTIA ANTICA AND CERVETERI TOUR TIPS:


Please wear comfortable shoes and clothing, as there will be extensive walking involved in this tour.
This tour may not be suitable for travelers with mobility issues due to extensive walking over uneven archaeolgical terrain
Ostia Antica and Cerveteri Necropolis are archaeological sites with uneven terrain to walk on. Watch your steps at all time during your visit.
There are many opportunities to take photographs and videos, so have plenty of film and batteries in your cameras!
During the summer months please be sure to wear sunscreen, sunglasses and a summer hat to keep your head cool.