description
We invite you to step into this timeless classic film where Rome itself is the movie set and you are the star in your own Vacanze Romane / Roman Holiday.
The classic film proceeds seamlessly from one scene to another, but in real life there is quite a bit of area to cover with distance in between, making it time consuming, exhausting (and achy) to do it on foot in one day.
With Stefano Rome Tours, you will visit the incredible piazzas, ancient monuments, and charming neighborhoods featured in the film "Vacanze Romane / Roman Holiday" that are also among the most famous in the world and define the Eternal City.
* VACANZE ROMANE / ROMAN HOLIDAY TOUR PRICE LIST


TOUR FROM ROME HOTEL
For up to 4 Persons from Rome Hotel: 400 EUROS
For up to 6 Persons from Rome Hotel: 425 EUROS
For up to 8 Persons from Rome Hotel: 450 EUROS

SHORE EXCURSION FROM CIVITAVECCHIA CRUISE PORT
For up to 4 Persons from Civitavecchia: 550 EUROS
For up to 6 Persons from Civitavecchia: 600 EUROS
For up to 8 Persons from Civitavecchia: 650 EUROS

** Dates on the Booking Form Calendar that are NOT Selectable, are NOT AVAILABLE.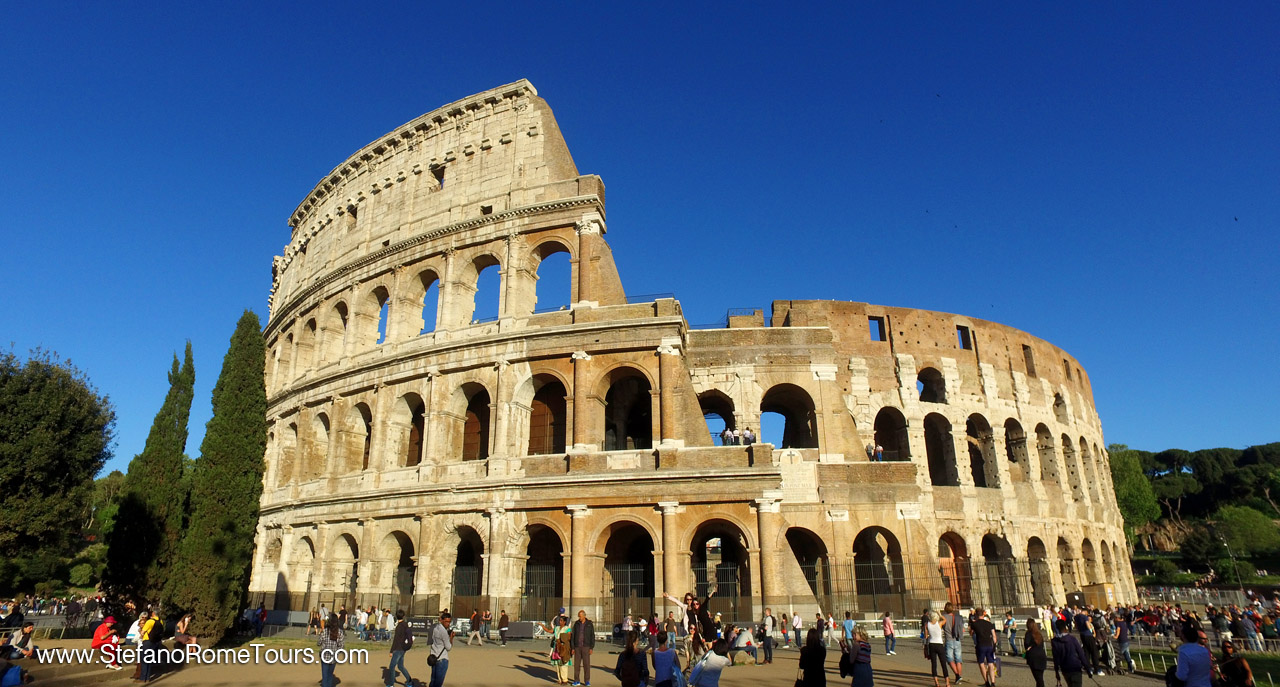 ANN: "Oh, you can't imagine... I'd, I'd like to do just whatever I'd like, the whole day long!"
THE COLOSSEUM

Your Vacanze Romane Tour will begin at the Colosseum where Joe Bradly brought Princess Ann for a tour inside Rome's iconic monument that has endured for 2,000 years.
The Colosseum is the iconic symbol of Rome, and one of Ancient Rome's greatest architectural feats that continues to fascinate the world even today.
Built in 72 AD, this ancient arena was able to entertain between 50,000 - 80,000 spectators with gladiatorial contests, mock sea battles, public executions, historical battle re-enactments, animal hunts, and theatrical plays.
Originally named the Flavian Amphitheater, after the family name of Emperor Vespasian who commissioned its construction, the nickname "Colosseum" derived from the nearby colossal bronze statue of Emperor Nero in the likeness of pagan god Apollo.
The statue remained in its place for centuries into the Medieval Era, and after it fell, its name "Colossus" was transferred to the amphitheater itself and continues to this day.


IMPORTANT NOTE: Colosseum Tickets SELL OUT FAST. If the Colosseum Tickets are SOLD OUT, you will view the Colosseum from the outside, and spend more time enjoying the other wonderful sites in Rome. We cannot guarantee the availability of Colosseum Tickets for this tour.
Drive through PIAZZA VENEZIA

From the Colosseum, you will drive around the roundabout Piazza Venezia, one of Rome's most distinguished squares featuring the imposing 440 foot tall white marble monument built in honor to unified Italy's first king, Vittorio Emanuelle II (or commonly called the Vittoriano by the locals).
Prominently featured in many films and widely recognized, the monument features Corinthian columns, stairways, fountains, pagan statues and a bronze equestrian sculpture of Vittorio Emmauele II himself. Due to its ornamentation and blindly white marble, it's also nicknamed the "wedding cake".
Brief Stop on CAPITOLINE HILL

Next to the Vittoriano is Capitoline Hill where you will stop for a postcard-perfect view of the Roman Forum, Palatine Hill, and Colosseum in the distance.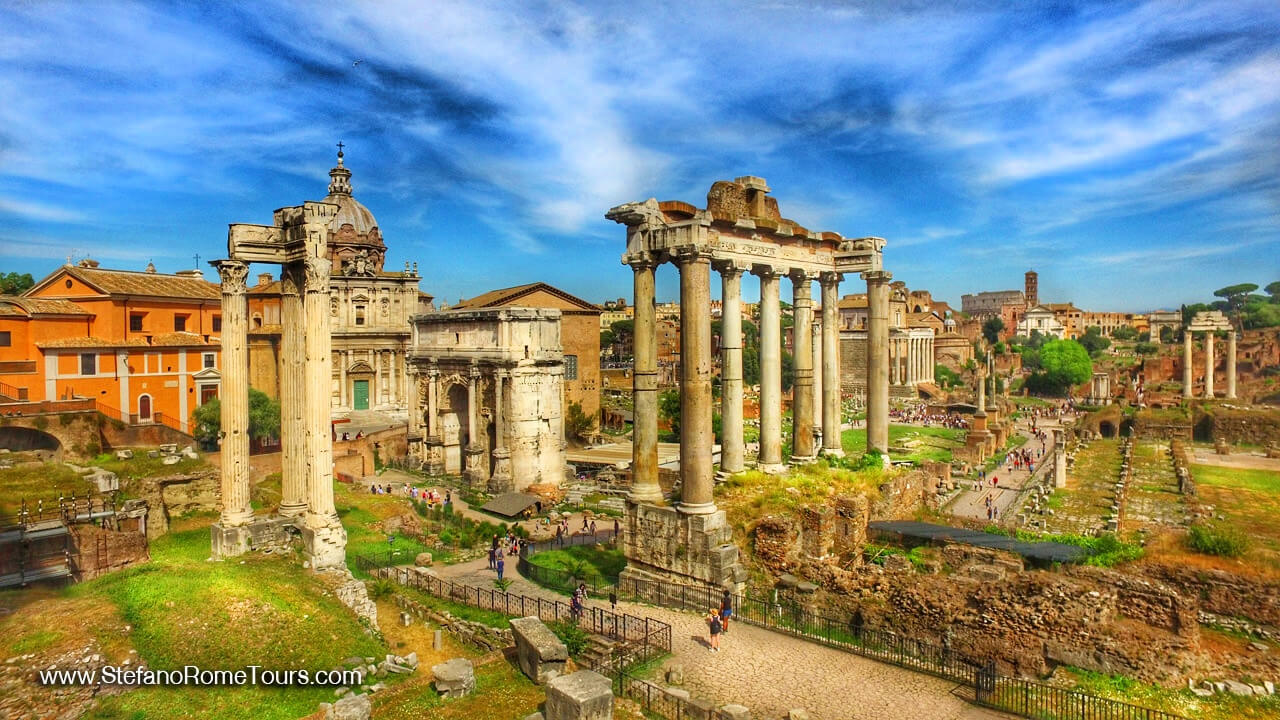 This is one of the most picturesque spots in Rome, so be sure to have your cameras ready!
As you look below you will see the ruins of Temple of Saturn and Temple of Vespasian and Titus, near which took place the nighttime scene where Joe Bradley finds Princess Ann asleep and then hails a taxi.
However, when the movie was filmed there was a road on the other side of the ruins, which is why in the movie the ruins seem positioned differently. No such road exists anymore.

JOE. "The Mouth of Truth. The legend is that if you're given to lying, you put your hand in there it'll be bitten off."
See The MOUTH OF TRUTH

Inside the portico of the church of Santa Maria in Cosmedin you'll discover the usual long line of people waiting for their turn to stick their hand inside the ancient lie detector: Bocca della Verita (Mouth of Truth).
Legend had it that if you told a lie and placed your hand inside the Mouth of Truth, it would bite your hand off.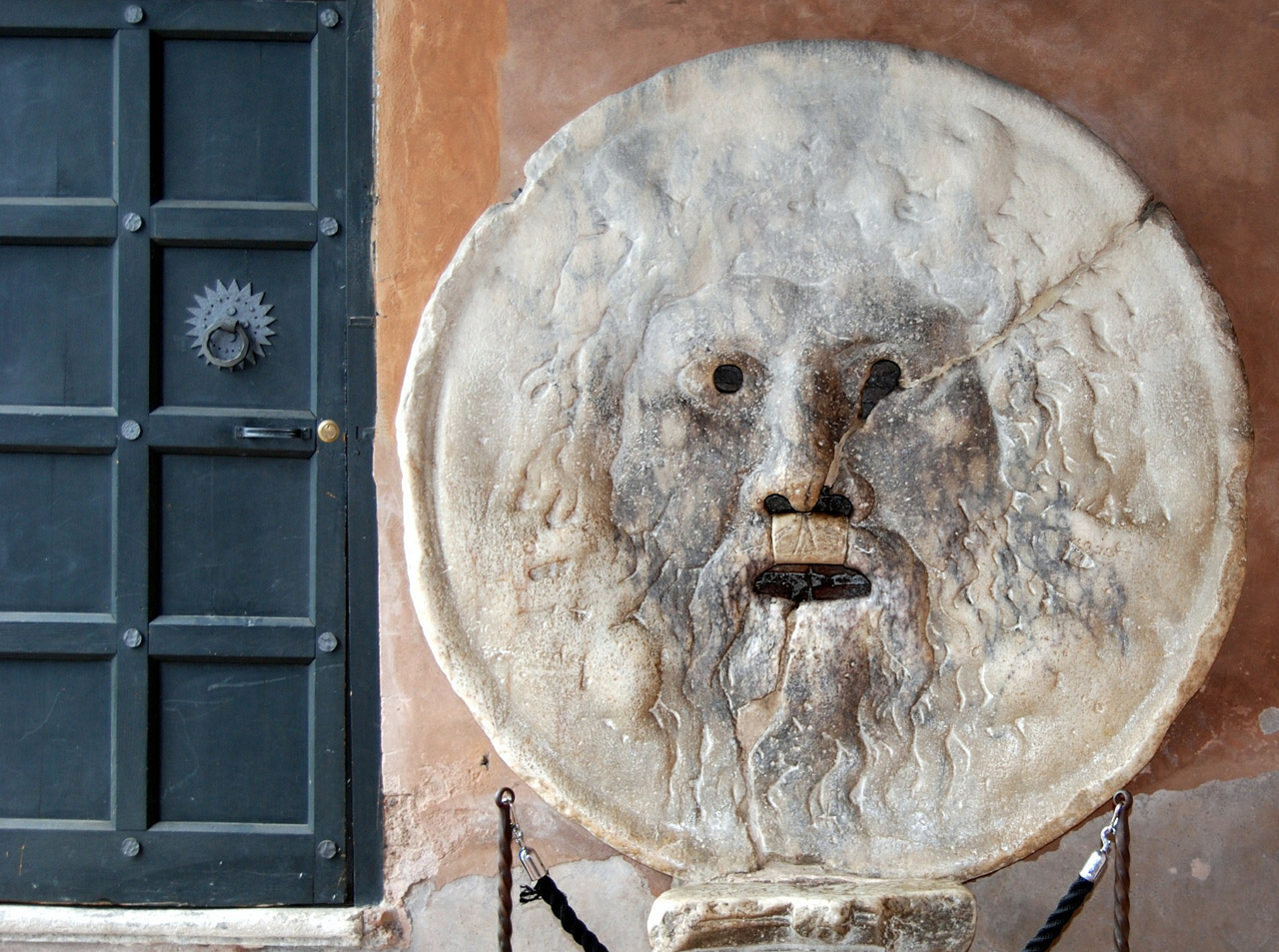 The Mouth of Truth supposedly lost its lie detecting power when it was tricked by a very clever married woman who was accused of having an affair.
Moments prior to placing her hand inside the mouth of truth and confessing the truth before her husband and townsfolk gathered around her, her lover disguised as a madman ran up to her and kissed her.
The townsfolk chased the madman away and the woman "truthfully" admitted that the only men who ever touched her were her husband and the madman, therefore sparing her hand and her reputation.
So give it a try and place your own hand inside the Mouth of Truth if you dare...afterall, what do you have to lose?
One the way to our next destination we'll drive by Teatro di Marcello, an ancient open air theater built in 13 BC, named after Emperor Augustus' nephew, Marcello.
We'll also drive by Palazzo Colonna where the last scene of the movie was filmed, where Princess Ann held the press conference in the great hall (Palazzo Colonna is restricted to public visits).
ANN: "Stop at the next corner, please".
JOE. 'K. [He slows down, stopping at a corner and leans forward
to see the Embassy gate visible down the street] "Here?"
We will drive by Piazza Barberini and its centerpiece, Fontana del Tritone (Triton Fountain) to a brief stop outside to view the stunning Palazzo Barberini that played the role of the embassy of the country of Princess Ann.
You will also have the opportunity to stand in the place where Joe Bradley and Princess Ann said their goodbyes and she then ran around the corner toward the embassy.
Palazzo Barberini was built in 1633 on the land purchased by Maffeo Barberini who then became Pope Urban VIII.
The three well known architects who worked on the palace all had contributed their talents to the building of St Peter's Basilica: Carlo Maderno, his nephew Francesco Borromini, and Gian Lorenzo Bernini.
Today Palazzo Barberini houses the Galleria Nazionale d'Arte Antica, one of the most significant collections of priceless paintings in Italy including Raphael and Caravaggio.


Just as Joe Bradely drove away from the palace after Princess Ann turned the corner, so shall we because now it's time for lunch at a traditional restaurant or trattoria.
ANN: "I've heard of a wonderful place for dancing on a boat."
JOE: "Oh, you mean the barges down by Saint Angelo."
ANN: "Yes! couldn't we go over tonight?"
See CASTEL SANT'ANGELO

Your Vacanze Romane / Roman Holiday tour continues to the towering cylindrical mausoleum to Emperor Hadrian that was later converted by popes into a fortress, a prison, and a castle.
Legend has it it was dedicated to Archangel Michael and became known as Castel Sant'Angelo because the archangel appeared above the mausoleum sheathing his sword signaling the end of the plague of 590.
Today the mausoleum is the Museo Nazionale di Castel Sant'Angelo.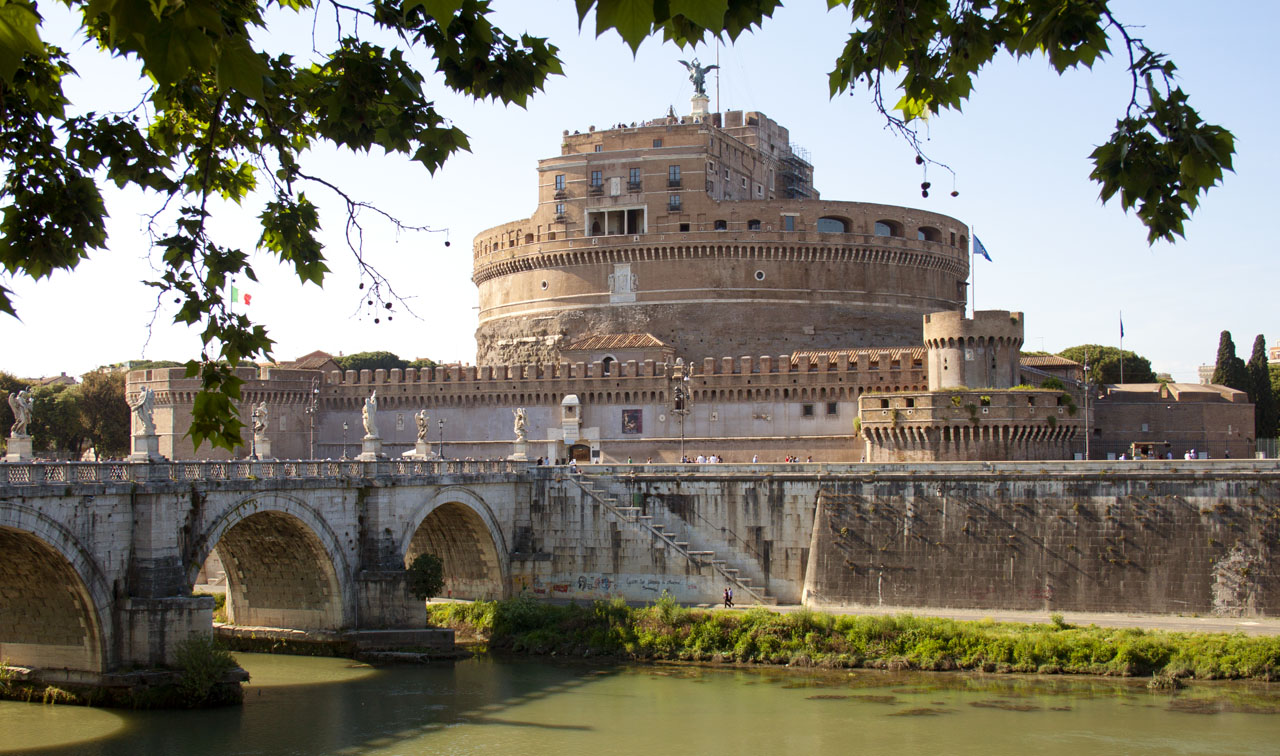 You will have the opportunity for a stroll around the outside of the castle and its bridge, Ponte Sant'Angelo, that's lined with 10 angels holding the passions of Christ, designed by Bernini.
Standing on the opposite side of the bridge you will have a marvelous glimpse of the area where the barge was located in the movie with the castle as the backdrop.
Although not featured in Vacanze Romane, nearby is St Peter's Basilica where you can stop in its awe-inspiring square to admire the largest church in Christendom, Bernini's embracing colonnades and the Egyptian obelisk in the center. (St Peter's Basilica was featured in Federico Fellini's classic "La Dolce Vita").
ANN: "Yes, and I'd like to sit at a sidewalk cafe; and look in shop windows; Have fun, and maybe some excitement. It doesn't seem much to you, does it?"
TREVI FOUNTAIN

From here you will continue your Roman Holiday to the Trevi Fountain.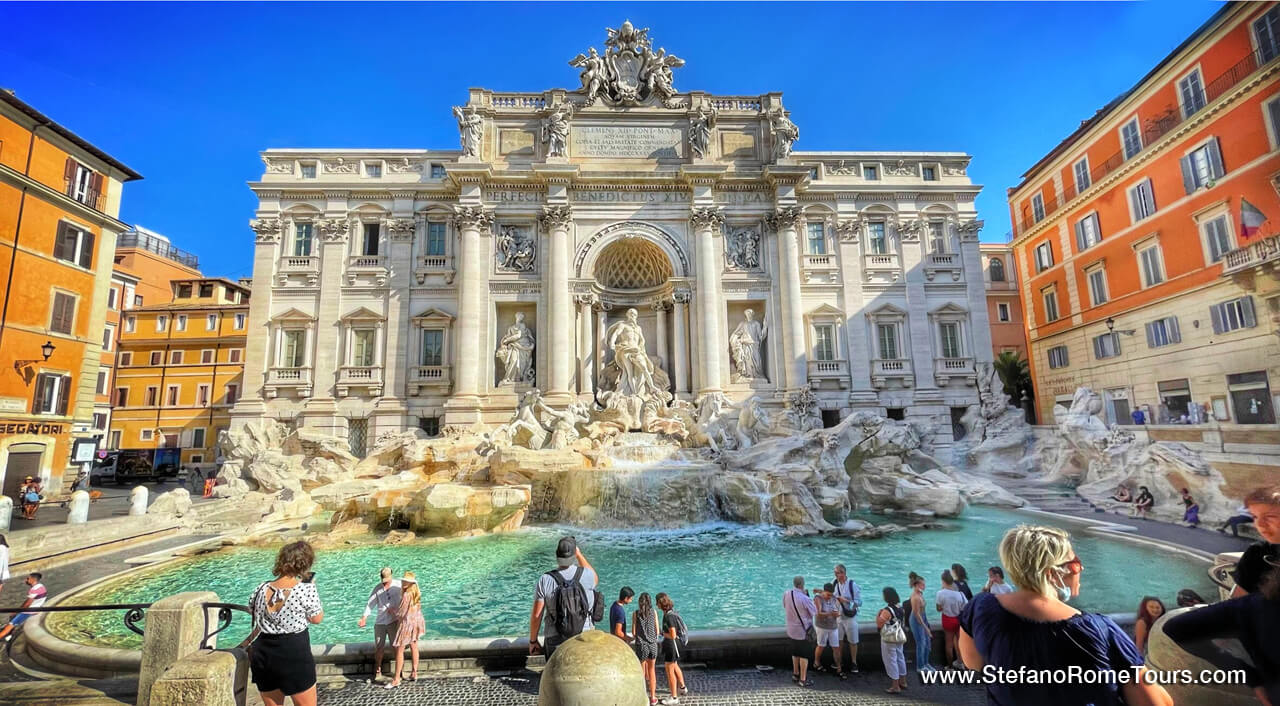 The Baroque fountain with stunning nautical statues was also featured prominently in other classics such as "Three Coins in A Fountain" and "La Dolce Vita".
Here is where Joe Bradley got a lesson in not trying to borrow other tourists' cameras.
Be sure to toss a coin in the fountain to ensure another visit to Rome. Of course, all our returning guests have told us that it works!
SPANISH STEPS / PIAZZA DI SPAGNA

We continue to the most famous stairway in Rome: The Spanish Steps.
Its 18th-century winding steps connect the French church of Trinita dei Monti and the Egyptian obelisk above to the piazza and the one-of-a-kind fountain below.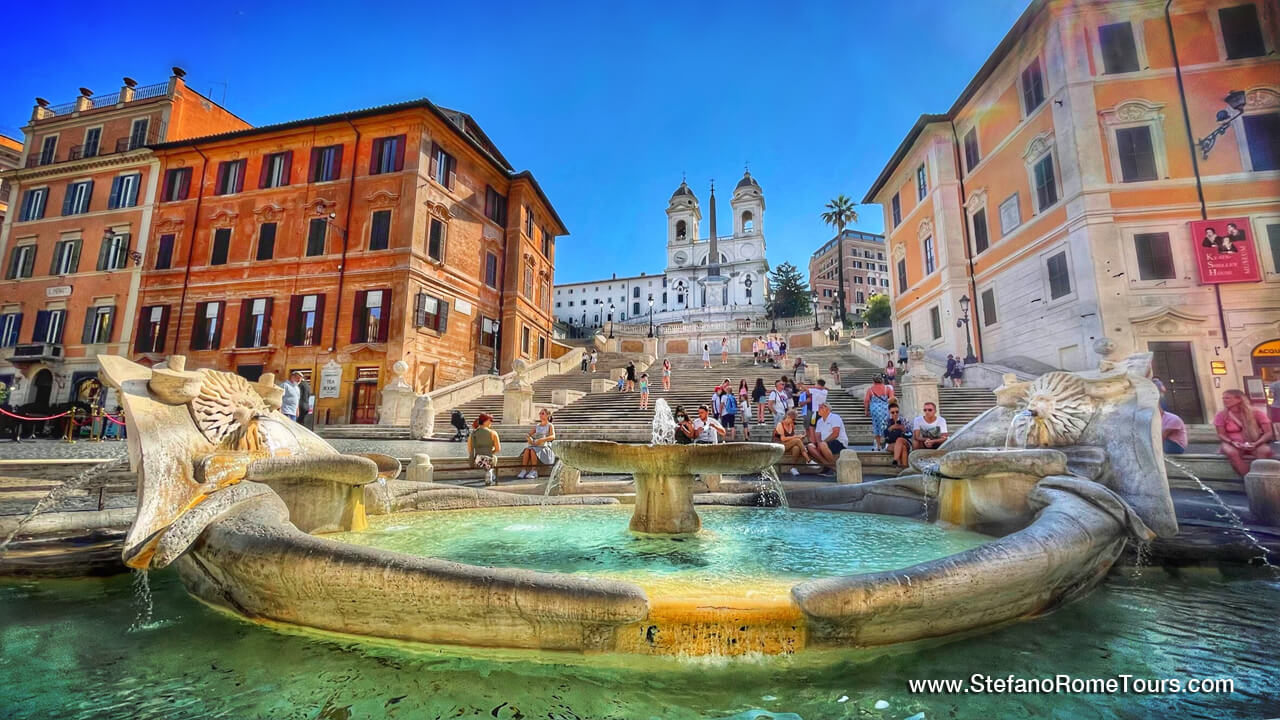 You'll notice people gathered around what appears to be a stone boat overfilled with water. The early 1600' Baroque "Fontana della Barcaccio" (The Fountain of the Old Boat) is credited to Pietro Bernini, the father of Gian Lorenzo Bernini, and resembles a type of boats popular for carrying wine to the port of Ripetta.
If you are facing the steps, to your right is the house where the famous poet John Keats lived and died in 1821.
Across from the Spanish Steps is Rome's fashionable street, Via dei Condotti, lined with top designer boutiques for a window shopping extravaganza!
VIA MARGUTTA

From the Spanish Steps we will take a drive through one of Rome's most exquisite neighborhoods on Via Margutta and pass by "51", the residence of Joe Bradley.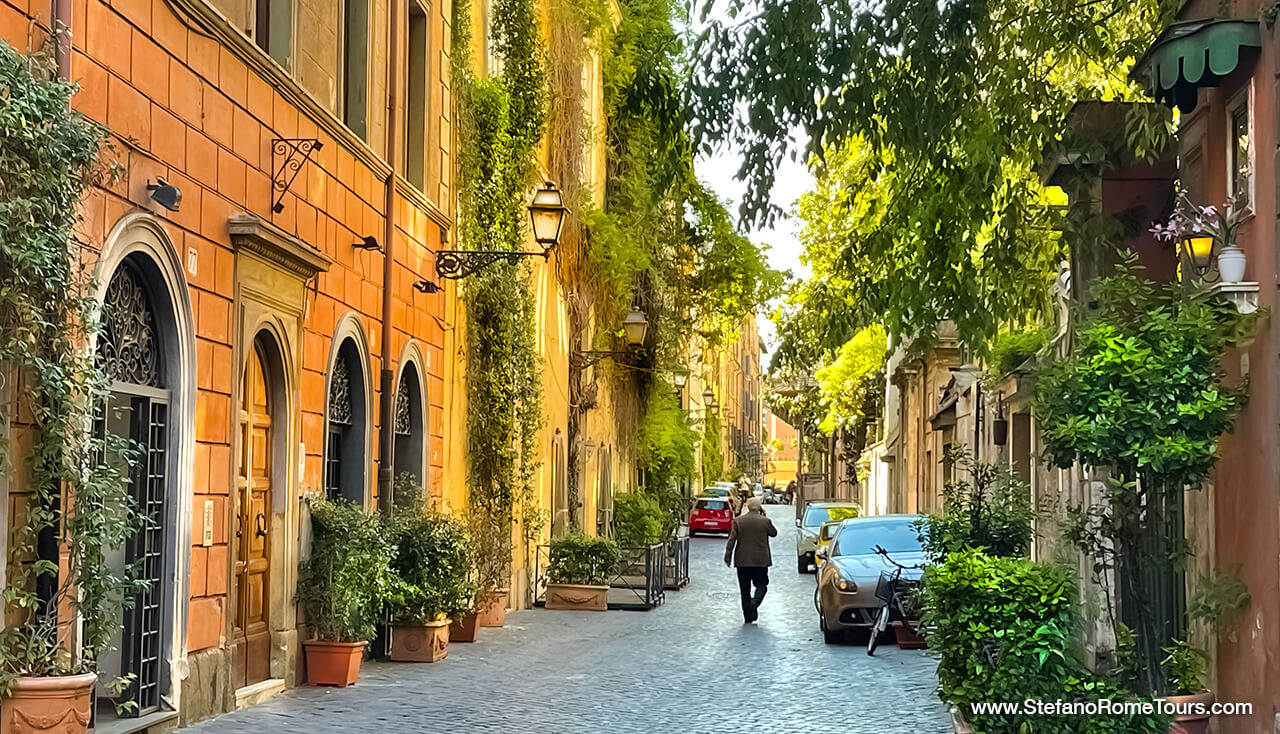 Behind the big doors that are locked to the outside world, is a large atrium with a number of art galleries and multiple bohemian-like apartments stacked in apparently no particular order.
Because this is a private residence, non-residents are not permitted to enter. That's ok, because the narrow Via Margutta itself is far more fascinating with charming aged ochre buildings overtaken by green climbing and hanging ivy, galleries, artisan workshops, and boutiques.
Via Margutta is by far one of the most charming, romantic, and picturesque streets in Rome and it's no wonder it has been featured in Vacanze Romane.
PIAZZA DELLA ROTONDA


As you step into the captivating expanse of Piazza della Rotonda, prepare to be enthralled by the spellbinding sight of the Pantheon and the alluring Fontana del Pantheon. This iconic square has not only captured the hearts of visitors throughout the ages but has also played a starring role "Roman Holiday" / "Vacanze Romane".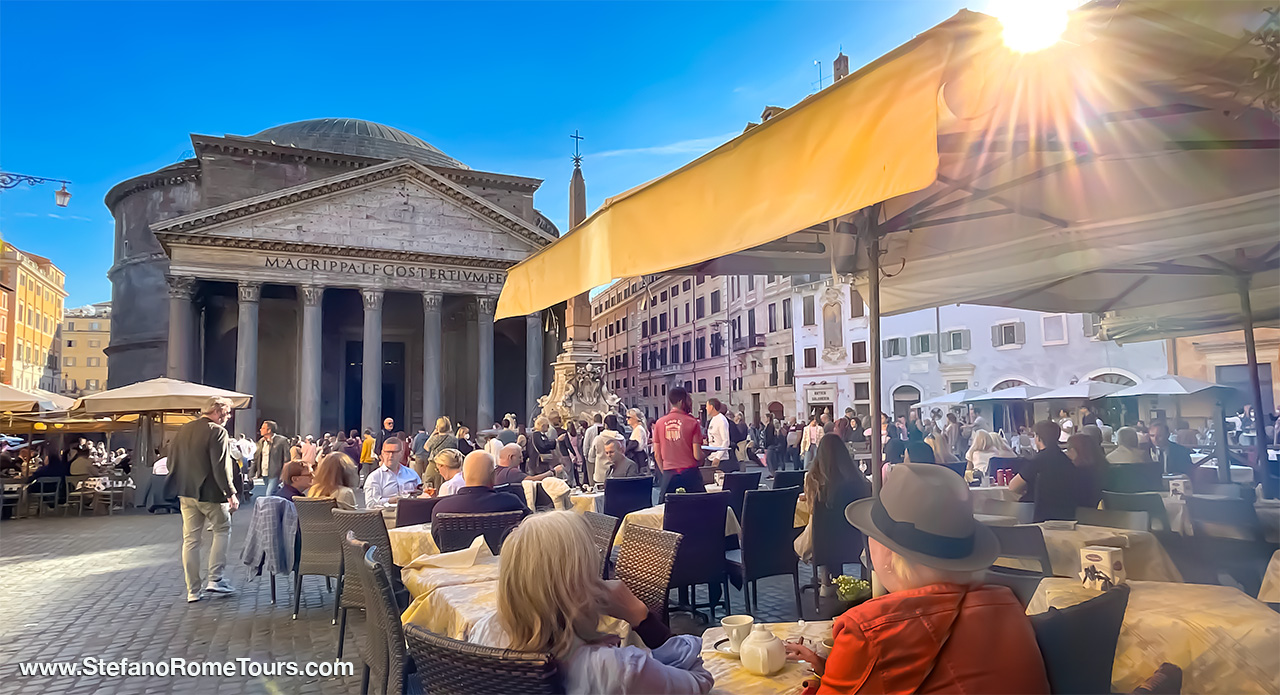 The majestic Pantheon has witnessed the evolution of Rome's history, transitioning from a magnificent pagan temple to the revered church of Saint Mary and the Martyrs. Take a leisurely stroll through the square, where the whispers of time echo through the air, emanating from the historic palazzi that gracefully encircle the square. Discover the hidden gem of the Basilica of Santa Maria Sopra Minerva, its front adorned with the renowned statue of Bernini's elephant gracefully carrying the weight of the obelisk.
Indulge your curiosity as you explore the inviting shops that beckon with their array of exquisite treasures, and walk in the footsteps of iconic film characters. Savor the heavenly flavors of Italian gelato at one of the nearby gelaterias and allow yourself to be transported to a state of pure bliss amidst the lively atmosphere of Piazza della Rotonda, forever entwined with the magic of "Roman Holiday."
Please note: Unfortunately, due to long entry lines, even for visitors with hard-to-obtain pre-booked time slot tickets, a visit inside the Pantheon is not included in this tour
JOE: "Tired?"
ANN: "A little."
JOE: "You've had quite a day."
ANN: "A wonderful day."


This marks the end of your Vacanze Romane / Roman Holiday tour in Rome.
Our sincere hope is that Rome has charmed you in ways it has so many others, and when asked upon your return from your trip:
"Which of the cities visited did you enjoy the most?"
You will answer with the same conviction as Princess Ann: "Rome, by all means, Rome. I will cherish my visit here, in memory, as long as I live".

Thank you for booking our Vacanze Romane Tour and choosing Stefano Rome Tours for your Rome Tours and Italy Shore Excursions from Civitavecchia and beyond. We look forward to meeting you in Rome!
Guests who booked this Vacanze Romane / Roman Holiday tour also enjoyed the following Day Tours from Rome:


Important Information

Please READ the important information below as well as Read & Accept our TERMS OF SERVICE and Privacy Policy prior to placing your reservation request(s).


PAYMENT OPTIONS for Vacanze Romane Tour
Payment for this Vacanze Romane Tour can be made in Euro funds at the end of your journey directly to your driver, or you may prepay in advance via PayPal or Credit Card online when you Confirm your Tour.
CANCELLATION POLICY:
We kindly ask that cancellations of Rome limo tours be made at least 7 days in advance so we can rebook your service and your reserved driver does not lose work for that day. We thank you for your cooperation and consideration.
** PREPAID SERVICES can only be Refunded the Net Rate we receive from your prepayment. Net Rate is the actual service price minus the fees retained by PayPal/Credit Card that are not reimbursed to us in case of refunds. We can only refund the portion we receive from the PayPal/CC company.
EMAIL INQUIRIES / BOOKING REQUESTS
Please allow up to 24 hours for email correspondence in response to email inquiries and tour reservation requests.
We reply to ALL emails and booking requests we receive. If you don't receive correspondence from us within 24-48 hours please CHECK YOUR SPAM FOLDER, or send us an email from a different E-mail account.

COLOSSEUM TICKETS:
Colosseum standard Admission Tickets booked online PENDING AVAILABILITY of tickets at suitable time slots.
** Ticket prices are subject to change without notice, and may change in case of temporary exhibitions.
Please purchase your tickets to the Coliseum in advance as instructed in your Confirmation Email after you book your tour with us online, and be sure to elect to print your vouchers at home and bring them with you in order to avoid long ticket lines. The vouchers are required to be converted into tickets.
Colosseum Tickets sell out fast. If Tickets are SOLD OUT at the time slots suitable for your tour, you may SKIP visiting inside the Colosseum and enjoy other sites instead.
* Colosseum visits are not possible on the 1st Sunday of Each Month due to "Free Entry Sunday" without skip-the-line tickets available to avoid huge entry lines and wait times. Colosseum can be viewed from the outside from the Colosseum Square, and the visit can be replaced with other fabulous sites in Rome.
*** Colosseum has put in place a security checkpoint which has resulted in a waiting line.
This mandatory checkpoint is required of all visitors, including ticket holders.
YOUR ROME TOUR DRIVER


This Vacanze Romane Tour provides an English-speaking Driver who is NOT a Licensed Tour Guide.
* Italy has strict laws and regulations aimed to protect official licensed guides that make it unlawful for Drivers to act as tour guides or accompany guests to sightsee on foot away from the vehicle. In order for us to comply with Italy's laws, Drivers are required to remain with the vehicle while guests sightsee away from the vehicle.
* On this Vacanze Romane / Roman Holiday Tour by car, you will SELF TOUR (unaccompanied by your driver) when away from the vehicle.
* You will be dropped off as close to the sites as possible in accordance with municipality and traffic laws.
MEETING POINTS TO MEET YOUR PRIVATE DRIVER

For Vacanze Romane Tour from Rome Hotel
For Day Tours from Rome Hotels, your driver will meet you inside the lobby of your hotel or area permitted by your hotel.
At Apartments or B&Bs without a lobby, your driver will meet you outside the main entrance of your Address.
* If your hotel or accommodation is located on a street or in an area that is restricted to vehicle traffic, your driver will park as close as lawfully possible, and meet you on foot at your Address to accompany you to your parked vehicle.

For Shore Excursions from Civitavecchia:
For Shore Excursions from Civitavecchia, your driver will meet you on the Pier next to your Ship at your tour's scheduled pick-up time holding a sign with the NAME in your reservation.
Do NOT leave the ship area, and do NOT take a shuttle bus outside the port.
Look for your driver in the same area on the Pier as ALL private drivers will be waiting for their clients. After you meet your driver you will be accompanied to your vehicle and your Rome private shore excursion will begin with a leisurely drive from Civitavecchia to Rome.