description
* ANGELS AND DEMOS TOUR PRICE LIST

TOUR FROM ROME HOTEL
For up to 4 Persons from Rome Hotel: 400 EUROS
For up to 6 Persons from Rome Hotel: 425 EUROS
For up to 8 Persons from Rome Hotel: 450 EUROS

SHORE EXCURSION FROM CIVITAVECCHIA CRUISE PORT
For up to 4 Persons from Civitavecchia: 550 EUROS
For up to 6 Persons from Civitavecchia: 600 EUROS
For up to 8 Persons from Civitavecchia: 650 EUROS

** Dates on the Booking Form Calendar that are NOT Selectable, are NOT AVAILABLE.
This tour is NOT available on Mondays or Sundays due to sites being closed. Various sites also close on national holiday as well.
You also have the option to customize this tour to substitute the sites that are closed with other popular locations in Rome. Please contact us via E-mail for assistance.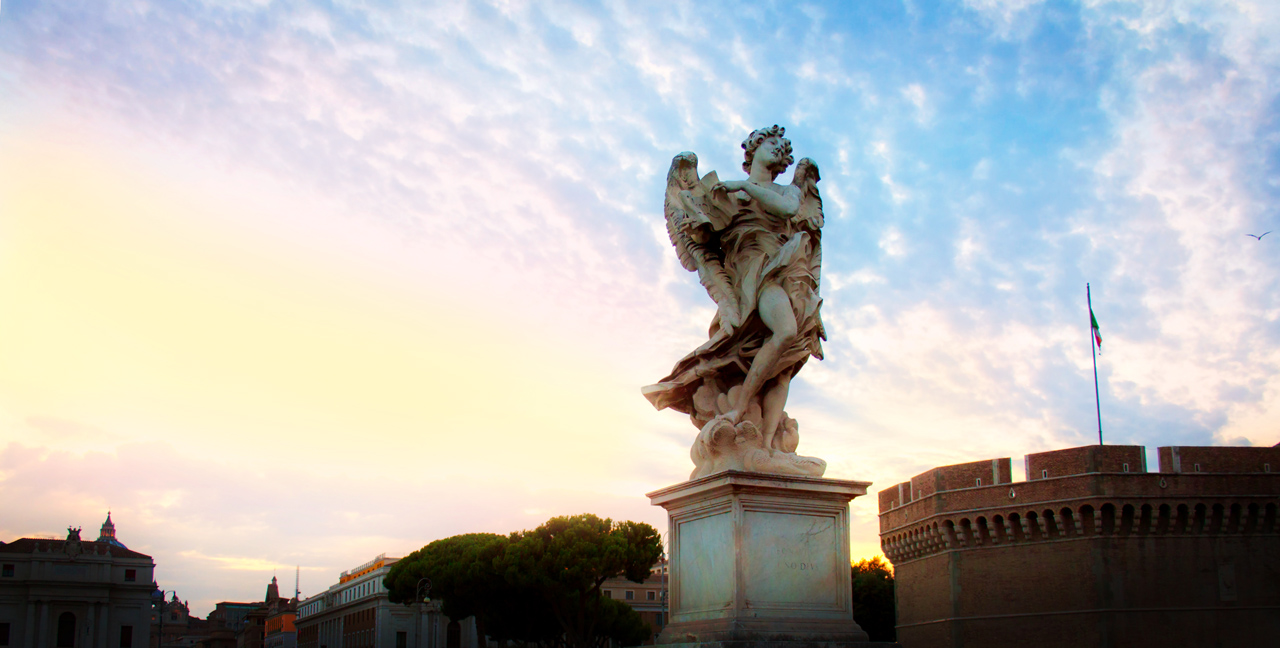 From the bustling streets of Rome to the mystery and intrigue of the hallowed halls of the Vatican, travel with us as we visit the setting of Dan Brown's hit book and movie, "Angels and Demons".
You will visit the very sites where the movie was filmed and the book is set in. Our private Angels and Demons Tour of Rome takes you to some of the most wonderful piazzas in Rome, and also some lesser known places away from tourist areas where pagan symbolism and Christianity intermingle.
SANTA MARIA DEL POPOLO CHURCH (EARTH)

Santa Maria del Popolo Church situated in Piazza del Popolo was constructed during the Crusades.
It is considered today one of the most important works of the Renaissance. The interior is enriched by the extraordinary chapel, the Capella Chigi (the Chigi Chapel), one of Raphael's most important architectural works.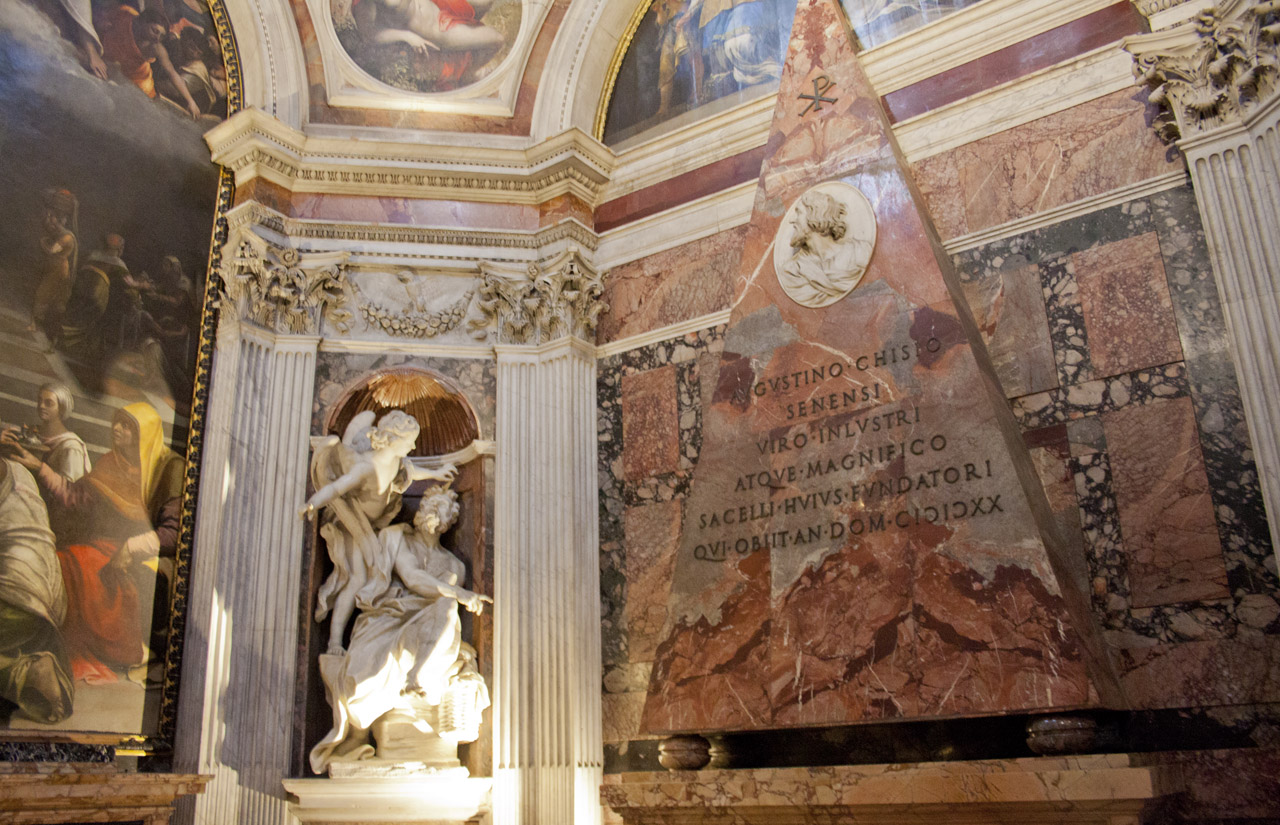 In "Angels and Demons" novel and movie, the Chigi Chapel represents the element of Earth. This unique church is remarkably rich with symbolism and tombs, many that you can discover right beneath your feet!
Be sure that you also go down the nave and look into the left hand transept inside the Cappella Cerasi where there are two exceptional masterpieces by Caravaggio: the Conversion of St. Paul and the Crucifixion of St. Peter.
SANTA MARIA DELLA VITTORIA CHURCH (FIRE)

The remarkably beautiful St. Maria della Vittoria church was built in 1605 and originally dedicated to St. Paul.
In 1620, it was rededicated to the Virgin Mary. This church has many fascinating aspects. It is the home of 'Ecstasy of Saint Theresa", created by the famed sculptor, Gian Lorenzo Bernini.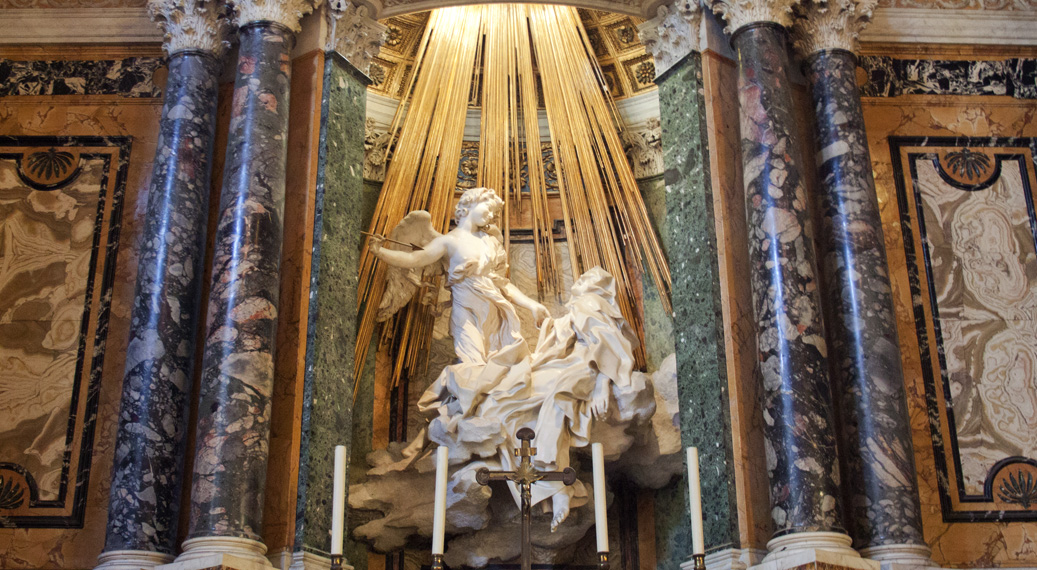 The sculpture depicts a vision that Saint Theresa experienced of an angel piercing her heart with a shaft of gold. She claimed that she experienced both pain and great joy during this vision.
In "Angels and Demons" novel and movie, this jewel of a church represents the element of Fire.
THE PANTHEON

Your private Rome tour will take you to the magnificent rotund Pantheon was once the temple dedicated to all Roman gods.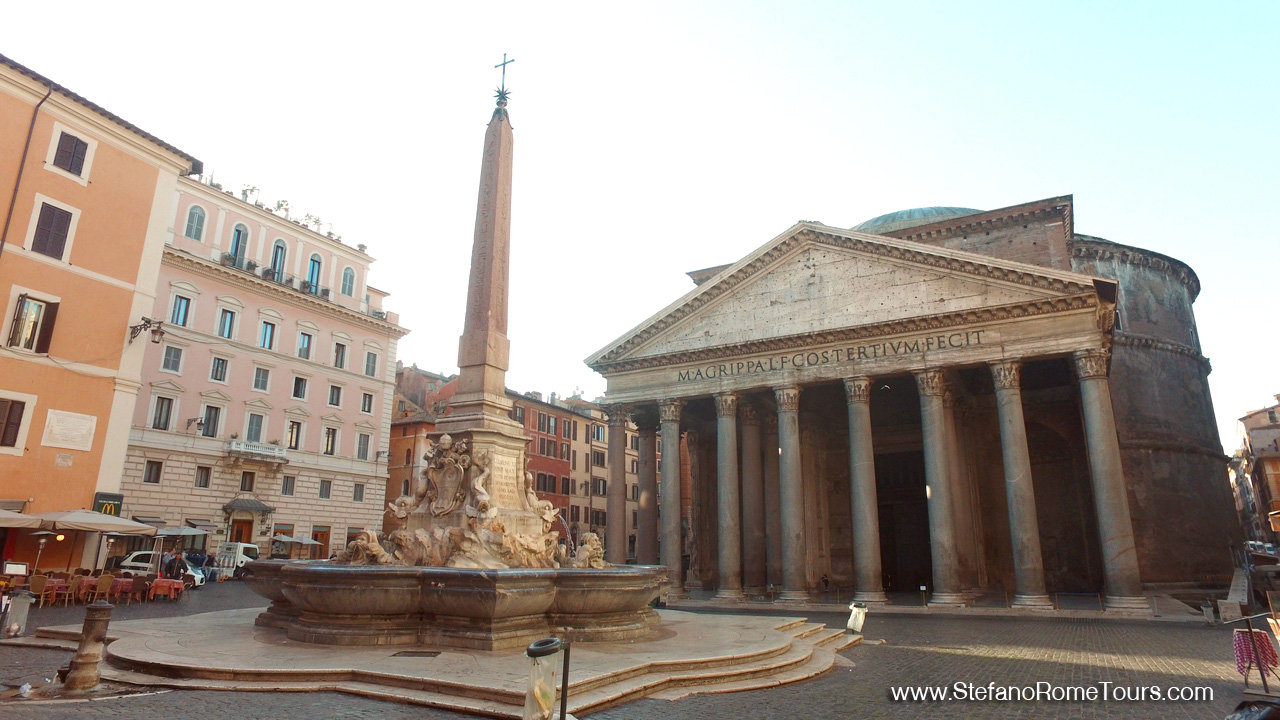 During the 7th century, the Pantheon became a church and burial place for kings and artists. One such famous artist mentioned in "Angels and Demons" novel and movie and whose tomb can be seen inside the Pantheon is Raphael
** NOTE: the Pantheon now requires ADMISSION TICKETS to be booked online in advance at specific time slots. Scroll BELOW for more information.


PIAZZA NAVONA (WATER)


Not to be missed on any tour of Rome is the lovely Piazza Navona. This piazza is virtually filled with light and sculpture. It is exceptionally long due to the ruins that formed it.
Beneath the buildings that surround Piazza Navona are the remains of the Circus Domitianus, Emperor Domitian's stadium.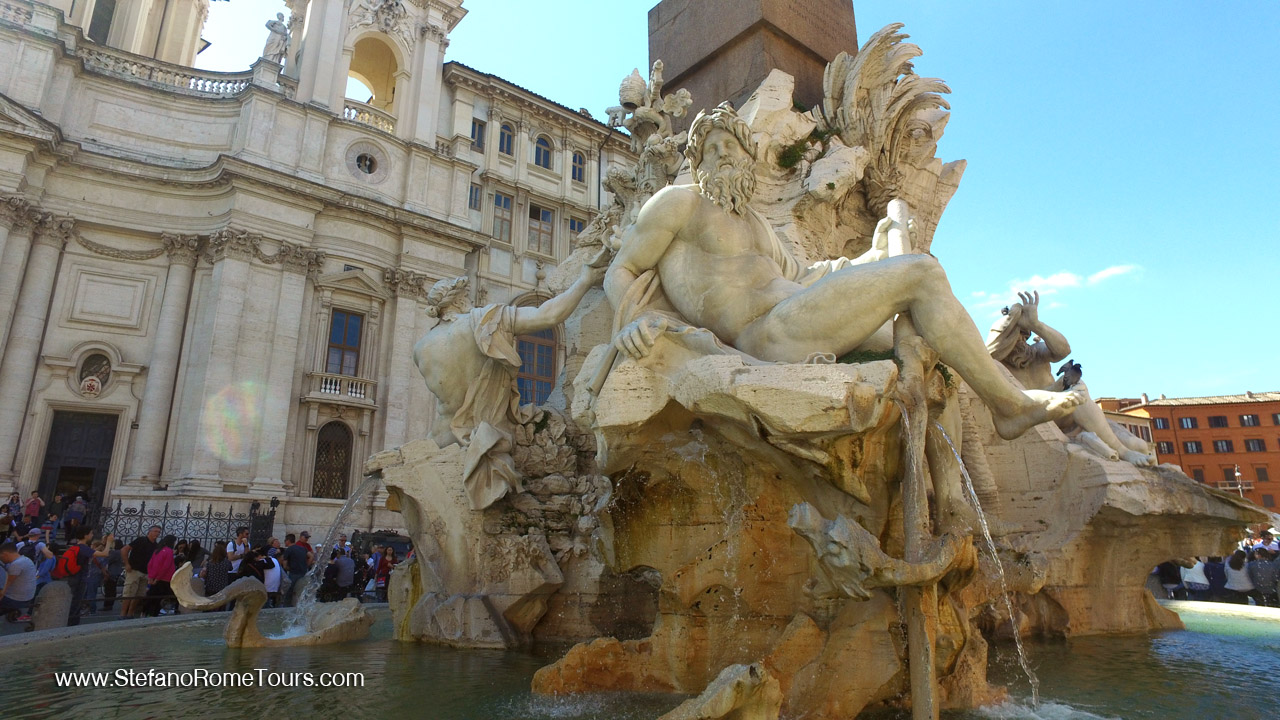 Piazza Navona is famous for its centerpiece created by the famous Gianlorenzo Bernini: Fontana dei Quattro Fiumi or The Fountain of Four Rivers represents the rivers flowing through the four known continents during the 1600's: the Nile, Danube, Rio and Plate.
Erected in its center is a tall Egyptian obelisk with the family symbol of Pope Innocent X who commissioned the project.
This fountain is also the setting in "Angels and Demons" novel and movie for the scene that represents the element of Water.
Located on the western side of the piazza is the charming church of Sant'Angese in Agone. Legend tells us that it was here that young Agnese was exposed naked before being martyred for refusing to marry the Roman Prefect's son, but a miracle occurred when she was covered with thick hair appearing to cover her body. The church was commissioned by Pope Innocent X in 1652.
CASTEL SANT'ANGELO

Castel Sant' Angelo is one of the significant settings in "Angels and Demons" novel and movie. You have the opportunity to enjoy a stop for an outside view of this overwhelming structure that was originally the tomb of the Emperor Hadrian. The ashes of his wife, Sabina, and the ashes of his first adopted son, Lucius Aelius, are also within the Castle.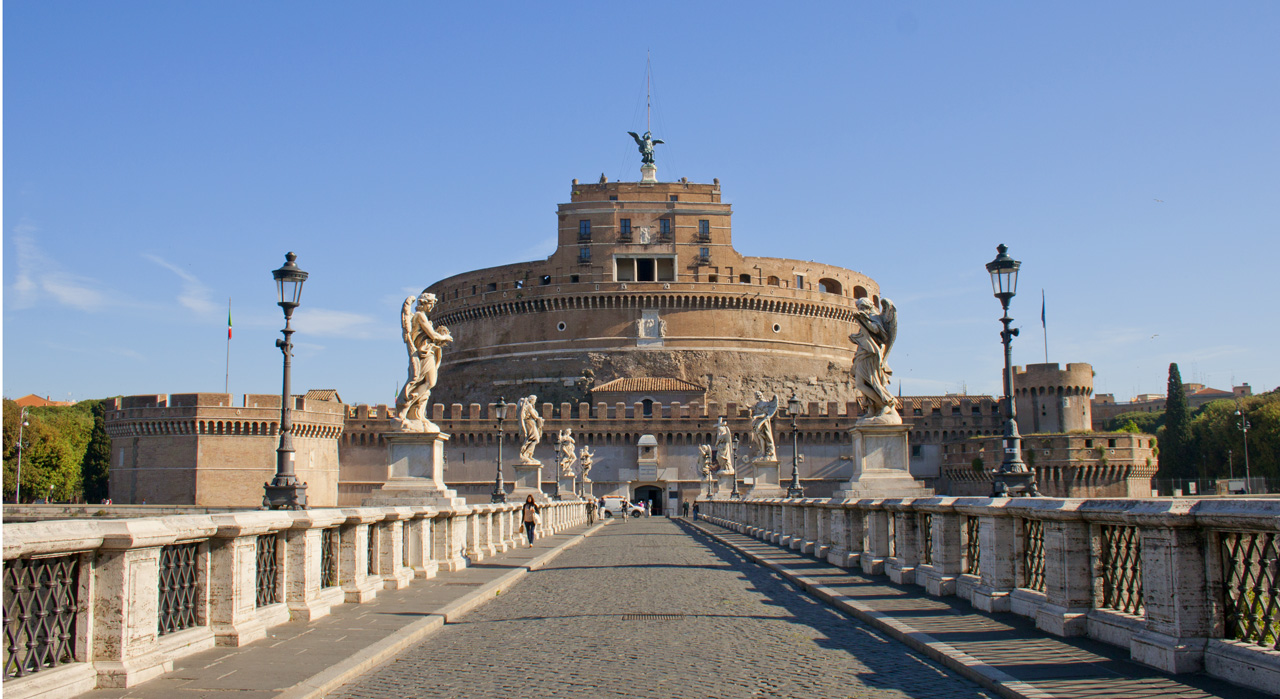 In the 14th century, the popes converted the structure into a castle. Pope Nicholas III connected the castle to Saint Peter's Basilica by a covered fortified corridor called the Passetto di Borgo that ensured the safe passage for Popes into the castle during dangerous times.
The famous Ponte San'tAngelo facing the monument was originally a 2nd century Roman bridge completed by Emperor Hadrian. The stunning statues of the apostles that grace the bridge were commissioned in mid 16th century. While you enjoy a stroll around these remarkable landmarks, be sure to also take photos!
THE VATICAN (AIR)

After lunch, you will visit the smallest country in the world, the Vatican.
Our first stop will be the Vatican Museums where you will be amazed and delighted at the vast collection of masterpieces, including the Raphael Rooms and the Sistine Chapel.
The Vatican Museums is one of the three largest museums in the world with a labyrinth of galleries and halls that make up one of the most fascinating art collections in the world, from the ancient eras, or modern art.
Saint Peter's Basilica is the largest church in Christendom, and the most important setting in the story of "Angels and Demons" novel and movie with Saint Peter's Square representing the element of Air.
In the movie, Saint Peter's Basilica and Square, along with the other churches, the Sistine Chapel, the Pantheon and Piazza Navona, were movie sets created and filmed at Sony Pictures Studios in Culver City, California). This tour offers the excellent opportunity to visit these magnificent places as they exist in real life, while enjoying the lively scenery around Rome as seen in the film.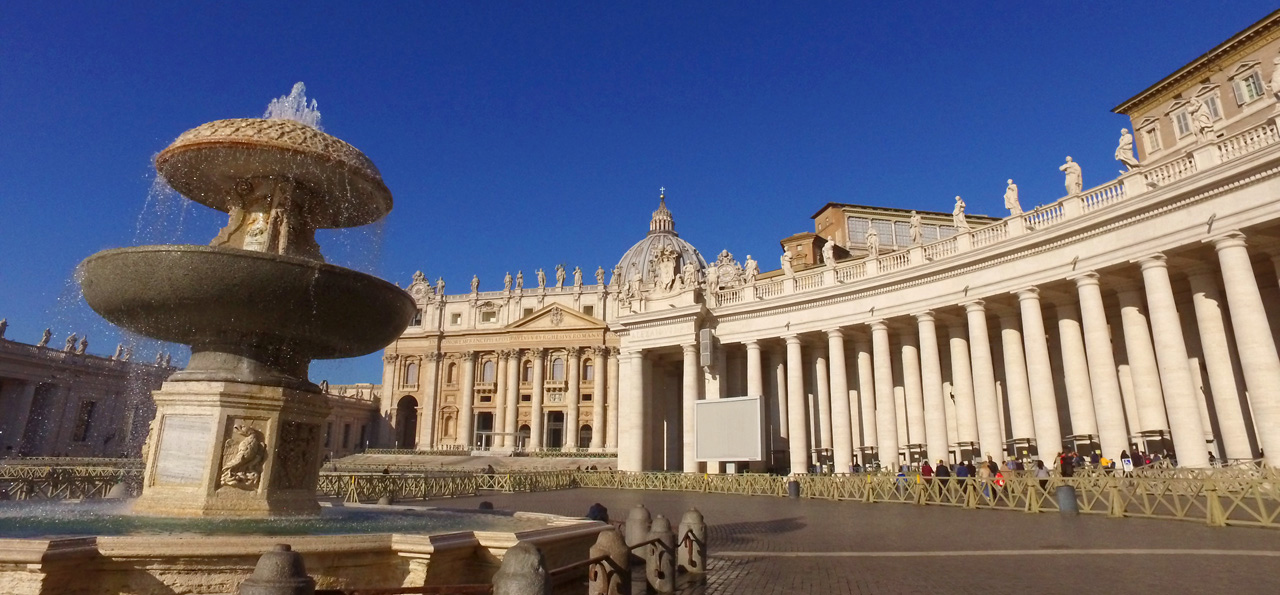 RECOMMENDATION FOR ST PETER'S BASILICA

If you wish to be guaranteed a visit to St Peter's Basilica, we strongly recommend booking also a Licensed Tour Guide for a private guided tour of the Vatican that also includes direct backway access to Saint Peter's Basilica through the current Designated Entrance for "Guided Visitors Only".
Currently, the Vatican currently does NOT permit access to the Basilica to visitors without a Licensed Tour Guide.
Without a Tour Guide (SELF TOURING), you may be required by the Vatican security to exit the Vatican Museums, be driven by your Driver around the Vatican and be dropped off near St Peter's Square and attempt to access the Basilica from St Peter's Square. Unfortunately security lines to enter the Basilica can be unpredictably long and if you run out of time (especially ontime restricted shore excursions) you may not have sufficient time to visit the Basilica as well.
See Vatican Tour Guide Information and Prices BELOW.


This marks the end of the Angels and Demons Tour. From here, your driver will drive you back to your hotel in Rome or your cruise ship at the port of Civitavecchia.
We thank you for choosing Stefano Rome Tours for your Rome Tours, Day Tours from Rome, and Private Italy Excursions. We look forward to showing you Italy!
Guests who enjoyed this Angels and Demons Tour also booked the following Day Tours from Rome:


Important Information

Please READ the important information below as well as Read & Accept our TERMS OF SERVICE and Privacy Policy prior to placing your reservation request(s).


PAYMENT OPTIONS for Angels and Demons Tour:
Payment for this Angels and Demons Tour can be made in Euro funds at the end of your journey directly to your driver, or you may prepay in advance via PayPal or Credit Card online when you Confirm your Tour.

CANCELLATION POLICY:
We kindly ask that cancellations for Rome in limo tours be made at least 7 days in advance so we can rebook your service and your reserved driver does not lose work for that day. We thank you for your cooperation and consideration.
** PREPAID SERVICES can only be Refunded the Net Rate we receive from your prepayment. Net Rate is the actual service price minus the fees retained by PayPal/Credit Card that are not reimbursed to us in case of refunds. We can only refund the portion we receive from the PayPal/CC company.

EMAIL INQUIRIES / BOOKING REQUESTS
Please allow up to 24 hours for email correspondences in response to email inquiries and tour reservation requests.
We reply to ALL emails and booking requests we receive. If you don't receive correspondence from us within 24-48 hours please CHECK YOUR SPAM FOLDER, or send us an email from a different E-mail account.
PANTHEON Admission Tickets:
The Pantheon now requires ADMISSION TICKETS currently priced at 5 EUROS Per Person to be booked in advance at specific time slots. After you book this tour, we will provide you with the LINK to the Ticket Website and recommended Time Slot to book your tickets in advance. ** Ticket Prices are always subject to change without notice.

* VATICAN MUSEUM ADMISSION TICKETS:
Price of Vatican Museums Admission Tickets booked online at the current price of 21 Euros per person. Please book your admission tickets for a 1:30- 2:00 PM time slot, or as instructed in your Confirmation Email.
* Ticket prices may change without notice at the discretion of the monuments and museums and cannot be guaranteed until they are actually booked.
* Remember to bring the printed ticket vouchers for Vatican Museums with you in order to enter the museum. You cannot enter without your printed vouchers.


VATICAN MUSEUMS TICKETS SELL OUT FAST AND ARE NOT GUARANTEED!
YOUR STEFANO ROME TOURS DRIVER
This Angels and Demons Tour provides an English-speaking Driver who is NOT a Licensed Tour Guide. Your driver will be happy to provide general touristic information while at the vehicle, but will not be able to accompany you to sightsee away from the vehicle.
* Italy has strict laws and regulations aimed to protect official licensed guides that make it unlawful for Drivers to act as tour guides or accompany guests to sightsee on foot away from the vehicle. In order for us to comply with Italy's laws, Drivers are required to remain with the vehicle while guests sightsee away from the vehicle.
* On this Angels and Demons Tour by car you will SELF TOUR (unaccompanied by your driver) when away from the vehicle.
* You will be dropped off as close to the sites as possible in accordance with municipality and traffic laws.
MEETING POINTS TO MEET YOUR DRIVER

For Rome tours starting from your Rome hotel / accommodation:
Your driver will meet you inside the lobby of your hotel or area permitted by your hotel.
For Apartments or B&B's without a lobby, your driver will meet you outside the main entrance of your Address.
* If your hotel or accommodation is located on a street or in an area that is restricted to vehicle traffic, your driver will park as close as lawfully possible, and meet you on foot at your Address to accompany you to your parked vehicle. Door to Door service may not be possible on streets or squares that are limited or restricted to vehicles access or ability to stop.


For Shore Excursions from Civitavecchia:
Your driver will meet you on the Pier next to your Ship at your tour's scheduled pick up time holding a sign with the NAME in your reservation.
Do NOT leave the ship area, and do NOT take a shuttle bus outside the port.
Look for your driver in the same area on the Pier as ALL private drivers will be waiting for their clients. After you meet your driver you will be accompanied to your vehicle and your Rome private shore excursion will begin with a leisurely drive from Civitavecchia to Rome.

IMPORTANT Regarding visiting SAINT PETER'S BASILICA
If visiting St Peter's Basilica is important to you, we suggest booking a Private Licensed Tour Guide to be guaranteed visit to St Peter's Basilica via the shortcut backway entrance from inside the Sistine Chapel currently designated for "Visitors with Tour Guides only".
Without a Tour Guide to access the basilica (SELF TOURING), you may be required by the Vatican security to exit the Museums and attempt to access the Basilica from St Peter's Square where you may find potentially long security lines that may prevent you from having sufficient time to also visit the Basilica. We cannot guarantee you will be able to also visit St Peter's Basilica without a licensed tour guide if you run out of time. Visitor situations inside the Vatican can change or vary without notice and it is outside of our control.
While you may extend your Rome in a Day Tour starting from Rome hotel by the hour if needed at standard Hourly Rates, this would not be possible on a Rome shore excursion from Civitavecchia due to ship schedule restrictions.

PRIVATE VATICAN GUIDED TOURS:
Vatican Tour Guides offer a valuable service so you enjoy an informative private guided tour of the Vatican Museum highlights, Sistine Chapel and St Peter's Basilica, and will take you directly to your Driver at the end of your tour right on time.
The Vatican Museums is also vast and complex, making it easy for many visitors to get lost inside the multi level labyrinth of halls and galleries and miss out on many of the Must See works of art and masterpieces.
Vatican Tour Guides are also STRONGLY RECOMMENDED on Shore Excursions from Civitavecchia so you will not risk getting lost inside the Vatican and potentially exiting too late as a result placing you at risk of arriving LATE to your ship.


Please inquire within for TOUR GUIDE FEES and how to BOOK your Private Vatican Guide.
We can book a Licensed Tour Guide for you upon request and make all the necessary arrangements. Tour Guides are paid separetly and directly in Euros at the conclusion of their walking tour as the Guides do NOT work for us, they work independently.

ANGELS AND DEMONS SHORE EXCURSION TOUR SHARING
You can save a lot on this Angels and Demons Shore Excursion from Civitavecchia by sharing your tour with up to 8 fellow cruisers per minivan! It's so easy to do: place an ad on the Cruise Critic roll call with a link to this tour and invite others to join you. Share the fun and the expense. Learn HOW: TOUR SHARING