description

Indulge in a day trip from Rome to Tuscany's wine country and discover the flavors of the celebrated Brunello wines. Visit an esteemed wine estate in Tuscany's wine country for a relaxing wine tour and wine-tasting experience. Revel in the sacred tranquility of the medieval Abbey of Sant'Antimo. Explore Montalcino, the majestic Tuscan town famous for its imposing fortress and exquisite Brunello di Montalcino.

Your personal Stefano Rome Tours English-speaking Driver will pick you up at your hotel in Rome and whisk you on an exciting Tuscany Brunello Wine Tour from Rome.
TUSCANY BRUNELLO WINE TOUR FROM ROME:


Minimum 2 persons from Rome Hotel: 500 EUROS
For up to 4 persons from Rome Hotel: 550 EUROS
For up to 6 persons from Rome Hotel: 600 EUROS
For up to 8 persons from Rome Hotel: 650 EUROS

* Prices do NOT include Winery Fees
** WINERY FEES are approximately 35 Euros Per Person which also includes a tour of the winery and a selection of cold cuts and cheese. See BELOW for more information.
*** Dates on the Booking Form Calendar that are NOT Selectable, are NOT AVAILABLE.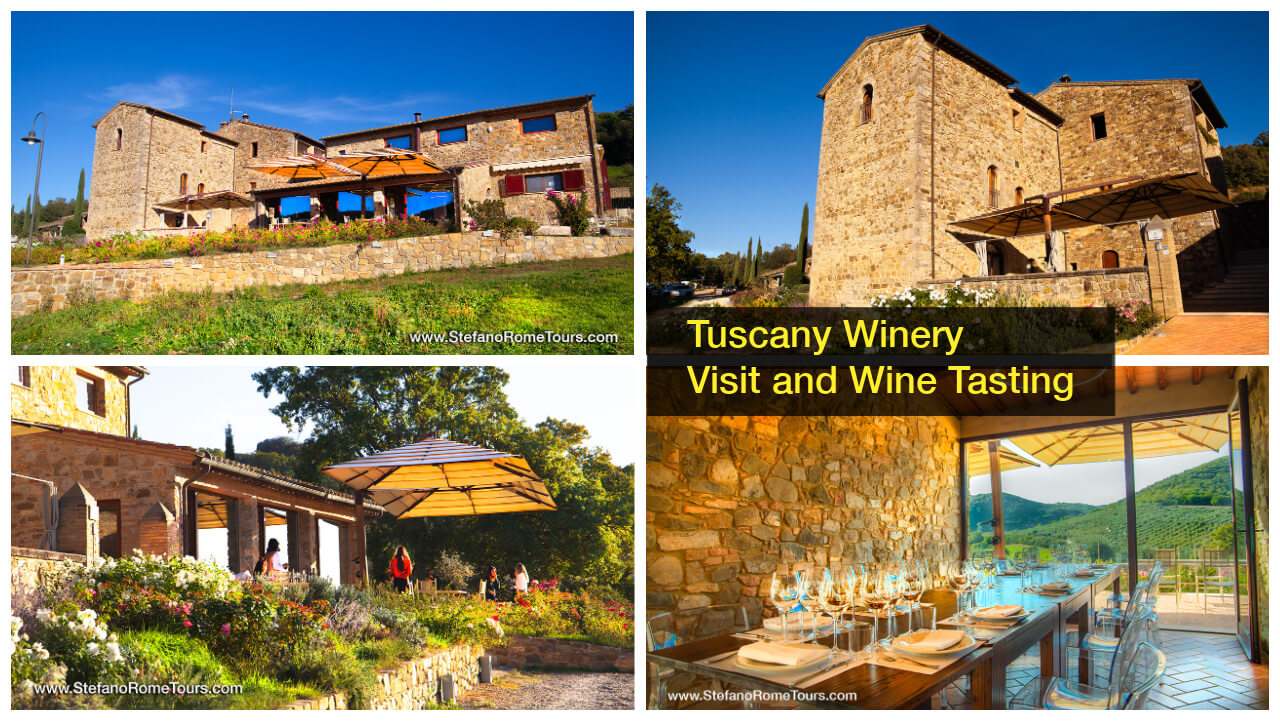 TUSCANY WINERY Visit and Wine Tasting

Your Tuscany Brunello Wine Tour from Rome begins with a relaxing drive from your hotel in Rome traversing the gentle landscapes of the Italian countryside into Tuscany for your visit to a local wine estate.
Relish a wine-tasting experience inside the winery's wine-tasting room or outside on the terrace surrounded by vineyards and olive orchards. Savor locally produced varieties of Brunello di Montalcino, Poggio Torto, and Rosso di Montalcino wines along with a tasty charcuterie of a locally sourced selection of cold cuts and cheese.

You may book in advance a winery tour to learn more about the local traditions of winemaking and viticulture. Your winery visit will last approximately 1.5 hours.
To offer you maximum flexibility in case members of your party are not able to partake in wine tasting, winery fees are NOT included in our tour fee.

** WINERY FEES are approximately 35 Euros Per Person which also includes a tour of the winery and a selection of cold cuts and cheese. See BELOW for more information.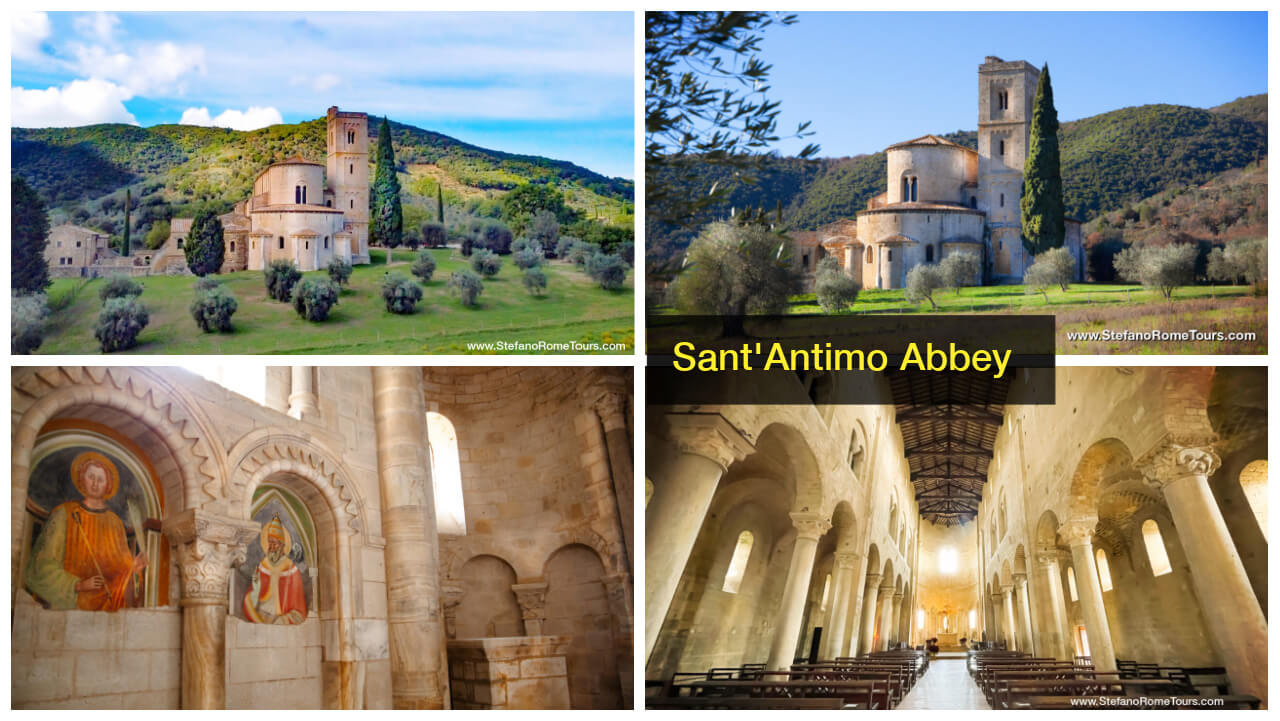 SANT'ANTIMO ABBEY - visit the sacred medieval abbey

After your winery visit, your driver will take you for a short drive to the historical Sant'Antimo Abbey for a brief visit.

Standing in majestic solitude in a valley below the medieval hilltop village of Castelnuovo dell'Abate, this captivating abbey is picturesquely situated among olive groves and pastoral fields.

The original abbey was founded by Charlemagne between the 8th-9th century AD following a miraculous healing he experienced in this location when he was struck by a pestilence while traveling. The current Romanesque-style abbey was built in the 12th century, but the ancient Carolingian chapel is still evident.

Regarded as a masterpiece of medieval architecture, the abbey's solemn and mystical atmosphere transports you to the middle ages' austere monastic life. A peaceful silence permeates the unembellished travertine and alabaster walls. Currently, Sant'Antimo Abbey accommodates a small community of diocesan priests and laypeople with established ministries whose daily monastic services evolve around the Benedictine way of life.

Visit the abbey's monastic pharmacy located in the ancient treasure chamber and browse the wide variety of food products such as herbal teas, candies, fruit jams, honey, and artisan beer crafted according to centuries-old monastic herbal recipes. You will also find natural body care products made with natural essences, olive oil, and herbs. Browse the monastic pharmacy and select the perfect gift that loved ones back home will cherish.
Following your visit at Sant'Antimo Abbey, you will join your private driver for a scenic drive through Tuscany's winding country roads surrounded by vineyards and bucolic hills until you will arrive in Montalcino.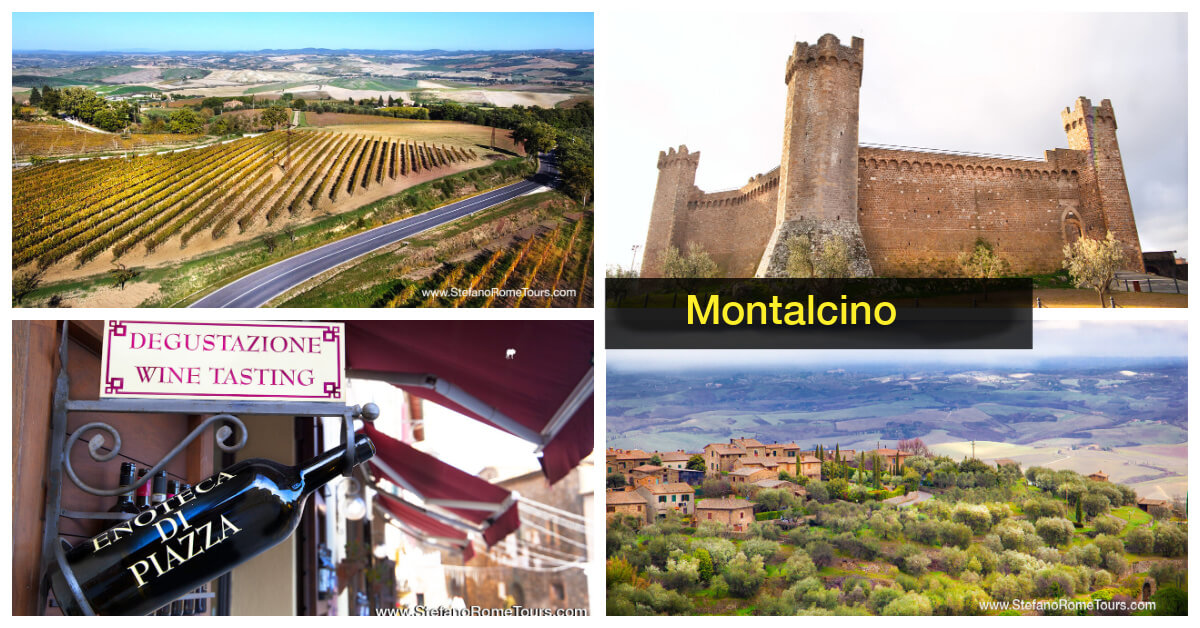 MONTALCINO - home of Brunello di Montalcino
Your Tuscany Brunello Wine Tour continues to Montalcino, a treasured Tuscan surrounded by picturesque vineyards that grow the fruit out of which the celebrated Brunello wines are made. From its lofty height, Montalcino overlooks the entrancing Valley of Orcia (Val d'Orcia), one of Tuscany's most beautiful landscapes.

Montalcino is an ancient hilltop town with roots that reach back to the Etruscans, an ancient advanced civilization that thrived in this glorious region for centuries before being conquered by the expanding Romans. In ancient times, Montalcino was known as Monte Ilcinus, which derived from the oak trees that once covered this area. The first written documents that refer to its modern name "Montalcino" appeared in the early 9th century.

The first thing you will notice about Montalcino is its magnificent 14th-century fortress. Built over earlier fortifications, the fortress of Montalcino served as the last bastion of resistance of the Sienese Republic against Medici's continuous expansion and conquests.

In Montalcino, you will enjoy free time on your own for lunch, a stroll along the medieval streets lined with wine shops that sell the local red elixir, window shop, and admire the fortress.
Apart from its splendid beauty and fascinating history, Montalcino is mostly famous for its prestigious local wine Brunello di Montalcino made from 100% Sangiovese grapes. With numerous wine shops (enoteche) in Montalcino, you will have the opportunity to treat your palette with samplings of different Brunello wines from different local wine producers. Learn More about Brunello di Montalcino wine below.

Bid farewell to Montalcino as you will once again join your driver for a relaxing drive through Tuscany back to your hotel in Rome, committing to memory every moment of your unforgettable tour into Tuscany's idyll wine country.

Thank you for booking our Brunello Tuscany Wine Tour from Rome and for choosing Stefano Rome Tours for your Italy private tours. We look forward to meeting you in Italy!
Important Information

Please READ the important information below as well as Read & Accept our TERMS OF SERVICE and Privacy Policy prior to placing your reservation request(s).


PAYMENT OPTIONS:
Payment can be made in Euro funds at the end of your journey directly to your driver, or you may prepay in advance via PayPal or Credit Card online when you Confirm your Tour.


CANCELLATION POLICY:
We kindly ask that cancellations be made at least 7 days in advance in writing via E-Mail. Cancellations by phone, text, or 3rd party who is not the person who booked the service are NOT accepted.

** PREPAID SERVICES can only be Refunded the Net Rate we receive from your prepayment. Net Rate is the actual service price minus the fees retained by PayPal/Credit Card that are not reimbursed to us in case of refunds. We can only refund the portion we receive from the PayPal/CC company.


** This Tuscany Wine Tour is offered AS IS without modifications to the existing itinerary, towns, or winery. If you wish to make any changes to this wine tour please send us an email and we will gladly assist you with a customized tour to suit your preferences.

WINE TASTING IN TUSCANY Price, information:


Winery Fee for wine-tasting with a tour of the winery and a selection of cold cuts and cheese is approximately 35 Euros Per Person payable directly to the winery. Your winery visit lasts approximately 1.5 hours. (* winery fees can change without notice as it's at the discretion of the wine estate).

Winery fees are NOT included in our tour fee in order to be able to accommodate guests who cannot partake in wine tasting.

Your winery visit includes moderate walking and standing. You might find uneven natural terrain and inclines to negotiate. Casual, weather-appropriate clothing and comfortable walking shoes are recommended on this tour.
Participants must be of legal drinking age (18 years) to participate in wine tasting.

Wineries must be booked in advance pending availability. If this winery is booked on your tour date, we can suggest a different Tuscany wine tour from Rome.



YOUR STEFANO ROME TOURS DRIVER
This tour provides an English-speaking Driver who is NOT a Licensed Tour Guide or sommelier.
* Italy has strict laws and regulations aimed to protect official licensed guides that make it unlawful for Drivers to act as tour guides or accompany guests to sightsee on foot away from the vehicle. In order for us to comply with Italy's laws, Drivers are required to remain with the vehicle while guests sightsee on their own away from the vehicle.
* On this Tuscany Brunello Wine Tour from Rome you will SELF TOUR (unaccompanied by your driver) when away from the vehicle.
MEETING POINT to meet your Driver at your Hotel Accommodation:
From your hotel, your driver will meet you inside the lobby of your hotel or the area permitted by your hotel.
For Apartments or B&Bs without a lobby, your driver will meet you outside the main entrance of your Address.
* If your hotel or accommodation is located on a street or in an area that is restricted to vehicle traffic, your driver will park as close as lawfully possible, and meet you on foot at your Address to accompany you to your parked vehicle.
WHAT IS BRUNELLO DI MONTALCINO WINE?


Brunello wine is a fairly new "invention" crafted in the mid-1800s by Clemente Santi who endeavored to diversify local wine production creating methods appropriate for making wine suitable for aging. His efforts successfully yielded a rich deep reddish-brown wine ("bruno") that was named Brunello. Brunello di Montalcino was also the first wine to be granted the coveted Italian DOCG status ( Denominazione di Origine Controllata e Garantita ).

Brunello wine is medium-bodied and characterized by a strong robust structure with pronounced tannins, high acidity, and subtle flavors often described as red plum, spice, wild berry, vanilla, chocolate, and sweet tobacco. According to production disciplinary, Brunello di Montalcino must age a minimum of 2 years in cask, and even longer for reserve wines as it's intended to be aged for years.

Brunello's flavors change with age, making it a more exclusive and expensive wine cherished by wine connoisseurs.