description
ORVIETO AND MONTEPULCIANO TOUR PRICE LIST
For up to 4 Persons from Rome Hotel: 500 EUROS
For up to 6 Persons from Rome Hotel: 550 EUROS
For up to 8 Persons from Rome Hotel: 600 EUROS
* DATES on the Booking Form Calendar that are NOT Selectable, are NOT AVAILABLE.


Enjoy a visual journey of Orvieto and Montepulciano Tour VIDEO:


Our Wine Tasting Tour to Orvieto and Montepulciano with Stefano Rome Tours will take you to the resplendent regions of Umbria and Tuscany where you will have the opportunity to sample the best Italian wines of the regions at local wine shops while enjoying two of Italy's most splendid towns, and journey through the legendary scenery that makes these regions among the most spectacular n Italy.
ORVIETO - the jewel of Umbria


Upon our arrival in the town of Orvieto, you have the option to visit the Cantina Foresi, located right on the beautiful Piazza del Duomo di Orvieto, in the shadow of the cathedral.
The old Cantina Foresi offers wine tastings of some excellent local specialties, some of which you just might not be able to find at home!
Orvieto and famous for its wild boar ham and salami, cheese, bacon (pancetta), and porchetta colonnata. Porchetta is one of the most delicious dishes in Italy. It is similar to a pork roll; the pork is arranged carefully with layers of stuffing, meat, fat, and skin, then rolled, put on a spit, and roasted, traditionally over wood. It is usually salted in addition to being stuffed with garlic, rosemary, fennel, or other herbs, often wild.
The colonnata is a type of cured pork fat from the little village of Colonnata, high up in the Apuan Alps in Northern Tuscany. Colonnata is close to Carrara, famous for its fine marble, and lardo was the food of the marble quarries: cheap and filling.
Today, lardo di colonnata is a delicacy, rather like a fine ham. It is silky, smooth, and very tasty along with the porchetta. And what is delicious gourmet food without a wonderful wine to sip with it?
In Orvieto, you can taste a variety of fine wines produced in Umbria and Tuscany at various local wine shops: Orvieto Classico, Sassicaia, Tignanello, Sagrantino di Montefalco, Brunello di Montalcino, Chianti Classico, Ornellaia and more.
The excellent wines are mainly white wines made from a blend of mostly Grechetto and Trebbiano. The region has been producing wine since the middle ages, and today's white Orvieto is dry, but a semi-sweet style, known as Orvieto Abboccato, and dolce (sweet), are also produced in small quantities.
Wine tastings are offered throughout Orvieto's wine shops, providing you with ample opportunities to sample the local wines while you enjoy the historic town.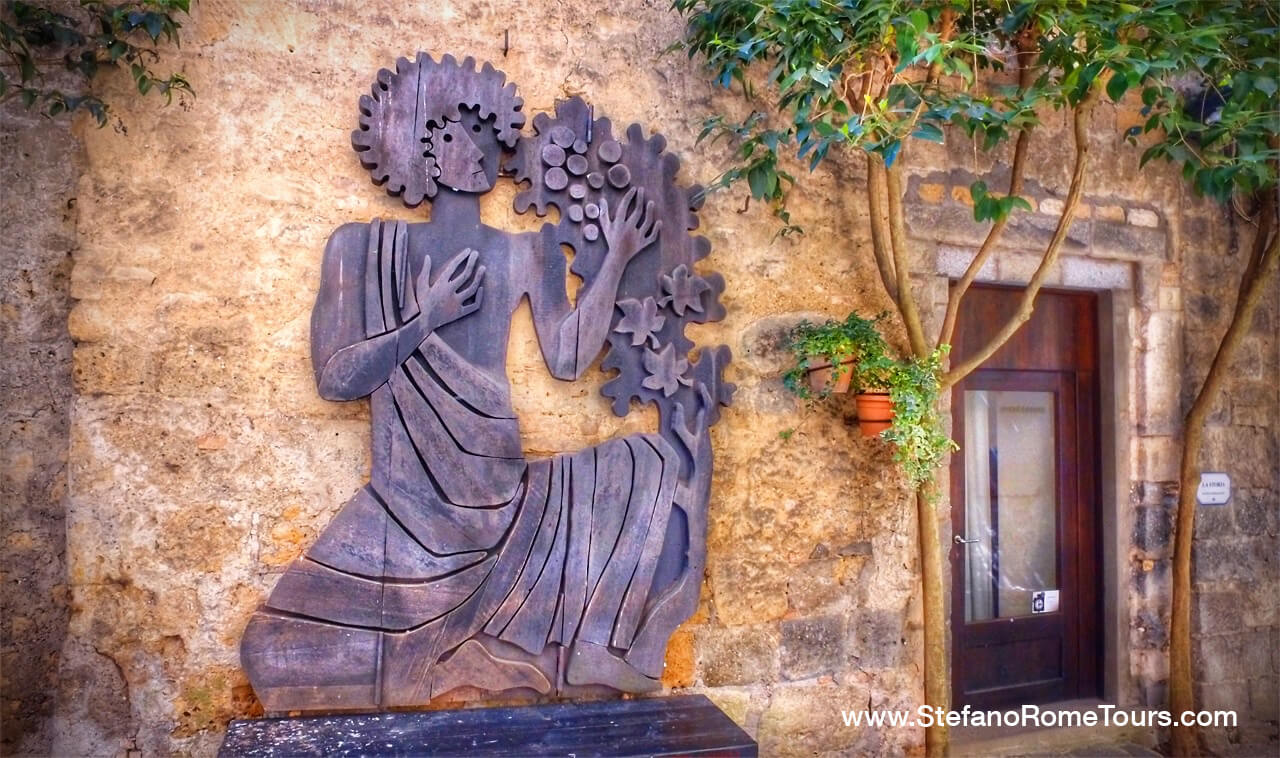 While in Orvieto, will also have some free time for shopping for local hand-painted ceramics, or visiting the stunning cathedral which was built in the fourteenth century.
Pope Urban IV ordered the construction of the cathedral to provide a beautiful, holy place for the Corporal of Bolsena.
The Corporal of Bolsena was a miracle that is said to have occurred in the town of Bolsena in 1263. The Corporal is the small cloth upon which the host and the chalice are placed during the Roman Catholic Eucharist.
It was believed that this particular Corporal had drops of blood on it, thus substantiating the Roman Catholic belief that the bread and wine used in the observation of the Eucharist become the literal body and blood of Christ. The Corporal is still held in a reliquary in the center of the cathedral and brought out for various religious observances.
The cathedral's façade contains many of the elements of design that were common to religious construction from the 14th to the 20th century.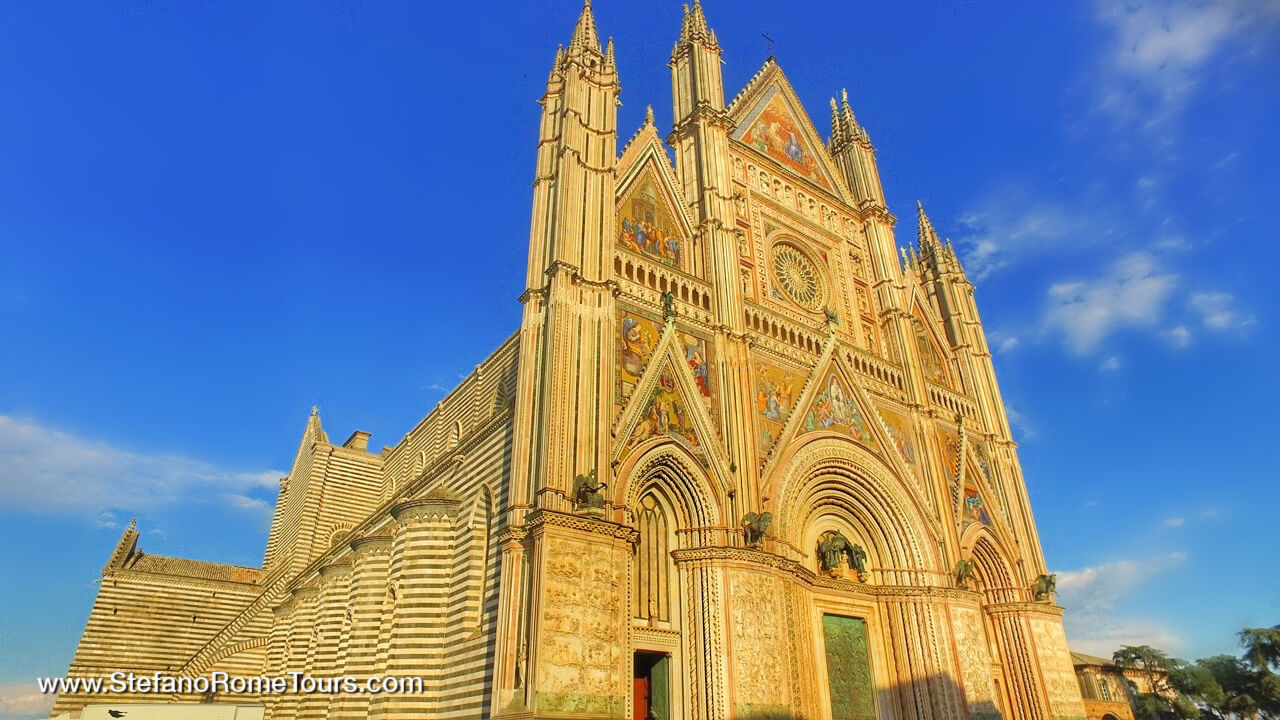 The cathedral's construction was begun in 1290 and lasted for almost 300 years. During the course of that time, the design evolved from Romanesque to Gothic. Many significant works of art can be found in the cathedral, and a visit to the Chapel of the Madonna di San Brizio is a must-see. It contains frescoes begun by the famous artist Fra Angelico and finished by Signorelli.
The frescoes represent many events in Christianity including the Apocalypse and the Last Judgment. They begin with the Preaching of the Antichrist and continue to Doomsday and the Resurrection of the Flesh.
MONTEPULCIANO - the "King of All Wines"

We will then journey further north into the Tuscany (Toscana in Italian) region to the town of Montepulciano, a hill town packed with interest and charm.
You will have the pleasure of tasting the delightful wine of this region while in Montepulciano. During this visit, you can sample both red and white wines. Since we are your designated drivers, enjoy the nectar of the gods!
The Tuscany region is legendary for its exceptional wines, but "Montepulciano is King of all wines" according to Francesco Redi, the renowned 17th-century Italian poet and physician, in his famous poem, Bacchus in Tuscany.
The noble wine of Montepulciano, Vino Nobile di Montepulciano, is one of Tuscany's classic reds that has been a favorite among the aristocracy and royalty ever since Lorenzo de Medici in the 15th century.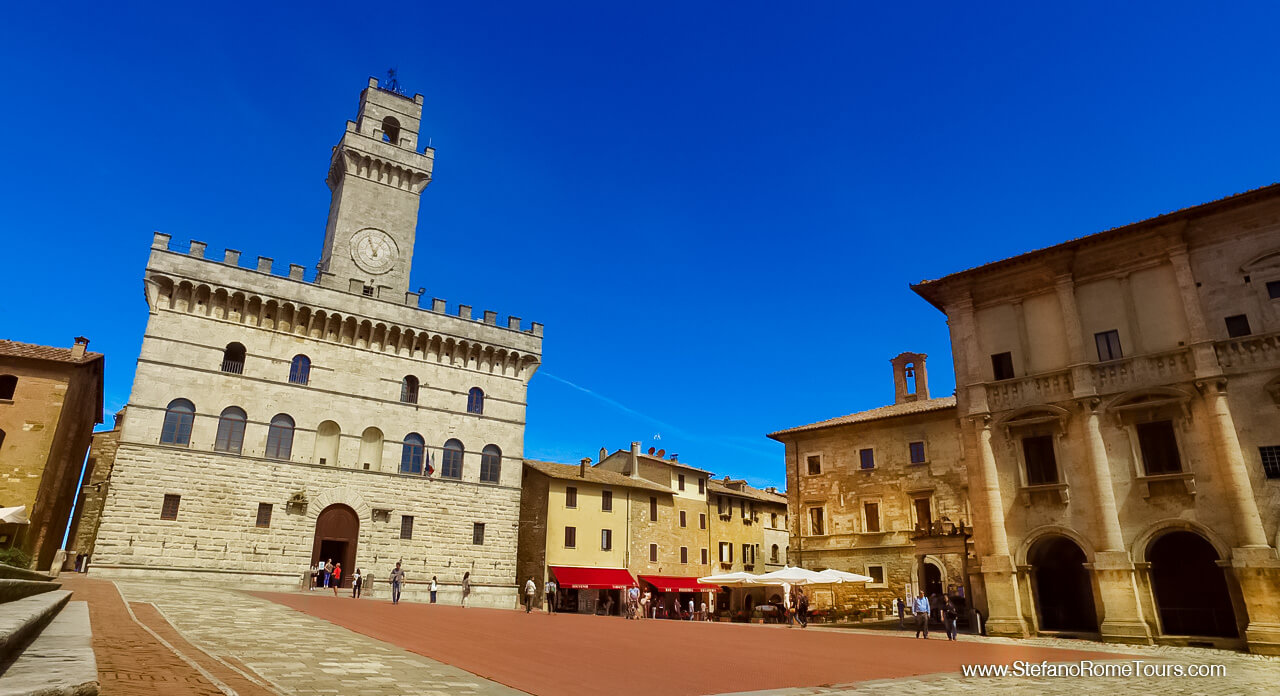 The Vino Nobile di Montepulciano has also been elevated to the prestigious DOCG status - Denominazione di Origine Controllata e Garantita.
According to the stringent DOCG law, the wine must contain at least 70% Sangiovese grapes from vineyards surrounding Montepulciano, up to 20% Canaiolo grapes, and up to 20% other red varieties.
The wine must also be aged for two years in oak or chestnut barrels before being released, and three years for riserva labels. Vino Nobile di Montepulciano has found its special place in wine collector's cellars and dinner tables worldwide.
There are many other products that this area is known for including biscotti, honey, spicy oil, and a vast variety of pasta. Be sure to leave room in your luggage to take some home!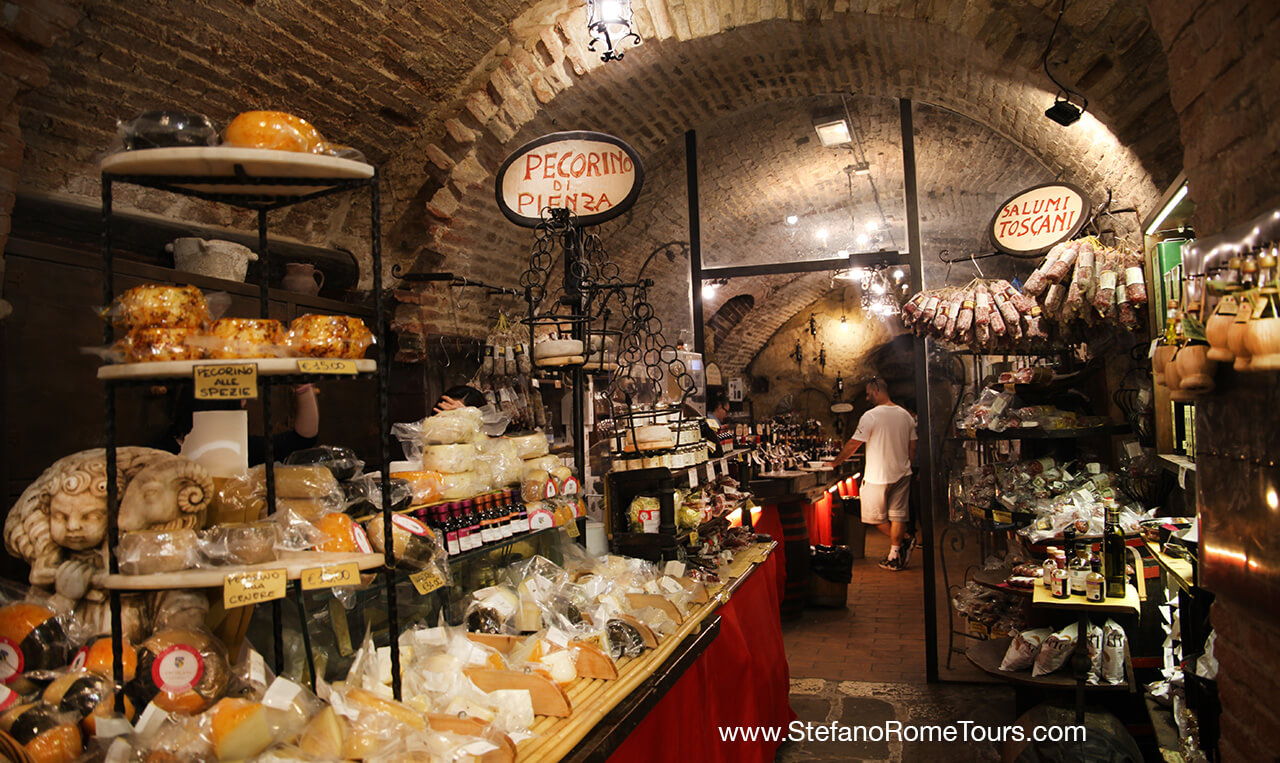 While you sample the wines at various wine shops, you also have the opportunity to enjoy Montepulciano, one of the most attractive hill towns in Tuscany.
It is built on a ridge of Monte Poliziano in the province of Sienna in Tuscany. It was once the ancient Etruscan city of Nocera Alfaterna, which made an alliance with Rome against the Samnites in 308 B.C. Florence controlled the area in the Middle Ages, but it was conquered by Sienna in 1260.
This tour is not only one of the most interesting tours that we offer as it provides you the opportunity to enjoy both wine tasting and the towns together, but it's one of the most relaxing countryside tours, and the wine tastings in Umbria and Tuscany are superb.
From here you will enjoy a relaxing drive through the countryside and return to your hotel accommodation in Rome.
Thank you for booking our Wine Tasting tour - Orvieto and Montepulciano, and for choosing Stefano Rome Tours for Day Tours from Rome and Italy private excursions. We look forward to showing you Italy!


Guests who booked this Wine Tasting Tour to Pienza and Montepulciano also enjoyed the following Day Tours from Rome:

CASTLES AND LAKES Tour - explore the splendor of the Italian countryside near Rome
TIVOLI VILLAS TOUR - visit Villa d'Este's Renaissance gardens and villa, and the Imperial complex of Hadrian's Villa
AMALFI COAST, SORRENTO AND POMPEII extended day tour from Rome to the jewels of southern Italy


Important Information

Please READ the important information below as well as Read & Accept our TERMS OF SERVICE and Privacy Policy prior to placing your reservation request(s).

PAYMENT OPTIONS for Wine Tasting Tour:
Payment for this Wine Tasting tour - Orvieto and Montepulciano can be made in Euro funds at the end of your journey directly to your driver, or you may prepay in advance via PayPal or Credit Card online when you Confirm your Tour.
CANCELLATION POLICY:
We kindly ask that cancellations be made at least 7 days in advance in writing via E-Mail. Cancellations by phone, text, or 3rd party who is not the person who booked the service are NOT accepted.
** PREPAID SERVICES can only be Refunded the Net Rate we receive from your prepayment. Net Rate is the actual service price minus the fees retained by PayPal/Credit Card that are not reimbursed to us in case of refunds. We can only refund the portion we receive from the PayPal/CC company.
EMAIL INQUIRIES / BOOKING REQUESTS
Please allow up to 24 hours for email correspondences in response to email inquiries and tour reservation requests.
We reply to ALL emails and booking requests we receive. If you don't receive correspondence from us within 24-48 hours please CHECK YOUR SPAM FOLDER, or send us an email from a different E-mail account.
WINE TASTING IN ORVIETO AND MONTEPULCIANO

* Wine tastings fees vary, and it may cost anywhere between 5-15 Euros per person depending on the wine shop you wish to visit. Wine fees are paid directly to the wine shop.
* Wine tasting is possible only inside the towns at various wine shops operated by local wine producers. This tour does not include visits to wineries outside of the towns of Orvieto or Montepulciano.
* Please taste wine responsibly, and never on an empty stomach. Excessive consumption of wine may interfere with the enjoyment of your tour. In case that excessive consumption of wine and/or alcohol results in your desire to return to your hotel early, please be advised that you will not be reimbursed for the remaining portion of the tour, and will be charged the full fare of the tour as originally booked.
YOUR STEFANO ROME TOURS DRIVER
This Wine Tasting tour - Orvieto and Montepulciano provides an English-speaking Driver who is NOT a Licensed Tour Guide or a sommelier. Your driver will be happy to provide general touristic information while at the vehicle, but will not be able to accompany you to sightsee away from the vehicle.
Italy has strict laws and regulations aimed to protect official licensed guides that makes it unlawful for Drivers to act as tour guides or accompany guests to sightsee on foot away from the vehicle. In order for us to comply with Italy's laws, Drivers are required to remain with the vehicle while guests sightsee on their own away from the vehicle.
On this Wine Tasting tour - Orvieto and Montepulciano you will SELF TOUR (unaccompanied by your driver) when away from the vehicle.
MEETING POINTS TO MEET YOUR DRIVER
For hotel pick ups, your driver will meet you inside your hotel lobby, or area permitted by your hotel.
For Apartments or B&B's without a lobby, your driver will meet you at your address outside the main entrance.
* If your hotel / accommodation is situated on a street or in an area restricted to vehicle traffic, your driver will park the vehicle as close as lawfully possible, and will meet you on foot at your Address. From there, your driver will accompany you to your parked vehicle. Door to Door service may not be possible on streets or areas restricted to vehicle traffic or stops.