Buongiorno and welcome to Stefano Rome Tours, Rome's leading tour company for private Rome tours and Civitavecchia private excursions.
As you immerse yourself in the captivating beauty of Rome you'll discover a treasure trove of authentic souvenirs that capture the essence of this timeless city. From Vatican memorabilia that reflects the heart of Catholicism to the exquisite taste of Italian wines and artisan chocolates, each souvenir embodies the rich culture and history of Rome.
Whether you're exploring Rome on an extended stay, just one day on Rome Shore Excursion from Civitavecchia, or even briefly visiting on a Rome Pre Cruise or Post Cruise Tour from Civitavecchia there are countless unique souvenirs to bring home as cherished reminders of your unforgettable time in the Eternal City.
So, let's embark on a journey to discover original and authentic ideas for the best souvenirs to bring home from Rome, and find the perfect memento to forever hold the magic of your Roman experience. Most of all, seek "Made in Italy" items for superior quality and authenticity.
Here are some of the best authentic Rome souvenir ideas we discovered and wish to share with you. At the bottom of the list, we also included some insider tips for souvenir shopping and for the best sales in Rome for shopping enthusiasts!
Best Souvenirs to Bring Home from Rome

1. Italian Leather Goods from Rome

When it comes to the best souvenirs to bring home from Rome, leather goods are one of the top things to come to mind. When it comes to authentic Italian craftsmanship, leather goods stand out as a true symbol of luxury and style.
Rome, with its rich history in artisanal leatherwork, offers an array of exquisite handbags, belts, gloves, and shoes that make for remarkable souvenirs. As you explore the cobbled streets and bustling markets of the city, you'll encounter boutique shops and ateliers, where skilled artisans meticulously craft each piece by hand, using only the finest Italian leather.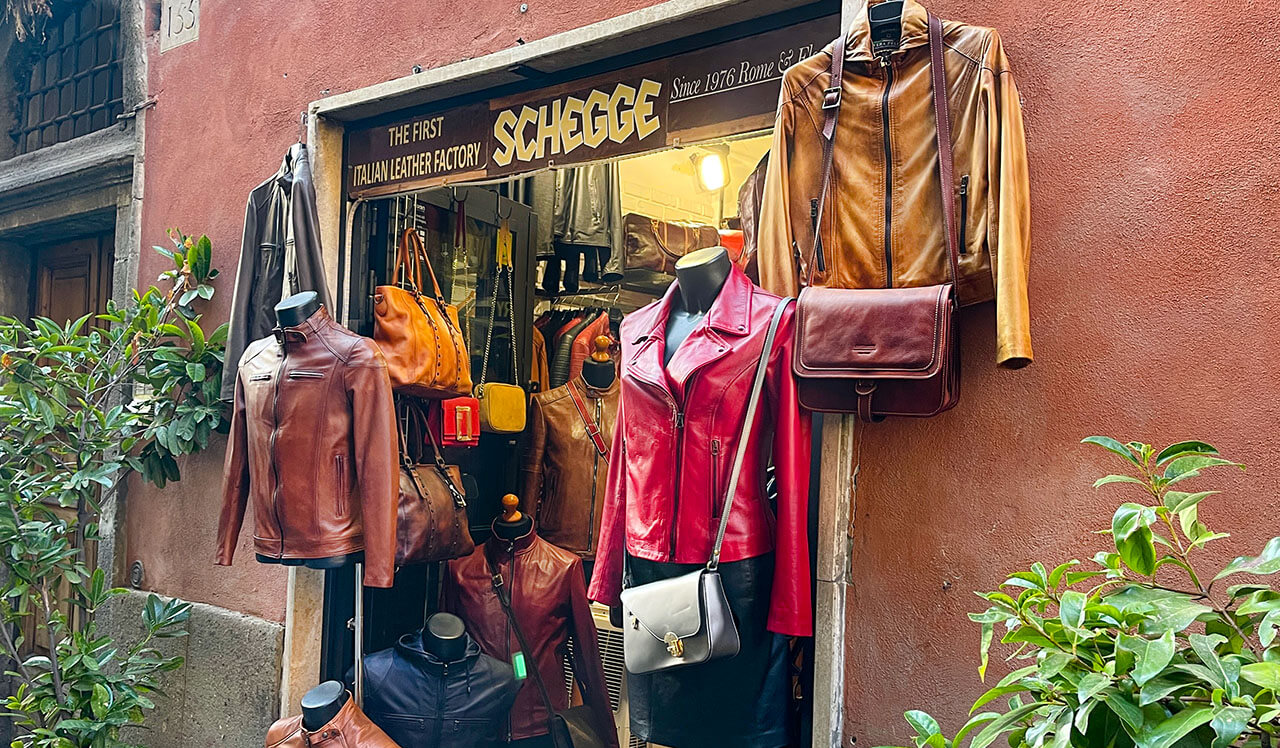 along Via dei Coronari in Rome


Belts and gloves are also popular choices for those seeking a touch of Italian luxury without adding weight to their luggage. Embellished with ornate buckles and exquisite designs, leather belts add a touch of sophistication to any outfit. The fine craftsmanship of leather gloves, known for their softness and suppleness, makes them a practical and elegant choice to keep you warm during cooler months.
For shoe lovers, Italian leather shoes are a must-have. From timeless and stylish pumps to comfortable and versatile loafers, Roman shoemakers infuse their creations with a combination of tradition and innovation. Whether you choose a pair of classic Italian boots or opt for uniquely designed sandals, you can be assured that every step will be taken in style and comfort.
From classic and sleek designs to more avant-garde and artistic creations, there is a leather handbag to suit every taste and style.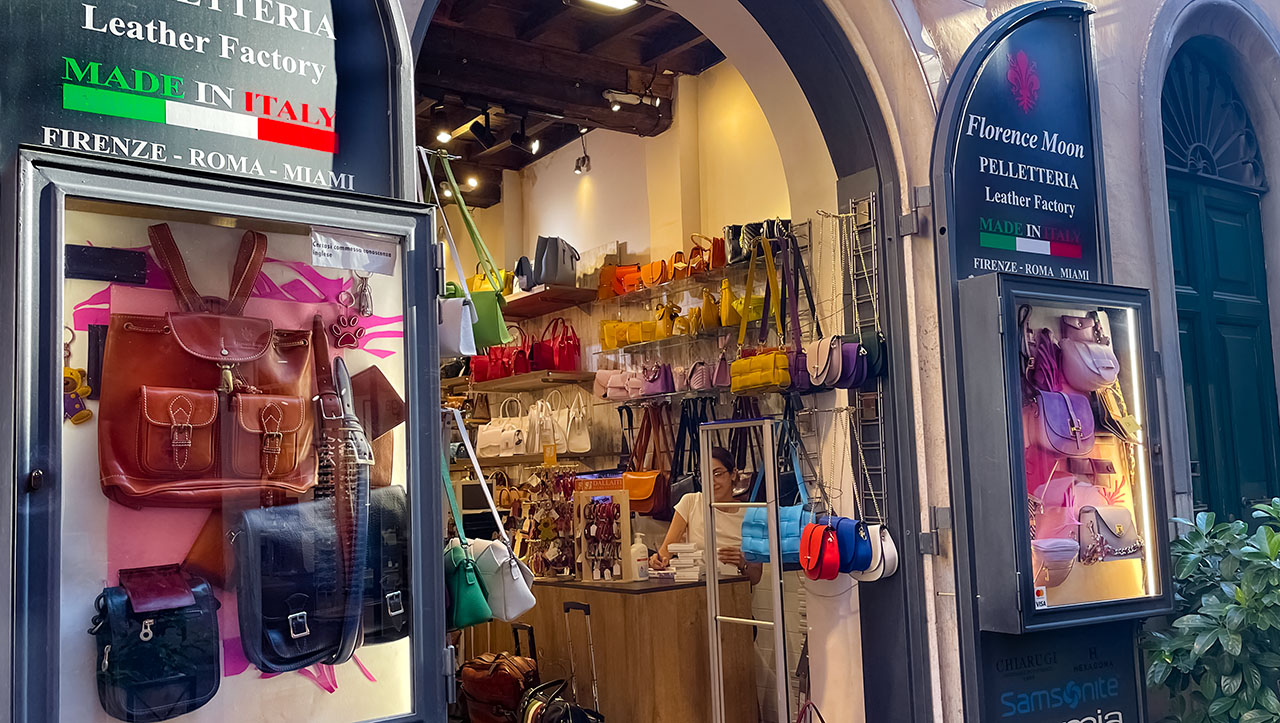 along Via dei Coronari in Rome
For music lovers with a rock-n-roll soul, check out The Guitar Bag, a trademarked fashion visionary by Maria Josè Carral, who crafts lavish leather bags and accessories unified by ingenious design.
Central to the brand's allure is its unique ability to integrate guitar straps using a patented utility button, akin to the iconic "strap button" on guitars. Combined with an original closure, minimalist style, and customizable options, The Guitar Bag shines in haute couture. Each bag features meticulous elements paying homage to music—a delicate plectrum emblem and a tuning key closure—creating a fusion of fashion and melody.
The Guitar Bag melds function, flair, and musical intimacy, appealing to those seeking artistic eloquence and inventive accessories.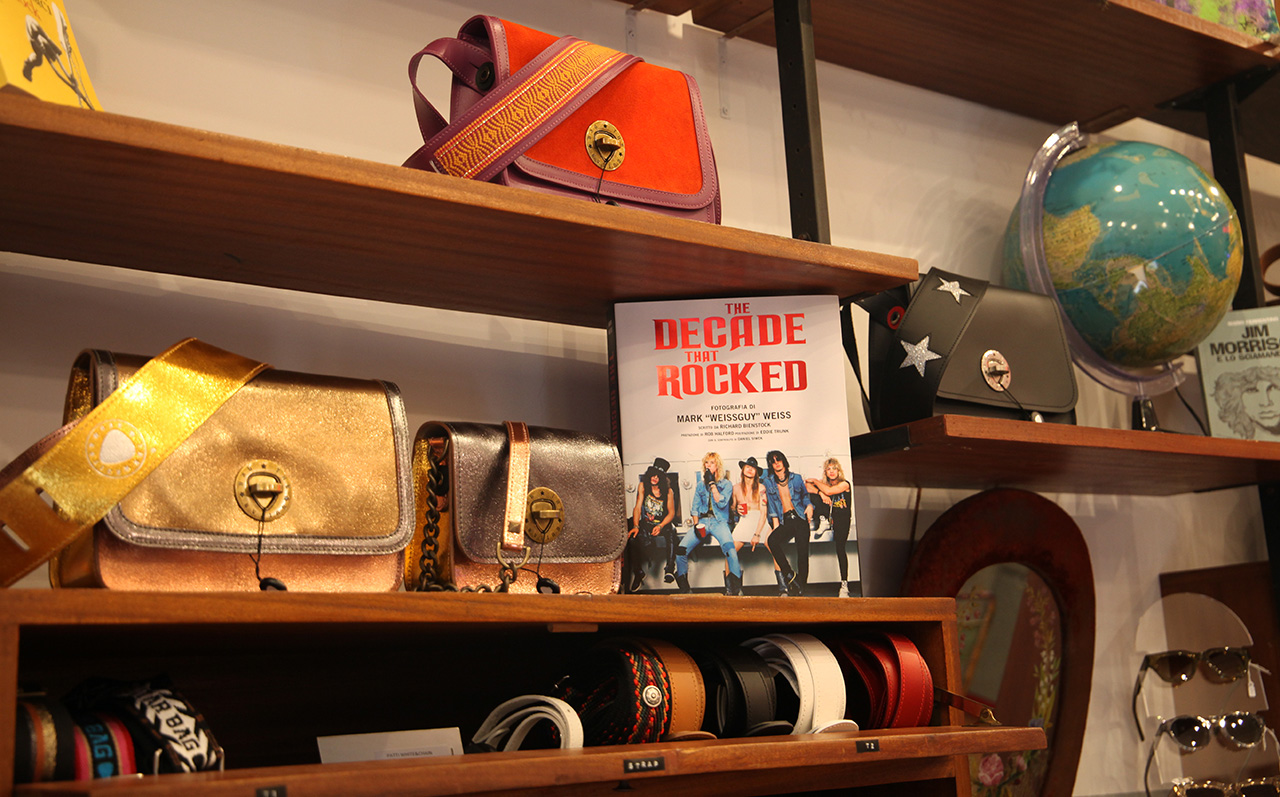 The Guitar Bag
Via del Pellegrino, 169, Rome
As you bring home your leather goods from Rome, each piece will serve as a tangible reminder of the city's dedication to craftsmanship and design. Treasuring your Italian leather souvenirs will not only add sophistication to your wardrobe but also embody the spirit of Rome's artistic heritage. Let the elegance of these timeless pieces take you back to the heart of Rome, whenever you carry or wear them.
2. Clothing from Rome

Among the best souvenirs to bring home from Rome are clothes! While exploring the vibrant streets of Rome, you'll find a wide range of clothing options that make for perfect souvenirs. From high-end designer labels showcased in luxury boutiques along Via dei Condotti to sports-related apparel in shops along Via del Corso, Rome has something to suit every taste and style.
For fashion enthusiasts seeking a touch of elegance, a stroll down Via dei Condotti is a must. This iconic street is home to luxury boutiques housing the most prestigious designer labels in the world. Splurge on a timeless piece from brands like Gucci, Valentino, Fendi, Prada, Bulgari, and many more!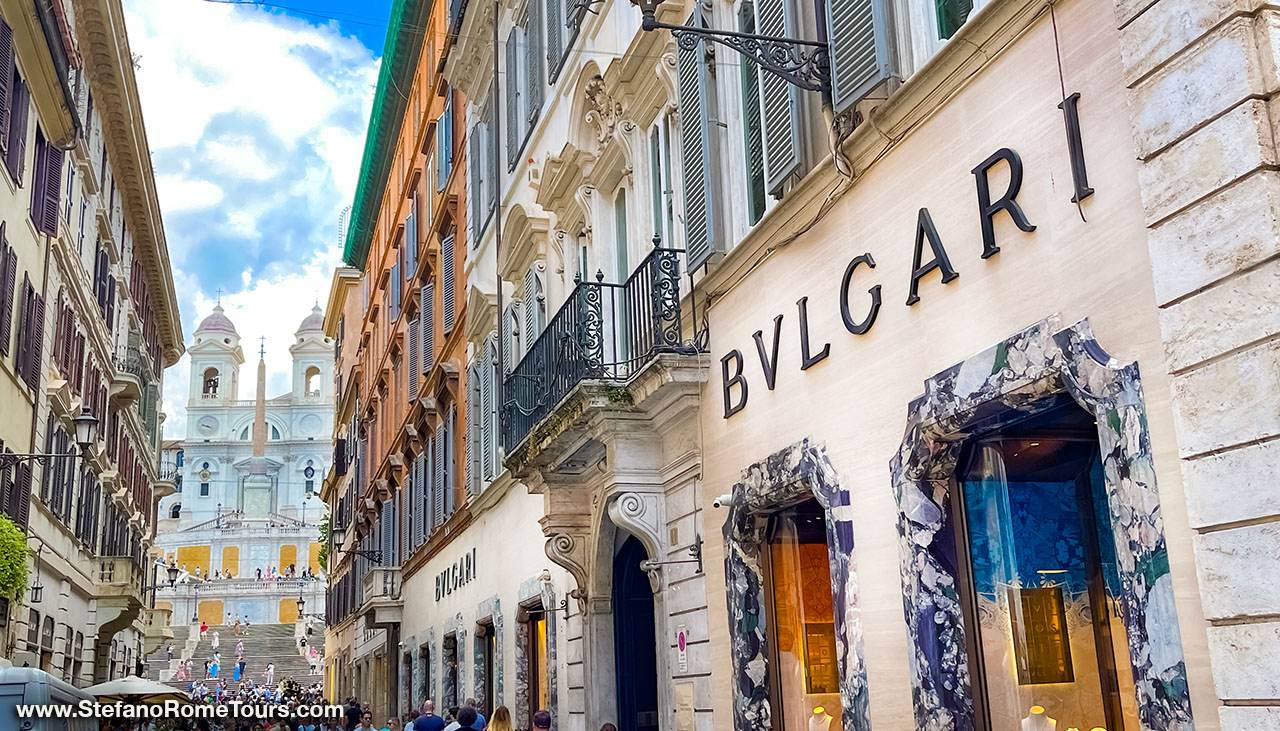 along Via dei Condotti, Rome
For sports enthusiasts, Rome offers a delightful array of sportswear options that perfectly blend fashion and fandom that make great souvenirs to bring home from Rome. Show your love for the beautiful game with soccer team sports shirts, proudly displaying the colors and emblems of AS Roma or S.S. Lazio soccer teams. Wearing these jerseys allows you to connect with the passionate spirit of Roman soccer and immerse yourself in the city's sports culture.
For motorsport aficionados, you can't go wrong with a Ferrari shirt, hat, or accessories. Sporting the iconic prancing horse logo, a Ferrari shirt captures the essence of Italian automotive excellence and racing heritage.
Lastly, a baseball hat is a versatile and casual souvenir for you or for friends and family. You'll find a variety of colors and designs, from those featuring the logos of Rome's sports teams to more fashion-forward options with embroidered symbols like SPQR. Not only will a baseball hat protect you from the Roman sun, but it will also add a touch of leisure and fun to your attire and they make excellent gifts for friends and family back home.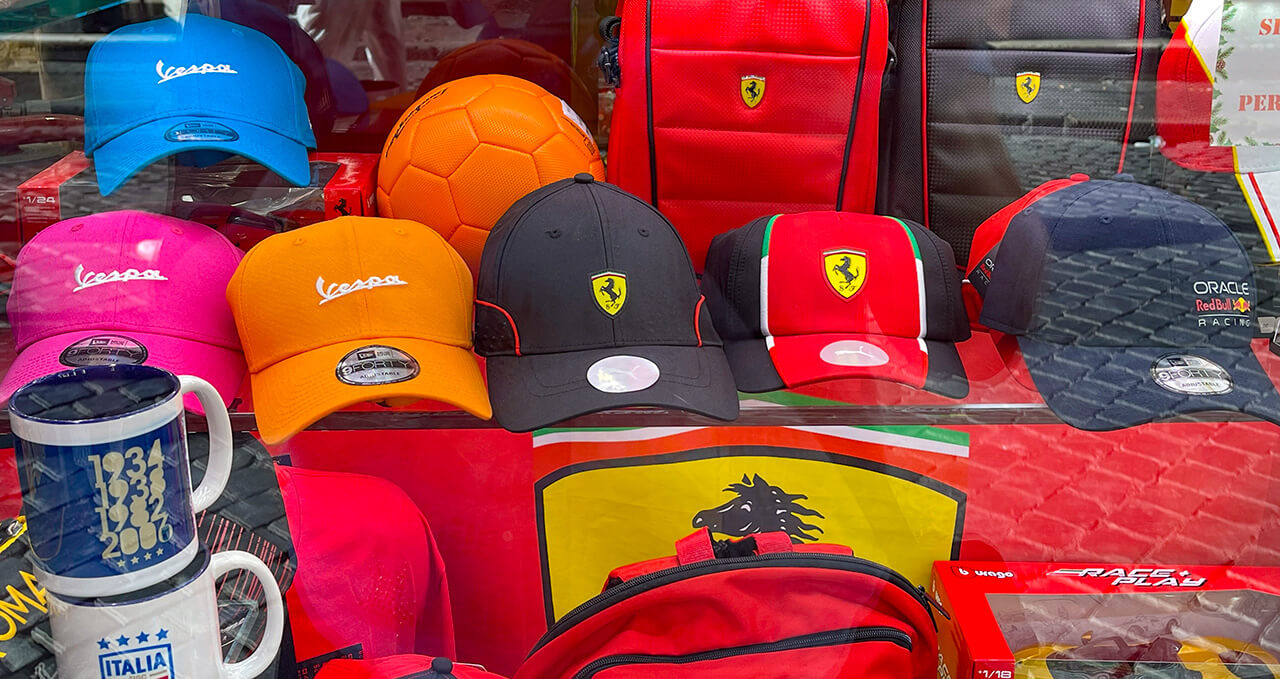 Window Display at L'Artigianato gift shop
Piazza Navona, 84

3. Silk Ties from Rome


Immerse yourself in the world of timeless elegance with Italian silk ties, the epitome of refined style. Elevate your wardrobe with these sophisticated accessories that exude charm and sophistication. Crafted from luxurious silk, Italian ties are not just fashion accessories; they are works of art that reflect the legacy of Italian craftsmanship and style.
Italian ties will become treasured additions to your wardrobe, enhancing your personal style and leaving a lasting impression wherever you go.
So, embrace the allure of Italian elegance and elevate your style with the grace and charm of Italian silk ties. As gifts, Italian silk ties are a thoughtful choice for any discerning gentleman.
On Via dei Coronari, stop at Talarico Cravatte tie shop for exquisite Italian-made silk ties.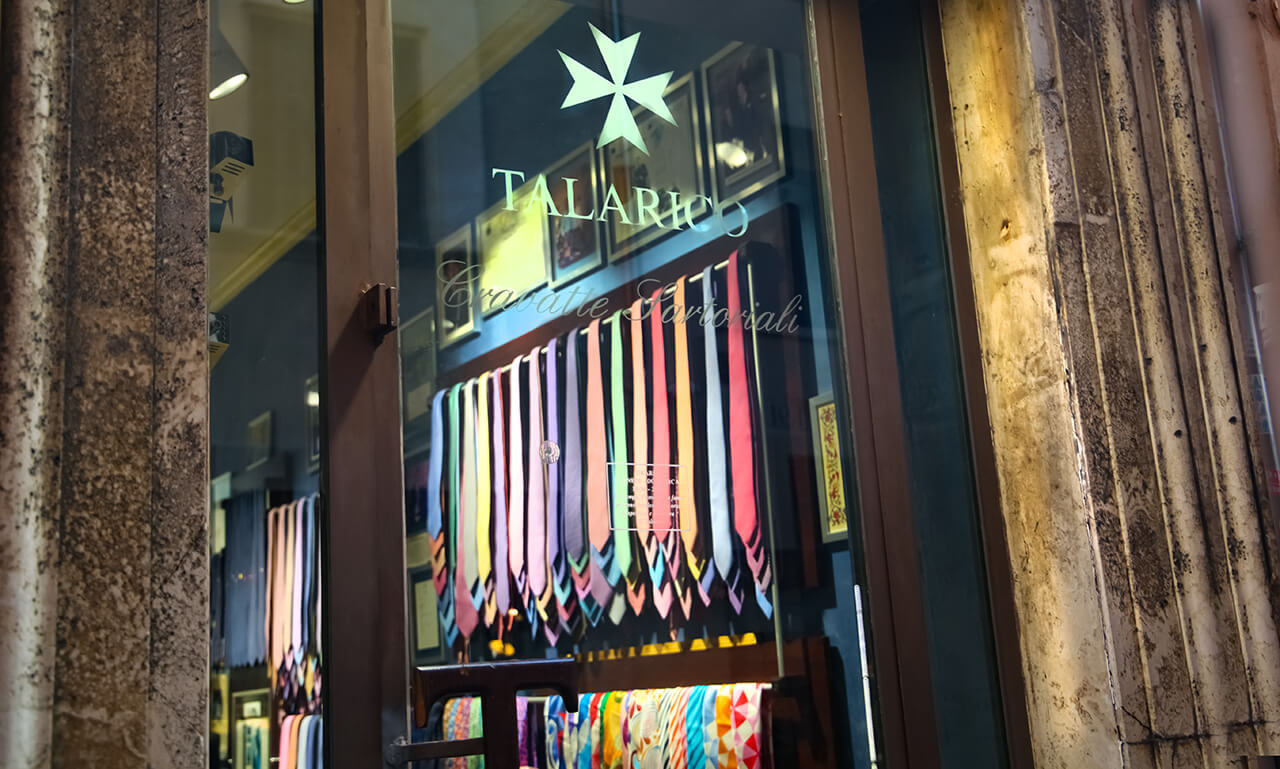 Talarico Cravatte
Via dei Coronari, 52
Alternatively, you will also find the Tie Shop at multiple locations in central Rome:
Via Cola di Rienzo, 129
Via di Campo Marzio, 11
Via delle Carrozze, 43
4. Hand Crafted Ceramics from Rome
Italy is famous for its exquisite ceramics, and Rome is no exception. While in Tuscany and Umbria, you will find a wide variety of hand-painted bowls, cups, plates, and other useful artisan ceramics to enhance your dining room table or kitchen decor, in many of Rome's shops you may discover ceramics of a different nature entirely!
If you don't have enough space in your luggage for large ceramic bowls or cups, you'll love the Roman version of hand-made ceramics that rank on top of the best souvenirs to bring home from Rome.
Some ceramics are mementos of Rome's charm such as Rome-themed hand-crafted wall or desk clocks by CERAMICA RAKYU close to the Pantheon that will enhance your home or office. Just a block from the Pantheon, you should definitely make a stop when in the area.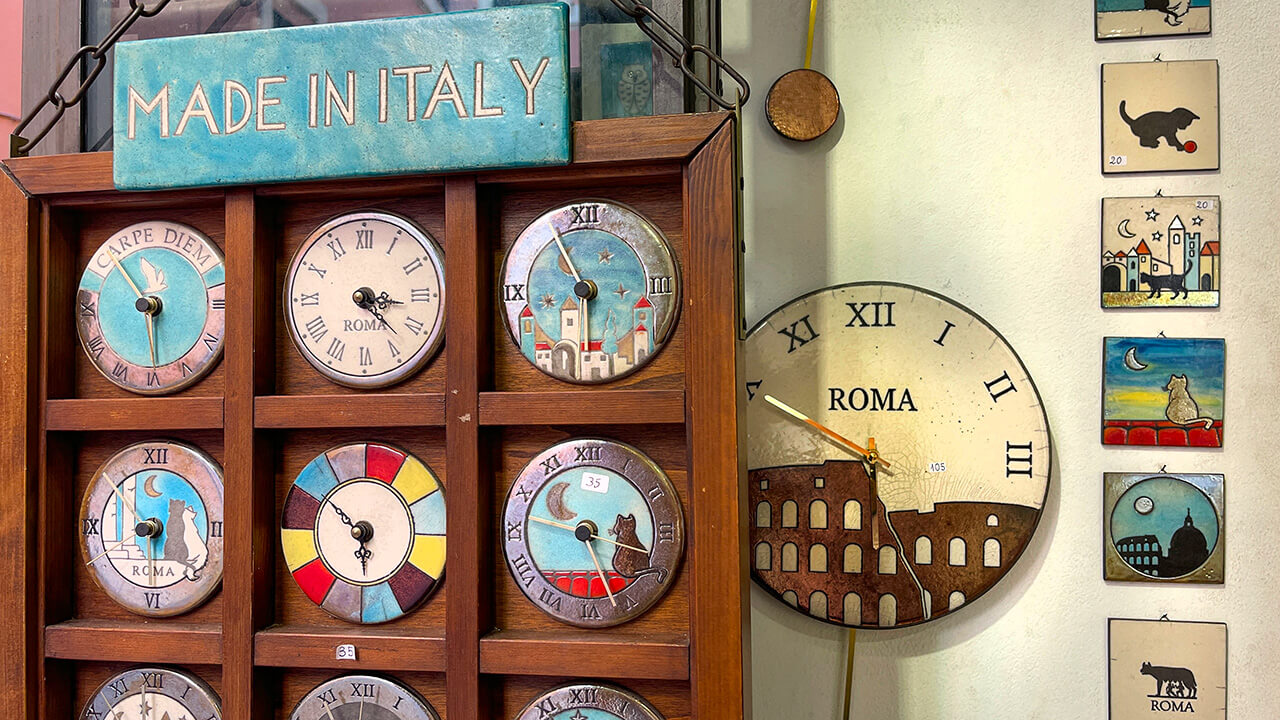 Ceramica Raku Roma
Via dei Pastini, 20, Rome
For more serious ceramic masterpieces visit Creart Roma on Via dei Coronari.
Creart Roma's collection comprises meticulously crafted artistic pieces, encompassing ceramic artifacts, illuminated accents, masks, mosaics, and highly valuable decorative items. Presently, our catalog boasts around 300 products that intricately weave together history, the area's exquisite beauty, and the finesse of Roman artistic craftsmanship.
These artistic ceramics stand apart distinctly from offerings in other establishments due to their unmistakable connection to true artistic mastery. The subjects portrayed exhibit unparalleled uniqueness, owing to the meticulous research invested in their creation. From the iconic Lupa Capitolina to the intricately reproduced Mitra, from the majestic Imperial Eagle to the minutiae of the Ara Pacis, each piece exudes a wealth of detail. These artifacts ensure that individuals who acquire an artisanal and artistic "Made in Italy" product not only possess a memento but also a genuine embodiment of the splendor and distinctiveness of ancient Rome and its storied past.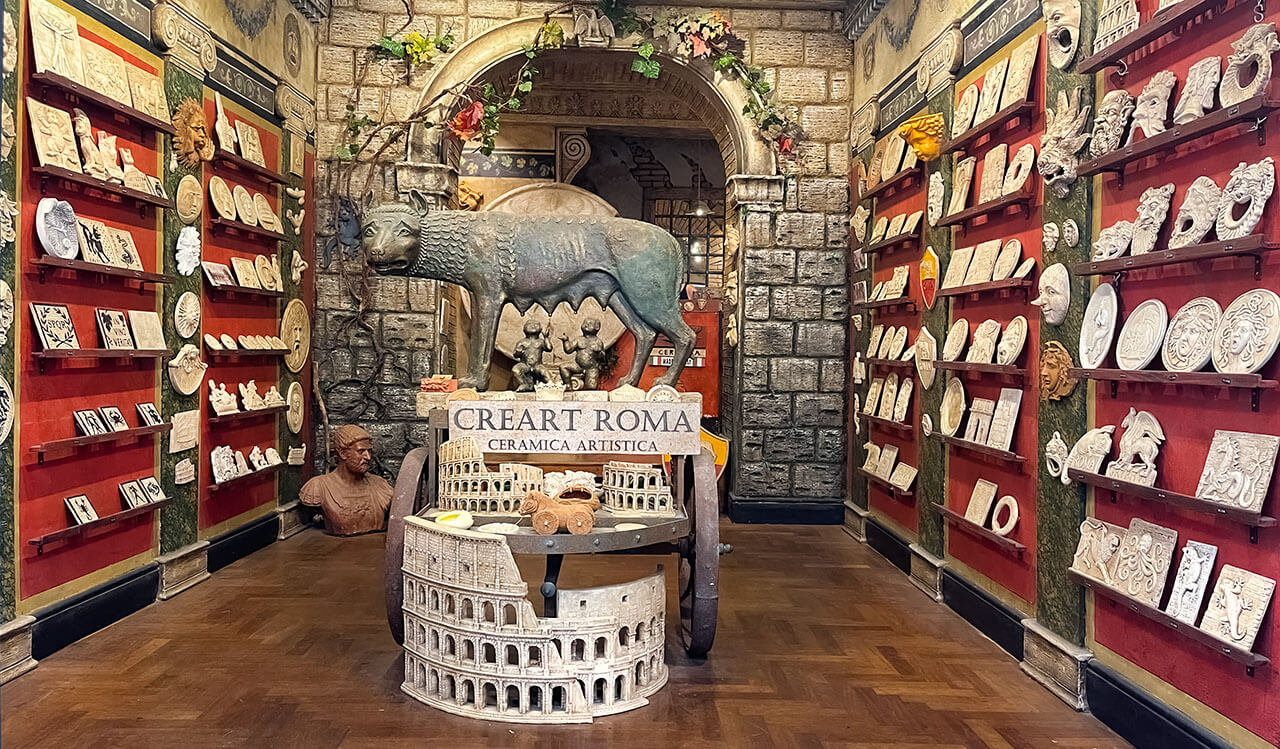 Creart Roma
Via dei Coronari n. 111, Rome


With these hand-made ceramics from Rome that are largely flat, it will be easy to pack them in your luggage as treasured souvenirs.
5. Vatican Memorabilia

At the heart of Catholicism lies the Vatican City, and in Rome, you'll discover a delightful array of Vatican-themed souvenirs. From religious items like rosaries, crucifixes, and medals featuring saints and iconic Vatican symbols to captivating memorabilia such as replicas of famous artworks and precious mosaics, the Vatican offers an extensive collection.
Whether you choose Vatican-themed artwork, postcards, books, or religious keepsakes, these cherished mementos allow you to relive the wonder and splendor of the Vatican's artistic and spiritual heritage whenever you desire.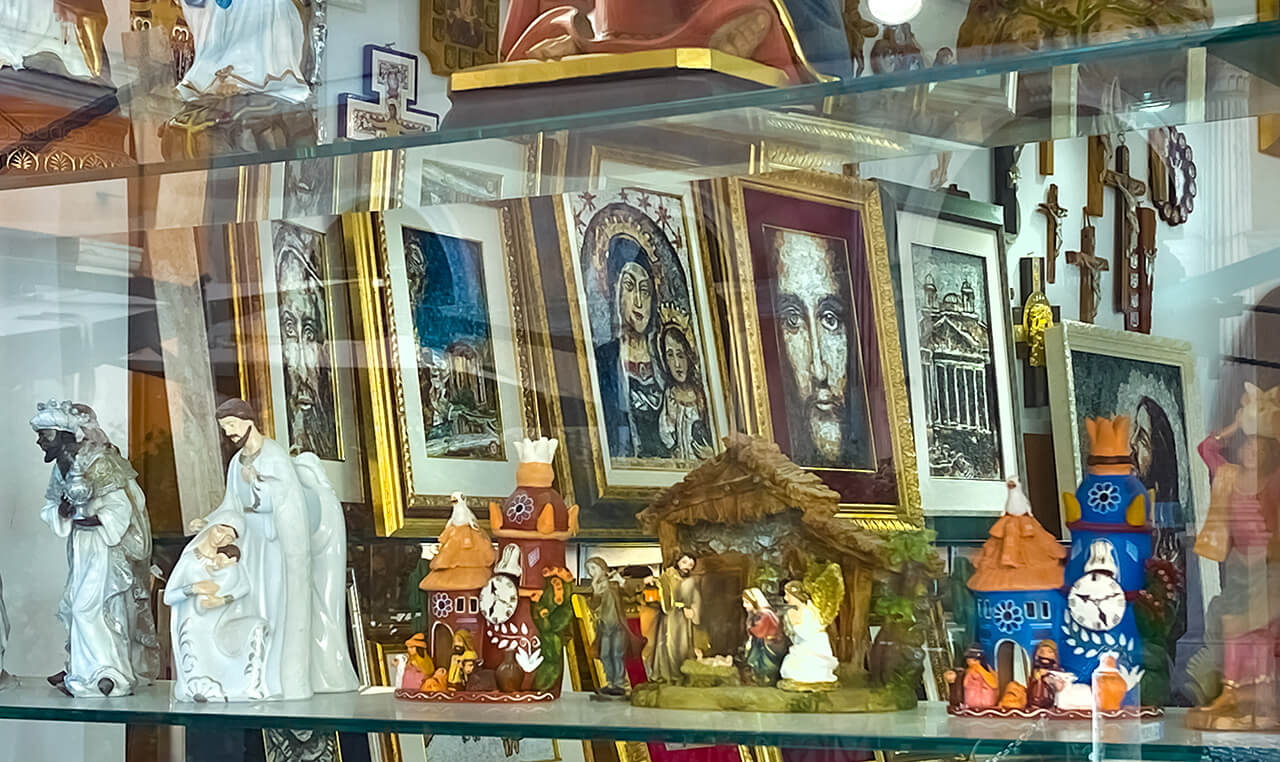 Religious Items Souvenir Shop behind the Pantheon
6. Roman Jewelry from Rome

Indulge in the timeless allure of Roman-inspired jewelry, a perfect treat to cherish your memories of Rome. Seek out delicate gold or silver necklaces, earrings, or rings adorned with symbols of ancient Rome, such as intricately crafted Roman coins.
If you find yourself close to the Pantheon near Sant'Eustachio don't miss Corrado Sacchi's jewelry shop. A distinguished goldsmith jewelry designer based in Rome, Corrado Sacchi's works encapsulate the essence of the Eternal City. His handmade pieces are veritable works of art, meticulously handcrafted to embody the spirit of Rome's captivating beauty. Drawing inspiration from the city's architectural marvels such as the Colosseum, Sacchi's designs seamlessly fuse modern aesthetics with ancient splendor.
One of the most captivating jewelry collections features ancient Roman-inspired coin rings, earrings, and bracelets. These pieces pay homage to the currency and symbols of antiquity, meticulously reimagined in precious metals and gemstones. Since jewelry is small and light, they make the best souvenirs to bring home from Rome for those traveling light.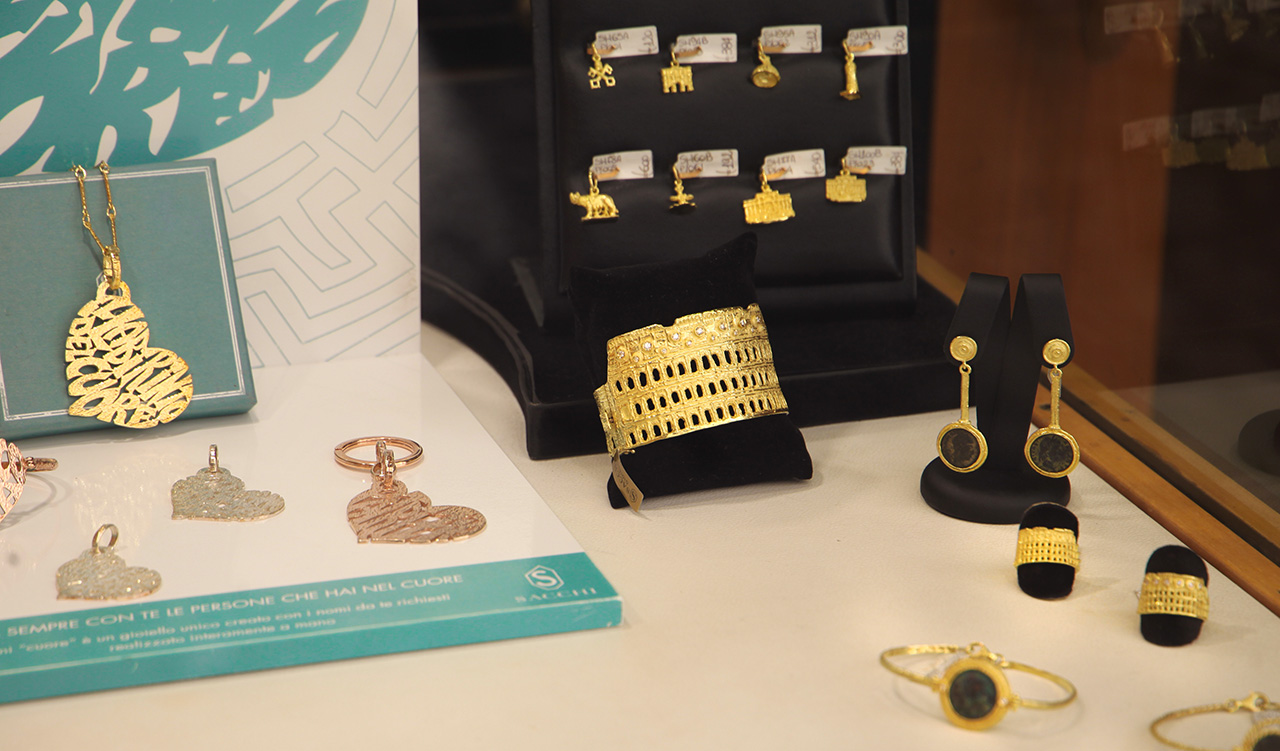 Corrado Sacchi Gioelli
Via della Palombella, 39-40, Rome
7. Buy Italian Wines from Rome

Bring a taste of Italy back home by purchasing Italian wines, such as Chianti, Brunello di Montalcino, Vino Nobile di Montepulciano, Italian Prosecco, or robust Amarone of Veneto or the complex Barolo of Piedmont - all excellent choices.
One of the most beloved Italian wines is Chianti, originating from the picturesque hills of Tuscany. With its luscious red fruit flavors, hints of wild herbs, and a touch of spice, Chianti captures the essence of this iconic region.
For a taste of true Italian sophistication, consider bringing home a bottle of Brunello di Montalcino. This prestigious wine hails from the eponymous hilltop town in Tuscany and is made exclusively from Sangiovese grapes.
Vino Nobile di Montepulciano is another wine to savor on special occasions and a cherished memento of your Italian adventure.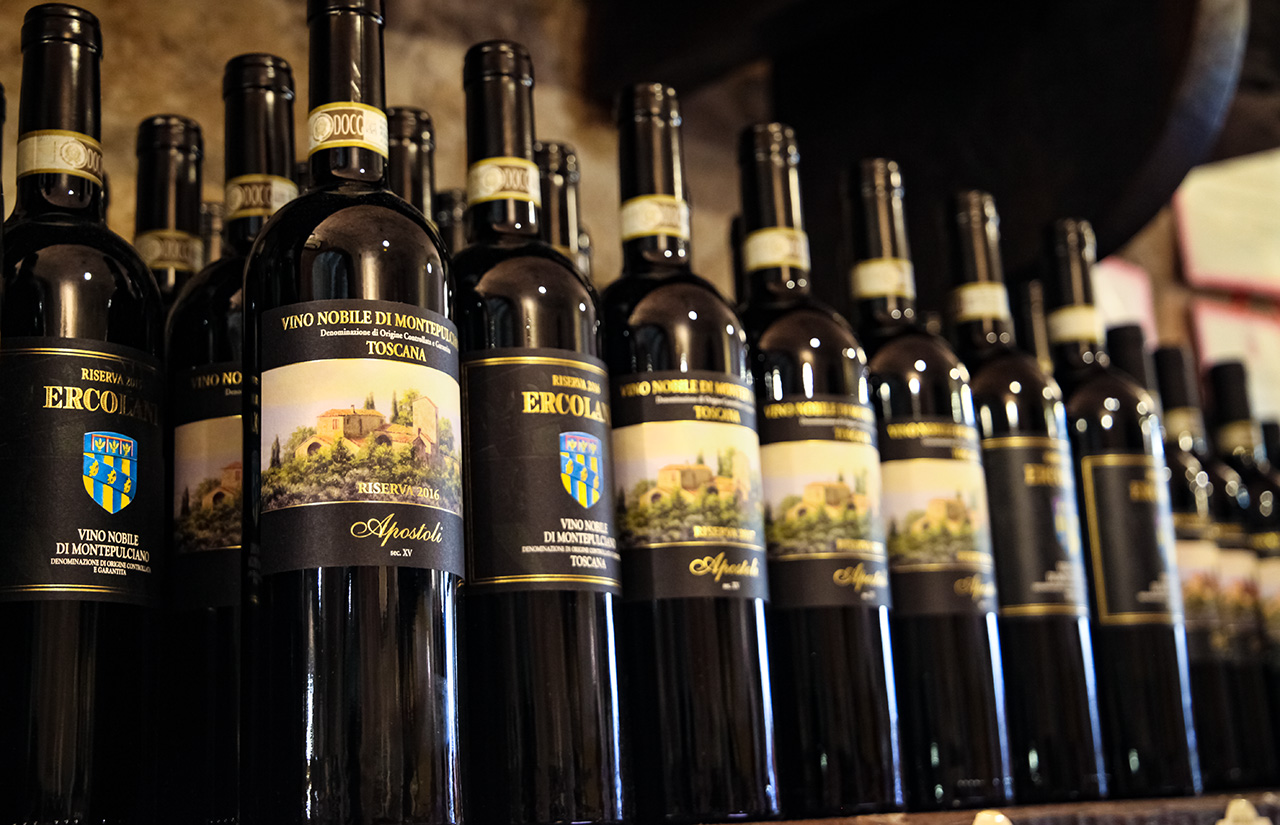 If you prefer the sparkle and effervescence of a delightful bubbly, Prosecco is the perfect choice. Prosecco is synonymous with joyous celebrations and moments of pure delight, making it a wonderful companion for toasts and gatherings with friends and family.
As you browse through Rome's charming enotecas and wine shops, you'll encounter an array of other enticing options to suit your palate. Each bottle of Italian wine is a masterpiece crafted with passion and artistry.
Guests who book our Wine Tours from Rome can also purchase wine directly from the winery and have it shipped directly to their home for a hassle-free way to enjoy Italian wine from Italy.
So, let your taste buds embark on a journey through Italy's winemaking traditions, and select the finest Italian wines to carry home as souvenirs.
8. Artisan Food from Rome

Your journey through Rome's gastronomic delights doesn't have to end with your trip; bring home a piece of Italy's culinary heritage with a selection of artisanal food treasures.
Start with artisan pasta, meticulously crafted by skilled hands, using time-honored techniques that have been passed down through generations. Each variety carries a distinct flavor and texture, capturing the essence of Italy's rich culinary tradition. From long strands of spaghetti to intricate shapes like orecchiette and farfalle, these pasta treasures are a canvas waiting to be adorned with mouthwatering sauces.
For sweet indulgence, discover the world of delectable chocolates, where master chocolatiers transform fine cocoa beans into luscious treats. From velvety truffles to rich pralines, every bite is an explosion of flavor that will transport you back to the cobbled streets of Rome.


Venture into the realm of savory cheeses, where you'll find a symphony of flavors waiting to be explored. Award-winning Pecorino Cheese is always a win as it can be vacuum sealed and ready to travel.
No Italian feast is complete without the golden hues of flavorful olive oil. Sample the finest extra virgin olive oils, extracted from sun-kissed olives, and marvel at the depth of taste that graces your palate.
As you take these edible treasures home, you'll find yourself not just bringing back food, but a piece of Italy's soul. These artisanal delights capture the essence of Rome's culinary heritage, offering a taste of tradition and a journey through the rich tapestry of flavors that define Italy's gastronomic identity.


While in Rome, visit Castroni and Eataly (Piazzale 12 Ottobre 1492) for luxurious culinary treats from Italy.
9. Italian Coffee and Mocha Espresso makers


Of course, let the enticing aroma of freshly roasted coffee beans guide you to the heart of Italy's coffee culture. Sip your way through the myriad of coffee blends, each cup inviting you to savor the bold and robust flavors that Italians hold dear to their hearts.
Cafes like San't Eustachio Caffe and Tazza d'Oro Caffe near the Pantheon sell their exquisite coffee in vacuum-sealed bags for you to enjoy a taste of Rome at home. In addition to roasted coffee, Sant' Eustachio also sells sweets and candies that you can enjoy in Rome and bring some with you back home.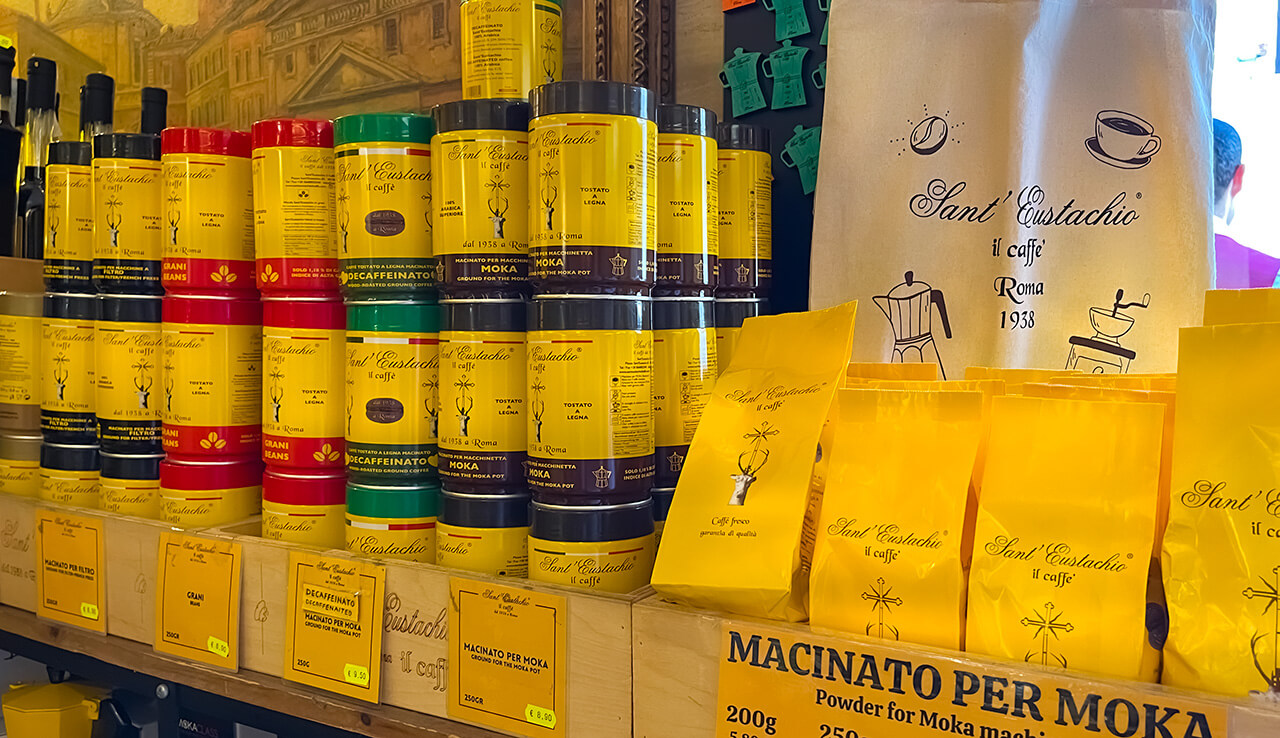 San't Eustachio Caffe
Piazza di S. Eustachio, 8
Gourmet shops like Castroni sells excellent roasted coffee that makes perfect gifts or tasty souvenirs for coffee lovers. Search online for a Castroni shop in the area you will be exploring in Rome.

Also for you or other coffee lovers in your life, you can't go wrong with a Bialetti Moka Express. 100% Made in Italy and 100% loved by Italians, Bialetti Moka Express is a symbol of Italy and the true Italian ritual of preparing a delicious cup of coffee. Created in 1933 by Alfonso Bialetti, this iconic Moka coffee maker is uniquely patented and suitable for gas and electric stoves.
The Moka Express comes in its original aluminum color, but you will also find an assortment of designs and colors to fit your decor, celebrate the colors of Italy (green, white, and red), or indulge in the exclusive Dolce & Gabbana edition.
There are Bialetti shops throughout Rome that sell a wide variety of espresso makers, accessories, and even coffee!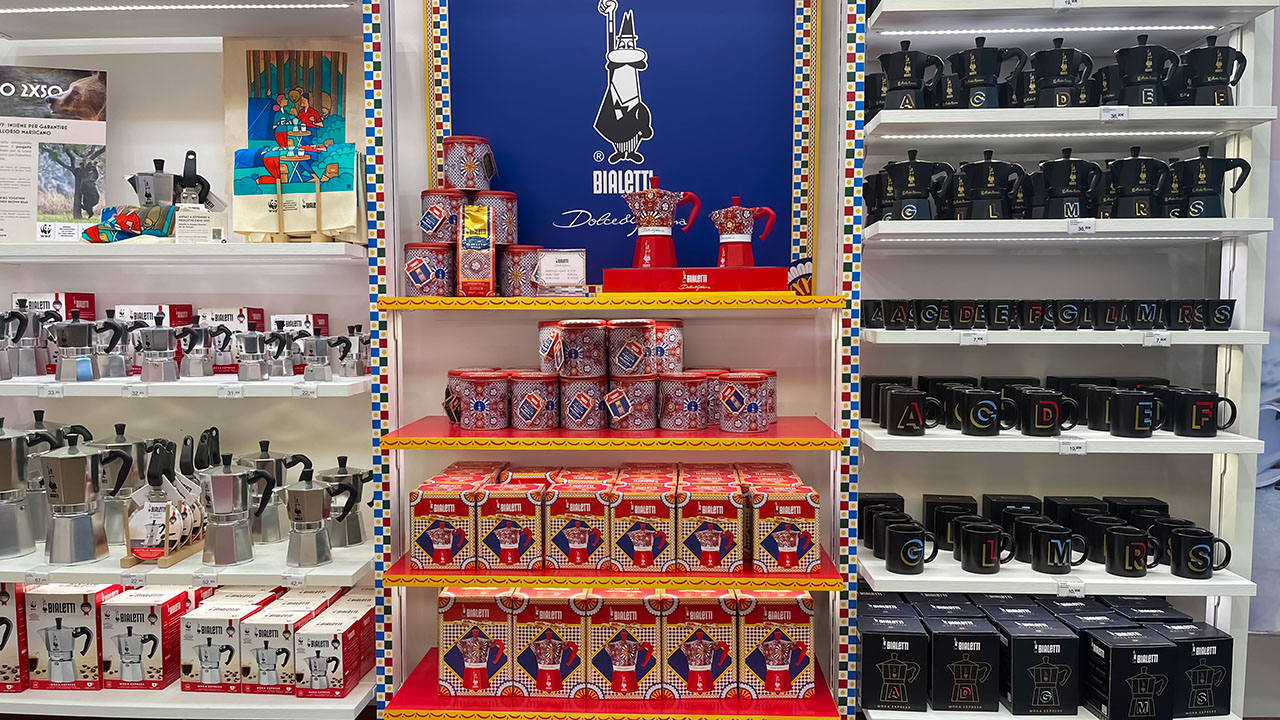 Bialetti Stores in Rome:
Via dei Coronari, 215
Piazza Cola di Rienzo, 82/b
Via Ottaviano, 58/60/62
Via del Corso, 99
Stazione Roma Termini
10. Leather Journals, Stationary, Ancient Writing Sets...
Preserve your precious written thoughts and experiences by indulging in Italian vegetable-tanned leather journals. Perhaps you fancy unique stationery, or looking for a special gift for an amateur or professional writer in your life who would delight in a handmade Amalfi paper notebook, an ancient inkwell and writing set, or perhaps wax seals with their initials that add a unique touch to your writing experience.
In shops such as Manufactus located near the Pantheon and Piazza Navona, writing enthusiasts will find an array of organizers, diaries, journals, refined vintage-style papers, pens, and other creatively unique Made in Italy handmade products for you or for loved ones.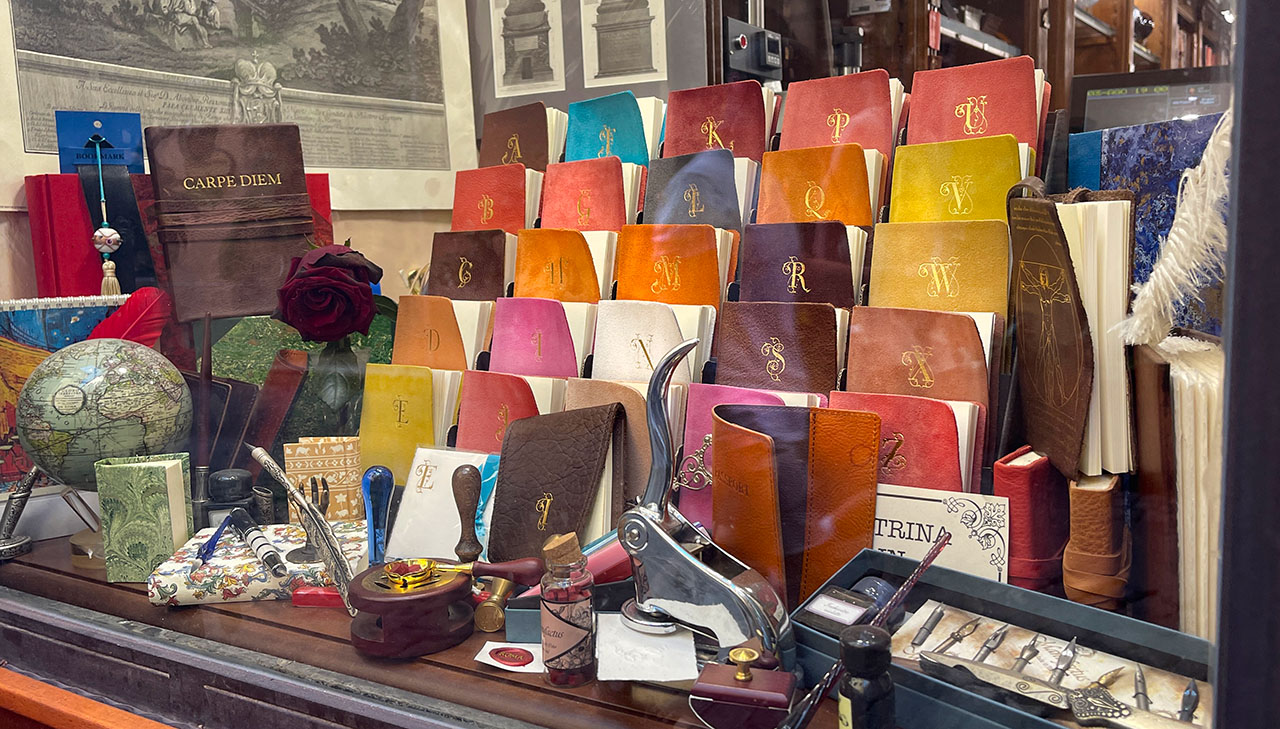 Manufactus:
Piazza Navona, 41, Rome
Via della Rotonda, 15, Rome

11. Unique Antiques from Rome
Strolling down Via dei Coronari in Rome is like stepping into a treasure trove of history and culture. This charming and enchanting street, nestled in the heart of the Eternal City, offers a delightful haven for antique enthusiasts and souvenir seekers alike.
As you stroll along its cobblestone path, a captivating array of antique shops beckons with an exquisite selection of timeless artifacts and mementos. From intricately carved wooden figurines to ornate Renaissance-era tapestries, each shop holds a piece of Rome's storied past, waiting to be discovered.
The scent of nostalgia hangs in the air, and the shop windows display a kaleidoscope of vintage treasures, all whispering tales of centuries gone by. Whether you're a seasoned collector or a casual explorer, the experience of shopping for antique souvenirs on Via dei Coronari is a journey through time, allowing you to carry a tangible piece of Rome's rich heritage back with you as an enduring memory.
12. Artistic Souvenirs from Rome
Bringing home a piece of Rome's artistic essence is a cherished way to encapsulate the city's beauty and culture in a tangible keepsake. Among the myriad options, consider locally painted paintings and watercolors by artists who showcase their masterpieces within the enchanting art galleries scattered across the city.
A particularly captivating hub of art galleries lies along Via Margutta, a picturesque oasis near the Spanish Steps, where artistic expressions come to life.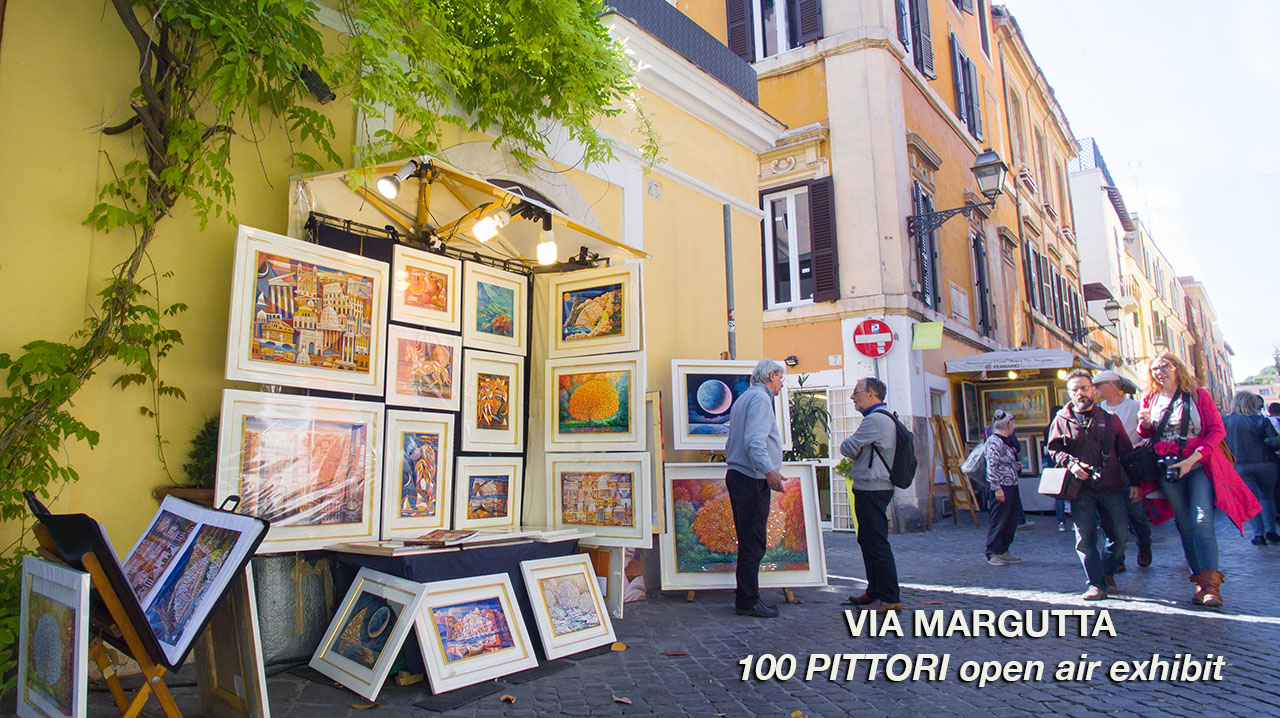 For decades, dating back to the 1950s, the enchanting Via Margutta has been the proud host of the "100 Pittori" (100 Painters) open-air exhibition. This annual event showcases the exceptional talents of the association's 100 artist members, transforming the charming street into an artistic haven.
For an even more personal touch, venture to Piazza Navona, where talented artists await to immortalize your likeness in a sketched portrait. This unique experience not only offers a captivating memory but also a one-of-a-kind artwork that speaks to the heart of Italy's artistic heritage.
With the added benefit of being lightweight and easy to pack, these artworks serve as radiant treasures, adorning your home and your heart with the indelible spirit of Italy.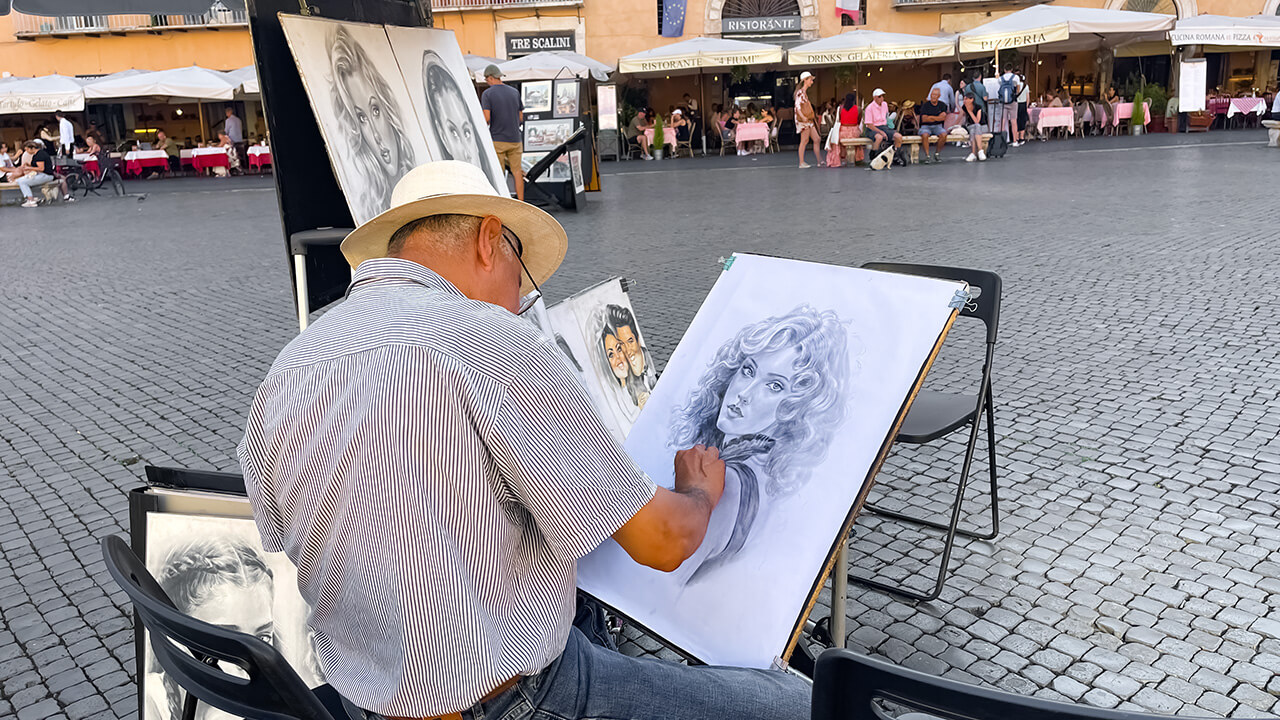 * BONUS: Don't forget the Souvenir Shops!
Despite our best intentions, the allure of souvenir shops, brimming with charming knick-knacks and keepsakes, remains an irresistible temptation for simple mementos or fun gifts, or stocking stuffers.
In Rome's heart, facing the Pantheon in Piazza della Rotonda lies one of our favorite souvenir shops: Make in the Art souvenir shop. Celebrating local craft, this tiny shop offers Italian-made treasures, from t-shirts and mugs to elegant wooden and marble pieces. Each creation reflects the passion and city's essence.
Our favorites are the square marble coasters stamped with Latin expressions and Ancient Roman symbols, echoing our deep connection to Rome's traditions.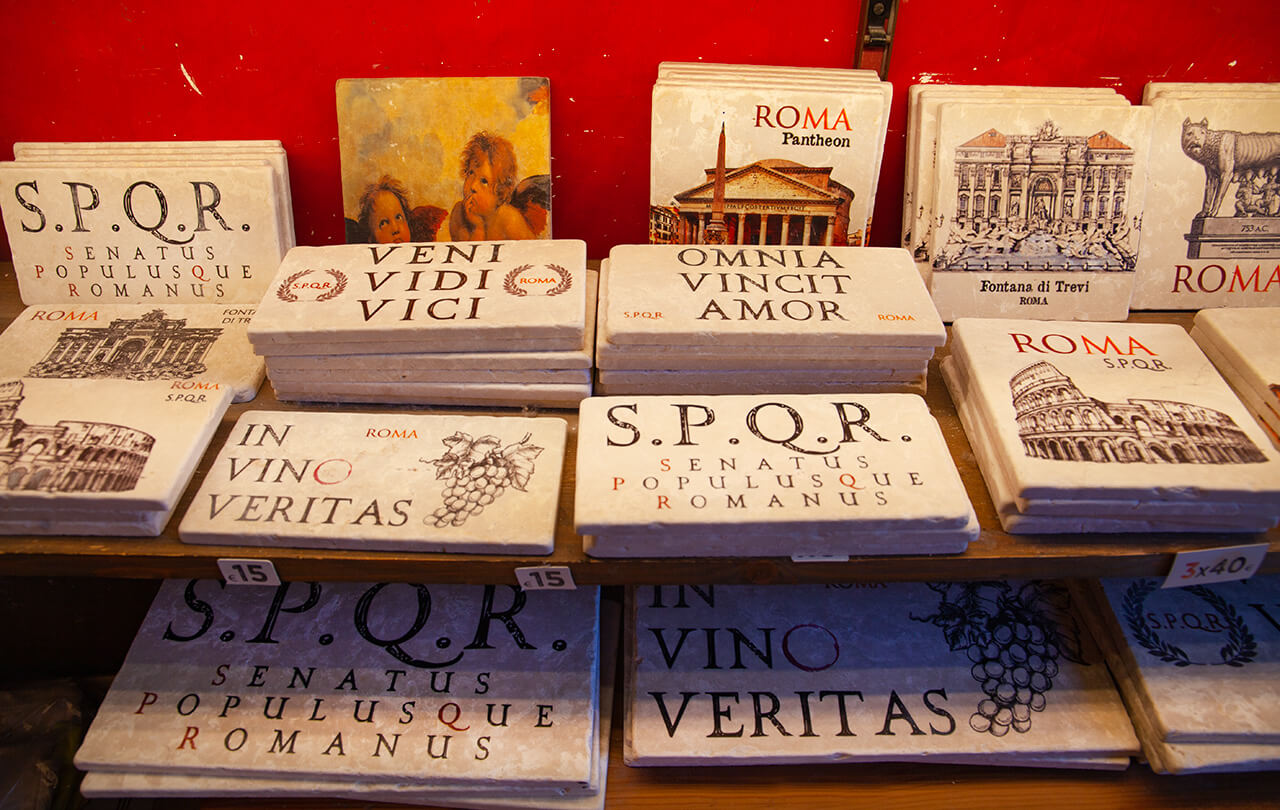 Make IN
Piazza Della Rotonda 69a, Rome

Don't miss the charming L'Artigianato Souvenir Shop, a true gem located at Piazza Navona. More than just a stopover, it's a family-owned haven where Capodimonte porcelain mingles with traditional ceramics, Murano glass, and modern design icons such as Alessi, Bialetti, and La Pavoni. Here, souvenirs become art, offering an endless array of gift ideas that celebrate craftsmanship's finest.
A haven not only for tourists but a generational magnet, both locals and global visitors are drawn to its allure. Step in and revel in these captivating moments, immersing yourself in treasures amidst the ancient wonders of Rome.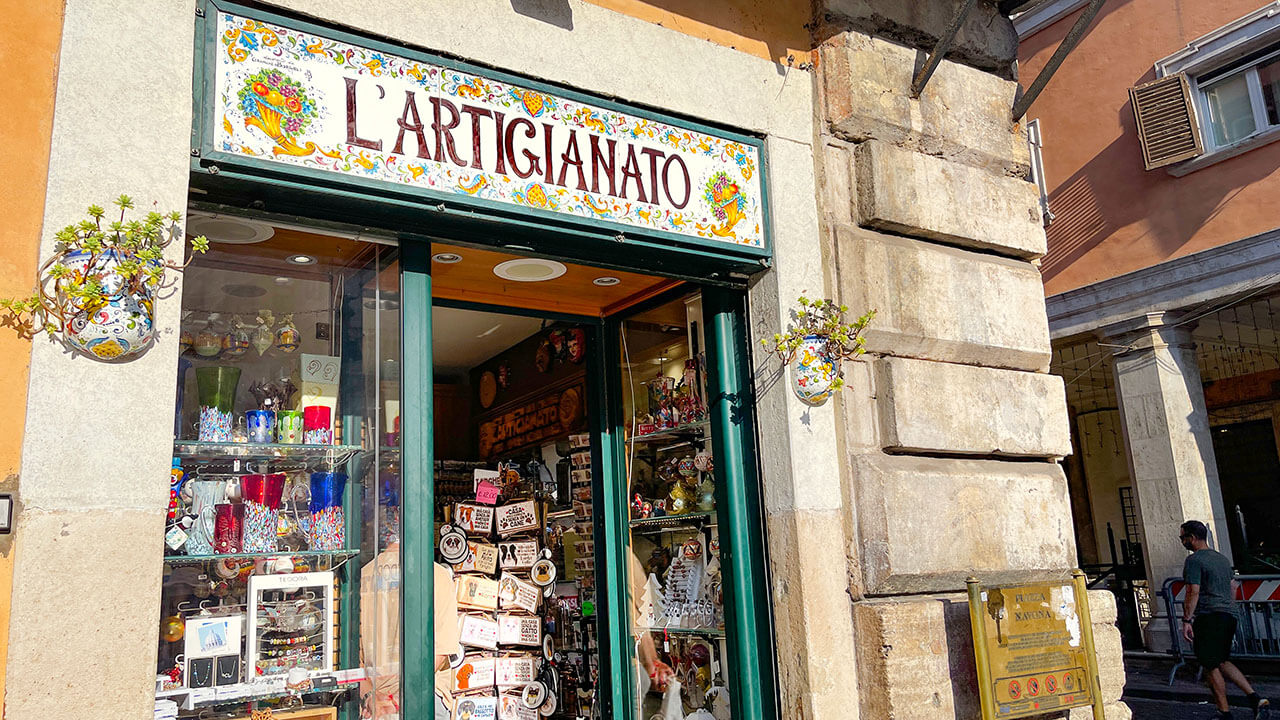 L'Artigianato
Piazza Navona, 84
* Winter and Summer Sales in Rome!
Shopaholics will find immense joy in Italy's bi-annual sales, a shopping extravaganza that occurs following the first week of January and the first week of July.
If your voyage leads you to Rome in January, seize the opportunity to indulge in the winter sales and consider packing light. This way, you can relish shopping for your winter wardrobe to showcase during your Italian escapade and to carry back home with you. Alternatively, if your Roman adventure aligns with July, the summer sales will compel you to explore the boutiques for irresistible deals on the latest summer trends.
As the month draws to a close, the sales amplify their generosity, with prices plummeting further. However, by this point, the assortment may be more limited compared to the onset of the sales, as savvy shoppers have already claimed the finest pieces. For those whose Roman sojourn is reserved for late January or late July, you'll still encounter an array of captivating summer fashion and footwear, all available at enticing sales prices.
In Rome, both Via del Corso and Via Cola di Rienzo stand out as exceptional shopping avenues, offering prime opportunities for the ultimate sales shopping experience.
FINAL TIPS FOR SOUVENIR SHOPPING IN ROME:


Remember to shop at reputable stores and markets to ensure the authenticity and quality of the souvenirs you purchase. Choose items that hold personal significance for you and reflect the beauty and heritage of Rome, allowing you to cherish your time in the Eternal City for years to come.

Check the tags for "Made in Italy" to ensure you are truly bringing home an authentic Italian piece, steering clear of the low-quality trinkets churned out en masse on distant continents, devoid of any intrinsic worth.
Many of the recommended souvenirs are conveniently clustered within the vicinity of the Pantheon. If a visit to the Pantheon is on your Rome itinerary, take advantage of the opportunity to explore the vicinity, meandering through the charming streets that branch out from this historic monument.

For an exceptional selection of original and authentic souvenirs, Via dei Coronari stands out as one of the most popular Rome streets for shopping. If shopping ranks high on your list during your Rome expedition, make it a point to incorporate Via dei Coronari into your travel plans.


ALSO READ: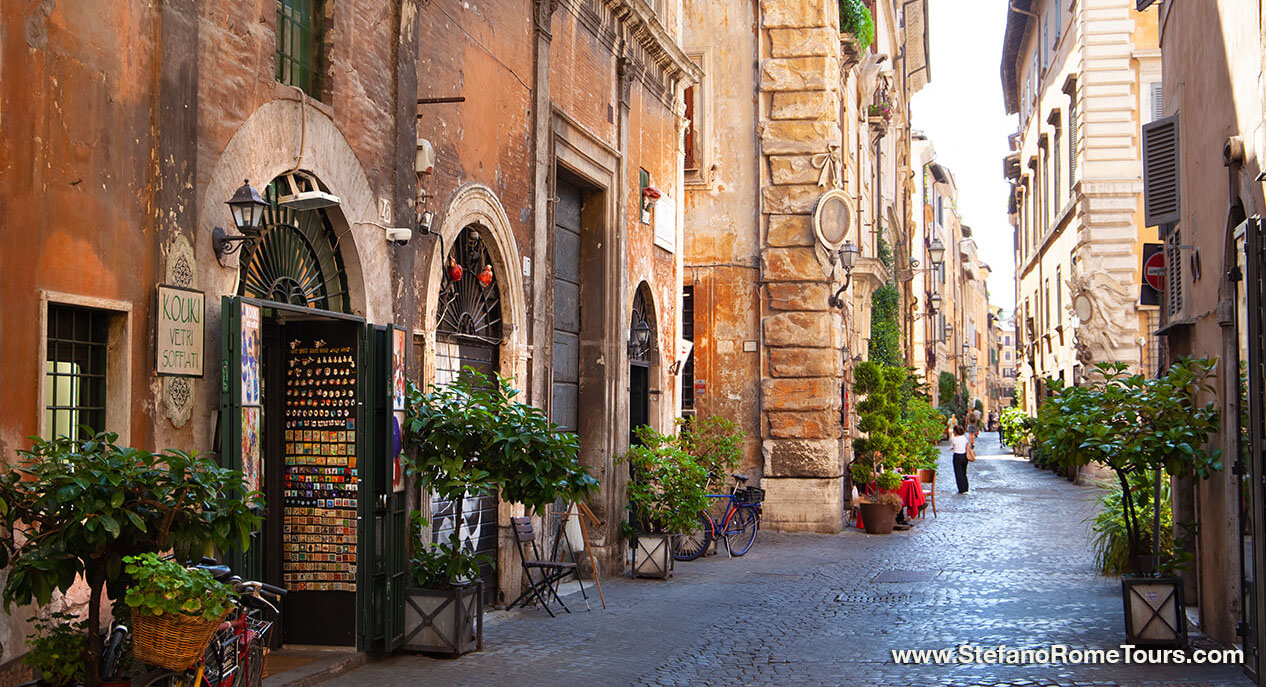 As your Roman adventure comes to an end, don't miss the chance to bring home a piece of this Eternal City through its authentic souvenirs. From Vatican memorabilia to artisanal ceramics and Roman jewelry reflecting centuries of artistry, each item carries the magic of Rome within it. Don't forget to savor the delectable flavors of Italy with artisanal pasta, exquisite chocolates, and fine wines that will transport your taste buds back to the enchanting streets of Rome.
And to make your journey even more memorable, discover the best way to get around Rome.
Explore the highlights of Rome on our Rome Sightseeing Tours, embark on a Pre-Cruise Rome tour to Civitavecchia, enjoy a Rome shore excursion from Civitavecchia, or discover Rome post-cruise from Civitavecchia on your debarkation day. Your Roman experience is not just a memory; it's a cherished connection to this extraordinary city that will forever linger in your heart.
So, as you bid arrivederci to Rome, take a piece of its splendor with you and relive the magic of this ancient city whenever you desire. Thank you for reading our travel blog "Best Souvenirs to Bring Home from Rome: Original and Authentic Ideas", we hope it helps inspire your shopping ideas for your next trip to Italy!