description

Our Post-Cruise Postcard Rome Tour from Civitavecchia is perfect for cruisers staying in Rome after their cruise ends in Civitavecchia and wishing to make the most of their debarkation day.

Your personal Stefano Rome Tours English-speaking Driver will pick you up on the Pier next to your ship, and take you on a fun-filled tour to experience Rome's enthralling historic beauty and architecture while avoiding crowded tourist attractions, lengthy security lines, and advance admission tickets that restrict flexibility and sightseeing opportunities. At the conclusion of your Rome Tour, your driver will take you directly to your hotel in Rome for the most convenient and comfortable way to tour Rome from Civitavecchia post-cruise.

On our Post-Cruise Postcard Rome for Cruisers shore excursion, you will enjoy Rome's most exciting squares, elaborate fountains, imposing Ancient Roman monuments, and one of Rome's most remarkable churches.
* POST-CRUISE POSTCARD ROME TOUR from Civitavecchia:


For up to 4 Persons from Civitavecchia: 550 EUROS
For up to 6 Persons from Civitavecchia: 600 EUROS
For up to 8 Persons from Civitavecchia: 680 EUROS

** Dates on the Booking Form Calendar that are NOT Selectable, are NOT AVAILABLE.

** Please include your DROP-OFF HOTEL NAME and ADDRESS IN ROME in the MESSAGE BOX of your booking form.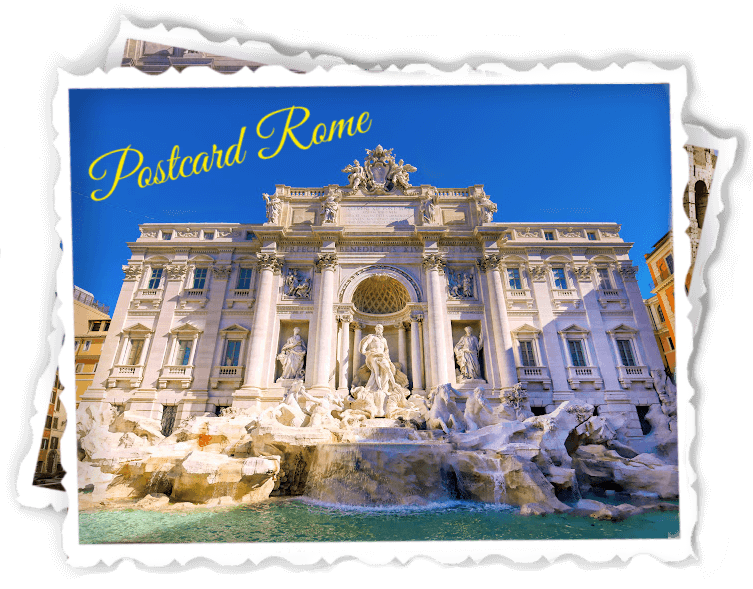 VISIT ROME'S FAMOUS SQUARES and FOUNTAINS

Enjoy a taste of La Dolce Vita as you visit some of Rome's most iconic squares and fountains that have made their way into classic films and contemporary movies: Piazza della Rotonda, Piazza Navona, Trevi Fountain, and the Spanish Steps.
PIAZZA DELLA ROTONDA


As you step into this vibrant square, your gaze will be irresistibly drawn to the majestic Pantheon and the captivating Fontana del Pantheon.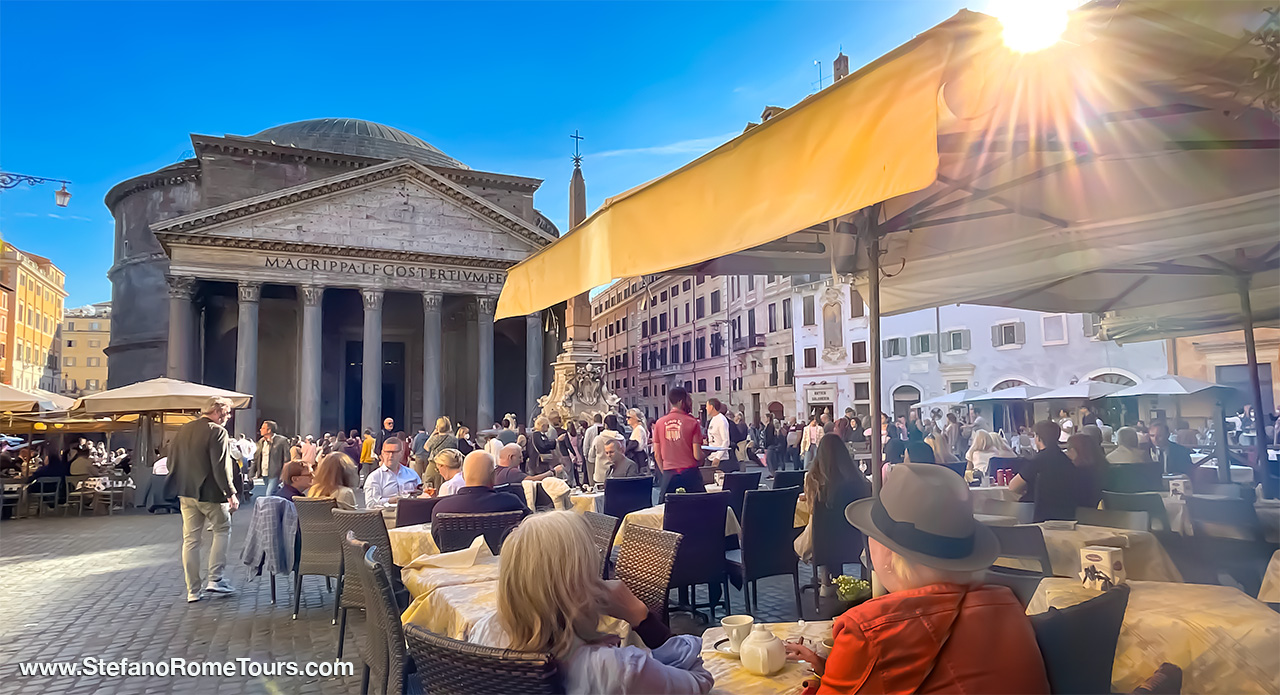 The allure of the fountain is heightened by the remarkable marble Egyptian obelisk that crowns it, a relic once part of a magnificent duo crafted for the Temple of Ra in Heliopolis. Its twin counterpart proudly graces the front of the Basilica of Santa Maria Sopra Minerva, located just behind the Pantheon.
Wander through the square at your own pace, immersing yourself in the surrounding area teeming with historical palazzi that weave tales of the past. Venture around the circular Pantheon and witness the striking Basilica of Santa Maria Sopra Minerva fronted by the famous statue of Bernini's elephant carrying the obelisk, explore enticing shops brimming with unique treasures, and treat yourself to a divine gelato from one of the nearby gelaterias.
Please note: Unfortunately, due to long entry lines, even for visitors with hard-to-obtain pre-booked time slot tickets, a visit inside the Pantheon is not included in this tour


TREVI FOUNTAIN

The moment you hear the soothing sounds of water gushing, you will know you are close to the Trevi Fountain, one of the most famous Baroque fountains in Rome and in the world! Dominated by marble carved pagan god Neptune riding a seashell chariot drawn by seahorses, Trevi Fountain is a symphony of water and sculptures.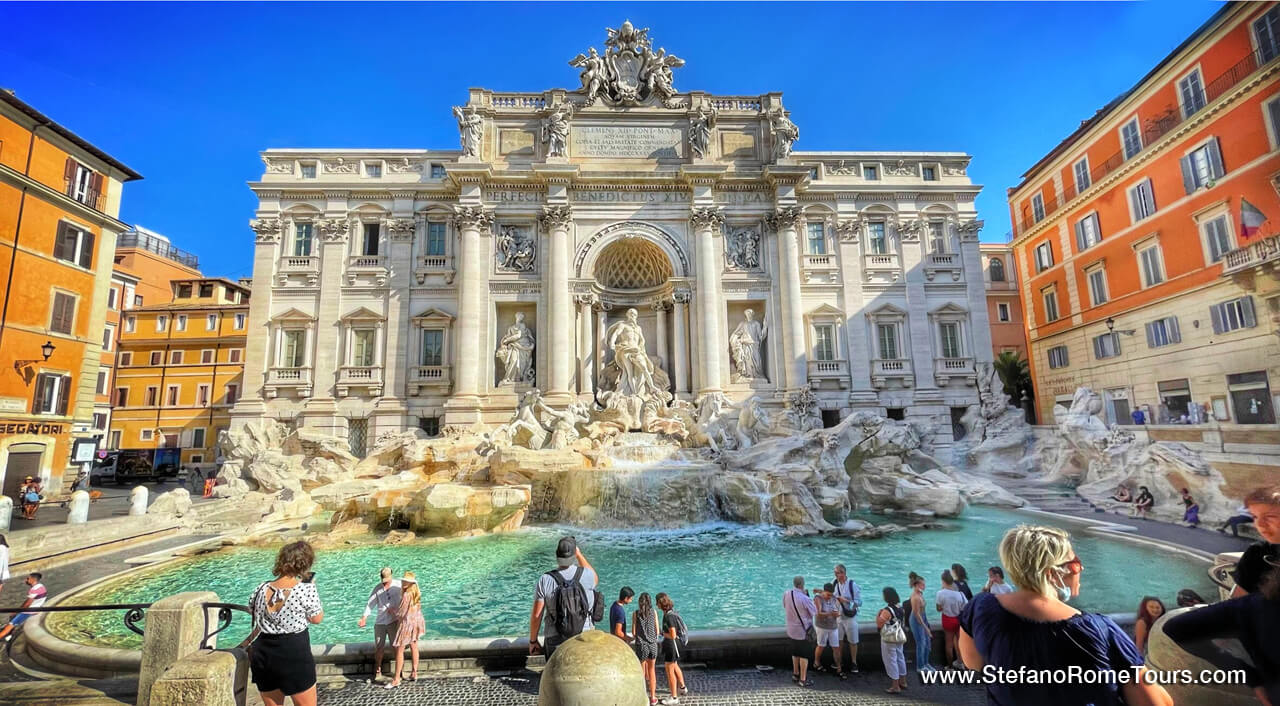 While at the Trevi Fountain, be sure to continue the long-enduring tradition of tossing a coin into the fountain to ensure a future visit to Rome. Aside from being one of the most well-recognized fountains in the world, the Trevi Fountain's fame has been immortalized in classic films such as "Three Coins in A Fountain" and Federico Fellini's "La Dolce Vita".


SPANISH STEPS

The picturesque Spanish Steps with its elegant unfurling stairway connects the Church of Trinity and obelisk above with the square below dominated by the Fontana della Barcaccia (the Fountain of the Old Boat) below.
The beautiful palazzo to your right if you are facing the Spanish Steps is the Keats-Shelley Memorial House, the famous English writer John Keats lived.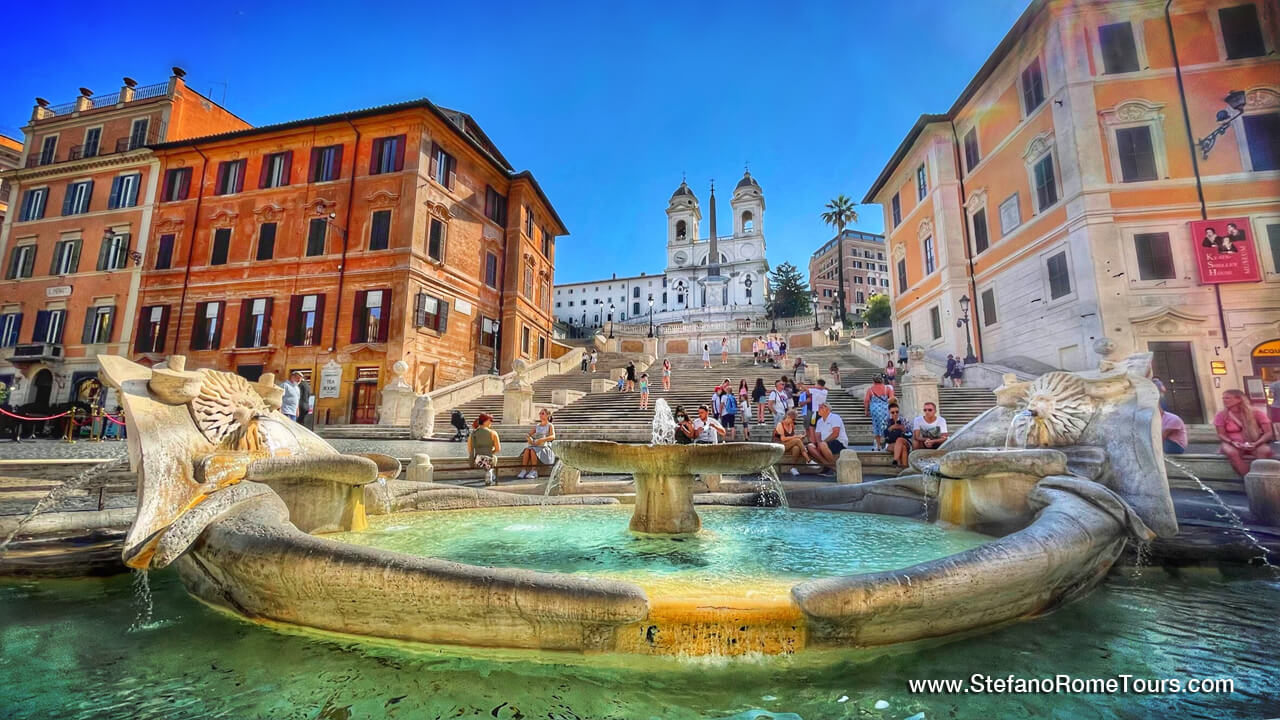 PIAZZA NAVONA

The lively Piazza Navona is adorned with three large fountains located in a spacious oblong square surrounded by warm-toned historic buildings. A variety of colorful paintings and drawings exhibited by local artists adds to the charm and vibrant atmosphere of Piazza Navona.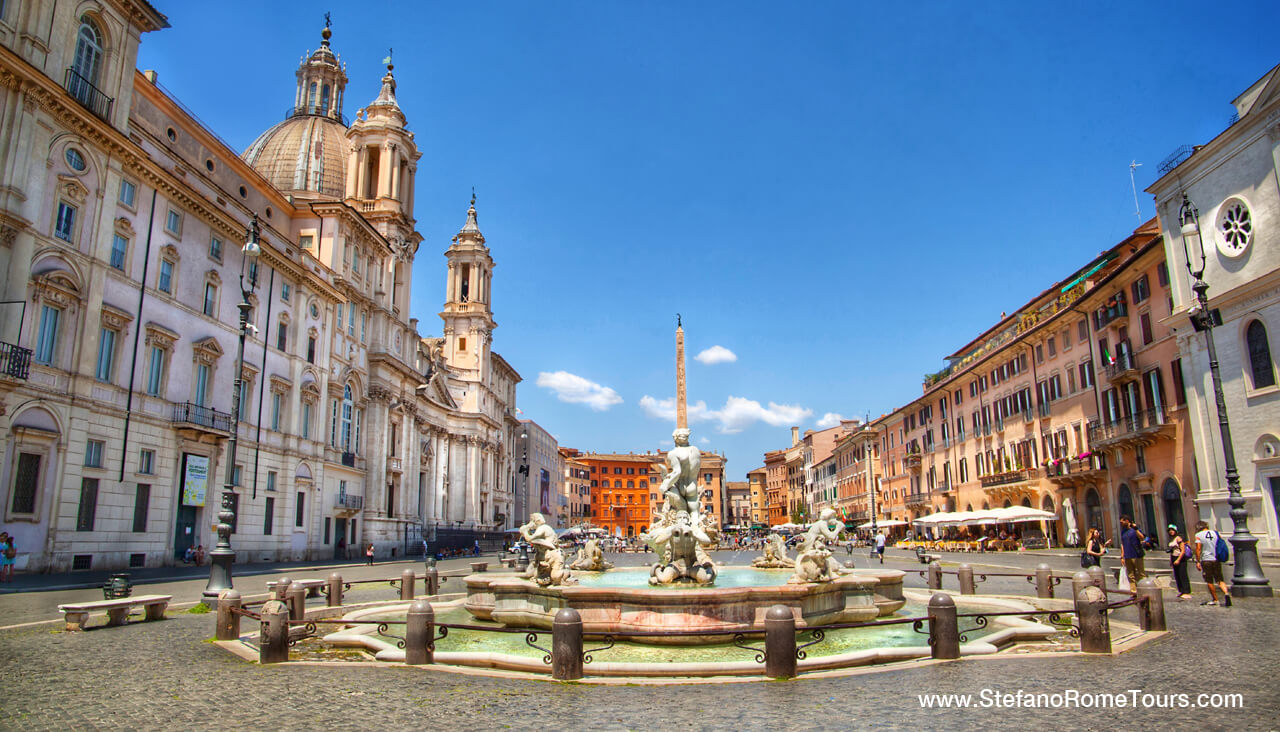 Piazza Navona's oval shape and name are from the Ancient Roman stadium upon which the square was built. The stadium was commissioned in the 1st century AD by Emperor Domitian to be used for athletic games and competitions. The name Navona derives from the ancient word for games "agone".

The staggering fountain that dominates the square is the Fountain of Four Rivers (Fontana dei Quattro Fiumi) by Gian Lorenzo Bernini. This 17th-century Baroque fountain represents the four major rivers of the four known continents of that time: Rio de la Plata (America), Danube (Europe), Ganges (Asia), and Nile (Africa). The fountain is surmounted by an ancient Egyptian obelisk commissioned by Pope Innocent X whose symbol crowns the obelisk.


SAINT PETER'S SQUARE

Saint Peter's Square is one of the most esteemed squares in Rome welcoming millions of visitors within the embrace of "the maternal arms of the Mother Church".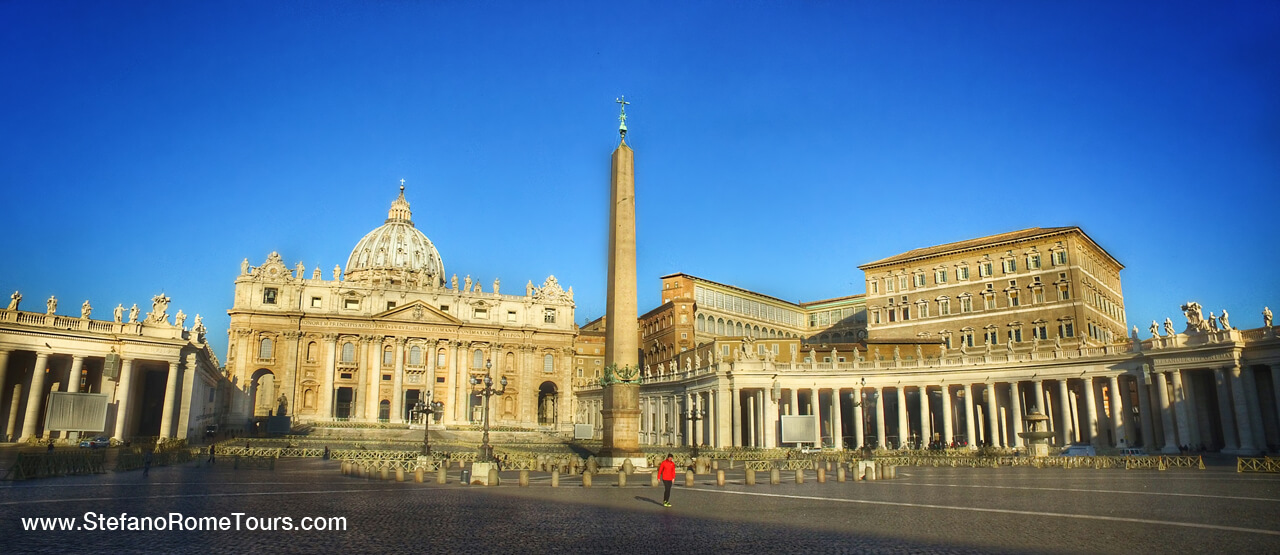 The sweeping elliptical square was designed by Gian Lorenzo Bernini to define the square and to allow up to 300,000 faithful into the square when the Pope gives his blessings. The 284 colossal Doric columns are arranged in four rows. The colonnade is topped with 140 statues depicting various saints.

The 84-foot-tall ancient Egyptian obelisk marks the center of Saint Peter's Square. Originally from Heliopolis, Egypt, the obelisk was brought to Rome in 37 AD by Emperor Caligula.
SEE THE WONDERS OF ANCIENT ROME
VIEW THE ANCIENT ROMAN IMPERIAL FORUMS

A special stop on a special terrace behind Capitoline Hill will surprise you with a breathtaking picture-perfect panorama of the Roman Forum from where the Roman Empire was governed and considered the Navel of the City of Rome (Umbilicus Urbis Romae).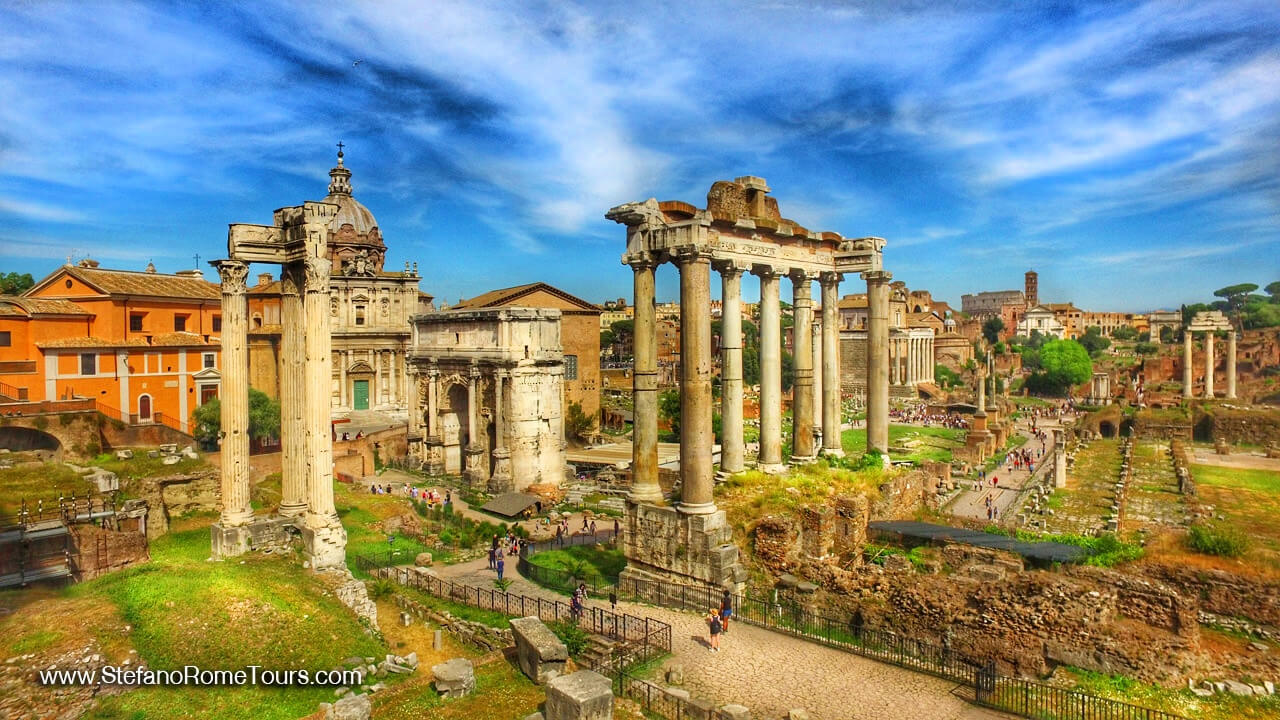 For many centuries the Roman Forum was the main gathering square for locals and Ancient Rome's political, judicial, commercial, and religious center. Impressive ruins of numerous structures and monuments are scattered around the Roman Forum. These magnificent buildings which originally glistened in fine white marble and were covered with terracotta roof tiles, now serve as vestiges of Ancient Rome's glorious and powerful past.

To the right side is imperial Palatine Hill where emperors and the elite had their opulent palaces, and further back beyond the Roman Forum you can see the Colosseum peeking from the distance. Have your cameras ready as this picturesque spot is one of the most photographed locations in Rome!
PIAZZA DEL COLOSSEO / COLOSSEUM SQUARE

Piazza del Colosseo is a spacious cobblestoned pedestrian square surrounded by Rome's grand monuments: the Colosseum and the Arch of Constantine.
Behold the imposing iconic Colosseum, the world's largest amphitheater ever built. Named the Flavian Amphiether after Emperor Vespasian's family name (Flavius) who commissioned its construction in 72 AD, the amphitheater was built to accommodate over 65,000 spectators gathering to watch the spectacles that took place in the arena: gladiatorial combats, animal hunts, mock sea battles, theater performances, and public executions.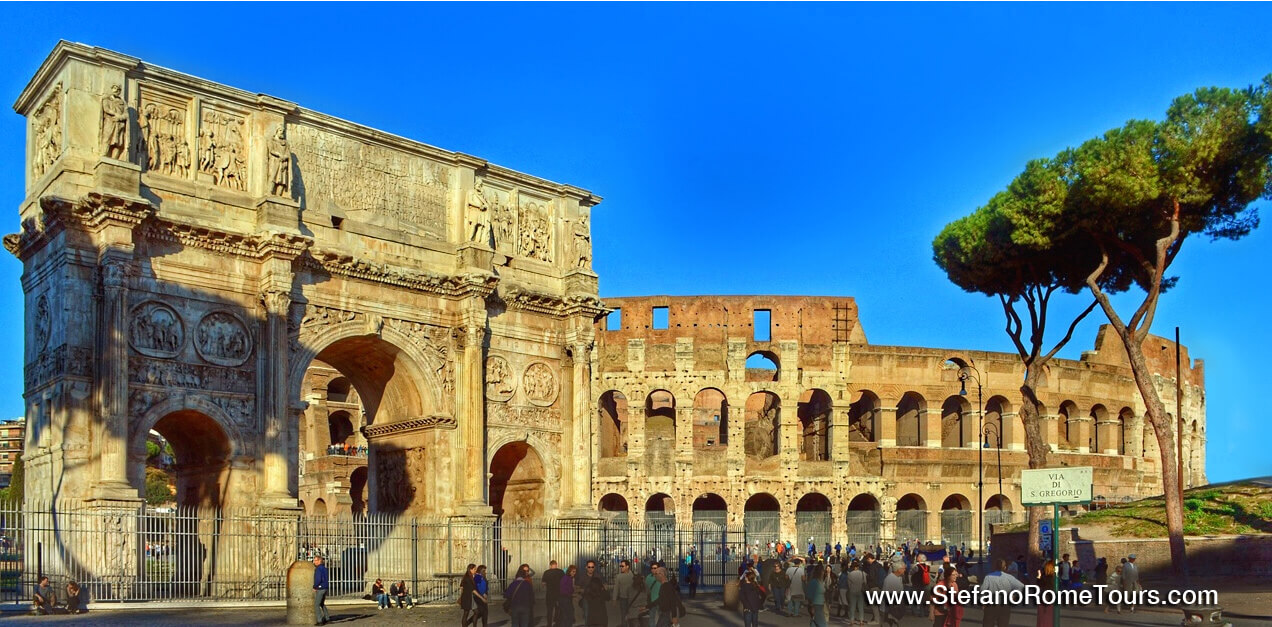 Although over the millennia nature and human activity deteriorated the monument, the Colosseum is still one of the most formidable wonders of Ancient Rome and is visited by millions of people each year.

Near the Colosseum is the towering triumphal Arch of Emperor Constantine that commemorates his victory over Emperor Maxentius at the Battle of Milvian Bridge in 312 AD.
ST PAUL OUTSIDE THE WALLS - one of the four Papal Basilicas
Your Post-Cruise Postcard Rome Tour will continue with a visit to the awe-inspiring St Paul Outside the Walls, the second largest basilica in Rome and one of the four Papal Basilicas which are the highest-ranking churches in Christendom.
This basilica ranks among the top pilgrimage destinations for millions of Christians around the world. Because the Basilica of St Paul Outside the Walls was built outside the ancient Roman Aurelian Walls, it was also given the name "outside the walls" referencing its location.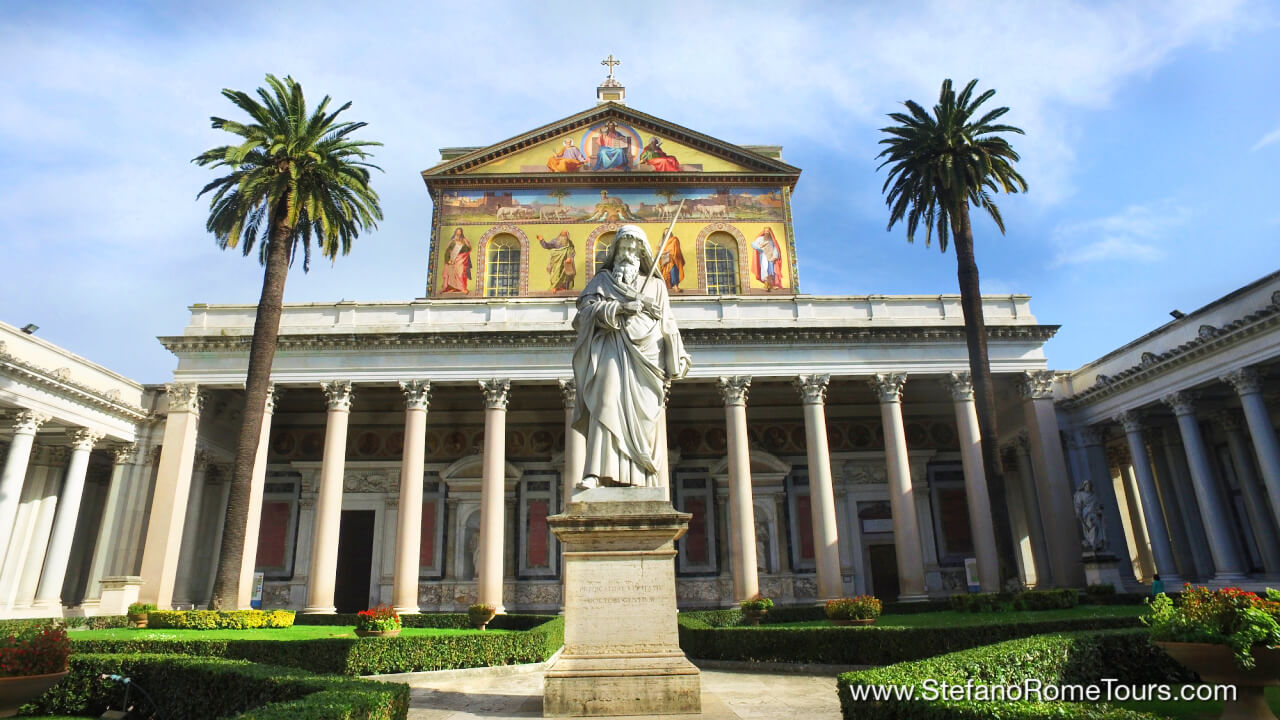 The Basilica was commissioned initially by Emperor Constantine in the 4th century to be built over the burial site of Saint Paul the Apostle. Paul's tomb is situated about 4.5 feet below the altar, placed beneath a marble tombstone inside the crypt.

In the early 1800s, the basilica was destroyed by fire, and thanks to the generosity of donors from around the world, it was perfectly restored to its previous glory.

In addition to being an architectural masterpiece that rivals Rome's major papal basilicas, St Paul Outside the Walls complex also features a graceful portico and a cloister of the monastery. This Basilica is more easily accessible to visitors than St Peter's Basilica where security lines that form in St Peter's square are unpredictably long and potentially exhausting.

This marks the end of your Rome postcard-perfect debarkation tour. From here you will join your driver who will take you to your hotel accommodation in Rome.
Thank you very much for booking our Post-Cruise Postcard Rome Tour from Civitavecchia and for choosing Stefano Rome Tours for your private shore excursions in Italy. We look forward to welcoming you to Rome!
Important Information

Please READ the important information below as well as Read & Accept our TERMS OF SERVICE and Privacy Policy prior to placing your reservation request(s).



PAYMENT OPTIONS:
Payment for this Postcard Rome tour can be made in Euro funds at the end of your journey directly to your driver, or you may prepay in advance via PayPal or Credit Card online when you Confirm your Tour.


CANCELLATION POLICY:
We kindly ask that cancellations for Rome limo tours be made at least 7 days in advance so we can rebook your service and your reserved driver does not lose work for that day. We thank you for your cooperation and consideration.
** PREPAID SERVICES can only be Refunded the Net Rate we receive from your prepayment. Net Rate is the actual service price minus the fees retained by PayPal/Credit Card that are not reimbursed to us in case of refunds. We can only refund the portion we receive from the PayPal/CC company.
EMAIL INQUIRIES / BOOKING REQUESTS
Please allow up to 24 hours for email correspondence in response to email inquiries and tour reservation requests.
We reply to ALL emails and booking requests we receive. If you don't receive correspondence from us within 24-48 hours please CHECK YOUR SPAM FOLDER, or send us an email from a different E-mail account.
YOUR STEFANO ROME TOURS DRIVER
This Postcard Rome tour provides an English-speaking Driver who is NOT a Licensed Tour Guide.
* Italy has strict laws and regulations aimed to protect official licensed guides that make it unlawful for Drivers to act as tour guides or accompany guests to sightsee on foot away from the vehicle. In order for us to comply with Italy's laws, Drivers are required to remain with the vehicle while guests sightsee away from the vehicle.
* On this Post Cruise Panoramic Rome Tour from Civitavecchia you will SELF TOUR (unaccompanied by your driver) when away from the vehicle.
* You will be dropped off as close to the sites as possible in accordance with municipality and traffic laws.
LUGGAGE
Please inform us in your reservation (message box) of the total luggage you anticipate bringing (large check-in suitcases and small carry-on cases) so we can provide you with a suitable vehicle to safely accommodate all passengers and their luggage.
A minivan for up to 8 passengers can accommodate up to 6 suitcases and up to 6 carry-on cases in TOTAL.
Please do not leave any personal items and valuables inside the vehicle while away from the vehicle.
MEETING POINT at Civitavecchia Port:
For Shore Excursions from Civitavecchia, your driver will meet you on the Pier next to your Ship at your tour's scheduled pick-up time holding a sign with the NAME in your reservation.
Do NOT leave the ship area, and do NOT take a shuttle bus outside the port.
Look for your driver in the same area on the Pier as ALL private drivers will be waiting for their clients. After you meet your driver you will be accompanied to your vehicle and your Rome private shore excursion will begin with a leisurely drive from Civitavecchia to Rome.