Buongiorno and welcome to Stefano Rome Tours.
If you are visiting Rome this summer, you can't miss out on one of Rome's tastiest local traditions: Grattachecca. If you are staying in Rome for a few days, we included the best places to taste the grattachecca Romana at easy-to-find kiosks in the center.

If you are on our Rome Day Tours, or on a Rome Shore Excursion from Civitavecchia, we will be happy to take you for a refreshing Grattachecca during our tours.

Here is what we will be covering on this travel blog:


What is Grattachecca?

Is Grattachecca similar to Granita?

Grattachecca Romana has ancient origins as an icy drink

Best places to taste the Grattachecca Romana

How to make Grattachecca at home
What is Grattachecca?



Grattachecca Romana is one of the most beloved summer icy drinks by both the Romans and travelers who visit Rome in the summer. This tasty tradition has been handed down from generation to generation and it's a real treat on hot summer days and evenings.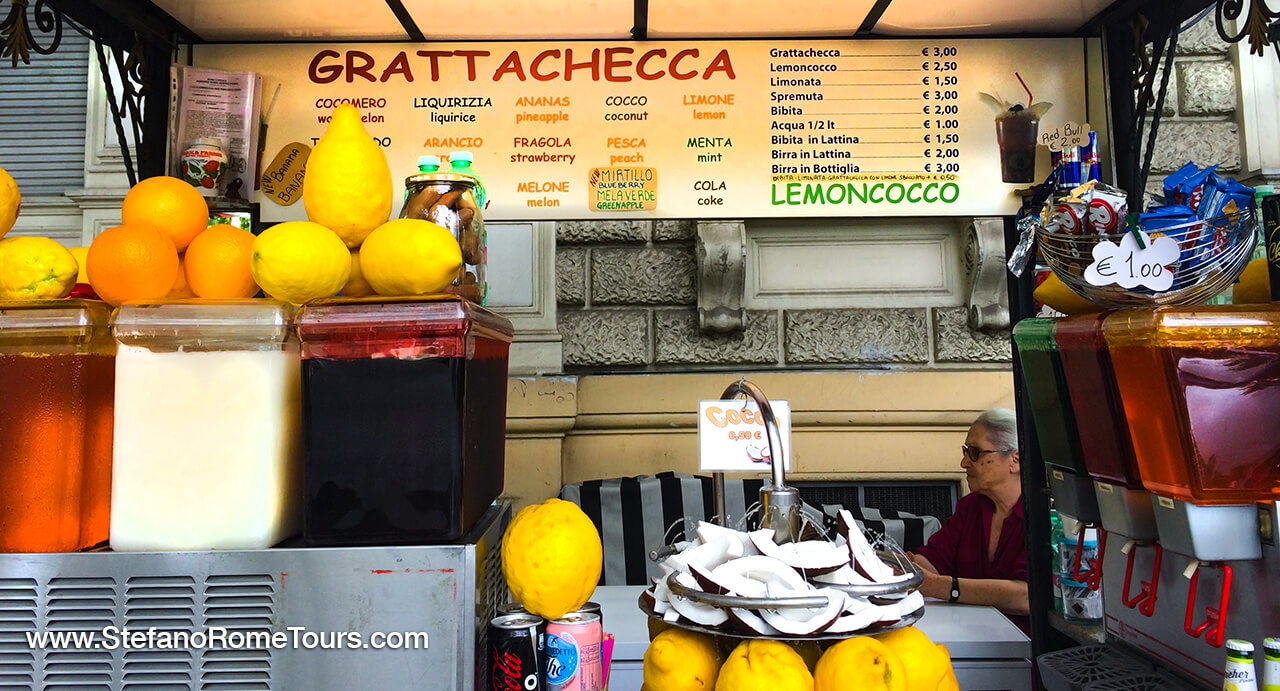 The word "grattachecca" combines the word "Gratta" which means scratching or scraping with "Checca", which is what Romans used to call a block of ice used to keep food and drinks cold before refrigerators were invented.

Grattachecca is basically shaven ice flavored with various flavored syrups. The ice can either be shaven by hand using a metal scraping device, or using a mechanical ice crusher.

Grattachecca is enjoyed mostly between May to September when the weather is hot and cool refreshing drinks are in high demand to beat the heat.

Timeless flavors such as coconut, strawberry, peach, cherry, mint, lemon, and melon topped with fresh fruit, have been joined by new gourmet mixes such as mango, berries, kiwi, papaya, green apple, cinnamon, and more! blueberries and strawberries.

A "grattacheccaro" (grattachecca maker) carries out this tasty traditional craft often handed down in the family from generation to generation.



Is Grattachecca similar to Granita?

Some folks may think that Grattachecca and Granita are the same, but they are quite different.
Granita is a smooth slush where water, juices, and sweeteners are mixed and frozen together, and crushed into a slushy consistency so all the ice crystals contain the flavors.
In the Grattachecca, the syrups and juices are added to the ice after it's been crushed. The bits of ice crystals "crunch" under your teeth and the sweetness of the flavors enhance the taste directly on the palate.
Grattachecca has ancient origins



While Grattachecca is a local Roman tradition, it has origins all the way back to Ancient Rome!
In ancient Roman times, the elite class known as patricians delighted in "nivatae potiones", a type of sorbet that Pliny the Elder described as "a drink composed of finely chopped ice and honey with fruit juice, so as to obtain an icy cream".
If you're wondering how ancient Romans managed to enjoy crushed ice on summer days, it's simple: snowmen!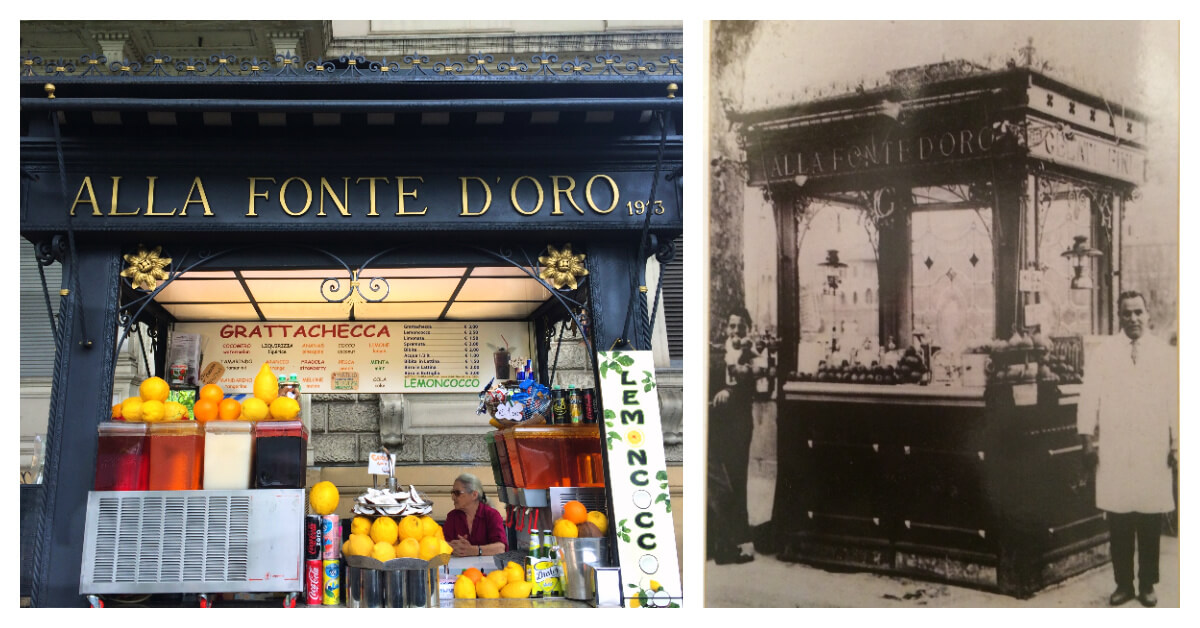 Not those kinds of snowmen, but "Nevaroli" (snowmen, or snow carriers) who gathered ice and snow from the mountains in the winter, carried it to Rome in straw-lined containers for insulation and then stored it in deep underground insulated ice pits (neviere) that were also insulated with straw to preserve the ice during the warmer months. For all this effort, ice was quite a luxury in Ancient Rome that only the wealthy could afford to indulge in.
Up until modern refrigerators were invented, it was still common to see ox-pulled carts traveling through the "ways of the snow" to deliver large blocks of ice harvested from the nearby mountains to Rome.



Where do you find Grattaceccha in Rome?


If you are visiting Trastevere or the Vatican, you can easily make your way to these top 3 Grattachecca kiosks in Rome that have been local staples for a century.
La Sora Maria - La Grattachecca

Via Trionfale, 37
Not far from the Vatican along Via Trionfale, La "Sora Maria" is another historic Grattachecca kiosk that opened in 1933. The establishment is now run by Sora Maria's great-grandchildren of Sora Maria who continue the tradition of tasty Grattachecca with flavors like "The Delicate" with lemon and coconut, or more exotic mixes like maracuja and papaya.
If you are on our private tour of Rome, just let your personal driver know you wish to taste a Grattachecca Romana!
Sora Mirella


Lungotevere degli Anguillara
Along the Tiber River, Sora Mirella is another kiosk that's been very popular since it opened in 1915. Its delicious Gtrattachecca has been popular with both travelers and locals.
Alla Fonte d'Oro - Grattachecca dal 1913

Lungotevere Raffaello Sanzio
One of the classic Grattachecca kiosks is Alla Fonte d'Oro Grattachecha. Founded in 1913 by Giovanni Crescenzi, the seasonal kiosk still remained in the Crescenzi family for a truly long-time tradition. This popular kiosk is conveniently located along Lungotevere by the Tiber River, an easy walk from Trastevere.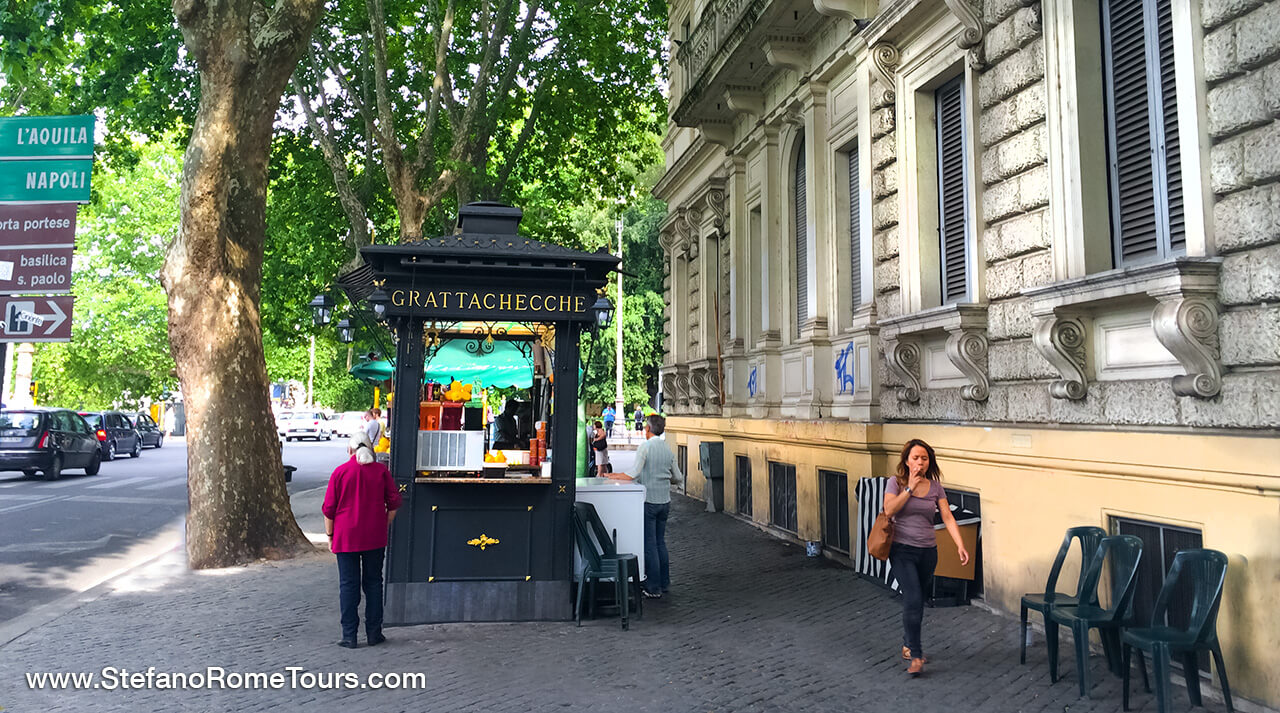 How to make Grattachecca at home

If you can't wait to taste a Grattachecca before your next trip to Rome or private excursion to Rome, you can try making your own icy treat at home. You don't have to be a grattacheccaro to try your hand using the simple ingredients below using seasonal fruit of your choice.
The ingredients don't have specific measurements as they are left to your taste. Since the traditional "recipe" is a tightly treasured secret by the grattacheccari passed down from generation to generation.
GRATTACHECCHA RECIPE:


MAIN INGREDIENTS:
• Ice (crushed in a food processor or blender)
• Flavored Syrup or fruit juice ( such as mint, cherry, peach, orange, berries, or even almond milk,)
• Sugar to taste
• Fruit (chopped in small pieces)
PREPARATION:
Take out the ice from the freezer and leave it at room temperature for a few minutes before beginning so it will not be so "rock hard".
Crush the ice into small pieces in a food processor or blender.
Place the crushed ice in large glasses, and add your preferred flavored syrup or fruit juice. Top with some fresh seasonal or dried fruit like coconut.
Enjoy your grattachecca immediately, don't let the ice melt so as not it loses its crunchy texture and flavor.

Now that you've discovered this refreshing Roman treat, be sure to enjoy some on your next summer holiday in Rome!
Thank you for reading our travel blog and for choosing Stefano Rome Tours for your private Italy Tours and Shore Excursions from Civitavecchia.