Buongiorno and welcome to Stefano Rome Tours, Rome's premier company for luxury tours in Rome, and private excursions from Civitavecchia.

In this travel blog, we will introduce to you the 10 most popular Rome streets that are enjoyed by Rome's many tourists and locals alike. Most of the streets are conveniently located in the heart of Rome's historical center, and many of Rome's popular roads can also be enjoyed on our private tours of Rome.

Without further ado, here are the 10 most popular Rome streets that should be on your list to see on your next visit in Rome!
10 Most Popular Rome Streets
Via dei Fori Imperiali

Via del Corso

Via dei Condotti

Via del Babuino

Via Margutta

Via della Concilazione

Via Veneto

Via dei Coronari

Cola di Rienzo

Ancient Appian Way
Via dei Fori Imperiali

First in line of our 10 most popular Rome streets is Via dei Fori Imperiali.

Via dei Fori Imperiali is among the most scenic boulevards in Rome's historical center that connects Piazza Venezia with the Colosseum.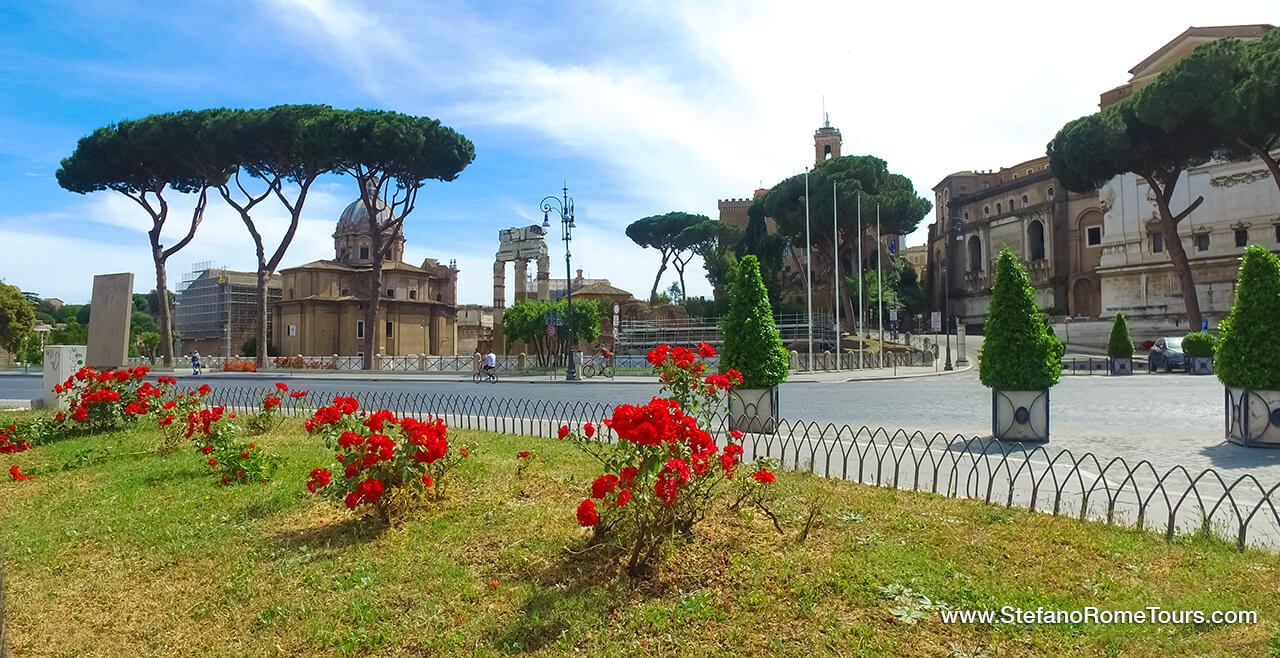 Its name, Via dei Fori Imperiali (Road of the Imperial Forums), gives you a good indication of why this promenade is so fascinating! Both sides of the road vaunt significant Republican and Imperial Roman forums like the Forum of Trajan (and Trajan's column), the Forum of Augustus, the Forum of Nerva, and Caesar's Forum. You can also glimpse the archaeological area of the Roman Forum in the background.
In spite of the decline and fall of the Roman Empire, the ruins along via dei Fori Imperial are witnesses of this mightly civilization.

These monumental squares were the commercial, political, social, and religious heart of ancient Rome and they are fascinating to view as you stroll along Via dei Fori Imperiali which is pedestrian-friendly with minimal vehicle traffic.
Via del Corso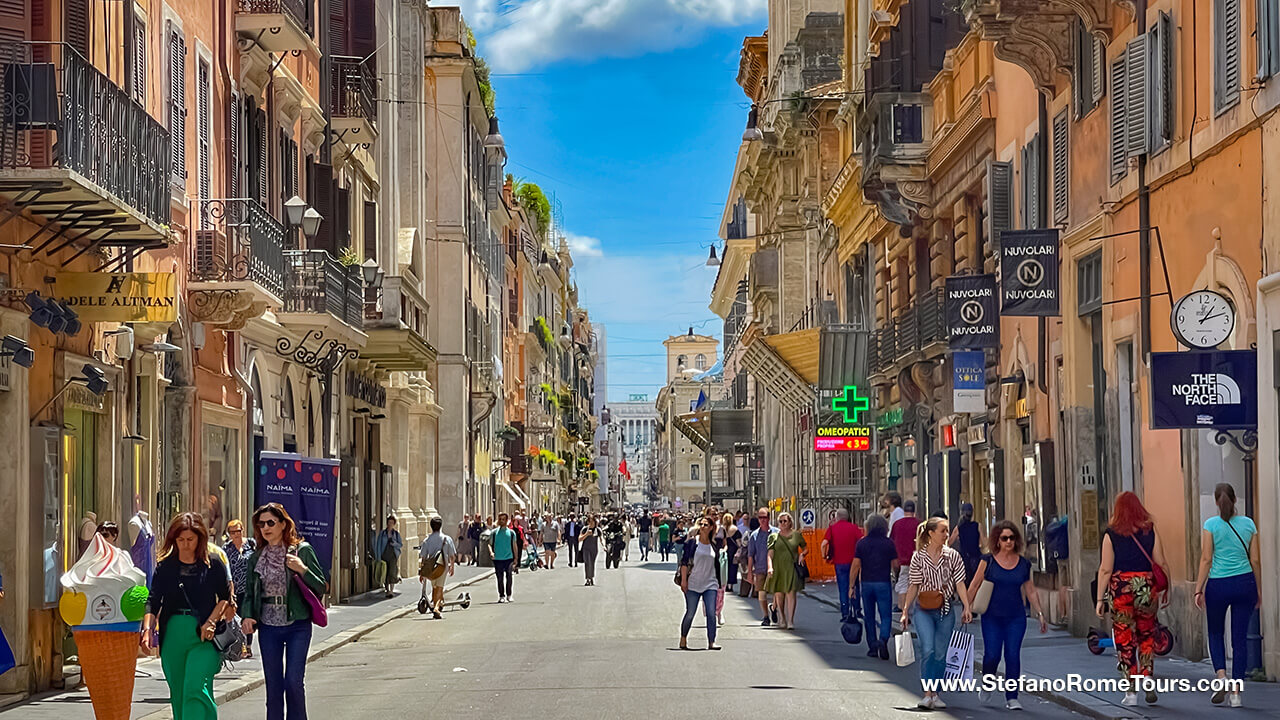 Via del Corso is one of the main streets in the historical center that runs in the north-south direction connecting Piazza del Popolo with Piazza Venezia.

Originating in 220 BC and known as Via Lata (Broad Way), Via del Corso is quite ancient! Compared to the much narrower neighboring lane, via del Corso indeed appears as a broad way.

Lined with historic buildings, restaurants, and shops, Via del Corso is known as being one of the best roads in Rome to shop or enjoy a stroll.

If you are interested in shopping, you can find popular mall-type shops like Zara, H&M, Nike, Diesel, Foot Locker, Gap, Guess, Ralph Loren, Sephora, and Lush, and also shops popular in Europe like Mango, Alcott, Chopin, and more!
Via dei Condotti
Just off Via del Corso towards the Spanish Steps is Via dei Condotti, Rome's high fashion street that rivals Milan, Florence, Paris, and London. The street got its name from the channels, or conduits (condotti) that brought water to the Baths of Agrippa. No day tour in Rome is complete without a stroll along Via dei Condotti following your visit to the Spanish Steps.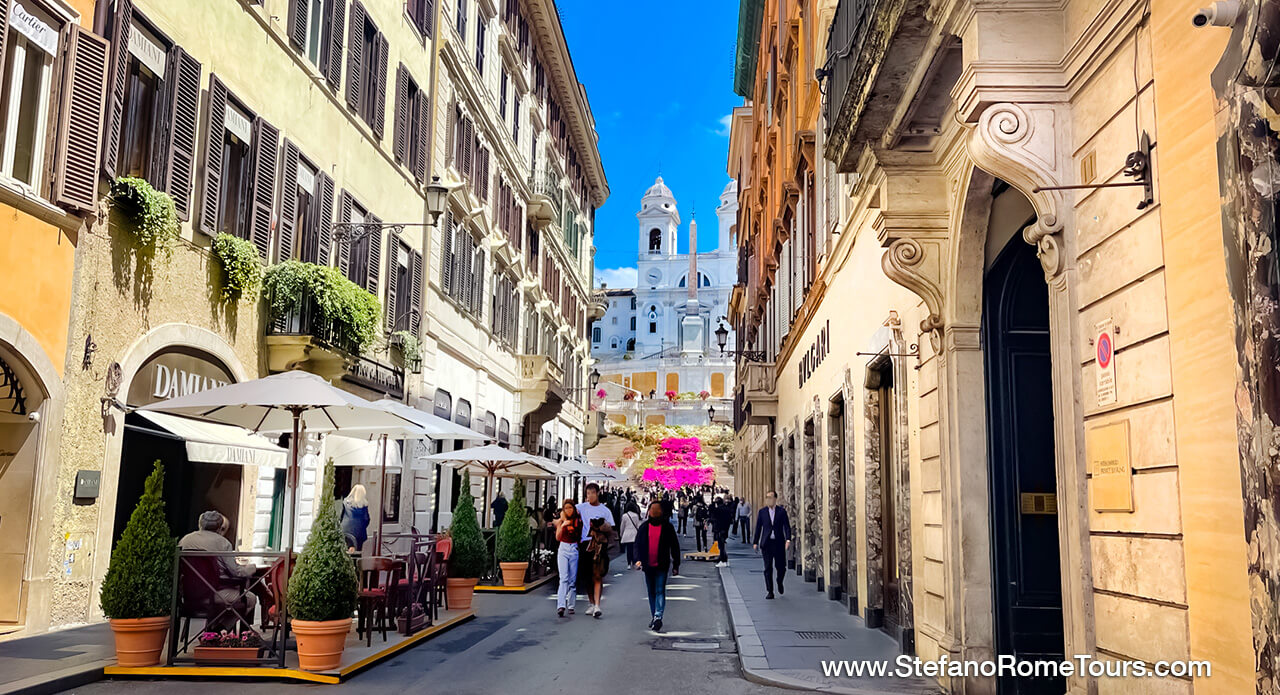 You can expect to find luxury shops from famous fashion brands such as Louis Vuitton, Dior, Armani, Burberry, Gucci, Hermes, Valentino, Prada, Dolce & Gabanna, and more.

Along Via dei Condotti is Antico Caffe Greco, possibly the most famous cafe in Rome with an opulent interior. Established in 1760, the cafe attracted illustrious figures such as Keats, Goethe, Byron, and Liszt who enjoyed their coffee at this grand cafe near the Spanish Steps.
Via del Babuino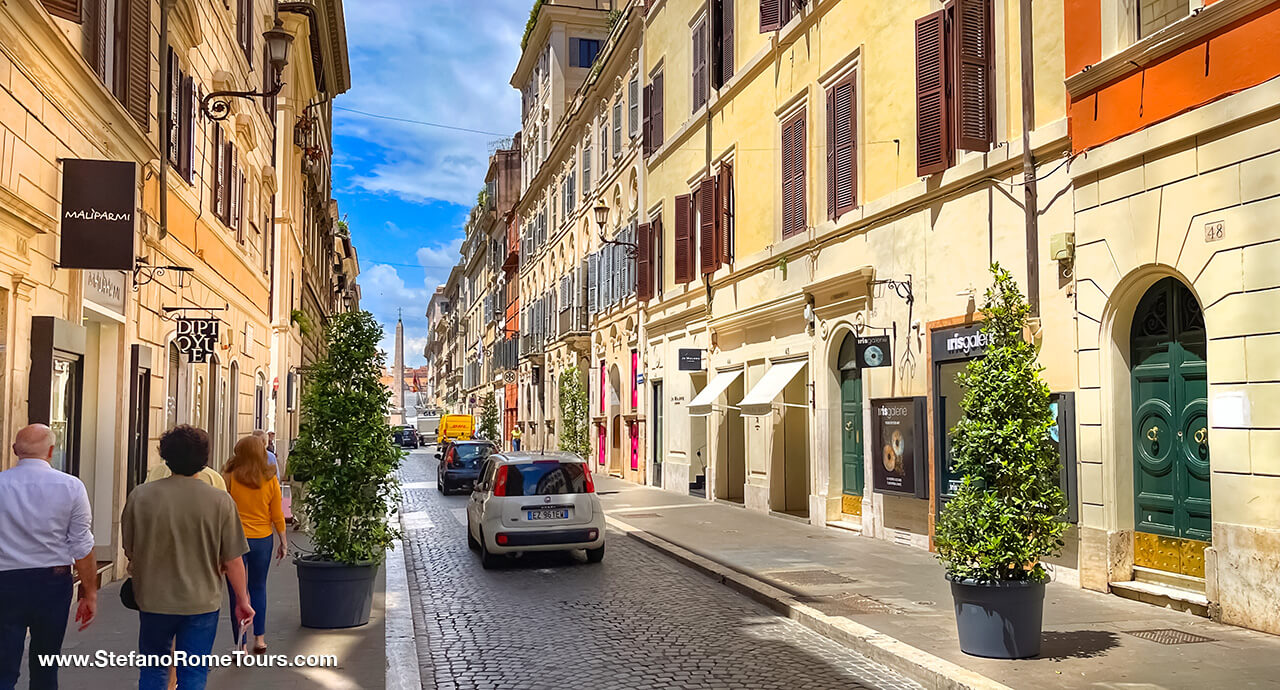 Via del Babuino is also nearby and it extends from the Spanish Steps to Piazza del Popolo, parallel to Via dei Condotti.

Via del Babuino is also an ancient street from the 13th-century middle ages, originally known as Via dell'Orto di Napoli, Via del Cavalletto, and later Via Paolina.
But it took an ugly statue of a reclining Silenus (a classical deity related to fountains and springs) that was part of a fountain installed on the side of a building on this street to prompt the locals to refer to the statue as "Babuino", local for Baboon. This nickname soon came to refer to the entire street, and hence, we now have Via del Babuiono.

In spite of its unattractive name, Via del Babuino is among Rome's most luxurious streets and part of Rome's fashion district. Lined with grand palazzi from the 17th to the 19th century and luxury boutiques and antique shops.
Via Margutta

Just off Via del Babuino not far from the Spanish Steps is one of Rome's most charming streets: Via Margutta. Serene and cozy, it's truly an oasis from the chaos and noise of Rome. Travelers who stay at a hotel or vacation apartment on Via Margutta would truly appreciate the peacefulness that this quaint street offers.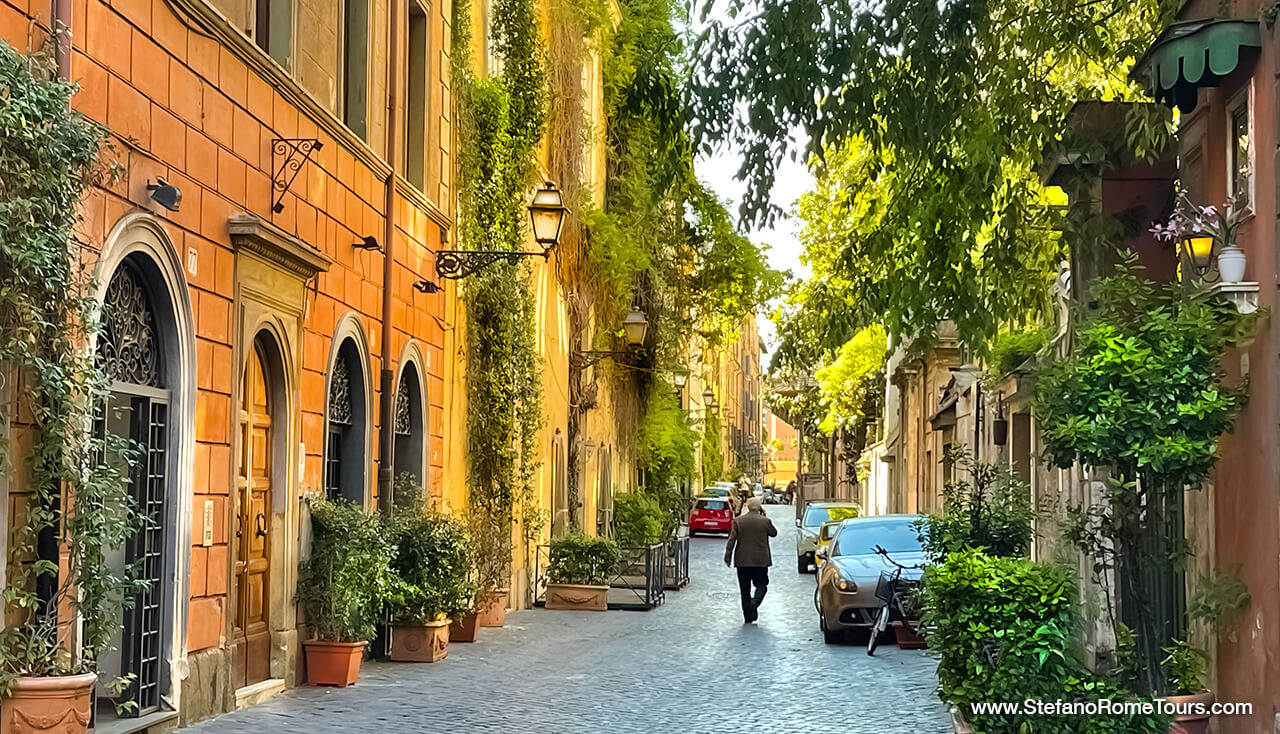 After becoming internationally famous in 1953 in the film Roman Holiday (Vacanze Romane), as the address of the main character Joe Bradley's address Via Margutta 51, it became an exclusive neighborhood where celebrities such as film director Federico Fellini chose to live.

The street's name possibly originates from the word "Marisgutta" which means "Sea Drop", a polite nickname for a dirty stream that came down from Pincian Hill. Before, on Via Margutta you'd find modest workshops of craftsmen, warehouses, and stables. But now, the charming lane boasts trendy restaurants and impressive art galleries.
You'll notice also the lovely Fontana dell Arti (Fountain of the Arts), a fountain with a triangular base surmounted by a stone bucket of paintbrushes symbolizing the long-established presence of artists along via Margutta since the 17th century.
You have the opportunity to stroll along this charming around on our Vacanze Romane Rome Tour that features the best places in Rome featured in this classic film.
Via Veneto
Nothing evokes the extraordinary spirit of La Dolce Vita like Via Veneto, one of Rome's most elegant streets. Synonymous with Hollywood celebrity glamor when international jet setters like Audrey Hepborn, Anita Ekberg, Gary Cooper, and Coco Chanel frequented the restaurants, cafes, and bars, this beautiful boulevard acquired international fame as the center of Italy's "Hollywood on the Tiber". This nickname was given to Rome by Time magazine in 1950 launching what later became known as Italy's La Dolce Vita era thanks to Federico Fellini's 1960 classic La Dolce Vita).

Some of Rome's most renowned cafés like the iconic Harry's Bar, luxury hotels like Regina Hotel Baglioni, The Westin Excelsior, and the Embassy of the United States are located on Via Veneto. Fashionable restaurants and impressive luxury boutiques line this stylish avenue.
Via dei Coronari

Via dei Coronari is also an ancient Roman road that was once called Via Recta ("Straight Road") that connected Piazza Colonna with the Tiber River, but it wasn't until the Middle Ages onward that the street gained its fame and current name.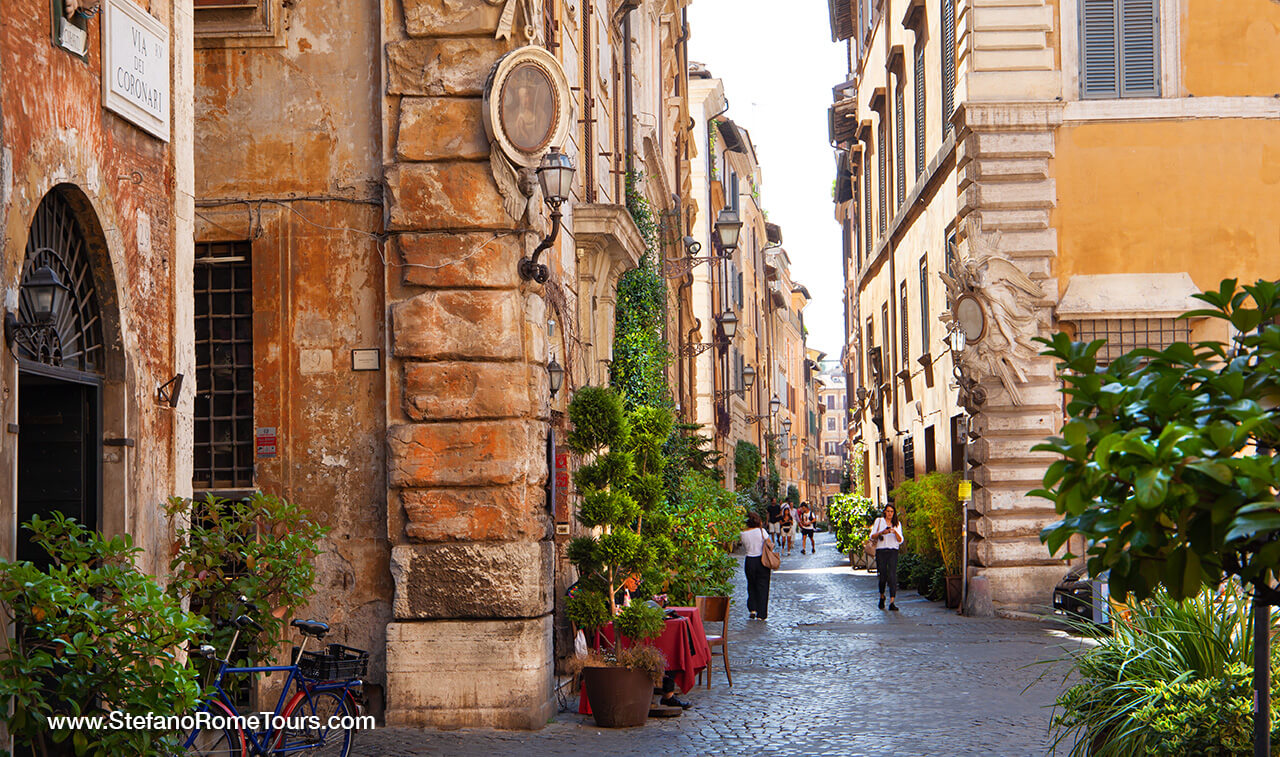 Centuries ago, when pilgrims traveled to Saint Peter's Basilica, they often entered Rome from Porta del Popolo and made their way through the city to this street that lead them towards the bridge that crossed the Tiber River to reach the Basilica.

Aware of this road frequented by pilgrims, merchants (also known as Paternostrari) set up shop selling rosary beads (known as "corone" in Italian as the rosaries were referred to as crowns of beads), sacred souvenirs, and other miniature holy objects that pilgrims could purchase to take with them to the Basilica to be blessed. Hence, the name "Via dei Coronari", or plainly Road of the Rosary Sellers.

Today, Via dei Coronari is a quiet cobblestone street flanked by 15th-16th century palazzi, and well known for its artisan shops, clothing boutiques, and antique shops that sell opulent antique furniture, paintings, and jewelry. It's also a delightful street for a stroll away from the chaotic and crowded streets of Rome.
Via della Conciliazione
One of the top most popular streets in Rome (as well as captivating) is Via della Conciliazione which leads to St Peter's Square and Basilica, celebrating the "Reconciliation" between the Italian State and the Vatican who were at odds over 50 years.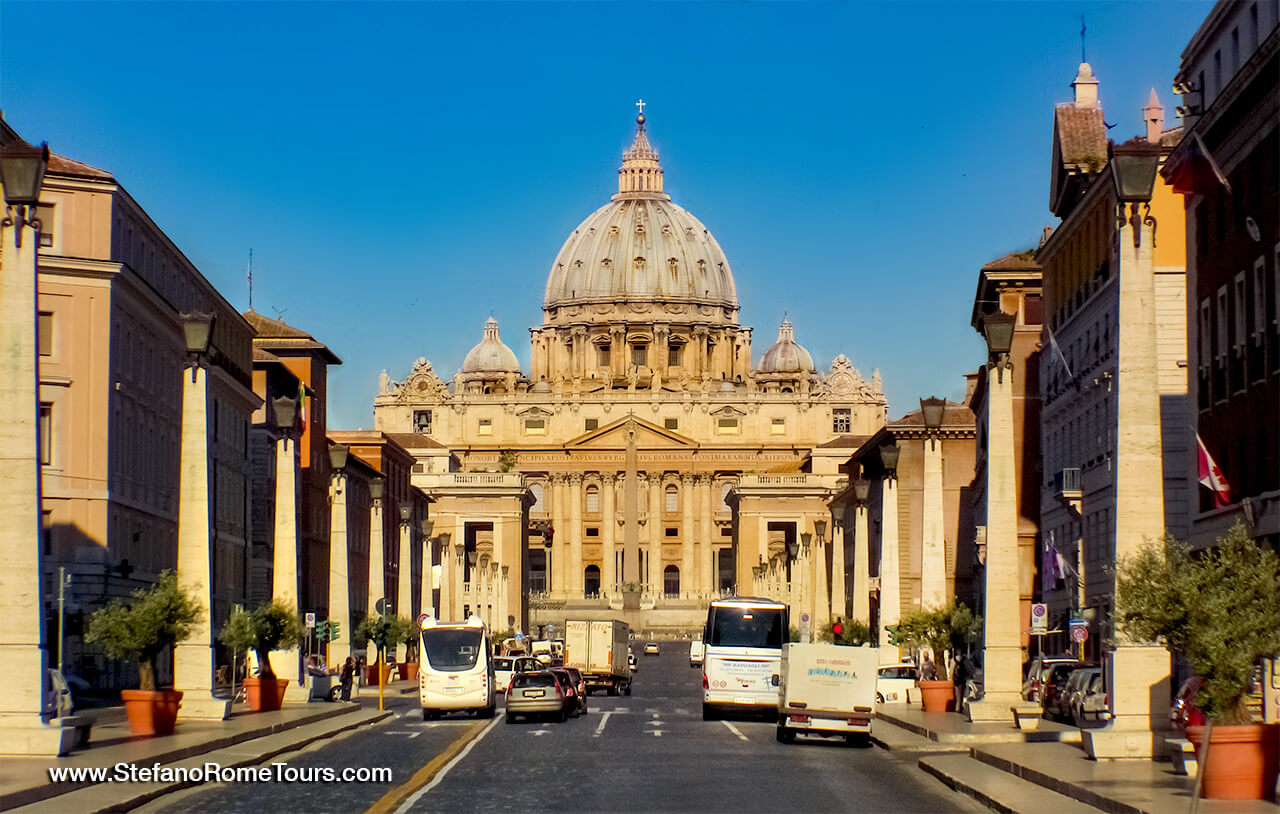 When Italy was unified and became a kingdom in 1870, Pope Pius refused to recognize the authority of the Italian government over the city of Rome and ensconced himself inside the Vatican complex proclaiming himself a prisoner of the Vatican. For the next 59 years, popes refused to leave the Vatican so as to avoid any appearance of accepting the authority of the Italian government over Rome.

This period of hostilities between the Vatican and the Italian State ended in 1929 when the Lateran Treaty created the modern state of Vatican City, and guaranteed the Pope certain rights such as the right to send and receive ambassadors.

The pope also agreed to maintain neutrality in international relations and abstain from intervening in Italy's internal affairs. The Holy See received an economic indemnity for the loss of its territories which are now restricted to the Vatican City State, an enclave of just 121 acres, as well as certain extraterritorial properties with tax privileges.

On October 29, 1936, work began on the Via della Conciliazione to celebrate this important reconciliation.

What was in place before Via della Concilazione was built?

St Peter's Basilica was nestled within a maze of alleyways surrounded by irregular medieval blocks in a neighborhood called the Spina di Borgo (the Spine of the Borgo).
Approaching Saint Peter's Basilica through this labyrinth that preceded it must have caught pilgrims by surprise as it dramatically emerged from behind the buildings with its spacious elliptical square surrounded by the welcoming embrace of the colonnade. The spina that fronted Christendom's holiest shrine served a purpose: it grew in size after the 1527 Sacking of Rome offering an extra barrier of defense.

To create the new 20th-century boulevard leading to the Basilica, the Spina di Borgo was demolished by October 8, 1937. Construction was complete by 1950.

Approximately 500 meters in length, the colonnaded boulevard connects Castel San't Angelo with St Peter's Square, and it severs are the primary access route to the Square. Since the facades of the existing buildings that flank the causeway did not align perfectly, an illusion of a perfectly straight road, traffic islands were erected along both sides of the road, with rows of obelisks that also doubled as lamposts leading towards the square.

Shops, cafes, and restaurants line the boulevard making it ideal for a stroll to capture the picturesque view of the Basilica at the end of the boulevard, and to make your way to Castel San't Angelo.
Via Cola di Rienzo

Via Cola di Rienzo is another popular street in Rome that cuts through Rome's Prati neighborhood from the Tiber River (near Piazza del Popolo) to Piazza del Risorgimento near the Vatican.

This street is most popular with locals as it's one of the best streets in Rome for leisurely shopping. It is less crowded and touristy than Via Corso, and it offers a wide variety of Italian and international name-brand stores along with local boutique shops, cafes, restaurants, and markets.

Via Cola di Rienzo is perfect whether you are interested in shopping, window shopping, or taking a stroll.
Ancient Appian Way
This exceptional ancient Roman road was built in 312 BC as one of the most strategically important and one of the earliest roads of Rome. Via Appia was named after Appius Claudius Caecus, the magistrate who initiated its construction.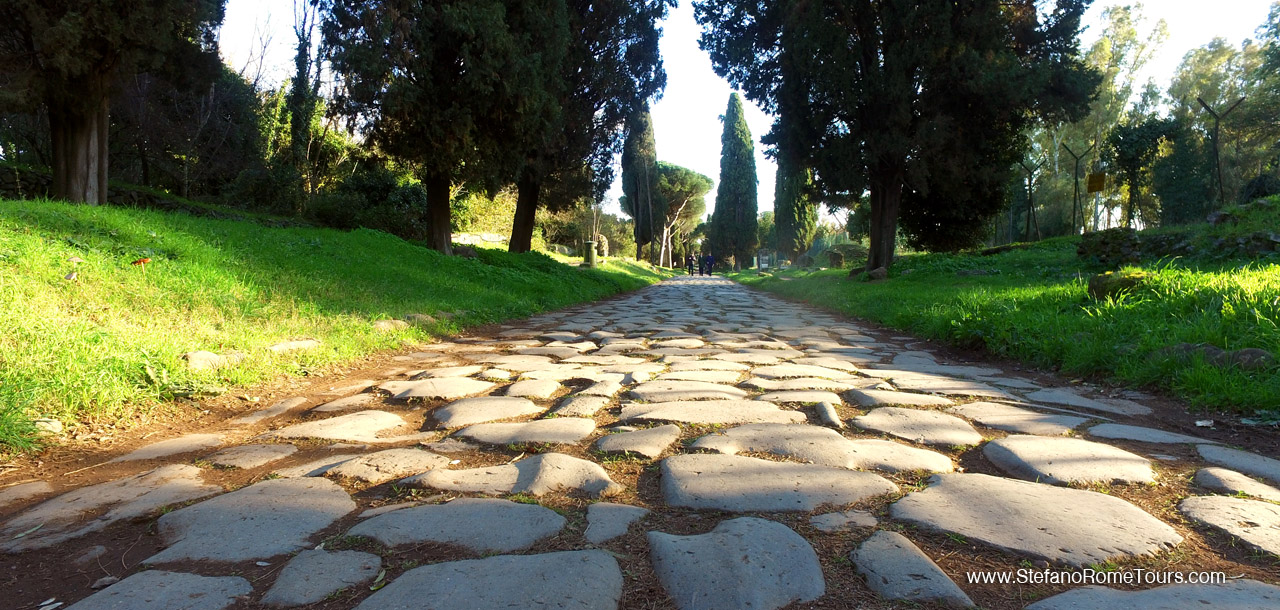 This long road connected Rome to Brindisi in the southeast region of Italy and was used as a main route to transport goods, military supplies, and troops during the Samnite Wars in the Campania region. The existing roads of that time were primarily built by the Etruscans and they generally lead northward into Etruria (the land of the Etruscans in central Italy).
Upon completion, the impressively straight Appian Way was referred to by the Romans as the "Queen of the Long Roads".

Appia longarum teritur regina viarum
"The Appian way is the queen of the long roads"


The construction of ancient Roman roads began as a leveled dirt road upon which mortar, small stones, and then gravel were laid. This foundation was then covered with tight-fitting, interlocking stones that provided a smooth flat surface to travel on. The road was a bit convex in the middle to help with water runoff, and ditches were dug on each side of the road for the water to drain.
Within the original stones that still remain along the ancient road, you can still see the grooves that were created by chariots and wagon wheels that traveled along this road for centuries.
According to Christian tradition, it was along the Appian Way that Peter, while attempting to escape, encountered a vision of Christ, inspiring him to go back into the city to face certain martyrdom.
Nowadays, the Ancient Appian Way is situated in a relaxing park-like setting lined with evergreen cypress and sea pines that create a tranquil and romantic atmosphere to be enjoyed during the hot summer months.
Cruisers frequently book Rome pre-cruise tours with a stop to walk along the Ancient Appian Way for a very memorable experience in Rome.
ALSO READ:

This marks the end of our 10 most popular Rome streets. We hope you've checked a few favorites to see on your next visit to Rome.

Thank you for reading our travel blog and for choosing Stefano Rome Tours for your private tours in Italy!