description
Our Tivoli Villas Tour from Rome offers you the unique opportunity to visit and compare two very splendid villas from two different ages: Villa Adriana (Hadrian's Villa) and Villa d'Este.
Both Tivoli Villas are rightfully listed as UNESCO World Heritage Sites.



TIVOLI VLLAS 6 HOUR TOUR FEE:


For up to 4 persons from Rome Hotel 300 EUROS
For up to 6 persons from Rome Hotel 350 EUROS
For up to 8 persons from Rome Hotel 400 EUROS
* Tour is NOT offered on MONDAYS as Villa d'Este is CLOSED on Mondays.
** DATES on the Booking Form Calendar that are NOT Selectable, are NOT AVAILABLE.

VILLA D'ESTE - Italian Renaissance Gardens and opulent villa

A drive through the Roman countryside will take you to Tivoli, a wondrous place in the vicinity of Rome. There you will find the famous Villa D'Este and Villa Adriana.
The enchanting Renaissance era Villa d'Este beckons you to spend a day enjoying its impressive symphony of countless fountains, grottoes, nymphs, carved stones and plays of water set in the heart of the magnificent Italian style garden. The structured landscape blends art and history in a most harmonious style reminiscent of the hanging gardens of Babylon, one of the wonders of the ancient world.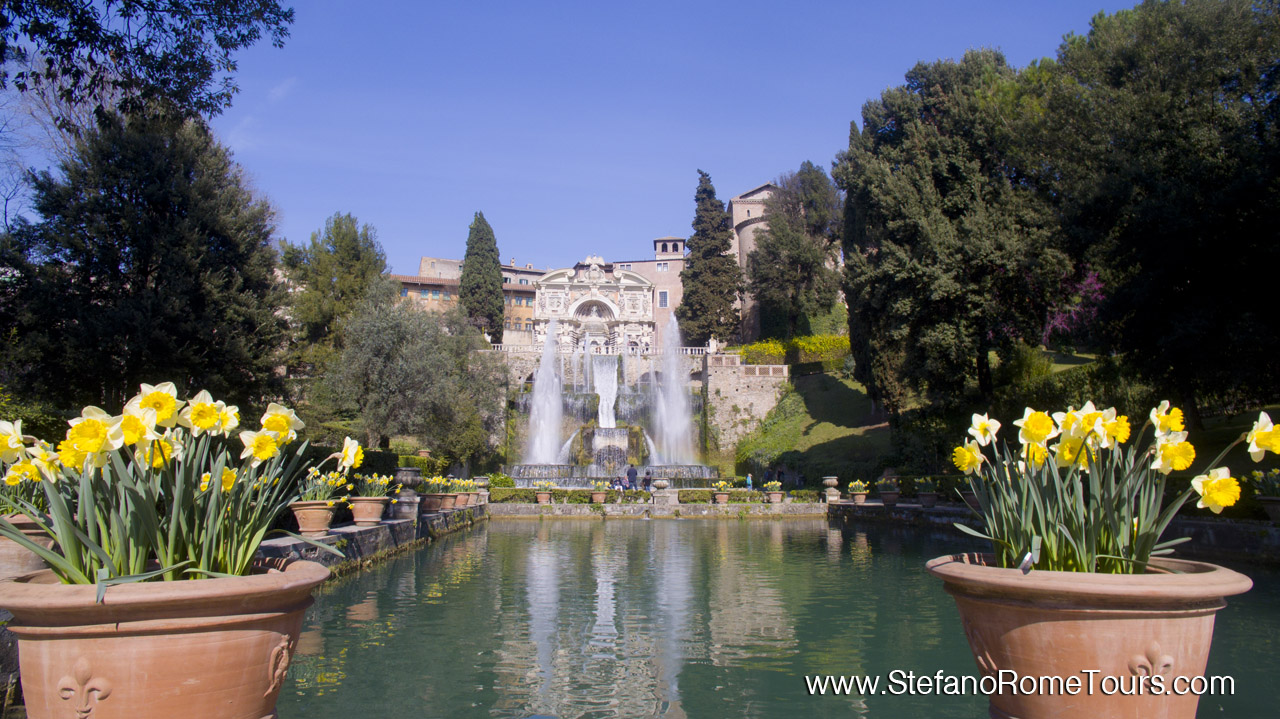 With its concentration of unique and beautiful water features including fountains, grottoes, plays of water, nymphs and music, guests of the Cardinal were duly impressed and amazed.
The main focal point of the garden, the giant 'Water Organ Fountain', flows down a huge drop into lovely, shady pools of cool water.
From 1605, Cardinal Alessandro d'Este added his own touch not only to restore and repair the vegetation and the waterworks, but also to create new designs to the layout of the garden and to add to the decorations of the fountains.
The inside of Villa D'Este is one of the most beautiful residences of the Renaissance built by the cardinal Ippolito D'Este in the 1550's.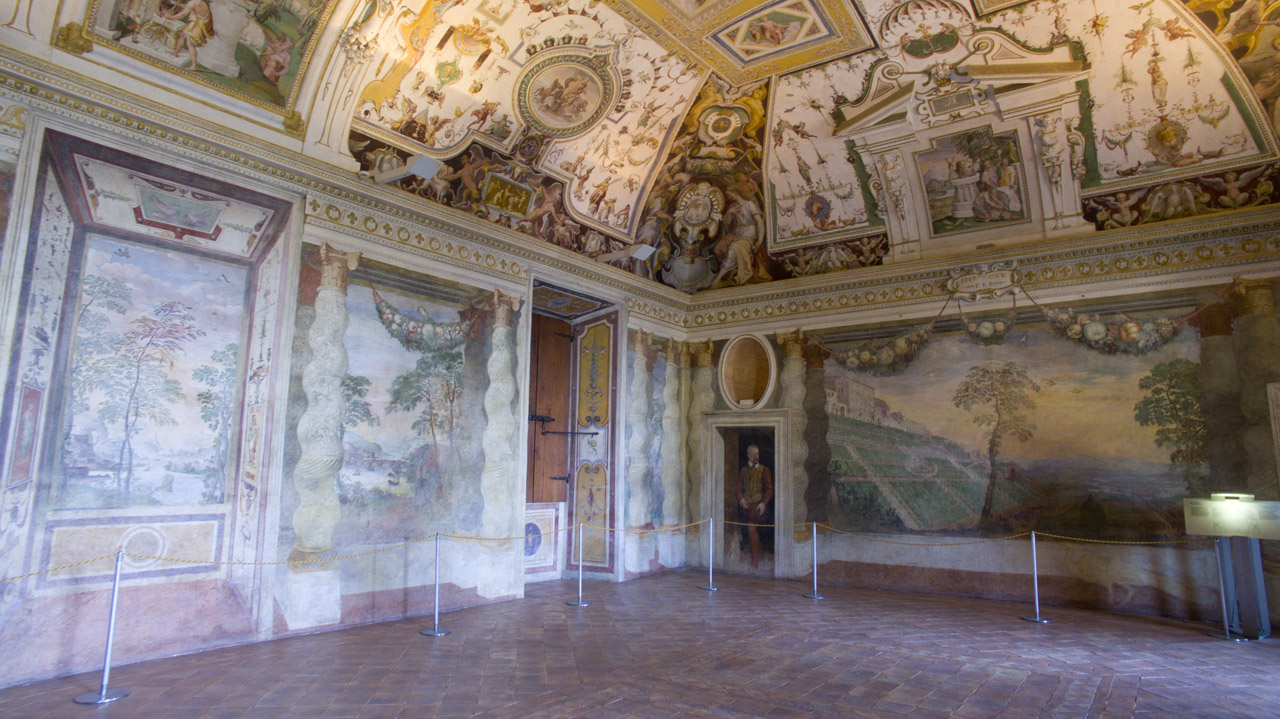 VILLA ADRIANA (HADRIAN'S VILLA)

Hadrian's Villa (Villa Adriana), an elegant country retreat comprising some 30 buildings of both sacred and secular nature constructed by Emperor Hadrian (Adriano) in the 2nd century A.C.
This imperial retreat is a stunning formation showcasing the remains of a once glorious imperial palace, baths, gardens, pools, theaters and libraries that take you back to the height of the Roman Empire.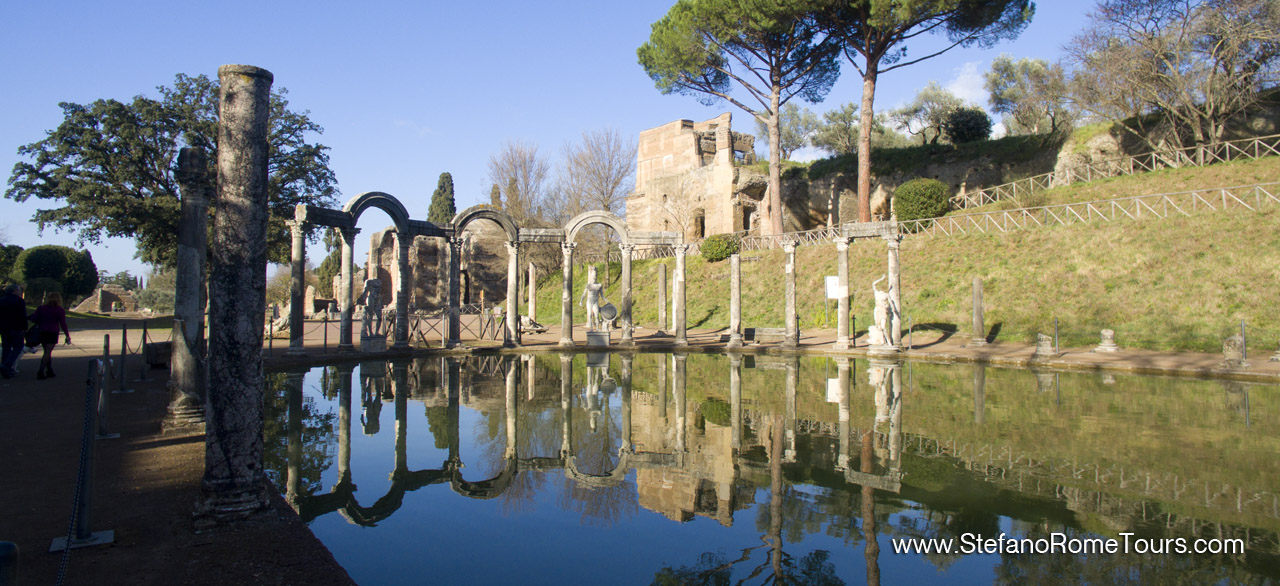 The emperor supervised the building of the villa himself and included architectural elements of his travels. The gardens are glorious, and although most of the sculpture was removed from the site during renaissance excavation, enough remains for visitors to appreciate the magnificence of a Roman imperial garden.
Born in 76 AD and later succeeded Trajan as emperor, Hadrian was one of ancient Rome's most notable figures.
The story of his succession is mysterious in itself rife with secrets and legends. According to the historian Dio Cassius, Hadrian's accession was mainly accomplished through the actions of Empress Plotina, who kept Trajan's death a secret for several days.
During this time, she sent letters to the senate informing them that Hadrian was to be the new heir. Although the letters carried the empress' own signature, she likely used the excuse that Trajan was too ill to write.
Another rumor suggests that someone had been secretly smuggled into Trajan's chamber by the empress in order to impersonate his voice.
Only after the empress was sure of Hadrian's accession did she announce Trajan's death.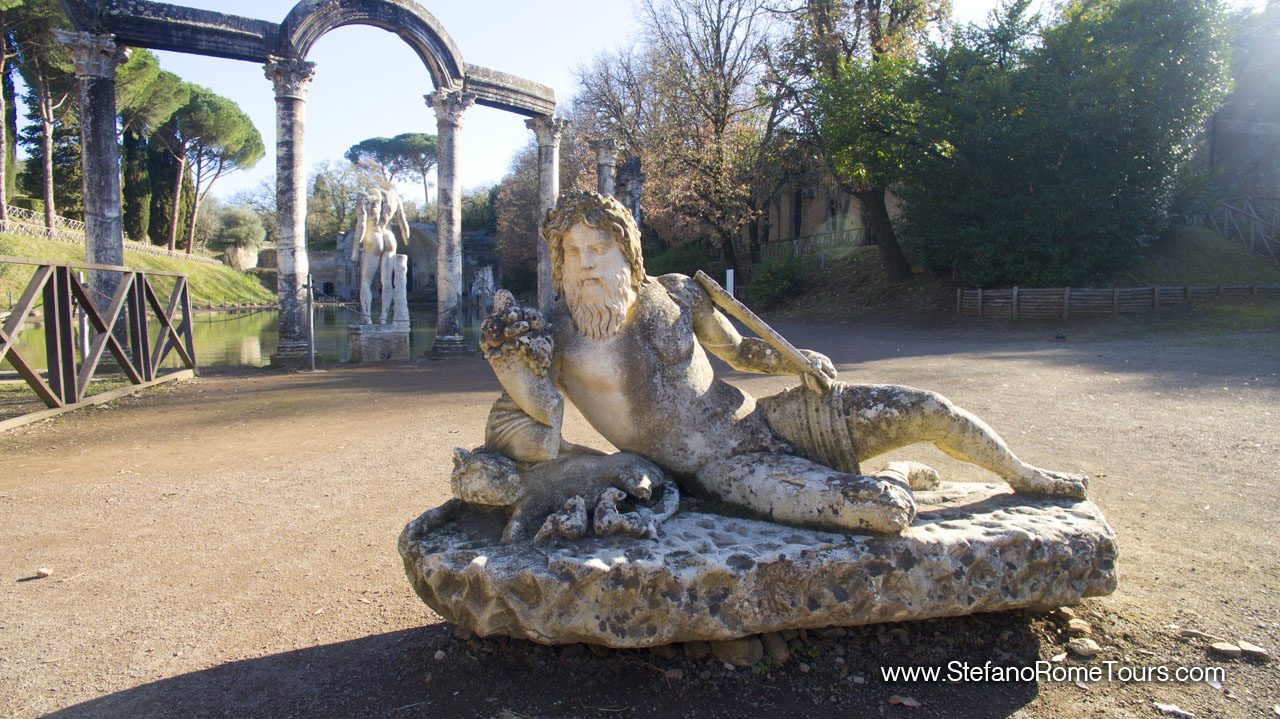 Towards the end of his reign, Emperor Hadrian actually ruled the Roman empire from this very place. Abandoned during the decline of the Roman Empire, it was rediscovered in 15th century by Pope Pius II who initiated excavations on the site. Although only some of the original structures still survive, you will find delightful surprises waiting at the turn of each corner.
Aside from its impressive beauty, Hadrian's Villa is also a significant cultural and archaeological site. But due to the rapid deterioration of the ruins, Hadrian's Villa has been placed on the World Monuments Watch "Most Endangered Sites" list. It is quite fortunate that we are able to enjoy this once wondrous place today.


We thank you for booking our Tivoli Villas tour, and for choosing Stefano Rome Tours for your guided tours in Rome and beyond. Wish you safe and happy travels!


Guests who booked this Tivoli Villas tour also enjoyed the following Day Tours from Rome:

Important Information

Please READ the important information below as well as Read & Accept our TERMS OF SERVICE and Privacy Policy prior to placing your reservation request(s).


PAYMENT OPTIONS for Tivoli Tour:
Payment for this Tivoli Villas Tour can be made in Euro funds at the end of your journey directly to your driver, or you may prepay in advance via PayPal or Credit Card online when you Confirm your Tour.
CANCELLATION POLICY:
We kindly ask that cancellations be made at least 7 days in advance so we can rebook your service and your reserved driver does not lose work for that day. We thank you for your cooperation and consideration.
** PREPAID SERVICES can only be Refunded the Net Rate we receive from your prepayment. Net Rate is the actual service price minus the fees retained by PayPal/Credit Card that are not reimbursed to us in case of refunds. We can only refund the portion we receive from the PayPal/CC company.


EMAIL INQUIRIES / BOOKING REQUESTS
Please allow up to 24 hours for email correspondences in response to email inquiries and tour reservation requests.
We reply to ALL emails and booking requests we receive. If you don't receive correspondence from us within 24-48 hours please CHECK YOUR SPAM FOLDER, or send us an email from a different E-mail account.
TIVOLI VILLAS TICKETS:


* VILLA D'ESTE Ticket Prices are currently 10 Euros per person. Tickets can be purchased upon visiting the site.
* HADRIAN'S VILLA Ticket Prices are currently 10 Euros per person. Tickets can be purchased upon visiting the site.
** Ticket prices are subject to change without notice.
YOUR STEFANO ROME TOURS DRIVER
* This Tivoli Villas tour provides an English-speaking Driver who is NOT a licensed tour guide.
Italy laws permit only licensed tour guides to accompany guests to sightsee on foot away from the vehicle. To be compliant with Italy laws, your driver cannot lawfully guide you into the sites, and will be obliged to remain with the vehicle while you SELF TOUR away from the vehicle.


PRIVATE GUIDED TOUR OF THE HADRIAN'S VILLA:
Licensed Tour Guide can be booked upon request for an informative private walking tour of Hadrian's Villa at ADDITIONAL Tour Guide Fee. Tour Guides are paid separately at the end of their tour as they don't work for us. Please inquire within about private guided tours and fees.
Meeting Point to meet your driver:
For hotel pick-ups, your driver will meet you inside your hotel lobby, or area permitted by your hotel.
For Apartments or B&B's without a lobby, your driver will meet you at your address outside the main entrance.
* If your hotel / accommodation is situated on a street or in an area restricted to vehicle traffic, your driver will park the vehicle as close as lawfully possible and will meet you on foot at your Address. From there, your driver will accompany you to your parked vehicle. Door to Door service may not be possible on streets or areas restricted to traffic or stops.
TIPS for Visiting Tivoli Villas


Be sure to wear comfortable clothing and walking shoes on this tour.
Hadrian's Villa is an archaeological site with dirt and uneven terrain, please watch your step during your visit.
Villa d'Este gardens are located on a terraced slope that includes steps and pathways at an incline. The gardens, as well as the villa, include steps and flights of stairs when exploring the estate. This location may not be suitable for wheelchair users.
During the summer months, we recommend wearing sunscreen, sunglasses, and summer hats to protect yourself from the sun.
Be sure to bring your cameras as you will find many picture-perfect places while exploring Hadrian's Villa and the gardens of Villa d'Este