description
POST CRUISE CASTLES AND LAKES TOUR PRICE LIST


For up to 4 Persons from Civitavecchia Port: 600 EUROS
For up to 6 Persons from Civitavecchia Port: 650 EUROS
For up to 8 Persons from Civitavecchia Port: 700 EUROS


* DATES on the Booking Form Calendar that are NOT Selectable, are NOT AVAILABLE.
Post Cruise Castles and Lakes Tour is NOT offered on Mondays or Tuesdays as the Banditaccia Etruscan Necropolis is Closed on these days.

** Please include your DROP-OFF HOTEL NAME and ADDRESS IN ROME in the MESSAGE BOX of your booking form.

Enjoy a visual journey of the remarkable locations on our Post Cruise Castles and Lakes on our Tour VIDEO:


Our popular Stefano Rome Tours countryside tour "Castles and Lakes" is now also available as a Post Cruise Tour from Civitavecchia with pick up at your cruise ship, and drop off at your hotel accommodation in Rome.
This this unique tour into Rome's beautiful countryside will take you on a fascinating journey through three significant eras in Italy's long history that have contributed to Italy's treasures and greatness: the Ancient Etruscans who greatly influenced the Romans, the Medieval Era with historic hilltop hamlets, and the Renaissance Era with elegant castles and precious works of art.
BRACCIANO LAKE AND ODESCALCHI CASTLE


After a relaxing drive through the Roman countryside, you will drive by Lake Bracciano to arrive at the historic town of Bracciano where you will notice the large and imposing Odescalchi Castle (also commonly known as Bracciano Castle) that dominates the sleepy village.
This 16th-century castle is in remarkable condition and still owned by the same Odescalchi family. Although privately owned, the castle is enjoyed by visitors on tours and hosts significant cultural events as well as high-profile weddings.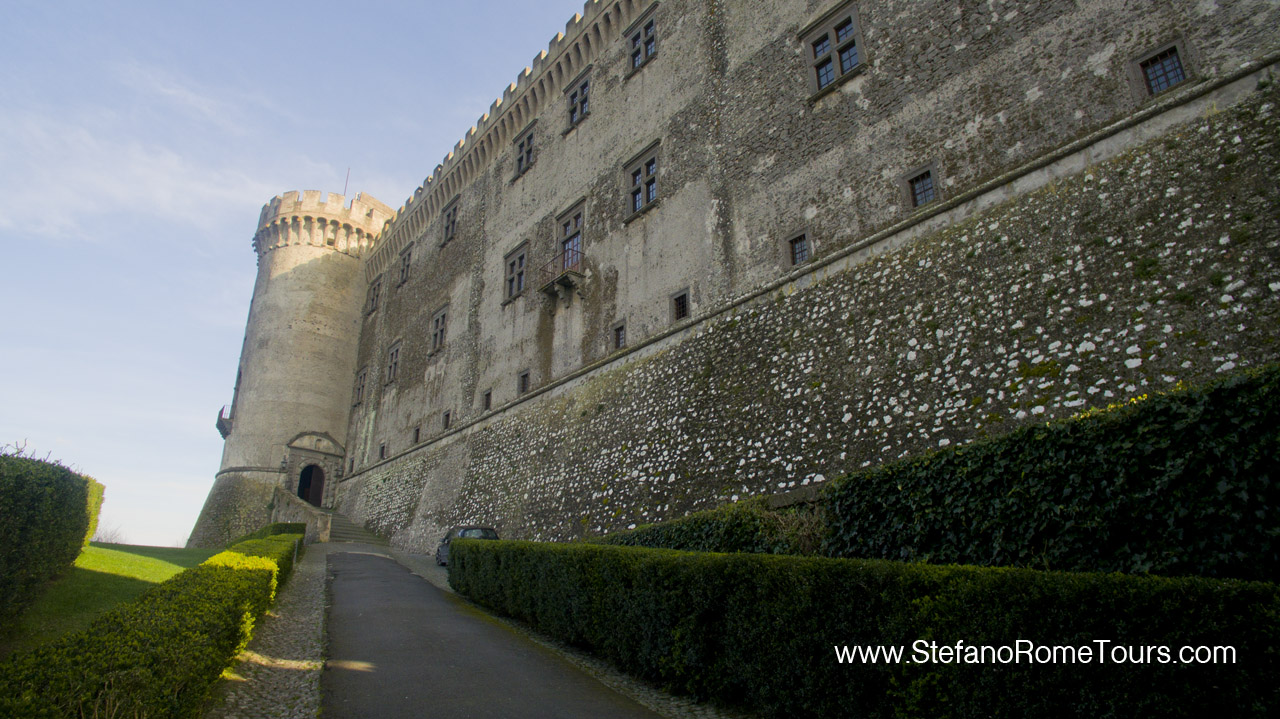 Your visit through the castle will take you through the castle rooms and halls rich in history, art, authentic centuries old furnishings, and fascinating legends with a stop up to the top of the castle walls along the ramparts where you will be treated to a spectacular view of Lake Bracciano.
A prehistoric volcanic crater, this one of the most pristine lakes in Italy. Its lakeside beaches attract locals and visitors who prefer to relax, swim, sail, canoe, stroll, and generally escape the hustle of large cities like Rome.
CERI - the walled medieval hamlet where time stood still

Your journey on this Post Cruise Castles and Lakes Tour continues with a short drive to nearby Ceri.
Ceri is a 13th century hilltop hamlet with reinforced walls that gives it the appearance of a medieval fortress isolated on top of a steep plateau.
Its medieval past dominating the present reveals itself as soon as you arrive at the bottom of the hill. The only street that leads you into town is wide enough for only a single vehicle to pass through at a time. This unusual traffic problem was resolved with the installation of two traffic lights: one at the bottom of the hill, and one where the street ends in the main square above.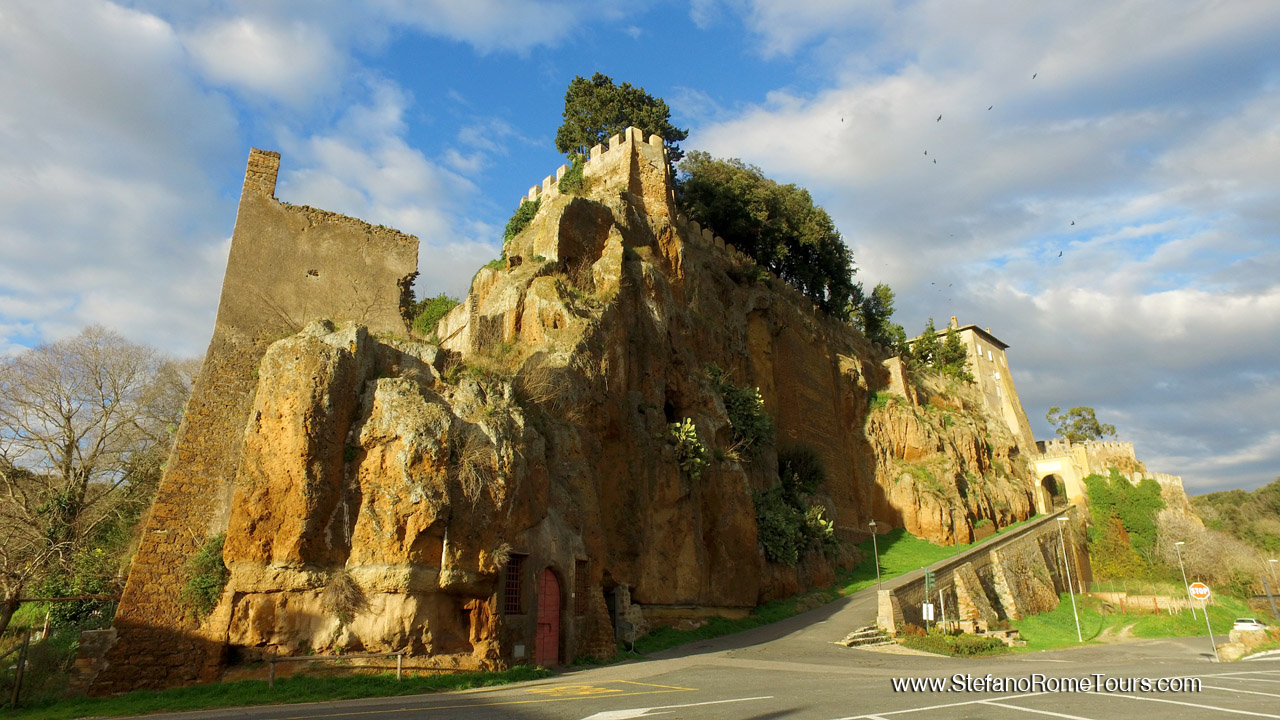 Upon reaching the main square, you can visit the beautiful Sanctuary of the Madonna di Ceri, a Romanesque church built on top of an ancient temple where ancient Etruscans and Romans venerated the pagan goddess Vesta.
This Sanctuary with stunning ancient and medieval frescoes is a very special place for the locals. The Virgin Mary for whom this Sanctuary is named is known for her intercession and helping people who are experiencing difficulties.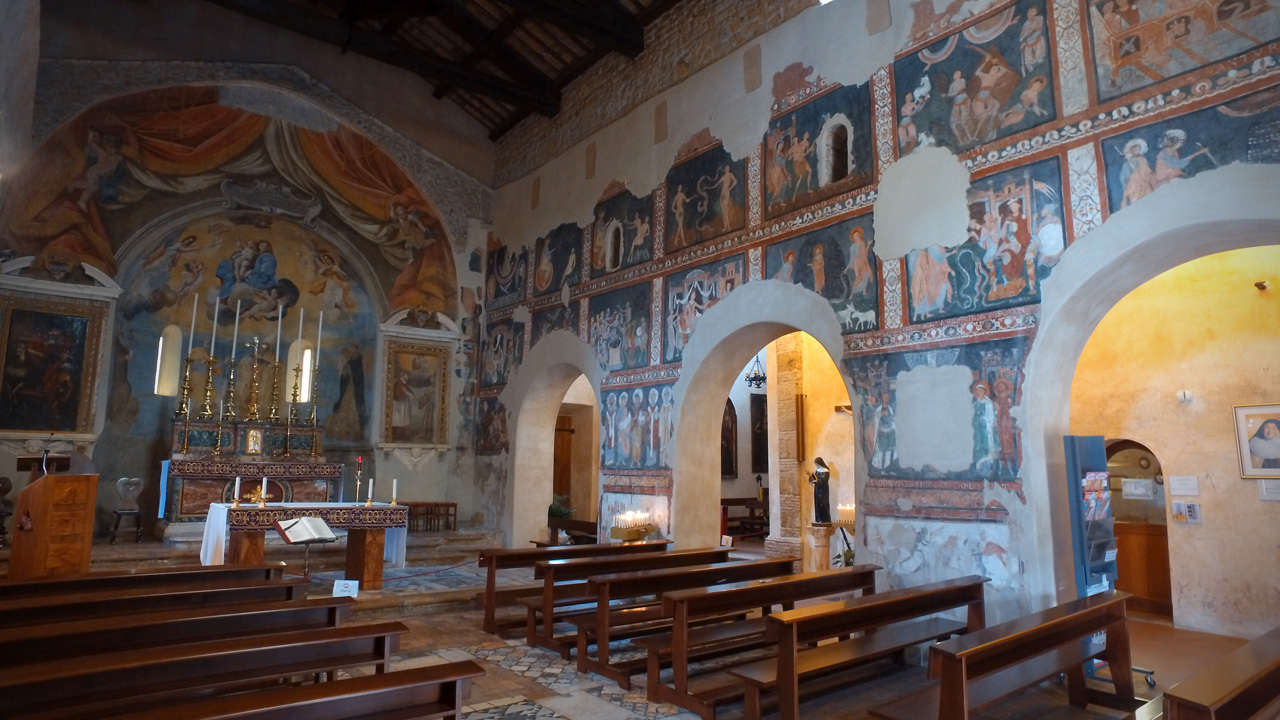 After a delicious traditional Italian lunch at a local family-owned restaurant in Ceri, you will be given the opportunity to enjoy the charming town square surrounded by ochre and sienna-colored medieval buildings aged by the passage of time.
BANDITACCIA ETRUSCAN NECROPOLIS IN CERVETERI

Afterward you will continue into the heartland of former Etruria to one of the most fascinating archaeological sites in Europe and a UNESCO World Heritage Site: the Banditaccia Necropolis in Cerveteri.
One of the many fascinating characteristics of this necropolis is that it spans across 6 centuries of the Etruscan civilization, establishing it as the largest city of the dead in the Mediterranean area.
You will walk through the progression of history from the early 9th Century BC Villanovan era where you will notice primitive pottery ossuaries, to elaborate hut-shaped tombs carved from the actual tuff rock, and finally sophisticated city-like planning of 3rd century BC with roads used for funeral processions.
You will see ancient cultural and architectural advancements unfold all around you as you explore centuries of history that once belonged to this advanced, yet mysterious, ancient pre-Roman civilization.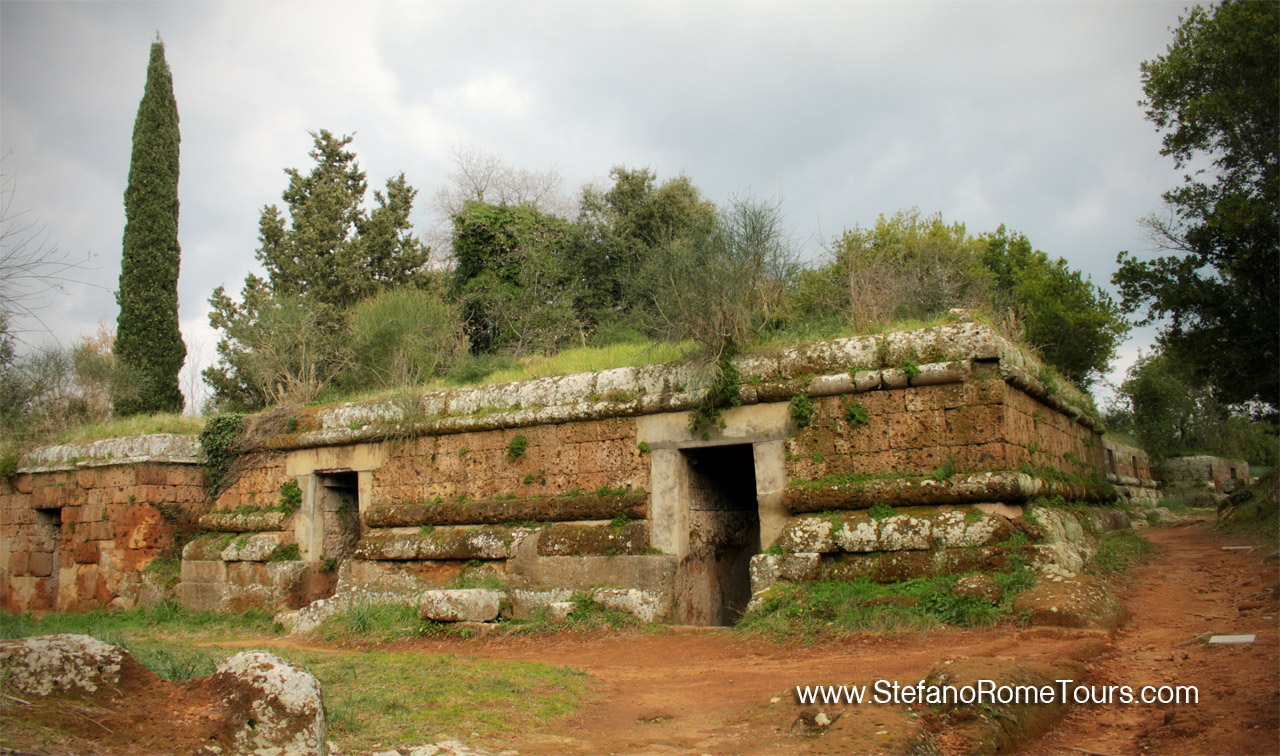 Just a short distance outside of Rome into the lush countryside, you will discover some of Italy's greatest historical and archaeological treasures peacefully nestled in the picturesque landscape that is nothing short of a slice of heaven.
From here you will enjoy a relaxing drive through the countryside where your Rome hotel awaits your arrival.
We thank you for booking our Post-Cruise Castles and Lakes Tour from Civitavecchia choosing Stefano Rome Tours for your Rome Tours and Italy private excursions, and we wish you safe and happy travels!


Cruising Guests who booked this Post Cruise Castles and Lakes Tour from Civitavecchia, also enjoyed the following Shore Excursions from Italy's top cruise ports:
PISA AND FLORENCE Shore Excursion from Livorno Cruise Port
AMALFI COAST, SORRENTO AND POMPEII Shore Excursion from Naples Cruise Port
ROME IN A DAY TOUR explore the epochal wonders of the Eternal City
Important Information

Please READ the important information below as well as Read & Accept our TERMS OF SERVICE and Privacy Policy prior to placing your reservation request(s).

PAYMENT OPTIONS for Post Cruise Castles and Lakes Tour:
Payment for this Post-Cruise Castles and Lakes Tour from Civitavecchia can be made in Euro funds at the end of your journey directly to your driver, or you may prepay in advance via PayPal or Credit Card online when you Confirm your Tour.
CANCELLATION POLICY:
We kindly ask that cancellations be made at least 7 days in advance so we can rebook your service and your reserved driver does not lose work for that day. We thank you for your cooperation and consideration.
** PREPAID SERVICES can only be Refunded the Net Rate we receive from your prepayment. Net Rate is the actual service price minus the fees retained by PayPal/Credit Card that are not reimbursed to us in case of refunds. We can only refund the portion we receive from the PayPal/CC company.
EMAIL INQUIRIES / BOOKING REQUESTS
Please allow up to 24 hours for email correspondences in response to email inquiries and tour reservation requests.
We reply to ALL emails and booking requests we receive. If you don't receive correspondence from us within 24-48 hours please CHECK YOUR SPAM FOLDER, or send us an email from a different E-mail account.
ADMISSION TICKETS & TOUR GUIDE RECOMMENDATIONS


BRACCIANO CASTLE VISIT


* BRACCIANO CASTLE TICKETS are currently 10 Euros per person to be purchased on site upon arrival (ticket prices are subject to change without notice).
* Please NOTE that Bracciano Castle can CLOSE WITHOUT NOTICE for private events or other internal reasons. In the event Bracciano Castle is closed when you arrive, following your visit through the village of Bracciano your driver can take you to visit another lakeside village such as Trevignano or Anguillara.

PRIVATE GUIDED TOUR OF THE CASTLE: Odescalchi Castle offers private guided tours with English-speaking Tour Guide with advance Non-Refundable Reservations at just 180 Euros INCLUDING entry tickets. Advance non-refundable prepayment is required as the Castle does not issue refunds for cancellations.
Please inform us upon booking this tour if you wish to have a private guide so we can book a guide on your behalf. Otherwise, you will SELF TOUR the castle on your own.

ETRUSCAN NECROPOLIS VISIT


* BANDITACCIA ETRUSCAN NECROPOLIS tickets are currently 10 Euros per person.

PRIVATE GUIDED TOUR OF THE NECROPOLIS: You have the option to visit the necropolis on your own (SELF TOUR), or we can book a locally licensed tour guide on your behalf for a private tour of the necropolis at an additional Tour Guide Fee.
Licensed Tour Guide can be booked upon request, and are paid separately at the end of their tour as they don't work for us. Inquire within about private guided tours and fees.



MEETING POINT for TOURS FROM CIVITAVECCHIA:


For Tours from Civitavecchia, your driver will meet you on the Pier next to your Cruise Ship at your Tour pick-up time holding a sign with the NAME in your reservation.
Please do NOT leave the ship area, and do NOT take a shuttle bus outside the Cruise port.
Look for the driver in the same area as ALL the private drivers will be waiting for their clients to be disembarked.

YOUR STEFANO ROME TOURS DRIVER


* This Post-Cruise Castles and Lakes Tour from Civitavecchia provides an English-speaking Driver who is NOT a licensed tour guide. Your driver will be happy to provide general touristic information while at the vehicle, but will not be able to accompany you to sightsee away from the vehicle.
Italy laws permit only licensed tour guides to accompany guests to sightsee on foot away from the vehicle. To be compliant with Italian laws, your driver cannot lawfully guide you into the sites and will be obliged to remain with the vehicle while you SELF TOUR away from the vehicle (unless you request to reserve licensed tour guides for Bracciano Castle and/or Cerveteri Necropolis).
LUNCH IN CERI
Lunch is available only in the town of Ceri, all restaurants are priced approximately 20 Euros per person depending on what you order.
There are no panini or pizza places available in the region of this tour, only local restaurants that are famous for their excellent cuisine. To participate in this tour, you are in agreement to lunch in Ceri at any of the available restaurants there. Restaurant choices in this region are limited, and we have no control over the menu options or service provided inside any establishment you lunch at.


Post-Cruise Castles and Lakes Tour from Civitavecchia TOUR SHARING:


SAVE on this exciting Post-Cruise Castles and Lakes Tour from Civitavecchia by sharing your tour with up to 8 other cruisers per minivan! It's very easy: just place an ad on the Cruise Critic roll call and invite others to join you. Share the fun and the expense. FIND OUT MORE ABOUT TOUR SHARING
Post Cruise Castles and Lakes tour from Civitavecchia TIPS:


Please wear comfortable clothing and shoes on this tour as you will encounter uneven terrain in the Banditaccia Necropolis.
If you have trouble walking on uneven terrain, this tour may not be suitable for you.
Bracciano Castle requires climbing flights of stairs to access the 2nd level of the opulent private apartments and to reach the ramparts at the top of the castle walls. Visitors who are unable to climb stairs may enjoy the castle's lower level.
This tour is created for experienced cruisers who are interested in culture, history, architecture, nature, and Italian slow food.
LEARN MORE about Cerveteri Banditaccia Necropolis before your visit.