Buongiorno and welcome to Stefano Rome Tours, Rome's top company for private tours to Tuscany from Rome. Tuscany, a region synonymous with natural beauty, art, and exquisite cuisine, beckons travelers from all corners of the world.
While Florence, Siena, and Pisa are undeniably alluring, their distance from Rome makes meaningful day trips a challenge. However, there's a treasure trove of hidden Tuscan gems waiting to be discovered in southern Tuscany. Venture beyond the beaten tourist path and explore the picturesque landscapes, charming villages, and cultural delights of Tuscany.
In this travel blog, we'll uncover some of the most beautiful places in southern Tuscany that can be visited on a trip from Rome, each offering a unique taste of Tuscany's rich heritage.
Discover the Most Beautiful Places in Tuscany to Visit
on a Trip from Rome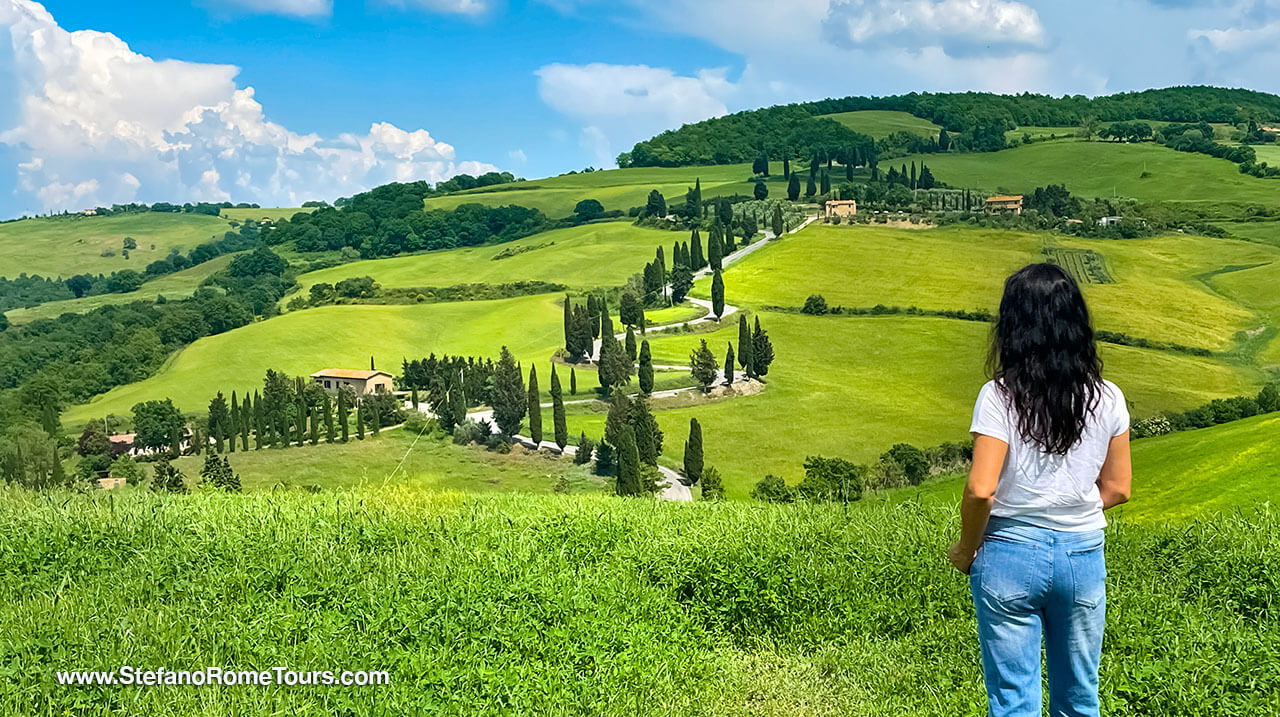 1. Val d'Orcia: UNESCO Valley of Rolling Hills and Cypress Trees
Nestled within the embrace of Tuscany, Val d'Orcia unfolds like a masterpiece, showcasing its UNESCO World Heritage Landscape status with every undulating hill, cypress tree-lined avenue, and vineyard-draped vista. This captivating region, often acclaimed as the very heart of Tuscany, has long served as a wellspring of inspiration for artists and poets across the ages.
The charm of Val d'Orcia lies in its picturesque terrain, where rolling hills stretch as far as the eye can see. These hills, a harmonious blend of gold and green, are punctuated by neatly aligned cypress trees, casting their long shadows over the landscape. It's an invitation to immerse oneself in the timeless beauty of rural Tuscany, where each hill seems to tell a story.
Val d'Orcia is not only a feast for the eyes but also a fruitful land of agriculture. Here, the soil yields a rich bounty, including vineyards producing some of Tuscany's finest wines, such as Brunello di Montalcino. Olive groves thrive alongside fields of wheat, sunflowers, and other crops, adding to the region's vibrant patchwork of colors and flavors.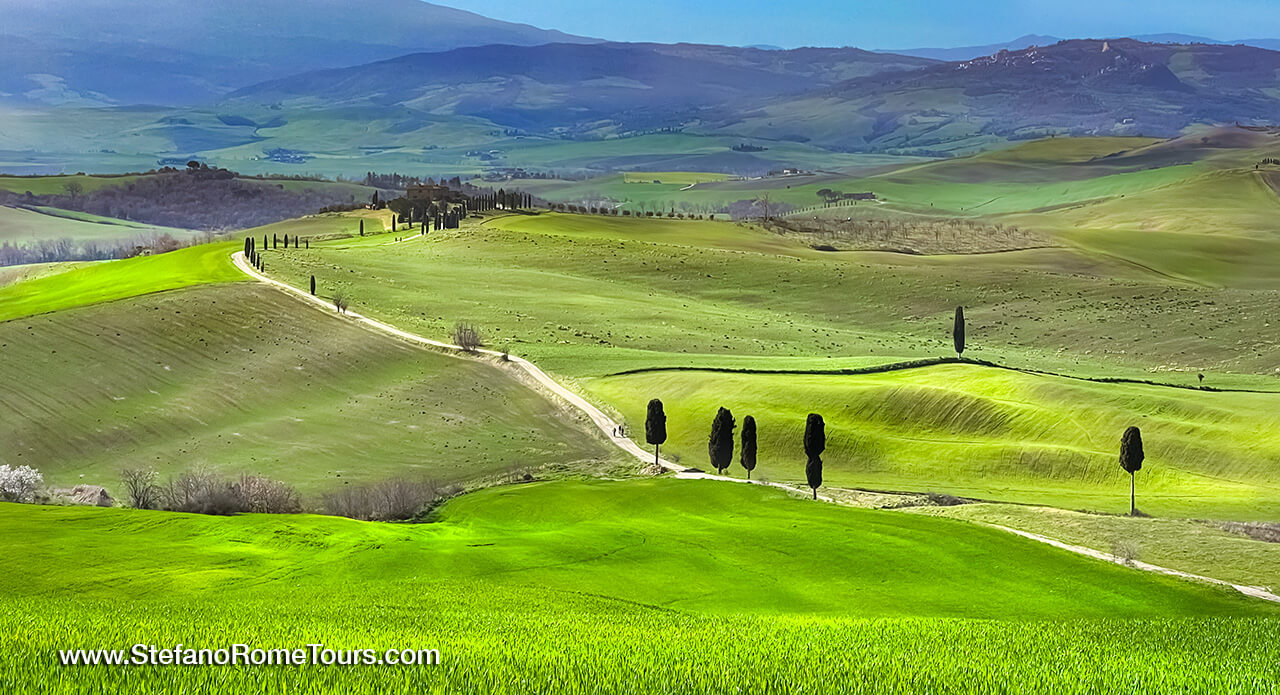 This enchanting region is dotted with charming villages and towns that appear as if frozen in time. Pienza, renowned for its architectural beauty and delectable pecorino cheese (Pecorino di Pienza) stands as one of Val d'Orcia's treasures. Montalcino, home to the famed Brunello wine and featured on our Brunello di Montalcino Tuscany Wine Tour, invites connoisseurs to savor its rich flavors.
San Quirico d'Orcia is an elegant Tuscan town steeped in history and culture, offering a glimpse into the region's past. Monticchiello is a hidden treasure nestled in the heart of Val d'Orcia that welcomes visitors with its rustic charm and timeless beauty.
2. Pienza: The Quintessential Renaissance Town
Located in the heart of the Val d'Orcia region, Pienza is a small town that embodies the spirit of the Italian Renaissance. Designed by Pope Pius II in the 15th century, this UNESCO World Heritage Site showcases harmonious architecture, charming narrow streets, and stunning views of the rolling Tuscan countryside.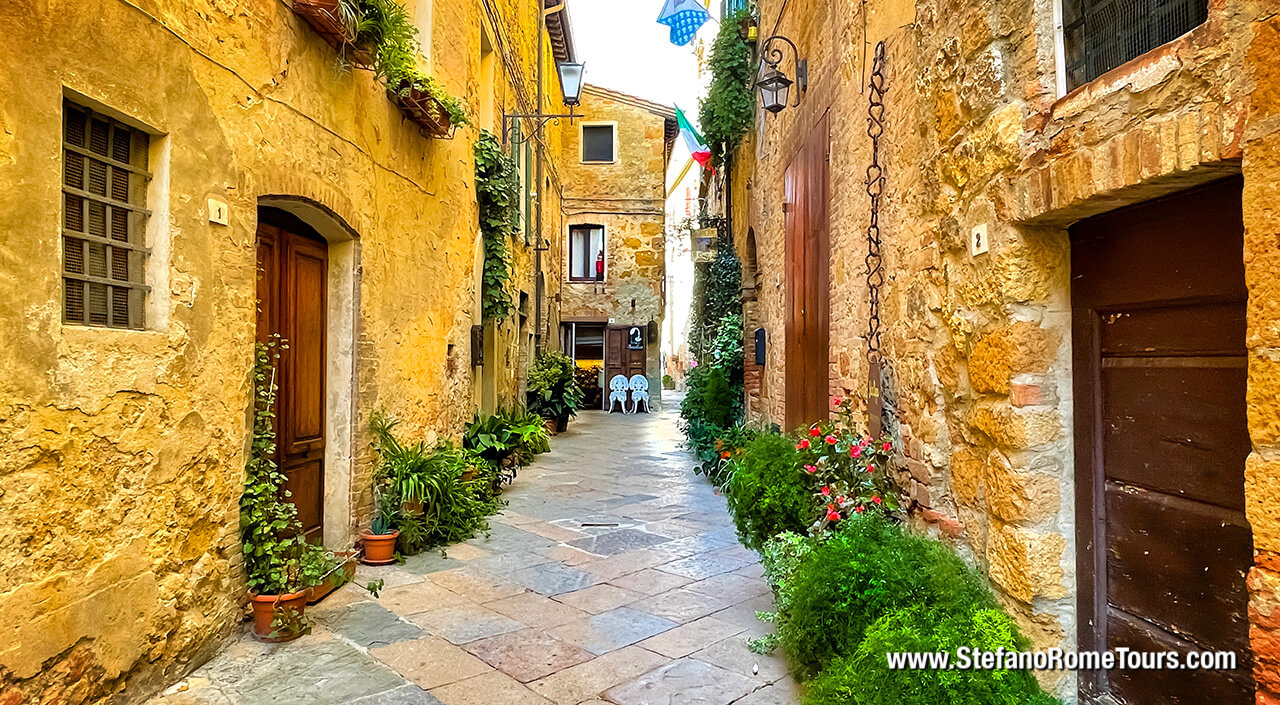 Begin your exploration of Pienza in the central Piazza Pio II, named after the town's creator. Admire the magnificent Palazzo Piccolomini, a palace that exudes Renaissance grandeur. Visit the Duomo, a beautiful cathedral with intricate details and impressive frescoes. Don't forget to indulge in the local pecorino cheese, renowned throughout Italy for its distinctive flavor.
Beyond the main attractions, Pienza holds hidden treasures waiting to be discovered. Wander off the beaten path to find hidden courtyards, artisanal shops, and traditional trattorias serving authentic Tuscan cuisine.
Take in the panoramic views from the town's walls strolling along narrow lanes with romantic names such as "Via dell' Amore" (Love Street) and "Via del Bacio" (Kiss Street), capturing the essence of Tuscany's charming beauty. Pienza is a place that effortlessly transports visitors back in time, making it a true gem to visit.
You may enjoy a day trip to Tuscany from Rome to Pienza and Montepulciano on our private Tuscany tours.
3. Bagno Vignoni: Thermal Waters and Ancient Baths

Another hidden gem of Tuscany awaits. For a unique and rejuvenating experience, venture to Bagno Vignoni, a quaint village famous for its therapeutic hot springs. The centerpiece of the town is the ancient thermal pool located in the main square, which dates back to Roman times.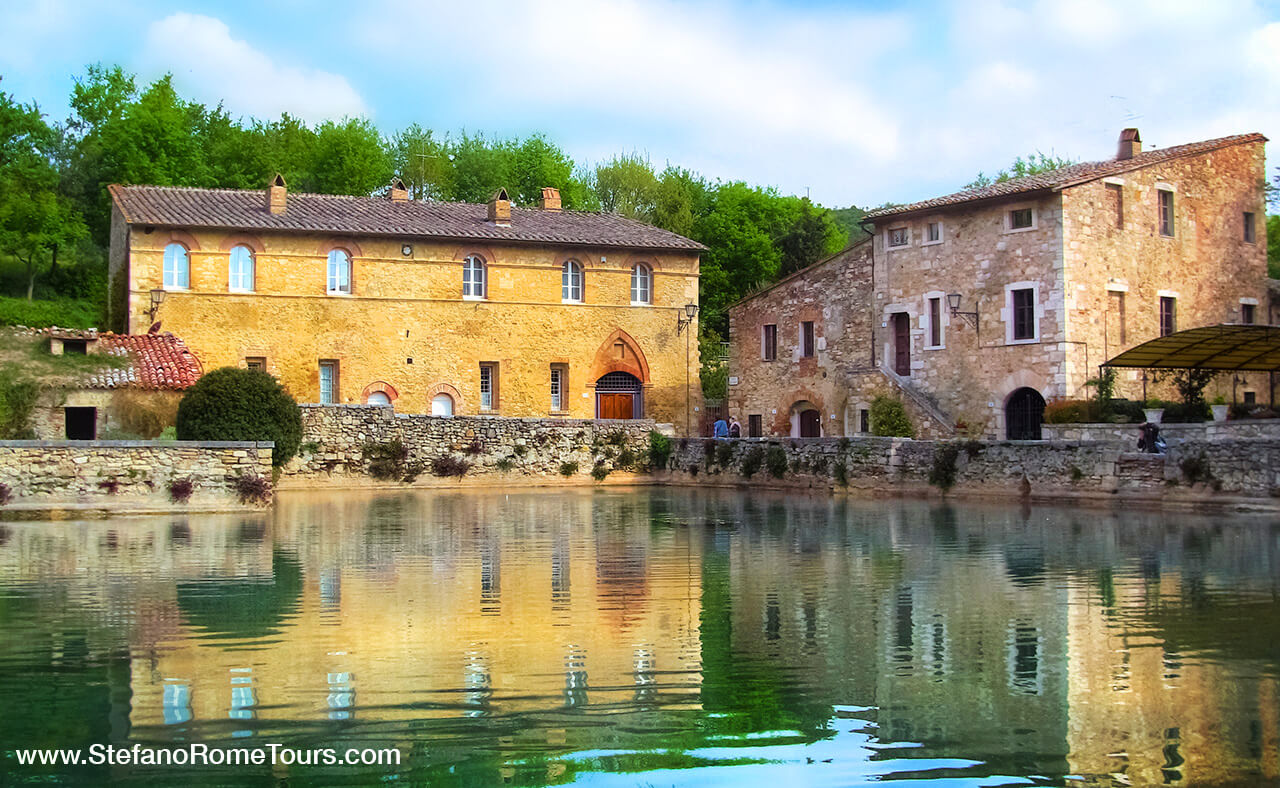 Immerse yourself in the warm, mineral-rich waters and let the soothing effects relax your body and mind. The therapeutic properties of the hot springs have attracted visitors for centuries, including famous historical figures such as St. Catherine of Siena.
Beyond the healing waters, Bagno Vignoni offers a delightful atmosphere. Explore the charming streets, lined with medieval buildings and artisanal shops.
Bagno Vignoni's idyllic setting and therapeutic waters make it a hidden gem that should not be missed during your trip to Tuscany.
4. Monticchiello: Timeless Charm and Tranquility
Perched on a hilltop overlooking the Val d'Orcia, Monticchiello is a picturesque village that transports you back in time. With its medieval charm, ancient walls, and breathtaking vistas, it offers a glimpse into the authentic Tuscan way of life.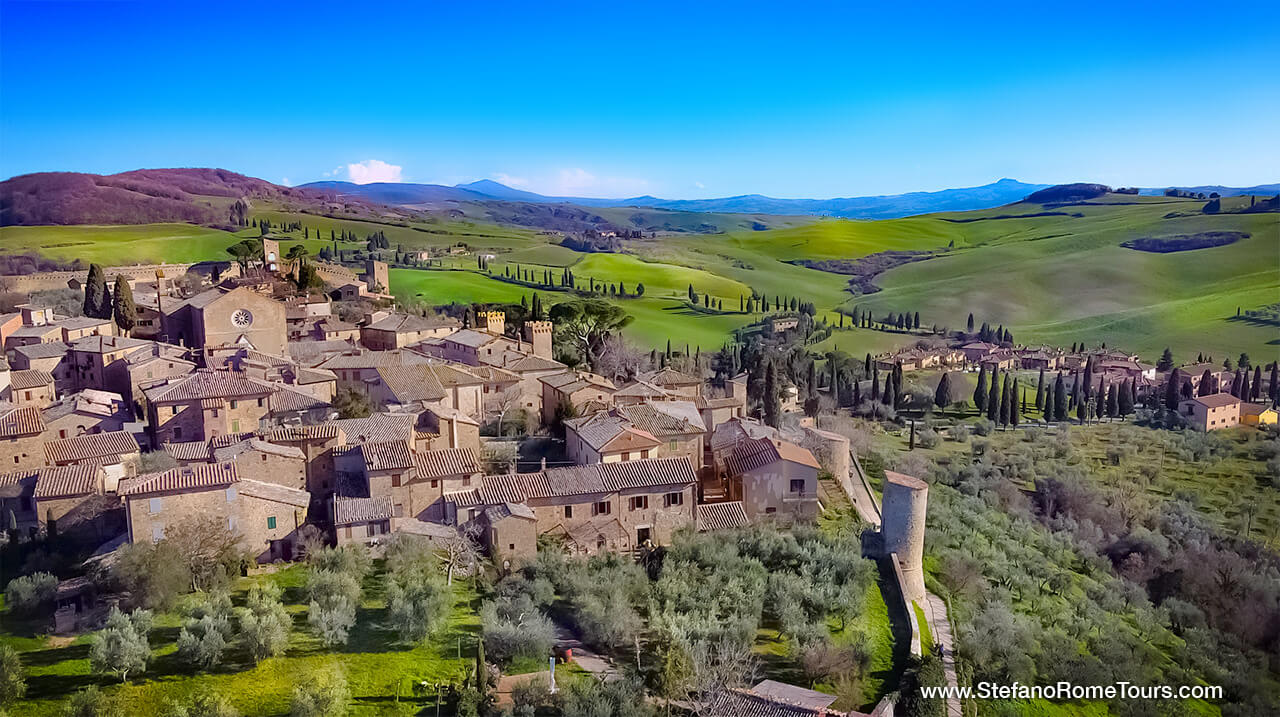 As you wander through the narrow alleys, you'll be captivated by the village's timeless atmosphere. Monticchiello is renowned for its open-air theater, Teatro Povero, where local residents bring their stories to life through performances that reflect the village's rich cultural heritage. During the summer months, attending a performance under the stars is a unique and immersive experience.
Don't forget to visit the Church of San Leonardo, a small but beautiful church that offers a peaceful retreat and an opportunity for quiet contemplation.
The panoramic views from Monticchiello are simply breathtaking. Take a moment to admire the rolling hills, adorned with cypress trees and vineyards, and let the serenity of the landscape envelop you.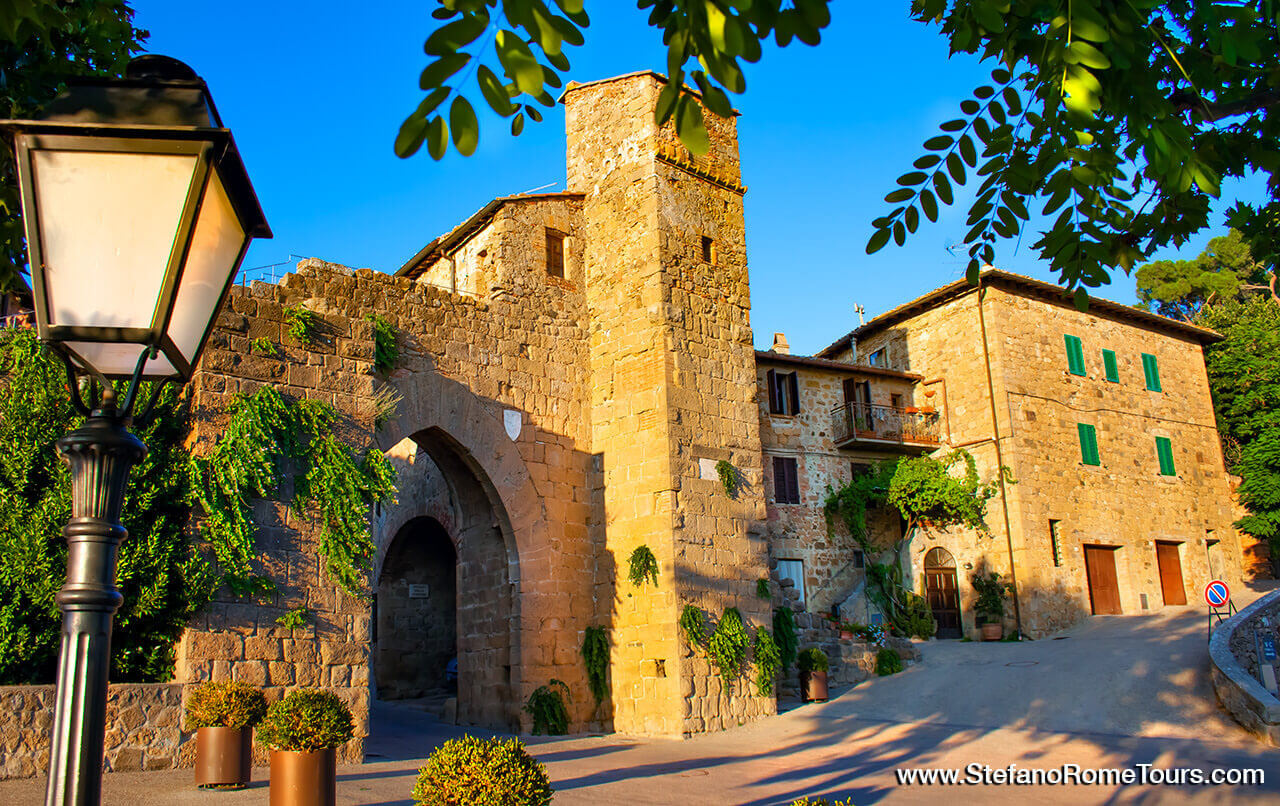 To truly experience the charm of Monticchiello, embrace the unhurried rhythm of village life. Engage with the friendly locals, visit the artisan shops, and savor the authentic Tuscan cuisine in the local trattorias.
You may delight in a tour to visit Pienza, Bagno Vignoni, and Montichiello (as well as San Quirico d'Orcia and more) on our popular Majestic Tuscany Tour from Rome.
5. Sant'Antimo Abbey: A Serene Spiritual Retreat

Surrounded by vineyards and olive groves, Sant'Antimo Abbey is a place of serenity and spiritual beauty. This ancient Benedictine monastery, dating back to the 12th century, provides a peaceful retreat for visitors seeking tranquility and reflection.
Experience a moment of stillness by attending a prayer service at the abbey, where the enchanting Gregorian chants echo through the medieval stone walls. The combination of sacred music and the abbey's serene ambiance creates a truly transcendent experience.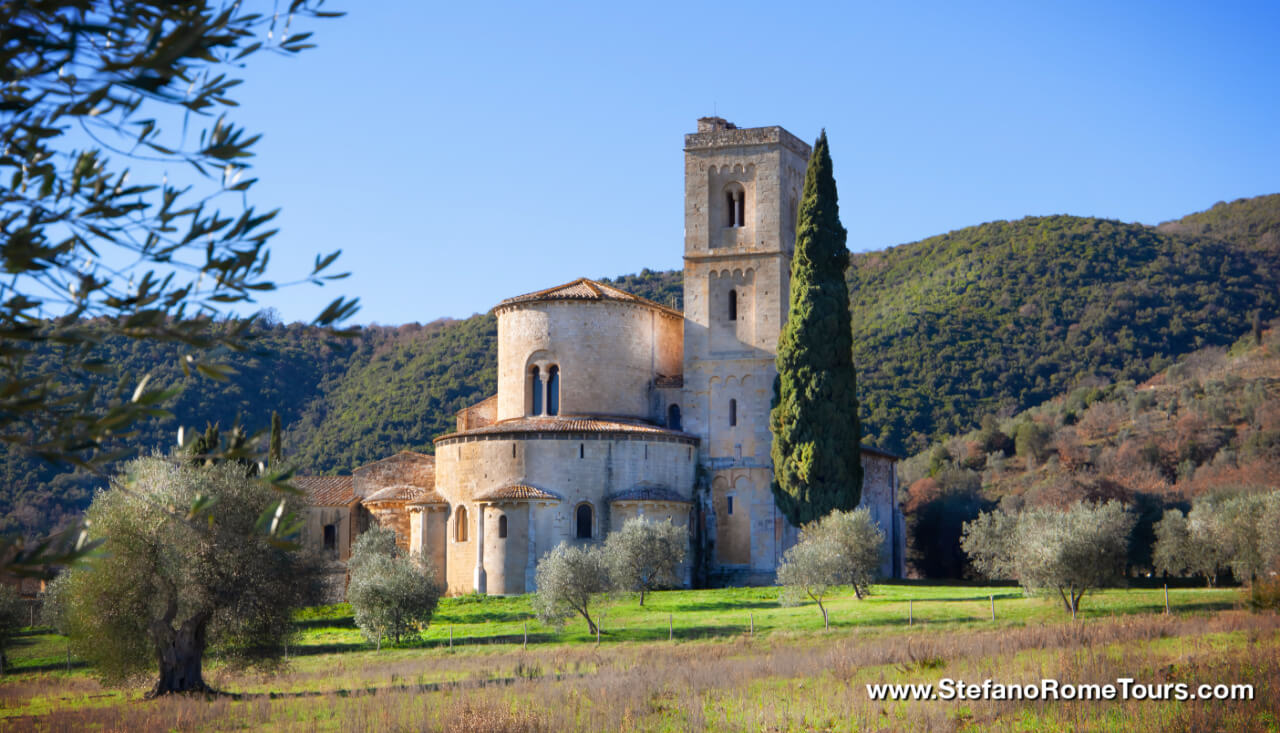 Apart from the spiritual aspect, the abbey's location offers breathtaking views of the Tuscan landscape. Take a leisurely stroll through the abbey grounds and absorb the peaceful atmosphere. As you explore, you'll encounter vineyards, olive groves, and rolling hills, allowing you to fully immerse yourself in the beauty of Tuscany.
Not to be missed tucked away in the ancient treasure room, is the inviting monastic pharmacy. Here you'll discover a range of culinary delights steeped in the centuries-old monastic herbal tradition: honey, fruit jams, candies, and herbal teas are among the offerings.
Additionally, the pharmacy offers a selection of natural body care items infused with essences and medicinal herbs like olive oil, red grapes, lavender, and black pepper. Don't miss the chance to savor the exclusive Sant'Antimo beer, available in both blond and amber varieties.
The pharmacy also features the bitter of Sant'Antimo, crafted with the essence of Erba Carlina, a herb with legendary ties to the abbey's foundation. Monks at Sant'Antimo once used Erba Carlina to create curative decoctions for Charlemagne's army, who were afflicted by a plague during their stay at the abbey.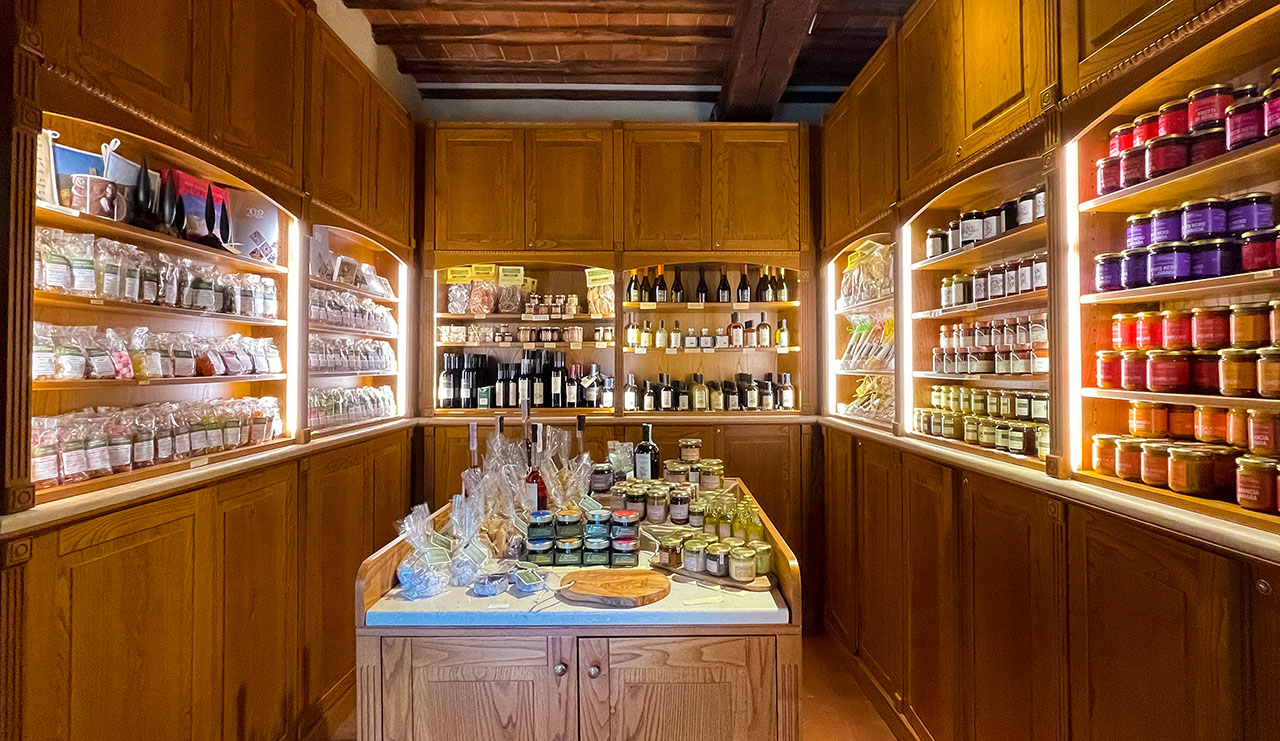 Sant'Antimo Abbey is an oasis of tranquility that offers a respite from the hustle and bustle of everyday life. Whether you seek solace or simply wish to enjoy the natural beauty of the surroundings, a visit to this hidden gem is a must for those traveling through Tuscany.
A visit to Sant'Antimo is possible on our Tuscany Vineyards and Wine Tasting Tour which also takes you to Montepulciano, Montalcino, and wine tasting at a winery estate near the abbey.
6. Castello Banfi: Wine Tasting with a View
Located in the heart of the Brunello di Montalcino wine region, Castello Banfi is a must-visit for wine aficionados and history aficionados.
With roots dating back to the 9th century when it stood as a formidable fortress, this captivating stone hamlet found new life in the 1700s under the protective embrace of the walls and towers of Castello di Poggio alle Mura. Once home to hardworking farmers, Castello Banfi has undergone a remarkable transformation, emerging as a distinguished winery and boutique hotel that exudes an air of refinement and exclusivity, all set amidst the serene Tuscan countryside.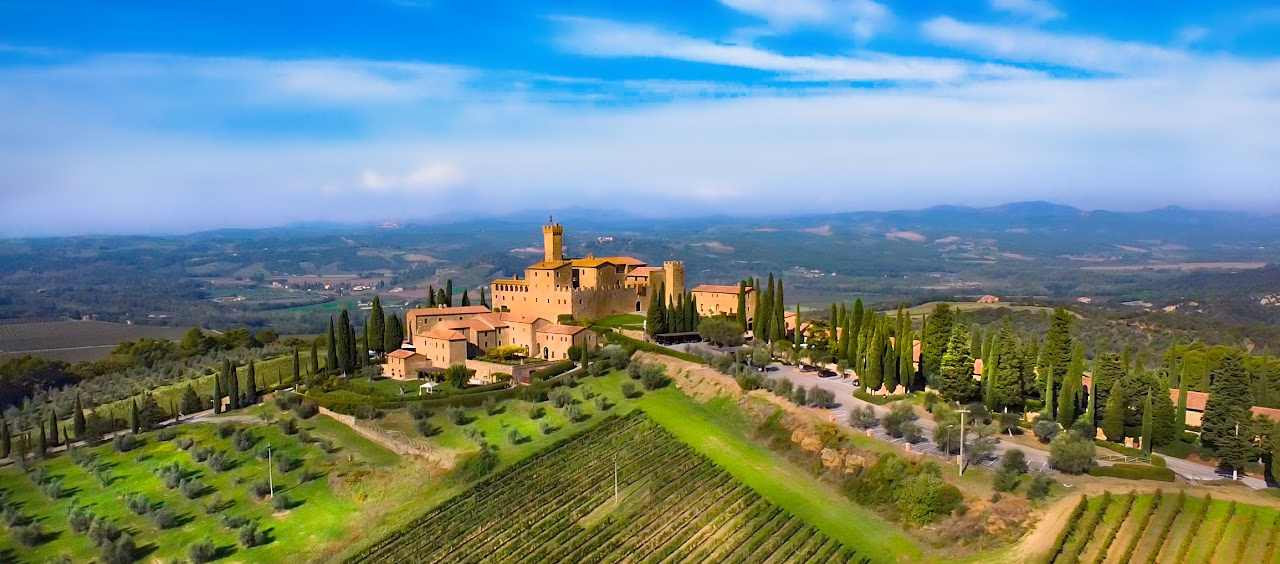 The castle grounds beckon exploration, while the elegant Castello Banfi Enoteca (wine shop) invites you to savor the exquisite flavors of this renowned wine region. The Enoteca not only showcases estate wines but also local artisanal foods and crafts, including grappa, extra virgin olive oil, and Salsa Etrusca. To elevate your experience, Castello Banfi proudly boasts La Taverna, a Michelin-rated Tuscan restaurant where culinary treasures await.
While you savor wine tastings and delectable cuisine, don't forget to bask in the awe-inspiring views that unfold before you—rolling hills, vineyards, and olive groves that come together to create a mesmerizing tableau of the Tuscan landscape. Castello Banfi seamlessly weaves together the enchantment of wine, the echoes of history, and the tranquility of nature, leaving you entranced by its timeless allure.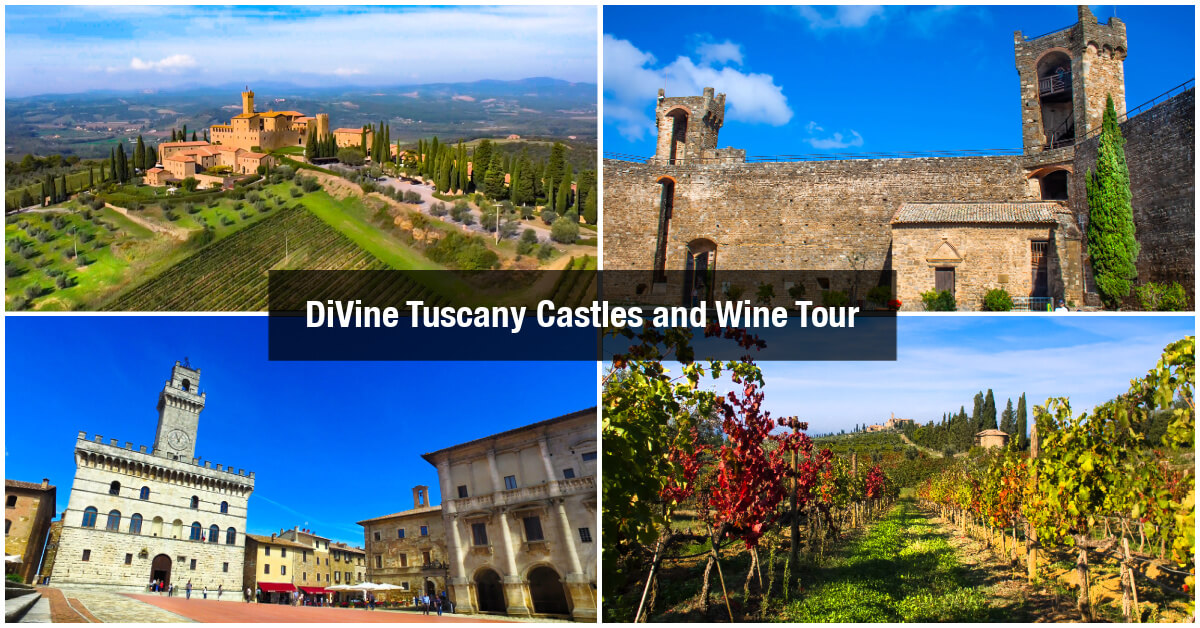 A visit to Castello Banfi with wine tasting at the elegant Enoteca is possible on our Divine Tuscany Castles and Wine tour from Rome.
7. Saturnia Hot Springs: Nature's Oasis

Escape to nature's oasis at the Saturnia Hot Springs, an extraordinary marvel nestled in the picturesque Maremma region of Italy. Situated at an approximate distance of 150 kilometers from Rome, Saturnia is not only renowned for its thermal waters but also steeped in history.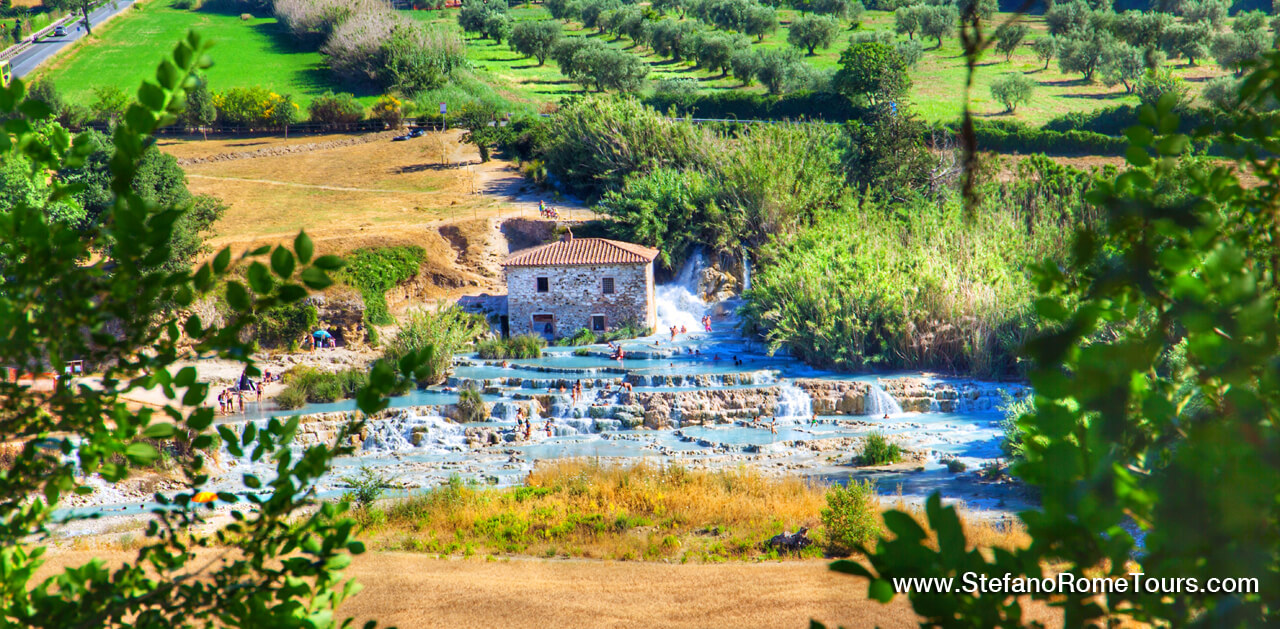 Its name harkens back to Roman mythology, where it is said that the god Saturn created these therapeutic springs by striking his lightning bolt into the earth. Throughout the ages, Saturnia has attracted visitors seeking rejuvenation in its warm, sulfurous waters.
As you immerse yourself in these soothing thermal baths, the stress and tension of everyday life will dissolve, leaving you refreshed and revitalized. Surrounded by the natural beauty of cascading waterfalls, natural pools, and lush greenery, you'll find yourself in a truly enchanting setting. Take the time to explore the idyllic landscapes, characterized by rolling hills and enchanting medieval villages.
Our guests enjoy the convenience of private transfers from Rome to Saturnia, where they can indulge in a day or two of relaxation at the renowned Saturnia resorts.
8. Argentario: Coastal Charms and Hidden Gems
The Monte Argentario peninsula, a hidden gem along the Tuscan coast, is a marriage of natural wonders and Mediterranean charisma creating a destination unlike any other.
Whether you're strolling the historic streets of Porto Ercole and Porto Santo Stefano, or simply savoring the sun-kissed sands, Argentario promises an enchanting odyssey that lingers in your heart long after your visit.
Porto Santo Stefano: Coastal Elegance


Porto Santo Stefano, perched on the northern edge of the Argentario Peninsula, exudes coastal elegance. The town's picturesque harbor is lined with pastel-colored buildings, creating a postcard-worthy scene.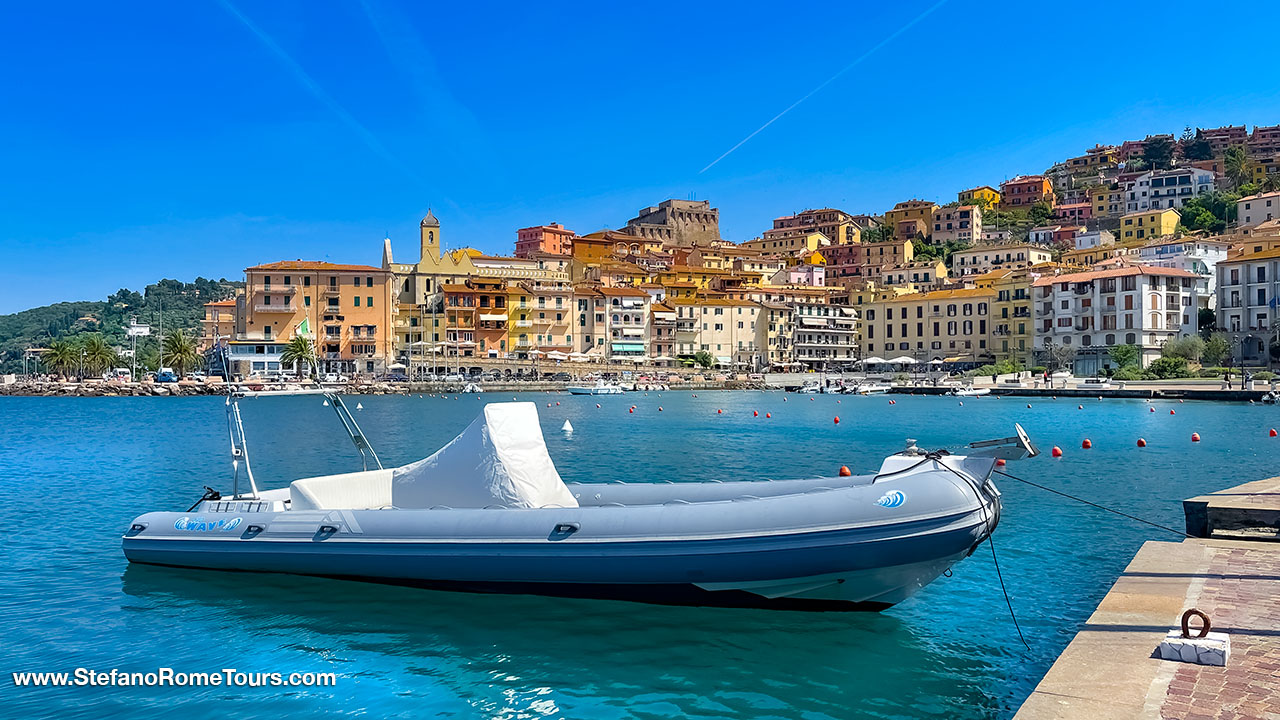 Stroll along the seafront promenade, where seafood restaurants tempt you with the day's catch.
The imposing Spanish fortress, Forte Stella, stands as a historic sentinel overlooking the harbor. With its inviting beaches, crystal-clear waters, and vibrant local culture, Porto Santo Stefano is the perfect place to unwind and savor the coastal charm.
Porto Ercole: A Maritime Haven


Porto Ercole, resting on the southern shores of Argentario, is a maritime haven with a rich history. Its scenic harbor is dotted with fishing boats and yachts, creating a quintessential Italian coastal ambiance. Explore the narrow streets of the old town, where colorful houses, quaint boutiques, and lively cafes beckon.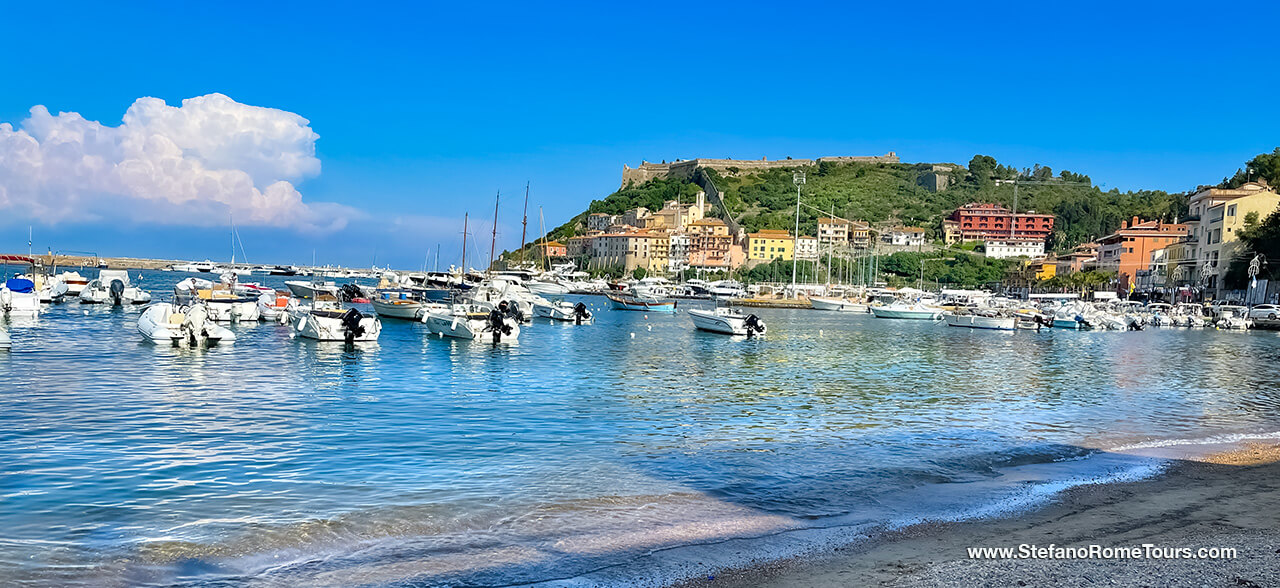 The imposing Forte Filippo and Forte Stella overlook the harbor, serving as reminders of Porto Ercole's strategic past. The town's inviting beaches, including the beautiful Feniglia Beach, offer opportunities for relaxation and water activities. Whether you're sipping an espresso in a charming piazza or watching the sunset over the Tyrrhenian Sea, Porto Ercole captures the essence of coastal living.
Numerous discerning travelers choose to indulge in the world-renowned luxury of Il Pellicano Resort in Porto Ercole. They opt for private transfers from Rome to Il Pellicano Resort, relishing the unmatched tranquility and exclusivity that this esteemed resort provides.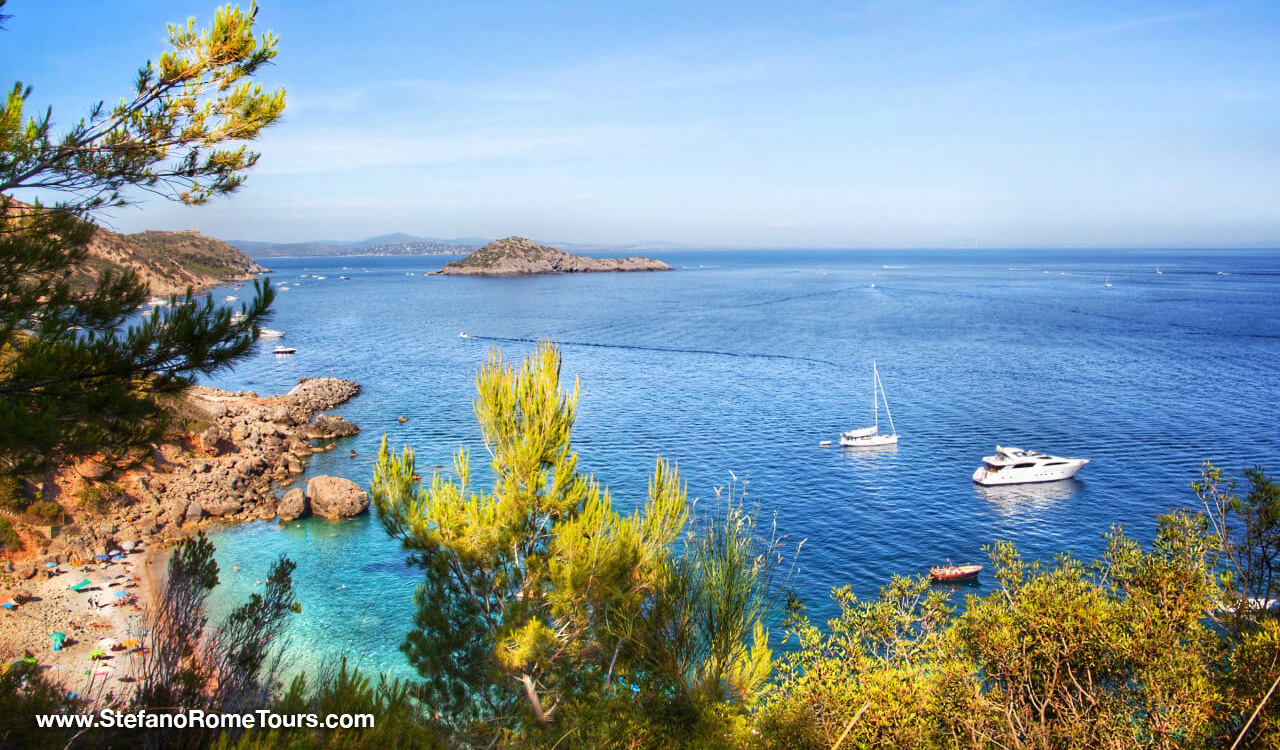 Tuscany, with its hidden gems and undiscovered treasures, invites you to embark on a journey of discovery. These enchanting destinations offer a glimpse into the heart and soul of this remarkable region.
So, when you plan your trip from Rome, consider venturing beyond the obvious and savor the authentic beauty of Tuscany's lesser-known marvels.
Thank you for reading our travel blog and for choosing Stefano Rome Tours for your private tours in Italy. We look forward to seeing you soon!