Welcome to the captivating city of Rome, where history, culture, and adventure await families with kids of all ages!
At Stefano Rome Tours, we believe that exploring Rome with kids is a joyful and enriching experience, and we're delighted to present our list of 12 fun-filled activities that will make your family vacation in Italy truly unforgettable.
From iconic landmarks in Rome to lush green gardens, and exciting amusement parks, there is so much to see and do in Rome for both young explorers and their parents. You may also consider booking private Rome Tours by car for a great way to explore MORE of Rome in LESS time effortlessly without exhausting the little ones.
Journey through time at the Colosseum, wander through the ancient Roman Forum, climb the famous Spanish Steps for breathtaking views, explore the ancient ruins of Ostia Antica, and let imaginations soar at the Explora Children's Museum. Delight in thrilling visits to Roma World and Cinecittà amusement parks, where magic and movie sets come to life, and a splashing adventure at Zoo Marine water park.
So, pack your bags and embark on a family adventure as we Explore Rome with Kids: 12 Fun Activities for the Whole Family.
Family-Friendly Rome:
12 Memorable Activities for Kids and Parents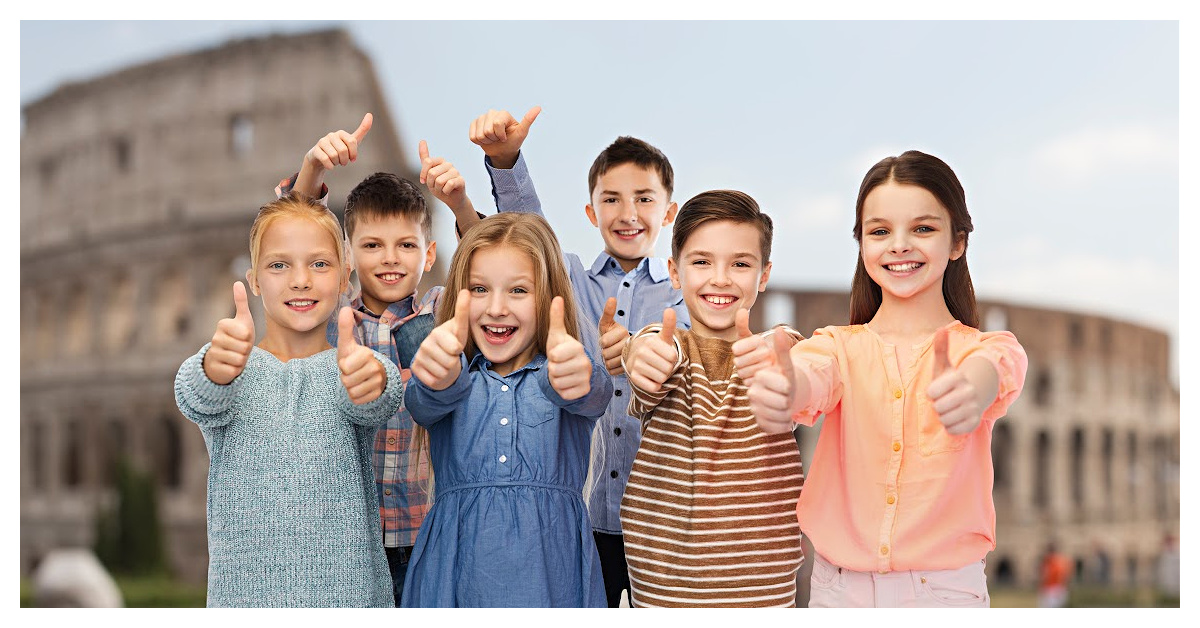 1. Visit the Colosseum


One of the must-visit attractions when exploring Rome with kids is the awe-inspiring Colosseum, a true icon of ancient history. Step back in time with your children as you enter this magnificent amphitheater, where gladiator battles and grand spectacles captivated thousands of spectators.
The Colosseum's grandeur and historical significance make it a perfect opportunity to spark your kids' imagination. Envision epic battles between gladiators and wild beasts while huge crowds of ancient Romans cheer in the stands.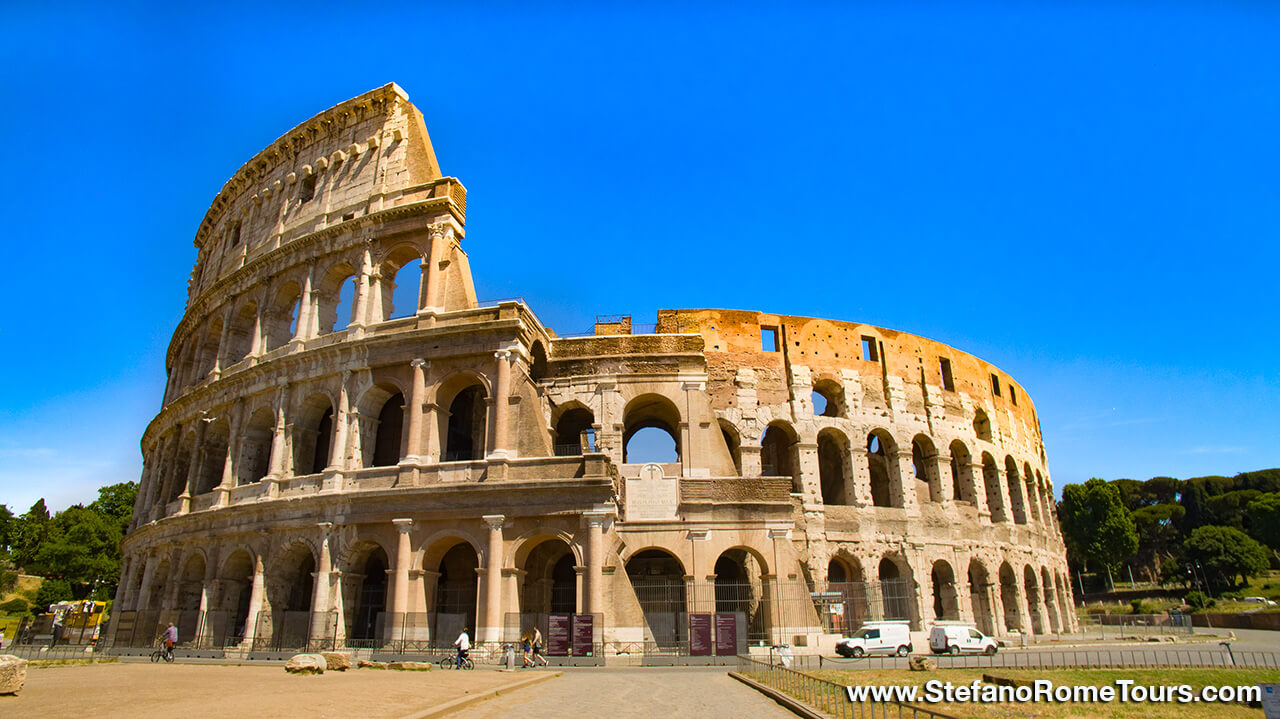 To make the experience even more enjoyable for your little ones, consider booking a guided tour specially designed for families with children. Expert guides, well-versed in captivating storytelling, will share fascinating tales of ancient Rome, making history come alive in a way that resonates with young minds.
Through engaging commentary and interactive elements, the guided tour will keep your kids enthralled throughout the visit, turning it into an educational and unforgettable experience for the whole family.
2. Explore the Roman Forum
The Roman Forum, located across the Colosseum, is a vast "open-air museum" featuring the ruins of once-magnificent temples, marketplaces, and government buildings. For kids, it's like stepping into a time machine that transports them back thousands of years to a bygone era.
As they wander through the ancient ruins, encourage them to let their imaginations soar and visualize what life might have been like for the Romans who once filled this square with their daily activities.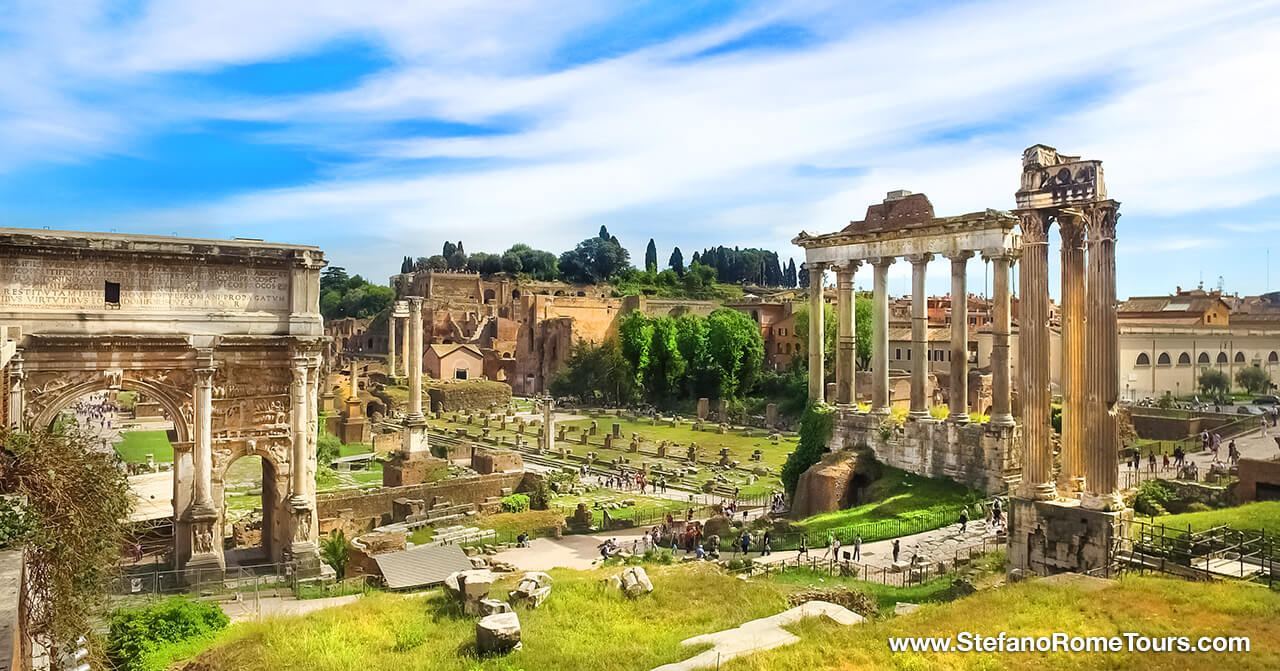 Young minds will be intrigued by the stories of powerful emperors, senators, and everyday citizens who once walked these very streets. They can picture the bustling market stalls, hear the lively chatter of merchants, and envision the grand ceremonies held in these monumental spaces. It's a chance for them to connect with history on a personal level, to see the remains of a world that existed long before their time.
To make the most of your family trip to Rome, consider engaging a knowledgeable guide who can bring the Roman Forum to life with engaging anecdotes and historical insights tailored for kids. An experienced guide can transform the ruins into a vivid and interactive learning experience, making history captivating and enjoyable for children of all ages.
The memories created during your visit to the Colosseum and Roman Forum will be cherished for a lifetime and might even inspire future historians or archaeologists within your own family.
INSIDER TIP: Plan to tour the Colosseum and then the Roman Forum on the same day. If you book a guided tour, you can first tour the Colosseum, and then continue your guided tour to the Roman Forum.
3. Gladiator School - Learn how to be a Gladiator

Speaking of the Colosseum... why not unleash the inner gladiator in your kids with a thrilling day at a Gladiator School—an unforgettable experience that will transport them back to ancient Rome?
Enroll your little ones for a few hours at an interactive school for a day of adventure, excitement, and a glimpse into the world of fearless warriors.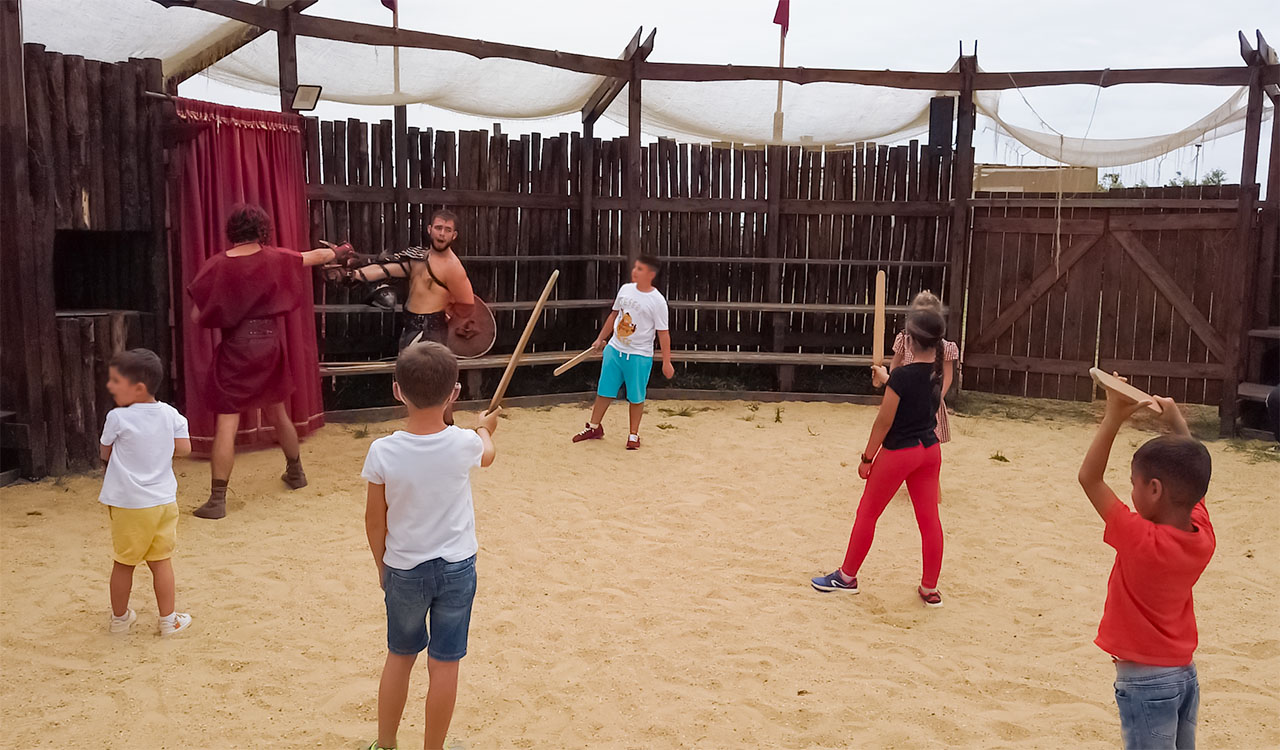 4. Climb the Spanish Steps


Embarking on a family adventure in Rome with kids wouldn't be complete without conquering the iconic Spanish Steps. Climbing these historic steps is not only an exciting physical challenge for kids but also a wonderful opportunity to witness the breathtaking panoramic view of Rome from the top.
As you approach the Spanish Steps, you'll be greeted by a sight that has enchanted visitors for centuries. These grand stairs, with their impressive design and charming atmosphere, beckon young explorers to ascend and discover what awaits them at the summit. Encourage your kids to take on the challenge, step by step, and witness their faces light up with excitement as they conquer each level.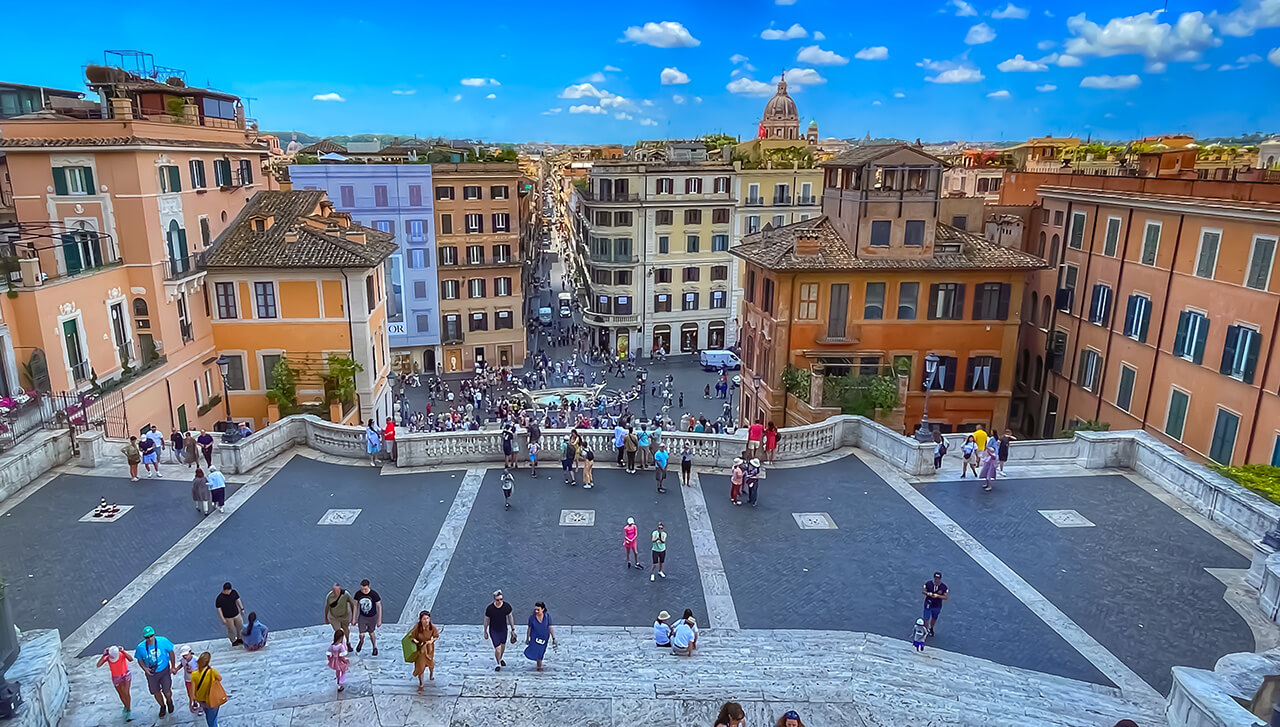 The reward for their efforts is nothing short of spectacular. Once at the top, you'll be treated to a stunning vista that showcases the beauty of Rome. From here, you can capture unforgettable family photos, creating cherished memories that will be treasured for years to come.
INSIDER TIP: Visit Spanish Steps with kids early in the morning (7-9 AM) before the huge crowds arrive for a better experience and overall safety for young children.
5. Visit Trevi Fountain and Toss a Coin

When it comes to exploring Rome with kids, the Trevi Fountain in Rome is a delightful destination for kids due to its captivating and interactive nature. This iconic fountain is not just a marvel of Baroque art and architecture but the mesmerizing play of water and the intricate details of the sculptures, such as Neptune's chariot and the tritons, will surely captivate young minds.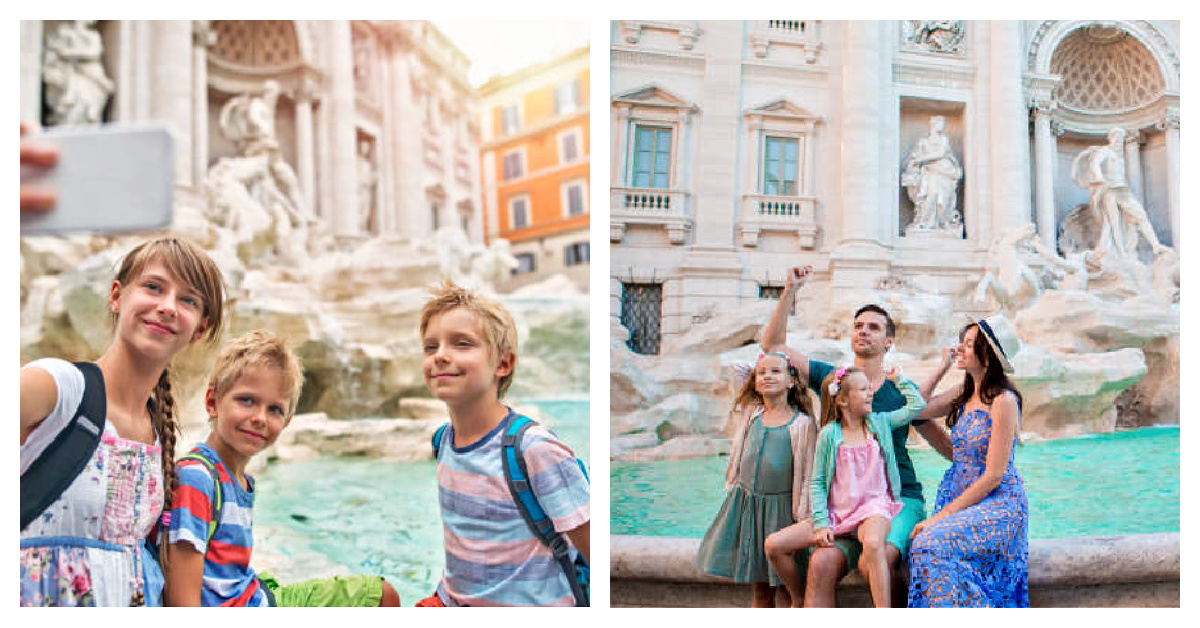 Encourage your little ones to make a wish and toss a coin into the fountain, a tradition that not only adds an element of fun but also imparts a bit of Roman folk culture offering an engaging and memorable experience for young ones.
Whether it's marveling at the fountain's beauty or participating in the coin-throwing tradition, the Trevi Fountain offers a blend of history, culture, and excitement that promises an unforgettable experience for kids and the entire family.
INSIDER TIP: Visit Trevi Fountain with kids early in the morning (7-9 AM) before the huge crowds arrive for a better experience and overall safety for young children.
6. Villa Borghese Gardens


Upon entering Borghese Gardens, you and your family be greeted by the vast expanse of greenery, inviting your kids to embrace the open space and run free in nature's playground. Let their imaginations take flight as they explore the lush gardens, with each step revealing new wonders to discover.
For a unique and exciting experience, consider renting bicycles or pedal cars. Your kids will delight in pedaling through the scenic pathways, feeling the wind in their hair as they weave through the verdant landscape. This thrilling adventure adds an extra layer of excitement to your family day at the gardens.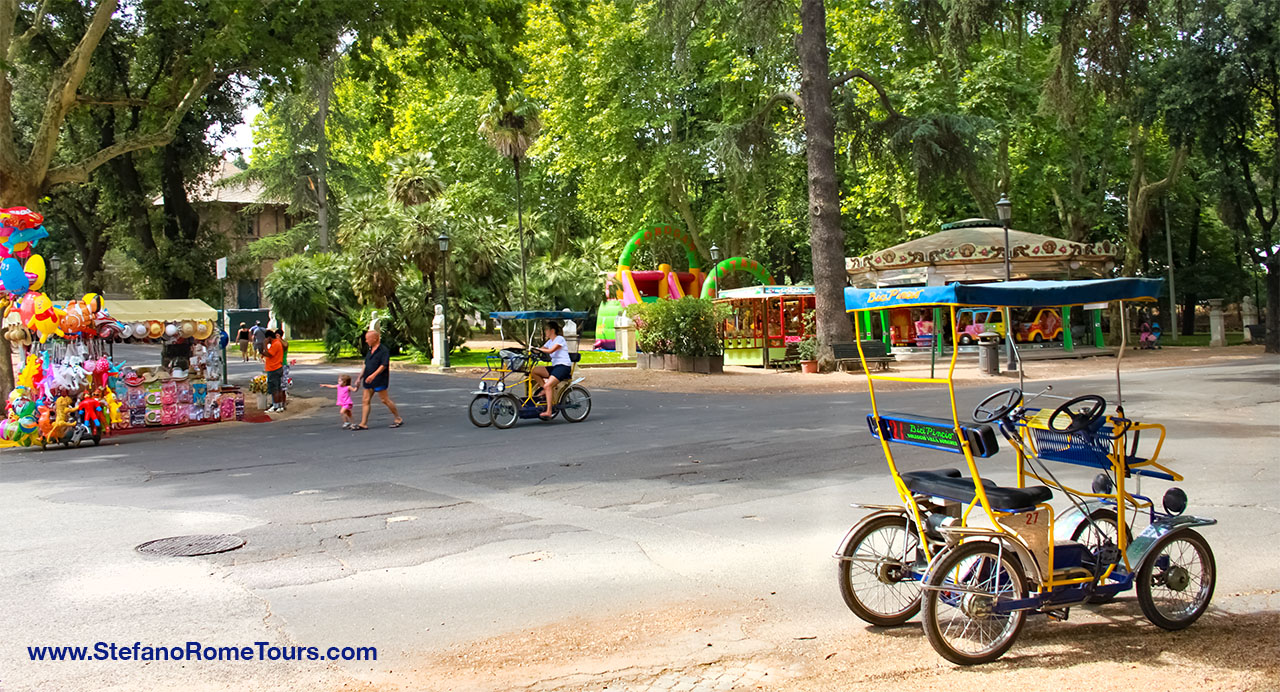 A highlight of Borghese Gardens that's sure to captivate young hearts is the Bioparco, a wonderful zoo nestled within the park. Here, your kids can encounter a fascinating array of animals from different corners of the world. From playful monkeys to majestic big cats, the Bioparco promises an educational and awe-inspiring encounter with nature's diverse creatures.
As the day unfolds, take a leisurely stroll along the serene lake within the park. Here, you have the option to rent a rowboat and venture onto the tranquil waters. It's a delightful experience for both kids and parents, creating beautiful moments of togetherness amidst the picturesque setting.
For a more relaxed approach, find a cozy spot amidst the gardens and set up a lovely family picnic. While savoring delicious treats, let the beauty of the surroundings serve as the backdrop to cherished conversations and shared laughter.

7. Explora Children's Museum
Ignite your children's curiosity and imagination with a visit to Explora, an enchanting hands-on children's museum near the vibrant Piazza del Popolo.

The museum is thoughtfully designed to encourage young children to engage with their surroundings, igniting their imaginations and nurturing a thirst for knowledge. Each exhibit is crafted to be both fun and educational, learning becomes a fun adventure for kids in Rome.
Explora offers a myriad of play zones that cater to various interests and age groups. Each play area is designed to stimulate curiosity and encourage imaginative play.


TIP BEFORE YOU GO: Be sure to check the museum out online for their opening hours (AM and PM shifts) and ticket information.
8. Gelato and Pizza Tasting in Rome


In the heart of Rome, a world of delectable delights awaits the whole family. Indulge in the famous Italian gelato and let your kids sample different flavors from various gelaterias around the city. It's a delicious and enjoyable way to cool off during your explorations.
Treat your kids to an unforgettable culinary adventure with two of Italy's most beloved treasures—gelato and pizza. As you explore the charming streets and historic sites, take a moment to savor the mouthwatering flavors that have enchanted visitors for generations.
First on the menu is the divine art of gelato tasting. Rome is a city renowned for its gelaterias, each vying for the title of the most scrumptious frozen treat. Embark on a gelato expedition with your little ones, discovering gelaterias throughout the city as you sightsee during your day.
If you find yourself near the Pantheon, you'll love Cremeria Monte Forte right next to the monument. Not far from the Colosseum is Gelateria Flor. Just off Piazza Risorgimento near the Vatican is the famous Gelateria Old Bridge which boasts big servings at small prices. Just about everywhere you go in Rome you'll be bound to find a gelateria.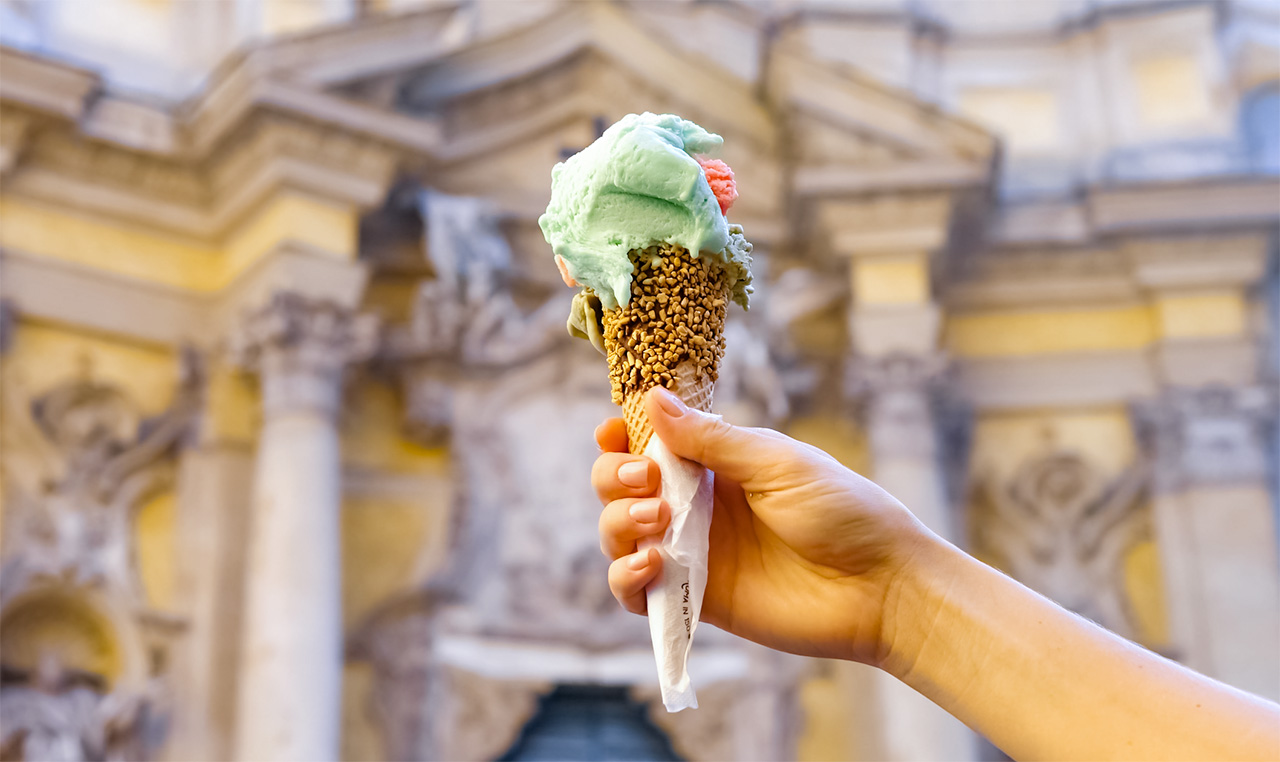 As you continue your family gelato adventure, share in the joy of discovery, trying new flavors alongside your little ones. Let their curiosity lead the way as they select their favorites, and don't hesitate to treat yourself to a few scoops of gelato heaven as well. After all, indulging in gelato is an experience meant to be shared and savored together.
Next on the culinary journey is the iconic Italian pizza. In Rome, pizza is more than just a meal—it's an art form, crafted with care and passion. Seek out a charming pizzeria that beckons with its welcoming ambiance and wood-fired ovens. Inside, the aroma of bubbling tomato sauce and melted cheese will ignite your appetite and set the stage for a memorable family dining experience.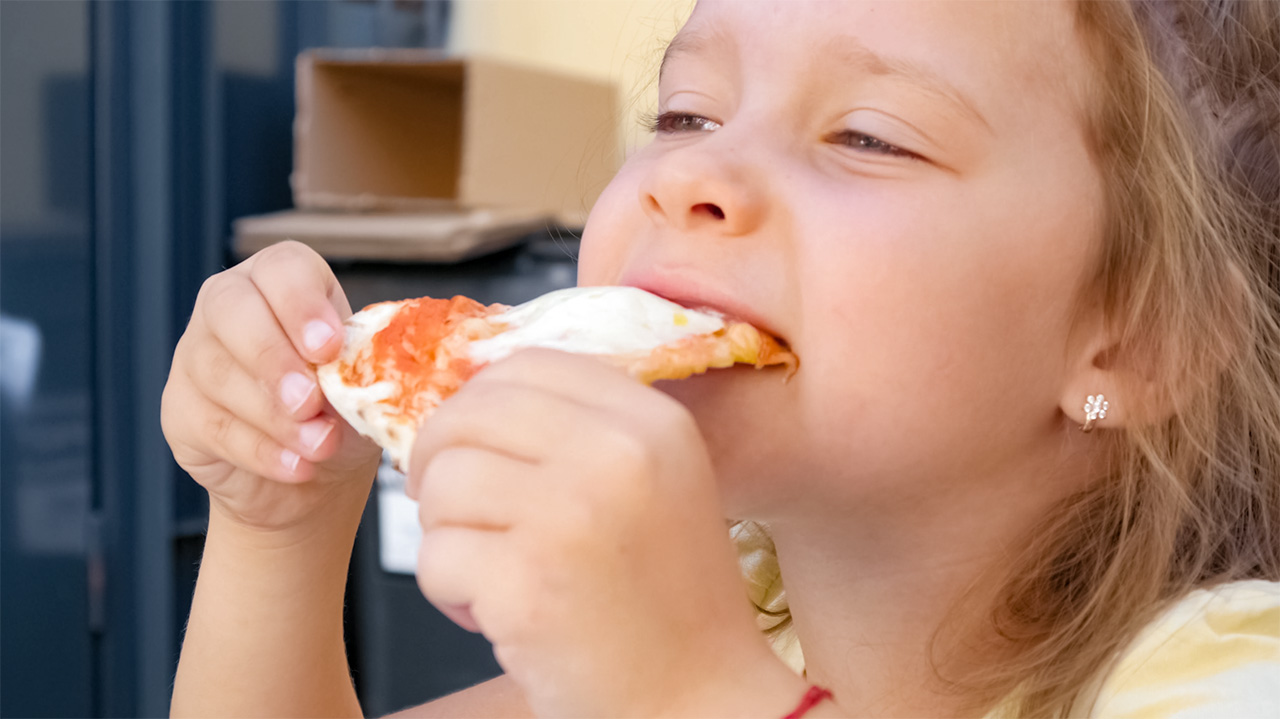 As your pizza arrives, watch the excitement on your kids' faces as they savor the flavors of this classic Italian dish. Whether they prefer the simplicity of a Margherita pizza or the adventure of trying a variety of toppings, each bite will bring smiles and satisfaction.
And let's not forget to create lasting memories by sharing a family photo with your gelato and pizza indulgence as the centerpiece. It's a delightful way to commemorate your time in Rome and capture the happiness that comes from experiencing Italy's culinary treasures as a family.
So, as you explore Rome with your kids, make sure to set aside time for a gelato and pizza adventure. It's a journey that will tantalize your taste buds, nourish your family bond, and leave you with heartwarming memories of your time together in the Eternal City. Embrace the joy of these simple pleasures, and let the flavors of Italy add an extra sprinkle of magic to your family's Roman adventure.
INSIDER TIP: Pizza in Rome is not limited to only sit-down restaurants. There are a plethora of pizzerias that sell pizza by the slice on the go. For example, Alice pizzerias in Rome have multiple locations throughout the city center.
9. Christian Catacombs of Rome
For older kids with an adventurous spirit and a curiosity for history, a visit to the ancient catacombs of Rome is a fascinating and enriching experience. These mysterious underground networks, such as the Catacombs of San Callisto or San Sebastiano, offer a captivating journey back in time to the early days of Christianity.
As you venture into the depths of the catacombs, a sense of awe and wonder will fill the air. The dimly lit passageways and hidden burial chambers hold stories of the past, and your kids will be intrigued to learn about the lives of early Christians who sought refuge and practiced their faith in these subterranean sanctuaries.
NOTE: Visits are possible only with guided groups included in the price of Admission Tickets.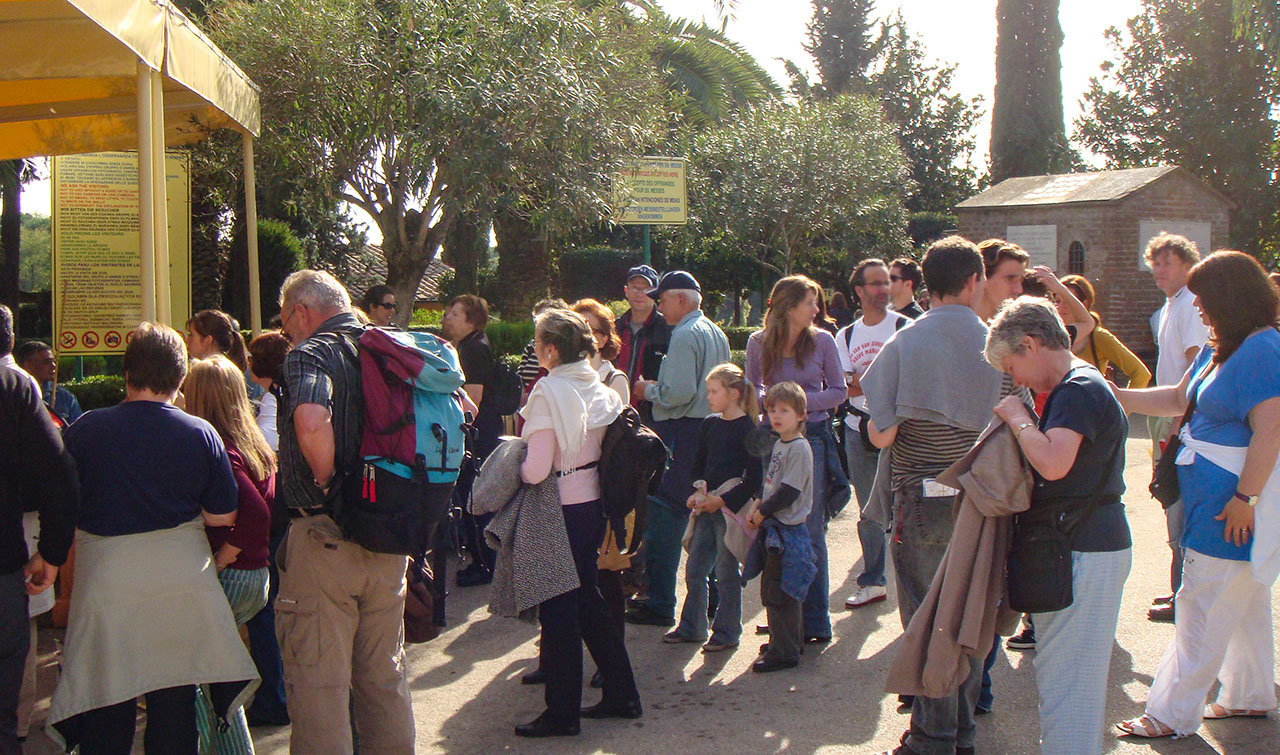 The Catacombs of San Callisto, also known as the Callixtus Catacombs, are one of the largest and most significant catacombs in Rome. Named after Pope Callixtus I, they served as a burial site for numerous popes and early Christians. As your kids explore the labyrinthine corridors, they'll discover ancient frescoes, inscriptions, and crypts that tell tales of faith, devotion, and the passage of time.
Similarly, the Catacombs of San Sebastiano offer a glimpse into the past, with their intricate passageways winding beneath the ancient Appian Way. Here, your kids can uncover the history of Saint Sebastian, a Christian martyr, and marvel at the elaborate artwork that adorns the catacombs' walls.
During the tour, knowledgeable guides will share stories of early Christian life, explaining the significance of these sacred spaces. Your kids will gain a deeper understanding of Rome's rich religious history and the important role these catacombs played in preserving the memory of the faithful departed.
Visiting the catacombs is not only an educational experience but also an opportunity for your kids to connect with the ancient world on a personal level. The sense of discovery and exploration will leave a lasting impression, igniting their curiosity for history and fostering a deeper appreciation for the complexities of human civilization.
Before you embark on this adventure, it's essential to prepare your kids for the underground journey. Remind them to be respectful of the sacred nature of the catacombs and to follow the guidance of the guides during the tour.
10. Ancient Appian Way / Via Appia



Walking along the Via Appia, also known as the Ancient Appian Way, is a wonderful outdoor activity that the whole family can enjoy during your exploration of Rome. This ancient road, once a vital artery connecting Rome to the southern regions of Italy, is steeped in history and offers a unique opportunity to step back in time.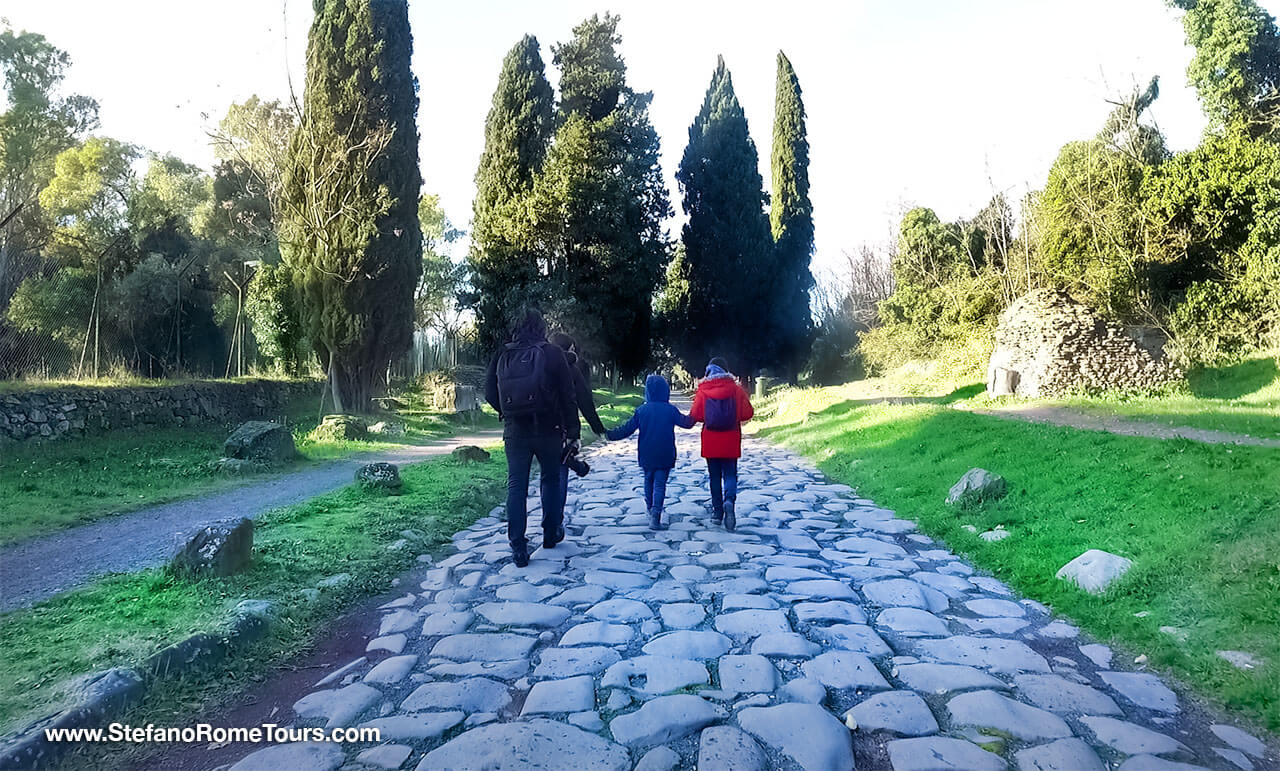 Before embarking on your walk, consider starting your journey from the catacombs, as the Ancient Appian Way passes by the Catacombs of San Sebastiano and other ancient landmarks. Your kids will be intrigued to know that this very road was once trodden by ancient Romans, early Christians, and even famous historical figures like Spartacus and Julius Caesar.
As you walk along the cobblestone path, let your imagination roam free as you envision the hustle and bustle of ancient Roman life. The imposing ruins of mausoleums, tombs, and ancient villas will capture your family's attention, sparking discussions about the people who once lived and traveled along this historic route.
To make the walk even more enjoyable for your kids, turn it into a scavenger hunt! Create a list of landmarks or specific features to spot along the way, such as Roman milestones, old ruins, and the iconic aqueducts that line the path. Encourage your kids to keep an eye out for these historical treasures as you stroll together.
Finally, as you conclude your walk along the Ancient Appian Way, take a moment to reflect on the incredible history that has unfolded on this very path. The sense of awe and wonder that your kids will feel as they connect with the past is a priceless gift that will stay with them for years to come.
11. Explore Ostia Antica with kids
Although not inside Rome proper, Ostia Antica is close to Rome and offers a glimpse into an ancient Roman city which is a fantastic destination for kid-friendly things to do in Rome. Visiting Ostia Antica with kids is not just a journey into ancient history but also an enriching and engaging experience.
This archaeological site offers a unique blend of exploration, education, and imagination, making it an ideal destination for families offering kids the opportunity to step back in time and envision life in a bustling Roman port town.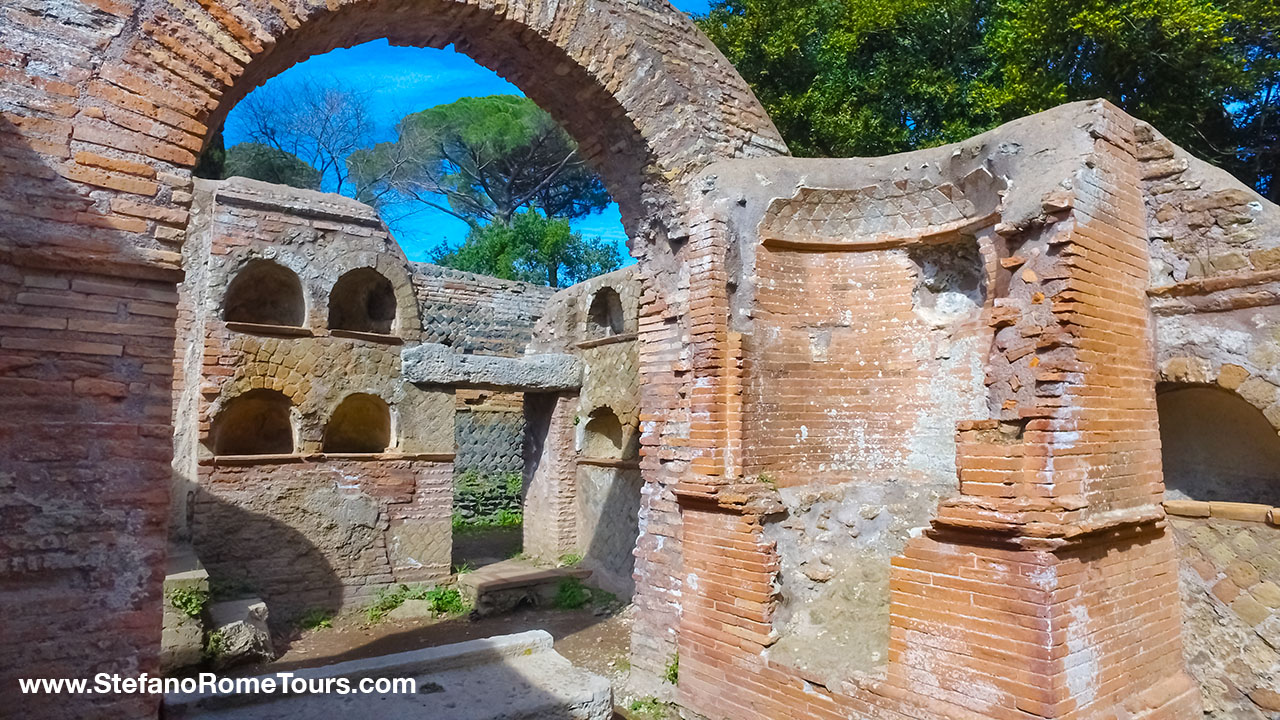 The well-preserved structures, such as the amphitheater, baths, and apartment buildings, provide tangible connections to the past. Wander through the time-worn stone streets, and let your children imagine what life was like for ancient Romans, from bustling marketplaces, theaters, and eateries to communal baths. As they discover mosaics and inscriptions, their enthusiasm to unravel history's mysteries is sure to soar. The vastness of the site allows for plenty of open space to roam, making it a perfect place for kids to unleash their energy while absorbing history.
To further fuel their excitement about ancient civilizations, consider extending your journey with a day trip to Ostia Antica and Cerveteri to explore the Banditaccia Etruscan Necropolis.
Your young adventurers can truly channel their inner "Indiana Jones" as they explore ancient Etruscan tombs. The thrill of uncovering secrets in these historic burial sites adds a dash of excitement to their educational experience. This blend of Ostia Antica's Roman heritage and Cerveteri's Etruscan marvels provides a comprehensive and immersive way to engage kids' imaginations while sparking their interest in the diverse stories of our past.
12. Explore Rome's Water Parks and Amusement Parks
For a fun-filled day of excitement and splashing adventures, consider visiting Rome's water parks and amusement parks. These family-friendly destinations offer a refreshing way to beat the summer heat and provide thrilling attractions for children of all ages.
Step back in time and experience ancient Rome like never before at Roma World. This unique amusement park offers a captivating journey through history with themed areas replicating the ancient city's architecture, culture, and even gladiator battles. Kids can dress up as Roman soldiers, witness exciting shows, and engage in interactive activities that transport them to the days of the Roman Empire.
Roma World seamlessly combines entertainment with education. Kids can learn about Roman history, architecture, and culture while having a blast at the park. It offers a dynamic and engaging way for children to broaden their knowledge of the ancient world.
Roma World prioritizes the safety and comfort of families. Parents can have peace of mind knowing that the park is designed with families in mind, providing a secure and family-friendly environment for a day of fun.
Cinecittà World


For movie enthusiasts and thrill-seekers alike, Cinecittà World is a must-visit amusement park in Rome. This movie-themed park offers a blend of Hollywood-style sets, thrilling rides, and live performances inspired by famous films. Kids can embark on cinematic adventures, meet beloved movie characters, and experience the magic of the silver screen in a whole new way.
Movie Magic Come to Life: Cinecittà World brings the magic of the silver screen to reality. Kids will be thrilled to step into the world of their favorite movies, with themed sets and attractions inspired by famous films. From adventurous pirate ships to enchanting fairy-tale landscapes, children can immerse themselves in the captivating worlds of cinema.
Thrilling Rides: The park is home to an array of thrilling rides suitable for all ages, making it perfect for families to enjoy together. Whether it's heart-pounding roller coasters, or gentle rides for younger children, Cinecittà World offers a diverse range of attractions to suit every family member's taste.
Live Performances: Cinecittà World hosts captivating live performances and shows that transport visitors into the world of cinema. Children can watch exciting stunt shows, musical performances, and breathtaking acrobatic displays that are both entertaining and awe-inspiring.
Educational Experience: Beyond entertainment, Cinecittà World also offers educational insights into the world of filmmaking. Children can discover the secrets behind movie special effects, set designs, and costume creations, providing a fascinating and enriching experience.
Venture just outside of Rome to Zoomarine, a marine-themed amusement park that combines the excitement of water rides with educational marine life shows. Kids can watch dolphin and sea lion performances, cool off in the water playgrounds, and enjoy a mix of thrilling and family-friendly attractions.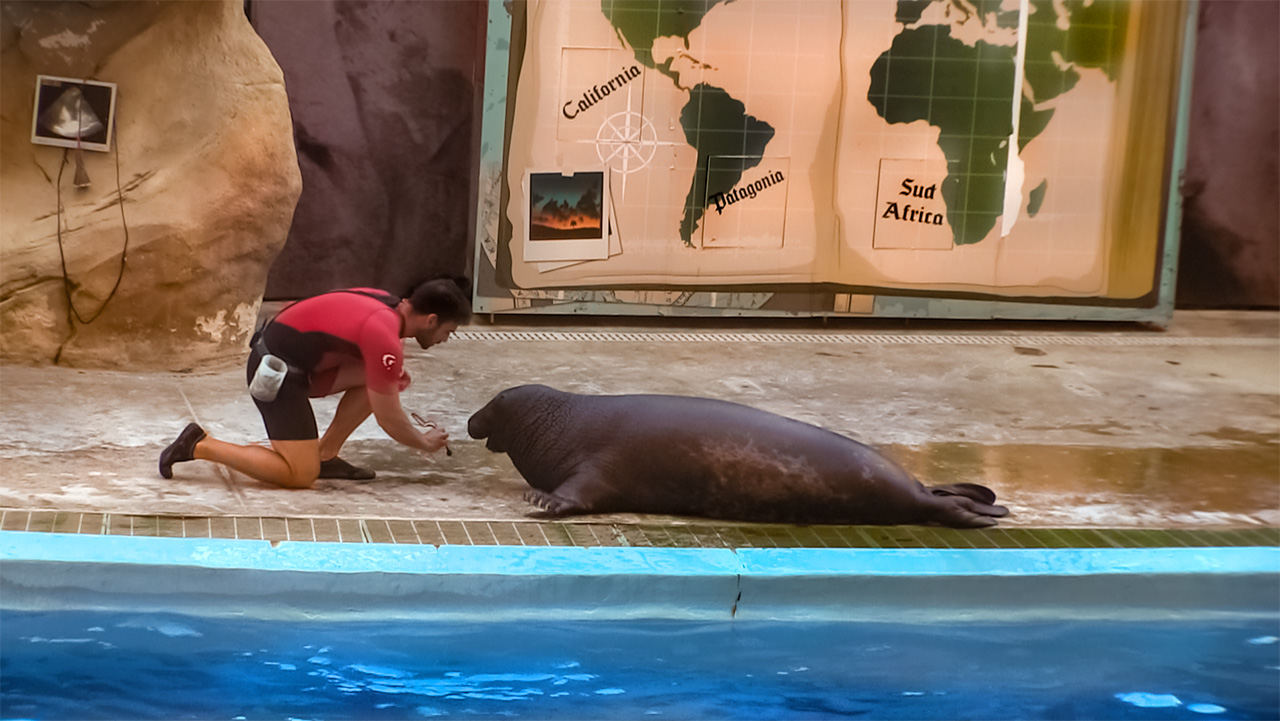 Hydromania


Cool off at Hydromania, one of Rome's most popular water parks. This aquatic paradise boasts a variety of water slides, wave pools, and lazy rivers that provide endless hours of aquatic fun. Kids can splash around in the pools, take on thrilling water slides, or simply relax on sun loungers while parents unwind and soak up the sun.

These water parks and amusement parks offer a fantastic opportunity for families to create unforgettable memories together. From thrilling rides to immersive experiences, your kids will be entertained and enchanted throughout your visit to these fun-filled destinations in Rome. Don't miss the chance to make your family vacation truly special with these exciting attractions.
TIPS to visit Rome with Kids:


Bring Snacks and Water: Keep your kids energized and hydrated during sightseeing. Pack snacks, water bottles, and fruits to enjoy during breaks between activities.
Take Walking Breaks: Rome is best explored on foot, but little legs can tire quickly. Plan for breaks in parks or piazzas, allowing kids to run around and relax.
Engage in Scavenger Hunts: Make sightseeing more fun with scavenger hunts. Create lists of things to find or spot in famous landmarks or while strolling through the city.
Encourage Journaling: Encourage kids to keep a travel journal, jotting down their favorite memories and drawings of the places they've visited.
Respect Naptime: If traveling with young children, consider returning to your accommodation for a midday nap or rest.
In addition to the previous tips, consider booking private tours of Rome by car to enhance your family's experience and make the most of your time in the Eternal City effortlessly, ensuring greater enjoyment, comfort, and safety for everyone. Stefano Rome Tours specializes in providing private tours with fun itineraries for families with kids and the best way to get around Rome.
Exploring Rome by car provides the convenience of door-to-door service, eliminating the hassle of navigating unfamiliar streets and ensuring everyone stays comfortable throughout the journey.
Younger children can take advantage of child safety seats provided by Stefano Rome Tours upon request, ensuring their safety and allowing parents to relax knowing their little ones are secure.
Private tours also allow for flexibility and spontaneity. If the kids need a break, you can easily adjust the schedule, take a short rest, or visit a nearby playground before continuing with the adventure. This flexibility ensures a stress-free experience for both parents and children, enabling everyone to fully enjoy the sights and experiences of Rome.
Whether it's exploring ancient ruins, marveling at stunning architecture, or discovering the vibrant neighborhoods of Rome, a private tour by car offers the perfect balance of convenience, safety, and personalized experiences for families with children.
By choosing Stefano Rome Tours for your Italy private tours, you will make the most of your time in Rome with your loved ones, creating cherished memories that will last a lifetime.