duration:9 Hours

Payment method:Cash, Paypal, Credit card

starting time:8:30 AM
highlights
Explore the flavors of Umbria on our wine tasting tour to Orvieto
Delight in an exclusive Wine Tasting Experience at an esteemed wine estate
Travel in luxurious comfort in your private deluxe vehicle and personal English-speaking driver
Visit Orvieto with free time on your own for sightseeing, lunch, shopping, or more wine tasting.
Relish a tasty lunch of Umbrian specialties at a local restaurant in Orvieto
Additional wine tasting is available at local wine shops throughout Orvieto
Convenient pick up and drop off right at your hotel in Rome
Ideal tour for wine lovers who wish to explore the enthralling region of Umbria
Our Wine Tasting tours from Rome are private just for you and your party for your tour enjoyment, comfort, and privacy
This tour cannot be modified or altered, it is offered AS IS
itinerary
Winery visit in Umbria
Orvieto
included
Private Deluxe Vehicle
Personal English-speaking Driver
All applicable Taxes
Highway tolls, parking fees, road expenses
not included
Lunch
Winery Fees (* approx 35 Euros Per Person)
Admission Tickets where required
Gratuities (if you are pleased with service received from your driver)
description
On this Orvieto and Winery Wine Tasting tour from Rome, you will visit a well-regarded centuries-old wine estate in the Umbrian hills where you will have the opportunity to savor elegant locally produced wines, then venture to Orvieto and enjoy free time on your own for lunch and sightseeing.

You will be met your personal English-speaking Stefano Rome Tours driver at your hotel accommodation in Rome at 8:30 AM for your exciting wine tour in Umbria.


ORVIETO WINE TASTING TOUR FROM ROME PRICES


Minimum 2 Persons from Rome Hotel: 550 EUROS
For up to 4 Persons from Rome Hotel: 600 EUROS
For up to 6 Persons from Rome Hotel: 650 EUROS
For up to 8 Persons from Rome Hotel: 750 EUROS

* Additional Winery Fees are approximately 40 Euros Per Person.
Wineries must be booked in advance pending availability.
* DATES on the Booking Form Calendar that are NOT Selectable, are NOT AVAILABLE.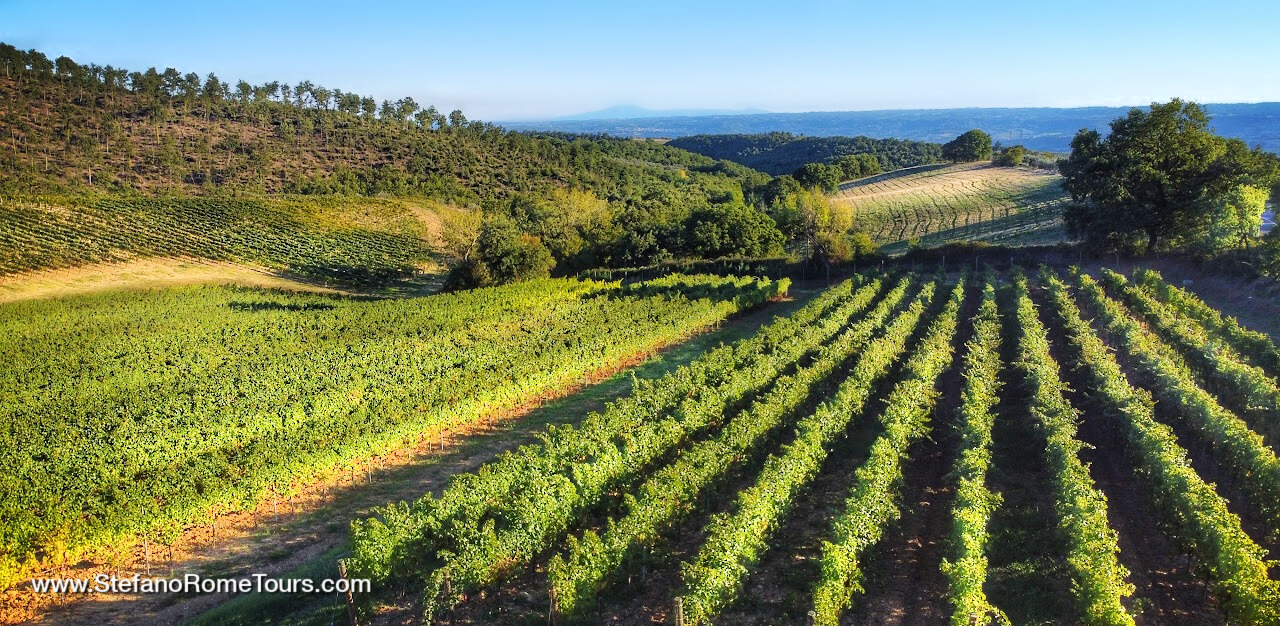 WINERY VISIT WITH WINE TASTING IN UMBRIA


Your Orvieto wine tasting tour from Rome will begin with a leisurely morning drive through the beautiful countryside into the heart of Umbria, the verdant region of Italy praised for its fine wines, both red and white. This unique terroir largely comprised of limestone, sandy clay soil, and marine fossils from the prehistoric Pliocene lends this region's wines their vibrant taste, complexity, and structure.

Scenic country roads that wind around undulating steep hills and deep valleys will lead you to an esteemed wine estate situated on the crest of a hill. Surrounded by vineyards, cypress trees, and wooded hills, this is a welcomed oasis far from city life and intimately close to nature.

You will spend 1.5 hours visiting this remote wine estate that has produced wine for generations. Learn the traditional process of winemaking, and savor elegant wines produced from the grapes that grow on endless rows of vines where natural and sustainable agricultural practices are applied.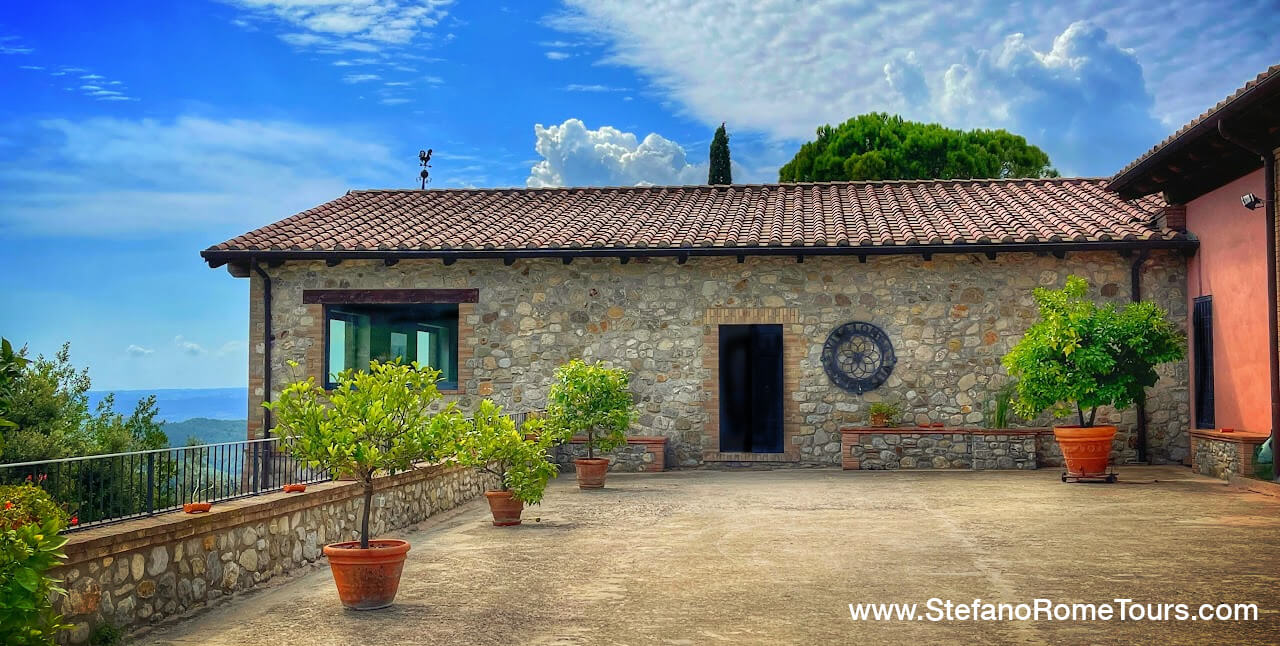 The winemakers will guide you through your tasting of elegant wines accompanied by a small plate of local delicacies. With every sip of wine, you can taste the history that culminates in the flavors of the winery's bounty. Raise a glass and toast your unforgettable sojourn to this winery beautifully situated in the idyll Umbrian hills.

Viticulture is a well-documented ancient tradition when the enigmatic Etruscans introduced winemaking and grape cultivation, carving out primitive "wine cellars" into the tuffaceous rock for their wine production. The Etruscans were a highly advanced pre-Roman civilization that thrived in this region, and their winemaking grew into a flourishing trade that continued with the Romans into the modern-day Italians.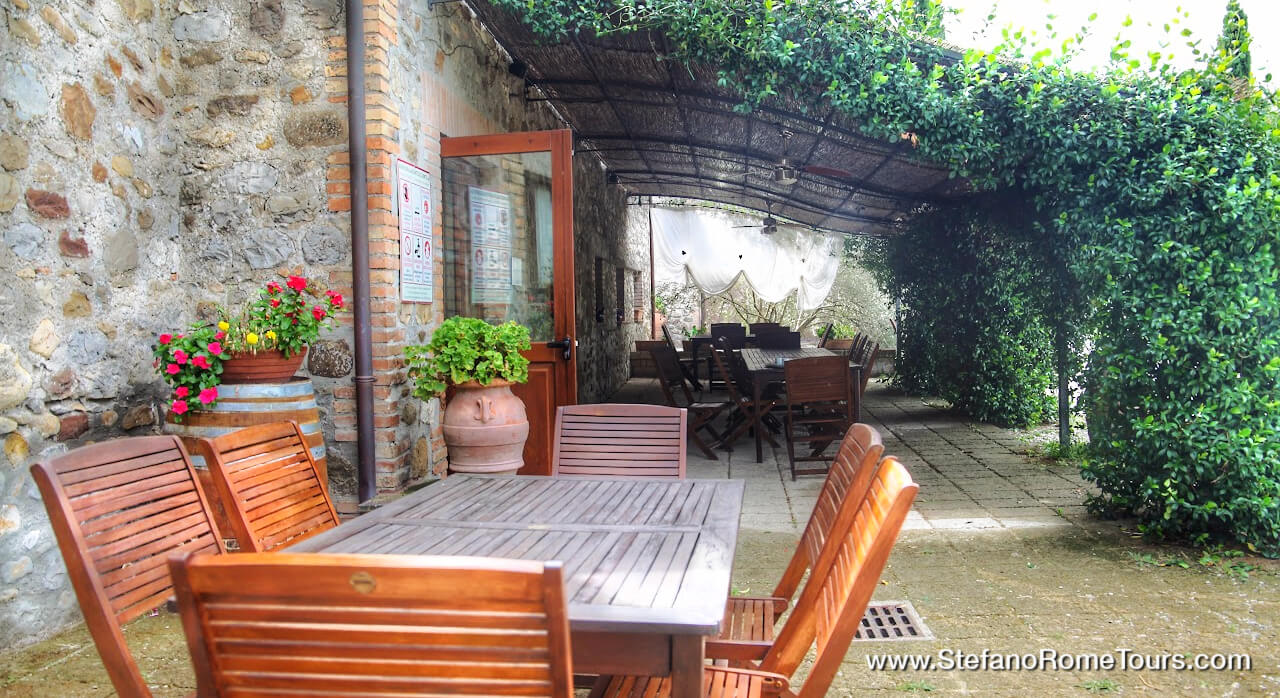 Before leaving, be sure to also shop for that perfect bottle of wine or locally produced olive oil for you or as precious gifts to loved ones at home.

At the conclusion of your winery visit, you will once again join your private driver for a 30-minute drive to Orvieto to enjoy a delicious lunch and sightseeing.


Winery fees are NOT included in our Tour Fee in order to offer flexibility for members of your party who are not able to partake in wine tasting. Wine Tasting and Winery Tour Fee is approximately 40 EUROS Per Person
Visit ORVIETO, the quintessential Umbrian town

Strategically built on the plateau of a large butte of volcanic tuff since ancient Etruscan times, Orvieto dominates the surrounding Umbrian countryside that's a verdant patchwork of vineyards, olive orchards, and dense forests.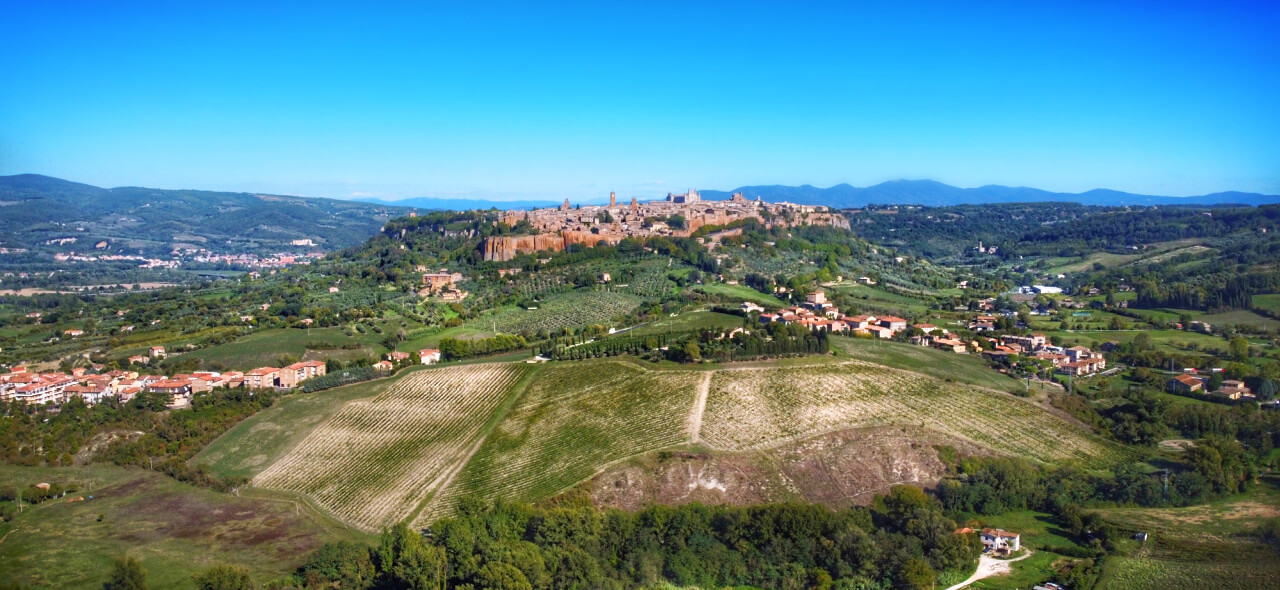 While in Orvieto you will appreciate free time on your own for a tasty lunch at a local restaurant of your choice and sightseeing in town. Orvieto boasts wide pedestrian-friendly streets lined with gastronomic boutiques and shops that will entice you with stunning hand-crafted and hand-painted ceramics. You will also find wine shops (enoteche) that offer a variety of local wines for tasting and purchase.

Your visit to Orvieto is not complete without admiring the late 13th century Gothic Cathedral of Orvieto, dedicated to the Assumption of the Virgin. It took the cathedral 30 years to plan and 300 years to reach its current splendor. The cathedral's dazzling seven-story facade is decorated with dark green and white marble, adorned with niches that frame life-size sculpted figures, and it's bejeweled with mosaics that shimmer in the golden afternoon sunlight.

Gorgeous vibrant frescoes transformed the cathedral into a museum that houses a treasure trove of masterpieces by famous artists of that time such as Luca Signorelli and Fra Angelico. Tickets are required to visit the beautiful chapels inside the Cathedral.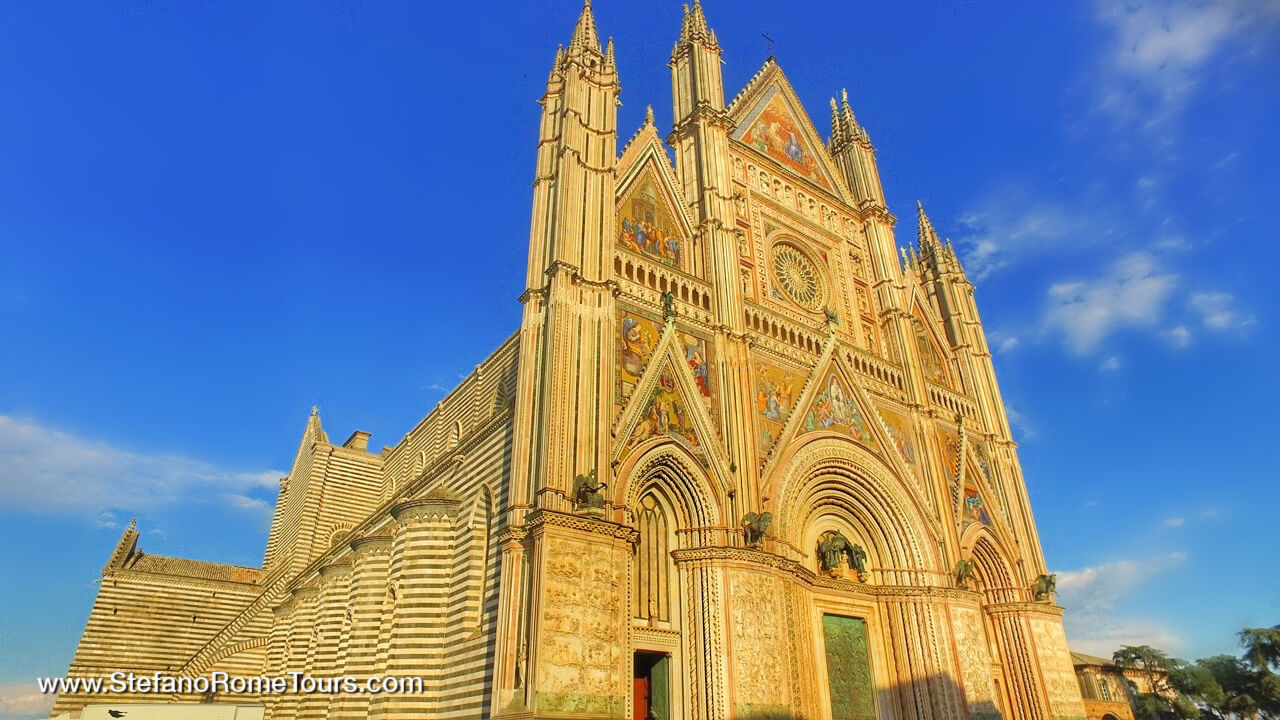 After lunch and sightseeing in Orvieto, you will again join your driver at 4:00 PM to travel back to Rome aiming to arrive at your hotel by approximately 5:45 PM. You will enjoy a relaxing journey reminiscing the superlative sights and flavors you experienced on your unforgettable wine tasting tour in Umbria.
Thank you for booking our Orvieto Wine Tasting Tour from Rome and choosing Stefano Rome Tours for your private luxury tours in Italy.


Our guests who book this tour also enjoyed the following private tours from Rome:


Important Information


Please READ the important information below as well as Read & Accept our TERMS OF SERVICE and Privacy Policy prior to placing your reservation request(s).
PAYMENT OPTIONS for Orvieto Wine Tasting Tour:
Payment can be made in Euro funds at the end of your journey directly to your driver, or you may prepay in advance via PayPal or Credit Card online when you Confirm your Tour.


CANCELLATION POLICY:
We kindly ask that cancellations be made at least 7 days in advance in writing via E-Mail. Cancellations by phone, text, or 3rd party who is not the person who booked the service are NOT accepted.

** PREPAID SERVICES can only be Refunded the Net Rate we receive from your prepayment. Net Rate is the actual service price minus the fees retained by PayPal/Credit Card that are not reimbursed to us in case of refunds. We can only refund the portion we receive from the PayPal/CC company.


** This Orvieto Wine Tour is offered AS IS without modifications to the existing itinerary, towns, or winery. If you wish to make any changes to this wine tour please send us an email and we will gladly assist you with a customized tour to suit your preferences.


YOUR STEFANO ROME TOURS DRIVER
This tour provides an English-speaking Driver who is NOT a Licensed Tour Guide or sommelier.
* Italy has strict laws and regulations aimed to protect official licensed guides that make it unlawful for Drivers to act as tour guides or accompany guests to sightsee on foot away from the vehicle. In order for us to comply with Italy's laws, Drivers are required to remain with the vehicle while guests sightsee on their own away from the vehicle.
* On this Orvieto Wine Tasting Tour by car you will SELF TOUR (unaccompanied by your driver) when away from the vehicle.

WINE TASTING IN UMBRIA Price, information:


Winery wine tasting tours are approximately 40 Euros Per Person payable directly to the winery. (* winery fees can change without notice as it's at the discretion of the wine estate).

Winery fees are NOT included in our tour fee in order to be able to accommodate guests who cannot partake in wine tasting.

Your winery tour includes approximately 1.5 hours of moderate walking and standing. You might find uneven natural terrain and inclines to negotiate.

Casual, weather-appropriate clothing and comfortable walking shoes are recommended on this tour. Participants must be of legal drinking age (18 years) to participate in wine tasting.

Wineries must be booked in advance pending availability. If this winery is booked on your tour date, we can suggest an alternate Wine Tour from Rome. Winery prices can change without notice and are not guaranteed to remain the same.


MEETING POINT to meet your Driver at your Hotel Accommodation:
From your hotel, your driver will meet you inside the lobby of your hotel or the area permitted by your hotel.
For Apartments or B&Bs without a lobby, your driver will meet you outside the main entrance of your Address.
* If your hotel or accommodation is located on a street or in an area that is restricted to vehicle traffic, your driver will park as close as lawfully possible, and meet you on foot at your Address to accompany you to your parked vehicle.


PLEASE TASTE WINE RESPONSIBLY
We wish for all our esteemed guests to enjoy our Orvieto wine tour from Rome. Only guests who are of legal drinking age in Italy can participate in wine tastings. Guests who are not of legal drinking age or do not wish to participate in wine tastings can enjoy a leisurely visit to the winery.
* Please taste wine responsibly, and never on an empty stomach. Excessive consumption of wine may interfere with the enjoyment of your tour. In case excessive consumption of wine and/or alcohol results in your desire to return to your hotel early, please be advised that you will not be reimbursed for the remaining portion of the tour, and will be charged the full fare of the tour as originally booked.
EMAIL INQUIRIES / BOOKING REQUESTS
Please allow up to 24 hours for email correspondence in response to email inquiries and tour reservation requests.
We reply to ALL emails and booking requests we receive. If you don't receive correspondence from us within 24-48 hours please CHECK YOUR SPAM FOLDER, or send us an email from a different E-mail account.