description
POST CRUISE ROME TOUR FROM CIVITAVECCHIA PRICE LIST


For up to 2 Persons from Civitavecchia: 500 EUROS
For up to 4 Persons from Civitavecchia: 550 EUROS
For up to 6 Persons from Civitavecchia: 600 EUROS
For up to 8 Persons from Civitavecchia: 650 EUROS

** DATES on the Booking Form Calendar that are NOT Selectable, are NOT AVAILABLE.
** Please include your DROP-OFF HOTEL NAME and ADDRESS IN ROME in the MESSAGE BOX of your booking form.

Enjoy a virtual journey of Rome in A Day on our Tour VIDEO:
Maximize your post cruise holiday with a visit to Rome on our Post-Cruise Rome Tour from Civitavecchia and enjoy Rome's most exciting sites with a pick up straight from your cruise ship in Civitavecchia and complete your tour at your hotel in Rome.
As with our popular Rome in A Day Shore Excursion, the itinerary is the same, with the added benefit that you have extra time to enjoy the sites you visit in Rome since you will not have to depart Rome early to go back to your ship.


COLOSSEUM SQUARE - admire the imposing Colosseum and Arch of Constantine


Your first stop in your Post-Cruise Rome in a Day tour will be Colosseum Square that is dominated by the Colosseum - Rome's iconic symbol and witness to Ancient Rome's imperial magnificence.
As you stroll through this historic square surrounded by ancient Roman monuments and ruins, you will have the opportunity to admire the remains of the imposing arena on which for 400 years fierce gladiatorial games, exotic beast hunts, mock sea battles, theatrical plays, and public executions took place for the sheer enjoyment of 50,000 adrenalized spectators.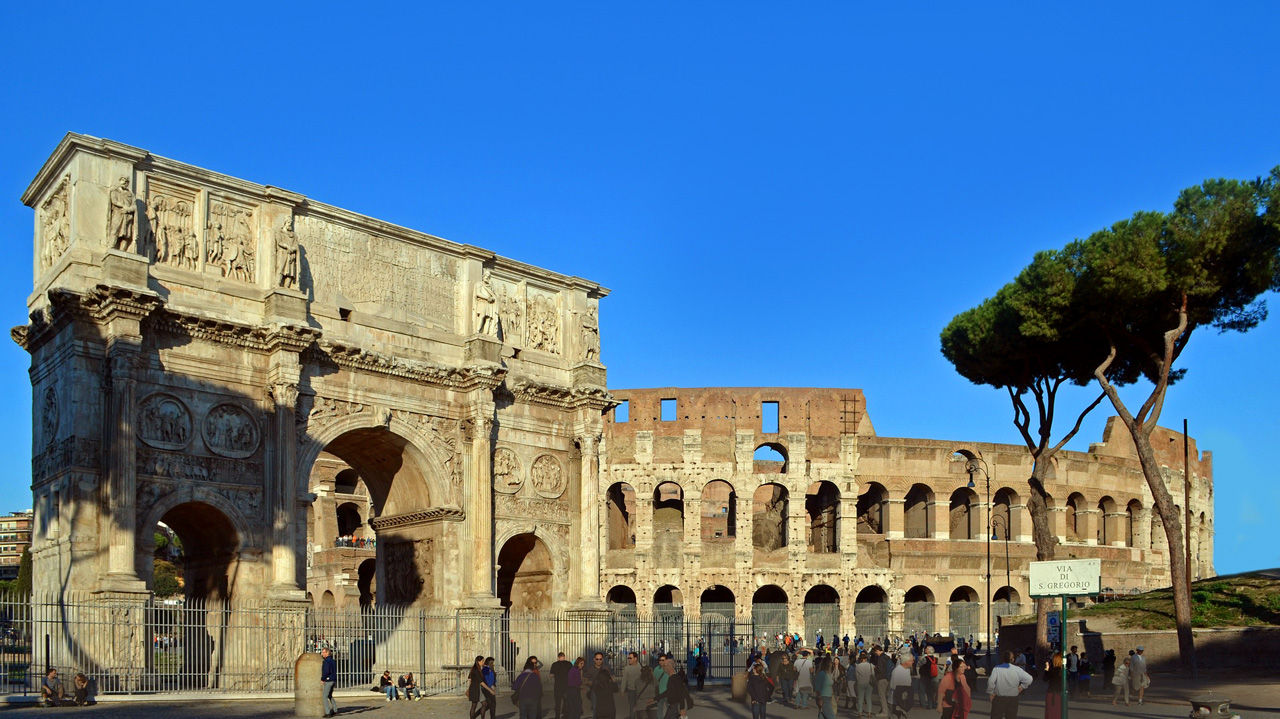 Next to the Colosseum you will see the ornate 4th century AD victory arch Emperor Constantine (the Arch of Constantine) that commemorates Constantine's victory over Emperor Maxentius at the Battle of Milvian Bridge in 315 AD. Emperor Constantine is known to have been responsible for the legalization of Christianity in Rome.

CIRCUS MAXIMUS - ruins of ancient Roman chariot race track


Not far from the Colosseum once stood the largest ancient Roman stadium ever built, the Circus Maximus.
Here dangerous chariot races took place for the pleasure of Roman citizens and royalty alike. The spina (spine) that served as a dividing barrier along the center of the oblog stadium was once graced by Obelisco Flaminio (the Flaminian Obelisk) that now stands erect in the center of Piazza del Popolo.
Today all that remains of this ancient wonder is the enormous outline of its previous perimeter beautifully laid out against the majestic backdrop of the Palatine Hill where opulent villas of emperors and Rome's elite overlooked the city below.
CAPITOLINE HILL - picture perfect panoramic view of Roman Forum

A terrace behind Capitol Hill (Campidoglio) offers you a stunningly picturesque overview of the Roman Forum, a portion of the Palatine Hill, and the Coliseum in the background.
This is a very popular spot for photos and group pictures, so be sure to have your cameras ready!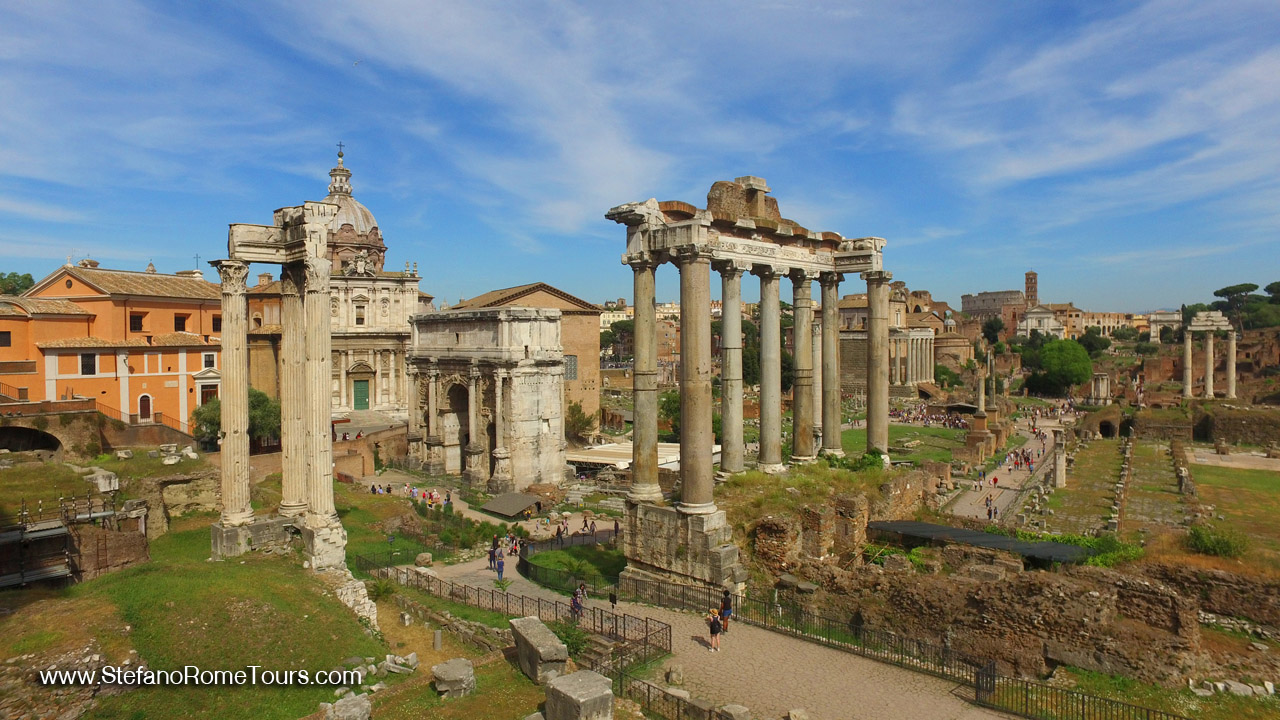 As your Post-Cruise Rome in A Day tour continues, you will drive by the great Piazza Venezia that features the easily recognized monument completed in 1935 and dedicated to the first king of Unified Italy, Vittorio Emanuele II.
Built of fine white marble, the monument features grand stairways, towering white Corinthian columns, and bronze sculptures such as the enormous equestrian sculpture of Vittorio Emanuele II in the center.

You will also have the opportunity to visit 3 of Rome's most unforgettable squares: the Trevi Fountain, Piazza Navona, and the Spanish Steps.
TREVI FOUNTAIN - the world's most famous Baroque fountain


One of the most recognized fountains in the world, the Trevi Fountain, is also the largest Baroque fountain in Rome.
Here you can follow the widely practiced tradition of throwing a coin into the fountain to ensure a return to Rome.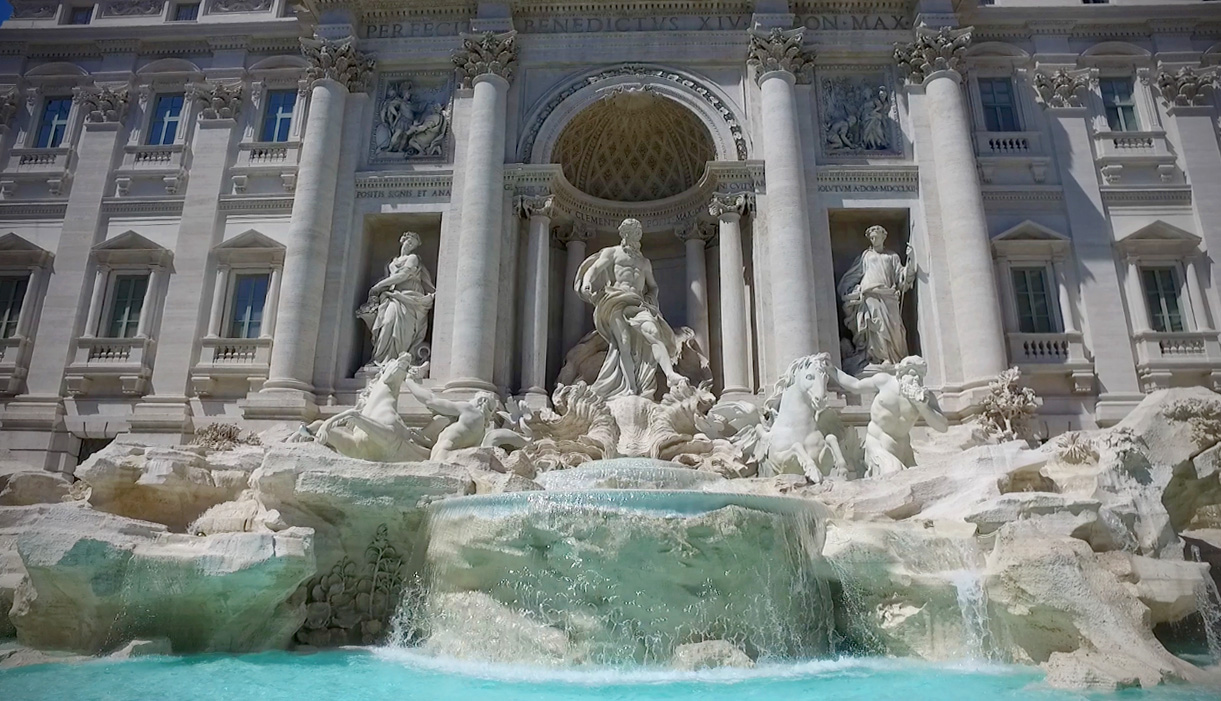 The Trevi fountain was featured in many films, including the classic Three Coins in a Fountain and Federico Fellini's famous La Dolce Vita.
SPANISH STEPS / PIAZZA DI SPAGNA


The iconic Spanish Steps features a sweeping 18th century stairway that leads you from the square below up to the French church of Trinita dei Monti and the obelisk above.
At the foot of the staircase you will hear the gentle water sounds of the 17th century Baroque fountain, "Fontana della Barcaccio", or "The Fountain of the Old Boat", credited to Pietro Bernini, the father of the famous artist Gian Lorenzo Bernini.
PIAZZA NAVONA
The popular Piazza Navona is a lively display of fountains, colorful art, and gorgeous earth toned palazzi that encircle the unusual oblong shaped piazza that outlines the ancient 1st century AD Roman Stadium upon which it stands. Built by Emperor Domitian, the once large stadium was used for athletic competitions. The name Navona evolved from the ancient word for games, 'agones'.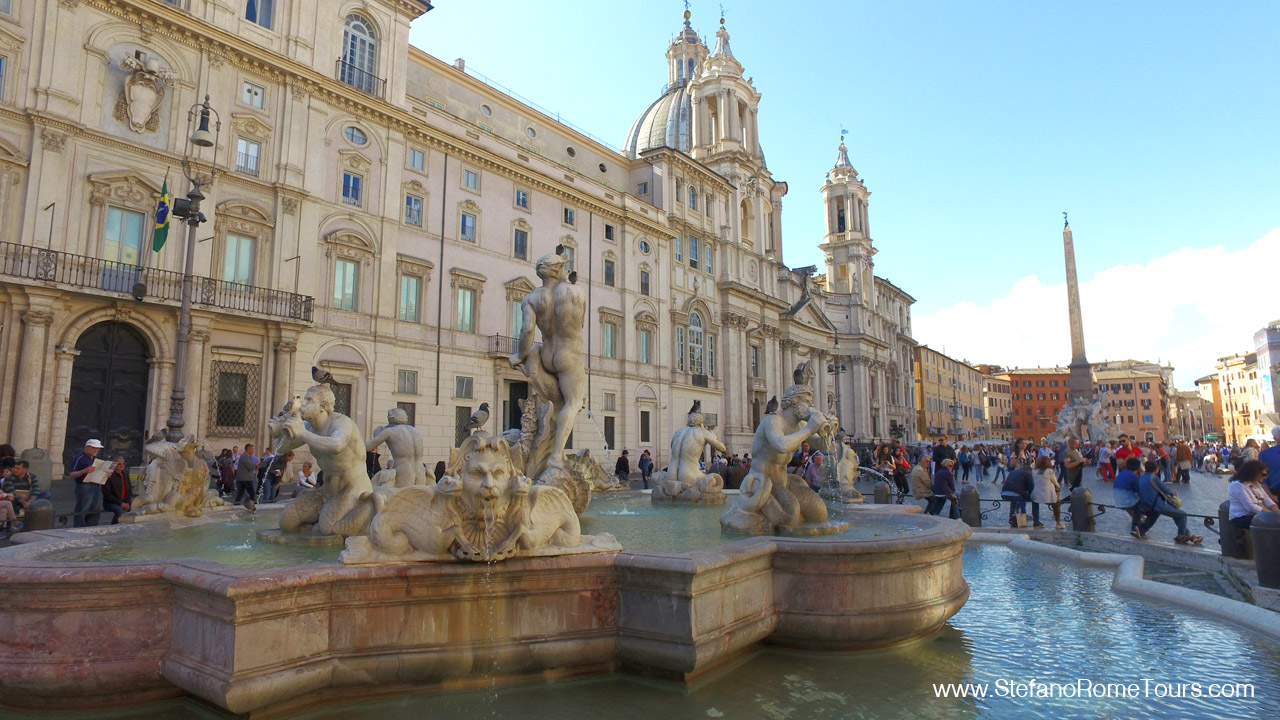 The square's magnificent centerpiece is the elaborate 17th century fountain by Gian Lorenzo Bernini: Fountain of Four Rivers (Fontana dei Quattro Fiumi) that represents the four major rivers of the major continents known in that era: Danube (Europe), Nile (Africa), Rio de la Plata (America) and Ganges (Asia).
An ancient Egyptian obelisk placed there by Pope Innocent X tops the fountain adding height and dominance to this masterpiece of stone and water.
The former Ancient Roman temple - THE PANTHEON


Once an ancient pagan temple of all Roman gods, during the middle ages, the Pantheon became a Christian church and burial place for Italy's kings and notable artists such as Raphael.
The Pantheon is the best-preserved of all Ancient Roman buildings, and perhaps also the best-preserved building of its age in the world. The Pantheon is currently the oldest standing domed structure in Rome and in continuous use throughout its extensive history.
Since the Renaissance Era, the Pantheon has been used as a tomb for Italy's most illustrious figures. Among those buried there are the painters Raphael and Annibale Carracci, the composer Arcangelo Corelli, and the architect Baldassare Peruzzi. In the 15th century, the Pantheon was adorned with paintings: the best-known is the Annunciation by Melozzo da Forlì. Italy's former King Vittorio Emanuele II, and King Umberto I with his wife Queen Margherita are also buried in the Pantheon. Architects, like Brunelleschi, used the Pantheon as inspiration when designing the dome of the Cathedral of Florence.
Looking up you will be surprised by the circular hole in the center of the coffered dome. The oculus (Latin for 'eye') at the top of the dome has always been open to the weather, allowing rain to enter and fall to the floor, where it is carried away through drains.
If you are touring Rome on weekends, the Pantheon requires Time Slot Entrance Tickets to be booked in advance. See more information below.
VATICAN MUSEUMS


After a relaxing lunch, your final visit on your Post-Cruise Rome in A Day tour will take place inside the smallest country in the world: the Vatican City.
You will have the opportunity to admire the vast and priceless collections of art, ancient artifacts, sculptures, and frescoes inside Vatican Museums.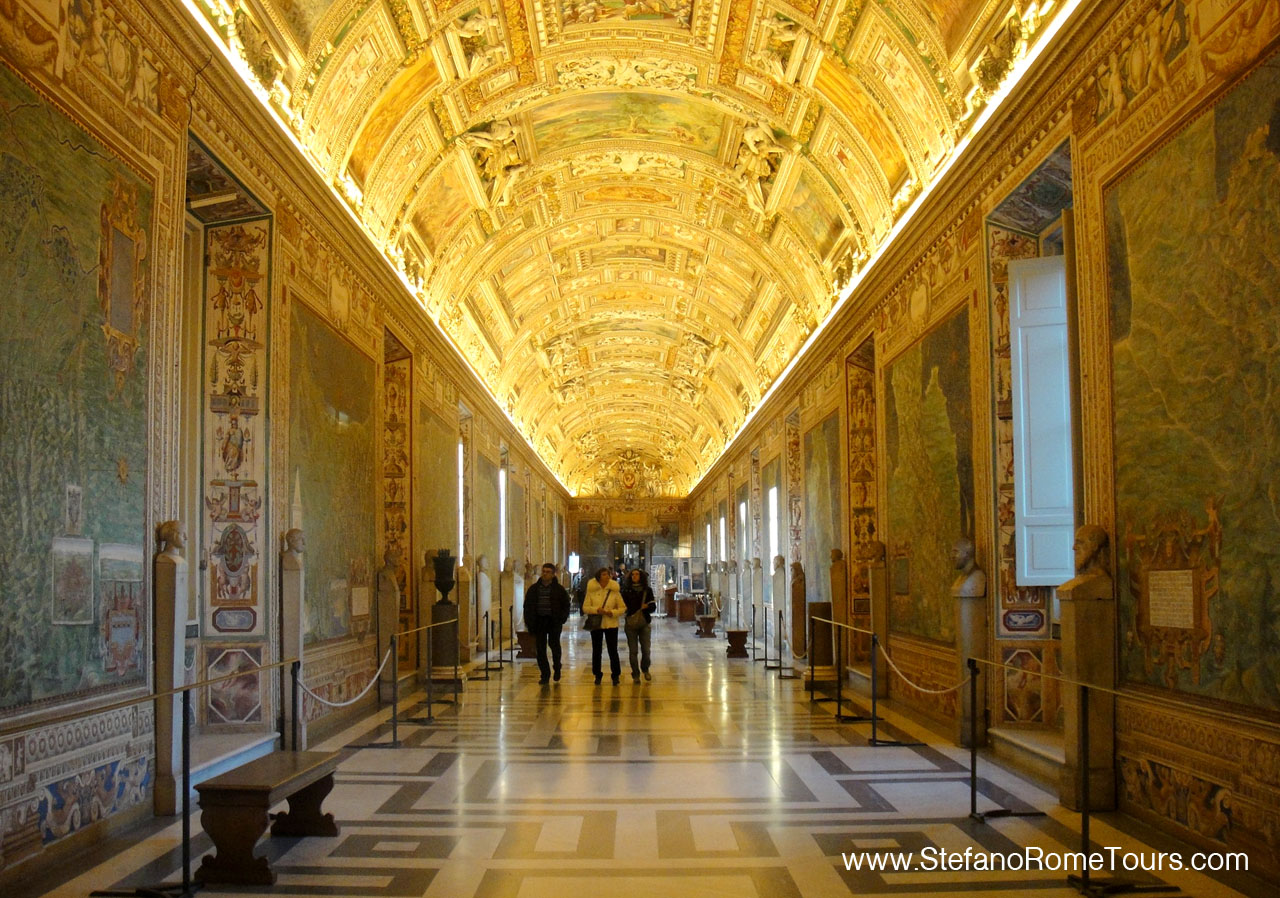 You will be awe-inspired by masterpieces created by well recognized artists such as Michelangelo, Leonardo da Vinci, Caravaggio, Raphael, Perugino, Giotto, Titian, and more!
Among the most popular halls and galleries inside the Museums are the Gallery of Tapestries, Hall of Maps, the Raphael Rooms and the Pinacoteca. Inside the Sistine Chapel you will admire the world's most famous ceiling by Michelangelo.
This visit marks the end of your Post-Cruise Rome in A Day Tour from Civitavecchia with Stefano Rome Tours. From here your Driver will take you to your hotel or place of accommodation in Rome.


If your cruise will depart from Civitavecchia and you will be staying in Rome pre-cruise, we also offer a Countryside Pre Cruise Tour, and a Charming Lakeside Villages Pre Cruise Tour with transfer directly to your cruise ship inside Civitavecchia Port.


Cruising Guests who booked this Post Cruise Rome Tour from Civitavecchia also enjoyed the following Shore Excursions from Italy's top cruise ports:


Important Information

Please READ the important information below as well as Read & Accept our TERMS OF SERVICE and Privacy Policy prior to placing your reservation request(s).


PAYMENT OPTIONS of Post Cruise Rome Tour from Civitavecchia:
Payment for this Post-Cruise Rome in A Day Tour can be made in Euro funds at the end of your journey directly to your driver, or you may prepay in advance via PayPal or Credit Card online when you Confirm your Tour.
CANCELLATION POLICY:
We kindly ask that cancellations be made at least 7 days in advance so we can rebook your service and your reserved driver does not lose work for that day. We thank you for your cooperation and consideration.
** PREPAID SERVICES can only be Refunded the Net Rate we receive from your prepayment. Net Rate is the actual service price minus the fees retained by PayPal/Credit Card that are not reimbursed to us in case of refunds. We can only refund the portion we receive from the PayPal/CC company.
EMAIL INQUIRIES / BOOKING REQUESTS
Please allow up to 24 hours for email correspondences in response to email inquiries and tour reservation requests.
We reply to ALL emails and booking requests we receive. If you don't receive correspondence from us within 24-48 hours please CHECK YOUR SPAM FOLDER, or send us an email from a different E-mail account.
Price of Vatican Museums Admission Tickets booked online at approximately 21 Euros * per person. Please book your admission tickets for the 2:00 PM time slot, or as instructed in your Confirmation Email.
* Ticket prices may change up or down without notice at the discretion of the monuments and museums and cannot be guaranteed until they are actually booked.
* Remember to bring the printed ticket vouchers for Vatican Museums with you in order to enter the museum. You cannot enter without your printed vouchers.


** VATICAN MUSEUMS Tickets SELL OUT FAST!! In case Vatican Museums Tickets SELL OUT you may skip the Vatican and visit other sites in Rome. We will be happy to offer suggestions.


PANTHEON ENTRANCE TICKETS on WEEKENDS
If you will be touring Rome on Saturday or Sunday, the Pantheon requires booking Time Slot Entrance Tickets in advance. We will provide you with the links and a suitable time slot for your Pantheon Visit. Be sure to book them early as the time slots get booked up fast!
YOUR STEFANO ROME TOURS DRIVER
This Post-Cruise Rome in A Day Tour provides an English-speaking Driver who is NOT a Licensed Tour Guide.
* Italy has strict laws and regulations aimed to protect official licensed guides that makes it unlawful for Drivers to act as tour guides or accompany guests to sightsee on foot away from the vehicle. In order for us to comply with Italy's laws, Drivers are required to remain with the vehicle while guests sightsee away from the vehicle.
* On this Post Cruise Rome in A Day Tour by car you will SELF TOUR (unaccompanied by your driver) when away from the vehicle.
* You will be dropped off as close to the sites as possible in accordance with municipality and traffic laws.
MEETING POINT AT CIVITAVECCHIA CRUISE PORT


For Shore Excursions from Civitavecchia, your driver will meet you on the Pier next to your Ship at your tour's scheduled pick-up time holding a sign with the NAME in your reservation.
Do NOT leave the ship area, and do NOT take a shuttle bus outside the port.
Look for your driver in the same area on the Pier where ALL private drivers will be waiting for their clients. After you meet your driver you will be accompanied to your vehicle and your Rome private shore excursion will begin with a leisurely drive from Civitavecchia to Rome.
IMPORTANT INFORMATION Regarding visiting Saint Peter's Basilica

If visiting St Peter's Basilica is important to you, we suggest booking our Post Cruise Rome in A Day with Vatican Guide to be guaranteed a visit to St Peter's Basilica via the shortcut backway entrance from inside the Sistine Chapel currently designated for "Visitors with Tour Guides" only.
Without a Tour Guide to access the basilica (Self Touring), the Vatican may require you to exit the Museums and access the Basilica from St Peter's Square where you may find potentially long security lines that may prevent you from having sufficient time to also visit the Basilica.
We cannot guarantee you will be able to also visit St Peter's Basilica without a licensed tour guide if you run out of time.
On Post Cruise Tours that end at Rome hotel, you have the option to EXTEND your Post Cruise Tour at the standard HOURLY RATE if you wish to SELF TOUR the Vatican and require ADDITIONAL TIME to also visit the Basilica by entering through St Peter's Square
VISITS INSIDE THE COLOSSEUM are Optional Upon Request

This Post Cruise Rome in A Day tour does NOT include a visit inside the Colosseum in the suggested itinerary.
You have the opportunity to view the Colosseum from the outside as you enjoy a stroll through Colosseum Square in the heart of Ancient Rome.
If you wish to visit inside the Colosseum, you would be required to purchase your own Colosseum Tickets online in advance at a specific Time Slot. Please let us know this preference in advance so we include it in your reservation and provide you with LINKS to purchase your Colosseum Tickets online. Colosseum tickets sell out fast during the busy season, sometimes even months in advance. You may not find available tickets on short notice.
Visiting inside the Colosseum will also take time away from other sites suggested in the tour, and you may have to skip some sites like Piazza Navona.
* IMPORTANT COLOSSEUM VISIT INFORMATION


Colosseum Tickets require a specific Time Slot when booking them online.


Colosseum Tickets with the best time slots tend to SELL OUT fast, sometimes even months in advance.
Tickets are NON-Refundable after purchase should your travel plans change.


ALL visitors are required to clear security checkpoints prior to entering the monument. This may result in unpredictably LONG SECURITY LINES with possible LONG WAIT TIMES
For safety and security Colosseum allows a maximum 3,000 visitors at a time. Unfortunately, sometimes even Time Slot Ticket Holders were required to wait longer than anticipated if the Colosseum reached maximum visitor capacity and were not allowing new visitors to enter


Do not bring large bags or backpacks inside the Colosseum as they are not permitted for security reasons.


It is advisable to bring with you a bottle of water, sunscreen, and a hat in the summer as it can be very hot and sunny inside the Colosseum.



Post-Cruise Rome in A Day from Civitavecchia TOUR SHARING
SAVE a lot on this Rome Post Cruise Tour by sharing your tour with fellow cruisers for up to 8 guests per minivan! All you need to do is place an ad on the Cruise Critic roll call and invite others to join you. Share the fun and the expense, Find out HOW: TOUR SHARING