description

Buongiorno and welcome to Stefano Rome Tours! Just because your cruise has come to an end doesn't mean your adventures have to. Elevate your disembarkation day in Civitavecchia with our fun-filled Post Cruise Rome and Countryside Tour.
Your personal English-speaking driver will be waiting for you at the pier, right next to your Cruise Ship in Civitavecchia, ready to take you on an unforgettable day of exploration.
Prepare to be enchanted as you visit the historical town of Bracciano, known for its impressive medieval castle that majestically overlooks the pristine volcanic crater lake of Bracciano. Immerse yourself in the rich history and stunning scenery of this captivating destination.
Relish a delectable traditional lunch at a charming family-owned restaurant in the medieval clifftop village of Ceri. Indulge your taste buds while enjoying panoramic views that will leave you breathless.
After a delightful meal, we'll continue our journey to Rome, where you'll spend the afternoon basking in the splendor of Rome's most famous squares and monuments, offering you a true taste of La Dolce Vita. Immerse yourself in the vibrant atmosphere of Rome as you stroll through iconic squares such as Piazza della Rotonda, Piazza Navona, Trevi Fountain, and the Spanish Steps, and encounter majestic monuments such as the Colosseum, Arch of Constantine, and the Pantheon that have stood the test of time.
Your Post Cruise Rome and Countryside Tour concludes with your convenient drop-off at your hotel in Rome. There's no better way to celebrate the culmination of your cruise than with a post-cruise tour from Civitavecchia, filled with fun, adventure, and unforgettable memories.
POST-CRUISE ROME AND COUNTRYSIDE TOUR FROM CIVITAVECCHIA


For up to 4 Persons from Civitavecchia Port: 600 EUROS
For up to 6 Persons from Civitavecchia Port: 650 EUROS
For up to 8 Persons from Civitavecchia Port: 700 EUROS


* DATES on the Booking Form Calendar that are NOT Selectable, are NOT AVAILABLE.
ROME'S ENCHANTING COUNTRYSIDE

Your post-cruise tour from Civitavecchia begins with a journey through the scenic Roman countryside to your first destination, the captivating historical town of Bracciano.
BRACCIANO - explore the fairytale Castle


Dominating the landscape is the majestic 16th-century Odescalchi Castle (also commonly known as Bracciano Castle), an imposing sight that beckons us to step back in time.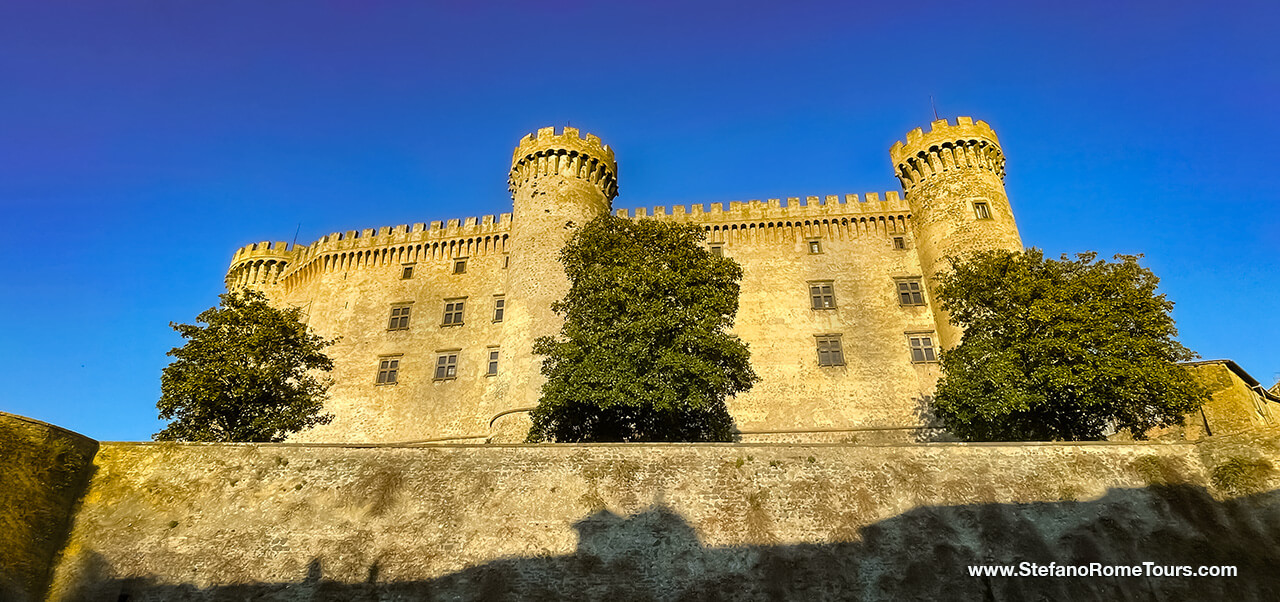 This remarkable castle, still owned by the same Odescalchi family for over 400 years, stands in pristine condition and serves as a museum open to countless visitors.
During your visit, you'll have up to 1 hour to explore the castle's magnificent halls, sumptuous rooms, grand atrium, the armory filled with medieval and Renaissance Era weaponry, and the castle's large medieval kitchen, each filled with stories of centuries past.
Each opulent room you visit is richly adorned with original furniture from the Renaissance era, priceless paintings, intricate ceilings, and exquisite frescoes. As you venture from room to glorious room, a feeling of stepping back in time envelops you, evoking the captivating realms of kings, lords, and knights found in fairytales. Ascend the medieval stone spiral stairway to the upper level, where you can further explore the castle's magnificent halls and suites, each filled with captivating stories and historical wonders.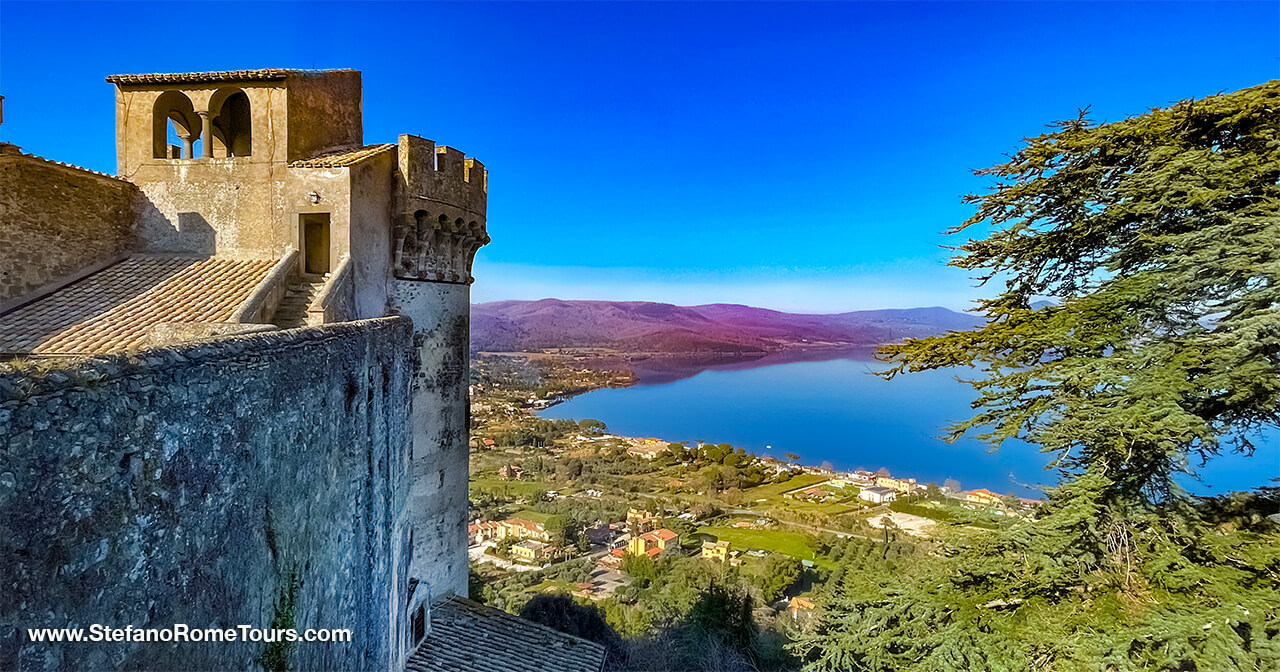 For a truly breathtaking experience, climb atop the castle's ramparts, high upon its fortified walls, and witness a panoramic vista that will leave you in awe. Behold the captivating beauty of Lake Bracciano, a pristine body of water within an ancient volcanic crater. Surrounded by the lush countryside, the serene allure of the lake creates a mesmerizing backdrop, inviting contemplation and appreciation.

CERI - the charming medieval hamlet

As your Rome City and Countryside Tour continues from Bracciano, you will once again venture through the idyllic countryside to reach the enchanting 13th-century medieval hamlet of Ceri.
Strategically built atop a fortified plateau of tuff since ancient times, Ceri is a captivating medieval fortress perched dramatically on a steep cliff.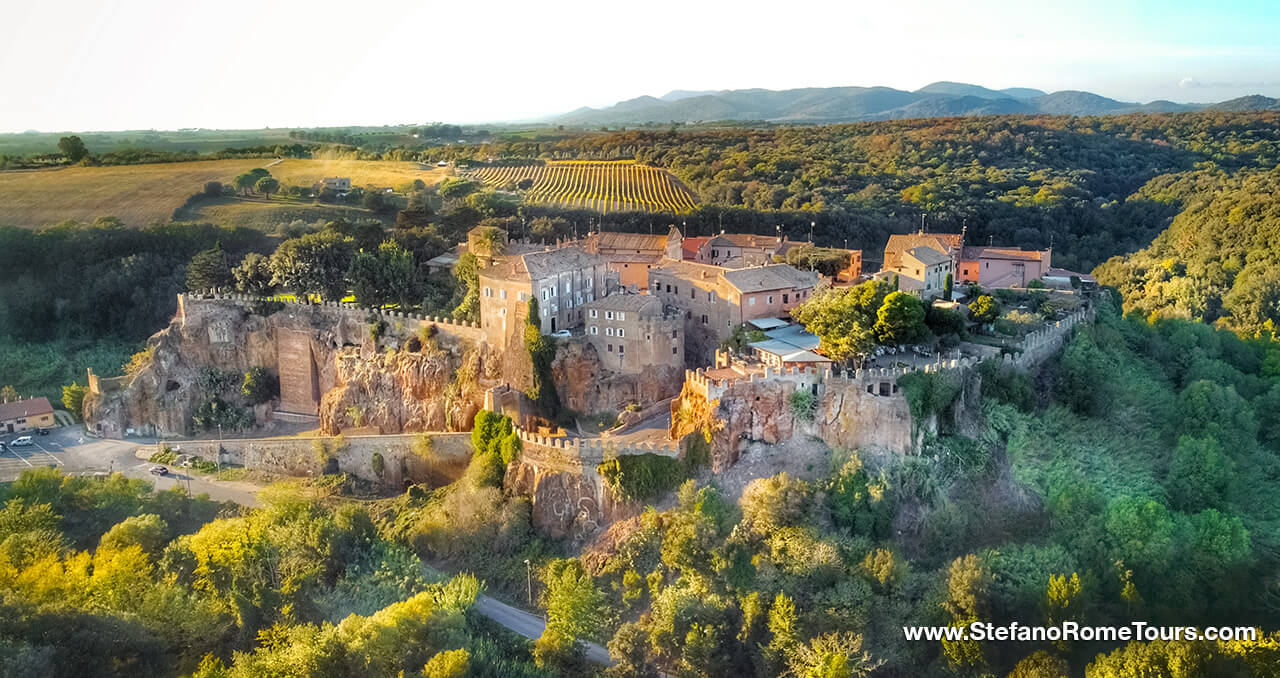 The village's rich ancient heritage, dominating the present, becomes apparent as you approach the base of the cliff. To access the village, a single winding road skillfully carved into the rock awaits, accommodating only one vehicle at a time. This unique traffic challenge has been ingeniously resolved with the installation of two traffic lights—one at the hill's bottom and another in the main square above, marking the road's end.
Once inside the charming town square, you'll be embraced by medieval buildings aged by the passage of time, boasting ochre and sienna hues. Here, you have the opportunity to visit the remarkable Sanctuary of the Madonna di Ceri.
This Romanesque church, with its unassuming facade, stands atop an ancient temple where both ancient Etruscans and Romans paid homage to the pagan goddess Vesta. Step inside the sanctuary, and the true beauty unfolds before your eyes, as stunning ancient and medieval frescoes grace the walls. Dedicated to the Virgin Mary, the sanctuary holds a reputation for intercession and assisting those facing challenges.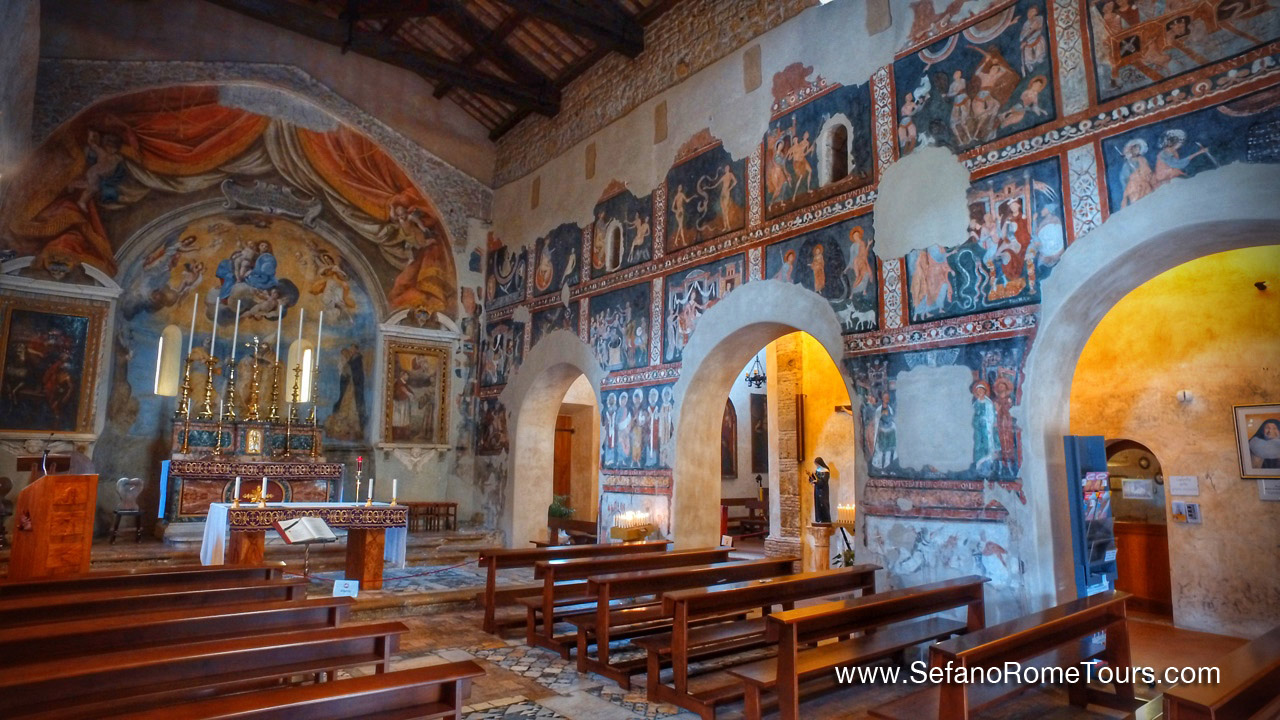 After indulging in a delightful traditional Italian lunch at a local family-owned restaurant, your journey continues through the captivating Roman countryside to Rome.
ROME - ETERNAL CITY HIGHLIGHTS
PIAZZA DEL COLOSSEO - View the Colosseum, Arch of Constantine

Set foot upon the expansive and cobblestoned Piazza del Colosseo, where a breathtaking sight eagerly awaits you. Stroll through the square and let yourself be enveloped in the grandeur of the Colosseum, an enduring icon that bears witness to the immense power and grandeur of Ancient Rome.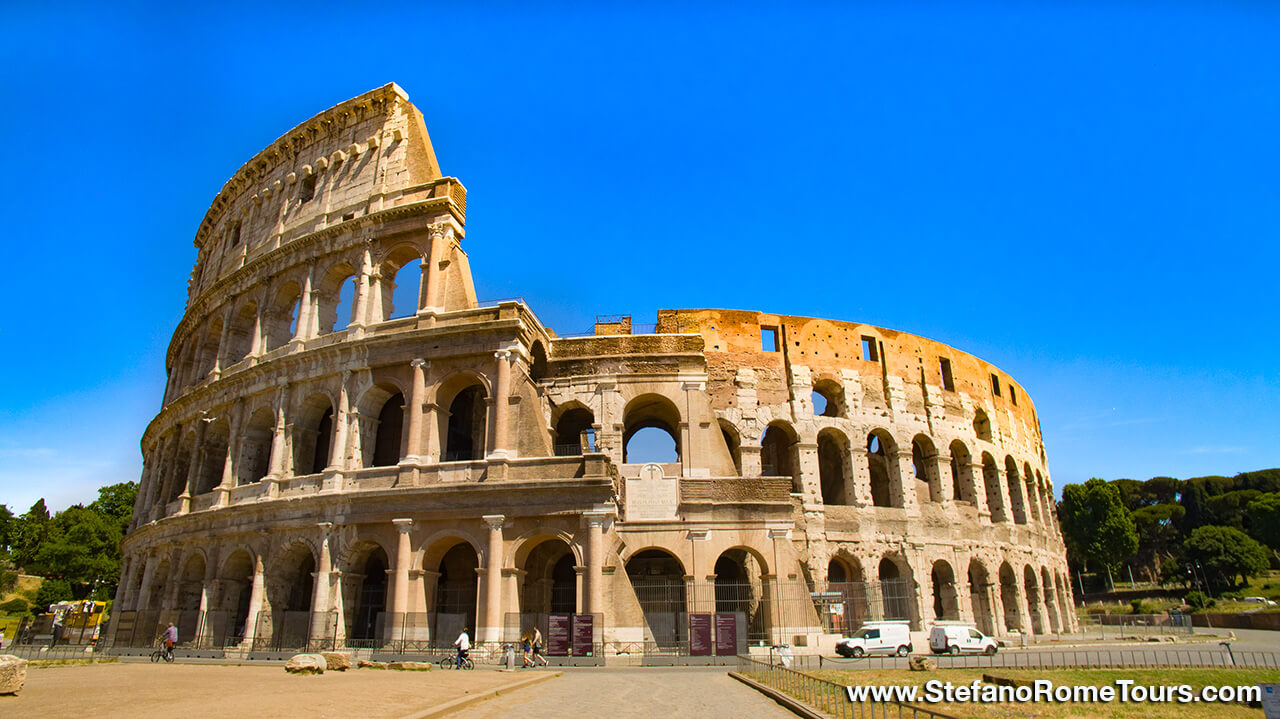 With its lower three levels adorned by 80 arches each, this architectural marvel sparks the imagination. Once adorned with magnificent white marble, the Colosseum now showcases the rustic beauty of travertine stone. Within its arches, larger-than-life statues once stood proudly, their legacy now lost to the passage of time. Over the centuries, the Colosseum has weathered the elements, human activity, and the inexorable march of time, leaving behind traces of history etched upon its weathered facade.
Even during the Medieval and Renaissance eras, the Colosseum found itself repurposed, providing valuable marble to other structures across Rome. As you traverse Colosseum Square, discover the Colosseum from varying angles, each unique perspective transforms its appearance and leaves you in awe.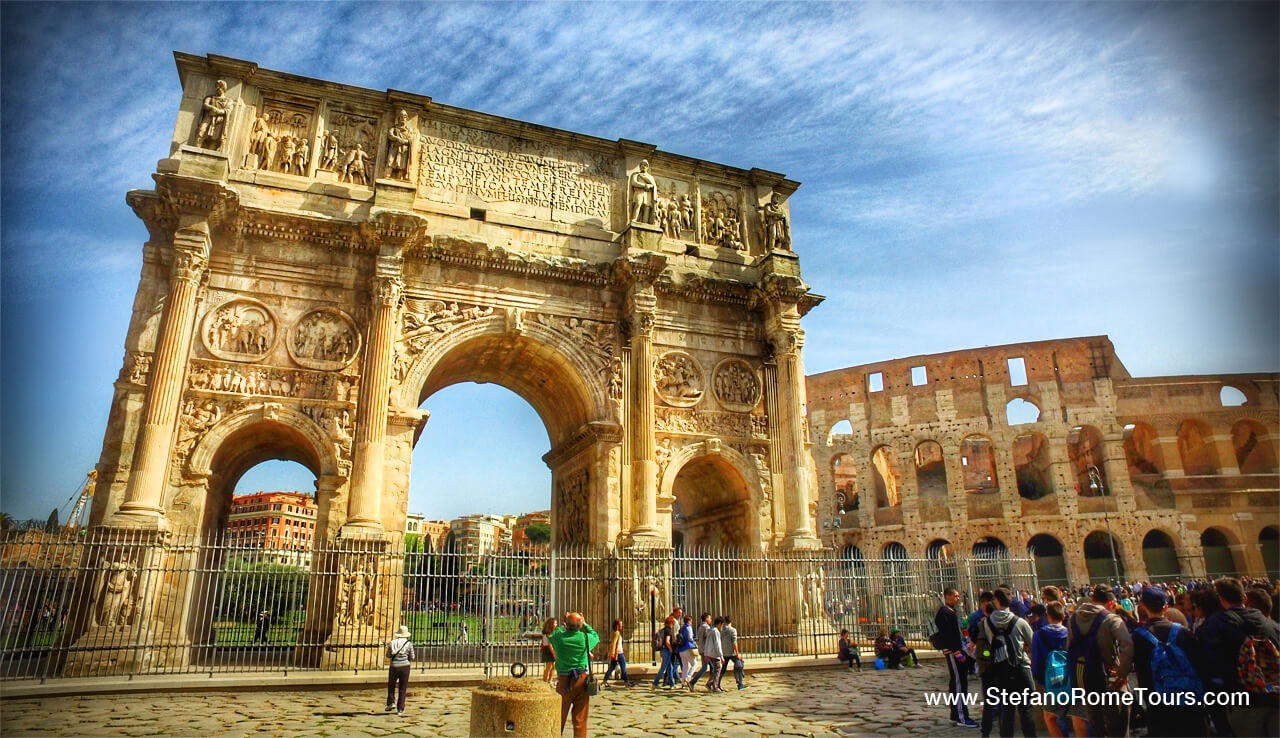 Nearby is the awe-inspiring triumphal Arch of Constantine, erected to commemorate Emperor Constantine's triumph over Emperor Maxentius at the Battle of Milvian Bridge in 312 AD. This monumental victory not only heralded a new era but also played a significant role in the legalization of Christianity within the Roman Empire, forever altering the course of history.
The Arch of Constantine stands as a resolute testament to this pivotal moment, evoking a profound sense of reflection and inspiring heartfelt admiration.
IMPORTANT: This tour does NOT include a visit inside the Colosseum due to extreme difficulty in securing specific time slot tickets and potentially long security lines that would hinder the tour's itinerary and sightseeing opportunities in Rome.

VISIT ROME'S FAMOUS SQUARES


Not to miss on your morning of Rome City and Countryside tour is visiting Rome's vibrant fountains: Piazza della Rotonda, Piazza Navona, Trevi Fountain, and Spanish Steps.
PIAZZA DELLA ROTONDA - Rome's historic square

As you enter the lively Piazza della Rotonda, your gaze will be irresistibly drawn to the awe-inspiring Pantheon and the captivating Fontana del Pantheon.
The fountain's allure is further enhanced by the remarkable marble Egyptian obelisk that proudly crowns it, once part of a magnificent duo fashioned for the Temple of Ra in Heliopolis. Its twin counterpart gracefully adorns the front of the Basilica of Santa Maria Sopra Minerva, located just behind the Pantheon.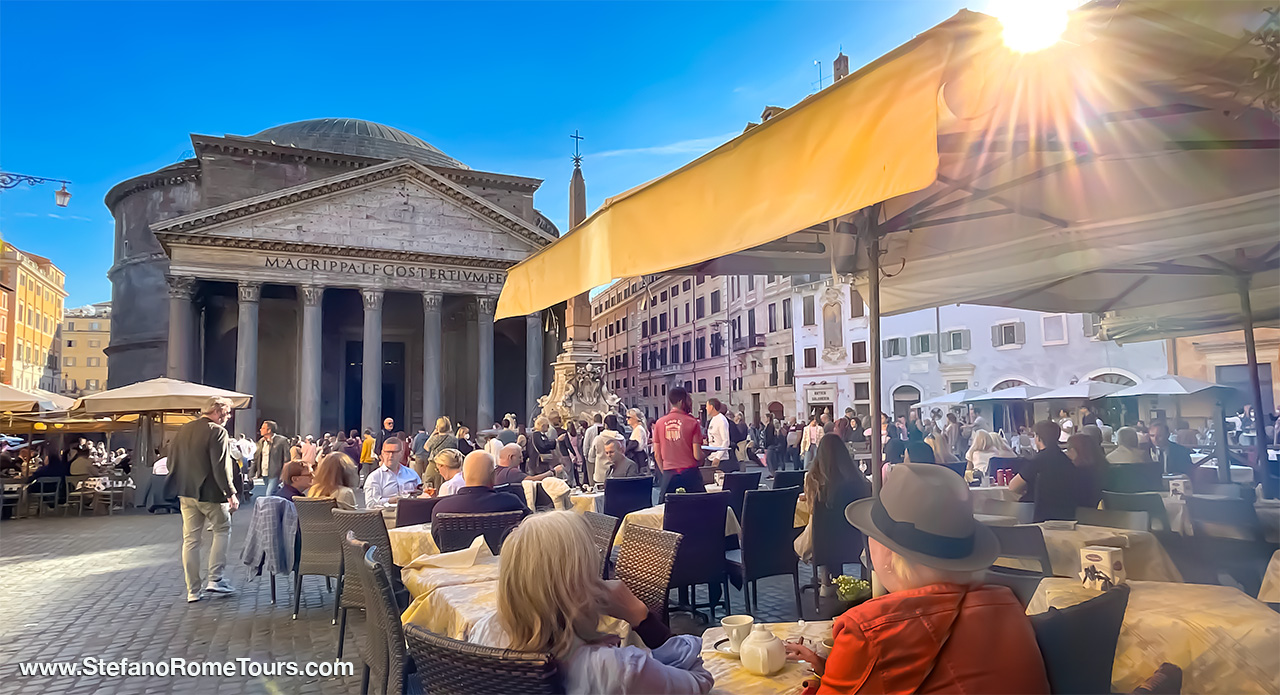 Stand in awe before the commanding presence of the Pantheon itself, a venerable testament to ancient Rome's pagan past that has since been transformed into the cherished church of Saint Mary and the Martyrs.
In and around Piazza della Rotonda ancient wonders blend seamlessly with vibrant modern life, creating a tapestry of unforgettable experiences. Indulge in a leisurely stroll through the square, where historical palazzi whisper tales of bygone eras. Venture around the Pantheon, and marvel at the striking Basilica of Santa Maria Sopra Minerva graced by the renowned statue of Bernini's elephant carrying an imposing obelisk on its back. Explore enticing shops that offer unique treasures waiting to be discovered or indulge in the divine flavors of a gelato from a nearby gelateria.
IMPORTANT: A visit inside the Pantheon is not included in this tour due to long entry lines, even for visitors with hard-to-obtain pre-booked time slot tickets.

PIAZZA NAVONA - Rome's vibrant square


Piazza Navona is a vibrant oblong-shaped piazza adorned with resplendent palazzi and graced by the presence of three magnificent fountains.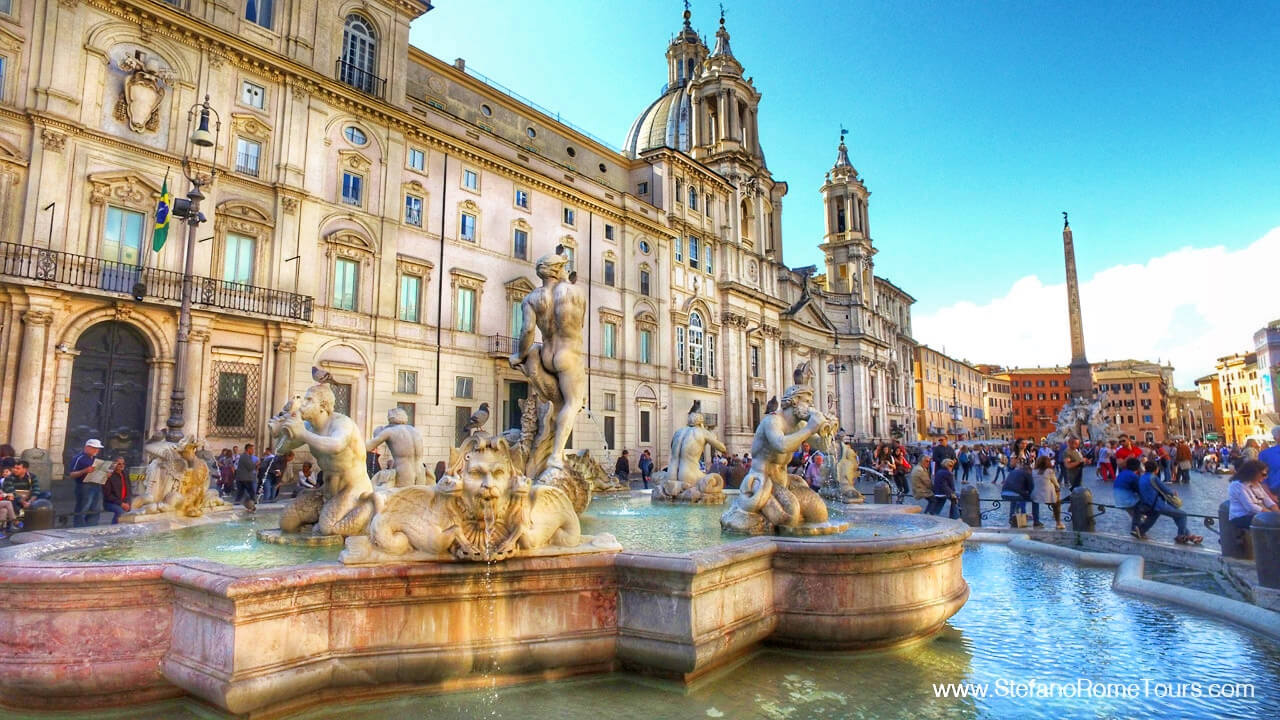 A secret lies beneath its surface, as the shape of this square traces back to the ancient 1st century AD Roman Stadium, commissioned by Emperor Domitian to host exhilarating athletic competitions. As the centuries passed, the square's name evolved from the ancient word for "games," 'agones,' to its current renowned appellation, Navona.
Amongst the trio of fountains that grace this remarkable square, it is the centerpiece, the Fountain of Four Rivers (Fontana dei Quattro Fiumi), that steals the spotlight. Crafted by the artistic genius Gian Lorenzo Bernini in 1651, this awe-inspiring masterpiece seamlessly blends stone and water to embody the four mighty rivers that flowed through the major continents of that era: the Danube River symbolizing Europe, the Nile River representing Africa, the Rio de la Plata signifying America, and the Ganges River embodying Asia. Towering above the fountain is an ancient Egyptian obelisk, a testament to the rich tapestry of history, carefully erected by Pope Innocent X.
Surrounded by warm-hued palazzi that exude an air of timeless elegance, Piazza Navona is a living canvas where a tapestry of art, architecture, and the city's vibrant spirit harmoniously intertwine, creating a spectacle that truly takes one's breath away.
TREVI FOUNTAIN - A Baroque Masterpiece

The Trevi Fountain entices you with a mesmerizing symphony of cascading waters that flow gracefully from magnificent mythological stone sculptures into its expansive pool.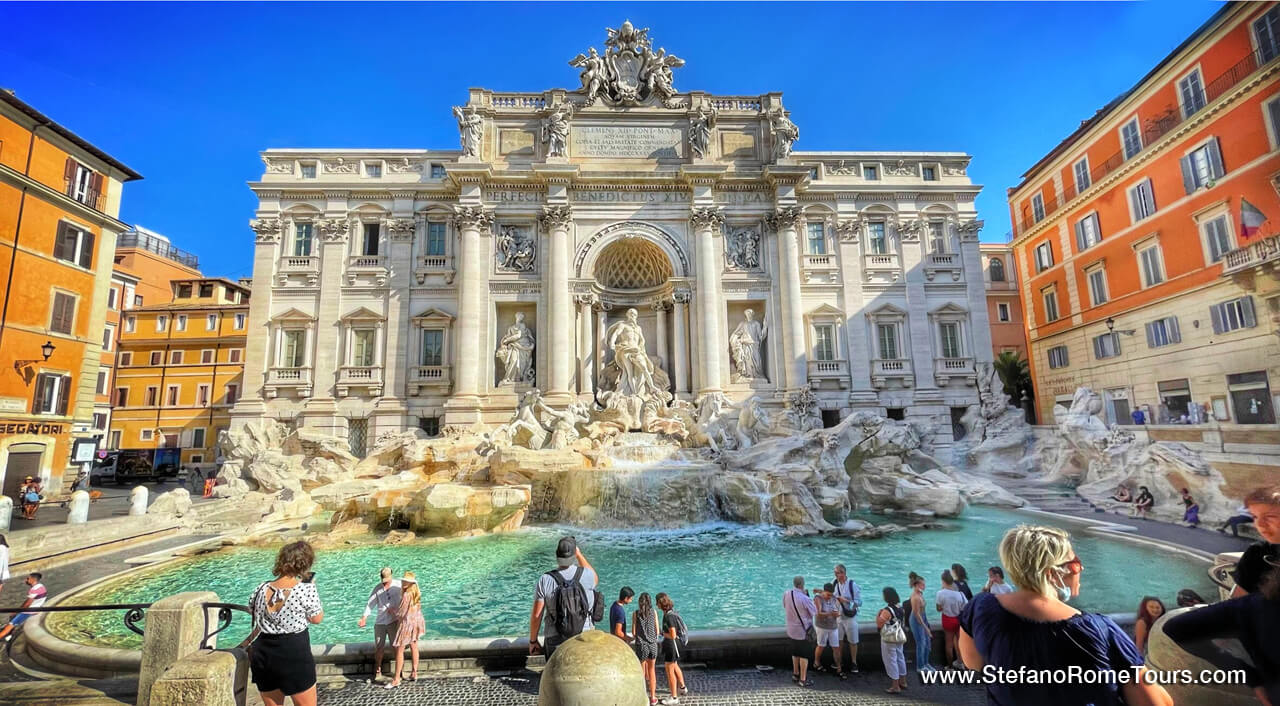 At the heart of the fountain stands Oceanus, the god of the seas, while surrounding him are tritons and sea horses. Each sculpture beautifully narrates a story from ancient mythology, adding an enchanting touch to this awe-inspiring masterpiece.
Located at the intersection of three roads, it derives its name from this very union: Tre Vie, or Trevi. Serving as the majestic terminal of the Acqua Vergine, a revived ancient Roman aqueduct that has quenched the thirst of Rome since 19 BC, this iconic fountain stands as a testament to the enduring legacy of the city's water supply, delivering the precious gift of spring water to its citizens.
Immerse yourself in an age-old tradition that has captured the hearts of visitors for decades: partake in the ritual of tossing a coin into the Trevi Fountain, embracing the belief that it guarantees your inevitable return to the Eternal City.
The Trevi Fountain has not only captivated visitors but has also served as a backdrop for numerous famous movies, including the iconic scene from Federico Fellini's "La Dolce Vita" and "Three Coins in a Fountain". Its timeless beauty and allure have made it a symbol of romance and fantasy, drawing people from around the world to experience its magic firsthand.
SPANISH STEPS - Rome's graceful stairway


Experience the enchantment of the Spanish Steps, where art, architecture, and history converge to create an enduring masterpiece that has captivated visitors for centuries.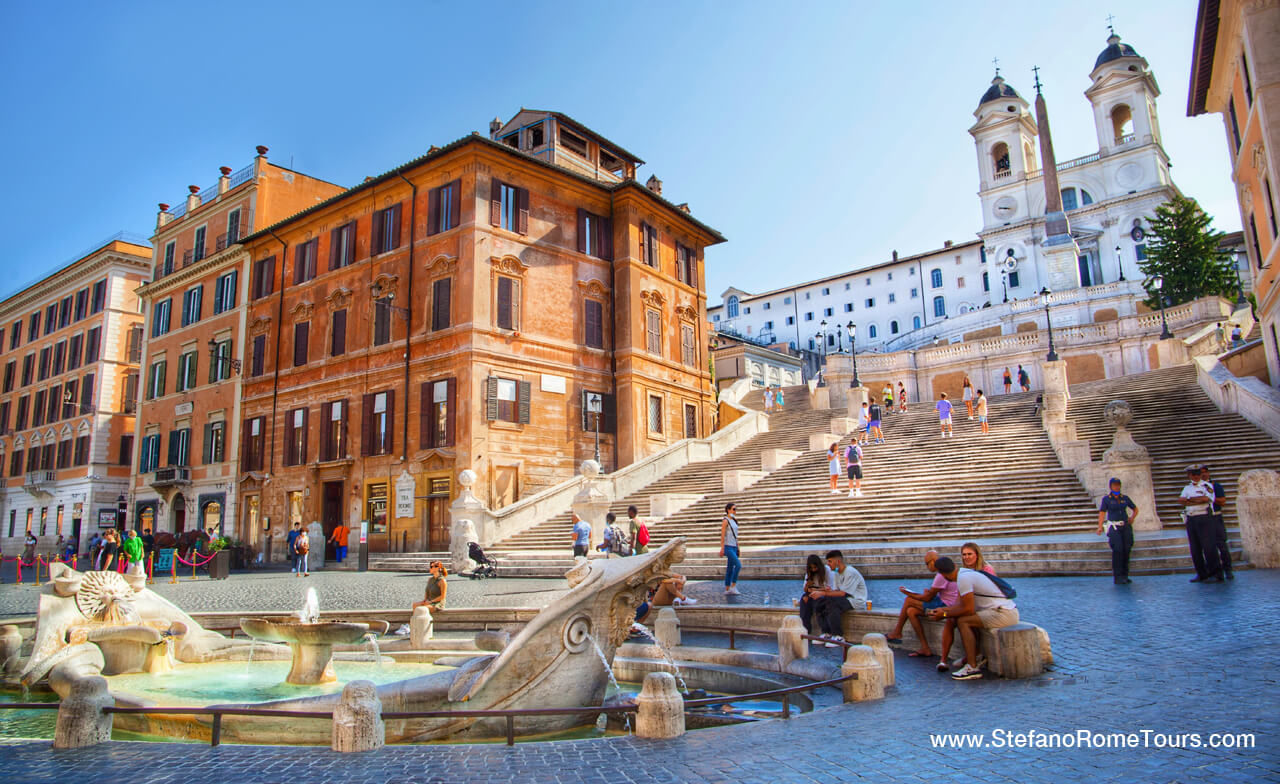 This elegant stairway seamlessly connects the French Church of Trinita dei Monti to the vibrant Piazza di Spagna square below, where you'll find the captivating Baroque-style fountain known as the Fontana della Barcaccio, or "The Fountain of the Old Boat." Crafted from travertine, this unique masterpiece depicts a partially submerged boat overflowing with water into a shallow pool, showcasing the artistic brilliance of Pietro Bernini, the esteemed father of renowned sculptor Gian Lorenzo Bernini.
As you ascend the steps, your gaze will be drawn to the magnificent obelisk that proudly stands at the pinnacle. Known as the Obelisco Sallustiano, this ancient Egyptian monument has a storied past, originally erected in the gardens of the Roman historian Sallust during the reign of Emperor Aurelian in the 3rd century AD. It was later moved to its current location in the 18th century, adding a touch of historical intrigue to the grandeur of the Spanish Steps.

Your Post Cruise Rome and Countryside Tour concludes with your convenient drop off at your hotel in Rome.

Transform your disembarkation day into a remarkable adventure, filled with captivating sights, delectable flavors, and unforgettable memories. Thank you for booking our Post Cruise Rome and Countryside Tour and for choosing Stefano Rome Tours for your private tours in Italy. We look forward to seeing you in Italy!
Important Information

Please READ the important information below as well as Read & Accept our TERMS OF SERVICE and Privacy Policy prior to placing your reservation request(s).


PAYMENT OPTIONS:
Payment for this Post Cruise Rome City and Countryside Tour can be made in Euro funds at the end of your journey directly to your driver, or you may prepay in advance via PayPal or Credit Card online when you Confirm your Tour.


CANCELLATION POLICY:
We kindly ask that cancellations be made at least 7 days in advance so we can rebook your service and your reserved driver does not lose work for that day. We thank you for your cooperation and consideration.

** PREPAID SERVICES can only be Refunded the Net Rate we receive from your prepayment. Net Rate is the actual service price minus the fees retained by PayPal/Credit Card that are not reimbursed to us in case of refunds. We can only refund the portion we receive from the PayPal/CC company.


EMAIL INQUIRIES / BOOKING REQUESTS
Please allow up to 24 hours for email correspondence in response to email inquiries and tour reservation requests.
We reply to ALL emails and booking requests we receive. If you don't receive correspondence from us within 24-48 hours please CHECK YOUR SPAM FOLDER, or send us an email from a different E-mail account.
BRACCIANO CASTLE TICKETS and PRIVATE TOURS


* BRACCIANO CASTLE TICKETS are currently 10 Euros per person to be purchased on-site upon arrival (ticket prices are subject to change without notice).
MEETING POINT at Civitavecchia
For Rome Cruise Port Tours, our driver will meet you on the Pier next to your Cruise Ship at your Tour pick up time holding a sign with the NAME in your reservation.
Please do NOT leave the ship area, and do NOT take a shuttle bus outside the Cruise port.
Look for the driver in the same area as ALL the private drivers who will be waiting for their clients to be disembarked.
LUNCH IN CERI
Lunch is available only in the town of Ceri, all restaurants are priced at approximately 20 Euros per person depending on what you order.
There are no panini or pizza places available in the region of this tour, only local restaurants that are famous for their excellent cuisine. To participate in this tour, you are in agreement to lunch in Ceri at any of the available restaurants there. Restaurant choices in this region are limited, and we have no control over the menu options or service provided inside any establishment you lunch at.
YOUR STEFANO ROME TOURS DRIVER
This Rome City and Countryside Tour provides an English-speaking Driver who is NOT a licensed tour guide.
Italy laws permit only licensed tour guides to accompany guests to sightsee on foot away from the vehicle. To be compliant with Italy laws, your driver cannot lawfully guide you into the sites and will be obliged to remain with the vehicle while you SELF-TOUR away from the vehicle.

LUGGAGE
Please inform us in your reservation (message box) of the total luggage you anticipate bringing (large check-in suitcases and small carry-on cases) so we can provide you with a suitable vehicle to safely accommodate all passengers and their luggage.
A minivan for up to 8 passengers can accommodate up to 6 suitcases and up to 6 carry-on cases in TOTAL.
Please do not leave any personal items and valuables inside the vehicle while away from the vehicle.