description
* CHARMING LAKESIDE VILLAGES PRE-CRUISE TOUR PRICE LIST


PRE-CRUISE TOUR FROM ROME HOTEL
For up to 4 Persons from Rome Hotel: 480 EUROS
For up to 6 Persons from Rome Hotel: 550 EUROS
For up to 8 Persons from Rome Hotel: 600 EUROS

** Dates on the Booking Form Calendar that are NOT Selectable, are NOT AVAILABLE.

Enjoy a preview of the enchanting villages on our Charming Lakeside Villages Pre Cruise Tour VIDEO:


Buon giorno and welcome to Stefano Rome Tours!
On this Charming Lakeside Villages Pre-Cruise Tour that starts in Rome and ends in Civitavecchia, you will have the opportunity to visit the magnificent Lake Bracciano and its Medieval villages for a morning filled with charm, history, and countryside splendor.
Located in the rustic Roman countryside, Lake Bracciano is a popular destination for locals and visitors.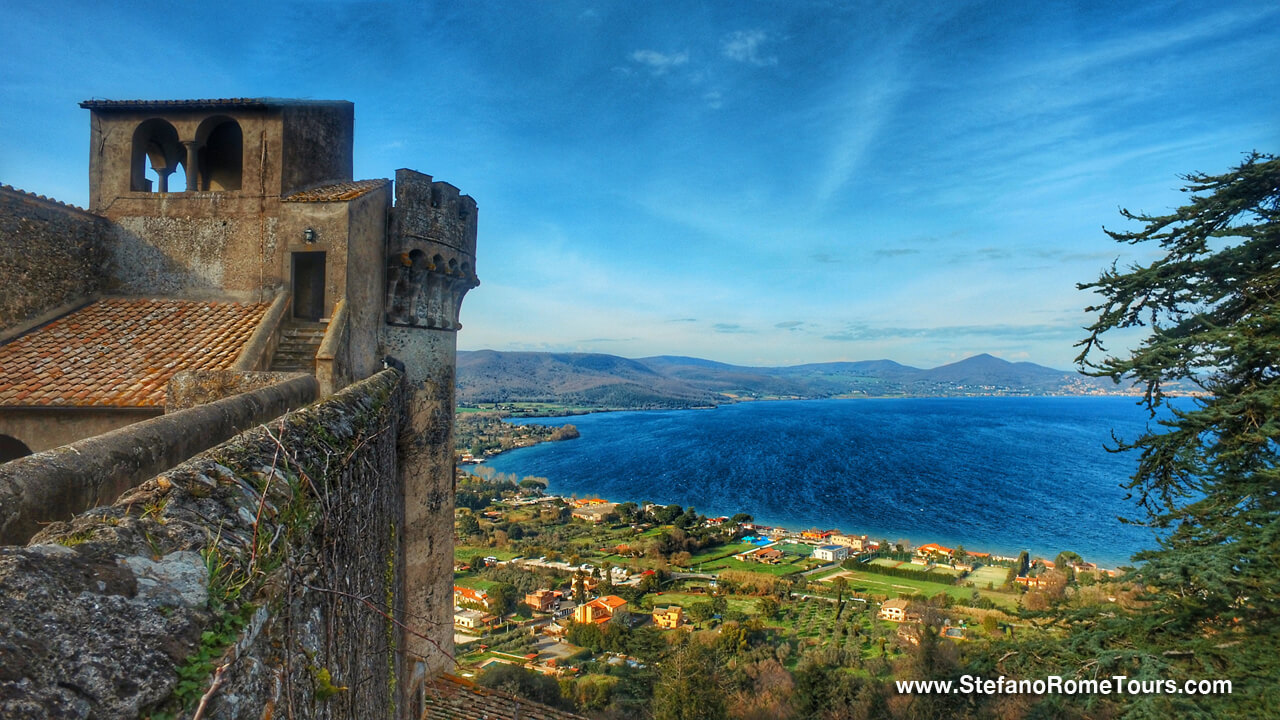 What makes Lake Bracciano charming are the historic Medieval villages that dot its shorelines: Bracciano, Anguillara and Trevignano.
You will be picked from your hotel in Rome by your personal English speaking Stefano Rome Tours driver, and at the completion of your tour you will be delivered to your ship in Civitavecchia.

BRACCIANO
On your Charming Lakeside Villages Pre-Cruise Tour you will stop in Bracciano, by far the most prominent of the lakeside villages. With origins going back as far as 10th century, Bracciano was a fiefdom of powerful families like the Orsini family who also acquired the imposing medieval castle and turned it into a fortified residential castle decorated with frescoed friezes and opulent ceilings fit for the feudal lords who occupied it.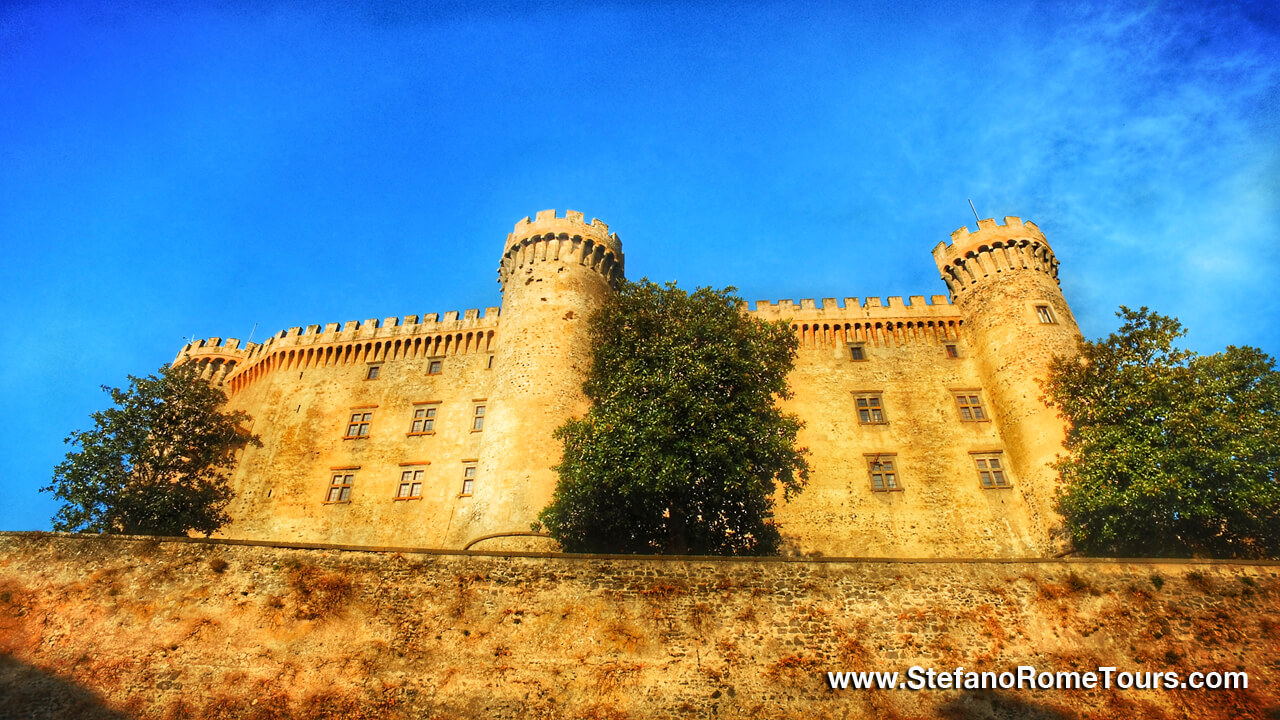 The village of Bracciano retained its medieval nucleus within its historic borgo that makes for a lovely stroll with beautiful views of the Roman countryside and Lake Bracciano.
Not to be missed is a visit to the magnificent Renaissance-era Bracciano Castle.
Officially named Castello Orsini - Odescalchi, the castle was eventually sold by the Orsini family to the Livio Odescalchi in 1696. Centuries later, the castle is still owned by the same family today!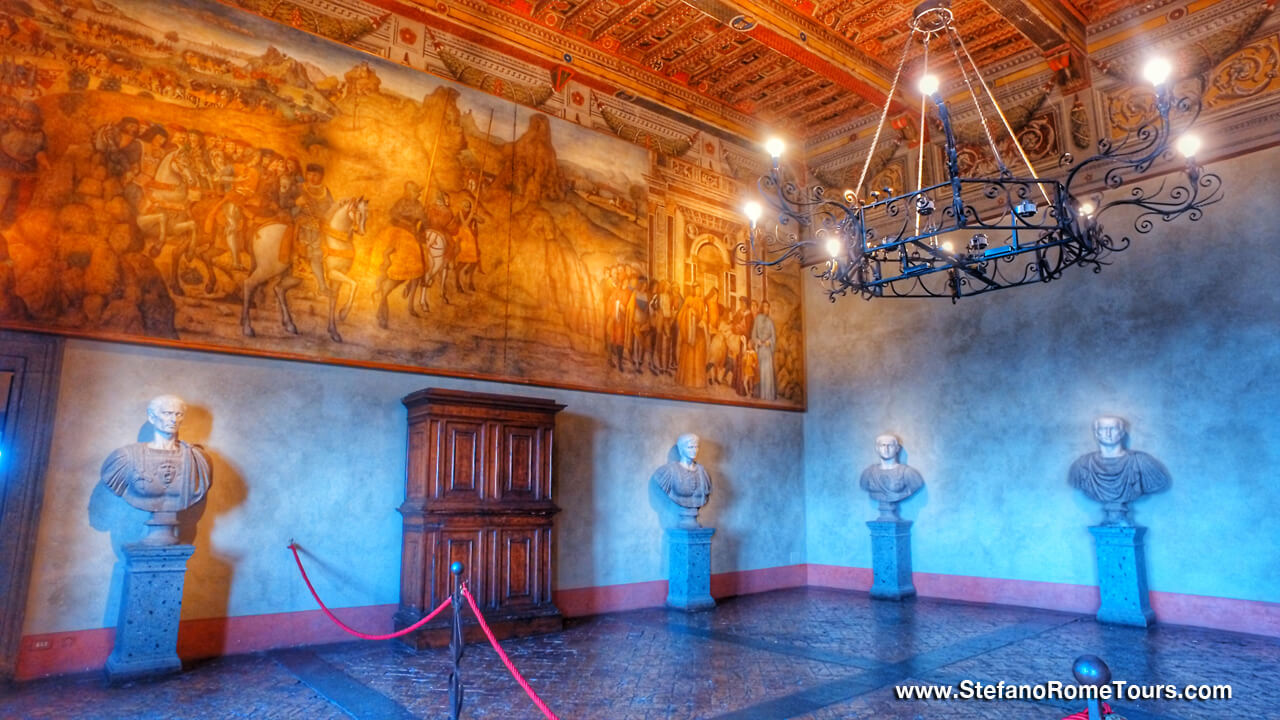 Part residential castle, part military fortress, the Bracciano Castle is open to visitors for an unforgettable opportunity to visit the castle's central court and elegant Renaissance rooms. The many rooms located on 2 levels are fabulously furnished with opulent furnishings and wall paintings from the Renaissance era.
Once upon a time, Italy's kings, queens, popes, lords, dukes, and ladies slept and lived here. Don't miss the stunning view of Lake Bracciano from the rampart on top of the castle's defensive walls
ANGUILLARA


Your Charming Lakeside Villages Pre-Cruise Tour continues to Anguillara.
Officially named Anguillara Sabazia in reference to the ancient Latin name of Lake Bracciano: Lacus Sabatinus, Anguillara was built on top of ancient Roman ruins of villas that once belonged to the elite ruling class. The symbol of Anguillara are 2 eels (anguilla, in Italian).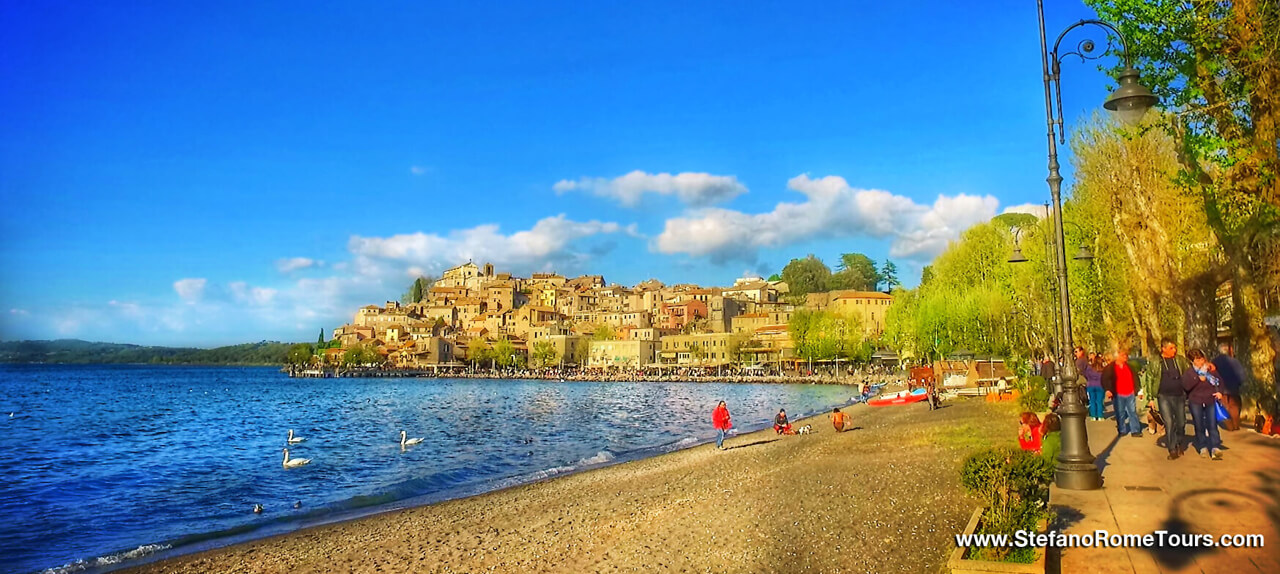 Anguillara has been a favorite countryside escape for the Romans even in the ancient times. Nowadays, the Romans escape the chaos of Rome and make Anguillara one of their top countryside destinations to enjoy a stroll, or spend a day relaxing on the lakeside beaches.
Settled on a small cape on the coast of Lake Bracciano, Anguillara creates a stunning backdrop to be admired on strolls along its spacious shoreline promenade. In the summertime, the beaches are lined with beach chairs and colorful sun umbrellas.
Appreciate free time to relish a delectable lunch at a local restaurant or trattoria of your preference at any of the villages you visit.
TREVIGNANO


At first sight, Trevignano is a picturesque Italian lakeside town with palm trees, shaded promenades, and sandy beaches, with inviting outdoor lakeside cafes and restaurants to enjoy in the warm months.
Upon closer inspection, you will discover the village's hidden ancient treasures: the charming walled medieval borgo with narrow lanes and authentic centuries-old buildings. One may feel as though they've stepped out of the modern world into Medieval times.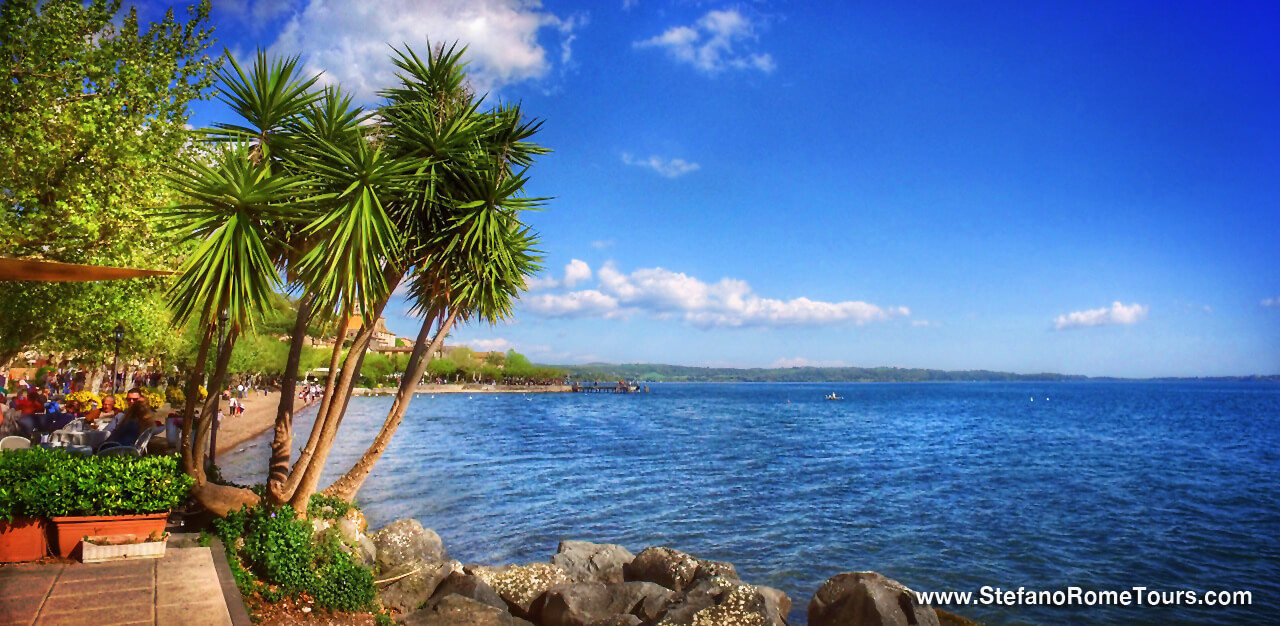 Be sure to look up because overlooking the town on top of a precipitous cliff are the ruins of a Medieval 12th-century fortress commissioned by Pope Innocent III, later reinforced by the powerful Orsini family, and in 1497 sieged by the Borgias. Earthquakes further destroyed what remained of this once formidable fortress.
Trevignano's history may extend as far back as the Etruscan era as a former Etruscan town thanks to extensive archaeological discoveries in the nearby necropoli.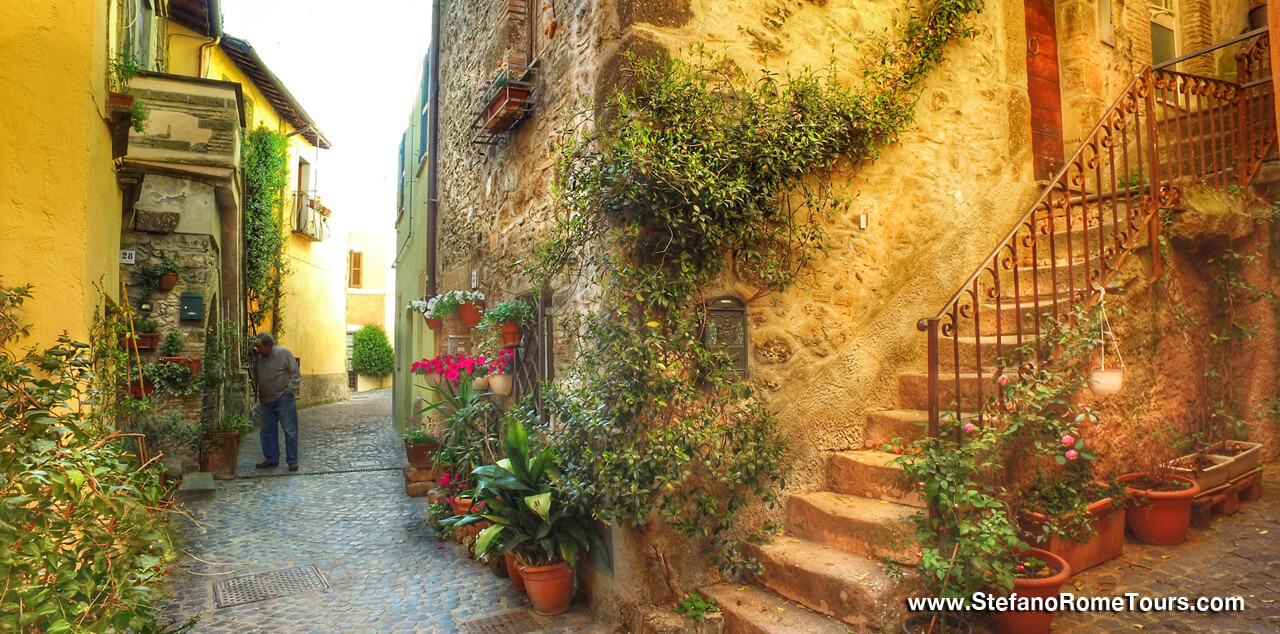 Your Charming Lakeside Village Pre cruise Tour finishes with your drop off right on the pier next to your cruise ship in Civitavecchia for optimal convenience and an excellent way to begin your cruise adventure!
Thank you very much for choosing Stefano Rome Tours for your Rome Day Tours and Italy Private Shore Excursions. We look forward to showing you beautiful places in Italy!
Important Information

Please READ the important information below as well as Read & Accept our TERMS OF SERVICE and Privacy Policy prior to placing your reservation request(s).


PAYMENT OPTIONS for Charming Lakeside Villages Pre-Cruise Tour:
Payment for this Charming Lakeside Village Pre-cruise Tour can be made in Euro funds at the end of your journey directly to your driver, or you may prepay in advance via PayPal or Credit Card online when you Confirm your Tour.


CANCELLATION POLICY:
We kindly ask that cancellations be made at least 7 days in advance so we can rebook your service and your reserved driver does not lose work for that day. We thank you for your cooperation and consideration.

** PREPAID SERVICES can only be Refunded the Net Rate we receive from your prepayment. Net Rate is the actual service price minus the fees retained by PayPal/Credit Card that are not reimbursed to us in case of refunds. We can only refund the portion we receive from the PayPal/CC company.
EMAIL INQUIRIES / BOOKING REQUESTS
Please allow up to 24 hours for email correspondences in reponse to email inquiries and tour reservation requests.
We reply to ALL emails and booking requests we receive. If you don't receive correspondence from us within 24-48 hours please CHECK YOUR SPAM FOLDER, or send us an email from a different E-mail account.
* The order of the towns visited may vary.
* Your driver will be happy to offer suggestions for LUNCH in the village you will be visiting during lunchtime.


BRACCIANO CASTLE TICKETS
* Entry tickets to Odescalchi Castle are currently 10 Euros per person to be purchased on-site upon arrival (ticket prices are subject to change without notice).


PRIVATE GUIDED TOUR OF THE CASTLE: Odescalchi Castle offers private guided tours with an English-speaking Tour Guide with advance Non-Refundable Reservations at just 180 Euros INCLUDING entry tickets. Advance non-refundable prepayment is required as the Castle does not issue refunds for cancellations.
Please inform us upon booking this tour if you wish to have a private guide so we can book a guide on your behalf. Otherwise, you will SELF TOUR the castle on your own.

YOUR STEFANO ROME TOURS DRIVER
* This Charming Lakeside Village Pre-cruise Tour provides an English-speaking Driver who is NOT a licensed tour guide.
Italy laws permit only licensed tour guides to accompany guests to sightsee on foot away from the vehicle. To be compliant with Italian laws, your driver cannot lawfully guide you into the sites and will be obliged to remain with the vehicle while you SELF TOUR away from the vehicle.


LUGGAGE
* Small Car type vehicles priced for up to 2 persons can accommodate up to 2-3 standard suitcases and up to 2 small carryons. If you are a party of 2 anticipating bringing more luggage than can fit into the trunk space of a car-type vehicle please inform us in advance so you will be provided a suitable size vehicle.

* Large vehicles (minivans) can accommodate approximately 6 suitcases and 6 carry-ons in total. If you anticipate bringing luggage in excess of what the vehicle can accommodate, please inform us prior to booking this service to determine if all your luggage would fit together in 1 vehicle. Please do not leave any valuables inside the vehicle when away from the vehicle.

MEETING POINT TO MEET YOUR DRIVER at your Rome Hotel / Accommodation


For hotel pick-ups, your driver will meet you inside your hotel lobby, or area permitted by your hotel.
For Apartments or B&B's without a lobby, your driver will meet you at your address outside the main entrance.
* If your hotel / accommodation is situated on a street or in an area that is restricted to vehicle traffic, your driver will park the vehicle as close as lawfully possible and will meet you on foot at your Address. From there, your driver will accompany you to your parked vehicle.