description
* COUNTRYSIDE PRE-CRUISE TOUR PRICE LIST



PRE-CRUISE TOUR FROM ROME HOTEL:

For up to 4 Persons from Rome Hotel: 470 EUROS
For up to 6 Persons from Rome Hotel: 550 EUROS
For up to 8 Persons from Rome Hotel: 600 EUROS

** DATES on the Booking Form Calendar that are NOT Selectable, are NOT AVAILABLE.


Enjoy a visual journey though the wondrous Italian countryside on our Pre Cruise Countryside Tour VIDEO:


Our Countryside Pre-Cruise Tour and Civitavecchia Port Transfer combination offers you the unique option of spending the first half of your day exploring the beautiful Roman countryside and then then be transported to your cruise ship at the port in Civitavecchia.
You and your luggage will travel together, and your luggage will remain safely inside the vehicle while you sightsee.
BRACCIANO CASTLE - the spellbinding Medieval fairytale castle


Once your Stefano Rome Tours English-speaking Driver will pick you up at your accommodation in Rome, your Countryside Pre-Cruise Tour will begin with a relaxed drive through the Roman countryside to your first destination, the beautiful Lake Braccciano.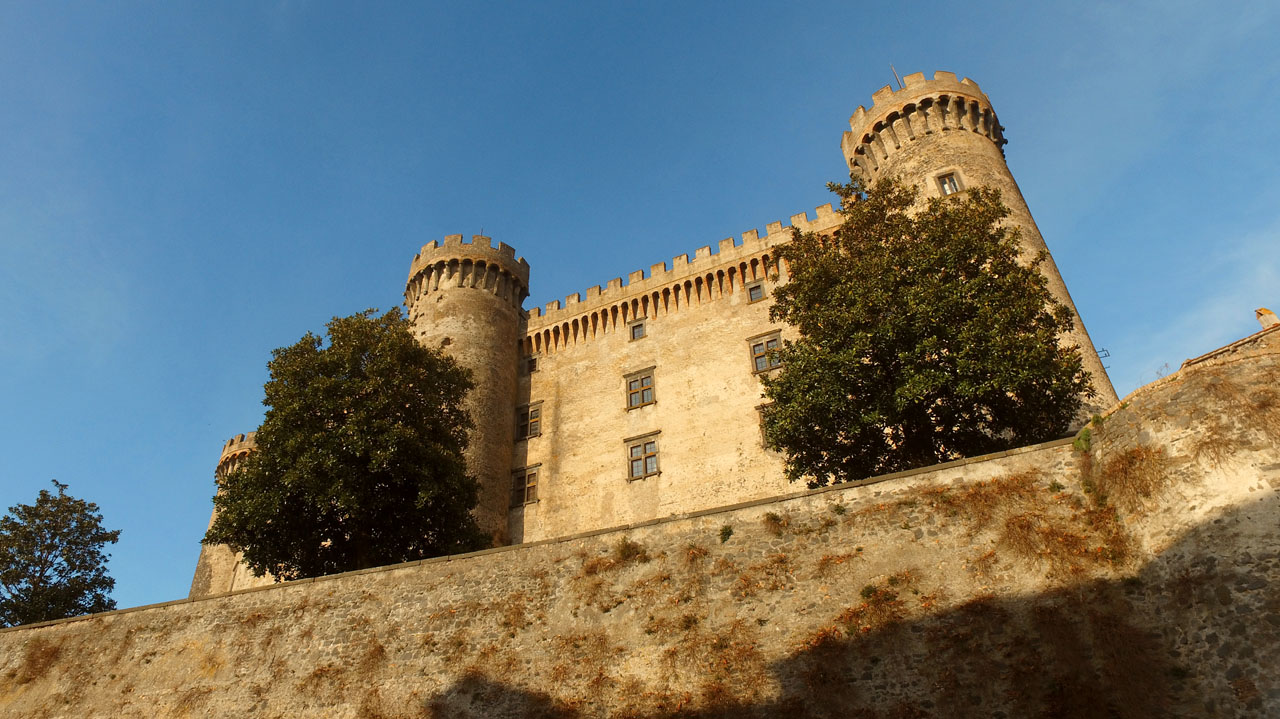 This pristine lake is actually an ancient volcanic crater surrounded by sandy beaches and characteristic medieval villages, making it one of the most sought-after getaway destinations for local Romans looking for a respite from the chaos of Rome.
On the shore of the lake in the historic town of Bracciano, you will have the opportunity to visit the magnificent 15th-century Odescalchi Castle (commonly referred to as Bracciano Castle) that was built by the powerful Orsini family that served as both a private residence and defense fortress.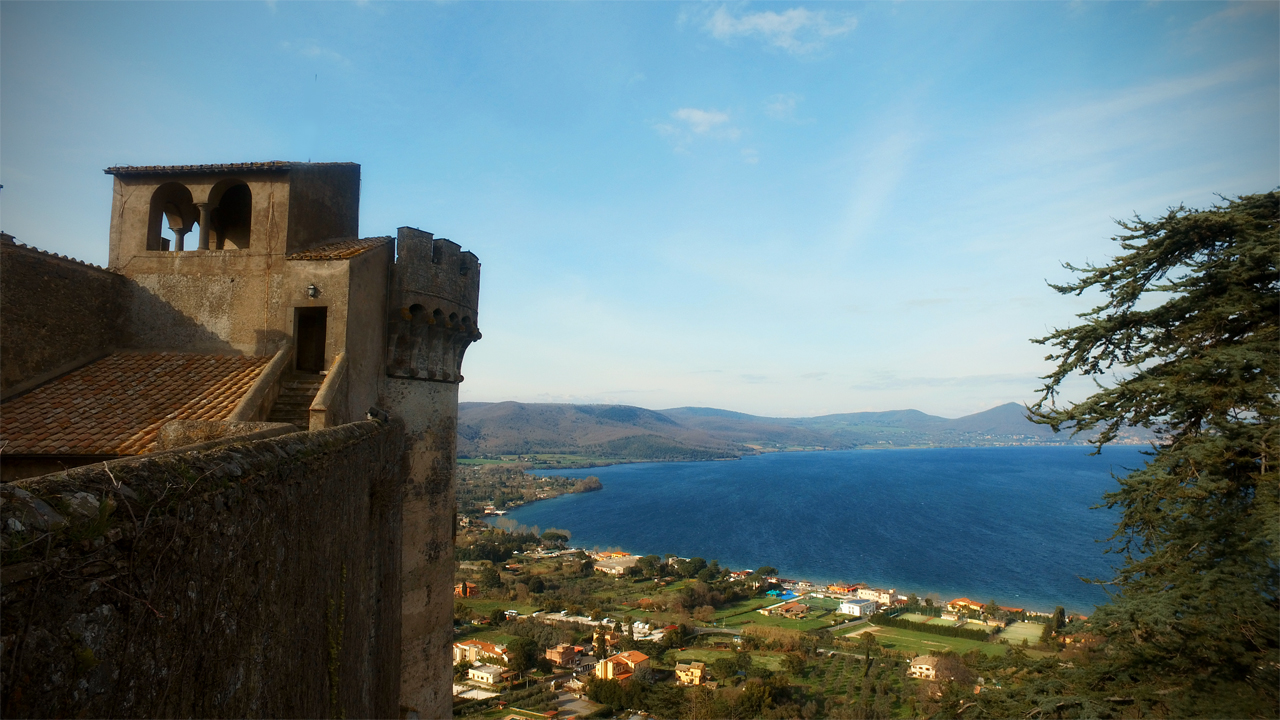 Over time the castle was sold to the once-powerful Odescalchi family to whom the castle still belongs to today. Currently, the castle hosts important cultural events and high-profile weddings.
CERI - the Medieval hamlet that takes you back in time

From Bracciano, your journey will continue to the charming hilltop medieval hamlet of Ceri, a 13th-century fortified castle built on top of a tall rock formation giving you the impression that you've just traveled back in time by a millennium.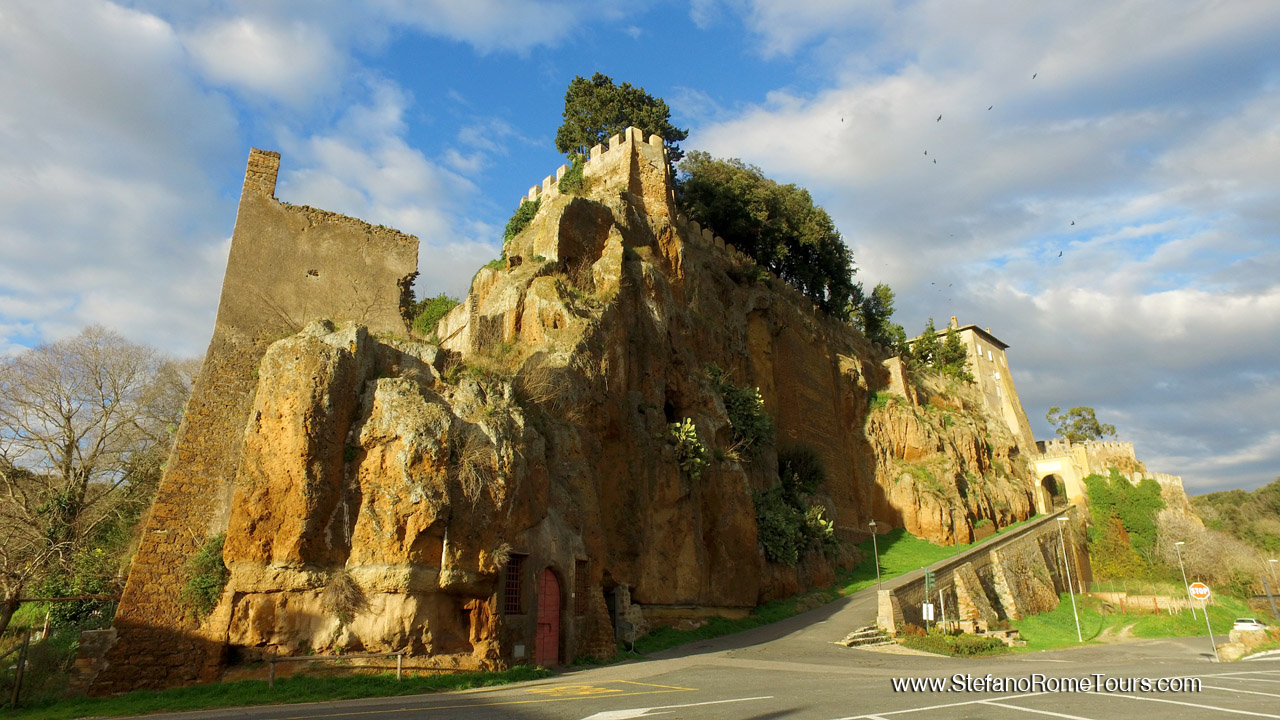 Inside this tiny village is the Romanesque church of Madonna of Ceri that was built on top of an pagan sacred site where the ancient Etruscans and Romans venerated the pagan goddess Vesta. Beautiful yet faded by centuries, 12th century frescoes with scenes from Old Testaments grace the walls of the church.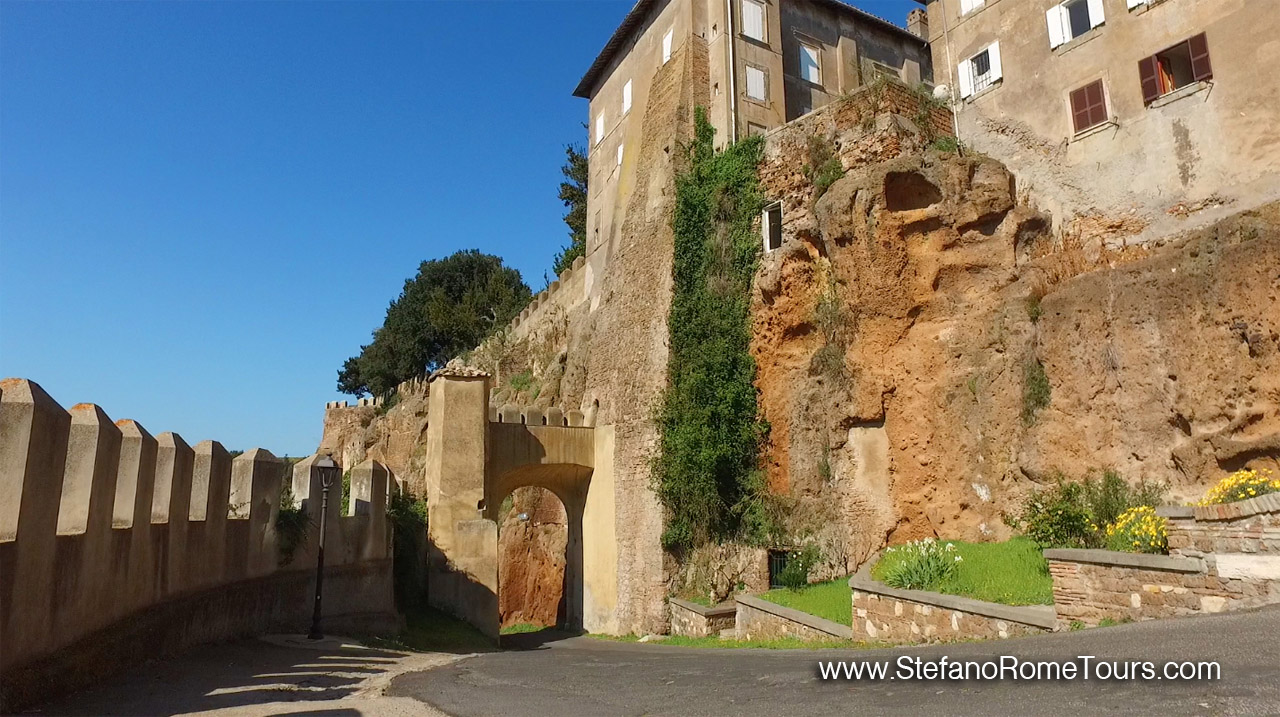 In this charming village composed of aged ochre and siena medieval buildings are some of the best family owned restaurants in the region that specialize in tasty traditional cuisine prepared from fresh local ingredients and family secret recipes passed down through the generations.
After a sumptuous lunch in Ceri you will depart for Civitavecchia and sail on your cruise!
We thank you for booking our Countryside Pre Cruise Tour and for choosing Stefano Rome Tours for your Rome Day Tours and Italy Shore Excursions. We wish you in advance a most enjoyable cruise and holiday!

Cruising guests who enjoyed this Countryside Pre Cruise Tour, also booked the following Italy Shore Excursions:


Important Information

Please READ the important information below as well as Read & Accept our TERMS OF SERVICE and Privacy Policy prior to placing your reservation request(s).

PAYMENT OPTIONS for Countryside Pre-Cruise Tour:
Payment for this Countryside Pre Cruise Tour can be made in Euro funds at the end of your journey directly to your driver, or you may prepay in advance via PayPal or Credit Card online when you Confirm your Tour.

CANCELLATION POLICY:
We kindly ask that cancellations be made at least 7 days in advance so we can rebook your service and your reserved driver does not lose work for that day. We thank you for your cooperation and consideration.
** PREPAID SERVICES can only be Refunded the Net Rate we receive from your prepayment. Net Rate is the actual service price minus the fees retained by PayPal/Credit Card that are not reimbursed to us in case of refunds. We can only refund the portion we receive from the PayPal/CC company.


EMAIL INQUIRIES / BOOKING REQUESTS
Please allow up to 24 hours for email correspondences in response to email inquiries and tour reservation requests.
We reply to ALL emails and booking requests we receive. If you don't receive correspondence from us within 24-48 hours please CHECK YOUR SPAM FOLDER, or send us an email from a different E-mail account.
BRACCIANO CASTLE TICKETS
* Admission tickets to Bracciano Castle (Odescalchi Castle) are currently 10 Euros per person to be purchased on-site upon arrival (ticket prices are subject to change without notice).
PRIVATE GUIDED TOUR OF BRACCIANO CASTLE:
PRIVATE GUIDED TOUR OF THE CASTLE: Odescalchi Castle offers private guided tours with English-speaking Tour Guide with advance Non-Refundable Reservations at just 180 Euros INCLUDING entry tickets. Advance non-refundable prepayment is required as the Castle does not issue refunds for cancellations.
Please inform us upon booking this tour if you wish to have a private guide so we can book a guide on your behalf. Otherwise, you will SELF TOUR the castle on your own.
YOUR STEFANO ROME TOURS DRIVER
* This Countryside Pre Cruise Tour provides an English-speaking Driver who is NOT a licensed tour guide.
Italy laws permit only licensed tour guides to accompany guests to sightsee on foot away from the vehicle. To be compliant with Italian laws, your driver cannot lawfully guide you into the sites and will be obliged to remain with the vehicle while you SELF TOUR away from the vehicle.
LUGGAGE INFORMATION

* Small Car type vehicles priced for up to 2 persons can accommodate up to 2-3 standard suitcases and up to 2 small carryons. If you are a party of 2 anticipating bringing more luggage than can fit into the trunk space of a car-type vehicle please inform us in advance so you will be provided a suitable size vehicle.
* Large vehicles (minivans) can accommodate up to 6 suitcases and up to 6 carry-ons in total. If you anticipate bringing extra luggage in excess of what the vehicle can accommodate, please inform us prior to booking this service to determine if all your luggage would fit together in 1 vehicle.
Please do not leave any valuables inside the vehicle when away from the vehicle.

Where to Meet your Driver at Rome Hotel / Accommodation:
For hotel pick-ups, your driver will meet you inside your hotel lobby, or area permitted by your hotel.
For Apartments or B&B's without a lobby, your driver will meet you at your address outside the main entrance.
* If your hotel / accommodation is situated on a street or in an area restricted to vehicle traffic, your driver will park the vehicle as close as lawfully possible and will meet you on foot at your Address. From there, your driver will accompany you to your parked vehicle.