Buon giorno and welcome to Stefano Rome Tours, Rome's leading Tour Company for private Rome Day Tours and Shore Excursions from Civitavecchia
A visit to Rome would not be complete without a tour of some of the city's best known Christian monuments and landmarks, which include the Basilica of St. Paul Outside the Wall and of course the Vatican.
Our Christian Rome Tour available as a day tour from Rome or a shore excursion from Civitavecchia, will introduce you to the main points of interest that made Rome the centre of Christianity, and you will have the opportunity to walk in the footsteps of Saints, Popes, and ancient Romans who have contributed to what Rome is today.
Due to magnificent architecture, world famous paintings and sculptures, as well as remarkable frescoes, as all of these spiritually significant sites have a very important and interesting history and are part of Italy's cultural heritage.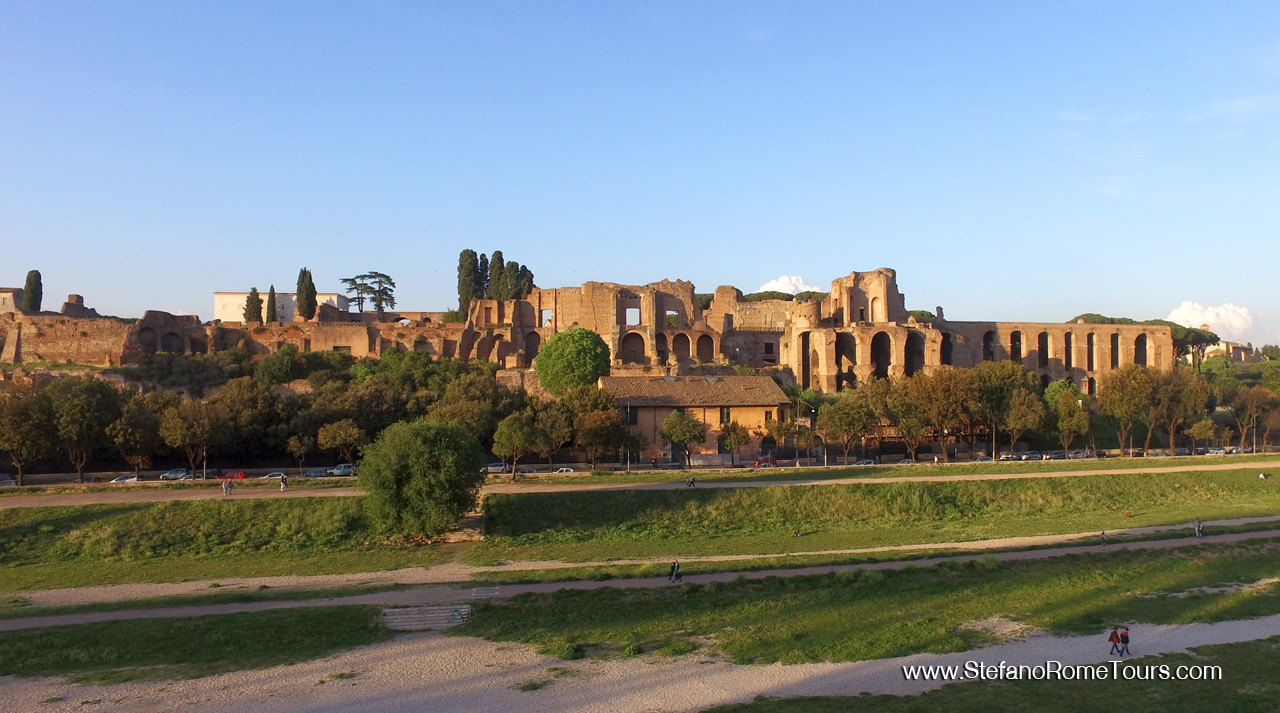 We start at the Circus Maximus, the enormous ancient Roman stadium at the foot of Palatine Hill where the chariot races took place (think Ben Hur).
From here, we continue to one of the four great basilicas of Rome, Saint Paul Outside The Wall, which was built by Emperor Constantine and said to be located above the burial ground of Saint Paul.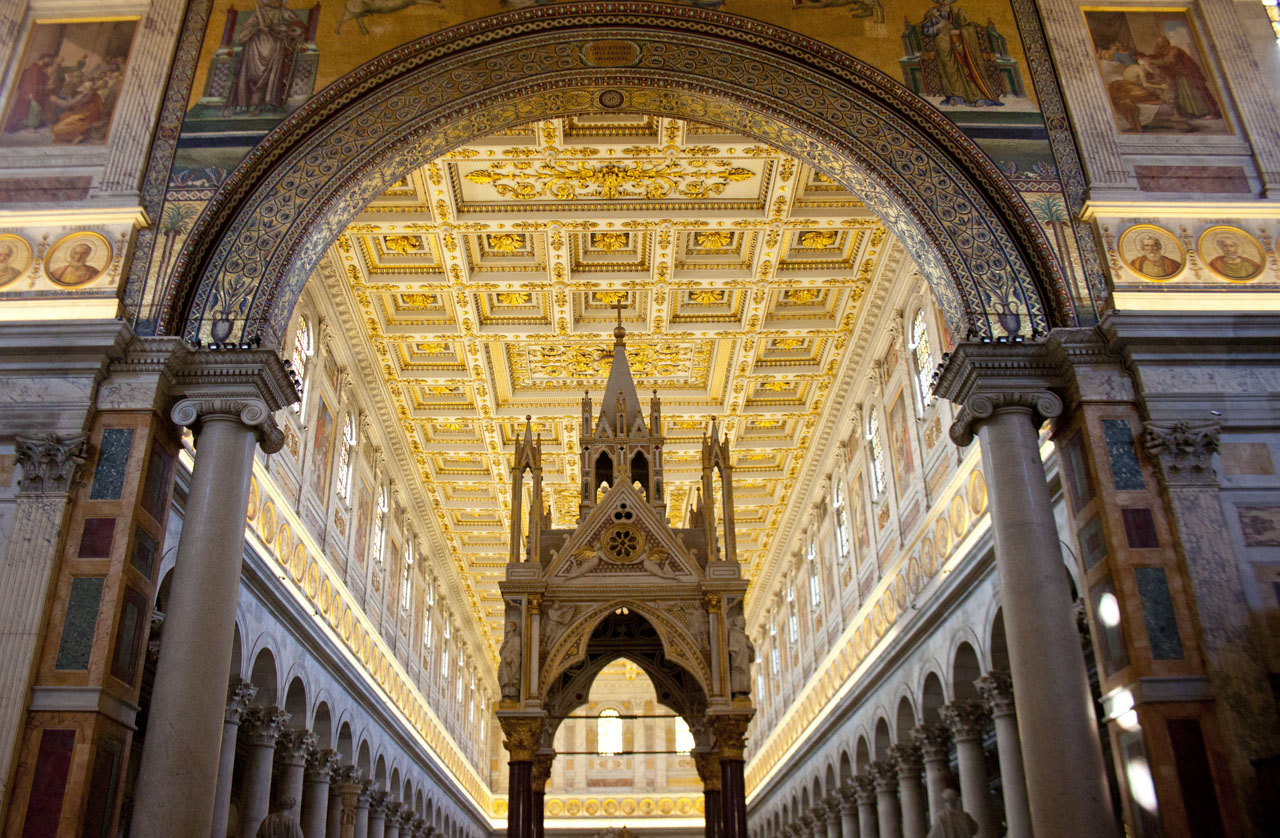 Continuing along the Ancient Appian Way, the 2000-year old road that leads to Apulia and Brindisi and where Spartacus and his army were crucified, we will make our way to the ancient catacombs.
It is here where the early Christians would bury their dead or hold church services out of sight from the public, due to a fear of persecution.
You also have the unique opportunity to visit the Christian Catacombs located nearby. Group guided tours that are included in admission tickets will take you on a guided tour of the vast underground labyrinth of early christian burial grounds.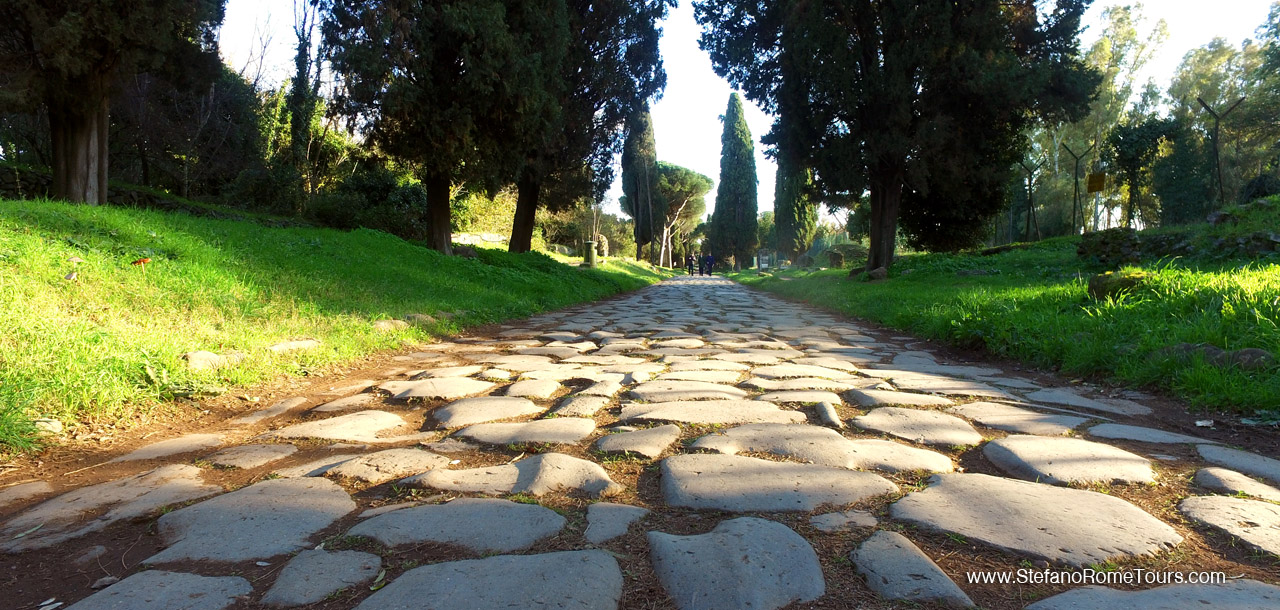 San Pietro in Vincoli (Saint Peter in Chains) is a Roman Catholic titular church and minor basilica. It was initially constructed in 432-440 to house a portion of the chains that held Saint Peter where he was imprisoned in Jerusalem.
The Empress Eduoxia (wife of Emperor Valentinian III) received the chains as a gift from her mother in mid 5th century, who in turn received them from the bishop of Jerusalem. The Empress gifted the chains to Pope Leo I.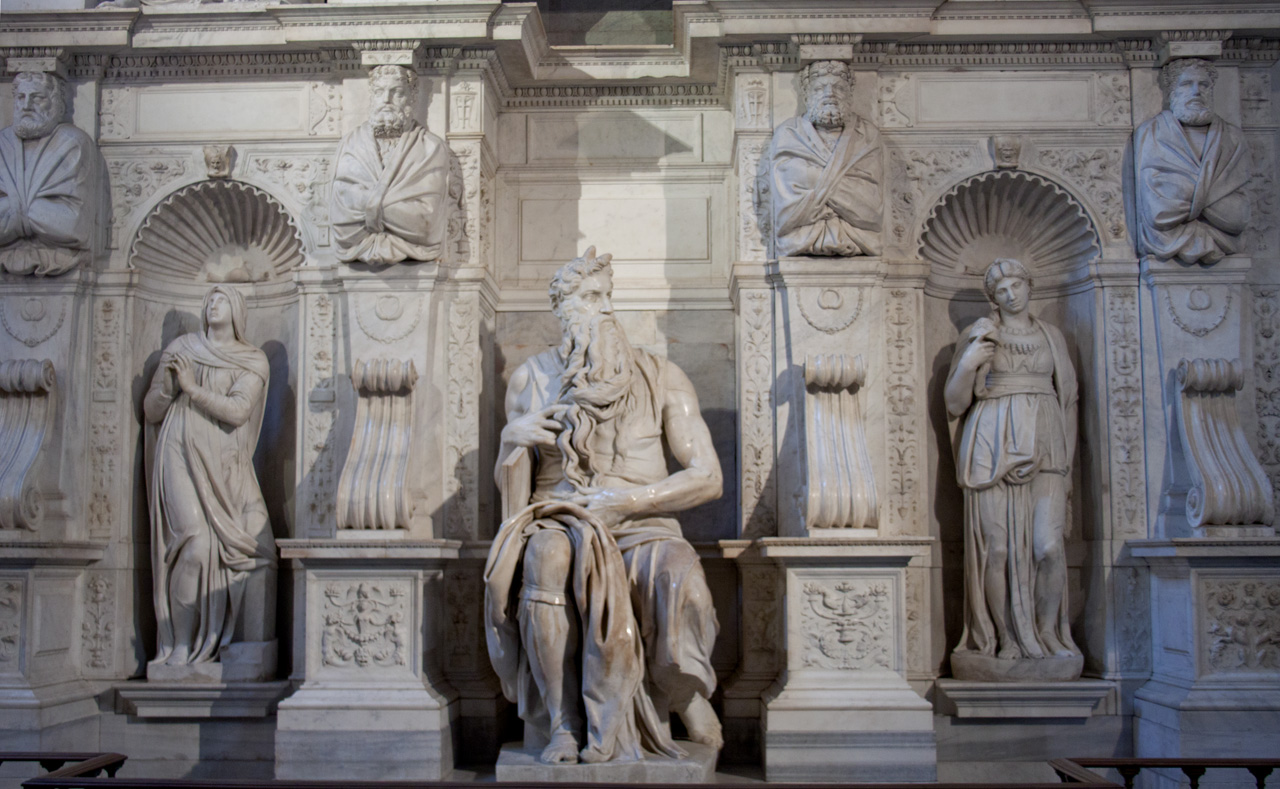 Although the Basilica is otherwise simple in architecture and decor, you will also have the honor of viewing Michelangelo's Moses that was completed 1515. Seated in a tense position, the muscular Moses rests one arm on the Tablets of the Law, and the other hand holds his long wavy beard that grows from the figure's attractive pensive face.
After enjoying a delicious traditional Roman lunch it is now time to head towards the Vatican, noted as one of the world's smallest states and more importantly home to the Pope and the Catholic Church.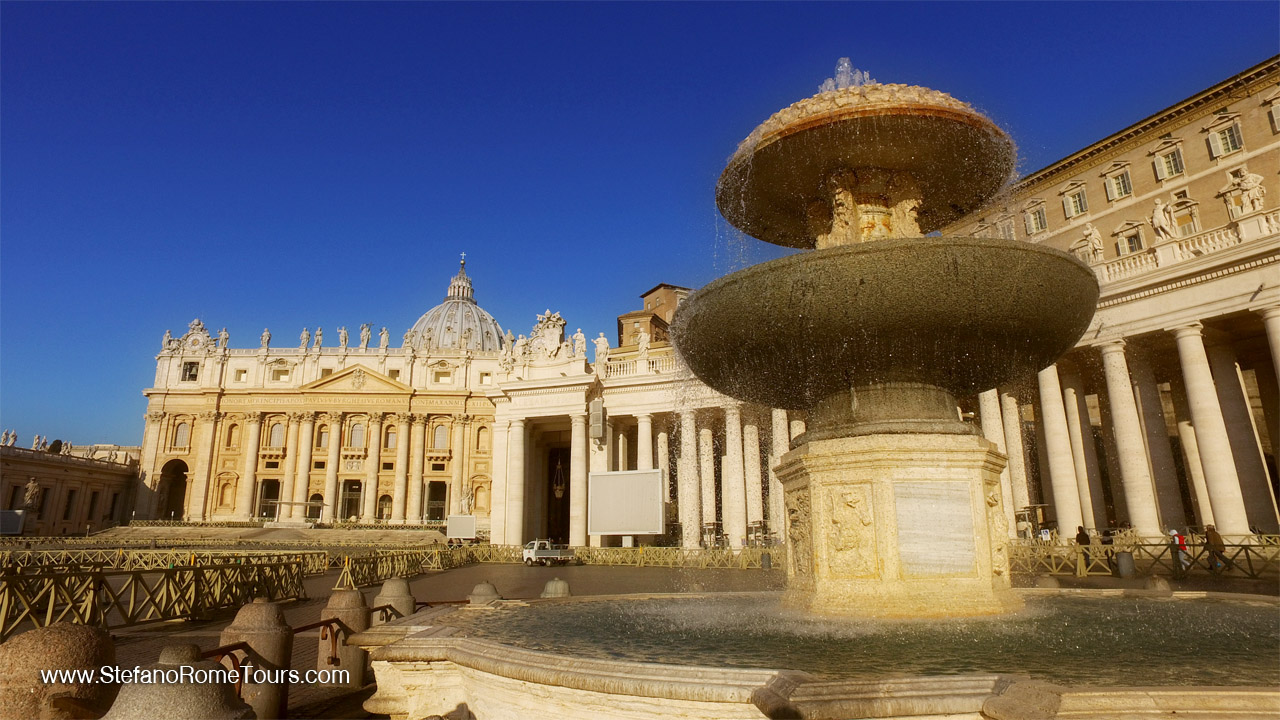 You will be given the chance to visit the Vatican Museums and the Sistine Chapel with its amazing ceiling painted by Michelangelo.
Currently the Vatican does not allow access to St Peter's Basilica through the shortcut inside the Sistine Chapel unless visitors are accompanied by a Licensed Tour Guide. Guided visitors can access the Basilica quickly through the designated "Guided Visitors Entrance".
Guests have either the option of booking a private Licensed Tour Guide for an informative guided tour of Vatican Museums highlights, Sistine Chapel and St Peter's Basilica... OR... if Self Touring, attempt to access the basilica through St Peter's Square.
Due to potentially long security lines, if guests run out of time (especially on time restricted shore excursions from Civitavecchia) it may NOT be possible to also visit the basilica.
Guests touring from their Rome hotel have the option to extend their tour at the standard hourly rate should the wait times clear security in order to visit St Peter's basilica exceed the duration of the day tour.
** To guarantee a visit to St Peter's Basilica reserving a Licensed Tour Guide is strongly recommended.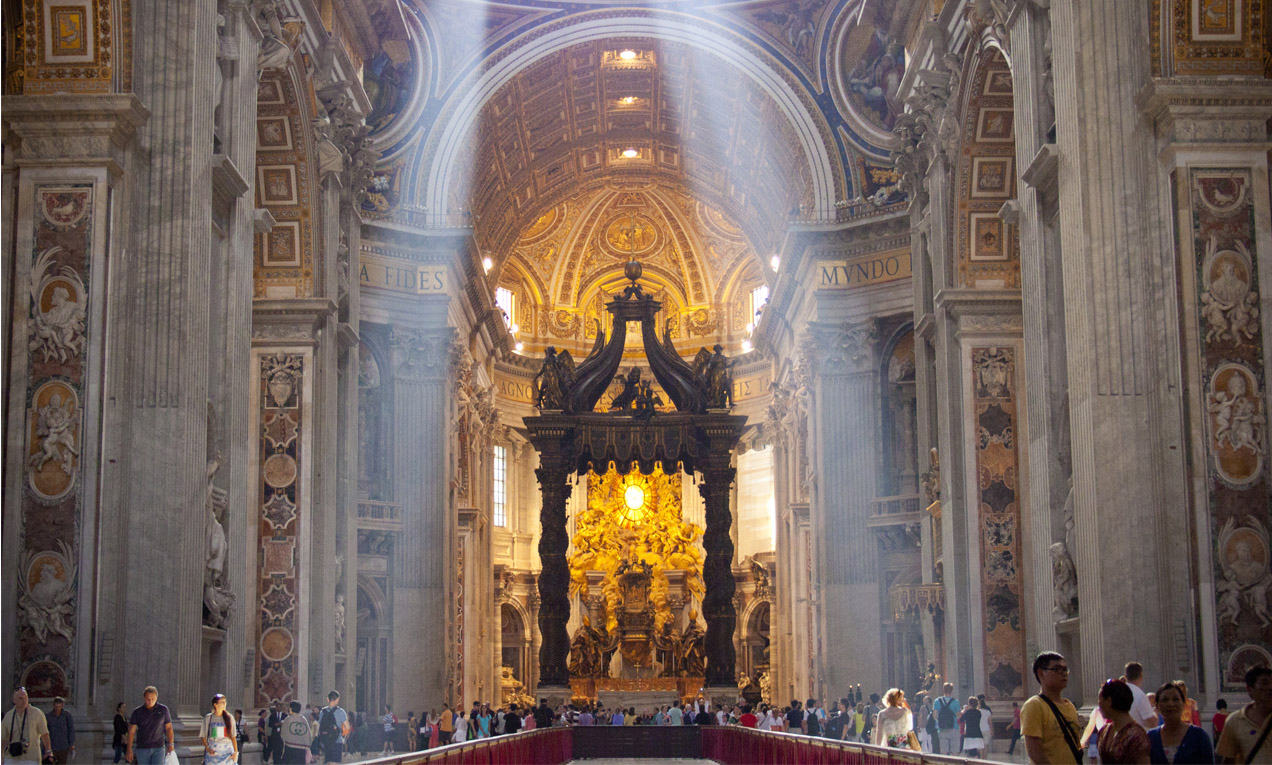 Please don't forget: To enter any of the churches in Rome, you will have to have your shoulders and knees covered, otherwise you will be refused entry!
For more information and to book your own Christian Rome Tour or Shore Excursion from Civitavecchia, please visit our main website where we feature all our Rome Tours and Italy Private Excursions.
Thank you for choosing Stefano Rome Tours for your private Rome Day Tours and Civitavecchia Shore Excursions. We look forward to showing you Italy!
the Stefano Rome Tours team