Welcome to Monticchiello, a hidden gem nestled on a hill in the heart of Tuscany's Val d'Orcia valley. This picturesque hilltop medieval village, with its timeless charm and captivating beauty, invites you to step back in time and immerse yourself in its rich history and enchanting atmosphere. As you wander through the narrow streets, marvel at the well-preserved architecture, and soak in the panoramic views of the picturesque Tuscan landscapes, you'll understand why Monticchiello is a must-visit destination for travelers seeking an authentic Tuscan experience.
At StefanoRomeTours, we invite you to embark on a journey of discovery with our private day tours from Rome to Tuscany. Our expert English-speaking drivers will take you on memorable tours in Tuscany that include a visit to Monticchiello, allowing you to unlock the secrets of this medieval jewel.
Monticchiello:
Tuscany's Enchanting Hidden Gem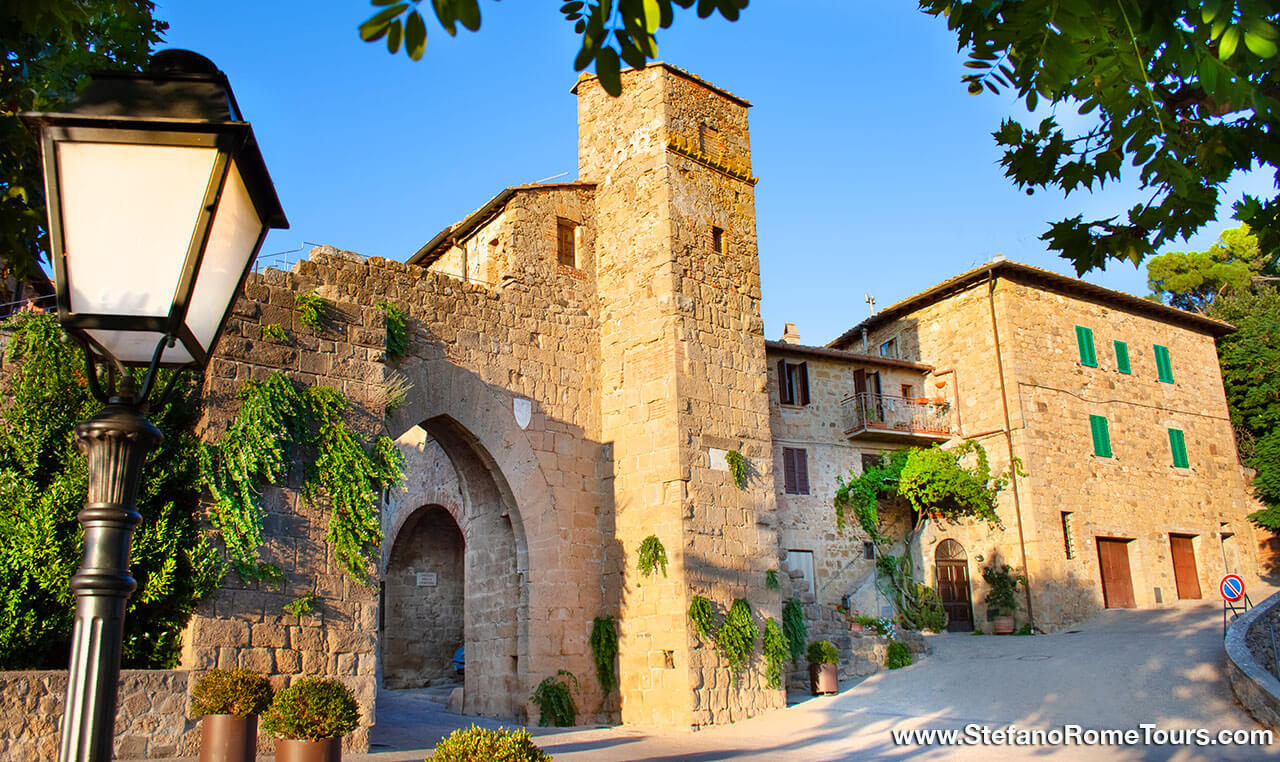 Monticchiello's Captivating History
Monticchiello casts a spell on every visitor with its irresistible charm. This village is a treasure trove of emotions and historical significance, drawing you into the unique tapestry of its ancient origins. Believed to have Etruscan and Roman roots, Monticchiello's name is derived from the Latin Mons Cloelii, possibly linking it to the esteemed Gens Clelia. Its presence in historical records dates back to 943 when Lamberto Aldobrandeschi surrendered it to the Badìa Amiatina.
Yet, it was the medieval era that left an indelible mark on this village, setting it apart from the Renaissance perfection of nearby Pienza. With its sturdy walls and towering keep, Monticchiello stood as a formidable bulwark in the defensive system of the Republic of Siena.
While historical records mention the castle's name, its true significance began to unfold in the 13th century.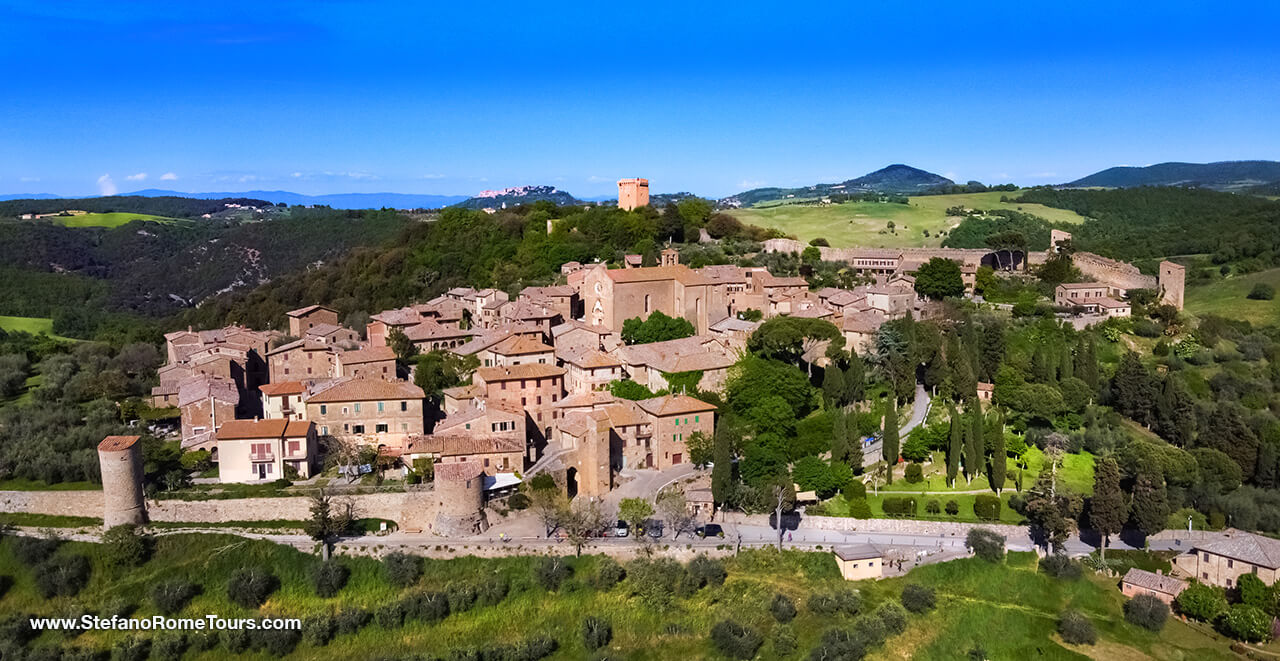 Fatigued by the mismanagement of power by the Teutonic Knights, who held the castle under the Church of Rome, the townspeople sought refuge with the Republic of Siena, becoming steadfast allies. In 1243, the free Municipality of Monticchiello was established, marking the beginning of a flourishing period.
During this golden era, the construction of the Tower of Cassero, its walls, and the Church reached completion. Over time, Monticchiello became an important agricultural center, boasting a ruling class of local landowners and a flourishing craft industry. The village's fate fluctuated between Montepulciano and Florentine control until it firmly returned to Siena's grasp in 1401, becoming a stronghold of their power.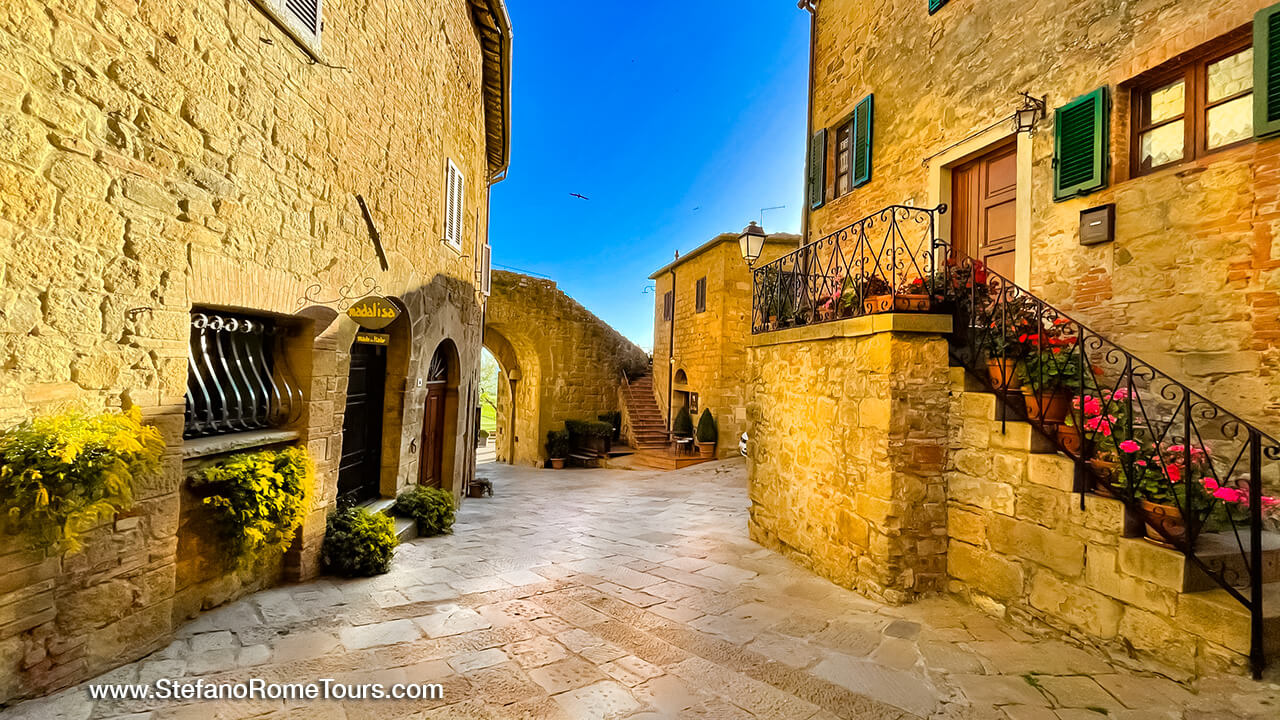 Monticchiello witnessed turbulent times, falling into the hands of Cesare Borgia in 1502, then French and Sienese forces, and finally the Medici family after the Peace of Chateau Cambresis in 1559. Monticchiello's decline followed as trade and craftsmanship stagnated, and gradual abandonment and erosion of its walls until June 1778 when Grand Duke Pietro Leopoldo decreed the end of the Municipality of Monticchiello, placing it under the jurisdiction of the Municipality of Pienza.
In the midst of World War II, Monticchiello proudly contributed to the nation's cause, with 31 brave souls among its 750 inhabitants making the ultimate sacrifice.
The indomitable spirit of the Monticchiello community resurfaced in the spring of 1944. On April 6, Dr. Chiurco, the Prefect of Siena during the fascist Republic, in response to vital information, dispatched about 450 men to confront a small yet formidable group of Partisans encamped near the village. After a fierce battle, the fascist unit was compelled to retreat hastily.
At dawn the following morning, a German contingent arrived in Monticchiello, under orders to apprehend and execute the villagers. However, a German woman named Irma Angheben, wife of a local landowner, intervened, aided by the parish priest, Don Marino Torriti, ultimately preventing the impending massacre. No one understood what Irma Angheben was saying because she spoke German, but among all the uncertainties of this story, what is certain is that Monticchiello's inhabitants were spared from a brutal fate.
Explore the medieval charm of Monticchiello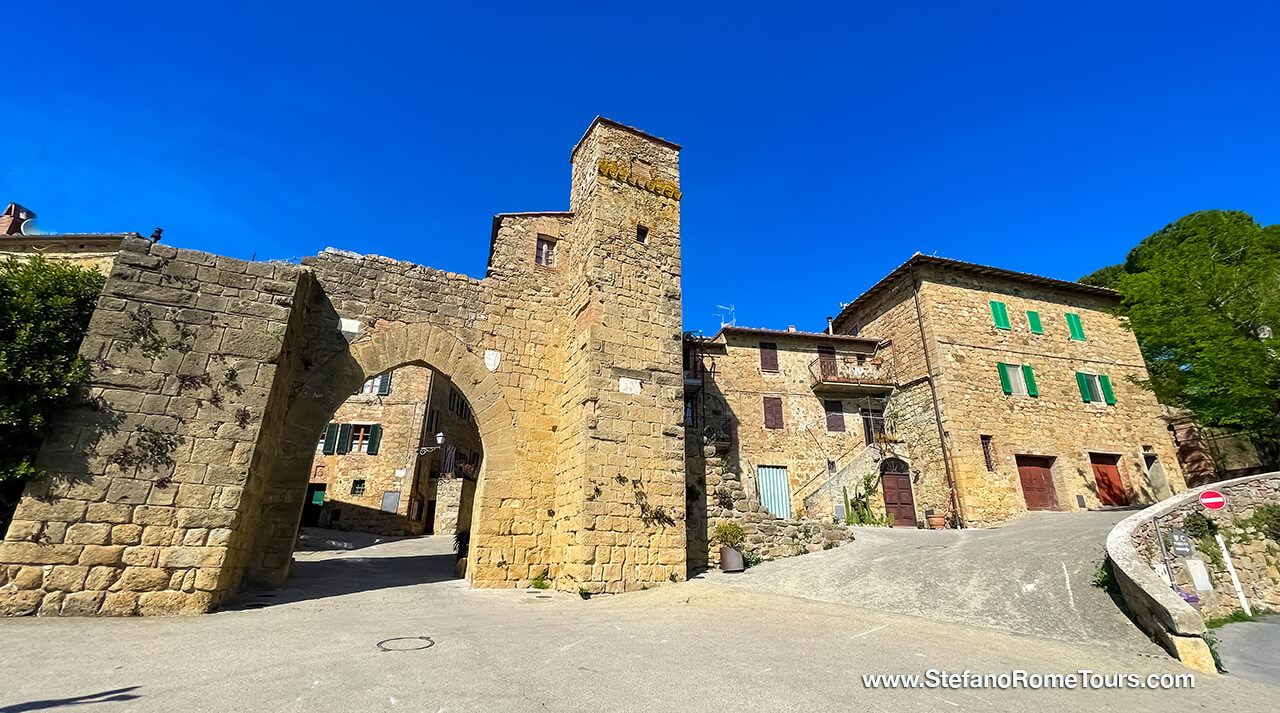 Today, Monticchiello boasts a well-preserved medieval structure that captivates with its architectural wonders. The well-preserved walls that encircle the village, adorned with towers of different sizes, still stand proudly today, with seven of them intact.
As you enter through the town gate, Sant'Agata Gate, adorned with a beautiful arch, the grandeur of Monticchiello's fortified history will captivate your imagination. Stop for a coffee or lunch at the Osteria Bar just behind the main gate, browse the quaint artisan shops, and lose yourself through the maze of atmospheric lanes.

Wandering through pristine Monticchiello, you'll notice its unique layout, with spacious squares adorned with stone paving, unlike the narrow dark alleys found in many medieval towns. The inhabitants take pride in the beauty of their homes, often adorning them with vibrant flower-filled vases.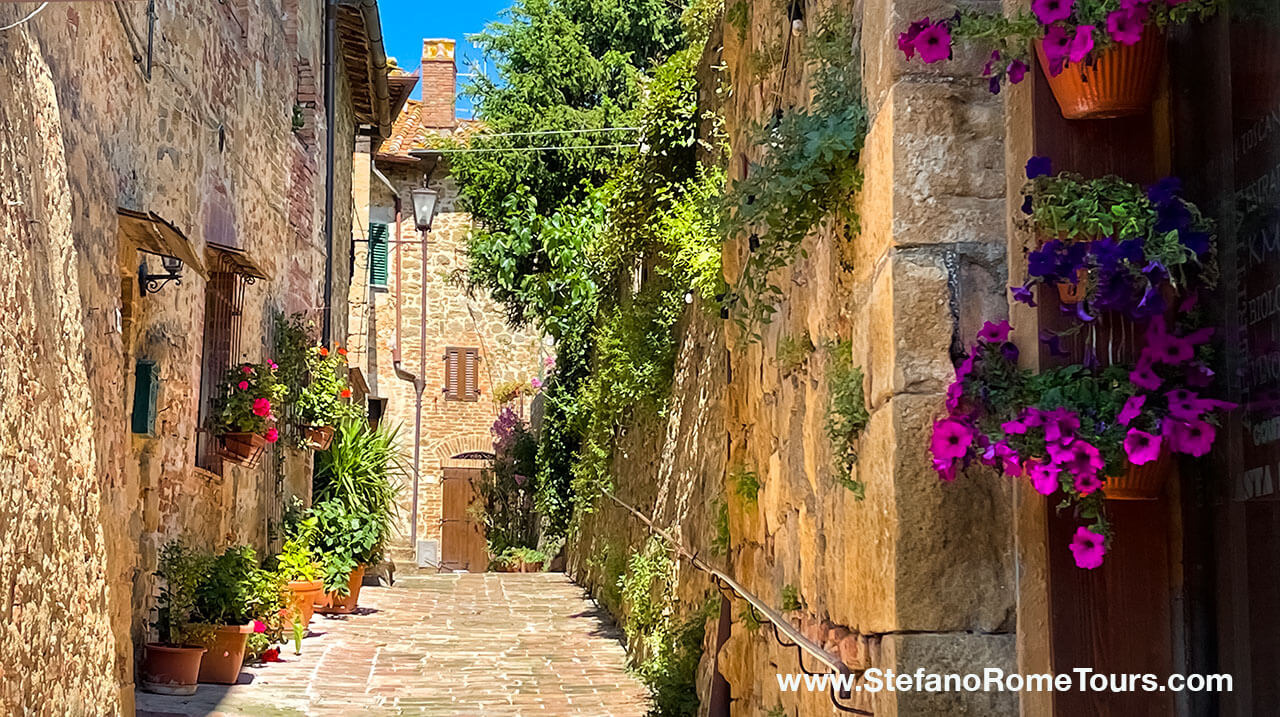 Don't miss a visit to the Church of Saints Leonardo and Christopher which stands as a magnificent testament to Monticchiello's medieval splendor.
Its exterior exudes simplicity and strength, while the ornate facade unveils hidden treasures within. Careful restoration work revealed frescoes that had been concealed by poor-quality stucco in the 18th century.
Its Roman-Gothic facade captivates the eye, while within, frescoes from the Sienese school adorn the walls and presbytery, dating back to the 14th and 15th centuries. The church's right chapel houses a treasure—a masterful work by Pietro Lorenzetti—the Madonna with Child. Painted around 1325, its history and significance continue to intrigue, leaving us captivated by its beauty and the mysteries it holds.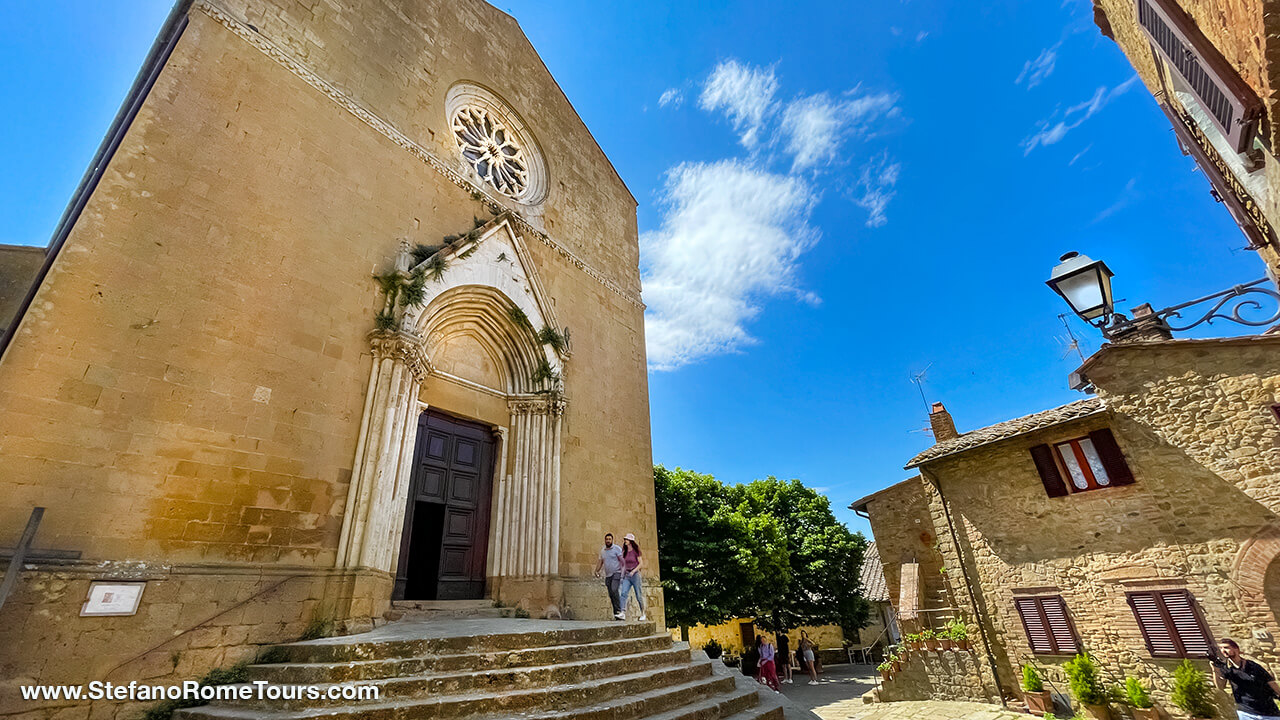 In the quaint village of Monticchiello, it's not about what you see and do, but the profound emotions it stirs within you. This charming haven exudes an enchanting sense of peace and tranquility, creating a sanctuary for the soul.
You'd find many travelers from around the globe, offering them an idyllic haven for scenic drives and cycling routes. You may come across seasoned locals, taking solace on the terrace benches, basking in the splendid beauty that surrounds them, and exchanging intriguing gossip and stories.
Monticchiello's understated beauty and serene ambiance offer a respite from the bustling world, inviting you to slow down, breathe deeply, and connect with the essence of inner harmony.



Behold the picturesque Windy Road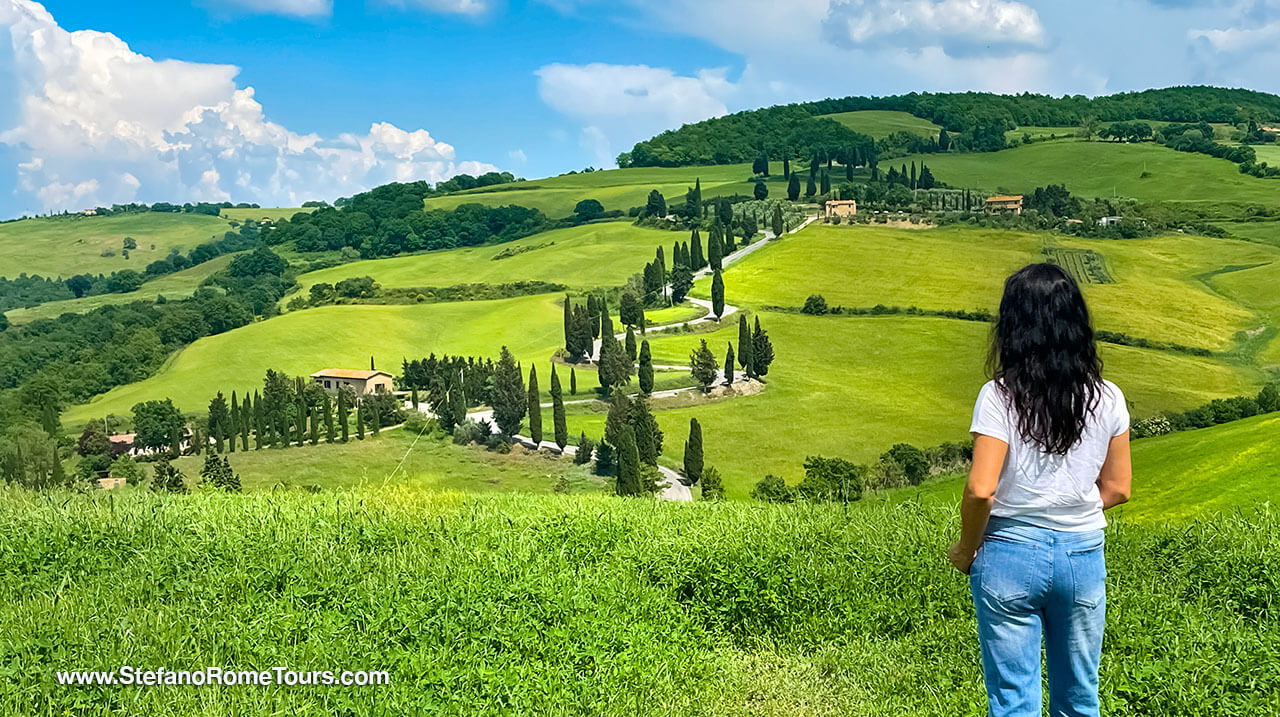 As you venture not far from the charming village of Monticchiello, a mesmerizing sight awaits you— an enchanting road that gracefully winds its way through the countryside, lined with majestic cypress trees. This iconic view, immortalized in countless postcards and films, captures the essence of Tuscany's timeless beauty.
On our Majestic Tuscany Tour, your personal driver will take you to a chosen vantage point where you can behold the splendor of this resplendent road. Feel the gentle breeze caress your skin as you take in the awe-inspiring panorama.
With your camera in hand, seize the opportunity to capture this breathtaking view, capturing a piece of Tuscany's soul for yourself. Every snap of the shutter will etch this magnificent vista into your personal collection of cherished memories.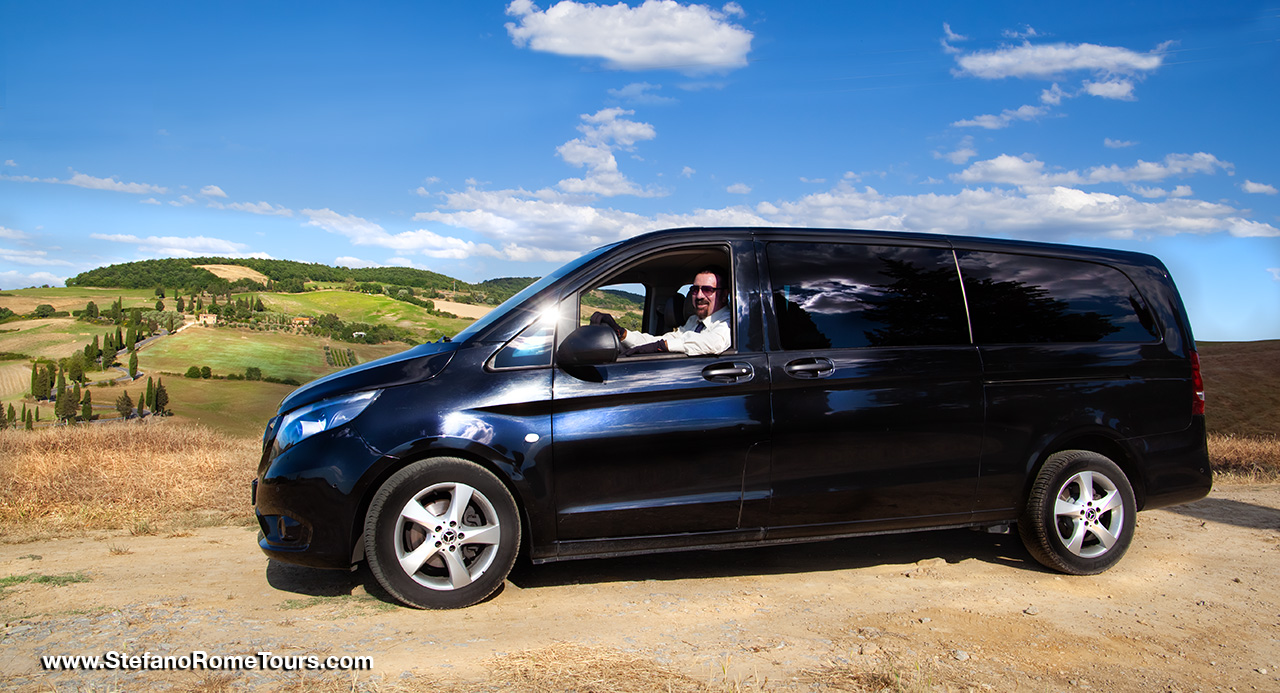 Tuscany Day Trip from Rome: Monticchiello and Beyond
Monticchiello is just one highlight of our comprehensive Tuscany tours from Rome. Along the way, you'll also have the opportunity to visit other captivating destinations in southern Tuscany.

Our Majestic Tuscany Tour takes you on a mesmerizing voyage through the enchanting landscapes of Tuscany's Val d'Orcia, where the very essence of beauty comes alive.
In addition to Monticchiello, prepare to be captivated by other resplendent Medieval villages that grace this idyllic landscape. Step into the ancient thermal village of Bagno Vignoni, where bubbling hot springs intertwine with history. Lose yourself in the labyrinthine streets of San Quirico d'Orcia, where every corner exudes the charm of a bygone era.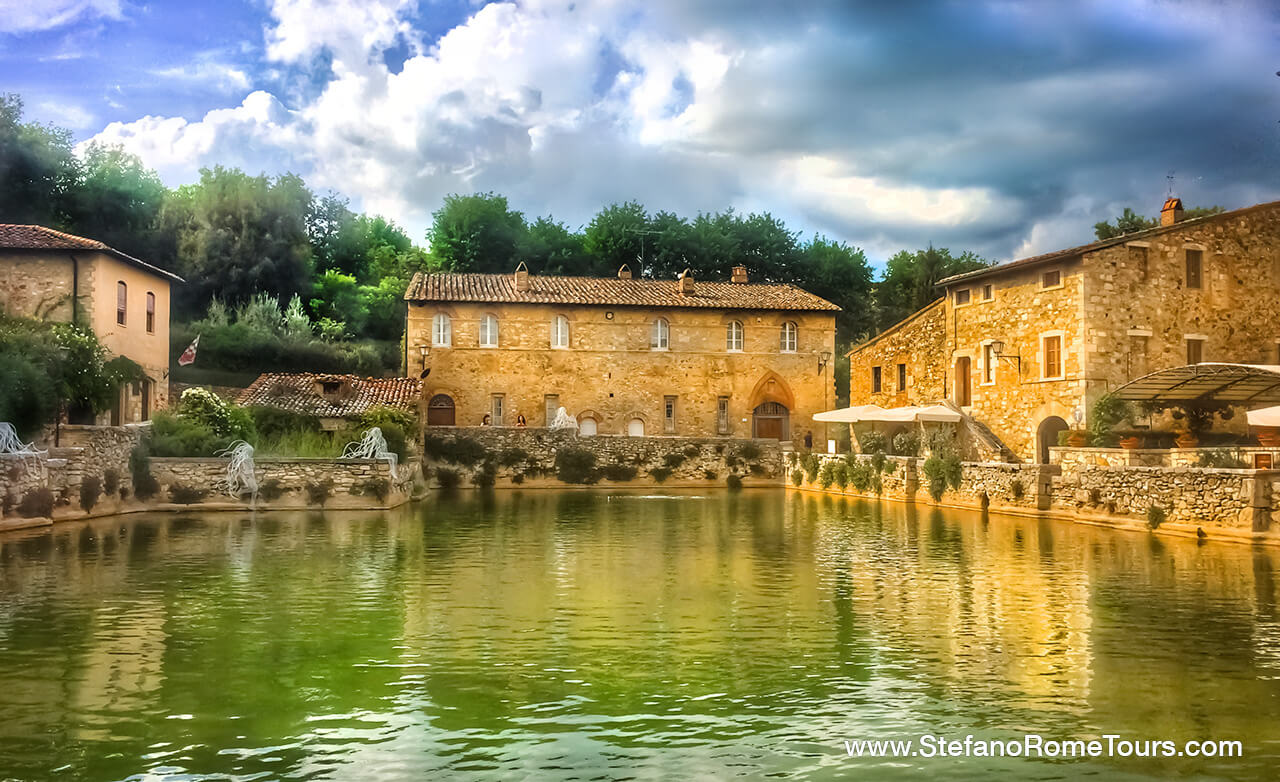 Indulge in the enchanting allure of Pienza, a UNESCO World Heritage Site, as you stroll through its romantic streets. Let the splendor of the Renaissance architecture surround you, transporting you to a bygone era of artistic brilliance. Discover the secret behind Pienza's gastronomic fame as you savor the world-renowned Pecorino di Pienza, a local cheese that consistently garners prestigious awards.
The grand finale of your tour awaits as you arrive at the magnificent Spedaletto, a 14th-century fortified castle that exudes an air of timeless elegance. This enchanting destination offers a captivating glimpse into Tuscany's rich history, providing the perfect conclusion to your journey through this remarkable region.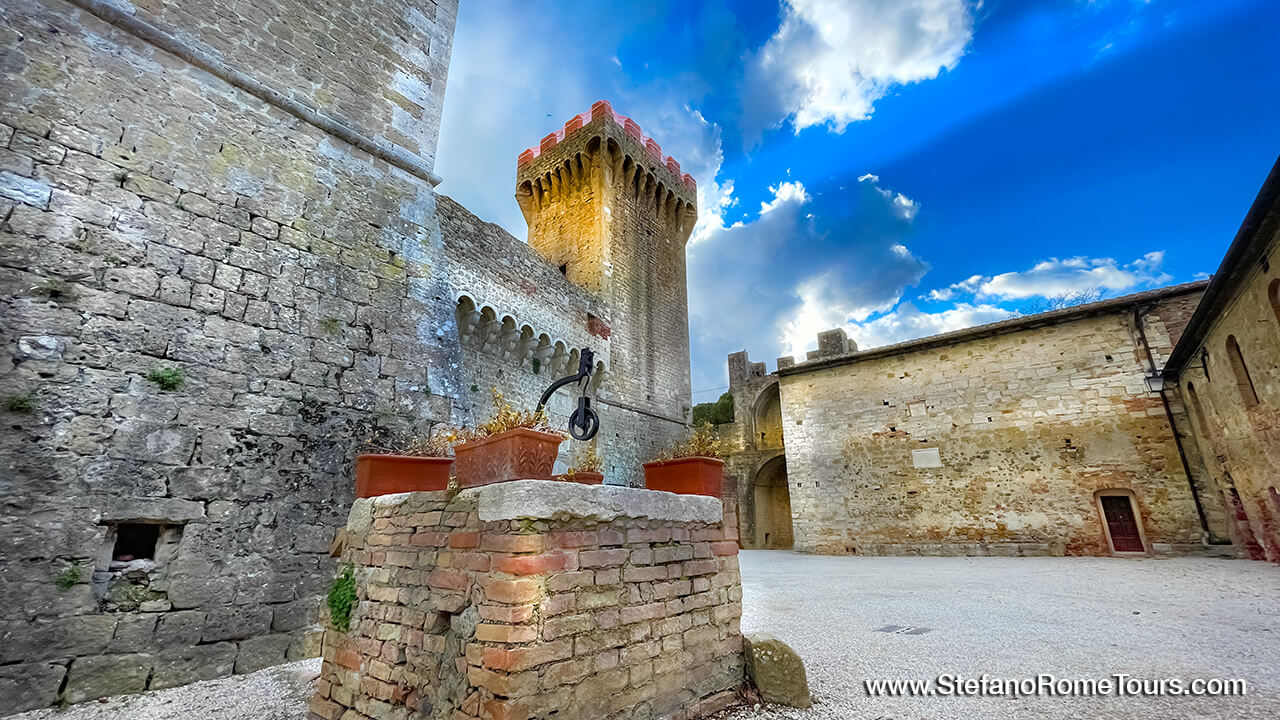 ALSO READ:
With our carefully crafted itineraries and personalized service, Stefano Rome Tours ensures that your Tuscany tours from Rome are nothing short of extraordinary.
Join us on a captivating adventure and let the enchantment of Monticchiello and the surrounding region leave an indelible mark on your travel memories. We look forward to seeing you soon in Italy!