description
Enjoy an unforgettable evening with Stefano Rome Tours on a private 2 hour Rome night tour through Rome and be captivated by the stunning transformation of the Eternal City under the stars.
You will tour around Rome's most famous monuments and squares that are particularly stunning at night. You will have many opportunities to make stops along the way to enjoy the scenery and take photos.
This tour is an ideal complement to our popular Rome in A Day Tour on which is an informative tour with visits into many of the sites that are closed for visits at night.
* ROME BY NIGHT TOUR PRICE LIST

TOUR FROM ROME HOTEL
For up to 2 Persons from Rome Hotel: 180 EUROS
For up to 4 Persons from Rome Hotel: 200 EUROS
For up to 6 Persons from Rome Hotel: 220 EUROS
For up to 8 Persons from Rome Hotel: 240 EUROS

** Dates on the Booking Form Calendar that are NOT Selectable, are NOT AVAILABLE.
As you make your way around Rome's various sites most enjoyed at night, on our Rome by Night Tour will have ample opportunities to stop, enjoy the scenery, and take photographs.
One of the most popular sights of Rome at night is the outside view of the Colosseum. If you have already visited the Colosseum on our Rome in A Day Tour, you will be amazed at how hauntingly beautiful this ancient monument is when seen at night from Colosseum Square. The imposing Arch of Constantine is the Colosseum's constant companion nearby. As you stroll through Colosseum Square, be sure to see the Colosseum from different angles as it's quite magnificent as you walk around it.
Nearby along Via dei Fori Imperiali vestiges of ancient Imperial Forums with Roman Emperor Trajan's imperial forum, marketplace, and column are a sight to behold.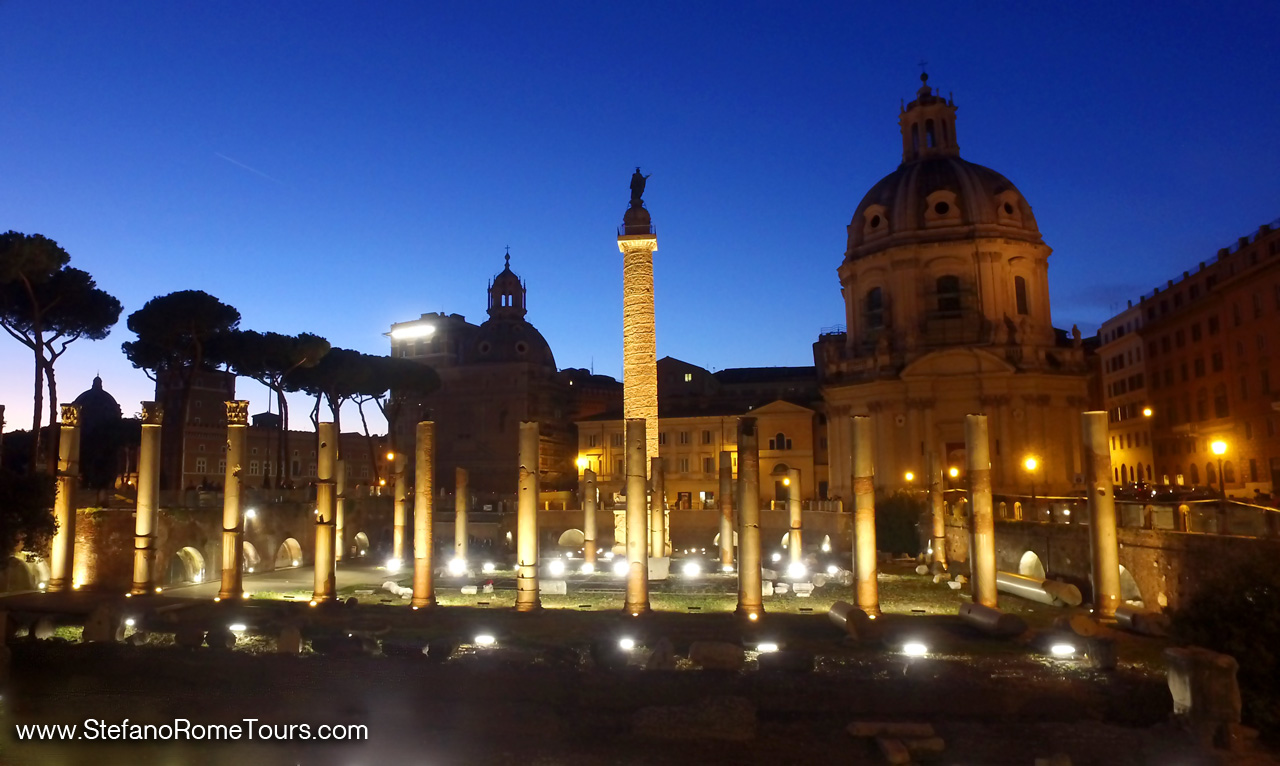 The Pantheon located in the lively Piazza della Rotonda is another monument not to be missed at night for its architectural magnificence as you admire this ancient masterpiece from the square outside. Crowds of locals and visitors gather in the square at night and gaze in admiration at the monument before them.
No Rome at Night tours are complete without a visit to the Trevi Fountain. Trevi Fountain conjures memories of La Dolce Vita with lights shimmering on the the gushing water and reflecting in the pool into which thousands of coins are tossed each day and night.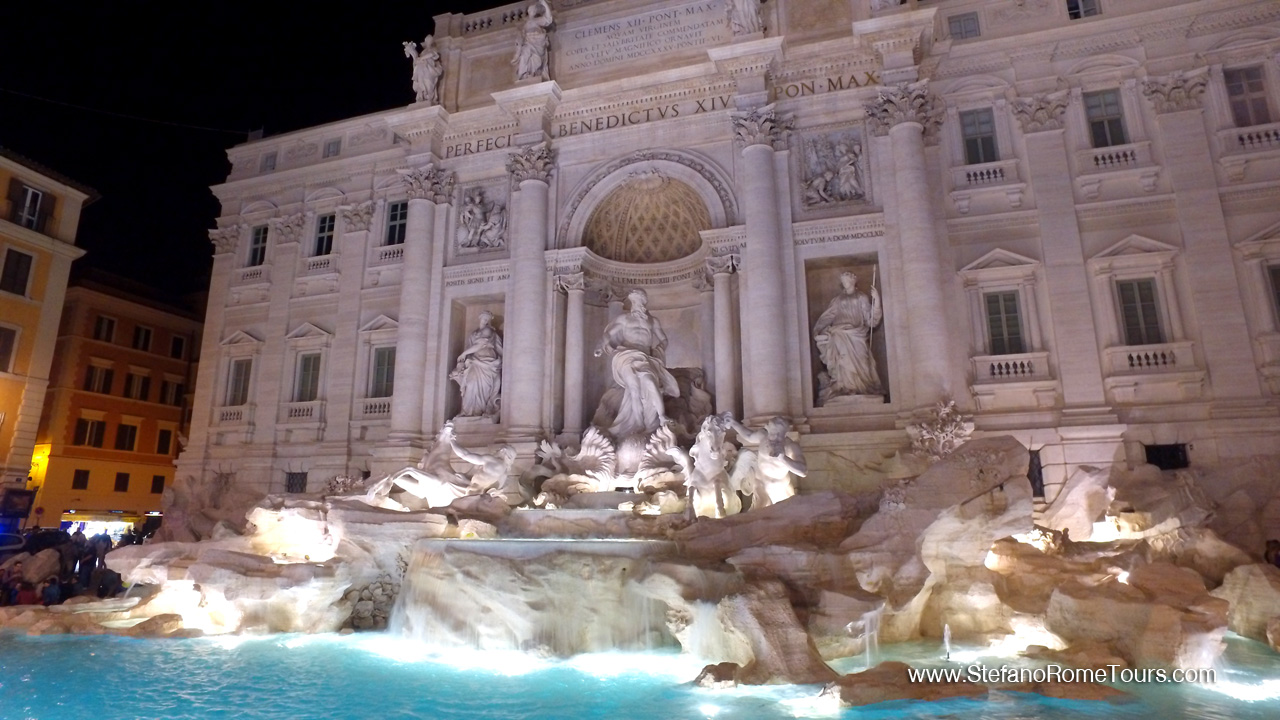 The Spanish Steps' wide sweeping stairway peacefully resting under the stars is a romantic sight and a popular gathering place for locals and visitors alike.
A stop in St Peter's Square is always a favorite with our guests to admire the serenity of St Peter's Basilica and the peaceful square embraced by Bernini's enormous colonnades. The Basilica is also very often photographed at night.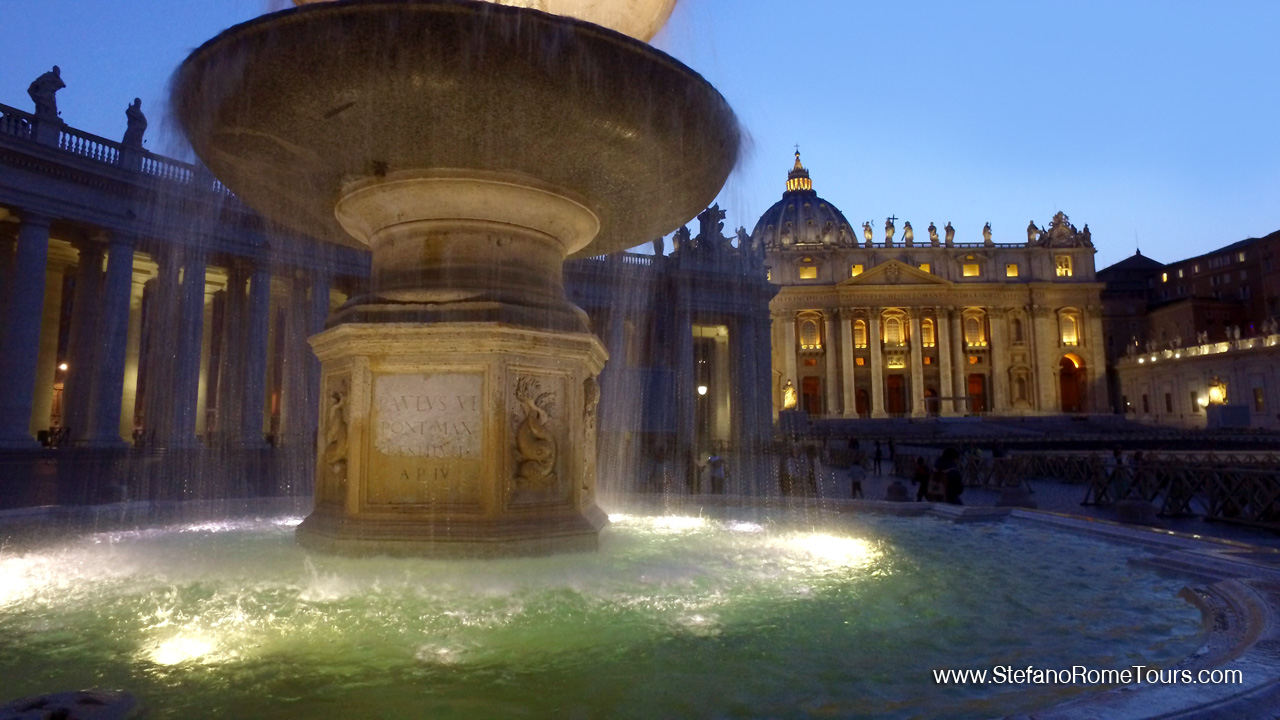 If time permits, another interesting stop is on top of Janiculum Hill for an unforgettable overview of Rome below with its shimmering city lights while covered by the night's blanket of stars.
Enjoy Rome during its most captivating hours, romantically illuminated by soft city lights and blanketed by stars.
As monuments and churches are closed at night, it is NOT possible to visit any of above mentioned monuments and churches on Rome night tours.
All monuments and churches are viewed from the outside.
Thank you for booking our Rome by Night Tour and for choosing Stefano Rome Tours for your tours in Rome and beyond. We look forward to showing you beautiful places in Italy!


Our Guests who booked this Rome by Night Tour, also enjoyed the following Day Tours and benefited from our MULTIPLE TOUR DISCOUNT. Inquire within about our Multiple Tour Special Offers
Important Information

Please READ the important information below as well as Read & Accept our TERMS OF SERVICE and Privacy Policy prior to placing your reservation request(s).

PAYMENT OPTIONS for Rome by Night Tour:
Payment for this Rome by Night Tour can be made in Euro funds at the end of your journey directly to your driver, or you may prepay in advance via PayPal or Credit Card online when you Confirm your Tour.
CANCELLATION POLICY:
We kindly ask that cancellations for Rome in limo tours be made at least 7 days in advance so we can rebook your service and your reserved driver does not lose work for that day. We thank you for your cooperation and consideration.
** PREPAID SERVICES can only be Refunded the Net Rate we receive from your prepayment. Net Rate is the actual service price minus the fees retained by PayPal/Credit Card that are not reimbursed to us in case of refunds. We can only refund the portion we receive from the PayPal/CC company.

EMAIL INQUIRIES / BOOKING REQUESTS
Please allow up to 24 hours for email correspondences in response to email inquiries and tour reservation requests.
We reply to ALL emails and booking requests we receive. If you don't receive correspondence from us within 24-48 hours please CHECK YOUR SPAM FOLDER, or send us an email from a different E-mail account.
ROME AT NIGHT TOURS INFO:
Rome at Night Tours a visually entertaining tour for guests who have already toured Rome during the day, and wish to experience the city at night from a different perspective.
Rome night tours are NOT highly informative in historical, cultural, or architectural information. Monuments and churches are closed at night, therefore this tour does not include entrance into any sites.

YOUR STEFANO ROME TOURS DRIVER
This Rome by Night Tour provides an English speaking driver who is NOT a Licensed Tour Guide.
Drivers are not lawfully permitted to accompany guests to sightsee away from the vehicle. Your driver will be obliged to remain with the vehicle while guests sightsee on foot.
Your Driver will drop you off as close to the sites as legally possible and in accordance to the Municipality and Traffic laws of Rome.

ROME HOTEL / ACCOMMODATION MEETING POINT:
Your driver will meet you inside the lobby of your hotel or area permitted by your hotel.
For Apartments or B&B's without a lobby, your driver will meet you outside the main entrance of your Address.
* If your hotel or accommodation is located on a street or in an area that is restricted to vehicle traffic, your driver will park as close as lawfully aspossible, and meet you on foot at your Address to accompany you to your parked vehicle. Door-to-door service may not be possible on streets, squares, or areas restricted to vehicle traffic or vehicle stopping.