description
MONSTERS AND MYTHS TOUR PRICE LIST
For up to 3 Persons from Rome Hotel: 450 EUROS
For up to 4 Persons from Rome Hotel: 500 EUROS
For up to 6 Persons from Rome Hotel: 550 EUROS
For up to 8 Persons from Rome Hotel: 600 EUROS

* DATES on the Booking Form Calendar that are NOT Selectable, are NOT AVAILABLE.
** Monsters and Myths tour is NOT Offered on MONDAYS are the sites are CLOSED on Mondays.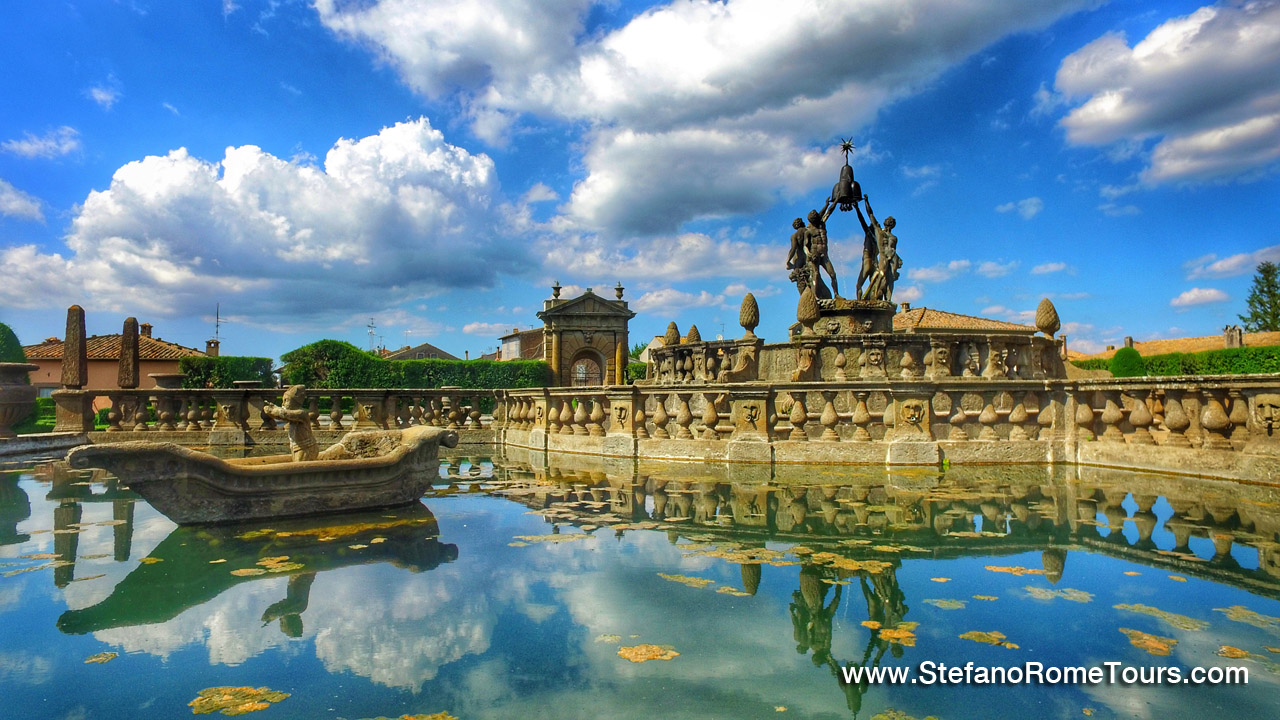 This exclusive Monsters and Mythis Tour by Stefano Rome Tours is designed with the adventurous traveler in mind, searching to discover Italy's well kept secrets off the beaten tourist paths.
You will explore two enchanting yet dramatically diverse Renaissance parks that will excite your imagination with the mysteries and beauty unfolding all around you: The Sacred Wood, also popularly known as the Monsters Park, and the elegant Villa Lante.
For lunch, you will visit the charming medieval hilltop town of Soriano nel Cimino, where the art of traditional Italian cuisine and locally grown specialties provide an unforgettably culinary delight.
THE MONSTER PARK - In the Sacred Forest of Bomarzo


A leisurely 90 minute drive through the beautiful Roman countryside and into the region of Tuscia will bring you to the quaint and ancient town of Bomarzo where you will visit the Monsters Park, or "Parco dei Mostri" in Italian.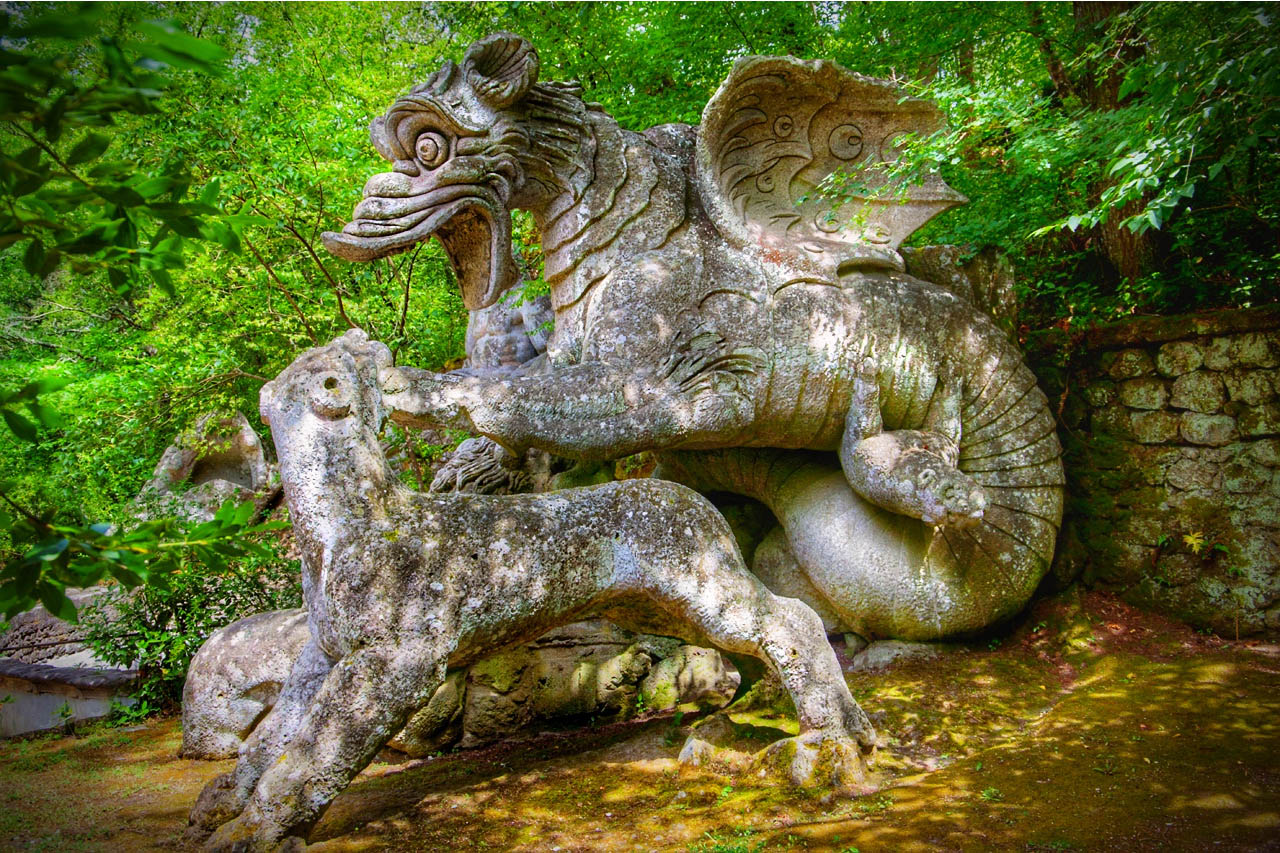 Nested in a dense surreal forest with leafy vegetation with a soft carpet of green moss covering rocks and damp surfaces, giant sculptures of larger-than-life mythological figures and legendary monsters reveal themselves behind each corner.
Be prepared to encounter giants, dragons, ogres, monsters and creatures, emerging from the moss covered ground or hewn out of natural rocks within the park.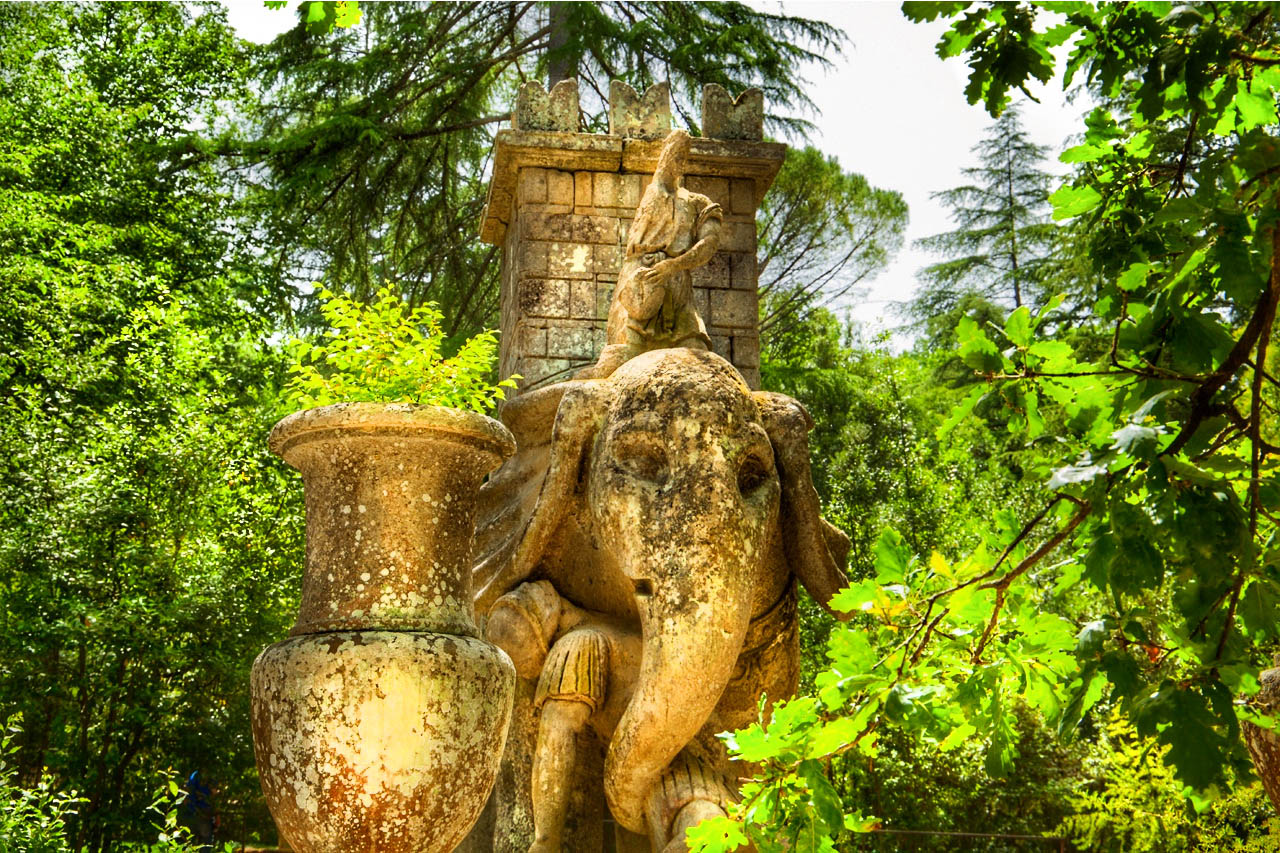 This 16th century mythical garden was commissioned by Pier Francesco Orsini, member of the famous Orsini family and a patron of the arts, and dedicated the garden to the memory to his deceased wife Giulia Farnese. The grieving Duke of Bomarzo created this whimsical garden "only to ease the heart". The Orsini Castle itself still crowns the town of Bomarzo.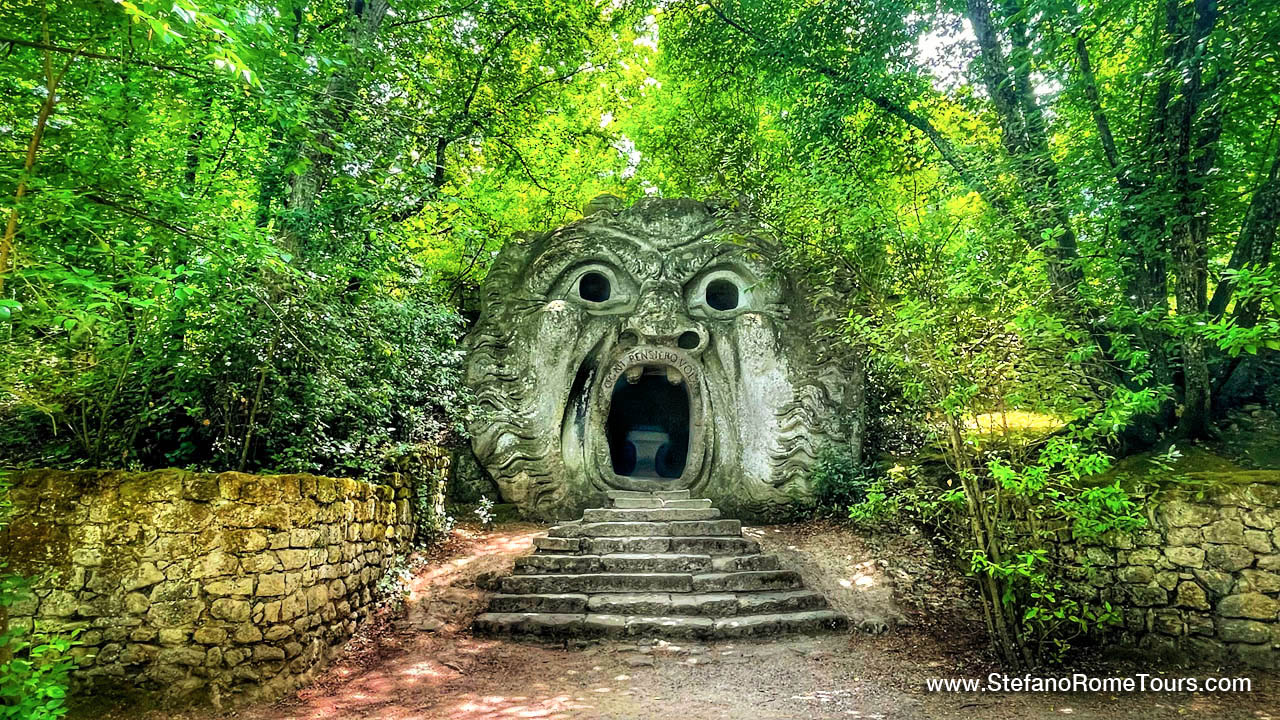 Among the most astonishing sculptures and creatures you will encounter in this magical forest is the sea monster, gigantic Orc whose open mouth you can enter into, colossal Hercules fighting Cacus, the fountain of Pegasus, the giant turtle with the goddess Victory standing on its shell, the giant sleeping nymph, winged dragon and the hounds, Hanibal's towering elephant catching a fallen Roman soldier, tall ninfeo with niches carved into the hill rock, and more mythological deities, creatures, and monsters.
One of the most spectacular buildings in this surreal garden is the leaning house. It looks very inviting, but ironically it was intentionally constructed so guests cannot stay long.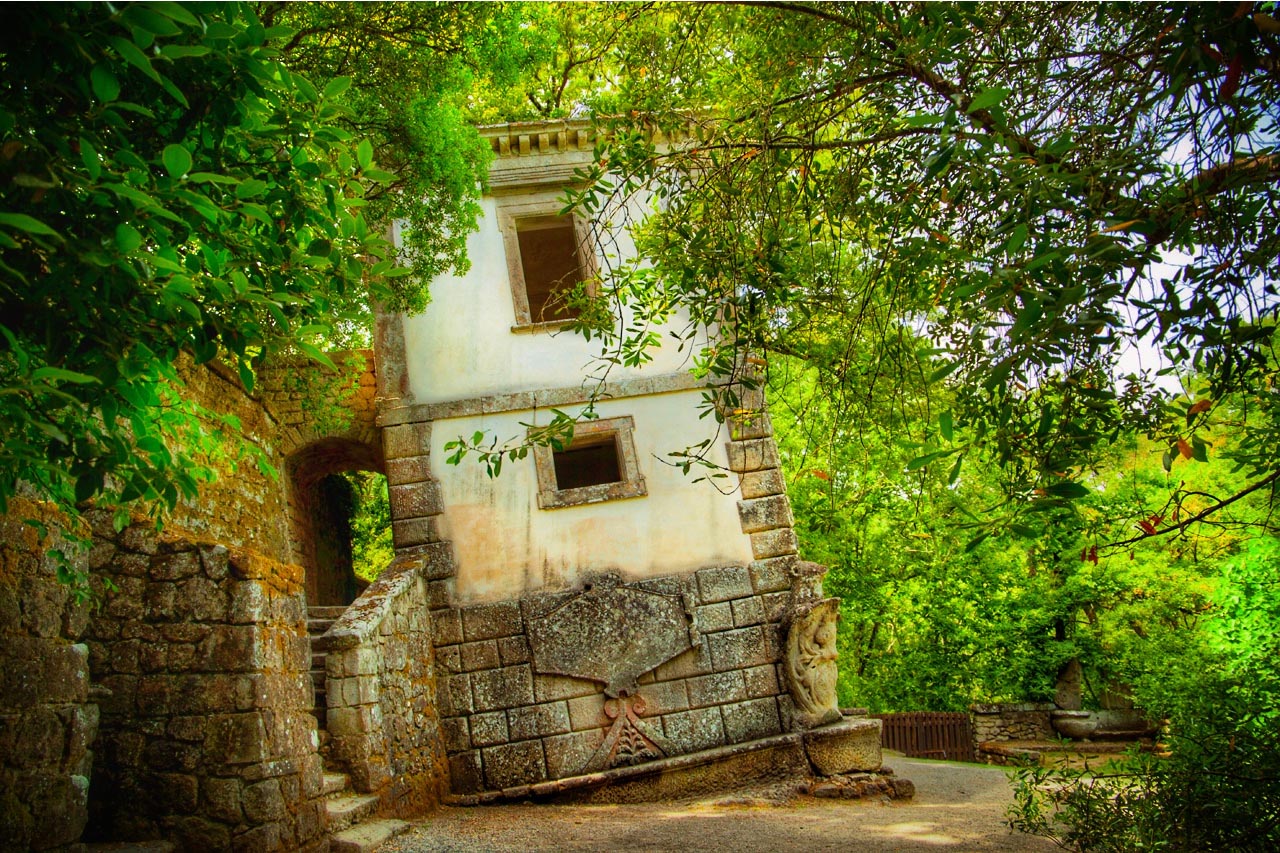 Visitors walking through the leaning house have claimed strange gravitational sensations that make it difficult to spend too much time inside this inexplicably strange building. Something out of the Twilight Zone, it cannot be described, but best to be experienced. This is a very unique and unusual park that adults and children alike will love and enjoy exploring.
SORIANO NEL CIMINO - Medieval hilltop town on the slopes of Monte Cimino

Afterward we leave the Monster Park you will visit the quaint but breathtaking ancient hilltop town of Soriano nel Cimino for a stroll through its quiet medieval streets that don't see many tourists. This quaint sleepy town gives visitors the feel of being an authentic Italian village unspoilt by tourism.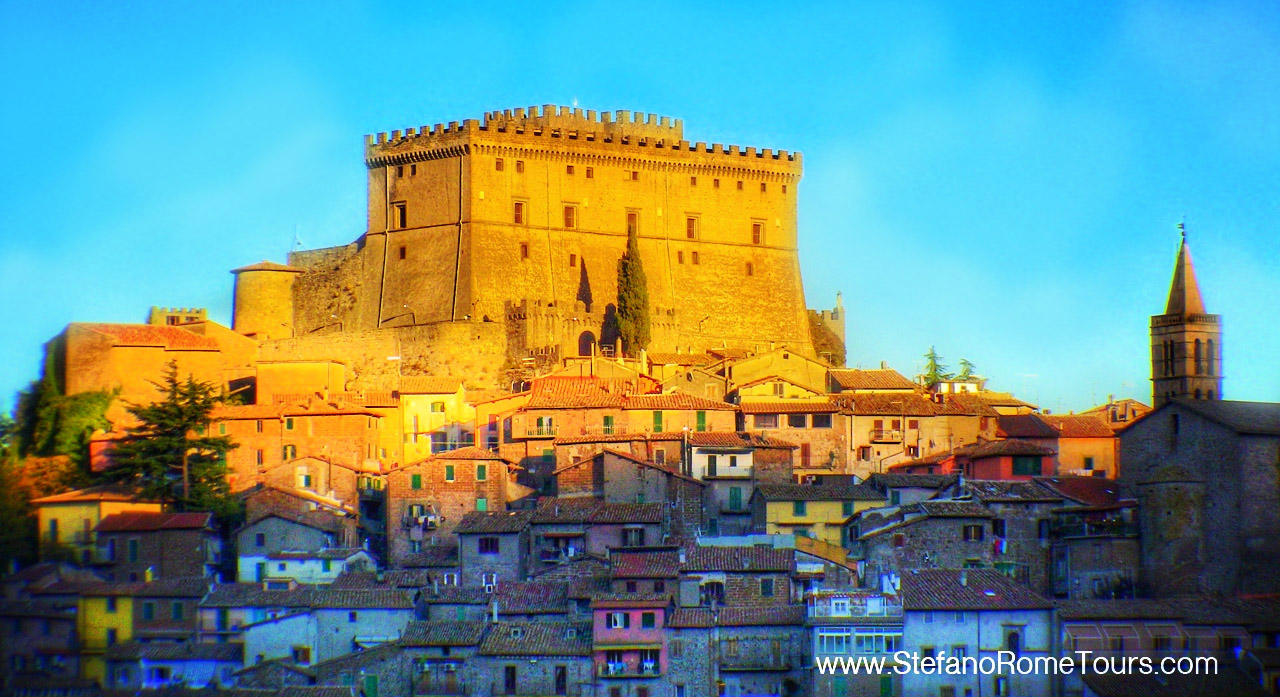 This is also the perfect place to stop for a relaxing traditional Italian lunch where local dishes are prepared using fresh local ingredients specific to the region.
From here a short drive will take you to the elegant 16th century Villa Lante in the town of Bagnaia.
VILLA LANTE - the opulent Renaissance gardens and villas

Unlike the Monster Park that was created by dukes such as Orsini, Villa Lante in the town of Bagnaia was commissioned by two bishops of Viterbo who succeeded one another: one a man of simple taste, and the second the nephew of Pope Sixtus V who became cardinal at the young age of 17.
This quite unusual combination produced one of the most fascinating Italian gardens of the Mannerist period of Italian Renaissance.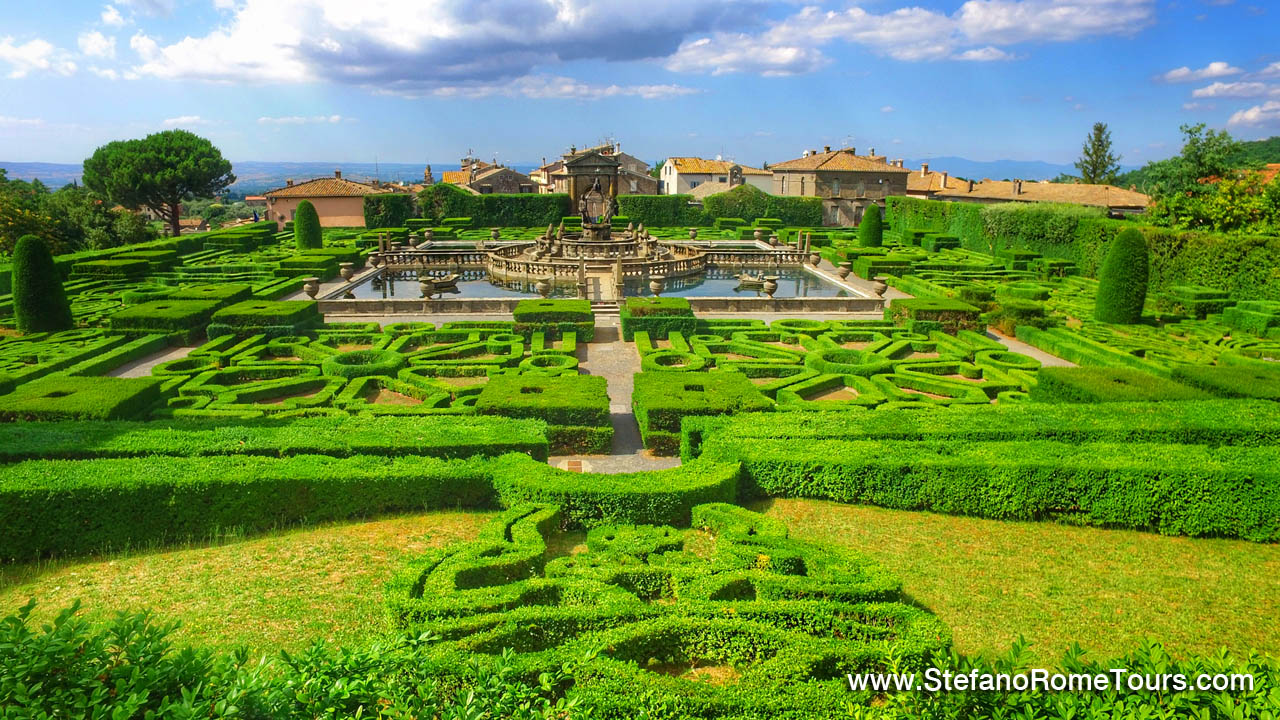 Villa Lante features two nearly identical villas, one on each side of the gardens, with beautifully frescoed interiors built by different owners 3 decades apart.
The architects of the gardens of Villa Lante drew inspirations from some the most spectacular existing gardens: the Belvedere at the Vatican and the harmonious water fountains at Villa d'Este in Tivoli.
Perfectly proportioned and symmetrical with special attention to rich details, the formal garden at the base is a perfect square parterre.
Carefully manicured and geometrically designed evergreen hedge labyrinths, gravel paths to stroll throughout, and the lavishly embellished Fontana dei Quattro Mori (Fountain of the Four Moors) in the center decorated with large urns, stone pineapples and a variety of sculptures, give this area of the garden a most picturesque appearance of peaceful elegance.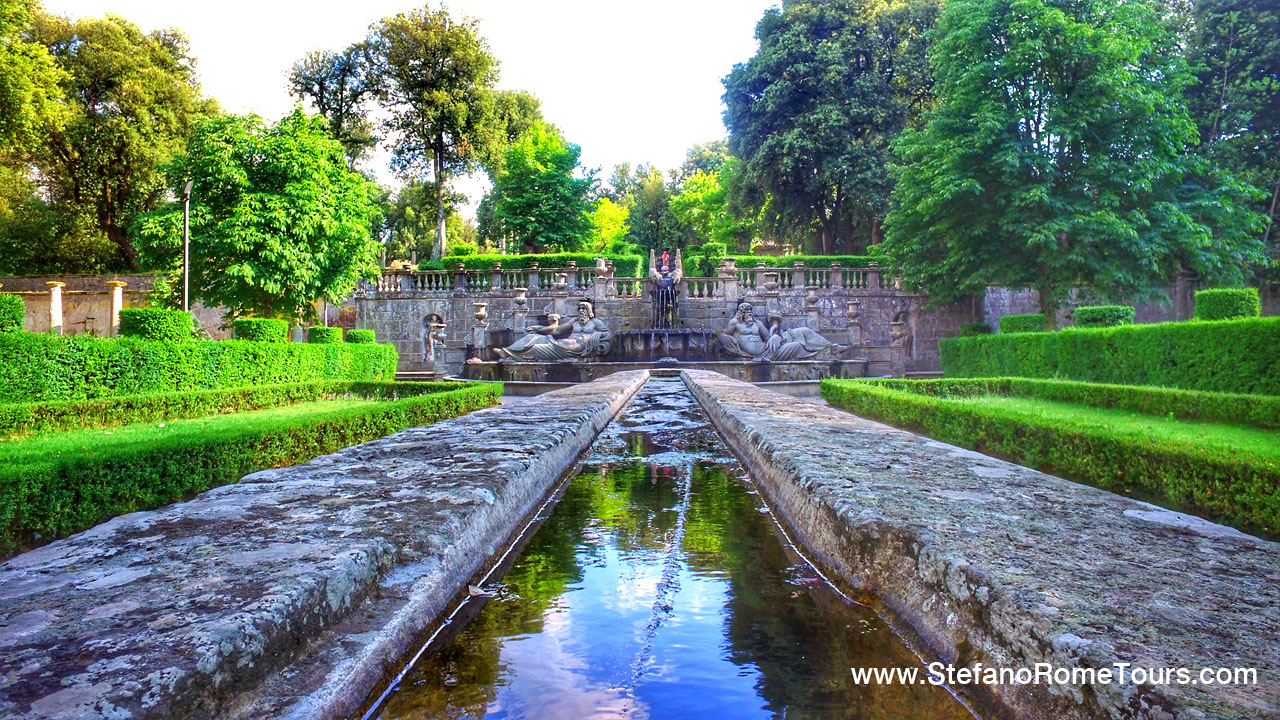 The upper terraces of the garden evoke a different mood with lavish curved stone staircases, flowing cascades and hydraulic waterworks, lively fountains, lava stone sculptures of mythical marine gods, and dripping grottoes.
Flanking the grottoes at the summit of the gardens are two small buildings, the Houses of the Muses, with textured walls that imitate the rough stone of the grottoes.
The impressive Water Chain with water tumultuously flowing downward is considered the earliest and best example of a stepping cascade.
A very long stone table with a water basin carved along its center like a crystalline table runner is said to have been where the cardinals entertained their guests for dinners al fresco, and the water basin kept their wine chilled. Trees and lush vegetation offer cool shade on sunny days and make it ideal for strolls as you enjoy the fine details that surprise you at every turn.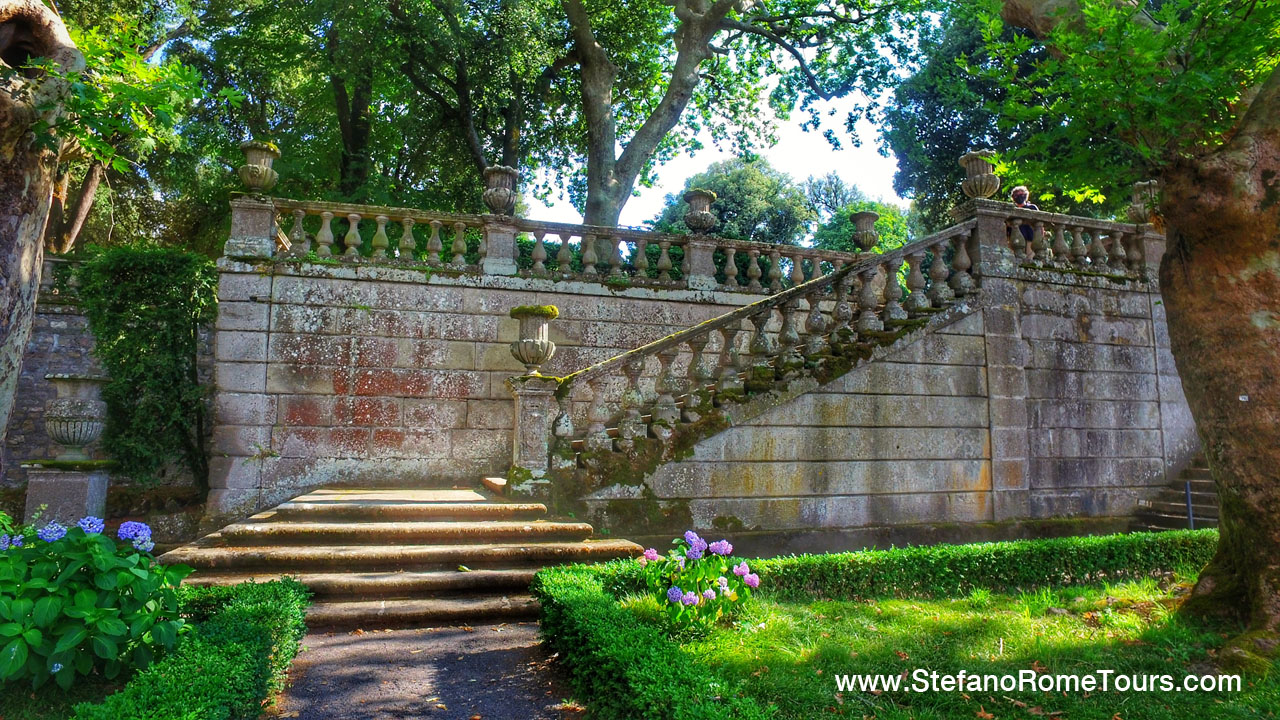 The evocative Villa Lante is the quintessential Renaissance formal garden that has inspired many like it worldwide since it was created nearly 5 centuries ago.
This marks the end of your Monsters and Myths Tour. From here your driver will bring you back to your hotel in Rome.

Thank you for booking our Monsters and Mythis Tour, and for choosing Stefano Rome Tours for your Rome Day Tours and Italy Shore Excursions. We look forward to meeting you in Rome!
Important Information

Please READ the important information below as well as Read & Accept our TERMS OF SERVICE and Privacy Policy prior to placing your reservation request(s).


PAYMENT OPTIONS for Monsters and Myths Tour:
Payment for this Monsters and Myths Tour can be made in Euro funds at the end of your journey directly to your driver, or you may prepay in advance via PayPal or Credit Card online when you Confirm your Tour.
CANCELLATION POLICY:
We kindly ask that cancellations be made at least 7 days in advance so we can rebook your service and your reserved driver does not lose work for that day. We thank you for your cooperation and consideration.

** PREPAID SERVICES can only be Refunded the Net Rate we receive from your prepayment. Net Rate is the actual service price minus the fees retained by PayPal/Credit Card that are not reimbursed to us in case of refunds. We can only refund the portion we receive from the PayPal/CC company.


EMAIL INQUIRIES / BOOKING REQUESTS
Please allow up to 24 hours for email correspondences in response to email inquiries and tour reservation requests.
We reply to ALL emails and booking requests we receive. If you don't receive correspondence from us within 24-48 hours please CHECK YOUR SPAM FOLDER, or send us an email from a different E-mail account.


ADMISSION TICKETS


* BOMARZO MONSTER PARK Tickets are currently 13 Euros per person.
Children ages 4-13 pay 8 Euros per child.
* VILLA LANTE Tickets are currently 8 Euros per person.
Children have reduced ticket prices.
* Ticket prices are at the discretion of the sites and may change unexpectedly; therefore prices cannot be guaranteed to stay the same after you book the tour.

YOUR STEFANO ROME TOURS DRIVER
* This Monsters and Myths Tour provides an English-speaking Driver who is NOT a licensed tour guide.
Italy laws permit only licensed tour guides to accompany guests to sightsee on foot away from the vehicle. To be compliant with Italy laws, your driver cannot lawfully guide you into the sites, and will be obliged to remain with the vehicle while you SELF TOUR away from the vehicle.



MEETING POINT to Meet Your Driver at Rome Hotel / Accommodation:
For hotel pick-ups, your driver will meet you inside your hotel lobby, or area permitted by your hotel.
For Apartments or B&B's without a lobby, your driver will meet you at your address outside the main entrance.
* If your hotel / accommodation is situated on a street or in an area restricted to vehicle traffic, your driver will park the vehicle as close as lawfully possible, and will meet you on foot at your Address. From there, your driver will accompany you to your parked vehicle. Door-to-door service may not be possible on streets or areas restricted to vehicle traffic or stops.