description
ORVIETO & CIVITA DI BAGNOREGIO TOUR PRICE LIST
DAY TOUR FROM ROME HOTEL

For up to 3 Persons from Rome Hotel: 500 EUROS
For up to 6 Persons from Rome Hotel: 550 EUROS
For up to 8 Persons from Rome Hotel: 600 EUROS
SHORE EXCURSION FROM CIVITAVECCHIA PORT


For up to 2 Persons from Civitavecchia Port: 550 EUROS
For up to 4 Persons from Civitavecchia Port: 600 EUROS
For up to 6 Persons from Civitavecchia Port: 650 EUROS
For up to 8 Persons from Civitavecchia Port: 700 EUROS
* DATES on the Booking Form Calendar that are NOT Selectable, are NOT AVAILABLE.

Enjoy a visual journey on our Orvieto and Civita di Bagnoregio Tour VIDEO:


Orvieto and Civita di Bagnoregio tour offers the opportunity to explore two of the best of Umbria and Lazio regions destinations.
Just a short journey north of Rome lies the enchanting little hill town of Orvieto. Close by is the postcard-perfect village of Civita de Bagnoregio.
Together, our Orvieto and Civita di Bagnoregio Day Tour from Rome or Shore Excursion from Civitavecchia is a delightful day trip into the beautiful and relaxing countryside of Lazio and Umbria away from the exciting hustle and bustle of Rome.
ORVIETO - the jewel of Umbria

We will begin by taking a scenic two-hour drive to Orvieto, a town perched high atop a hill. Orvieto is impressively situated above a volcanic plug, which is a volcanic landform created when magma hardens within a vent on an active volcano.
Upon arrival, we will visit the stunning Cathedral in Orvieto, which was built in the fourteenth century.
Pope Urban IV ordered the construction of the cathedral to provide a beautiful, holy place for the Corporal of Bolsena.
The Corporal of Bolsena was a miracle that is said to have occurred in the town of Bolsena in 1263. The Corporal is the small cloth upon which the host and the chalice are placed during the Roman Catholic Eucharist.
It was believed that this particular Corporal had drops of blood on it, thus substantiating the Roman Catholic belief that the bread and wine used in the observation of the Eucharist become the literal body and blood of Christ. The Corporal is still held in a reliquary in the center of the cathedral and brought out for various religious observances.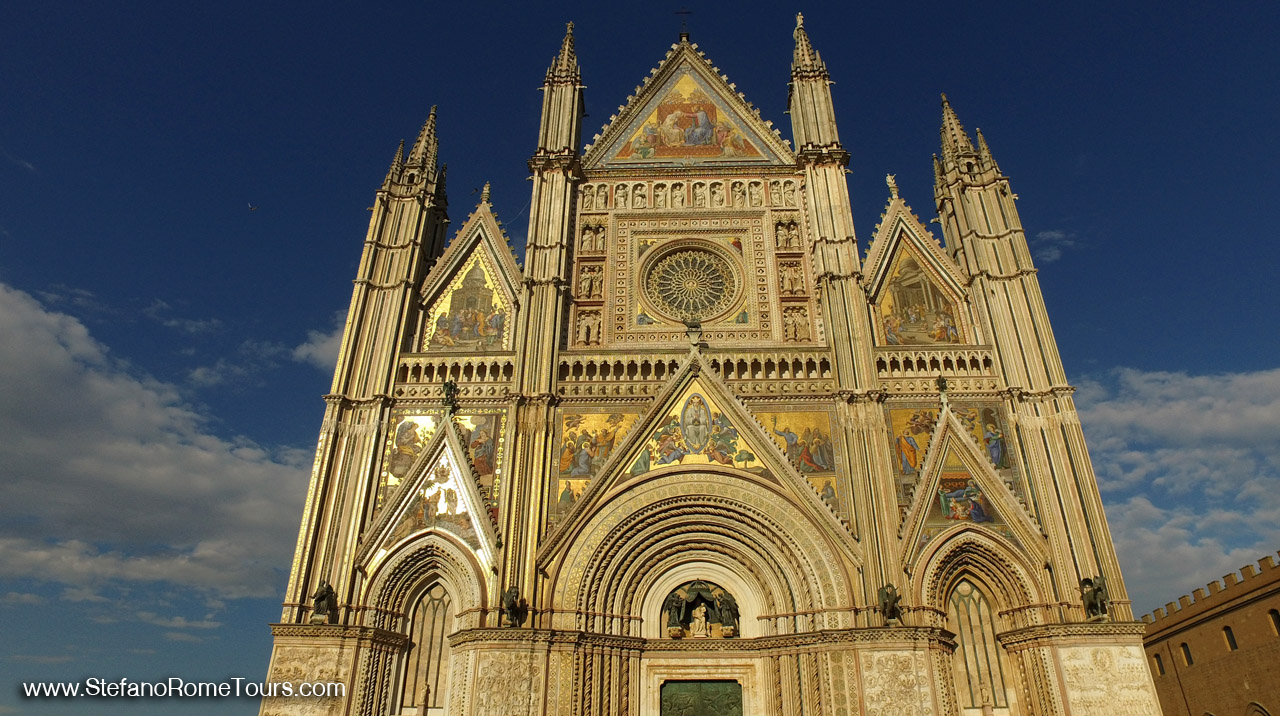 The cathedral's façade contains many of the elements of design that were common to religious construction from the 14th to the 20th century.
The cathedral's construction was begun in 1290 and lasted for almost 300 years. During the course of that time, the design evolved from Romanesque to Gothic.
Many significant works of art can be found in the cathedral, and a visit to the Chapel of the Madonna di San Brizio is a must-see. It contains frescoes begun by Fra Angelico and finished by Signorelli.
The frescoes represent many events in Christianity including the Apocalypse and the Last Judgment. They begin with the Preaching of the Antichrist and continue to Doomsday and the Resurrection of the Flesh.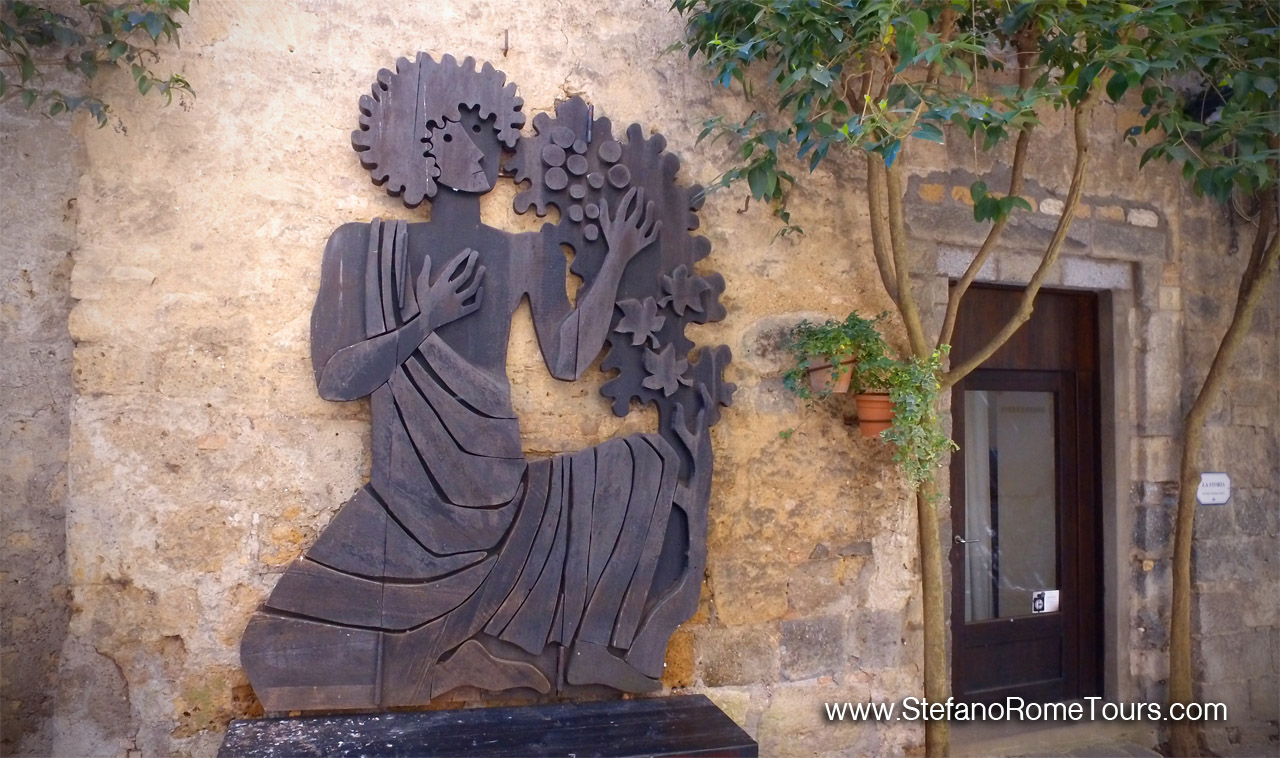 Orvieto has several excellent restaurants where you will enjoy your lunch, and then you may want to take the opportunity to visit some of the several ceramic shops or sample the local wine only available in Orvieto.
The excellent wines are mainly white wines made from a blend of mostly Grechetto and Trebbiano. The region has been producing wine since the middle ages, and today's white Orvieto is dry, but a semi-sweet style, known as Orvieto Abboccato, and dolce (sweet), are also produced in small quantities.
CIVITA DI BAGNOREGIO - the most unique Medieval hamlet in Italy!

Civita di Bagnoregio is a small ancient village that clings to the precipice of the steep hill it sits on, a small island in an eerie sea of uninhabitable landscape that makes up the surrounding valleys.
For this reason, views of Civita di Bagnoregio from across the valley are incredibly picturesque. This is also one of the most popular villages featured in postcards from Italy.
Civita di Bagnoregio is a traffic-free community and can be reached only by a footbridge suspended in the air. Perhaps for this reason, and its complete isolation from the real world, only about 20 people live here year-round.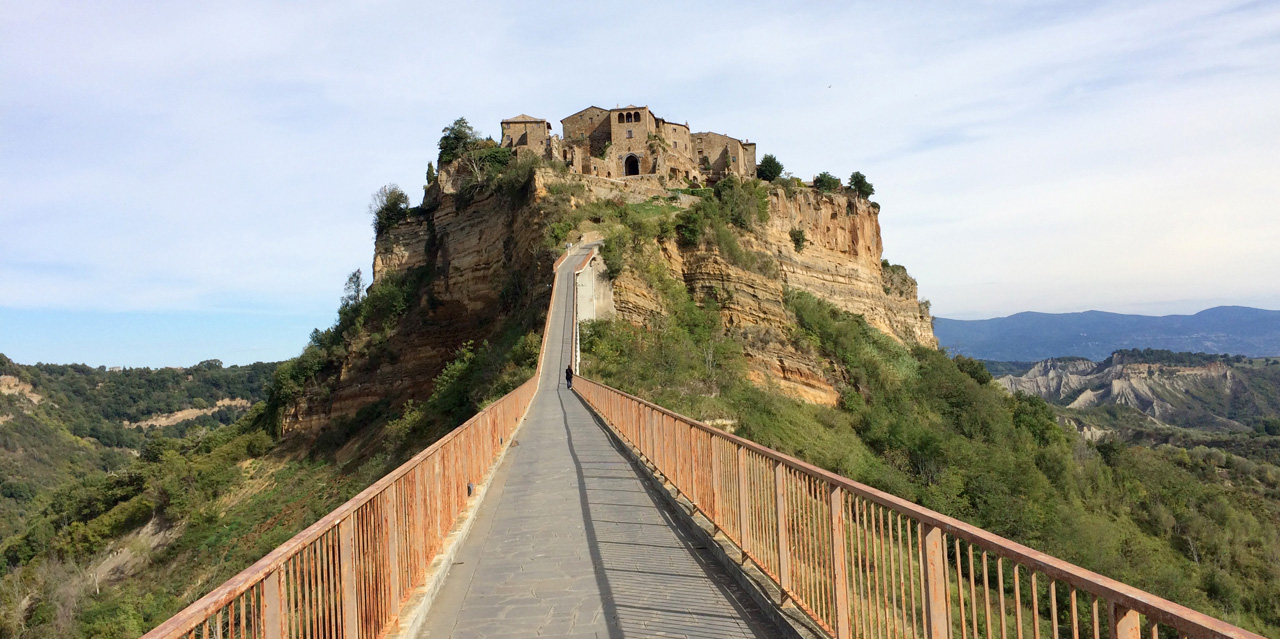 Originally, Civita di Bagnoregio was connected to the bigger town of Bagnoregio, (hence the name, Civita of Bagnoregio) but eventually, the saddle that connected the two towns eroded and now the footbridge connects Civita and Bagnoregio.
Civita di Bagnoregio was founded by the Etruscans on a hill of 'tuff'. Tuff (from the Italian "tufo") is a type of rock consisting of consolidated volcanic ash ejected from vents during a volcanic eruption.
There are several delightful shops and some of the architecture spans several thousand years.
The residents are devoted stewards of this village, meticulously caring for it and its appearance. Although it appears this town has miraculously survived the passage of time clinging to life with sheer determination, it's actually a dying city, destined to one day perish.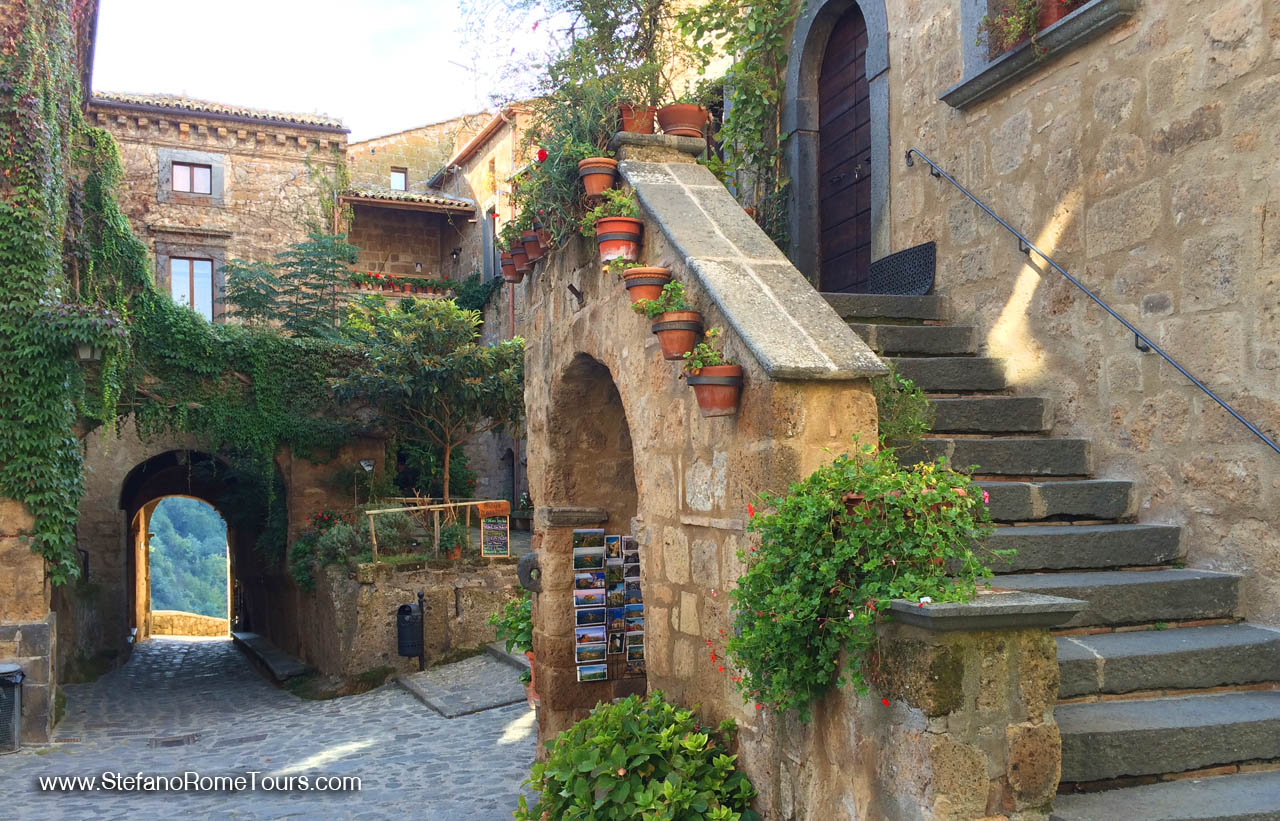 The town was placed on the World Monuments Fund's 2006 Watch List of the 100 Most Endangered Sites, due to the threats it faces from erosion and unregulated tourism.
While Civita di Bagnoregio is beautiful and popular, visiting this village can be strenuous for visitors with mobility concerns who cannot walk long distances uphill and downhill. Visitors will have to walk extensively from the designated parking area downhill to the footbridge, then proceed across a tall footbridge at an incline to reach the village. The same will be required to return back to the vehicle. The overall walking can take about 20 minutes each way, downhill and uphill. Please evaluate your personal physical level and stamina before booking this tour as it can be strenuous for some travelers with mobility concerns.
From here your driver will bring you back to your hotel in Rome (or your cruise ship in Civitavecchia if you select this tour as a Shore Excursion from Civitavecchia).

Thank you for booking our Orvieto and Civita di Bagnoregio Tour, and for choosing Stefano Rome Tours for your tours in Rome and beyond. We hope to see you in Italy very soon!
Guests who booked this Orvieto and Civita di Bagnoregio Tour, also enjoyed the following Day tours from Rome:
MONSTERS AND MYTHS - explore the mystical sacred forest of Bomarzo and resplendent Villa Lante
MONTEPULCIANO AND PIENZA - day tour from Rome into the heart of Tuscany
ASSISI TOUR - Follow in the footsteps of Saint Francis and Saint Claire in the majestic Umbrian town


Important Information

Please READ the important information below as well as Read & Accept our TERMS OF SERVICE and Privacy Policy prior to placing your reservation request(s).

PAYMENT OPTIONS for Orvieto and Civita di Bagnoregio Tour:
Payment for this Orvieto and Civita di Bagnoregio Tour can be made in Euro funds at the end of your journey directly to your driver, or you may prepay in advance via PayPal or Credit Card online when you Confirm your Tour.
CANCELLATION POLICY:
We kindly ask that cancellations be made at least 7 days in advance so we can rebook your service and your reserved driver does not lose work for that day. We thank you for your cooperation and consideration.

** PREPAID SERVICES can only be Refunded the Net Rate we receive from your prepayment. Net Rate is the actual service price minus the fees retained by PayPal/Credit Card that are not reimbursed to us in case of refunds. We can only refund the portion we receive from the PayPal/CC company.
EMAIL INQUIRIES / BOOKING REQUESTS
Please allow up to 24 hours for email correspondences in response to email inquiries and tour reservation requests.
We reply to ALL emails and booking requests we receive. If you don't receive correspondence from us within 24-48 hours please CHECK YOUR SPAM FOLDER, or send us an email from a different E-mail account.
VISITING CIVITA DI BAGNOREGIO:


A fee of approximately 5 Euros Per Person was set up to cross the footbridge into Civita di Bagnoregio. The fee helps offset the costs of preserving this ancient town. ** Bridge crossing fees can change without notice and cannot be guaranteed to remain the same.


Visiting Civita di Bagnoregio may be STRENUOUS for visitors with mobility concerns.


Visiting Civita di Bagnoregio requires extensive walking from the permitted parking area that's about a 10-minute down hill walking distance from the footbridge (as mandated by the city of Bagnoregio), then additional several minutes of walking across the elevated footbridge to access Civita di Bagnoregio. Allow approximately 20 minutes of walking to reach Civita di Bagnoregio from the parked vehicle, and then the same distance back.
You will also be walking at an incline and decline. This tour may not be suitable for travelers with mobility concerns. The footbridge may also be slippery when wet from rain. Please evaluate your personal level of stamina and ability before booking this tour to determine if this activity is suitable for you. Visiting Civita di Bagnoregio is not suitable for wheelchair users.
If you choose to book this tour as a Shore Excursion from Civitavecchia, this extensive walking will reduce your overall sightseeing opportunities due to the strict cruise ship schedules.


MEETING POINTS TO MEET YOUR DRIVER
For day tours from Rome hotel / accommodation:
Day Tours from Rome hotel, your driver will meet you inside your hotel lobby, or area permitted by your hotel.
For Apartments or B&B's without a lobby, your driver will meet you at your address outside the main entrance.
* If your hotel / accommodation is situated on a street or in an area restricted to vehicle traffic, your driver will park the vehicle as close as lawfully possible and will meet you on foot at your Address. From there, your driver will accompany you to your parked vehicle. Door to Door service may not be possible on streets or in areas that are restricted to traffic or stops.


For Civitavecchia Shore Excursions
For Shore Excursions from Civitavecchia, your driver will meet you on the Pier next to your Cruise Ship at your Tour pick up time holding a sign with the NAME in your reservation.
Please do NOT leave the ship area, and do NOT take a shuttle bus outside the Cruise port.
Look for the driver in the same area as ALL the private drivers will be waiting for their clients to be disembarked.
YOUR STEFANO ROME TOURS DRIVER
* This Orvieto and Civita di Bagnoregio Tour tour provides an English speaking Driver who is NOT a licensed tour guide.
Italy laws permit only licensed tour guides to accompany guests to sightsee on foot away from the vehicle. To be compliant with Italy laws, your driver cannot lawfully guide you into the sites, and will be obliged to remain with the vehicle while you SELF TOUR away from the vehicle.
TIPS FOR ORVIETO AND CIVITA DI BAGNOREGIO TOUR:


Please wear comfortable shoes and clothing on this and any day tours.
Be sure to bring your cameras for plenty of photo and video opportunities.
Civita di Bagnoregio may not be suitable for visitors with mobility issues, difficulty walking long distances or walking uphill, or using a wheelchair (due to the incline of the footbridge that presents various challenges).
Civita di Bagnoregio is not recommended to visit on rainy days as the footbridge may be slippery walking on the incline.
If you wish to book Orvieto and Civita di Bagnoregio Shore Excursion from Civitavecchia Cruise Port, the longer driving time would reduce your overall sightseeing time in each town.