description
ASSISI TOUR PRICE LIST

For up to 3 Persons from Rome Hotel: 450 EUROS
For up to 4 Persons from Rome Hotel: 500 EUROS
For up to 6 Persons from Rome Hotel: 550 EUROS
For up to 8 Persons from Rome Hotel: 600 EUROS

* DATES on the Booking Form Calendar that are NOT Selectable, are NOT AVAILABLE.

Enjoy a visual journey of Assisi on our Tour Video:




St. Francis of Assisi is perhaps the most well loved saint in the country of Italy and perhaps in the world. His birthplace, Assisi, is one of the most beautiful cities to visit on your trip to Italy.
Stefano Rome Tours offers a unique journey in the footsteps of Saint Francis and Saint Claire, taking you to the most significant basilicas, sacred monastery and lively squares in Assisi for a joyful experience in the beautiful region of Umbria.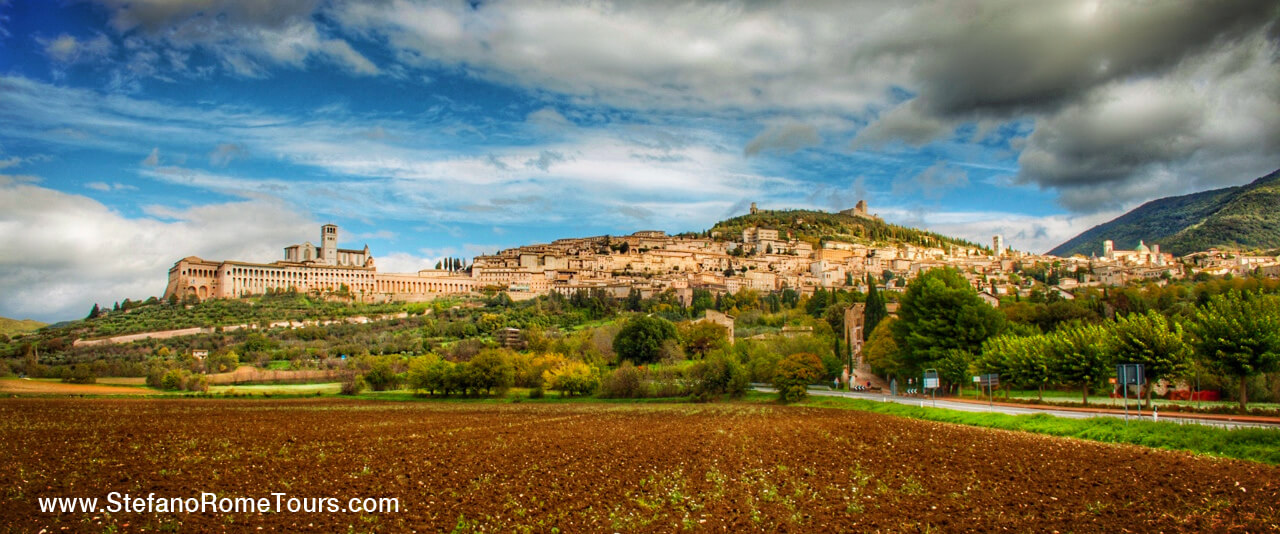 Because Stefano Rome Tours has a special license, we can drive directly into the historical center of Assisi, saving you valuable time and long walks to see this enchanting town and access its remarkable basilicas.
On your relaxing journey from Rome towards Assisi, you will enjoy the beautiful Italian countryside scenery along the way as you leave the rustic countryside of Lazio and enter the lush region of Umbria.
SANTA MARIA DEGLI ANGELI

Your Assisi tour from Rome will take you will first visit Basilica Santa Maria degli Angeli (located in the town by the same name, Santa Maria degli Angeli), which is respected as the place of St. Francis' death.
Inside the grand Baroque basilica are two small structures: the Capella del Transito and the Porziuncola.
The Cappella del Transito is the small room in which St. Francis died on October 3, 1226. Above the small altar in a glass case is the rope belt of Saint Francis.
ASSISI

Our tour will continue to Assisi with a stop to visit the Basilica of St. Francis, which consists of an upper level and a lower level, known as the Upper Basilica and the Lower Basilica. It is also in this Basilica that St. Francis is interred.
The churches are decorated with many beautiful frescoes by late medieval painters including Cimabue, Giotto di Bondone, Simone Martini and Pietro Lorenzetti. The basilica was begun immediately after St. Francis' canonization in 1228.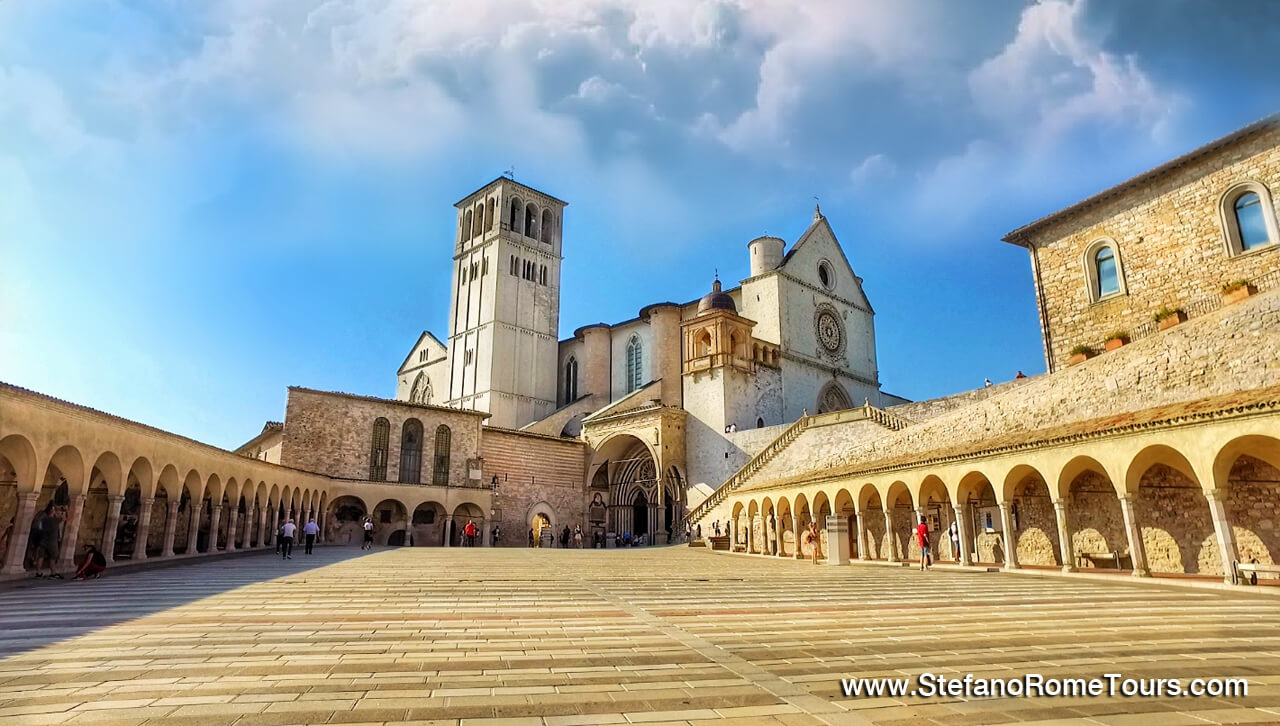 From here, you will make our way to the lively Piazza del Comune, the town's main square, built on the site of the Roman forum.
After lunch, you can visit the church of Santa Maria Sopra Minerva (St Mary Above Minerva), also located in the main square.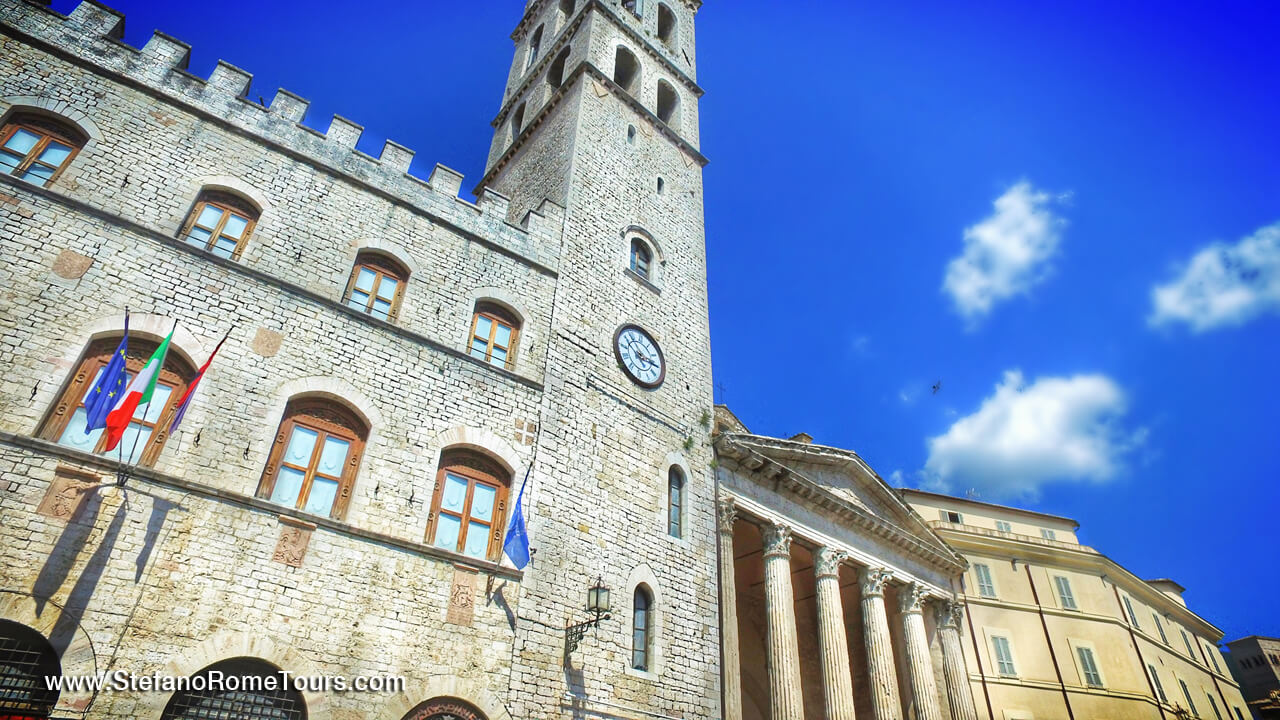 It was built in the 1st Century BC, and when a female statue was discovered there, it was thought to be a temple of the pagan goddess Minerva.
However, a later discovery of a votive plaque to Hercules makes it more likely that the temple is dedicated to him. In 1539 the inner sanctum of the temple was transformed into the church of Santa Maria Sopra Minerva, with further alterations added in the Baroque style during the 17th century.
We then visit the Basilica of St. Clare (Santa Chiara) where her preserved body is on display in a crypt, with a layer of wax covering her face.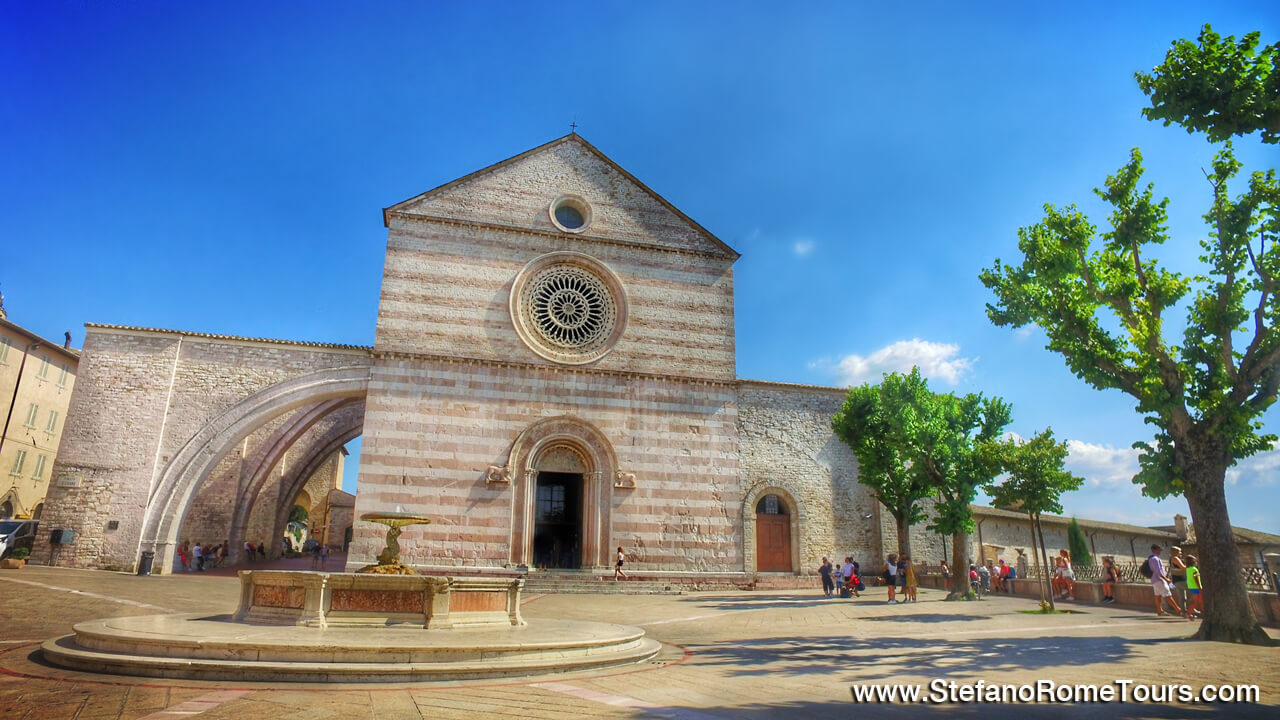 Nearby are garments worn by both Saint Francis and Saint Clare, and some locks of Saint Clare's hair that Saint Francis cut off when she joined his ministry. This basilica is Gothic in style and was built between 1257 and 1260.
Just outside of Assisi, we will visit the San Damiano convent and church.
This simple yet sacred place is where Saint Francis received his calling in 1205 and where Saint Clare died in 1253.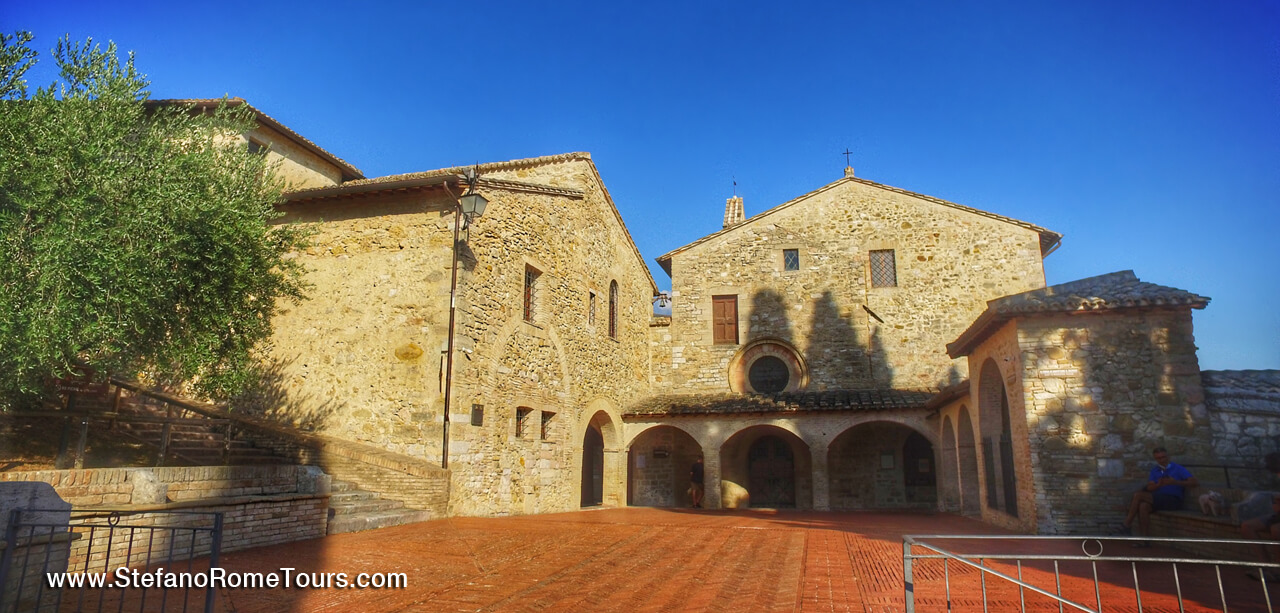 After hearing a voice telling him to "Rebuild My church", Saint Francis reconstructed the little church with his own hands, having literally followed the message that he was given.
Saint Clare founded the order of 'Poor Clares' here in 1212 and lived there most of her life. The wooden choir stalls in the church date from the early 16th century, but those in the little Choir of the Poor Clares are original from the time of Saint Clare (13th century).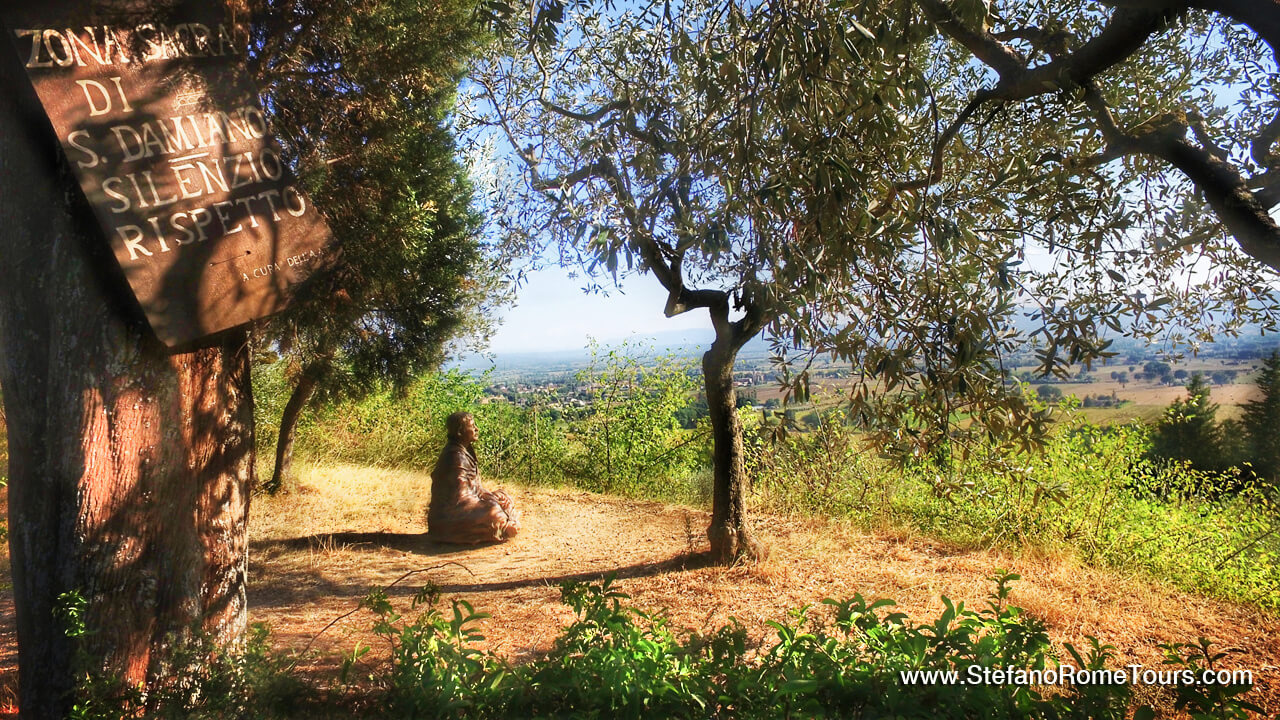 This marks the end of your Assisi tour. From here you will enjoy the pleasant drive back to your hotel in Rome.
We thank you for booking our Assisi tour from Rome, and for choosing Stefano Rome Tours for your tours and shore excursions. We look forward to seeing you soon in Italy!
Important Information

Please READ the important information below as well as Read & Accept our TERMS OF SERVICE and Privacy Policy prior to placing your reservation request(s).


PAYMENT OPTIONS for Assisi Tour:
Payment for our Assisi Tour from Rome can be made in Euro funds at the end of your journey directly to your driver, or you may prepay in advance via PayPal or Credit Card online when you Confirm your Tour.


CANCELLATION POLICY:
We kindly ask that cancellations be made at least 7 days in advance so we can rebook your service and your reserved driver does not lose work for that day. We thank you for your cooperation and consideration.
** PREPAID SERVICES can only be Refunded the Net Rate we receive from your prepayment. Net Rate is the actual service price minus the fees retained by PayPal/Credit Card that are not reimbursed to us in case of refunds. We can only refund the portion we receive from the PayPal/CC company.
EMAIL INQUIRIES / BOOKING REQUESTS
Please allow up to 24 hours for email correspondences in response to email inquiries and tour reservation requests.
We reply to ALL emails and booking requests we receive. If you don't receive correspondence from us within 24-48 hours please CHECK YOUR SPAM FOLDER, or send us an email from a different E-mail account.
MEETING POINT TO MEET YOUR DRIVER at your Rome Hotel / Accommodation:


For hotel pick up, your driver will meet you inside your hotel lobby, or area permitted by your hotel.
For Apartments or B&B's without a lobby, your driver will meet you at your address outside the main entrance.
* If your hotel / accommodation is situated on a street or in an area restricted to vehicle traffic, your driver will park the vehicle as close as lawfully possible, and will meet you on foot at your Address. From there, your driver will accompany you to your parked vehicle. Door to Door service may not be possible on streets or in areas restricted to traffic and stops.


YOUR STEFANO ROME TOURS DRIVER
* This Assisi Tour from Rome tour provides an English speaking Driver who is NOT a licensed tour guide.
Italy laws permit only licensed tour guides to accompany guests to sightsee on foot away from the vehicle. To be compliant with Italy laws, your driver cannot lawfully guide you into the sites, and will be obliged to remain with the vehicle while you SELF TOUR away from the vehicle.
PRIVATE GUIDED TOUR OF ASSISI
Licensed Tour Guide can be booked upon request for an informative private walking tour in Assisi at ADDITIONAL Tour Guide Fee. Tour Guides are paid separately at the end of their tour as they don't work for us. Please inquire within via E-Mail about private guided tours and fees.