description
Please CONTACT US via Email for availability and booking information
CHIANTI WINE AND FASHION OUTLET TOUR PRICE LIST


For up to 4 Persons from Florence Hotel: 700 EUROS
For up to 6 Persons from Florence Hotel: 750 EUROS
For up to 8 Persons from Florence Hotel: 800 EUROS


* DATES on the Booking Form Calendar that are NOT Selectable, are NOT AVAILABLE.

For those who enjoy two of Italy's favorite past times: wine tasting and shopping at designer outlet malls, this Chianti Wine and Fashion Outlet Tour is created just for you!
You will have the opportunity to shop to your heart's desire at Tuscany's most prestigious designer outlet center, "The Mall" where you find top designer labels at bargain prices, followed by a drive through the majestic Chianti countryside for a wine tasting and lunch experience at Vignamaggio Winery and Villa, an enchanting Renaissance Villa and winery with a fascinating legends of Mona Lisa and Leonardo da Vinci.
THE MALL - SHOP THE DESIGNER OUTLET MALL


Your tour will begin with a leisurely drive through the enchanting Tuscan countryside to the exclusive designer outlet shopping center "The Mall" for the ultimate designer shopping experience.
At this unique mall you will find everything from Women's, Men's and Children's top designer labels to high end shoes and accessories available at bargain prices - including Alexander McQueen, Giorgio Armani, Burberry, Dior, Fendi, Gucci, Salvatore Ferragamo, Stella McCartney, Tod's, Valentino, Yves Saint Laurent, and more.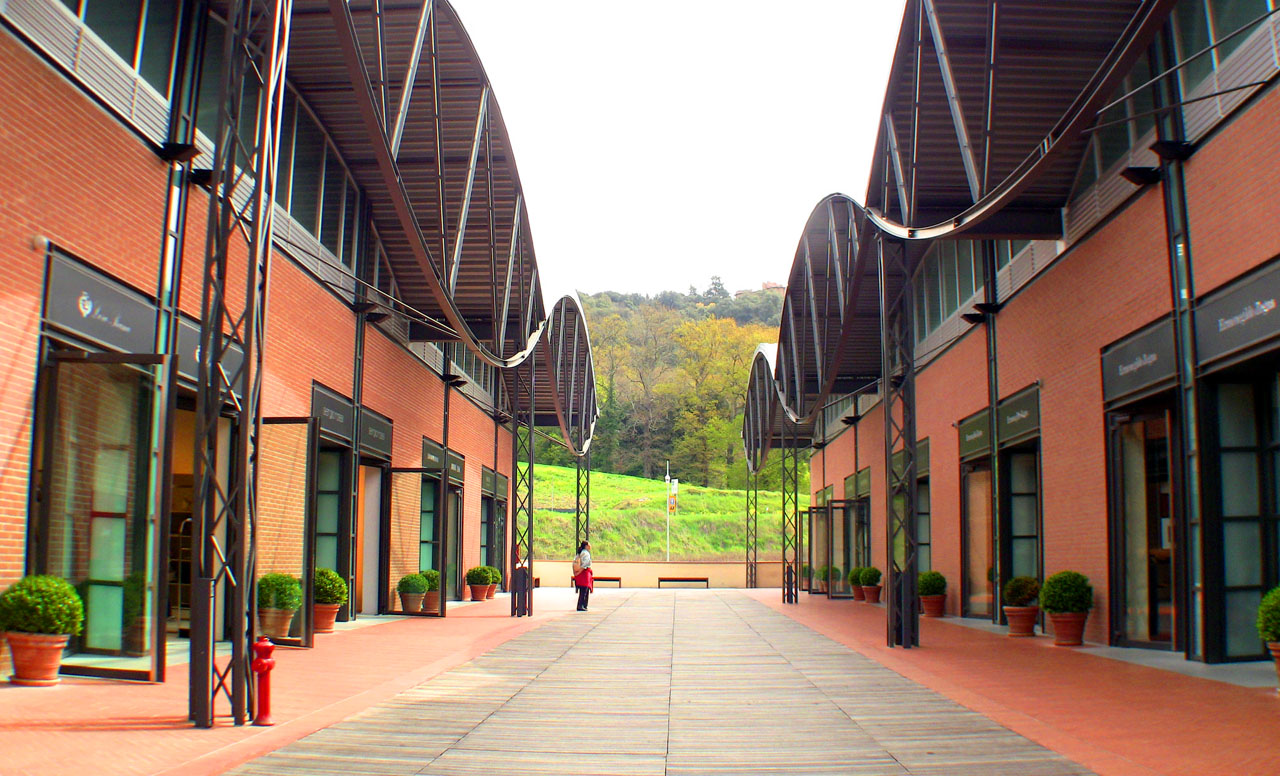 After an exciting morning shopping you will continue your tour into the heart of Chianti with breathtaking verdant vistas of soft rolling hills, patchworks of vineyards, silvery olive orchards, and characteristically Tuscan cypress trees.
VIGNAMAGGIO VILLA and WINERY


The drive along windy country roads will take you to the enchanting Vignamaggio Renaissance Villa and Winery for your lunch and wine tasting experience.
Nestled on a soft slope surrounded by acres of vineyards and the Chianti splendor, Vignamaggio is the quintessential Tuscan villa with elegant Italian gardens that evoke fantasies of distant eras whose images we see conveyed on museum masterpieces painted by great Renaissance artists.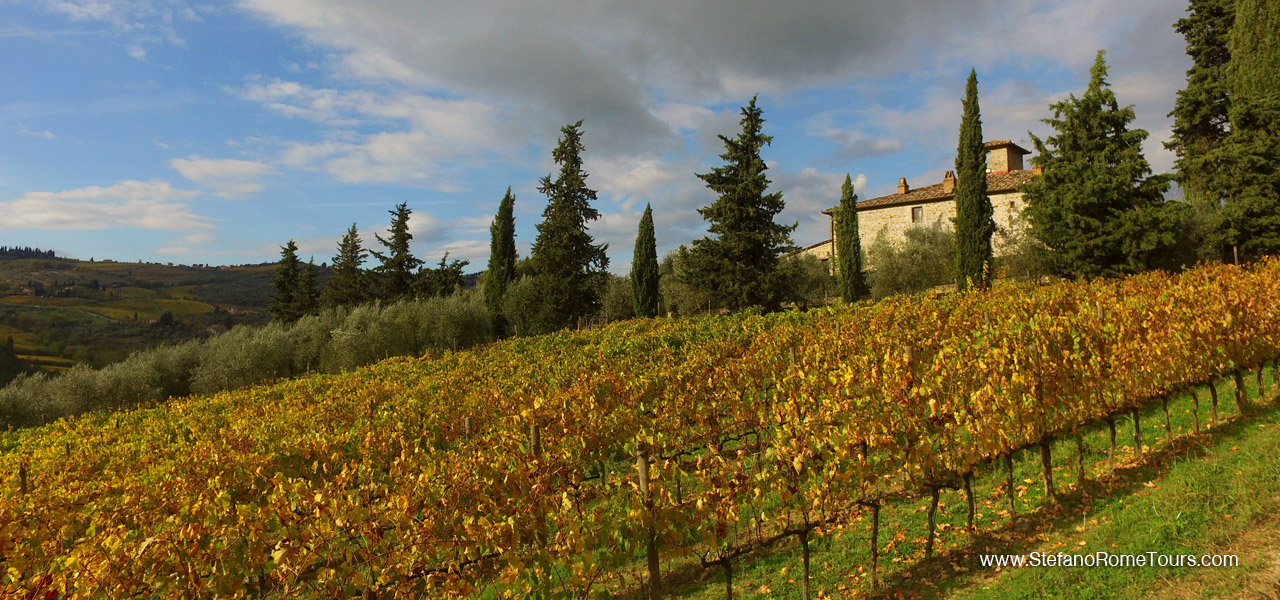 Perhaps it is not far from the truth...after all, Vignamaggio is where the woman with the world's most captivating smile was born to a very noble family: Mona Lisa.
And as though straight from a fairytale book, in a village not far from here a well known artist by the name of Leonardo da Vinci was inspired to paint her portrait, possibly against a landscape very much as the one you are admiring from Vignamaggio.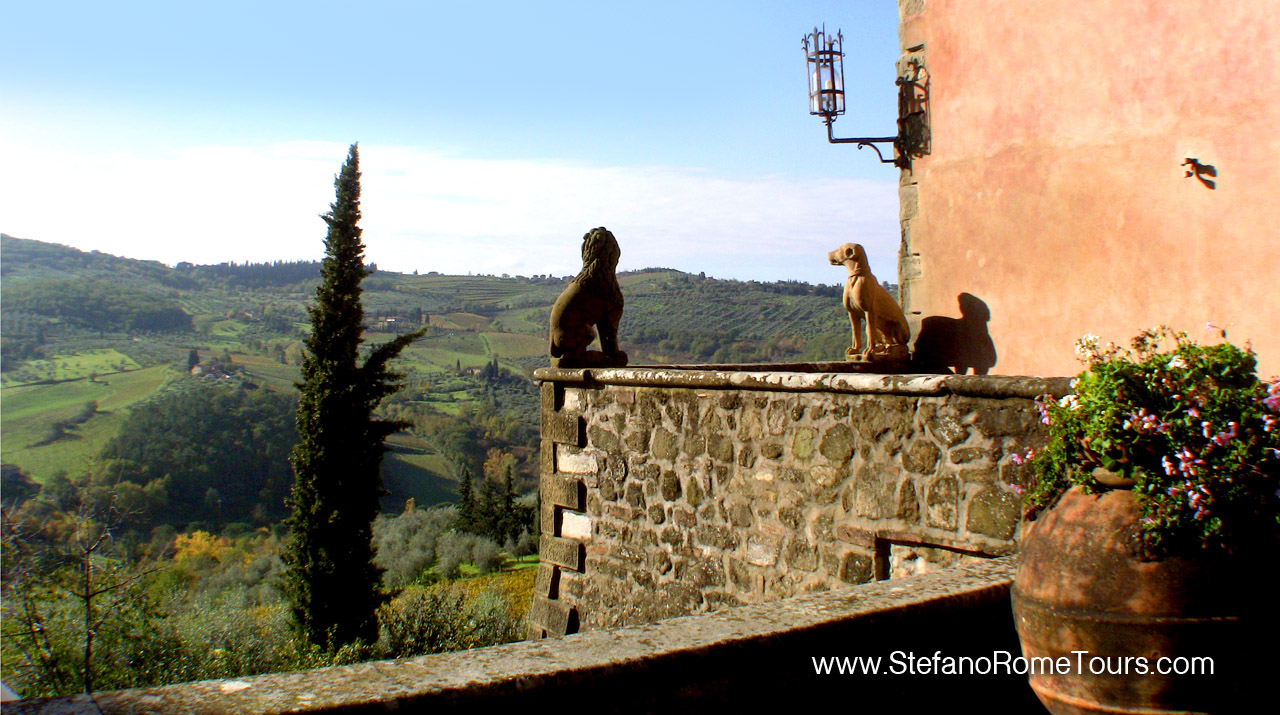 At Vignamaggio Winery and Villa you have the opportunity to enjoy a traditional Tuscan lunch prepared from locally grown products, sample a variety of Chianti wines including the famous Chianti Classico and Chianti Riserva produced at the winery from the grapes of its vineyards, visit the elegant Italian gardens and areas of the villa and winery open to guided visits.
A special treat is a visit to its 700 year old wine cellar where the delightful Chianti wines age in large wooden barrels.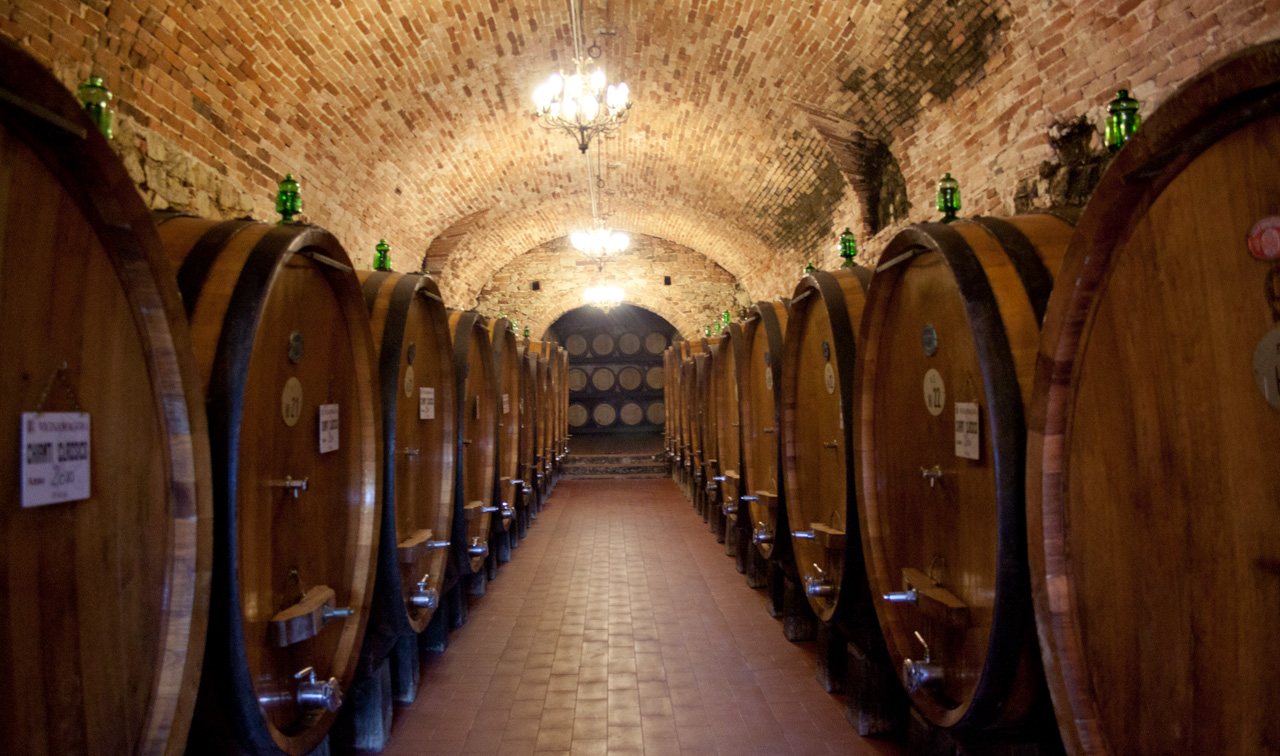 From here you will enjoy a relaxing drive through the beautiful Tuscan countryside back to your accommodation in Florence.
Thank you for choosing Stefano Rome Tours for your Tuscany Day Tours and Italy Private Shore Excursions. We look forward to meeting you and showing you our beautiful Italy!

Guests who enjoyed this Chianti Wine Tasting and Fashion Outlet Tour also booked the following Tours:
Important Information

PAYMENT OPTIONS:
Payment can be made in Euro funds at the end of your journey directly to your driver, or you may prepay in advance via PayPal or Credit Card online when you Confirm your Tour.
CANCELLATION POLICY:
We kindly ask that cancellations be made at least 7 days in advance in writing via E-Mail. Cancellations by phone, text, or 3rd party who is not the person who booked the service are NOT accepted.
EMAIL INQUIRIES / BOOKING REQUESTS
Please allow up to 24 hours for email correspondences in response to email inquiries and tour reservation requests.
We reply to ALL emails and booking requests we receive. If you don't receive correspondence from us within 24-48 hours please CHECK YOUR SPAM FOLDER, or send us an email from a different E-mail account.
VIGNAMAGGIO RENAISSANCE VILLA AND WINERY VISIT

* The price for Wine Tasting, Tour and Lunch at Vignamaggio is currently 59 Euros per person (winery prices can change without notice).
* Wine Tasting tours must be booked in advance and according to availability at the wineries.
* Wineries are private estates that may close to visitors without notice due to private events or weather conditions.
* When a winery mentioned in the itinerary is not available, it will be replaced with an equally suitable winery.
* Please taste wine responsibly. Excess sampling of wine may interfere with your enjoyment of the tour. If you request an early return to your accommodation due effects of wine tasting, you accept the payment responsibility for the full day of the tour as quoted and agreed upon prior to tour date.
YOUR TOUR DRIVER

This tour provides an English speaking Driver who is NOT a Licensed Tour Guide or sommelier.
* Italy has strict laws and regulations aimed to protect official licensed guides that makes it unlawful for Drivers to act as tour guides or accompany guests to sightsee on foot away from the vehicle. In order for us to comply with Italy's laws, Drivers are required to remain with the vehicle while guests sightsee on their own away from the vehicle.
* On this Chianti Wine and Fashion Outlet Tour by car you will SELF TOUR (unaccompanied by your driver) when away from the vehicle.
MEETING POINT TO MEET YOUR DRIVER
Your driver will meet you inside the lobby of your Florence hotel or area permitted by your hotel.
For Apartments or B&B's without a lobby, your driver will meet you outside the main entrance of your Address.
* If your hotel or accommodation is located on a street or in an area that is restricted to vehicle traffic, your driver will park as close as lawfully possible, and meet you on foot at your Address to accompany you to your parked vehicle. Door to Door service may not be possible on streets or areas that are restricted to vehicle traffic or stops.