description
Spend an unforgettable day with Stefano Rome Tours savoring the Essence of Tuscany.
On this day tour you visit some of the most famous places that grace the Tuscan countryside: Siena, Monteriggioni, and San Gimignano.
ESSENCE OF TUSCANY TOUR PRICE LIST

TOUR FROM FLORENCE HOTEL
For up to 2 Persons from Florence Hotel: 600 EUROS
For up to 4 Persons from Florence Hotel: 650 EUROS
For up to 6 Persons from Florence Hotel: 700 EUROS
For up to 8 Persons from Florence Hotel: 800 EUROS


* DATES on the Booking Form Calendar that are NOT Selectable, are NOT AVAILABLE.

Enjoy a visual journey of our Essence of Tuscany Tour on our TOUR VIDEO:


SIENA

Siena is one of the most fascinating and visited cities in Italy, and among the most famous in the world!
Built on three hills and surrounded by fortified walls, Siena splendidly preserved its Medieval buildings giving you a fascinating glimpse into its distant past through its architecture and art of great beauty and historical significance.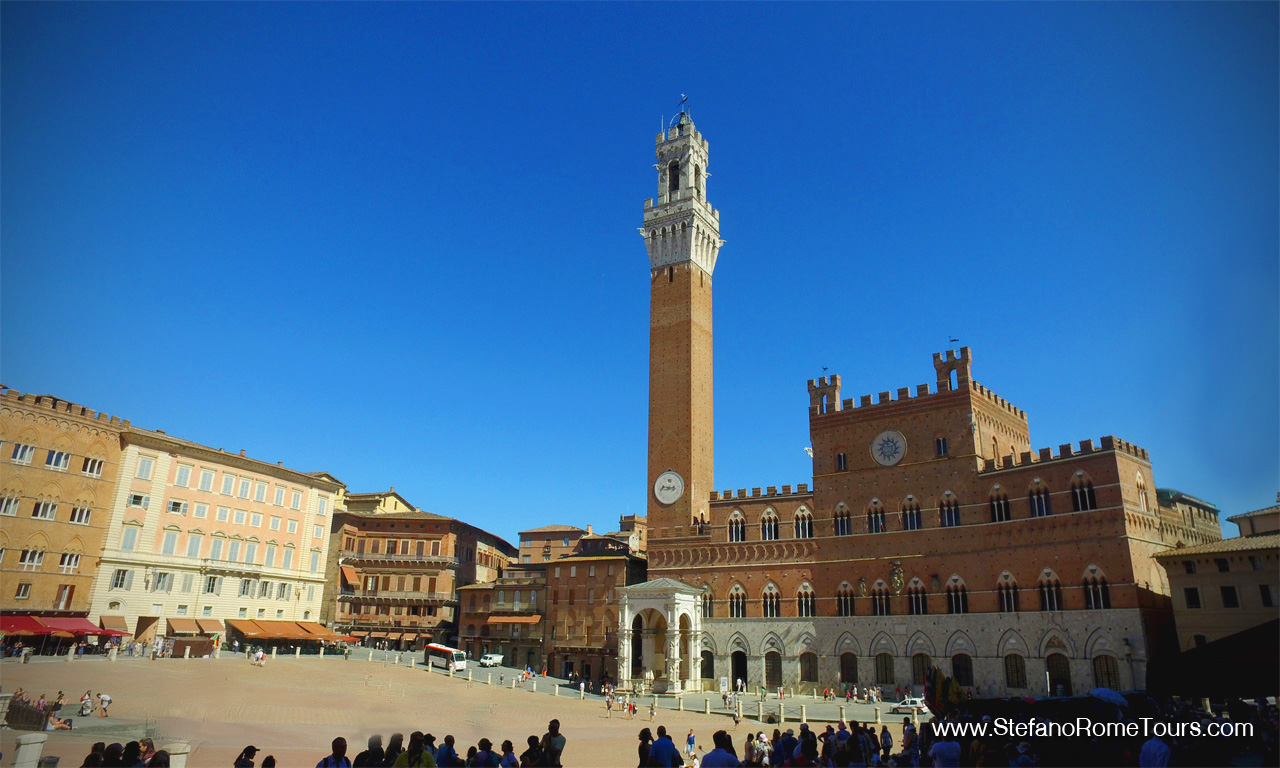 Though Siena's ancient origins are traced to the time of the Etruscan as far back as 900-400 BC, it can also be something of a legend.
The town's emblem of the Roman she-wolf suckling Remus and Romulus seen throughout the town gives a glimpse into the legendary belief that the town was founded by Senius, son of Remus. Documents show a Roman town called Saena Julia founded at the site during the rule of Emperor Augustus.
The most famous square in Siena is the 13th century shell-shaped Piazza del Campo, that hosts the world renown bi-annual medieval horse race, the Palio.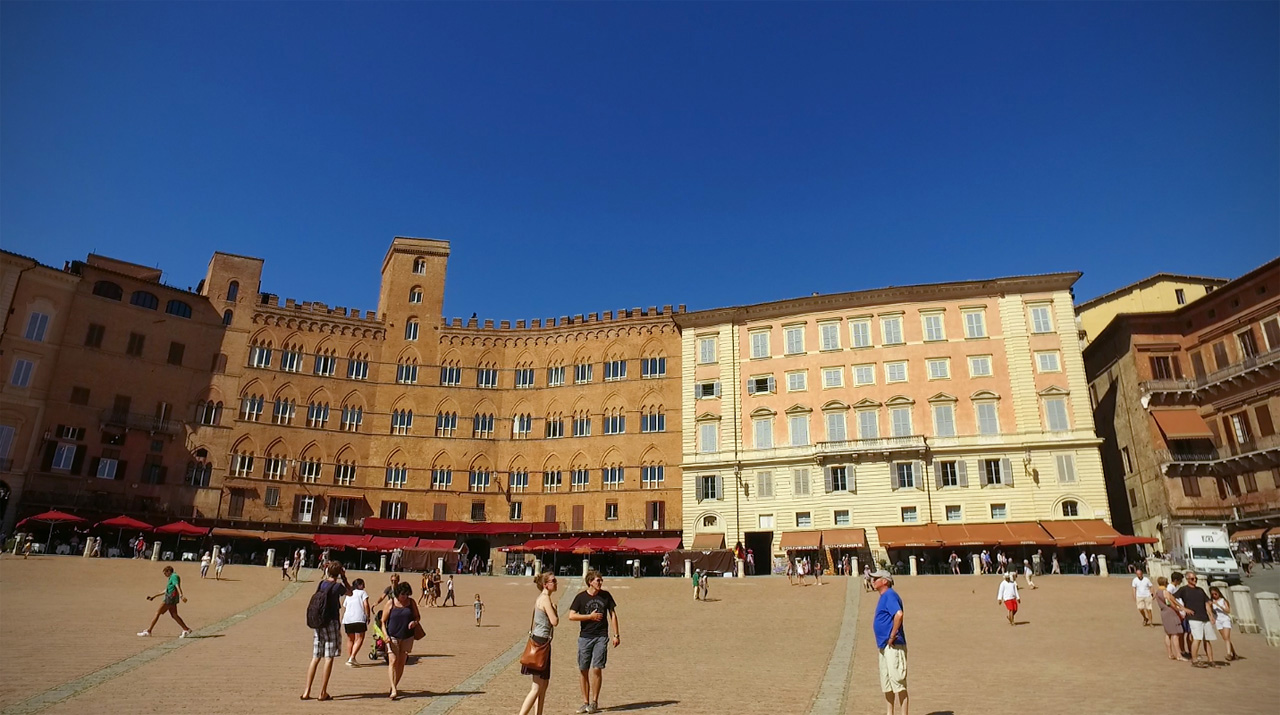 Here, rival members of the different "Contrade" (17 "neighborhoods" that were originally created as defense battalions, each represented by an animal or a mascot) race at breakneck speed around sharp corners of the square for the wildly passionate locals deeply devoted to their traditions
Against the Medieval backdrop, Siena is a contemporary city that offers much to its visitors in terms of latest fashion, hand painted ceramics, fine paper goods and jewelry, and a delicious variety of locally produced items. At each turn you will discover something of interest and beauty.
MONTERIGGIONI


Monteriggioni quietly rests in the heart of Tuscany, fulfilling your imagination of what a Medieval walled village would be like.
The moment you set your foot through its main gate, you will feel like you traveled back in time to early 13th century when Siena strategically built this village on the border of its nemesis, Florence, as a military stronghold.
The near circular contour of the town is the actual natural shape of the elevated ground it was built upon. Its 570 meter long fortified walls feature 14 towers and 2 gates that face Rome and Florence.
Although small, Monteriggioni was quite important during its times....so much so that the prominent Tuscan poet Dante Alighieri made reference to Monteriggioni's 14 towers in his famous Divine Comedy.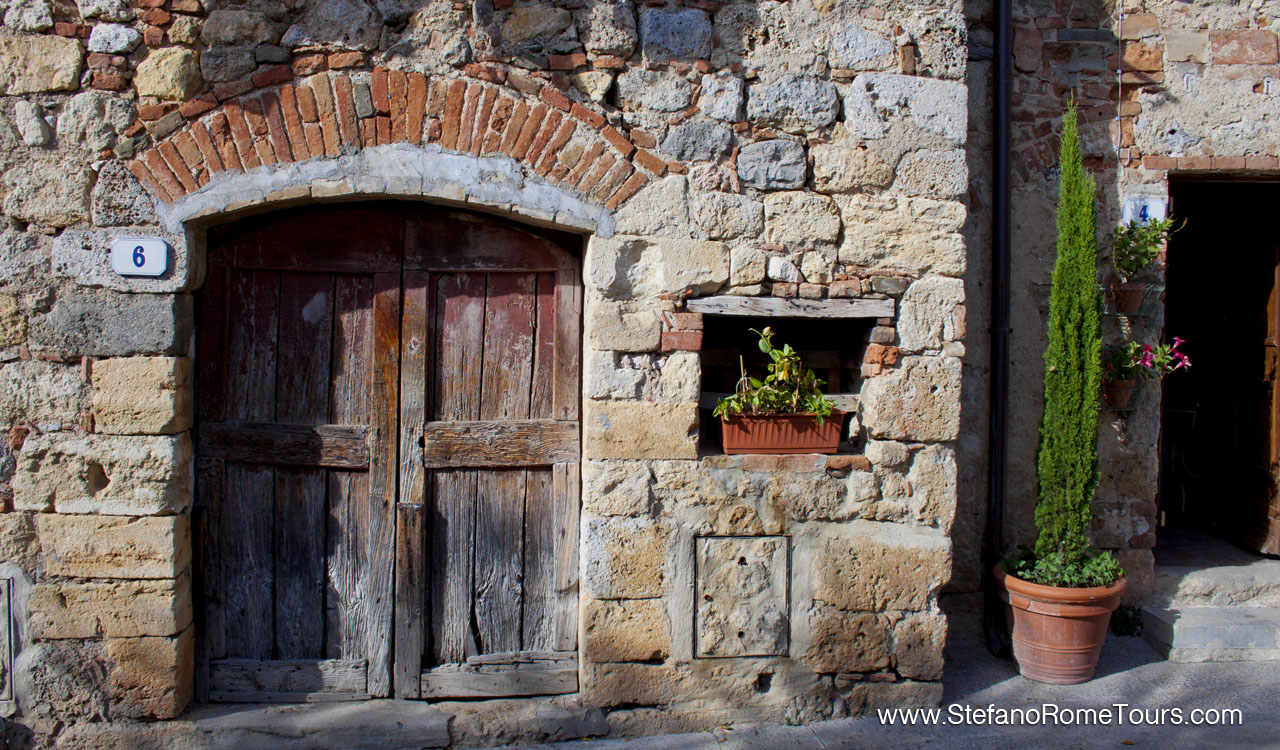 Inside this enchanting pedestrian friendly village you will discover historic Renaissance buildings that were once owned by local aristocracy, admire the simple Romanesque church that dominates the lovely square, and explore the charming streets, gardens and quaint local businesses.
Lunch will be at a local traditional Tuscan restaurant or trattoria suggested by your experienced driver.
SAN GIMIGNANO


Nothing is more enjoyable than an afternoon in San Gimignano: the famous Medieval hilltop town informally nicknamed "the Medieval Manhattan" for its numerous towers that define its distinguished and unforgettable skyline.
It is also fondly referred to as "San Gimignano of the beautiful towers" (San Gimignano delle belle Torri). Of the original 72 towers that centuries ago graced its skyline, today only 13 towers remain. The town's unique historic center is listed as a UNESCO World Heritage Site.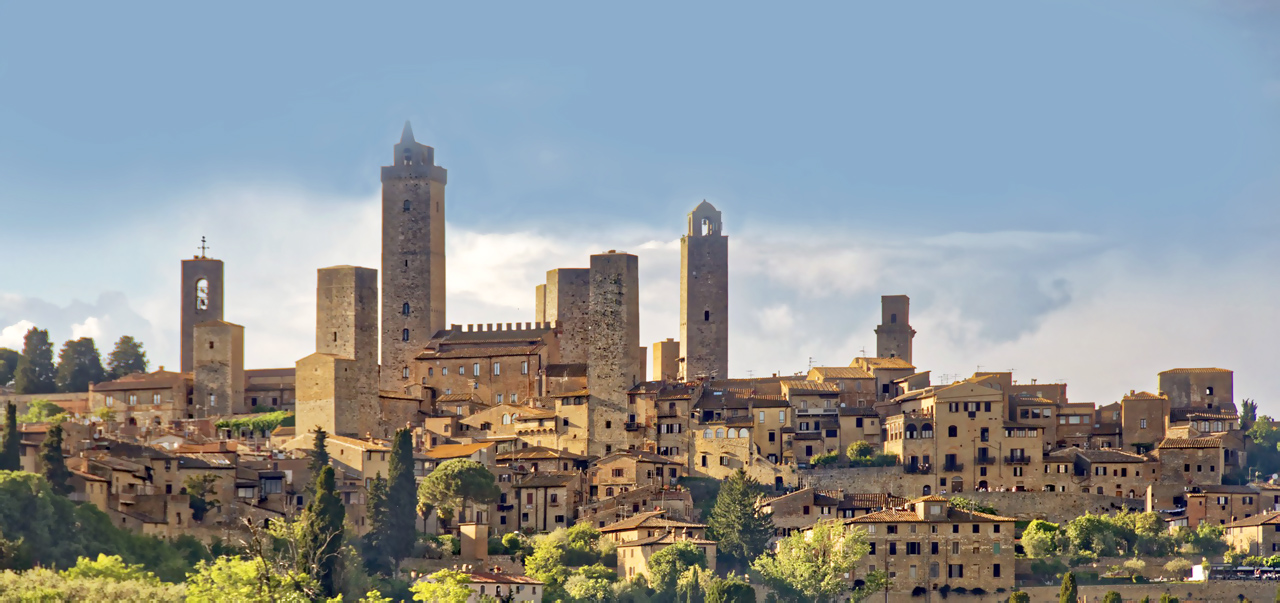 San Gimigano's history is as rich as its beauty, and extends across two thousand years to a distant time when it was once an Etruscan settlement during 3rd century BC. During the later Roman Republic it is said that two noble brothers named Muzio and Silvio fled Rome to this region and built two castles: Muccio and Silvia.
In 450 AD Castle Silvia was renamed San Gimignano when Bishop Geminianus interceded to save the castle from certain destruction by Atilla the Hun's followers. A village began to grow around a church dedicated to the Bishop who later became a saint, and the village grew and prospered into a developed city involved in the trade of agricultural products such as Vernaccia wine and saffron.
Because of its convenient location along Via Francigena, San Gimignano became a rest stop for pilgrims who traveled to and from the Vatican during the Middle Ages.
Trade brought wealth to San Gimignano, and affluent families of merchants and moneylenders erected towers to establish their economical power. During the city's peak during the 14th century, 72 towers were erected - the height of the tower represented the power and wealth of its owner.
Although other Medieval cities erected many towers, centuries of war and urban development decimated most of them. It is quite incredible that in San Gimignano so many towers remained standing and so well preserved.
The town's main square, Piazza della Cisterna, offers its visitors a taste of what the town has to offer. Situated in the center of the square is a lovely well on whose steps crowds gather to admire the panorama of eclectic Medieval buildings from various eras, imposing Romanesque and Gothic palazzi (palaces), and lofty towers that surround them.
Some of Tuscany's top gelato shops are located in this square, as well as charming cafes, lovely ceramic shops, local boutiques, and wine shops that feature the famous Vernaccia wine of San Gimignano that has been in production since the 13th century and enjoyed by Italy's most distinguished figures in history, among which were Lorenzo the Magnificent, Dante Alighieri and Michelangelo Buonarroti.
From here you will enjoy a pleasant journey through Tuscany back to your Florence accommodation.
Thank you for choosing Stefano Rome Tours for your tours and shore excursions. We look forward to showing you our beautiful Italy!
Important Information

Please READ the important information below as well as Read & Accept our TERMS OF SERVICE and Privacy Policy prior to placing your reservation request(s).



PAYMENT OPTIONS for Essence of Tuscany Tours:
Payment can be made in Euro funds at the end of your journey directly to your driver, or you may prepay in advance via PayPal or Credit Card online when you Confirm your Tour.
CANCELLATION POLICY:
We kindly ask that cancellations be made at least 7 days in advance so we can rebook your service and your reserved driver does not lose work for that day. We thank you for your cooperation and consideration.
** PREPAID SERVICES can only be Refunded the Net Rate we receive from your prepayment. Net Rate is the actual service price minus the fees retained by PayPal/Credit Card that are not reimbursed to us in case of refunds. We can only refund the portion we receive from the PayPal/CC company.
EMAIL INQUIRIES / BOOKING REQUESTS
Please allow up to 24 hours for email correspondences in response to email inquiries and tour reservation requests.
We reply to ALL emails and booking requests we receive. If you don't receive correspondence from us within 24-48 hours please CHECK YOUR SPAM FOLDER, or send us an email from a different E-mail account.

YOUR STEFANO ROME TOURS DRIVER
This tour provides an English-speaking Driver who is NOT a Licensed Tour Guide. Your driver will be happy to provide general touristic information while at the vehicle, but will not be able to accompany you to sightsee away from the vehicle.
* Italy has strict laws and regulations aimed at protecting official licensed guides that make it unlawful for Drivers to act as tour guides or accompany guests to sightsee on foot away from the vehicle. In order for us to comply with Italy's laws, Drivers are required to remain with the vehicle while guests sightsee on their own away from the vehicle.
* On this Under the Tuscan Fun Tour by car you will SELF TOUR (unaccompanied by your driver) when away from the vehicle.
* You will be dropped off as close to the sites as possible in accordance with municipality and traffic laws.
MEETING POINT to Meet Your Driver at your Hotel Accommodation:
From your hotel, your driver will meet you inside the lobby of your hotel or area permitted by your hotel.
For Apartments or B&B's without a lobby, your driver will meet you outside the main entrance of your Address.
* If your hotel or accommodation is located on a street or in an area restricted to vehicle traffic, your driver will park as close as lawfully possible, and meet you on foot at your Address to accompany you to your parked vehicle. Door-to-door service may not be possible on streets or areas with restrictions to traffic or stops.