description
Please CONTACT US via Email for availability and booking information
VOLTERRA AND SAN GIMIGNANO TOUR PRICE LIST

SHORE EXCURSION FROM LIVORNO CRUISE PORT
For up to 4 Persons from Livorno Port: 600 EUROS
For up to 6 Persons from Livorno Port: 650 EUROS
For up to 8 Persons from Livorno Port: 700 EUROS

DAY TOUR FROM FLORENCE HOTEL
For up to 4 Persons from Florence Hotel: 600 EUROS
For up to 6 Persons from Florence Hotel: 650 EUROS
For up to 8 Persons from Florence Hotel: 700 EUROS
Enjoy a virtual journey to Tuscany on our Volterra and San Gimignano Tour VIDEO:


Our Volterra and San Gimignano Day Tour from Florence, and Shore Excursion from Livorno to Tuscany has been designed for our guests who have already visited the famous cities of Florence and Pisa, and are interested in exploring other beautiful areas of Tuscany rich in charm, history and culture.
VOLTERRA the noble city steeped in history

Your shore excursion to Volterra and San Gimignano will begin with a relaxing drive through the mesmerizing countryside of Tuscany to your first destination, Volterra.
Voterra is also one of Tuscany's most evocative Medieval towns, rich in history, architecture, and renowned for the beautifully crafted alabaster objects produced by local artisans that you will discover on your visit.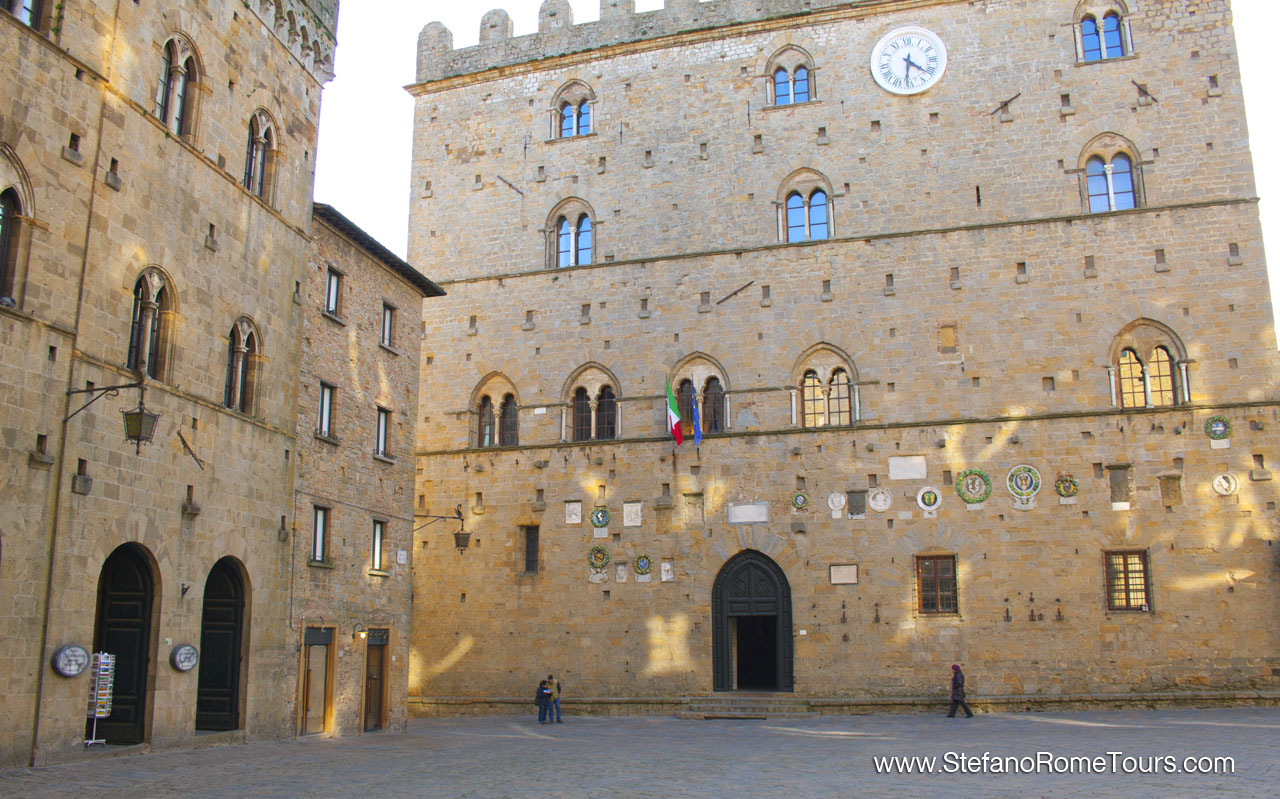 Volterra stands as a walled hilltop town more than 500 meters above sea level affording visitors glimpses of the roaring hills, captivating valleys, and fertile fields that boast olive groves and vineyards that fade into the horizon.
In the ancient times it was a significant Etruscan center named Velathri ("vel" is a considered a common Etruscan word for "hill")...then the name eventually evolved to Volaterrae after it became an ancient Roman municipium.
During the middle ages Volterra served as the bishop's residence until it was overtaken by Florence and the Medici Family.
You will have free time to enjoy the impressive Piazza dei Priori that's surrounded by magnificent 13th and 14th century palaces and buildings.
Palazzo dei Priori is the oldest town hall in Tuscany. Nearby is the Cathedral of Santa Maria Assunta.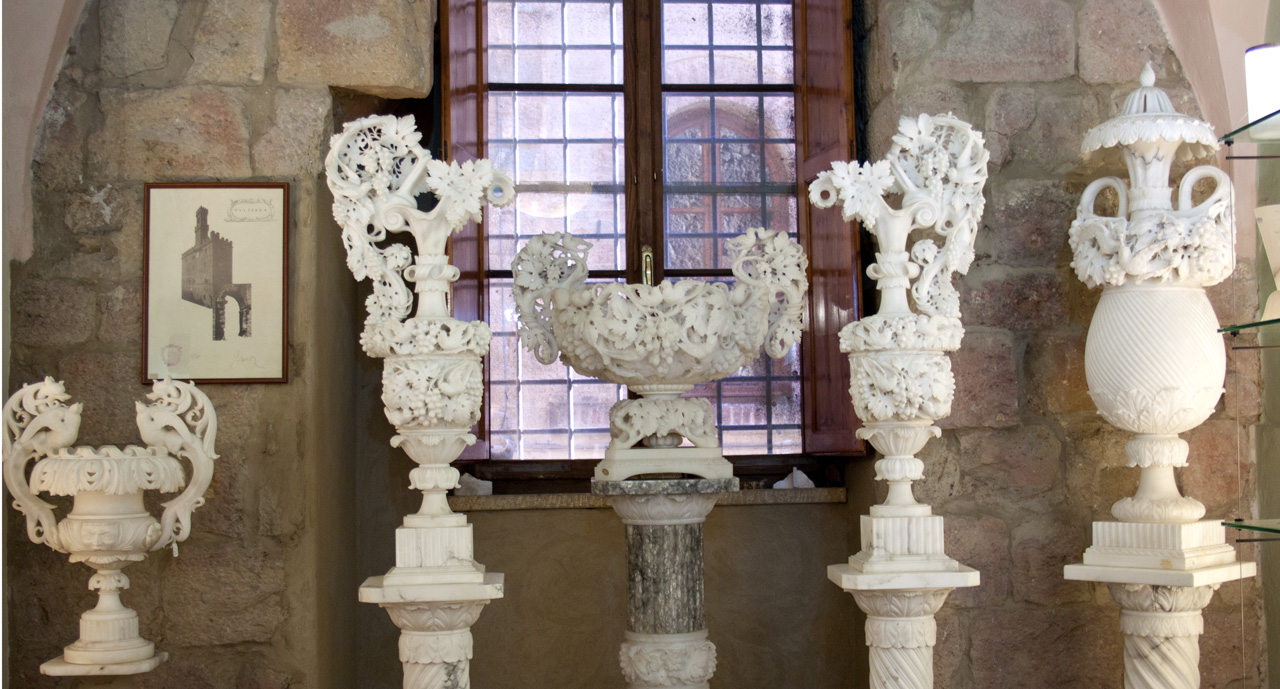 You can also find a vast variety of precious alabaster objects for keepsakes and gifts that are unique to this town in many of the shops and boutiques along the way.
SAN GIMIGNANO - the majestic city with fabled Medieval towers

From here you will enjoy another delightful drive through the breathtaking countryside of Tuscany to San Gimignano.
Upon approaching San Gimignano you will see by its defining skyline why it's been called the Medieval Manhattan of Tuscany.
Unlike most Italian medieval villages, San Gimignano is unique in that it managed to preserve about a dozen of its original 72 towers which have become the international symbol and pride of this remarkable Tuscan town.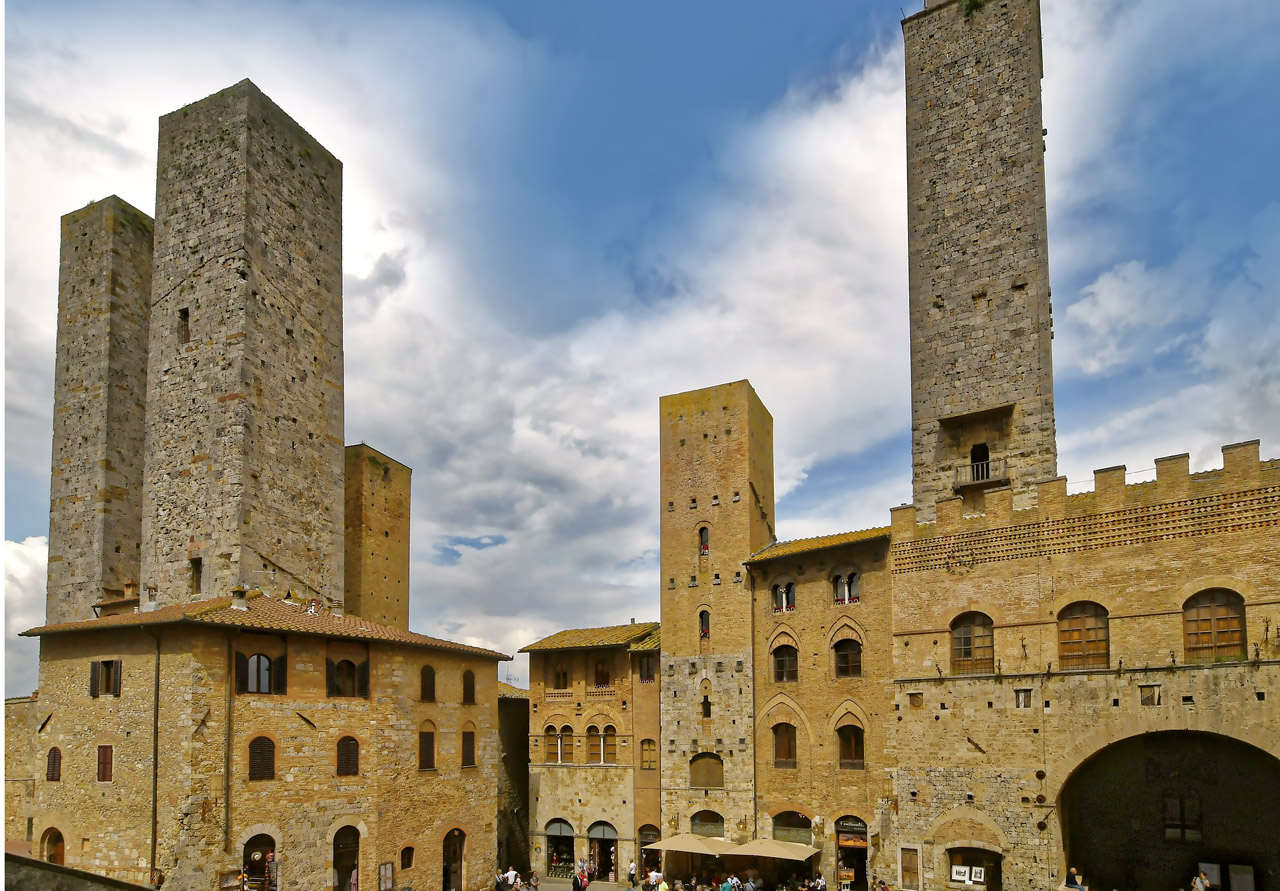 During the Middle Ages towers were a symbol of affluence and power, therefore many prestigious families competed in building the tallest and greatest towers to establish their relevance in the community. The historic center of San Gimignano is a UNESCO World Heritage Site.
The town's long history is fascinating, dating as far back into antiquity as 3rd century BC when it was settled by the early pre-Roman civilization known as the Etruscans.
More contemporary documents record its beginning in the 10th century when it adopted the name of the Bishop of Modena, Saint Geminianus, who defended it from an attack by Attila the Hun.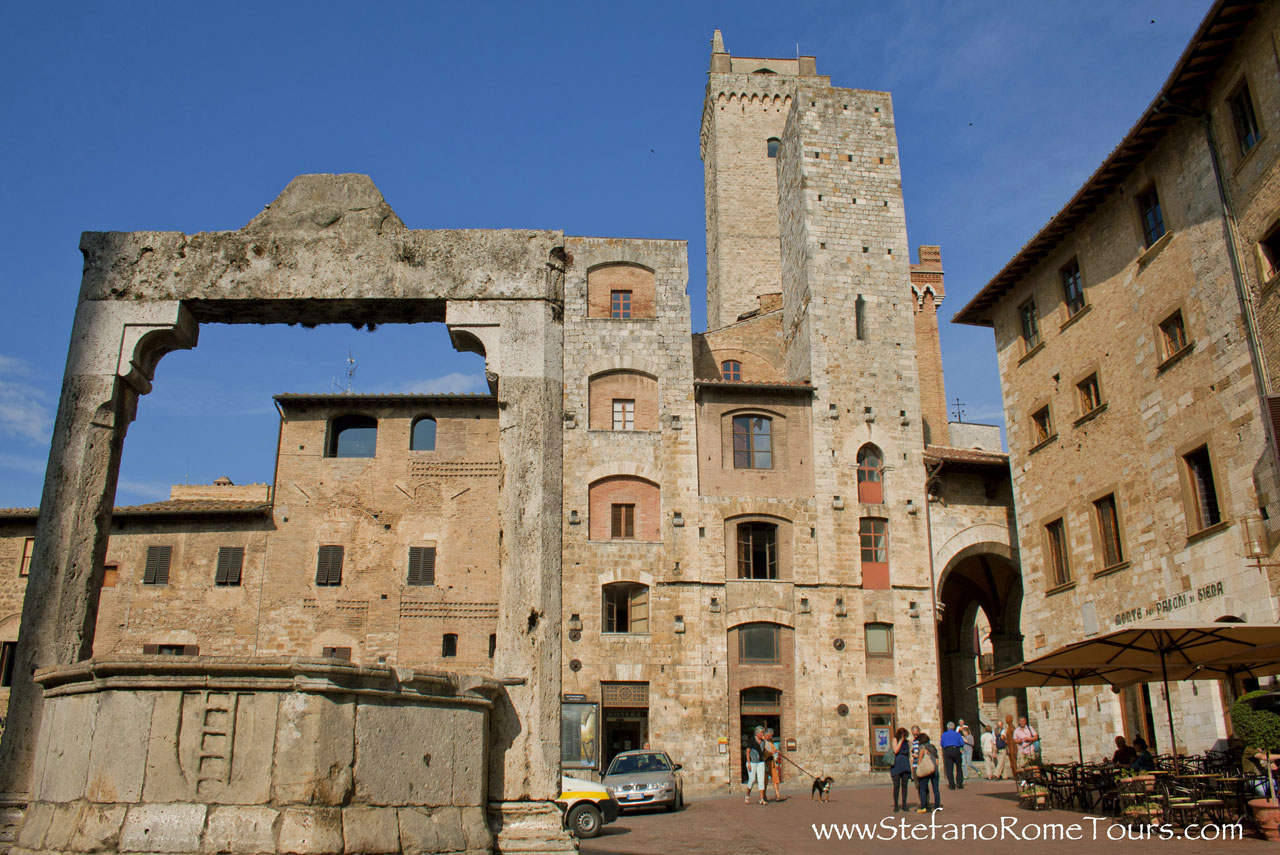 Here, you will have the opportunity to enjoy the popular triangular main square, Piazza della Cisterna, that showcases in its center a beautifully restored 14th century well that was once the main source of water for the residents.
Surrounding the square is a diverse assembly of the finest examples of Renaissance and Gothic buildings and towers.
Your driver will offer suggestions for lunch as there are many restaurants with varying tastes and budgets. Some of the best gelato in Tuscany can be found at the ice cream parlors in the square.


From here you will enjoy another relaxing drive to your hotel in Florence or Cruise Ship in Livorno.
Thank you for choosing Stefano Rome Tours for your day tours from Rome, Florence and shore excursions in Italy. We look forward to showing you Tuscany!
Important Information

Please READ the important information below as well as Read & Accept our TERMS OF SERVICE and Privacy Policy prior to placing your reservation request(s).



PAYMENT OPTIONS for Volterra and San Gimignano Tour:
Payment for this Volterra and San Gimignano Tour can be made in Euro funds at the end of your journey directly to your driver, or you may prepay in advance via PayPal or Credit Card online when you Confirm your Tour.


CANCELLATION POLICY:
We kindly ask that cancellations be made at least 7 days in advance in writing via E-Mail. Cancellations by phone, text, or 3rd party who is not the person who booked the service are NOT accepted.
** PREPAID SERVICES can only be Refunded the Net Rate we receive from your prepayment. Net Rate is the actual service price minus the fees retained by PayPal/Credit Card that are not reimbursed to us in case of refunds. We can only refund the portion we receive from the PayPal/CC company.
EMAIL INQUIRIES / BOOKING REQUESTS
Please allow up to 24 hours for email correspondences in response to email inquiries and tour reservation requests.
We reply to ALL emails and booking requests we receive. If you don't receive correspondence from us within 24-48 hours please CHECK YOUR SPAM FOLDER, or send us an email from a different E-mail account.
DRIVER MEETING POINTS:


For Shore Excursions from La Spezia:
Your driver will meet you on the Pier next to your Ship at your Tour starting time, holding a sign with the NAME in your reservation.
Please do NOT leave the ship area, and do NOT take a shuttle bus to exit the port.

For Day Tours from Florence hotel:
From your hotel, your driver will meet you inside the lobby of your hotel or area permitted by your hotel.
For Apartments or B&B's without a lobby, your driver will meet you outside the main entrance of your Address.
* If your hotel or accommodation is located on a street or in an area restricted to vehicle traffic, your driver will park as close as lawfully possible, and meet you on foot at your Address to accompany you to your parked vehicle. Door to Door service may not be possible on streets and areas that are restricted to vehicle traffic or stops.

YOUR TOUR DRIVER
This tour provides an English-speaking Driver who is NOT a Licensed Tour Guide.
Italy has strict laws and regulations aimed to protect official licensed guides that make it unlawful for Drivers to act as tour guides or accompany guests to sightsee on foot away from the vehicle. In order for us to comply with Italy's laws, Drivers are required to remain with the vehicle while guests sightsee on their own away from the vehicle.
On this Volterra and San Gimignano Tour by car you will SELF TOUR (unaccompanied by your driver) when away from the vehicle.
You will be dropped off as close to the sites as possible in accordance with municipality and traffic laws.