Buon giorno and welcome to Stefano Rome Tours, Rome's leading Tour Company for private Day Tours from Rome, and Italy Private Excursions.
The word 'Assisi' is synonymous with Saint Francis, the patron saint of animals, the environment and Italy. In fact, he is probably the best loved saint in Italy and one of the most well known in the world.
The Assisi Tour from Rome takes us to his beautiful birthplace in the Umbrian region, Assisi, close to Perugia and over 400 meters above sea level.
A short bio on St. Francis of Assisi: Francesco was born in 1182 or 1183 to a wealthy family, his father being a rich cloth merchant and his mother was originally from France.
Throughout his early life there were signs of the man he was later to become, the founder of the Order of Friars Minor, or the Franciscans.
The current pope, Pope Francis, also chose the name of Saint Francis.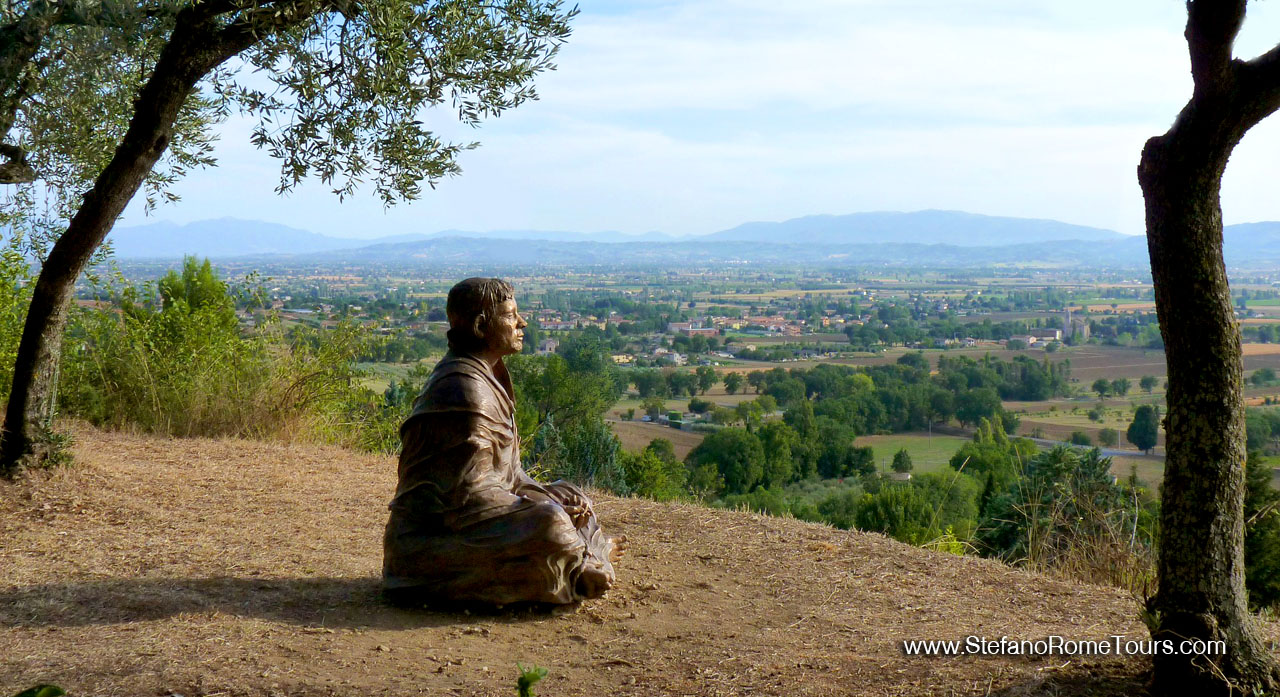 There are many stories of his kindness to animals and fellow human beings, and of his fondness of the environment. It was around 1209 that St. Francis totally gave up all his worldly goods and took up a life of poverty.
He wore just a woollen robe, which was fastened only by a knotted rope and went about rebuilding churches and ministering to people. Others followed him and also vowed to a life of poverty, and the new order was borne.
St. Francis died on October 3, 1226 and every year on the 4th of October his Feast Day takes place, honouring the saint's charitable life and achievements.

The Assisi Day Tour starts off by picking you up at your hotel and then we will head to Assisi via the beautiful countryside of Lazio and Umbria. Your professional driver will of course also point out the the major points of interest en route.
SANTA MARIA DEGLI ANGELI
Our first stop will be the Basilica of St. Maria degli Angeli, the place where St. Francis passed away in 1226.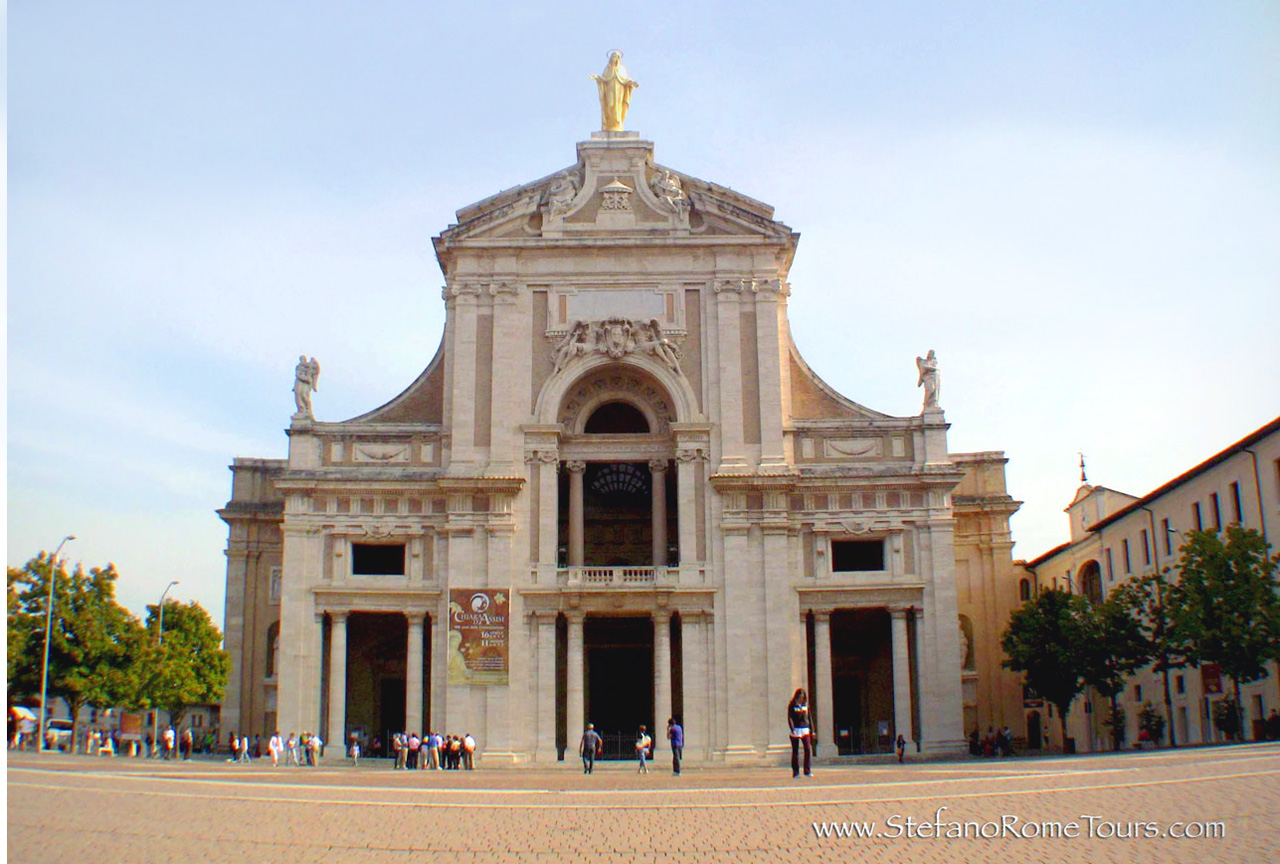 Here you will have the opportunity to see the sacred Porziuncola, around which the basilica was built.
ASSISI


Next we will visit the burial place of St. Francis, namely the Basilica of St. Francis which was built straight after his canonisation in 1228.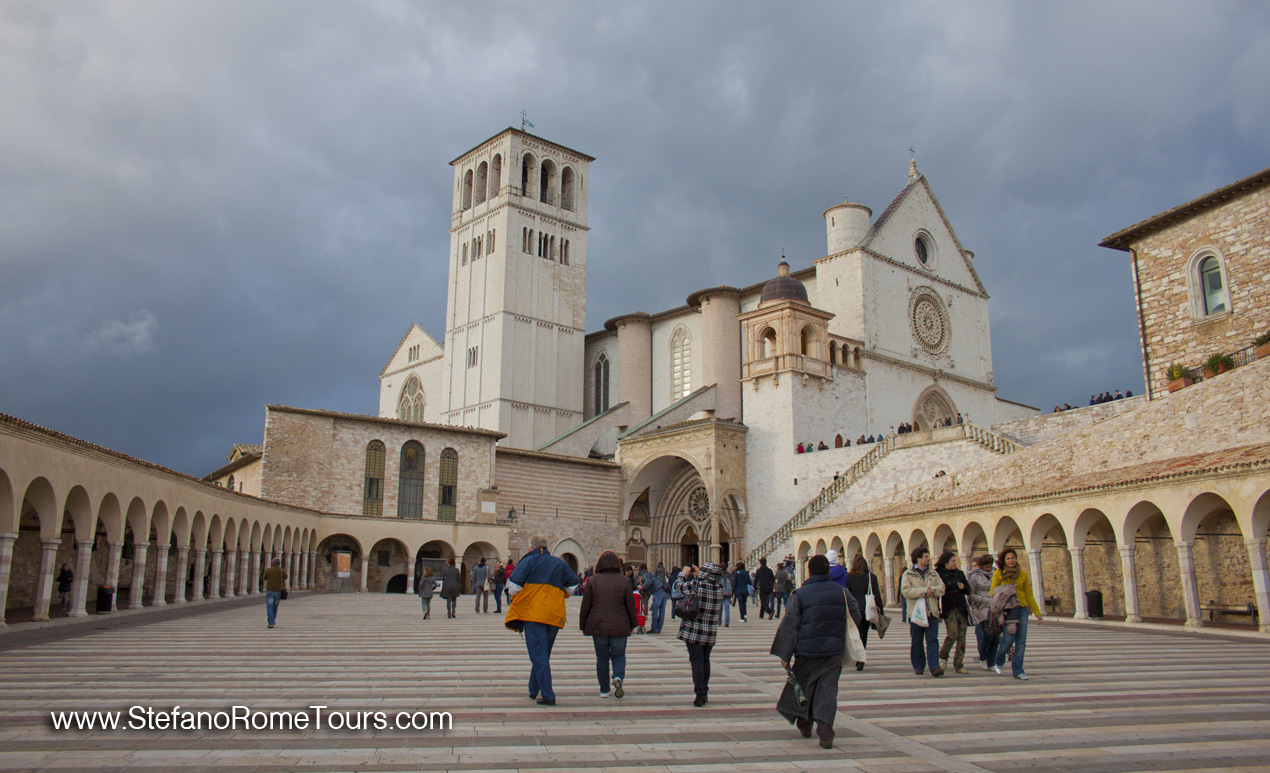 We will then make our way down to the town's main square, Piazza del Comune, which is also home to a very interesting Roman archaeological site, and the Temple of Minerva that once was a 1st century BC pagan temple and later converted into a beautiful Baroque church whose interior resembles a jewel box.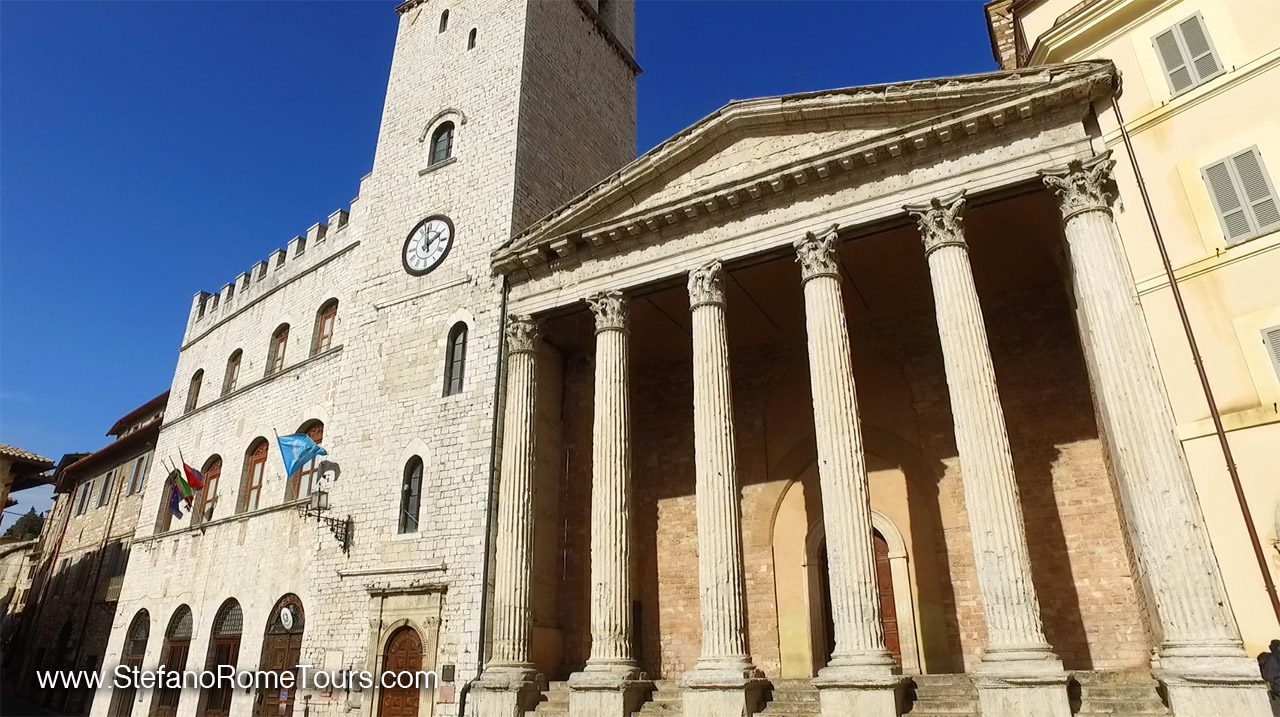 Our last stop in Assisi itself will be the Basilica of St. Clare (Santa Chiara). St. Clare was one of the first women to join St. Francis' ministry in 1212.
Her preserved body is on display in a crypt in the basilica, along with garments worn by both St. Francis and St. Clare, as well as some locks of St. Clare's hair that St. Francis cut off when she joined his ministry.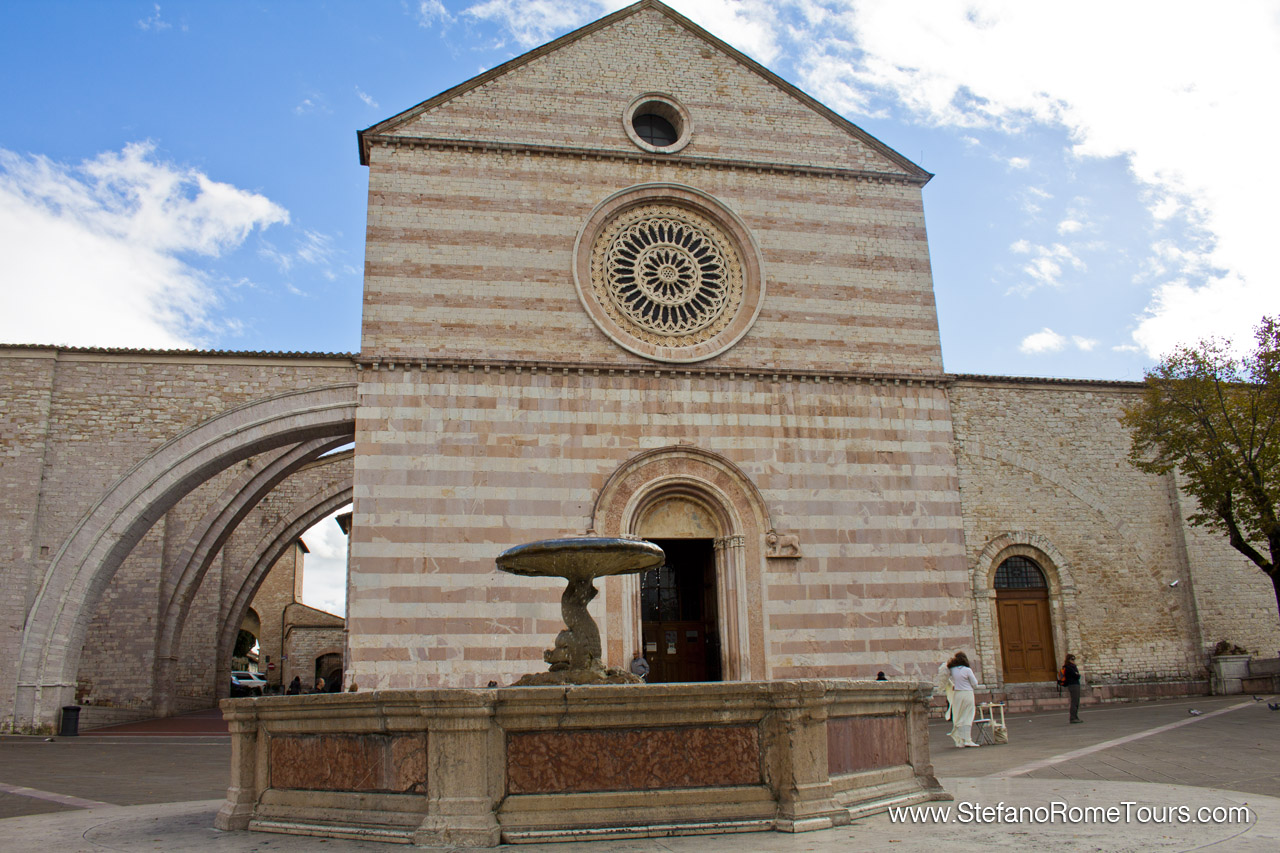 Our final stop is just outside Assisi, the small and simple Church of San Damiano. This is where St. Francis had his calling; after hearing the crucifix telling him to 'rebuild my church', he did exactly that. The original crucifix hangs inside the Basilica of Saint Claire. St. Clare herself spent most of her life until she died there in 1253.
Important to know: To enter any of the churches, you will have to have your shoulders and knees covered, otherwise you will be refused entry!




Basilica of Santa Maria degli Angeli :: Basilica of St. Frances :: Piazza del Commune :: Basilica of Santa Chiara :: San Damiano Monastery
Learn more about our popular Assisi Tour and placing your reservation for your own private day tour from Rome by visiting our website.
Thank you for stopping by and reading our blog and for choosing Stefano Rome Tours for your Day Tours from Rome and Italy Private Excursions.
the Stefano Rome Tours team