description
Stefano Rome Tours created an exclusive tour from Rome offering our guests will explore one of Italy's few remaining undiscovered regions that ancient Roman Emperors and early Popes favored as their personal retreat from Rome's chaotic life.
You too can leave Rome's chaotic, crowded tourist attractions and throngs of tour buses behind for a day and venture off into a different world altogether untouched by tourism where time-honored traditions have endured along with the ancient foundations that define the towns of Anagni, Fumone and Alatri that are the jewels of the Ciociaria region in the beautiful countryside of Lazio.
LEGENDS AND CASTLES TOUR PRICE LIST

For up to 3 Persons from Rome Hotel: 500 EUROS
For up to 6 Persons from Rome Hotel: 550 EUROS
For up to 8 Persons from Rome Hotel: 600 EUROS
* DATES on the Booking Form Calendar that are NOT Selectable, are NOT AVAILABLE.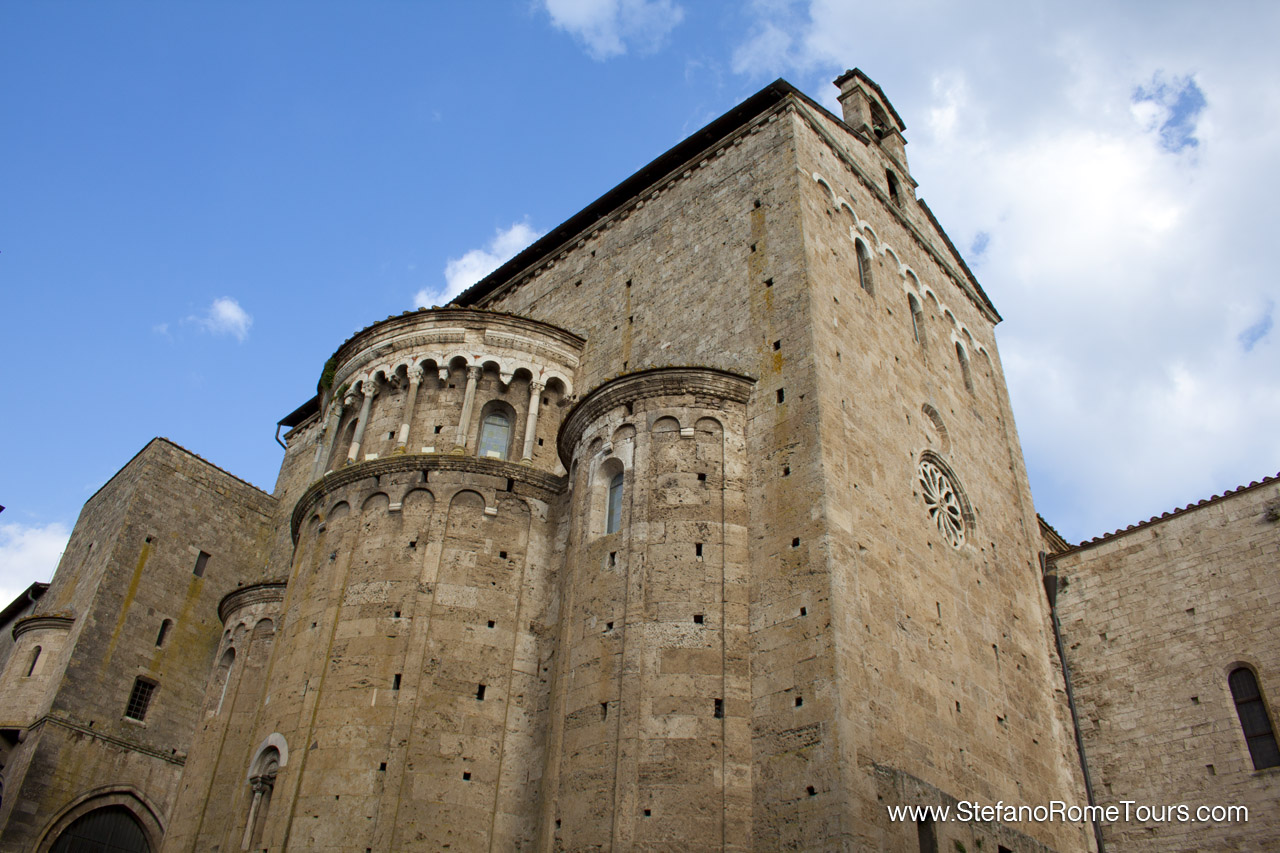 ANAGNI - The City of Popes


Astonishing legends, remarkable rich history, incredible medieval architecture and deep rooted traditions accompany the fame of Anagni, Fumone and Alatri, three distinct ancient towns in the heart of unspoiled territory of Ciociaria, in the region of Lazio, south of Rome.
You will visit the town where ancient Roman Emperors spent their summer retreats and Popes were born, have a traditional lunch at a medieval taverna, see a notoriously haunted castle with shocking secrets, and walk through a 2,500 year old acropolis whose walls were constructed with boulders so large the populace believed they were built by mythological giant Cyclops.
More recently, during Imperial Rome, Anagni was the summer retreat for Marcus Aurelius, Septimius Severus, Commodus and Caracalla. As you admire the breathtaking verdant panorama that surrounds Anagni and breathe in the fresh air, you will see why during the 10th and 11th centuries popes deemed this region a healthier place to live than Rome.
Nicknamed "The City of Popes", Anagni produced 4 popes who were all members of the powerful Conti family.
In this tour you will learn about the infamous last of the Anagni popes, Pope Boniface VIII, and why he tragically met his demise at the hands of King Philip of France, the dramatic event that marked the end of Anagni's importance and moved the Papal seat from Rome to Avignon in France.
You will learn more about this pope's other nefarious deeds when you visit the haunted castle in Fumone later in the day...
Aside from extensive and astonishing history, Anagni is a remarkably charming town that naturally invites you to stroll through its narrow medieval streets lined with artisan shops, boutiques and galleries....and soon reach the architecturally impressive Romanesque style cathedral dedicated to Santa Maria.
It was constructed in early 11th century over what used to be an early pagan temple that is said to have been converted into a church in mid 5th century AD.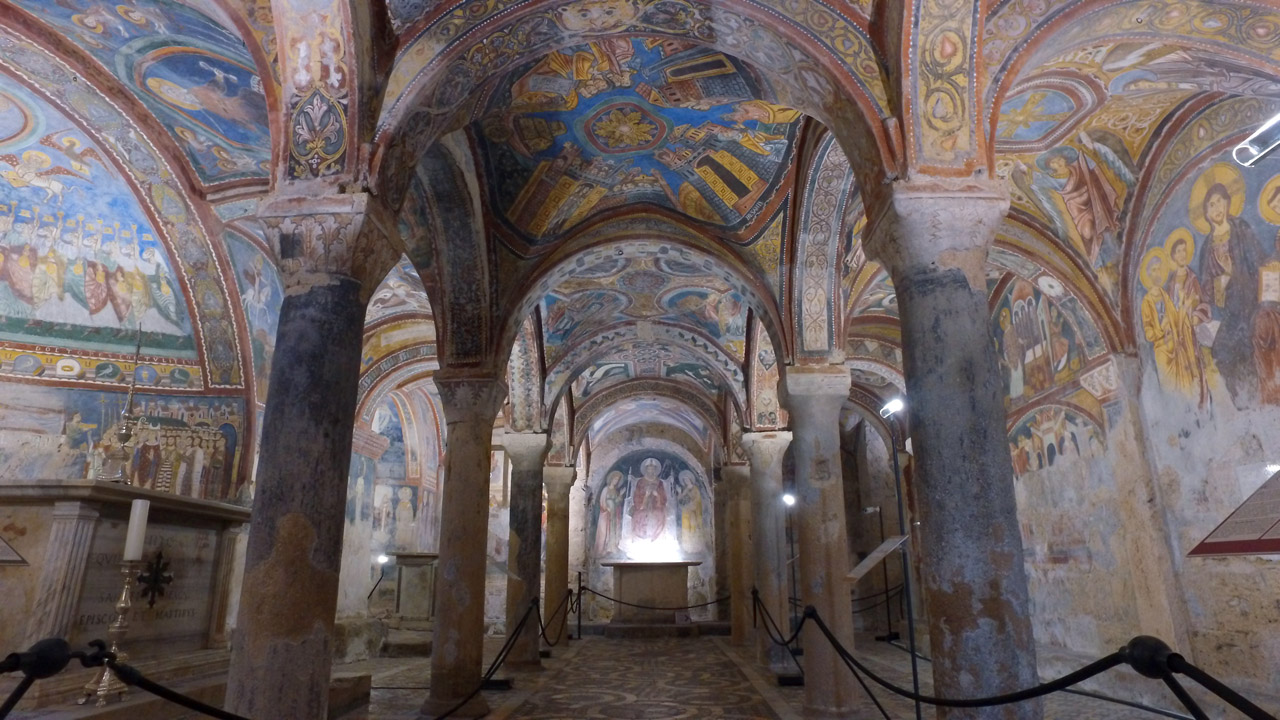 What lies beneath the cathedral is a crypt with stunning and vibrant frescoes created by monks that cover all of the walls and ceiling. Inside the crypt are the tombs of Saint Magno (patron saint of Anagni), and St Secondina of Anagni. Although often closed to the public for preservation purposes, when it does open it's a lovely surprise!
After Anagni you will continue your drive through Ciociaria countryside to our next destination: Fumone.
FUMONE - "the Big Smoke"


Rising to more than 2,500 feet above sea level and characterized by it's unique conical shape and crowned with an impenetrable fortress is the Olympus of Ciociaria: Fumone.
Fumone's history is ancient, but we know that in 500 BC Tarquinio Superbus, the last king of Rome, retreated here after he was ousted by the Romans and planned his military vengeance.
Fumone's evocative name, "Big Smoke", came about from an important function it held a millennia later.
After the fall of the Roman empire, Fumone became a strategic point due to its geographical advantage, making it possible to keep vigilance against barbarians by alerting towns as far away as Rome of on-coming invasions by means of smoke signals.
The popular saying of that time was: "Quando Fumone fuma, tutta campagna trema" - "When Fumone smokes, the countryside tremors".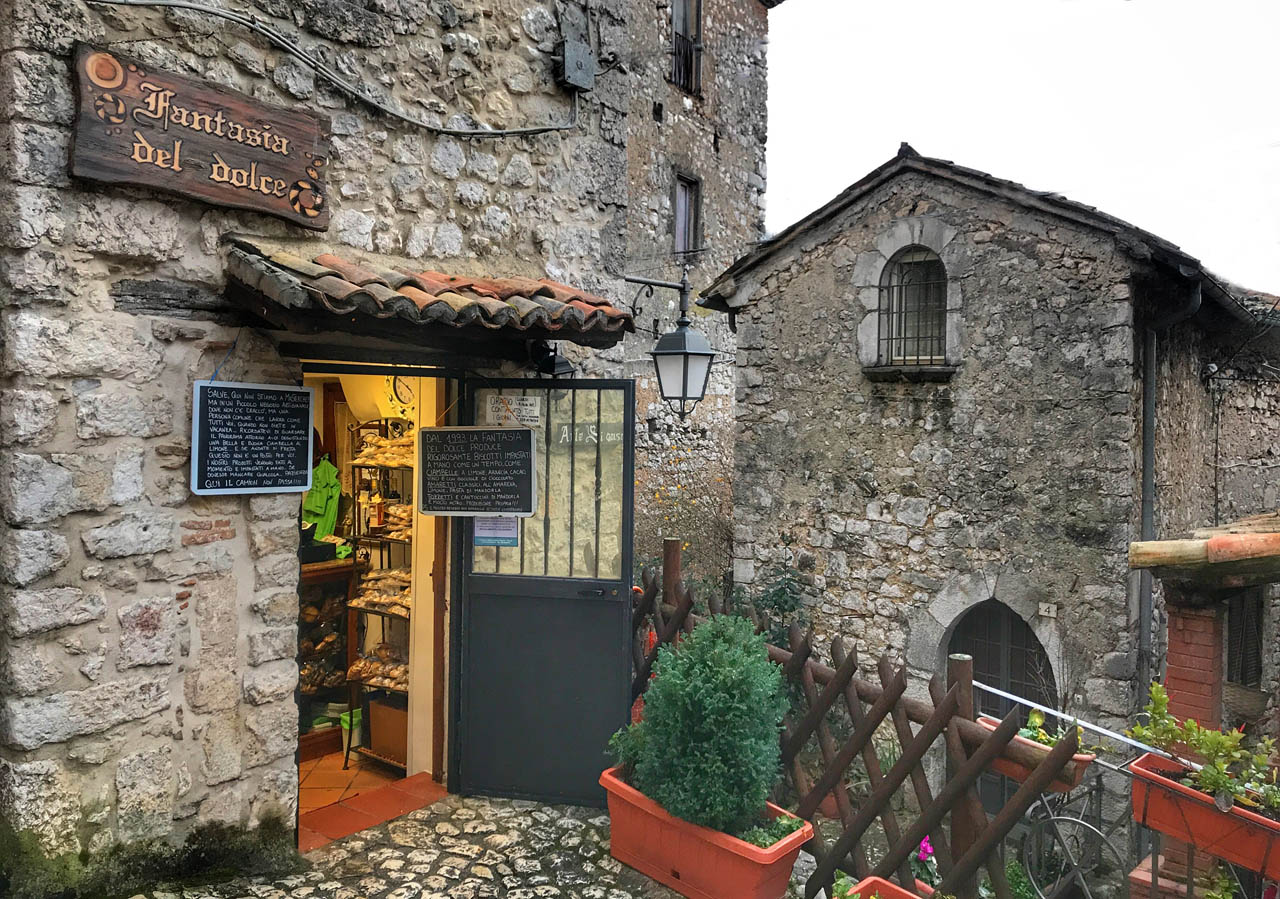 After we walk through Porta Roma into the medieval hamlet inside the fortress, you will stop at the medieval La Taverna del Barone for an authentic Ciociaria feast for all the hungry knights and ladies.
There are no menus here: you sit down, and you will be served the full course meal with all the specialties of the day prepared fresh from what is locally grown and in season.
The aromas of steaming stews and mouth watering roasts permeate the air and homemade local wine is served at the table. Don't be surprised if your waitress will wear the traditional Ciociaria garments along with "cioce", the ethnic peasant slippers with leather straps that lend their name to the region.
After lunch, a stroll through quiet winding cobblestone streets will take you to the famous Castle of Fumone, formally known as the Longhi Castle as per its owners since 1586 when Pope Sixtus V transferred the castle to the Longhi family.
Here is where tales of mystery, intrigue, creed and malice echo through the castle's chambers and corridors.
In the 12th century the Fumone castle was turned into a prison, and its most famous prisoner was Pope Celestine V, who after abdicating his papal throne was imprisoned inside a small solitary cell by his successor and nemesis, Pope Boniface VIII, who feared that Celestine may be reinstated if he changed his mind. The elderly pope died here a prisoner.
Inside the castle's noble chambers you will also discover a tragic event that took place in the Longhi family after they received possession of the Castle.
After many daughters, the marquis and his wife finally had a son who would inherit everything according to the inheritance laws of that era.
The older sisters who stood to lose financially, are said to have eliminated their infant brother by poisoning him. His small embalmed body is still in the castle inside a glass cabinet. It is said that the ghost of the grieving mother still roams the castle at midnight.
Another legend speaks of the ghost of Gregory VII, known as the anti-pope, who was buried inside the castle though his body was never recovered, but his restless spirit still echoes throughout the castle.
Are these tales legends or fascinating history?
We might never know if they are stories created over time to add mystery to the castle or something unnatural really does wander the halls of this imposing medieval castle....the choice is yours, your imagination holds no boundaries or limits.
The castle holds wonderful surprises as well! As you walk through the noble chambers and climb a spiral stairway to the top of the castle you will be greeted by a splendid rooftop terrace garden, and at 800 meters above the sea level you're treated to a bird's eye panoramic view of Ciociaria's rustic countryside with green fertile valleys and distant forested hills.
Because of its altitude, it's considered the highest elevated hanging garden in Europe!
You will have the opportunity to enjoy the garden and the panoramic vista before leaving Fumone and heading to our next destination: Alatri.
ALATRI - ancient Acropolis with Cyclopean walls


After Fumone, our Legends and Castles Tour continues to the ancient Acropolis in the nearby medieval hilltop town of Alatri whose citadel walls were built with enormous polygonal boulders.
The thick 15 meter high walls are also referred to as cyclopean because it was believed they were built by Cyclops: mythological one eyed giants capable of lifting such huge boulders.
What is highly impressive about these 5th century BC walls is the precision used to arrange the large irregular blocks, so smooth and perfectly fitted together without any mortar that's impossible to insert even a thin blade between adjacent stones.
The type of polygonal masonry used here is almost identical to the renown polygonal wall of the Greek Delphi sanctuary from circa 500 BC.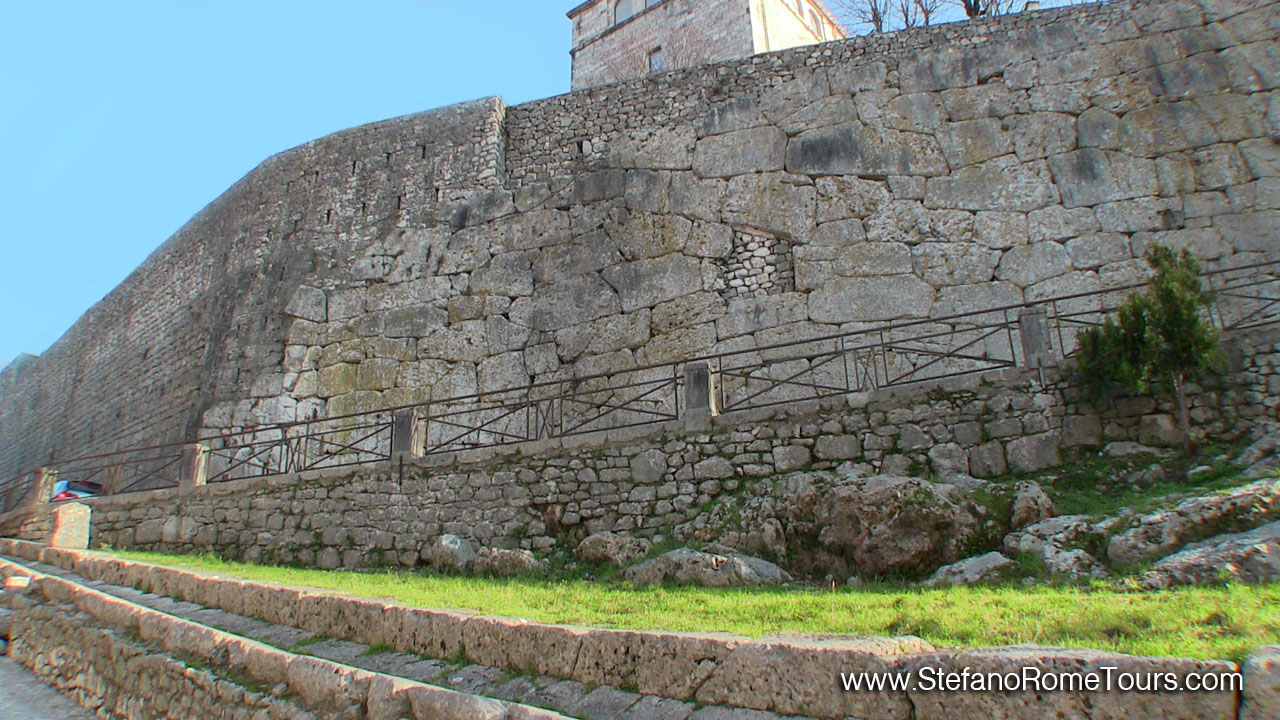 Aside from being established as an ancient fortress and holy site, some sources suggest the distinctive geometric shape and orientation of the Acropolis along with its gates were planned according to astronomical measurements and alignments.
The monumental walls support a large artificial terrace above from which you have another splendid panoramic view of the town below and its terracotta rooftops, verdant patchwork of valleys, and the forested Ernici mountains in the distance that in the past indicated the border between the Papal State and the Kingdom of Naples.
This marks the end of our Legends and Castles Tour. From here your driver will take you on another relaxing drive back to your hotel in Rome.
Thank you for booking our Legends and Castles Tour, and for choosing Stefano Rome Tours for your tours in Rome and beyond. We look forward to seeing you in Rome soon!


Guests who enjoyed this Legends and Castles Tour also booked the following Day Tours from Rome:
Important Information

Please READ the important information below as well as Read & Accept our TERMS OF SERVICE and Privacy Policy prior to placing your reservation request(s).

PAYMENT OPTIONS for Legends and Castles:
Payment for this Legends and Castles Tour can be made in Euro funds at the end of your journey directly to your driver, or you may prepay in advance via PayPal or Credit Card online when you Confirm your Tour.
CANCELLATION POLICY:
We kindly ask that cancellations be made at least 7 days in advance so we can rebook your service and your reserved driver does not lose work for that day. We thank you for your cooperation and consideration.
** PREPAID SERVICES can only be Refunded the Net Rate we receive from your prepayment. Net Rate is the actual service price minus the fees retained by PayPal/Credit Card that are not reimbursed to us in case of refunds. We can only refund the portion we receive from the PayPal/CC company.


EMAIL INQUIRIES / BOOKING REQUESTS
Please allow up to 24 hours for email correspondences in response to email inquiries and tour reservation requests.
We reply to ALL emails and booking requests we receive. If you don't receive correspondence from us within 24-48 hours please CHECK YOUR SPAM FOLDER, or send us an email from a different E-mail account.
ADMISSION TICKETS
Tickets to visit the underground painted crypt is approximately 10 Euros Per Person
Visits are scheduled in increments and for limited duration in order to preserve the ancient delicate frescoes.
* Ticket prices are subject to change without notice
YOUR STEFANO ROME TOURS DRIVER
* This Legends and Castles tour provides an English speaking Driver who is NOT a licensed tour guide. Your driver will be happy to provide general touristic information while at the vehicle, but will not be able to accompany you to sightsee away from the vehicle.
Italy laws permit only licensed tour guides to accompany guests to sightsee on foot away from the vehicle. To be compliant with Italy laws, your driver cannot lawfully guide you into the sites, and will be obliged to remain with the vehicle while you SELF TOUR away from the vehicle.
MEETING POINT to meet your Driver:
For hotel pick ups, your driver will meet you inside your hotel lobby, or area permitted by your hotel.
For Apartments or B&B's without a lobby, your driver will meet you at your address outside the main entrance.
* If your hotel / accommodation is situated on a street or in an area restricted to vehicle traffic, your driver will park the vehicle as close as lawfully possible, and will meet you on foot at your Address. From there, your driver will accompany you to your parked vehicle. Door to door service may not be possible on streets or areas restricted to vehicle traffic or stops.