description

In Rome, each day presents a precious opportunity to savor the sweetness of life - La Dolce Vita. It's a chance to bask in the allure of historic squares and timeless landmarks, to indulge in the rich tapestry of local cuisine, and to immerse yourself in the very soul of the Eternal City, just as the city's locals would.
Our La Dolce Vita Rome Tour, available as both a Rome Tour departing from Rome hotel and a Rome Shore Excursion from Civitavecchia, is a meticulously designed chauffeur-driven tour that invites you to embark on a comfortable fun-filled journey through the heart of Rome, a place steeped in culture and history.
With no need to contend with cumbersome tourist lines or the hassle of securing elusive entrance tickets, our La Dolce Vita Rome tour grants you the freedom to embrace the authentic spirit of the Eternal City and savor life at the leisurely pace of a true Roman.
Your personal Stefano Rome Tours English-speaking driver will ensure your convenience by picking you up and dropping you off at your Rome hotel or next to your cruise ship in Civitavecchia.
Allow the secrets of Rome's famous squares to unfurl before your eyes. Stand in awe of enduring monuments, and uncover hidden gems that have captured the hearts of Romans for countless generations. Delight in a delectable lunch at a local eatery in the charming Trastevere neighborhood, and, of course, leave room for a delicious Italian gelato that will sweeten your memories of Rome for a lifetime.
LA DOLCE VITA ROME TOUR Prices


For up to 4 Persons from Rome Hotel: 370 EUROS
For up to 4 Persons from Rome Hotel: 400 EUROS
For up to 6 Persons from Rome Hotel: 450 EUROS
For up to 8 Persons from Rome Hotel: 470 EUROS


* DATES on the Booking Form Calendar that are NOT Selectable, are NOT AVAILABLE
** This tour is valid with Pick-Up and Drop-off at a hotel or accommodation in Rome. If your pick-up or drop-off location is in a different city than Rome, please contact us via email for assistance with a customized tour.

Your personal driver will meet you at your Rome hotel or accommodation at 8:00 AM. Your Rome tour will conclude with your arrival back at your hotel accommodation by approximately 4 PM.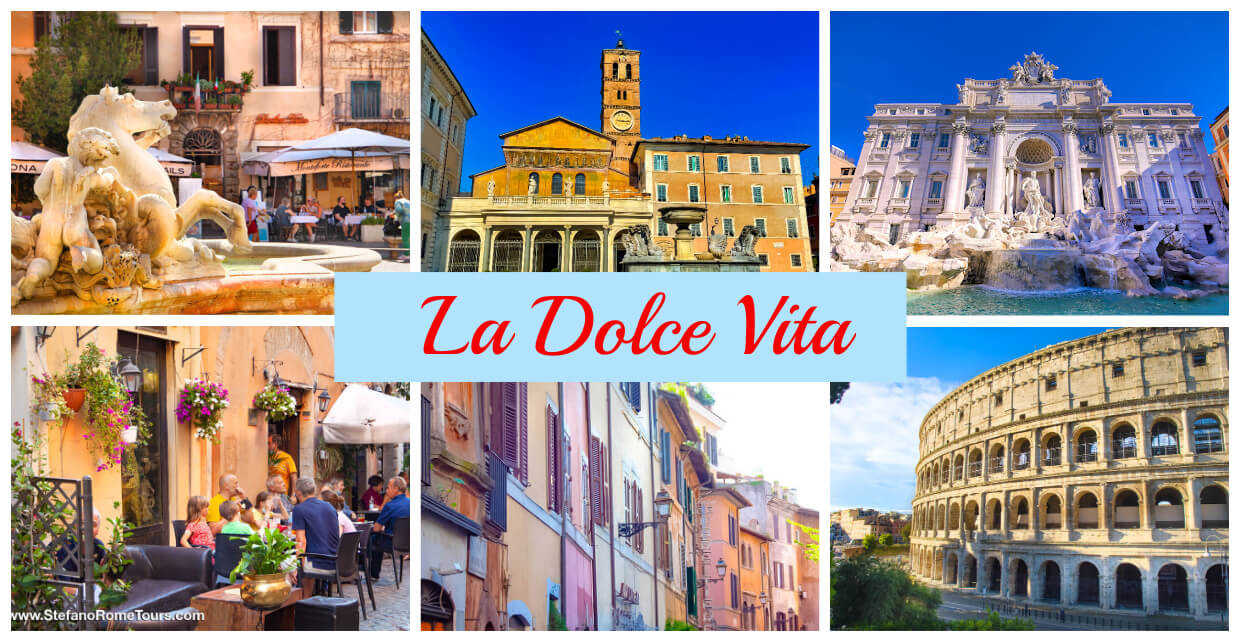 COLOSSEUM SQUARE - Echoes of Antiquity

A prominent highlight of our La Dolce Vita Rome Tour is Colosseum Square.
Wander through this spacious square, where the remnants of glory and splendor whisper stories of ancient times. Feast your eyes upon the awe-inspiring Colosseum, once a stage where gladiators and heroes battled valiantly, and stand humbled in the presence of the towering Arch of Constantine, a testament to the triumphs of the great Emperor.
The Colosseum, built in 72 AD, emerged from the grounds once occupied by Emperor Nero's opulent Golden House, the Domus Aurea. Originally named the Flavian Amphitheater, this architectural marvel took shape under the guidance of Emperor Vespasian's family, providing a space for public spectacles.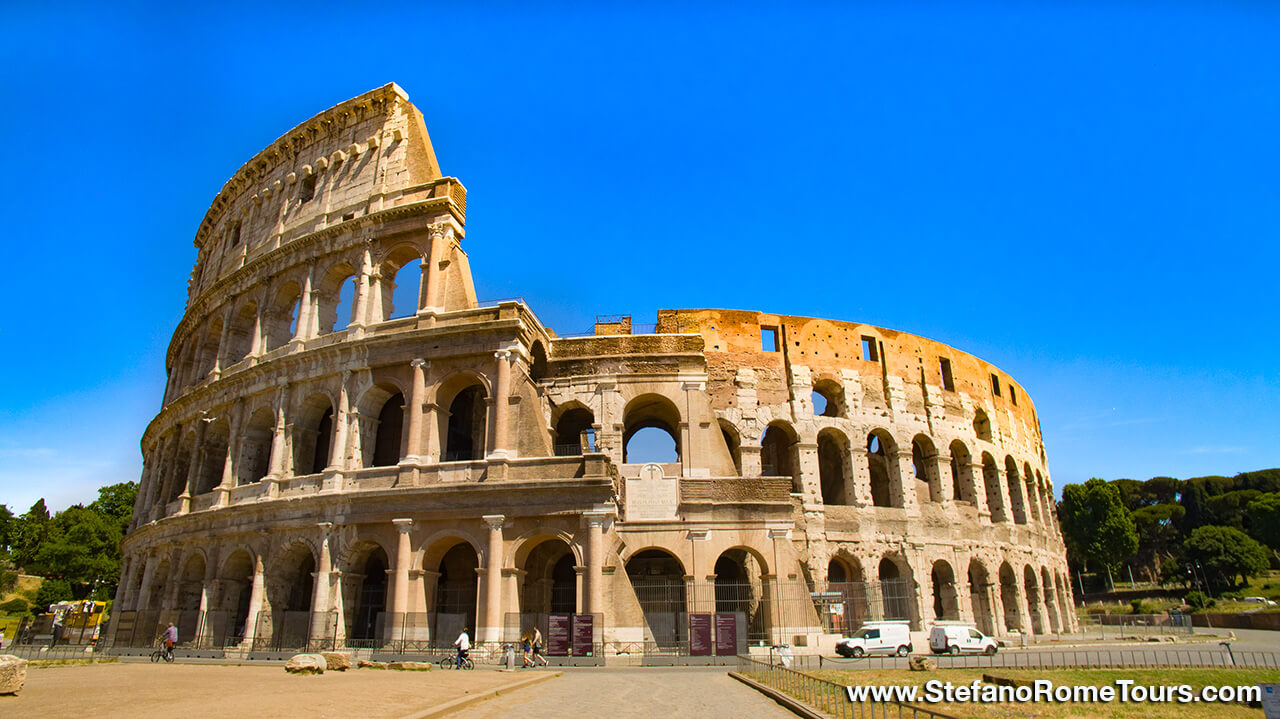 Its renowned nickname, the Colosseum, arose from the towering Colossus of Nero, an ancient bronze statue depicting the emperor as the pagan sun god Apollo, standing proudly beside it.
As you stroll through Colosseum Square, take a moment to capture the essence of the Colosseum from various angles, ensuring you immortalize its unique beauty through the lens of your camera.
And don't miss the nearby Arch of Constantine, an imposing triumphal arch crafted in the 4th century AD to celebrate the victories of Roman Emperor Constantine. This significant ruler forever altered the course of history by legalizing Christianity, a faith once persecuted in Rome.


NOTE: On this tour, it's possible to view the Colosseum from the outside. A visit inside the Colosseum is NOT included in this tour due to the extreme difficulty in securing time slot tickets, and potentially long security lines that would disrupt the itinerary of this tour and reduce sightseeing opportunities.
CIRCUS MAXIMUS - Ancient Rome's Grand Racing Arena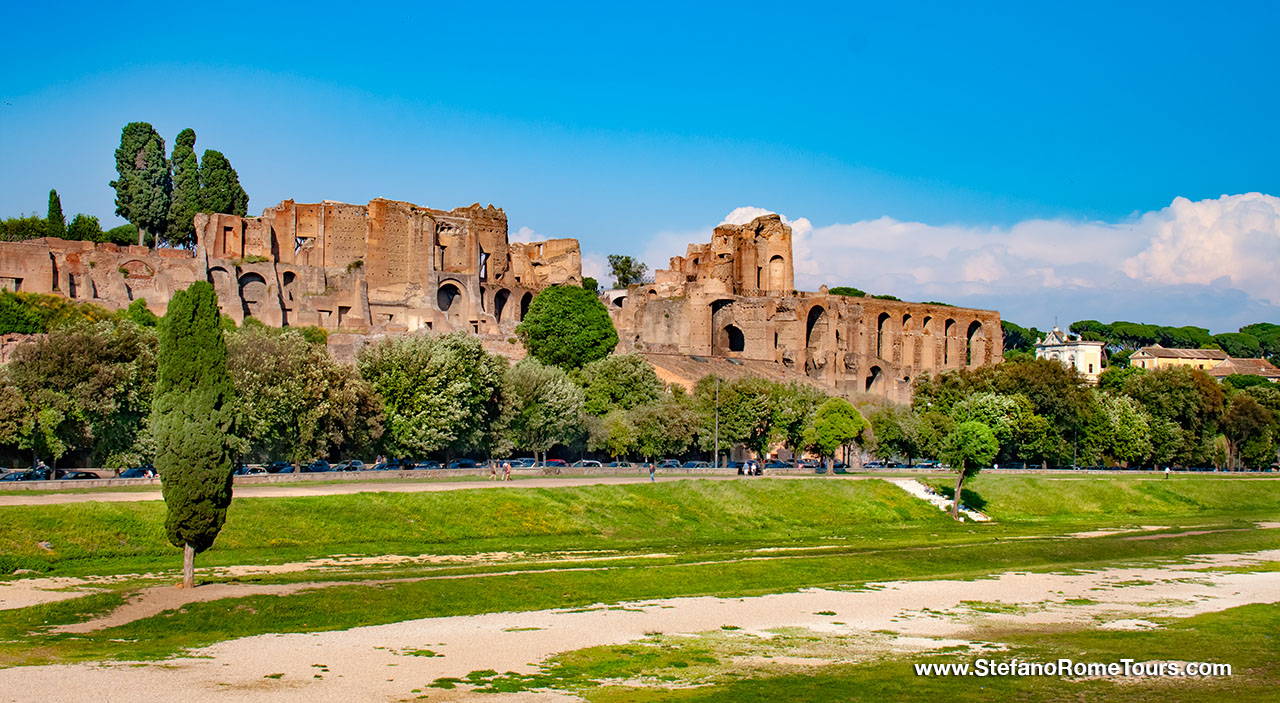 Following your stop in the Colosseum Square, your private tour of Rome continues with a brief stop at the nearby Circus Maximus. Here, you'll encounter faint echoes of the once-magnificent Ancient Roman stadium that enthralled both the Roman elite and the common populace with thrilling chariot races.
In the center of the stadium, where the grand spina once divided it, stood the illustrious Obelisco Flaminio—an ancient obelisk that now graces the heart of Piazza del Popolo. As you immerse yourself in this atmospheric setting, the regal Palatine Hill looms in the background, adding an alluring backdrop to Circus Maximus.
Today, Circus Maximus is a cherished public park that is beloved by locals. It serves as a vibrant hub for various festivals and concerts, bridging the gap between the historical grandeur of ancient Rome and the lively pulse of modern-day Rome.
AVENTINE HILL - a Charming Oasis in the heart of Rome


Your La Dolce Vita Rome tour continues to Aventine Hill, a hidden treasure awaits those who yearn for enchantment in the heart of Rome.
In ancient times, Aventine Hill held a hallowed place as one of the seven foundational hills that birthed the city over 2,700 years ago. This hill was renowned not only for its picturesque beauty but also as the sought-after locale for lavish villas and grand estates.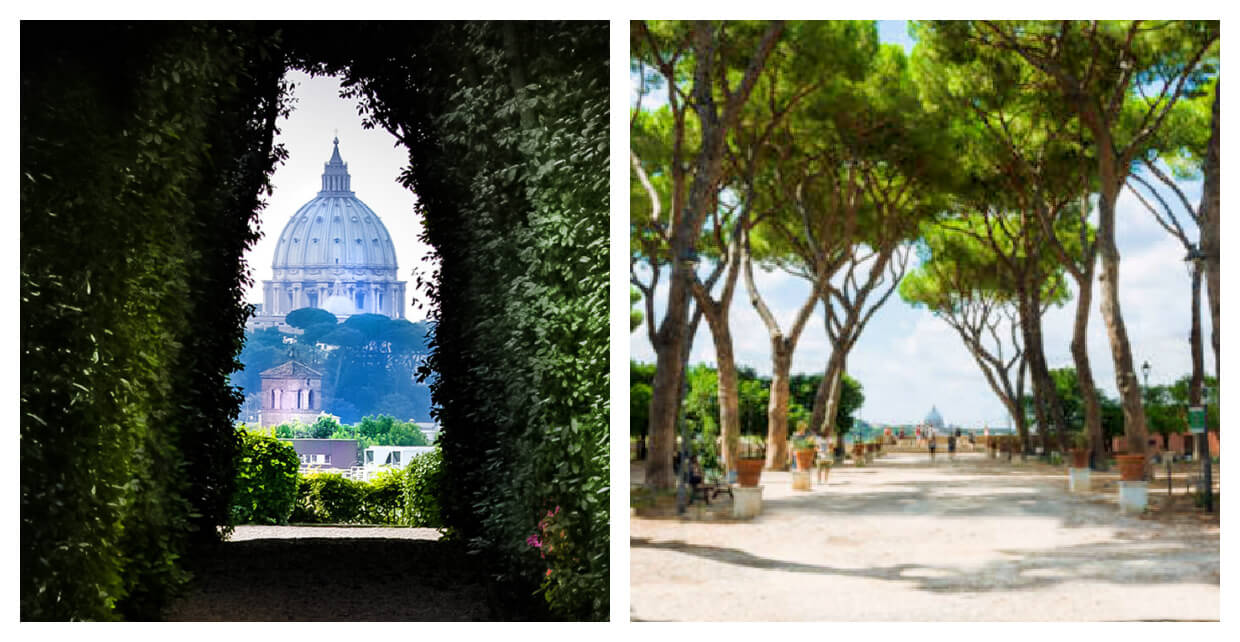 Here, the Garden of the Oranges awaits—a serene oasis that extends a heartfelt welcome to travelers and locals alike, offering respite within its verdant embrace. As you meander along the pathway, leading to a terrace at the garden's edge, a sweeping panorama of Rome and the majestic Dome of Saint Peter's Basilica unfolds before your eyes.
Venture further up a bit and you'll stumble upon the Piazza of the Knights of Malta, where an unassuming keyhole offers a mesmerizing glimpse into another realm. Gaze through this modest keyhole, and a masterpiece of perspective unfolds: the iconic dome of St. Peter's Basilica, flawlessly framed by meticulously trimmed hedges. Here, art, architecture, and a dash of mystique converge, evoking a sense of awe that transcends the boundaries of time.
JANICULUM HILL - Rome's Majestic Overlook
High above the bustling thoroughfares of Rome, another treasure beckons from its lofty perch on Janiculum Hill, offering one of the city's most spectacular panoramic vistas.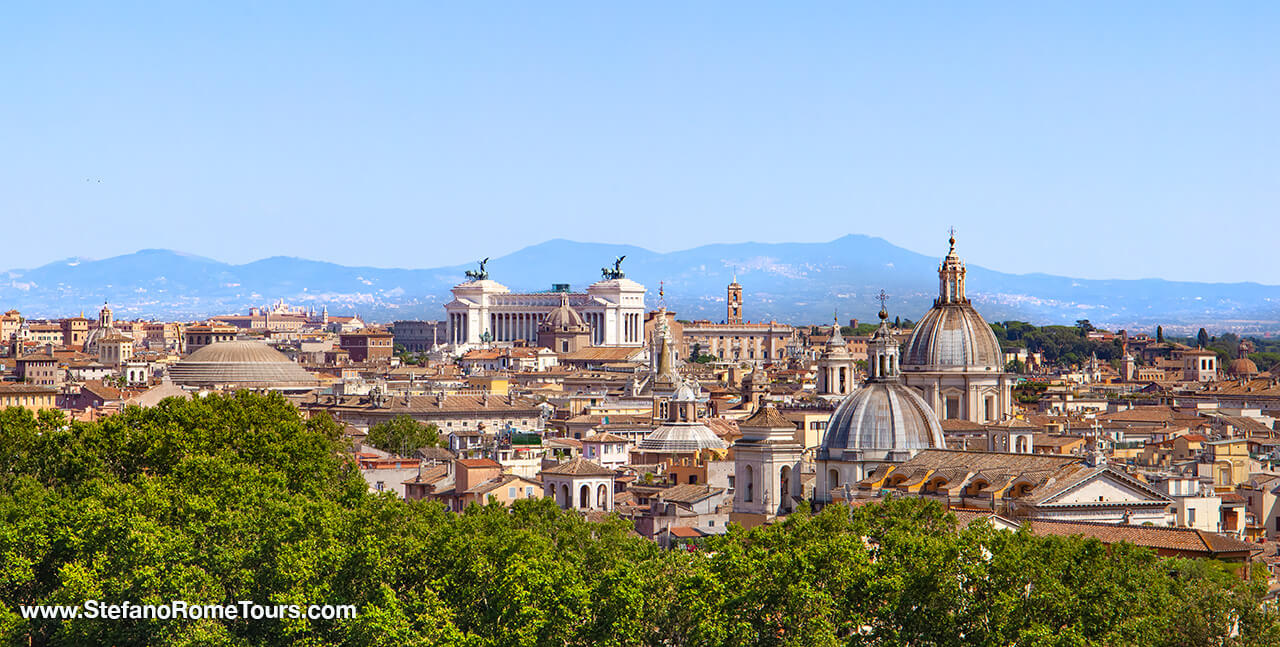 Known as Gianicolo in Italian, Janiculum Hill boasts ancient origins, pre-dating Rome's very foundation and hosting early Etruscan settlements. Positioned with strategic precision, it served as a vigilant sentinel, gazing out over the winding Tiber River and the sprawling landscape below. Legend has it that the name "Janiculum" traces its lineage to Janus, the Roman god of beginnings and transitions, underscoring its role as a gateway bridging Rome to the wider world.
From the terrace crowning Janiculum Hill, you'll behold a breathtaking panorama that encapsulates the timeless allure of Rome. Ornate church domes ascend majestically, vying for your gaze in a harmonious display of architectural wonders. Amidst this sea of domes, the iconic Pantheon's dome emerges, a shining beacon embodying Rome's indomitable spirit and boundless beauty.
Here, time itself interlaces, as ancient monuments seamlessly coexist with contemporary structures, weaving an entrancing tableau that narrates the saga of Rome's opulent history.
TRASTEVERE: Charming Stroll and Lunch

Your private tour of Rome continues across the Tiber River to Trastevere, a vibrant neighborhood of Rome renowned for its meandering alleys and timeless allure, encapsulating the very soul of Rome. It holds a cherished place in the hearts of Romans, where the past and present harmoniously entwine, and the air carries a sense of lingering nostalgia.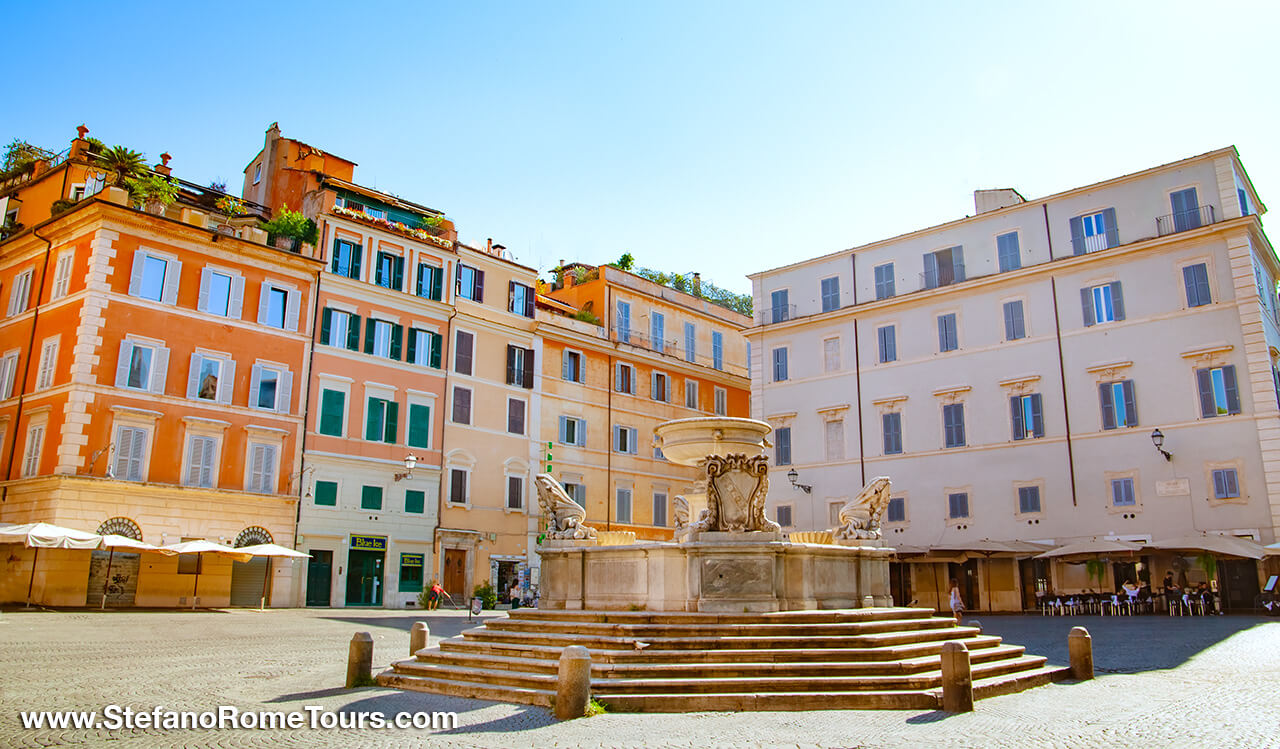 Navigate these labyrinthine alleys, where weathered facades flaunt a vibrant spectrum of colors, and vines cascade gracefully. Trastevere isn't merely about its old-world charm; it's a living testament to the vibrant pulse of Roman life. Discover the lively Piazza Santa Maria, a bustling square that throbs with energy. Here, the resplendent Basilica di Santa Maria in Trastevere proudly stands, its golden mosaics illuminating the essence of this ancient quarter.
No visit to Trastevere would be complete without indulging in a leisurely lunch at a local ristorante or trattoria and savoring the rich flavors of traditional Roman cuisine, lovingly crafted with expertise passed down through the generations. In each bite, you'll taste the history and heart of Rome itself.
SAINT PETER'S SQUARE -Embraced by Grandeur


As you step into Saint Peter's Square, you are immediately enveloped by the majestic colonnades, which Gian Lorenzo Bernini poetically described as "the maternal arms of the Church." This masterful elliptical forecourt was meticulously designed to accommodate the largest gatherings of people, all eager to partake in the blessings of the Pope.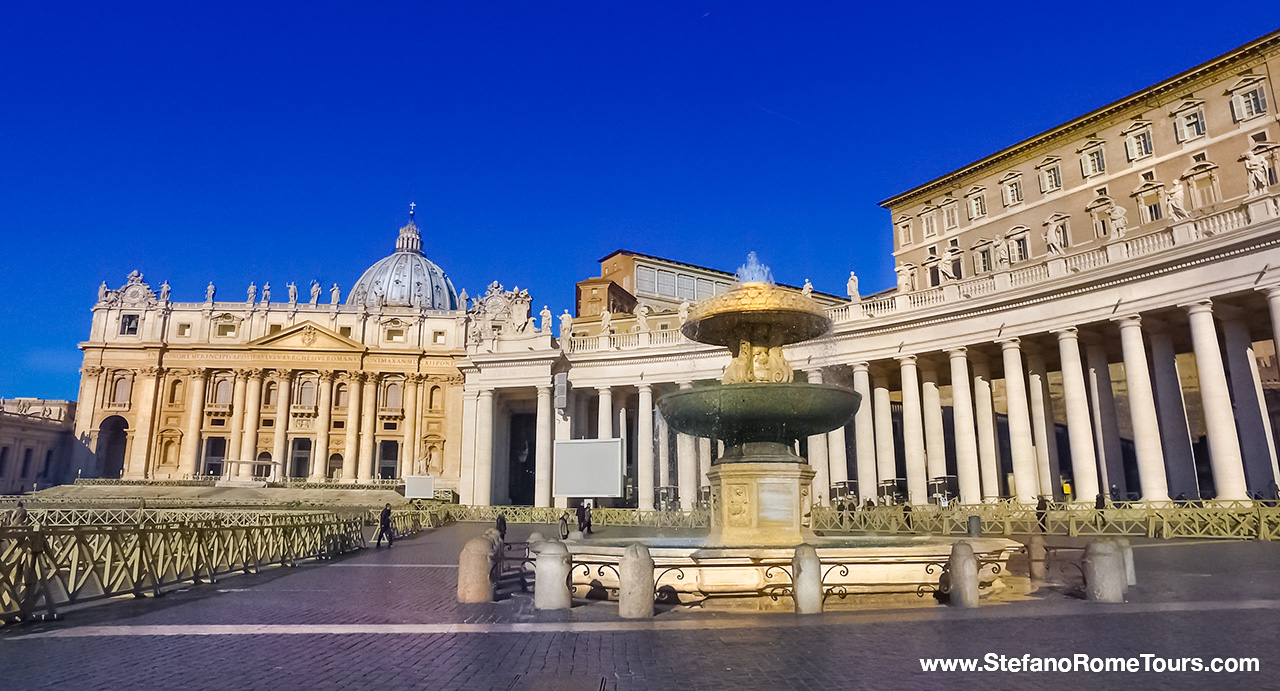 At the heart of the square stands the resplendent St. Peter's Basilica, a sight that commands your attention instantly. Its awe-inspiring dome soars gracefully into the heavens, a testament to the brilliance of Renaissance design. This iconic basilica, the world's largest church, holds profound religious significance as the final resting place of Saing Peter, one of the apostles of Jesus Christ.
Dominating the square's center is an awe-inspiring Egyptian obelisk, a towering symbol of ancient power and spiritual enlightenment. Originally transported from Heliopolis during the reign of Emperor Caligula, this obelisk serves as a living testament to the rich history of Rome.
Saint Peter's Square is adorned with twin fountains each with its own unique narrative. The northern fountain, sculpted by Carlo Maderno in 1613 after restoring the Aqua Traiana aqueduct (now known as Acqua Paola), harmonizes beautifully with the southern fountain designed by the masterful Gian Lorenzo Bernini, commissioned by Pope Clement X, and brought to completion in 1677.
As you leisurely stroll through this extraordinary square, let yourself be immersed in its enchanting ambiance, a place where history, art, and spirituality converge in breathtaking harmony.
Please note: Due to potentially lengthy security lines that may affect your visit, we cannot guarantee entry into St. Peter's Basilica.
PIAZZA DELLA ROTONDA - Iconic Roman Charm


Step into the effervescent ambiance of Piazza della Rotonda, where the Pantheon, a breathtaking architectural marvel, shares the limelight with a remarkable baroque fountain.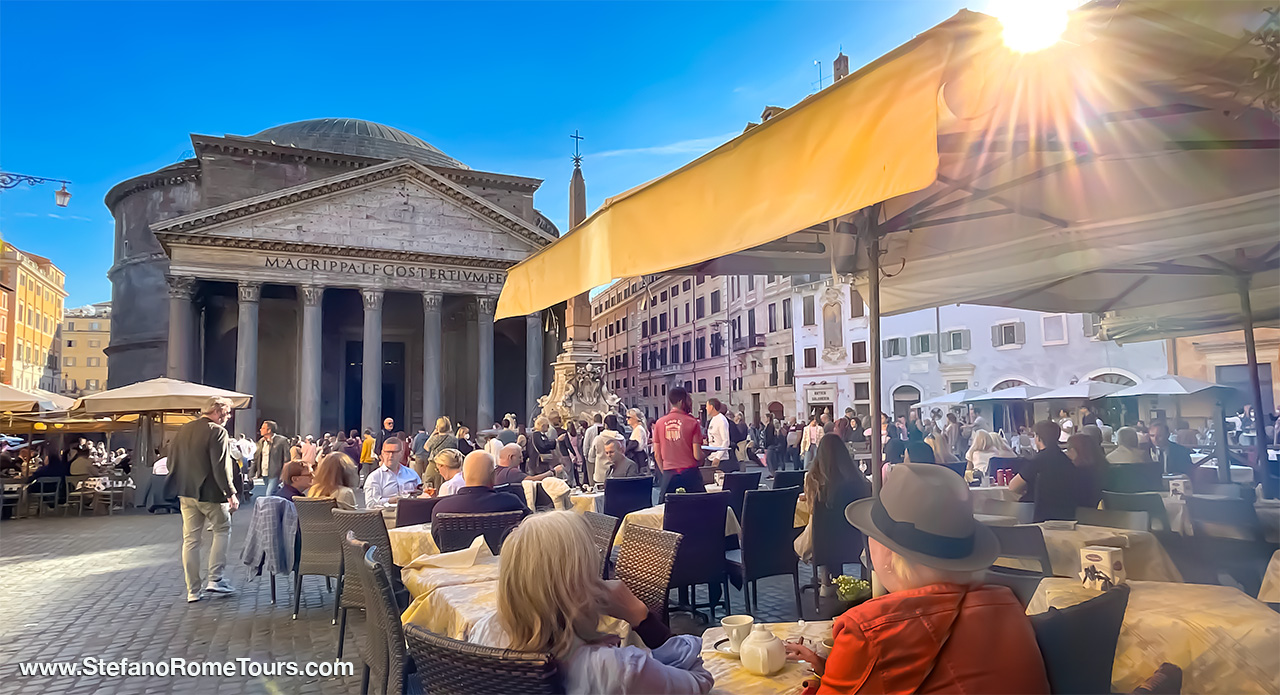 Standing proudly in the square is an imposing 20-foot Egyptian obelisk, an intricate creation originally hewn by Pharaoh Ramses II for the venerable Temple of Ra in Heliopolis. The fountain exudes an undeniable grandeur that promises to leave you utterly captivated.
Pause for a moment, and let the magnificence of the Pantheon wash over you. This architectural masterpiece reigns supreme in the square, its regal presence effortlessly commanding attention and stirring a deep sense of wonder.
As you wander leisurely through the square, you'll find yourself enveloped by the pastel hues of historic palazzi. Explore the nooks and crannies around the Pantheon, stumble upon quaint local shops, savor the sublime delights of gelato from a nearby gelateria, and surrender to the irresistible charm that has made Piazza della Rotonda an enduring favorite among generations of Rome's residents.
Dive into the sweetness of local life with a velvety artisanal gelato at Cremeria Monteforte tucked right beside the Pantheon, or savor the rich aromas of Roman espresso at the nearby cafes like Tazza d'Oro or Caffe Sant'Eustachio, all within the Pantheon's vicinity. Your 'la Dolce Vita' moment awaits.
NOTE: A visit inside the Pantheon is NOT included in the tour due to prohibitively long ticket lines, with unpredictable wait times also for visitors with pre-booked tickets which are exceptionally challenging to secure.

PIAZZA NAVONA - Timeless Baroque Charm


Your private Rome tour continues to Piazza Navona, a bustling square known for its distinctive oblong shape, which draws its name from the ancient word 'agones' signifying games. This vibrant space was constructed atop the remnants of Emperor Domitian's 1st-century AD sports stadium.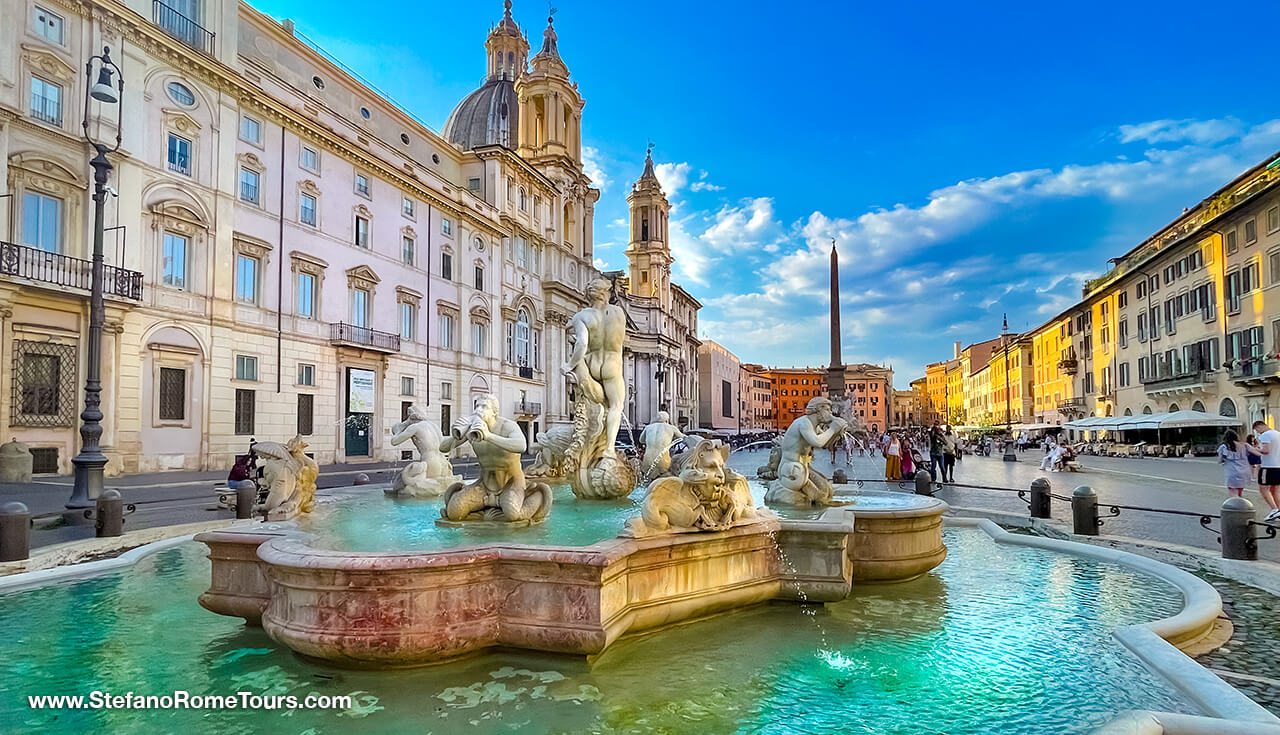 At its heart lies the grandeur of the Fountain of Four Rivers (Fontana dei Quattro Fiumi), a masterpiece crafted by the renowned Gian Lorenzo Bernini in the 17th century. This intricate fountain pays homage to the four major rivers known at the time: the River Nile (representing Africa), the Danube (Europe), the Ganges River (Asia), and the Rio de la Plata (America). Towering above the fountain stands an ancient Egyptian obelisk, commissioned by Pope Innocent X, lending both height and authority to this splendid aquatic creation.
Today, the square's allure is further enriched by the vibrant displays of local artists, the artistry of street performers, and the encircling historic palazzi that breathe life into the square. This fusion of history, creativity, and bustling activity renders Piazza Navona a dynamic space cherished equally by locals and its curious visitors for a taste of la dolce vita.



TREVI FOUNTAIN - A Symphony of Stone and Water


Nothing epitomizes la dolce vita more than the Trevi Fountain. Approaching this timeless masterpiece, you're immediately drawn in by the enchanting symphony of cascading waters, a mesmerizing serenade that lures you into its mystical embrace. This 18th-century architectural marvel derives its name from the convergence of "tre vie" (three roads) at its location.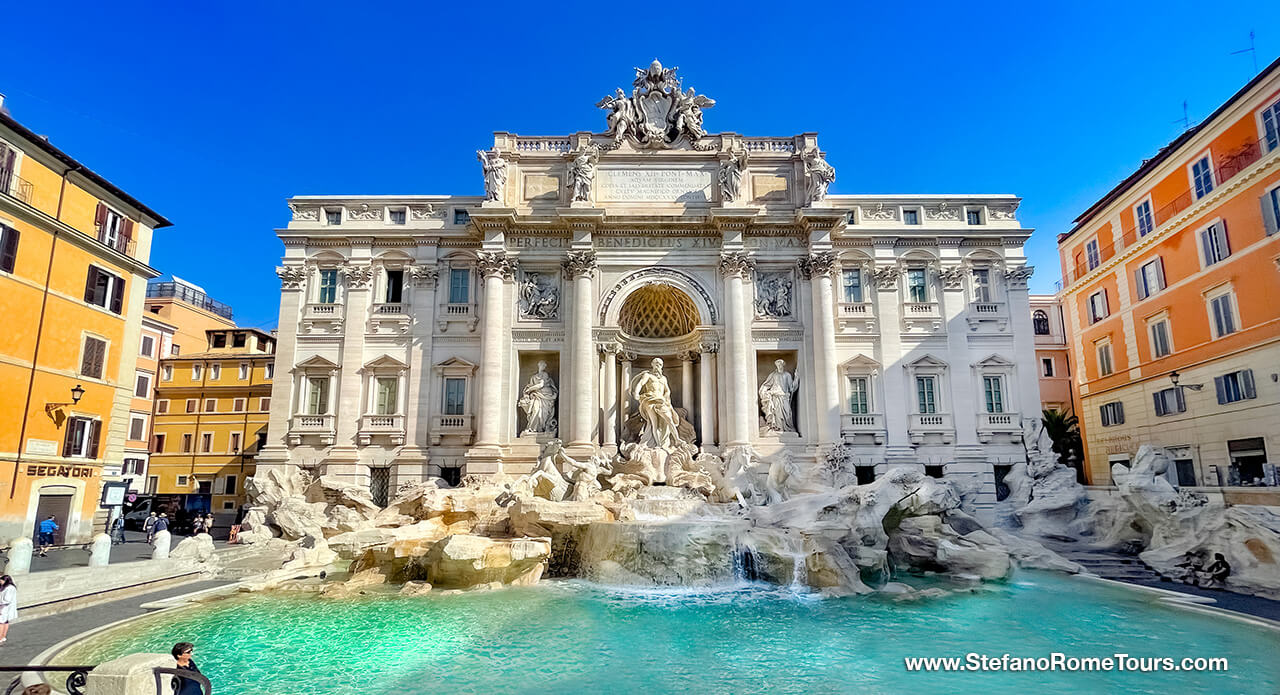 At the heart of the fountain stands Oceanus, the mythical Titan God, gracefully poised beneath a triumphant arch. His chariot is elegantly drawn by sea horses led by Tritons. The waters that replenish Trevi Fountain flow from the ancient Aqua Virgo aqueduct, dating back to 19 BC.
Legend has woven a delightful tale around this fountain: tossing a coin with your right hand over your left shoulder into the fountain's waters ensures your return to the Eternal City. As you partake in this cherished tradition, your hopes and dreams merge with the glistening ripples, carried away to intertwine with the wishes of countless kindred spirits.
This enchanting fountain has been immortalized in classic cinema, etching itself profoundly into the hearts of movie enthusiasts worldwide. From the iconic scenes in "La Dolce Vita", where Anita Ekberg frolics in the fountain's waters, to the romantic escapades of Audrey Hepburn and Gregory Peck in "Roman Holiday", and the timeless tale of "Three Coins in a Fountain", it's no surprise that Trevi Fountain holds a treasured place not only in the hearts of local Romans but also in the collective soul of the world.


SPANISH STEPS - A Staircase of Elegance

Welcoming you with its graceful 18th-century spiral stairway, the renowned Spanish Steps elegantly connect the bustling square below to the French church of Trinita dei Monti perched above. The name "Spanish Steps" owes its name to the Spanish Embassy, which once occupied this site in 1647 before being transformed into the Spanish Embassy to the Holy See.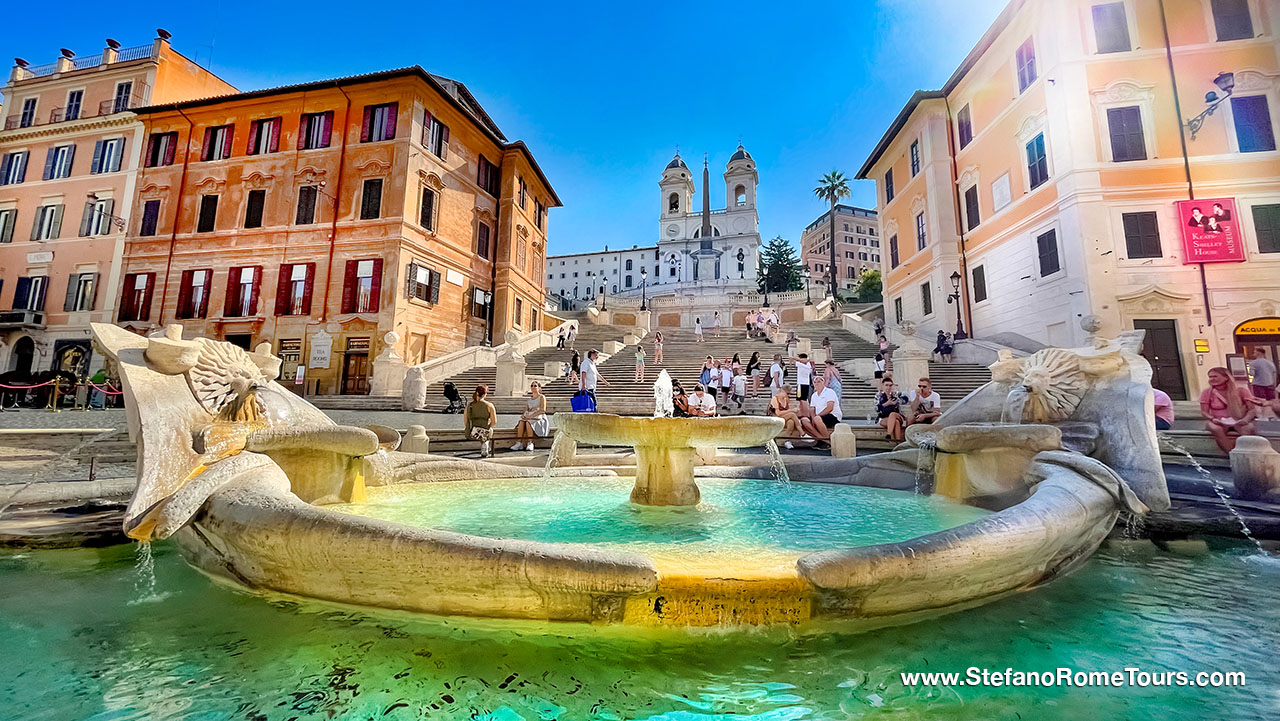 In the square below lies the "Fontana della Barcaccio" (The Fountain of the Old Boat), a magnificent Baroque masterpiece attributed to Pietro Bernini, the father of the esteemed sculptor Gian Lorenzo Bernini. This fountain pays homage to the wine-carrying boats of Ripetta's port, its artistry a testament to the ingenuity of the Bernini lineage.
As you ascend the Spanish Steps, you'll immerse yourself in the harmonious fusion of architectural splendor and historical significance that has transformed this iconic landmark into a cherished gathering place for generations of local Romans and curious travelers alike.
As our day of exploration on this fun-filled La Dolce Vita Rome tour draws to a close, it's time to bid adieu to these iconic Rome sites, cherished by generations of locals. Your personal driver will then take you to your Rome hotel.
We extend our heartfelt gratitude for choosing Stefano Rome Tours for your private Rome Tours and shore excursions from Civitavecchia. We look forward to the opportunity to share the beauty of Rome with you.


Our guests who enjoyed this La Dolce Vita Rome tour also booked the following day tours from Rome: