description
FLORENCE TOUR PRICE LIST
FLORENCE DAY TOUR FROM ROME HOTEL
For up to 4 Persons from Rome Hotel: 680 EUROS
For up to 6 Persons from Rome Hotel: 740 EUROS
For up to 8 Persons from Rome Hotel: 780 EUROS

SHORE EXCURSION FROM LIVORNO CRUISE PORT
For up to 4 Persons from Livorno Port: 800 EUROS
For up to 6 Persons from Livorno Port: 880 EUROS
For up to 8 Persons from Livorno Port: 980 EUROS

FROM LA SPEZIA CRUISE PORT
For up to 4 Persons from La Spezia Port: 800 EUROS
For up to 6 Persons from La Spezia Port: 900 EUROS
For up to 8 Persons from La Spezia Port: 1,000 EUROS

*** DATES on the Booking Form Calendar that are NOT Selectable, are NOT AVAILABLE.


Enjoy a visual journey of captivating places in our Florence Tour VIDEO:


Travel into the heart of Tuscany to the remarkable city of Florence, home of some of the greatest cultural achievements in history.
Spend a day Florence, the cradle of Renaissance that produced some of the most significant thinkers, scientists, philosophers and artists in Italy, and the overwhelming works of art in Florence attests the historical and cultural impact of that era.
Starting from Rome, will enjoy a relaxing drive through the rustic countryside of Rome into the verdant region of Umbria with hilltop medieval towns, and finally arrive in the picturesque region of Tuscany that welcomes you with picture-perfect vistas of rolling hills lined with cypress trees, farm houses and long forgotten villas dotting the Tuscan land.
From the Cruise Port in Livorno or La Spezia, a direct route will take you swiftly to Florence.
FLORENCE - The Cradle of Renaissance


In Florence, you will have the opportunity to visit Florence's most significant piazzas and see why Florence is regarded as an outdoor museum.
After a delightful stop in Piazzale Michelangelo for a sweeping panoramic view of Florence, you will continue on to the historic center where a cornucopia of Renaissance superlatives await you.
PIAZZA DEL DUOMO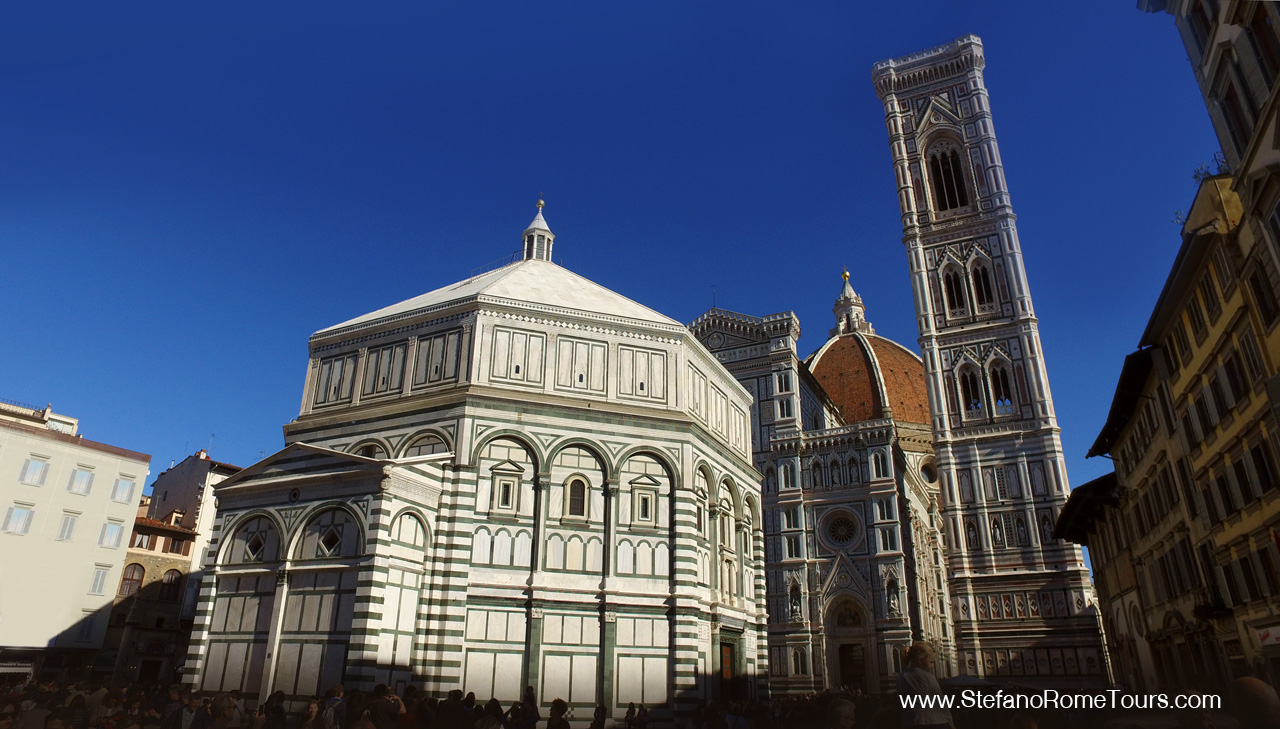 Piazza del Duomo is among the most visited piazza that includes the Basilica di Santa Maria del Fiore that's popularly referred to as the Duomo, the octagonal Baptistery of St John, and the colorful Giotto's Bell Tower.
The large dome designed by Brunelleschi remains the largest brick dome in the world, and it was the inspiration for Michelangelo's dome of St Peter's Basilica inside the Vatican.
The Baptistery is renowned for the large bronze doors with relief sculptures, the most famous being the East doors by Ghiberti that Michelangelo considered to be "the Gates of Paradise".

BASILICA OF SANTA CROCE


You will enjoy Piazza di Santa Croce to visit the beautiful Basilica of Santa Croce.
Once you enter this Franciscan church, you'll see why it's also called the Temple of the Italian Glories: some of Italy's most illustrious scientists, thinkers, and artists including Galieleo, Michelangelo, Donatello and Machiavelli are buried here.
Being in the heart of Tuscany, Florence is famous for its delicious cuisine prepared from fresh local ingredients and simple traditional recipes that are legendary.
Now it's time to free time on your own to savor some Florentine dishes for lunch at a local ristorante or trattoria of your preference.


PIAZZA DELLA SIGNORIA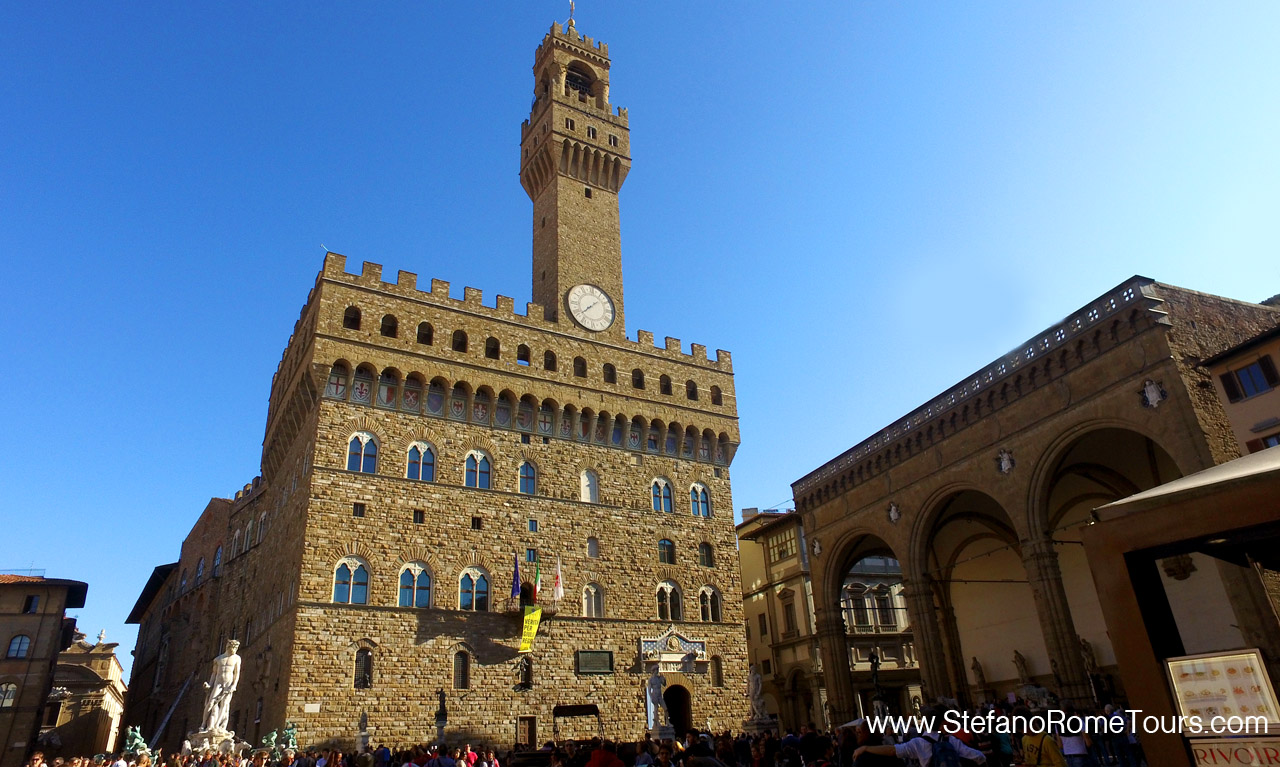 After lunch, you will visit Piazza della Signoria that is famous for the replica of Michelangelo's David standing in front of Palazzo Vecchio.
Don't miss the collection of notable sculptures inside the Loggia del Lanzi.

PONTE VECCHIO


A short walk away towards the River Arno is the famous Ponte Vecchio lined with precious gold shops that themselves look like jewelry boxes.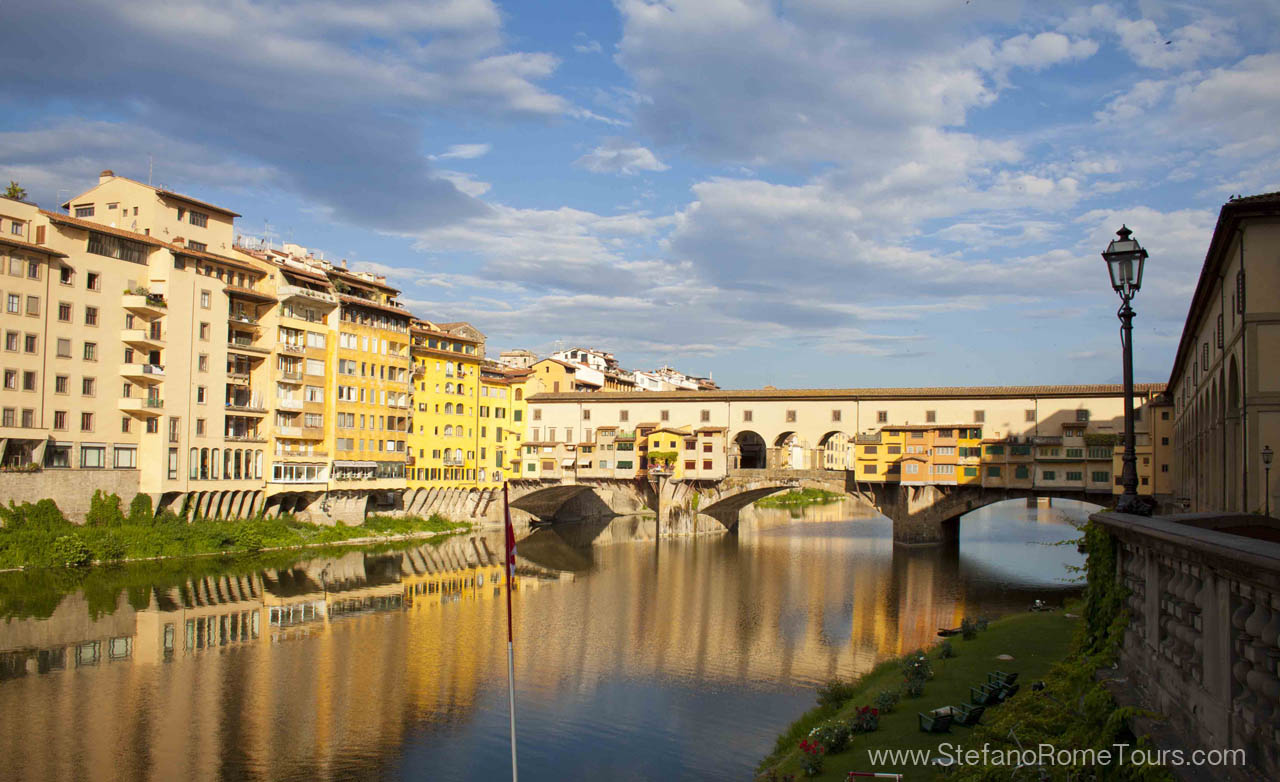 Ages ago, this Old Bridge was occupied with butcher shops, but in 1593 the Medici Grand Dukes wanted to clean up the image of the bridge and add a level of prestige by replacing the butchers with gold merchants.
Vasari's corridor that dominates the bridge connects Palazzo Vecchio to Palazzo Pitti and offered a safe passage for the Medici dynasty to commute safely from the government palace to their residence.

ACCADEMIA GALLERY

A visit to one of Florence's notable museums will give you the opportunity to see the original statue of David by Michelangelo inside the Accademia Gallery.
Please note that museums are closed on Mondays. On days that the Museums are CLOSED, your museum visit will be substituted with other sites of interest in Florence.


From here your driver will bring you back to your cruise ship in Livorno (or La Spezia Port) or you will journey back to your Rome accommodation.
Thank you for choosing Stefano Rome Tours for your Day Tours from Rome and Italy Private Excursions. We look forward to seeing you soon in Italy!


** TOURING FROM LA SPEZIA? La Spezia Port is farther away from Pisa and Florence than Livorno Cruise Port, therefore additional driving time is required to and from your destinations. The additional driving time would reduce your overall sightseeing time available in Pisa and Florence in order to accommodate the ship's docking schedule in La Spezia. Please see below the Meeting Point to meet your driver at La Spezia Port.


Guests who booked this Florence Tour also enjoyed the following Day Tours from Rome and shore excursions from Italy's Cruise Ports:
Important Information

Please READ the important information below as well as Read & Accept our TERMS OF SERVICE and Privacy Policy prior to placing your reservation request(s).



PAYMENT OPTIONS for Florence Tour:
Payment can be made in Euro funds at the end of your journey directly to your driver, or you may prepay in advance via PayPal or Credit Card online when you Confirm your Tour.

CANCELLATION POLICY:
We kindly ask that cancellations be made at least 7 days in advance in writing via E-Mail. Cancellations by phone, text, or 3rd party who is not the person who booked the service are NOT accepted.
** PREPAID SERVICES can only be Refunded the Net Rate we receive from your prepayment. Net Rate is the actual service price minus the fees retained by PayPal/Credit Card that are not reimbursed to us in case of refunds. We can only refund the portion we receive from the PayPal/CC company.
EMAIL INQUIRIES / BOOKING REQUESTS
Please allow up to 24 hours for email correspondences in response to email inquiries and tour reservation requests.
We reply to ALL emails and booking requests we receive. If you don't receive correspondence from us within 24-48 hours please CHECK YOUR SPAM FOLDER, or send us an email from a different E-mail account.


FLORENCE MUSEUM VISIT
Please be aware that Museums are closed on Mondays, and on national holidays: January 1, May 1 and December 25.
It is also NOT possible to visit museums on 1st Sunday of Each Month as these are "free museum days" . Without advance no-line tickets, the lines and wait times to enter can be very long.
On these dates your museum visit will be substituted with other sites in Florence that best suit your interests and desires.
* Please book your ACCADEMIA GALLERY no-line admission tickets in advance for the 11:30 AM time slot.
FLORENCE MUSEUM TICKET WEBSITE


Not reserving your museum visit in advance may result in a lengthy wait in line and the chance of missing the museum visit. Please book your tickets here and bring your Vouchers with you on the tour date.
It is not possible to visit both Accademia Gallery and Uffizi Gallery in one day without missing out on much of Florence. Accademia Gallery takes about 1 hour to visit. Uffizi Gallery takes about 2 hours to visit. Our clients prefer to book the Accademia Gallery in order to have more time to enjoy other sites in Florence.
* Entrance into the church of SANTA CROCE is approximately 5 euros per person to be paid upon arrival
WHERE TO MEET YOUR DRIVER AT THE CRUISE PORTS


For Shore Excursions from Livorno:
Your driver will meet you on the Pier next to your Ship at your Tour starting time, holding a sign with the NAME in your reservation.
Please do NOT leave the ship area, and do NOT take a shuttle bus to exit the port.

For Shore Excursions from La Spezia:
Due to the port's small size and security restrictions, vehicles are NOT permitted to enter the port of La Spezia. Cruisers are required to take a shuttle bus from their ship and exit the cruise port. Your driver will meet you at the Bus Stop holding a sign with the name in your tour reservation.

YOUR STEFANO ROME TOURS DRIVER
This tour provides an English-speaking Driver who is NOT a Licensed Tour Guide. Your driver will be happy to provide general touristic information while at the vehicle, but will not be able to accompany you to sightsee away from the vehicle.

Italy has strict laws and regulations aimed at protecting official licensed guides that make it unlawful for Drivers to act as tour guides or accompany guests to sightsee on foot away from the vehicle. In order for us to comply with Italy's laws, Drivers are required to remain with the vehicle while guests sightsee on their own away from the vehicle.
On this Florence Tour by car you will SELF TOUR (unaccompanied by your driver) when away from the vehicle.
You will be dropped off as close to the sites as possible in accordance with municipality and traffic laws.


LICENSED TOUR GUIDES
If you prefer to have a licensed local tour guide for a walking tour of Florence's historic center, we can make arrangements for you as a courtesy service to our clients at additional Tour Guide Fees. Tour Guides are paid separately at the end of the tour service in Euro funds. Please inquire via E-Mail for Tour Guide Fees and information to reserve a private licensed tour guides in Florence.

TOUR SHARING FROM LIVORNO / LA SPEZIA CRUISE PORT
SAVE a lot on this Florence Shore Excursion from Livorno or La Spezia by sharing your tour with fellow cruisers for up to 8 guests per minivan! It's easy: just place an ad on Cruise Critic roll call and invite others to join you. Share the fun and the expense: LEARN MORE ABOUT TOUR SHARING