Buon giorno and welcome to Stefano Rome Tours, Rome's leading company for private Day Tours and Shore Excursions from Civitavecchia, Livorno and Naples.
This travel blog is dedicated to all the great things that make Italy one of the world's greatest travel destinations.
In this article we'd like to introduce you to some interesting travel articles from our sister company RomeCabs as featured on their travel blogs.
VIDEO POSTCARDS FROM ROMECABS
RomeCabs has launched a weekly series of Video Postcards featuring places in Rome and throughout Italy where RomeCabs offers tours.
Each Video Postcard is 30 seconds long set to fun and lively tunes, giving you a morsel of the great beauties of Italy.
Click to enjoy more Video Postcards from RomeCabs with a description of each place featured in the video postcard.
How The Train Ruined the Cruise
for Thousands of Cruisers
Italy has quite an extensive train system that travelers can use to access many popular destinations in Italy from Rome. One of these popular destinations is Civitavecchia, the cruise port of Rome located about 1.5 hours away.
The commuter train that runs about every 30 minutes (less on Sundays and bank holidays) is the usual means to travel between Rome's Termini Station and Civitavecchia Train Station (the 2 endpoints for this commuter train route).
Under the assumption that the train is an easy and cheap transportation alternative between Rome and Civitavecchia, many cruisers opt for what would appear to be a convenient, reliable and inexpensive mode way to travel between Rome and Civitavecchia.
At 5 Euros per person train travel is very inexpensive indeed.
But easy, convenient AND reliable?

Thousands of cruisers left stranded did NOT find the train reliable.


CLICK find out how the Train ruined the day for thousands of cruisers!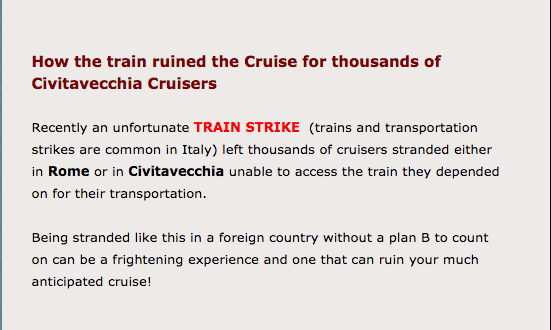 Traveling to Italy this Summer?
Don't Forget to Bring THESE Things With You!


Summer is the most popular time of the year when millions of visitors worldwide travel to Italy on their summer vacations. While many travelers choose to travel light (with less luggage) for convenience and since summer clothing take up little space, there are a few things that you must bring with.
Click to find out what not to forget to bring with you to Italy
TOP 10 MUST SEE PLACES IN ROME PHOTO GALLERY
Rome is a treasure trove of thousands of years worth of history, architecture, beauty and charm that a lifetime is not long enough to discover all of Rome's ancient secrets and hidden treasures.
The Eternal City has amassed a vast number of things to see and do during its extensive 2,700 years of history.
And with so little time to see and do everything on your visit to Rome, you don't miss some of the most exciting sites that make Rome one of the world's most visited cities and top travel destinations.
CLICK TO SEE GALLERY of 10 Must See Places in Rome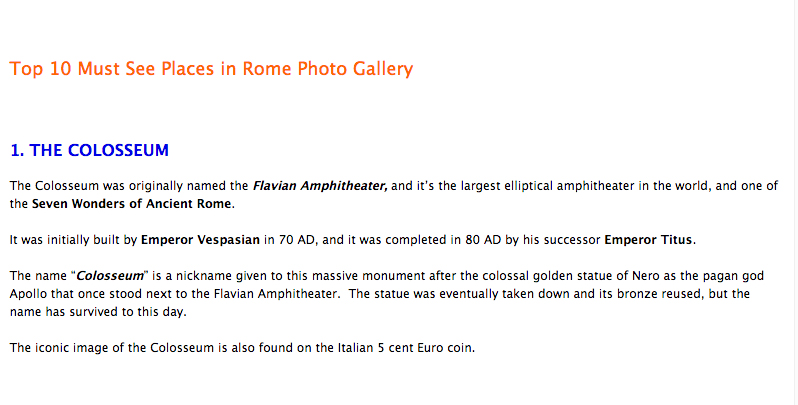 How To Get From Fiumicino to Civitavecchia
in 3 Easy Steps

Whether you are Flying in Rome pre cruise or departing from Rome post cruise, chances are you will need a transfer from Fiumicino to Civitavecchia, or a transfer from Civitavecchia to Fiumicino Airport.
This RomeCabs Trave Article shows you how to get from Fiumicino to Civitavecchia in 3 Easy Steps.
CLICK TO FIND OUT how to get from Fiumicino Airport to Civitavecchia easily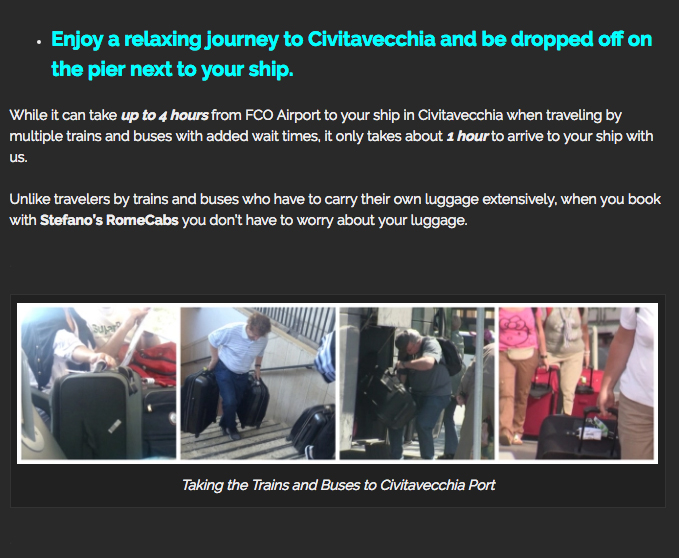 Thank you very much for visiting our blog.
For more information on Rome Day Tours and Italy Private Shore Excursions, please visit our main website.
For more information about RomeCabs, please visit them at www.RomeCabs.com
We look forward to seeing you in Italy!
Stefano Rome Tours Team