description
Please CONTACT US via Email for availability and booking information
SIENA AND SAN GIMIGNANO TOUR PRICE LIST


FROM LIVORNO CRUISE PORT
For up to 4 Persons from Livorno Port: 650 EUROS
For up to 6 Persons from Livorno Port: 700 EUROS
For up to 8 Persons from Livorno Port: 800 EUROS


FROM FLORENCE HOTEL
For up to 4 Persons from Florence Hotel: 650 EUROS
For up to 6 Persons from Florence Hotel: 675 EUROS
For up to 8 Persons from Florence Hotel: 700 EUROS

Enjoy a visual journey of our Siena and San Gimignano Tuscany Tour VIDEO:


Journey into the heart of the mesmerizing countryside of Tuscany to San Gimignano and Siena from Florence and from Livorno Cruise Port in the comfort of your private deluxe vehicle driven by your personal Stefano Rome Tours knowledgeable English speaking Driver who is dedicated to making your shore excursion to Tuscany a memorable experience you will treasure for life.
SIENA - a Medieval icon of Tuscany

You will enjoy a pleasant drive through the enchanting region of Tuscany to your first destination, Siena.
Siena's history extends as far back as Ancient Rome as a Roman colony. For centuries since, Siena grew into a prosperous significant medieval town, a rightful rival to the neighboring Florence.
In the 14th century its fate and fortunes fell due to pestilence and banking decline. Construction and expansion abruptly stopped, and with little subsequent development and industrialization Siena inadvertently preserved its medieval architecture, culture, and traditions that we enjoy today.
Among the historic traditions that date back to ancient tribal systems retained in Siena, is the town's 17 districts (contrade)- each with its own coat of arms and strong identity.
This is most prevalent every July 2 and August 16 during the Palio delle Contrade, the famous precarious horseracing around the perimeter of the town's main square, Piazza del Campo.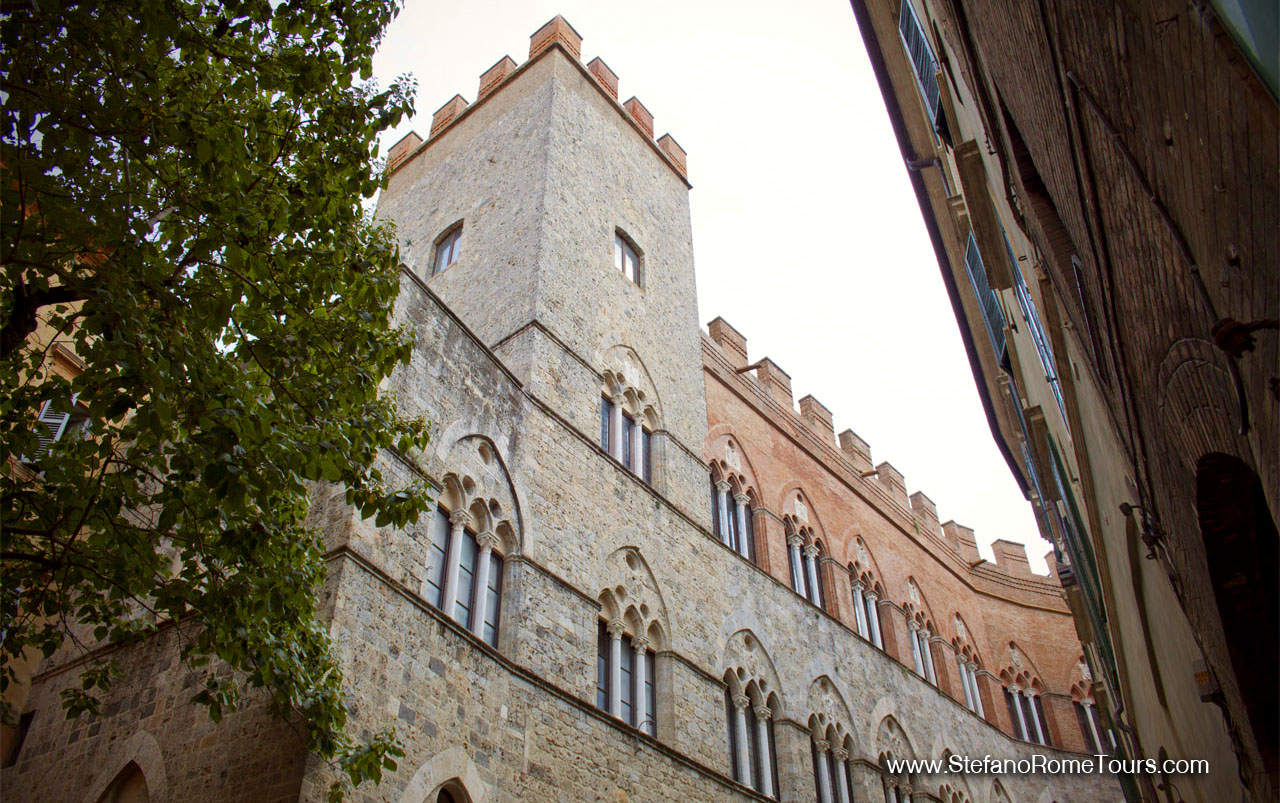 Siena is small enough in size to be enjoyed on foot to enhance your experience.
It's brimming with outdoor cafes, shops and boutiques that sell locally crafted products, and with the perfectly preserved medieval buildings you feel you've just stepped back in time a thousand years while enjoying modern day amenities.
From Siena you will be on your way through the countryside of Tuscany to your next destination, the world famous San Gimignano.
SAN GIMIGNANO - the "Medieval Manhattan of Tuscany"

Resting on a hilltop overlooking the Elsa Valley, San Gimignano has rightfully earned its reputation as the "Medieval Manhattan of Tuscany".
While in San Gimignano, your driver will be happy to offer suggestions for lunch as there are many restaurant opportunities for varying tastes and budgets.
San Gimignano's history is ancient, founded in the 3rd century BC by the Etruscans, with documented records beginning in the 10th century when it adopted the name of the Bishop of Modena who defended it from Attila's Huns, Saint Geminianus.
Due to its location along the "Via Francigena", San Gimignano's wealth and architectural development flourished during the 11th and 13th centuries.
Unlike many Italian medieval villages that have lost their towers due to urban renewal, wars, or natural disasters, San Gimignano preserved 14 of its original 72 towers which have become its international symbol and pride.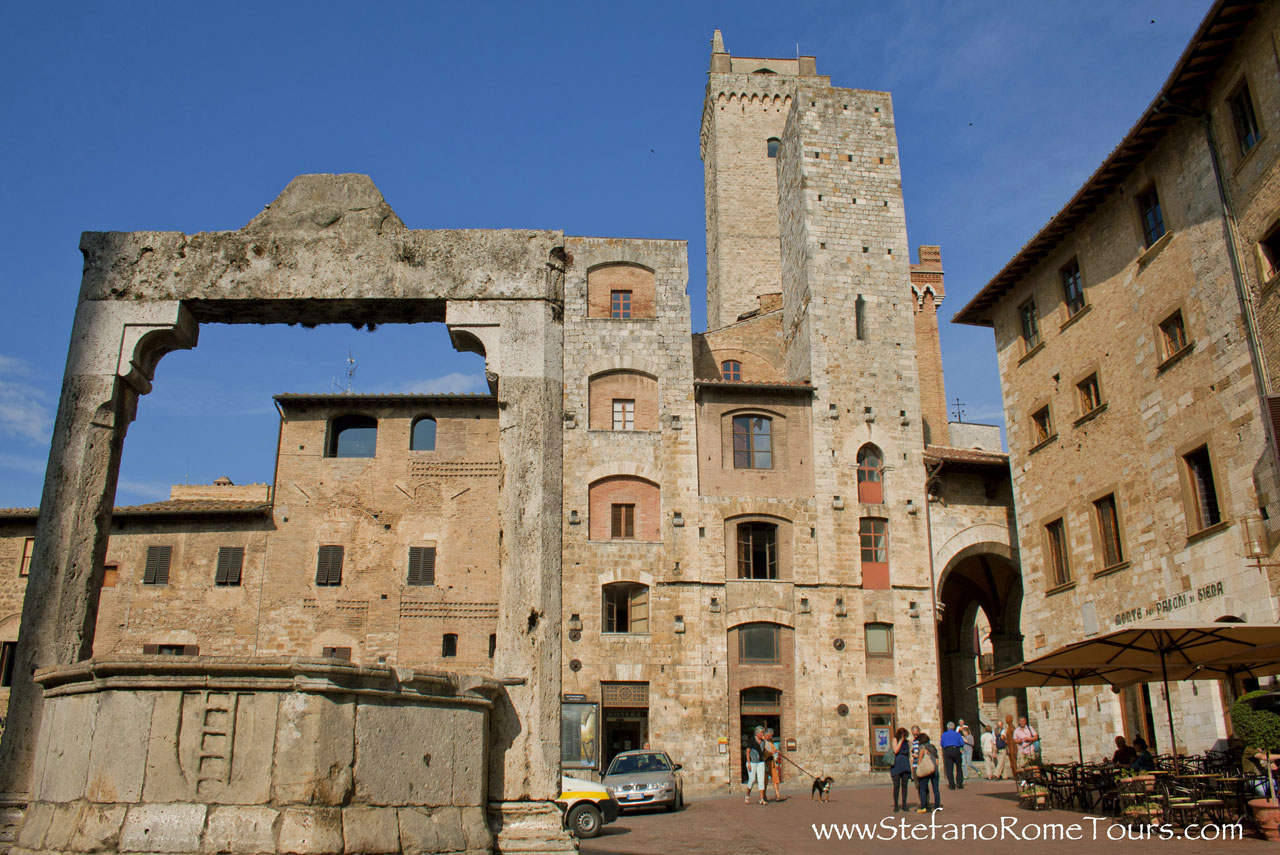 Its historic center is a UNESCO World Heritage Site. Among these magnificent towers are narrow winding lanes that add to the charm of this medieval town.
The main square in town is Piazza della Cisterna, a charming triangular square surrounded by beautiful medieval houses, palaces and towers surpassing rooftops. Shops, cafes and boutiques offer locally crafted products and delicacies.
In the center of the square is the restored 14th century well on whose steps locals and visitors alike gather to enjoy the beauty that surrounds them...and also enjoy some of the best gelato in Tuscany that is available at the gelateria in the square.
From here you will enjoy a relaxing drive through the Tuscan countryside on your way back to your ship in Livorno.
Thank you very much for choosing Stefano Rome Tours for your Italy Shore Excursions and Day Tours from Rome and Florence. We look forward to showing you Italy!


Guests who booked our Siena and San Gimignano Tuscany Tour / Shore Excursion, also enjoyed the following Tours:


Important Information

Please READ the important information below as well as Read & Accept our TERMS OF SERVICE and Privacy Policy prior to placing your reservation request(s).



PAYMENT OPTIONS for Siena and San Gimignano Tour:
Payment can be made in Euro funds at the end of your journey directly to your driver, or you may prepay in advance via PayPal or Credit Card online when you Confirm your Tour.


CANCELLATION POLICY:
We kindly ask that cancellations be made at least 7 days in advance in writing via E-Mail. Cancellations by phone, text, or 3rd party who is not the person who booked the service are NOT accepted.
** PREPAID SERVICES can only be Refunded the Net Rate we receive from your prepayment. Net Rate is the actual service price minus the fees retained by PayPal/Credit Card that are not reimbursed to us in case of refunds. We can only refund the portion we receive from the PayPal/CC company.

EMAIL INQUIRIES / BOOKING REQUESTS
Please allow up to 24 hours for email correspondences in response to email inquiries and tour reservation requests.
We reply to ALL emails and booking requests we receive. If you don't receive correspondence from us within 24-48 hours please CHECK YOUR SPAM FOLDER, or send us an email from a different E-mail account.
DRIVER MEETING POINTS:


For Shore Excursions from Livorno:
Your driver will meet you on the Pier next to your Ship at your Tour starting time, holding a sign with the NAME in your reservation.
Please do NOT leave the ship area, and do NOT take a shuttle bus to exit the port.


For Day Tours from Florence:

From your hotel, your driver will meet you inside the lobby of your hotel or the area permitted by your hotel.
For Apartments or B&B's without a lobby, your driver will meet you outside the main entrance of your Address.
* If your hotel or accommodation is located on a street or in an area restricted to vehicle traffic, your driver will park as close as lawfully possible, and meet you on foot at your Address to accompany you to your parked vehicle. Door to Door service may not be possible on streets and areas that are restricted to vehicle traffic or stops.

YOUR STEFANO ROME TOURS DRIVER
This tour provides an English-speaking Driver who is NOT a Licensed Tour Guide.
Italy has strict laws and regulations aimed to protect official licensed guides that makes it unlawful for Drivers to act as tour guides or accompany guests to sightsee on foot away from the vehicle. In order for us to comply with Italy's laws, Drivers are required to remain with the vehicle while guests sightsee on their own away from the vehicle.
On this Siena and San Gimignano Tour by car you will SELF TOUR (unaccompanied by your driver) when away from the vehicle.
You will be dropped off as close to the sites as possible in accordance with municipality and traffic laws.
TOUR SHARING FROM LIVORNO CRUISE PORT
SAVE a lot on this Siena and San Gimignano Shore Excursion from Livorno by sharing your tour with fellow cruisers for up to 8 guests per minivan! It's easy: just place an ad on Cruise Critic roll call and invite others to join you. Share the fun and the expense. LEARN MORE ABOUT TOUR SHARING