description

Before ushering in the era of Rebirth (Renaissance), the Medieval Italian peninsula was divided into many kingdoms with fortified citadels perched on hilltops, comprised of enduring stone buildings and castles that are the hallmark of many of Italy's medieval towns and villages today.
The Roman countryside is a bucolic land with gentle landscapes studded with charming medieval villages that are as close as you'll come to traveling back in time to Italy's medieval past that has inspired legends and fairytales.
On our Post Cruise Medieval Wonders Countryside Tour from Civitavecchia, you will have the opportunity to visit the remarkable medieval walled town of Tuscania with beguiling views, enjoy a tasty lunch in the tiny medieval fortified clifftop hamlet of Ceri, and visit the magnificent Castello Odescalchi in the historic lakeside town of Bracciano.
Your personal English-speaking Stefano Rome Tours driver will meet you on the Pier next to your cruise ship at 9:00 AM, and bring you to your hotel in Rome at the conclusion of your debarkation countryside tour.
POST-CRUISE MEDIEVAL WONDERS COUNTRYSIDE TOUR Price List:

For up to 4 Persons from Civitavecchia Port: 600 EUROS
For up to 6 Persons from Civitavecchia Port: 650 EUROS
For up to 8 Persons from Civitavecchia Port: 700 EUROS


* DATES on the Booking Form Calendar that are NOT Selectable, are NOT AVAILABLE.
** Please include your DROP-OFF HOTEL NAME and ADDRESS IN ROME in the MESSAGE BOX of your booking form.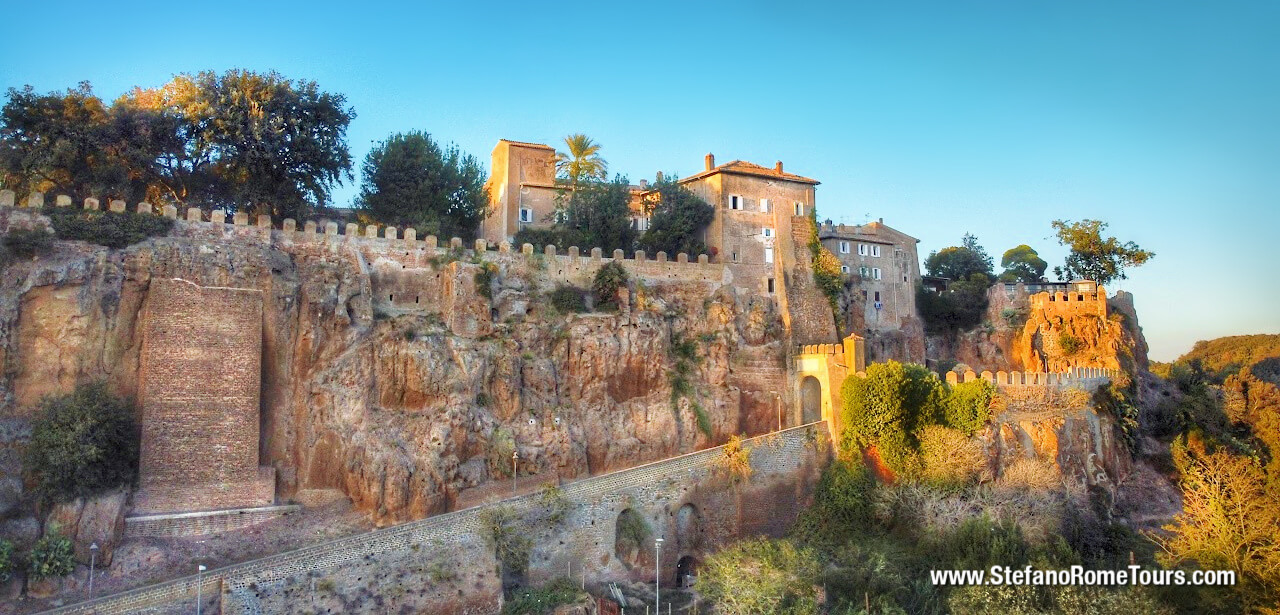 TUSCANIA - one of Italy's most remarkable medieval towns
Your Post Cruise Medieval Wonders Countryside tour begins with a relaxing drive from Civitavecchia through the rustic countryside to your first destination: Tuscania.

Tuscania is one of the oldest towns in Italy with a long history dating back to when it was an important Etruscan establishment 3,000 years ago in a land known as Etruria. Later, when the Romans conquered the Etruscans, Tuscania became an Ancient Roman settlement.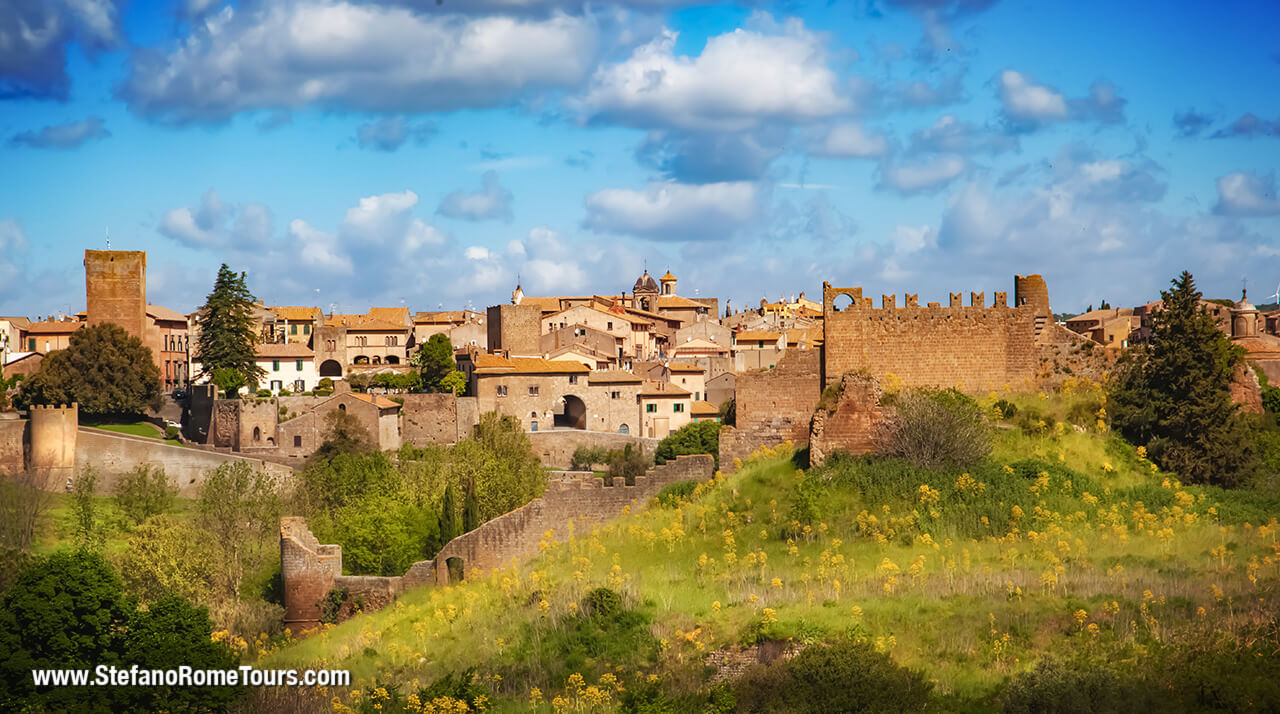 Although vestiges of its ancient Etruscan and Roman past are still present throughout the town, Tuscania has retained its authentic medieval splendor evident in its fortified walls that protected the village, watch towers, ruins of Rivellino castle, grand Romanesque churches, and medieval stone buildings that make up the historic center.
Stroll along the main cobblestoned village road to the belvedere on top of the medieval city walls and admire the spellbinding views of the surrounding landscapes that inspire not only poets but each and everyone one of us. Upon visiting Tuscania in the early 1900s, English novelist and poet, D.H. Lawrence wrote:
"The Most beautiful view in all Italy: the Etruscan valley of Tuscania".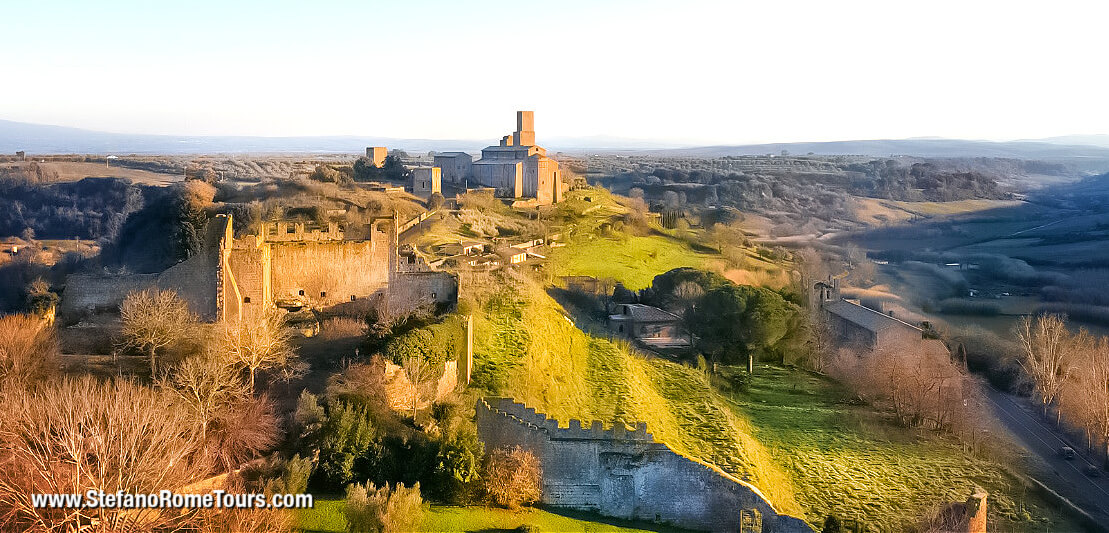 Standing in majestic solitude outside the city walls are Tuscania's two historically and architecturally significant churches: San Pietro and Santa Maria Maggiore.
It may appear unusual that these important churches are located so far outside the town's protective walls, but the initial settlement had once expanded around these grand basilicas before they retreated to their current location. When the current medieval city walls were rebuilt to protect the village, the walls did not surround the churches.
The magnificent church of Saint Peter was originally built in the 8th century on top of the ancient acropolis which is now Colle San Pietro (St Peter's Hill) and renovated during the 11th-12 centuries.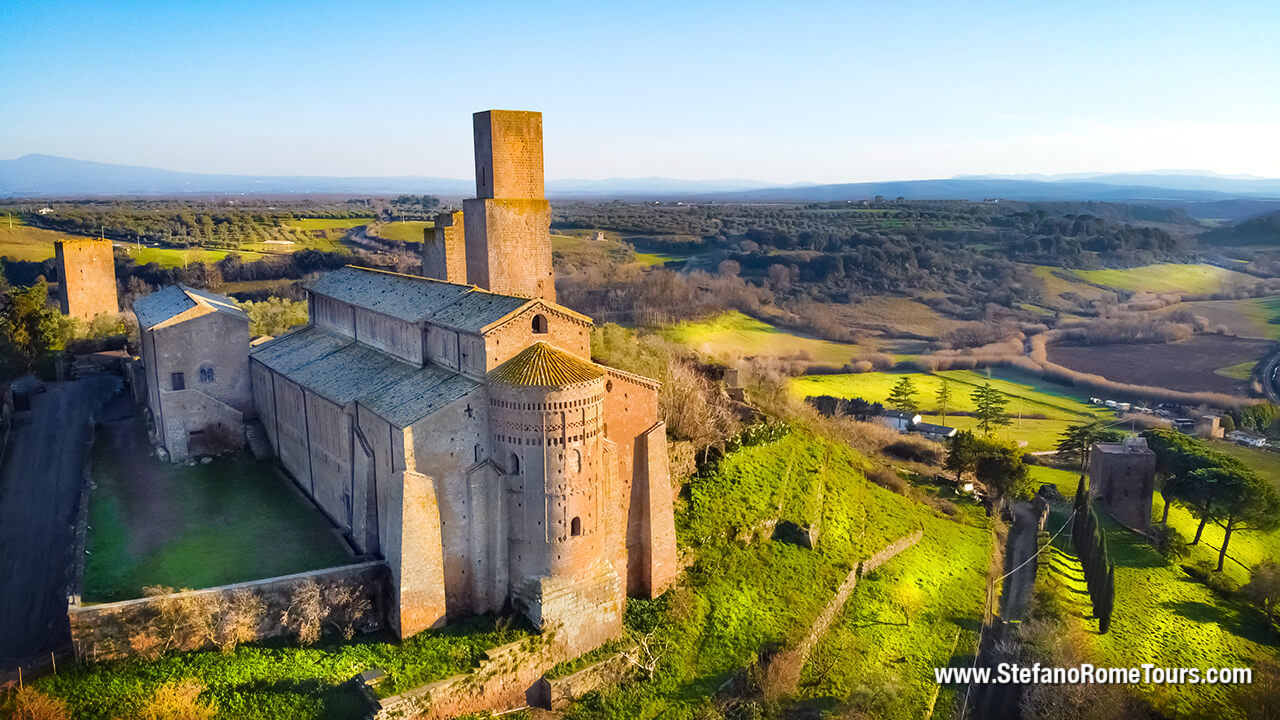 In the valley below facing the church of Saint Peter is the church of Santa Maria Maggiore, consecrated in the year 1206. It too faced many restorations over the centuries.
These remarkable churches are among the most beautiful and significant must-visit churches in the region. Both churches were built over ancient Etruscan pagan temples, with St Maria Maggiore built upon the temple of Janus, the 2-faced god of the gateway into the afterworld. The churches are remarkable examples of medieval Romanesque-Gothic architecture.
CERI- visit the charming Medieval hilltop hamlet

Your Post Cruise Medieval Wonders Countryside Tour continues with a scenic countryside drive to Ceri where you will have the opportunity to explore the village and enjoy a delicious traditional Italian lunch at a local family-owned restaurant.
Ceri is a 13th-century borgo with reinforced walls that gives it the appearance of a medieval fortress isolated on top of a steep plateau.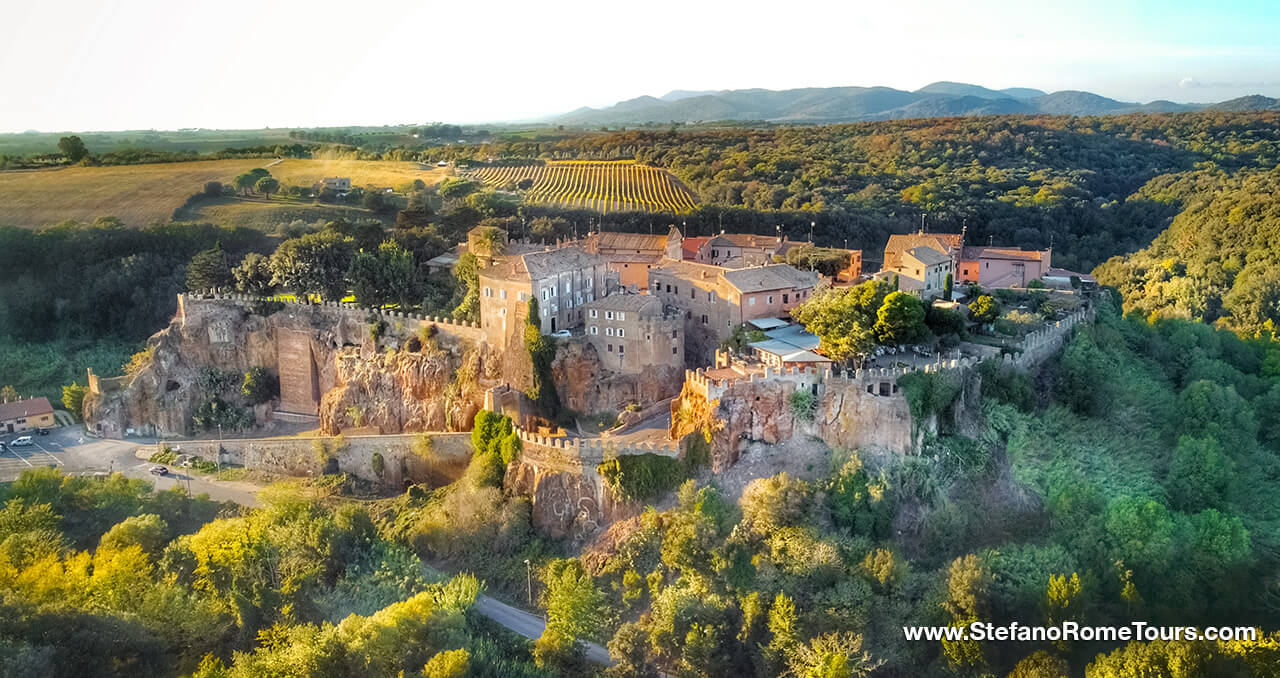 Ceri's strategic location acted as a natural defense protected by the rock formations, and it became a sought-after location by the ancient Etruscans and Romans who settled there long before the middle ages. Ceri's ancient was Caere Novum. In the middle ages, Ceri became a "borgo", a hamlet that grew around its castle.

Ceri's medieval past dominating the present is evident as soon as you arrive at the bottom of the cliff. The ancient rock-carved street that accesses the town through the main gate is wide enough for only one vehicle to pass through at a time. This traffic dilemma was resolved with the installation of two traffic lights: one at the bottom of the hill, and one on top of the village where the street ends in the main square.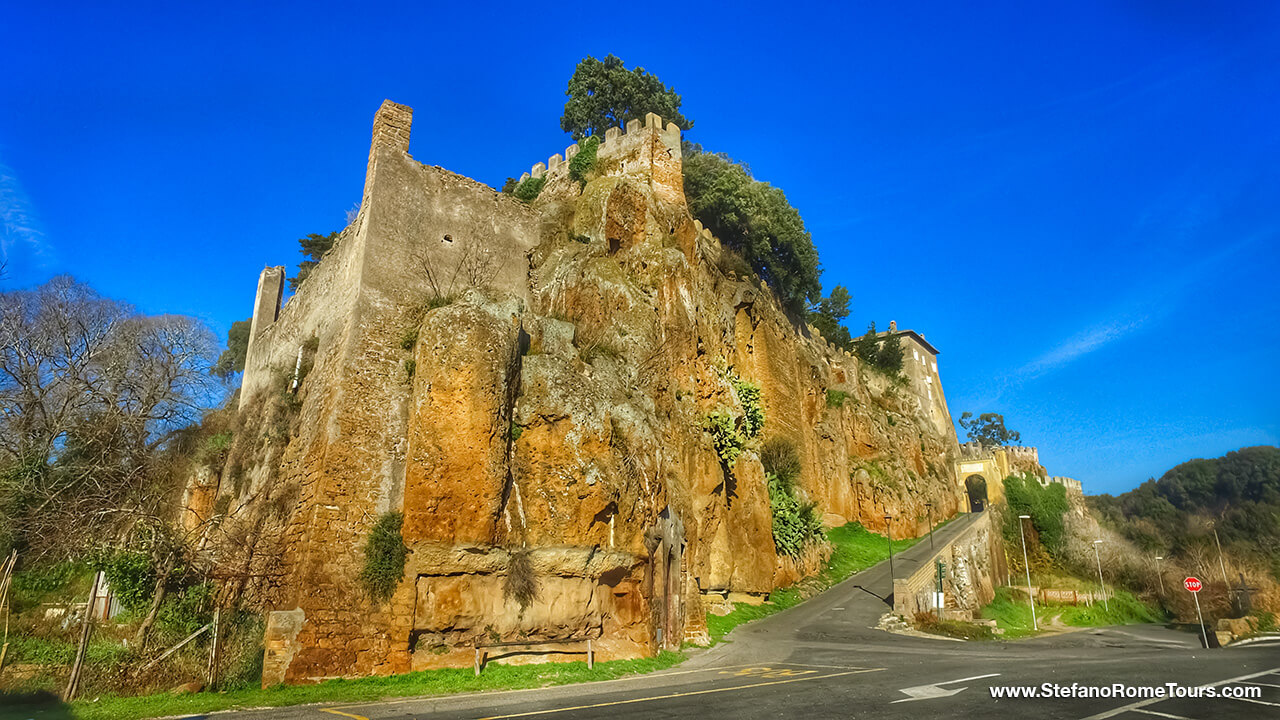 The village square is surrounded by ochre and sienna-colored buildings aged by the passage of time. Prominently located in the square is the beautiful Sanctuary of the Madonna di Ceri, a simple Romanesque church that was built above an ancient temple where ancient Etruscans and Romans venerated the pagan goddess Vesta. The walls inside the church are adorned with vibrant ancient frescoes depicting biblical scenes and figures.

Ceri is also a favorite destination for foodies who flock to this tiny village that's famous for its local family-owned restaurants that specialize in traditional home-cooked meals prepared with fresh locally sourced and in-season ingredients following secret recipes passed down my generations of Italian grandmothers who know good food.
After a repast of traditional local dishes at a local restaurant in Ceri, you will join your driver for a leisurely drive to Bracciano, a medieval lakeside village crowned by the staggering Castello Odescalchi (commonly referred to as the Bracciano Castle).
Originally built as a medieval fortified military defense tower, in the late 1400s the structure metamorphosed into a residential castle by order of the influential Orsini family.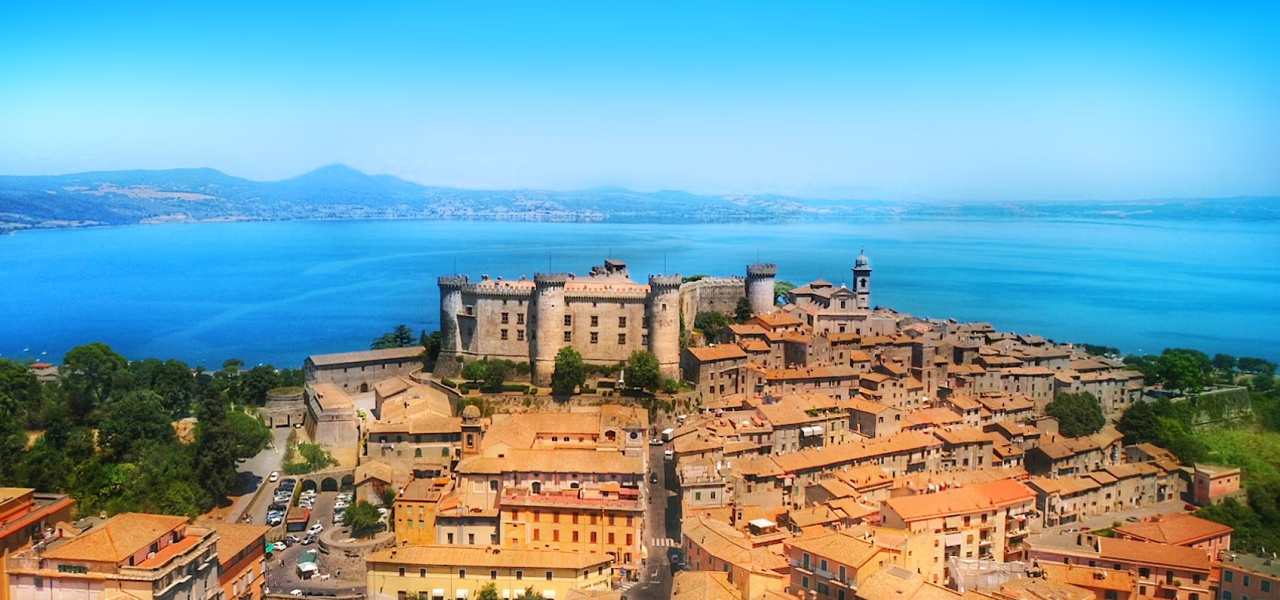 Over the next two centuries, the castle saw many renovations that gave it its current opulent appearance, and in 1696 the castle was sold to the powerful Odescachi family who is still the rightful owners of the castle today. Odescalchi Castle (or Castello Odescalchi in Italian) is commonly known as Bracciano Castle.

Although privately owned, Bracciano Castle serves as a museum welcoming visitors to see the sumptuous private apartments that, once upon a time, were the private quarters of kings, popes, lords, and ladies.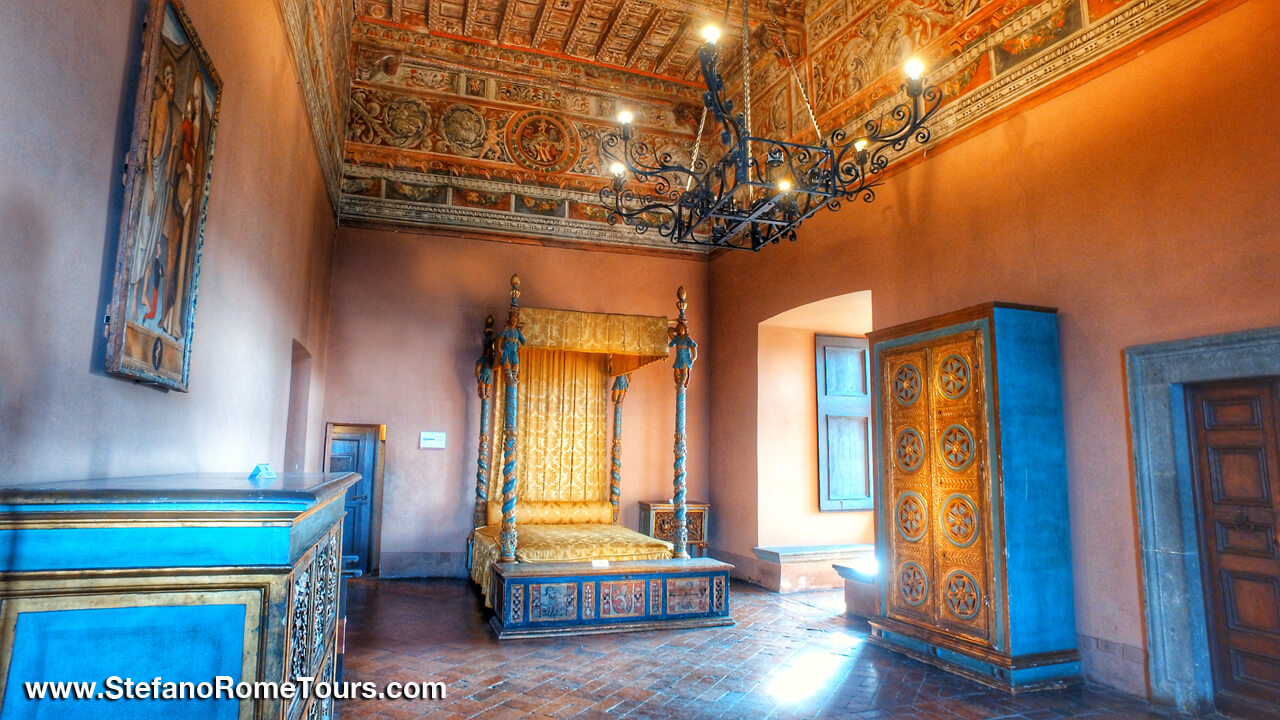 The resplendent rooms are decorated with original furniture from centuries ago, priceless paintings by artists of the Renaissance era, exquisite wall frescoes, ornate ceilings, a castle kitchen large enough to prepare meals for the entire castle, and fine collections of armor and weaponry. With a bit of imagination, you will feel transported back in time to bygone areas of fairytale castles and knightly legends.

A walk on top of the crenelated castle walls along the ramparts where the garrison patrolled in defense of the castle will reward you with a gorgeous view of the shining expanse of Lake Bracciano and the surrounding countryside. An actual volcanic crater, Lake Bracciano is one of the most pristine lakes in Italy.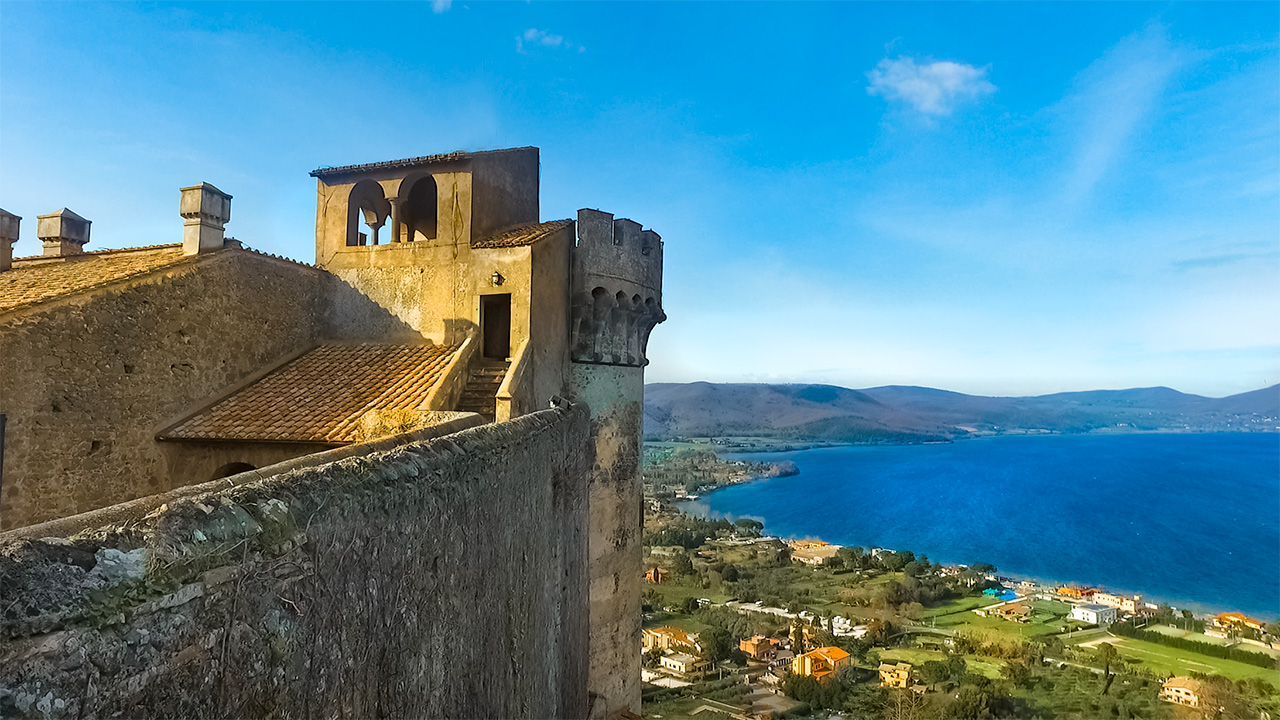 Following your visit in Bracciano, enjoy a comfortable drive to your hotel in Rome committing to memory the medieval wonders you explored in the idyll Roman countryside.

Thank you for booking our Post Cruise Medieval Wonders Countryside Tour from Civitavecchia, and choosing Stefano Rome Tours for your private tours and shore excursions. We look forward to showing you our beautiful Italy!
Important Information
Please READ the important information below as well as Read & Accept our TERMS OF SERVICE and Privacy Policy prior to placing your reservation request(s).


PAYMENT OPTIONS:
Payment for this Post Cruise Medieval Wonders Countryside Tour from Civitavecchia can be made in Euro funds at the end of your journey directly to your driver, or you may prepay in advance via PayPal or Credit Card online when you Confirm your Tour.


CANCELLATION POLICY:
We kindly ask that cancellations be made at least 7 days in advance so we can rebook your service and your reserved driver does not lose work for that day. We thank you for your cooperation and consideration.

** PREPAID SERVICES can only be Refunded the Net Rate we receive from your prepayment. Net Rate is the actual service price minus the fees retained by PayPal/Credit Card that are not reimbursed to us in case of refunds. We can only refund the portion we receive from the PayPal/CC company.


EMAIL INQUIRIES / BOOKING REQUESTS
Please allow up to 24 hours for email correspondence in response to email inquiries and tour reservation requests.
We reply to ALL emails and booking requests we receive. If you don't receive correspondence from us within 24-48 hours please CHECK YOUR SPAM FOLDER, or send us an email from a different E-mail account.
BRACCIANO CASTLE ADMISSION TICKETS :


* BRACCIANO CASTLE TICKETS are approximately 10 Euros per person to be purchased on-site upon arrival (ticket prices are subject to change without notice).
** PRIVATE GUIDED TOUR OF THE CASTLE: Odescalchi Castle offers private guided tours with an English-speaking Guide with advanced Non-Refundable Reservations at just 180 Euros INCLUDING entry tickets. Advance non-refundable prepayment is required as the Castle does not issue refunds for cancellations.
Please inform us upon booking this tour if you wish to have a private guide so we can book a guide on your behalf. Otherwise, you will SELF TOUR the castle on your own.
MEETING POINT at Civitavecchia:
Our driver will meet you on the Pier next to your Cruise Ship at your Tour pick up time holding a sign with the NAME in your reservation.
Please do NOT leave the ship area, and do NOT take a shuttle bus outside the Cruise port.
Look for the driver in the same area as ALL the private drivers who will be waiting for their clients to be disembarked.


LUGGAGE
Please inform us in your reservation (message box) of the total luggage you anticipate bringing (large check-in suitcases and small carry-on cases) so we can provide you with a suitable vehicle to safely accommodate all passengers and their luggage.
A minivan for up to 8 passengers can accommodate up to 6 suitcases and up to 6 carry-on cases in TOTAL.
Please do not leave any personal items and valuables inside the vehicle while away from the vehicle.
YOUR TOUR DRIVER
* This Post Cruise Medieval Wonders Countryside Tour from Civitavecchia provides an English-speaking Driver who is NOT a licensed tour guide.
Italy laws permit only licensed tour guides to accompany guests to sightsee on foot away from the vehicle. To be compliant with Italy laws, your driver cannot lawfully guide you into the sites, and will be obliged to remain with the vehicle while you SELF-TOUR away from the vehicle.

LUNCH IN CERI
Lunch is available only in the town of Ceri, all restaurants are priced at approximately 20 Euros per person depending on what you order from the menu.
There are no panini or pizza places available in the region of this tour, only local restaurants that are famous for their excellent cuisine. Restaurant choices in this region are limited, and we have no control over the menu options or service provided inside any establishment you lunch at.