duration:4 Hours or 6 Hours

Payment method:Cash, Paypal, Credit card

starting time:9:00 AM
highlights
Walk in the footsteps of the ancients during your 2 hour exploration of Ostia Antica
Marvel at the remarkably well preserved ancient structures and imagine life in this once thriving Roman port city
Your personal English speaking Driver will pick you up and drop you off at your Rome hotel
Your personal driver will wait for you while you explore Ostia Antica
Private deluxe vehicle for your journey to Ostia Antica and back
You may extend your Ostia Antica trip to 6 Hours to include time for lunch
You may reserve a Private Licensed Tour Guide for 2 HOUR guided tour of Ostia Antica at additional tour guide fee. Please inquire within via E-Mail for tour guide info and rates
included
Private Deluxe Vehicle to go to Ostia Antica and back
Private English speaking Driver at your service
All applicable Taxes
Highway tolls, parking fees, road expenses
not included
Admission Tickets
Lunch
Gratuities
Licensed Tour Guides / Walking Tours ( * you will Self Tour without a guide)
Private Tour Guide can be reserved upon request at Additional Tour Guide Fee
description
* OSTIA ANTICA TOUR PRICE LIST

4 HOUR TOUR from Rome Hotel


For up to 4 Persons from Rome Hotel: 250 EUROS
For up to 6 Persons from Rome Hotel: 300 EUROS
For up to 8 Persons from Rome Hotel: 350 EUROS


* You may EXTEND your trip by 2 Hours for a total of 6 HOURS to add time to enjoy LUNCH at a nice local Italian restaurant near Ostia Antica at 100 EUROS EXTRA.
Please inform us via E-Mail if you wish to EXTEND your trip to 6 Hours to include additional time for lunch. Lunch is NOT included in the tour fee. Tour Fee does NOT include meals.


** Tour is NOT offered on Mondays as Ostia Antica is CLOSED on Mondays.
*** Dates on the Booking Form Calendar that are NOT Selectable, are NOT AVAILABLE.

Enjoy a visual journey of the magificient ancient ruins in our Ostia Antica Tour VIDEO:


A short drive outside of Rome, you will find yourself amidst the ruins of the ancient Roman city, Ostia Antica.
At its earliest (1400-400 BC), the thriving city of Ostia was located at the mouth of the Tiber River, but due to silting, it is now situated approximately 3 kilometers from the river.
The word "Ostia" means "mouth"; referring to the mouth of the Tiber River.
Ancient tradition suggests that Ostia was founded by the fourth king of Rome, Ancus Marcius, who was believed to have ruled in the late 7th century BC. No archeological remains have been found from this period, and if there was a settlement, it would have been a small city, not a village.
Most of the buildings that have been excavated were built in the first half of the 2nd century AD, when such notable Roman emperors such as Trajan and Hadrian ruled.
Due to the addition of a harbor district, Ostia was rich and prosperous until the Severan period in the early third century. During this time, Ostia's population was roughly 50,000 people, including 17,000 slaves.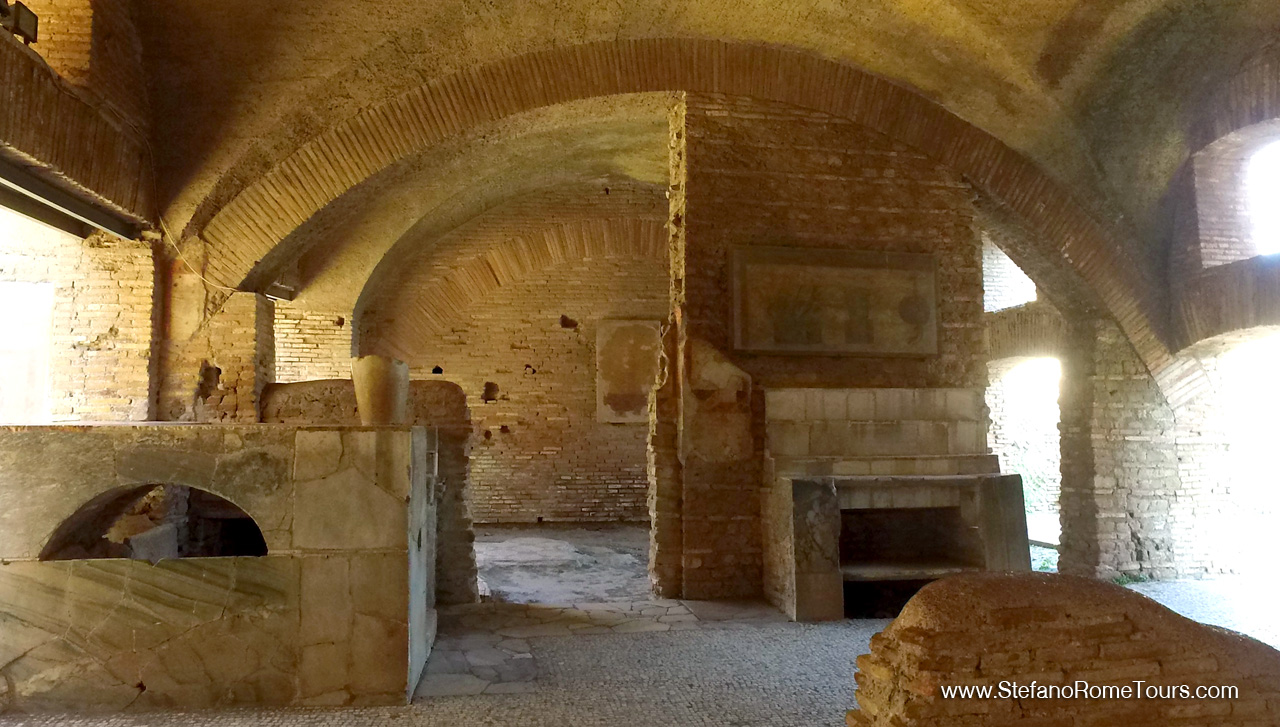 While exploring the ruins on your own during your Osita Antica tour, you will see fascinating remains of many different types of ancient buildings and establishments. Among them are:


Ancient Roman Amphitheater
Ancient Roman apartment buildings, with up to 3-4 upper floors
Medianum Apartments where the commercial middle class citizens lived
The Domus, the home of the upper class
Ruins of former inns, bars and local shops
Ancient baths and communal latrines
The seat of commercial guilds (the "business district" of Ostia)
Workshops, such as bakeries and cloth making shops
Temples and shrines dedicated to traditional and oriental deities
Remains of wall frescoes
Mosaics
Sculptures
Ancient Graffiti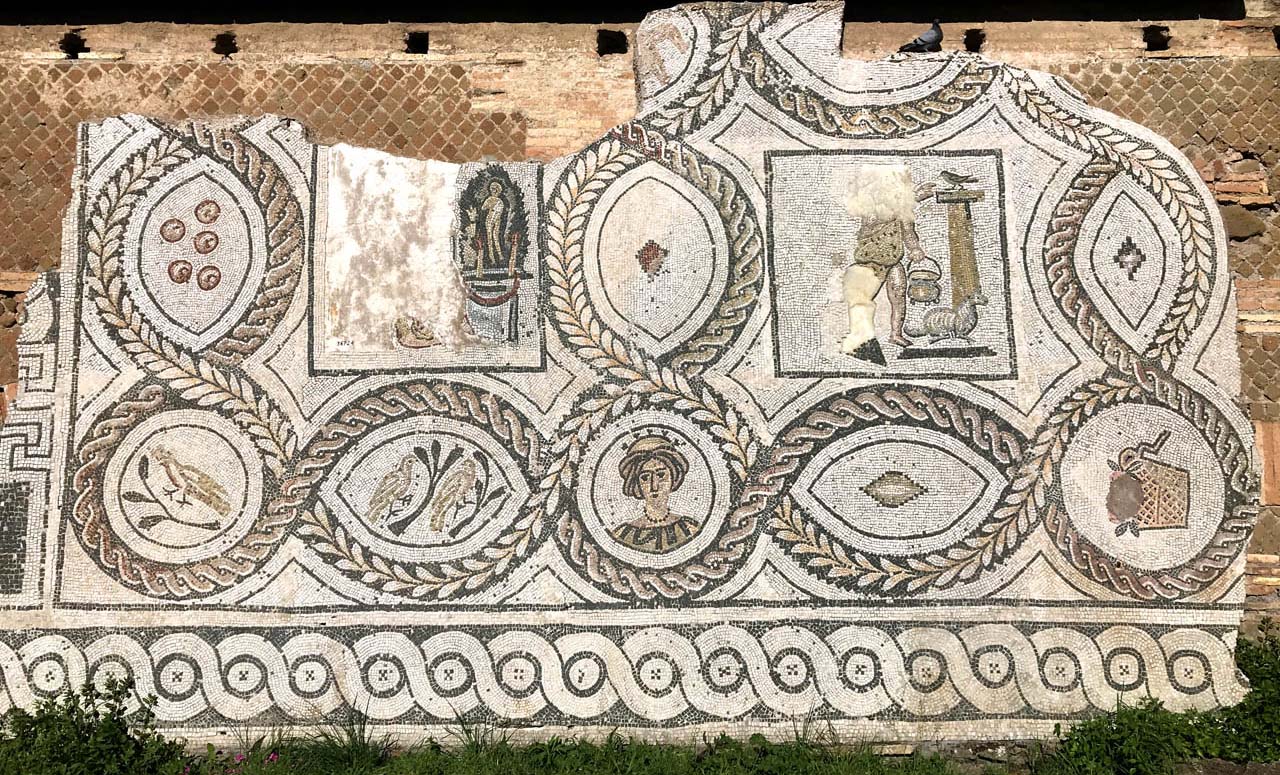 One of Ostia's most striking features are the baths found throughout the city, some being very large with expensive decorations.
From the fifteenth to eighteenth century, the ruins were searched by foreign visitors for inscriptions and statues. These made their way to private collections in England, France, Portugal, Spain and Russia. They are now mostly in national museums.
You will also see the ancient amphitheatre, where the wealthy and poverty-stricken citizens alike witnessed countless events through the centuries.


Thank you very much for booking your Ostia Antica tour with Stefano Rome Tours. We look forward to meet you and to show you beautiful places in Italy!


If you wish to make your Ostia Antica visit into a Full Day of exploration of compelling ancient sites, we suggest our OSTIA ANTICA AND CERVETERI Full Day Tour that combines the best of Ancient Rome, ancient Etruscans, and Medieval era.
Enjoy a visual journey to OSTIA ANTICA AND CERVETERI in our Exclusive Tour VIDEO:

Important Information

Please READ the important information below as well as Read & Accept our TERMS OF SERVICE and Privacy Policy prior to placing your reservation request(s).


PAYMENT OPTIONS for Ostia Antica Tour:
Payment for this Ostia Antica Tour can be made in Euro funds at the end of your journey directly to your driver, or you may prepay in advance via PayPal or Credit Card online when you Confirm your Tour.
CANCELLATION POLICY:
We kindly ask that cancellations for all our Rome limo tours be made at least 7 days in advance so we can rebook your service and your reserved driver does not lose work for that day. We thank you for your cooperation and consideration.
** PREPAID SERVICES can only be Refunded the Net Rate we receive from your prepayment. Net Rate is the actual service price minus the fees retained by PayPal/Credit Card that are not reimbursed to us in case of refunds. We can only refund the portion we receive from the PayPal/CC company.
EMAIL INQUIRIES / BOOKING REQUESTS
Please allow up to 24 hours for email correspondences in response to email inquiries and tour reservation requests.
We reply to ALL emails and booking requests we receive. If you don't receive correspondence from us within 24-48 hours please CHECK YOUR SPAM FOLDER, or send us an email from a different E-mail account.
ADMISSION TICKETS
* OSTIA ANTICA tickets are currently 12 Euros per person.
Tickets can be purchased at the site before entering. Ticket prices go up when there are exhibitions inside the site. Ticket prices are also subject to change without advance notice.
YOUR STEFANO ROME TOURS DRIVER
* This Ostia Antica tour provides an English speaking Driver who is NOT a licensed tour guide.
Italy laws permit only licensed tour guides to accompany guests to sightsee on foot away from the vehicle. To be compliant with Italy laws, your driver cannot lawfully guide you into the sites, and will be obliged to remain with the vehicle while you sightsee
* On this Ostia Antica Tour you will SELF TOUR (unaccompanied by your driver) inside Ostia Antica and when away from the vehicle, unless you wish to Reserve a Licensed Tour Guide for Ostia Antica.
PRIVATE GUIDED TOUR OF OSTIA ANTICA
You have the option to book a private tour with a Licensed Tour Guide for a 2 HOUR indepth walking tour of Ostia Antica. Please inquire via E-Mail for more information and private tour guide fees.
Meeting Point at your Rome hotel / accommodation:
For hotel pick ups, your driver will meet you inside your hotel lobby, or area permitted by your hotel.
For Apartments or B&B's without a lobby, your driver will meet you at your address outside the main entrance.
* If your hotel / accommodation is situated on a street or in an area that is restricted to vehicle traffic, your driver will park the vehicle as close as lawfully possible, and will meet you on foot at your Address. From there, your driver will accompany you to your parked vehicle. Door to Door service may not be possible on streets or squares with restrictions to vehicles and stops.
OSTIA ANTICA TOUR TIPS:
* Please wear comfortable shoes and clothing, as you there is quite a bit of walking involved in this tour.
* Ostia Antica is an archaeological site with uneven terrain to walk on. Watch your step at all times during your visit.
* There are many opportunities to take photographs and videos, so have plenty of film and batteries in your cameras!
* During the summer months please be sure to wear sunscreen, sunglasses and a summer hat to keep your head cool.