Payment method:Cash, Paypal, Credit card

starting time:8:00 AM
highlights
Your travel adventures continue on your Debarkation day with a post-cruise tour to Tuscany from Civitavecchia
Your personal English-speaking driver will meet you on the Pier next to your ship
Wine and Food Lovers will celebrate the flavors of Tuscany's excellent wines, cheese, and local cuisine
Admire spellbinding vistas of the Valley of Orcia and Valley of Chiana that inspired poets and artists for centuries
Sample some of Italy's finest "Vino Nobile di Montepulciano" red at various wine shops in Montepulciano
Appreciate free time on your own to sightsee and explore this historic hilltop town
Exult in a visit to Pienza whose historic center has earned its place as a UNESCO World Heritage Site
Reward your tastebuds with "pecorino di Pienza" cheese locally produced from free-grazing sheep's milk
Tour in comfort and style in your private deluxe vehicle and personal Driver at your service
Your luggage will travel safely with you stowed in your vehicle's luggage compartment
Convenient drop-off at your hotel in Rome at the conclusion of your Tuscany post-cruise tour
* This tour is ONLY possible as a POST-CRUISE TOUR from Civitavecchia on Debarkation Day. with drop-off at your hotel in Rome.
This tour is not offered as a shore excursion returning back to the ship in the afternoon as the duration of this tour is not compatible with shore excursions
included
English speaking Driver
Private Deluxe Vehicle
All VAT and Italy Taxes
Highway Tolls
Parking Fees
not included
Lunch
Wine Tasting fees ( if visiting wine shops that have wine tasting fees)
Winery visits ( wine tasting and wine cellars is possible only at in-town wine shops)
Tour Guide / Walking Tours
Gratuities
description
Your cruise vacation adventures continue on your Debarkation day with a post-cruise tour from Civitavecchia to Tuscany to explore the resplendent hilltop towns of Montepulciano and Pienza, each surrounded by two of Tuscany's most enchanting valleys.
Tuscany is not only legendary for its breathtaking beauty but also for its exquisite flavors that are authentic to the region. Celebrate all your senses on a Tuscany Post Cruise Tour to Montepulciano and Pienza from Civitavecchia with Stefano Rome Tours!
** This Tuscany Post Cruise to Montepulciano and Pienza starts from Civitavecchia on your Debarkation Day and ends at your hotel in Rome. This tour is NOT possible as a Shore Excursion from Civitavecchia with a return back to your ship in the afternoon due to the duration of the tour.
POST CRUISE TOUR TO MONTEPULCIANO AND PIENZA Prices:


For up to 4 Persons from Rome Hotel: 650 EUROS
For up to 6 Persons from Rome Hotel: 690 EUROS
For up to 8 Persons from Rome Hotel: 750 EUROS


* DATES on the Booking Form Calendar that are NOT Selectable, are NOT AVAILABLE.
** Please include your DROP-OFF HOTEL NAME and ADDRESS IN ROME in the MESSAGE BOX of your booking form.
Enjoy a visual journey of Pienza and Montepulciano on our Tuscany Tour VIDEO:
Visit MONTEPULCIANO

Once you meet your driver on the Pier next to your ship in Civitavecchia, your post-cruise tour to Tuscany begins with a relaxing and leisurely drive through this magical region of Italy to Montepulciano.
Montepulciano is an ancient hill town in southern Tuscany whose ancestry reaches as far back as the Etruscans. This advanced ancient Pre-Roman civilization once ruled over this land called Etruria. Even the region "Tuscany" owes its name to the beguiling Etruscans.
Perfectly located on the top of a hill surrounded by the stunning Val di Chiana (Valley of Chiana), Montepulciano is Tuscany at its finest. It's easy to understand why centuries ago Siena and Florence repeatedly fought over Montepulciano.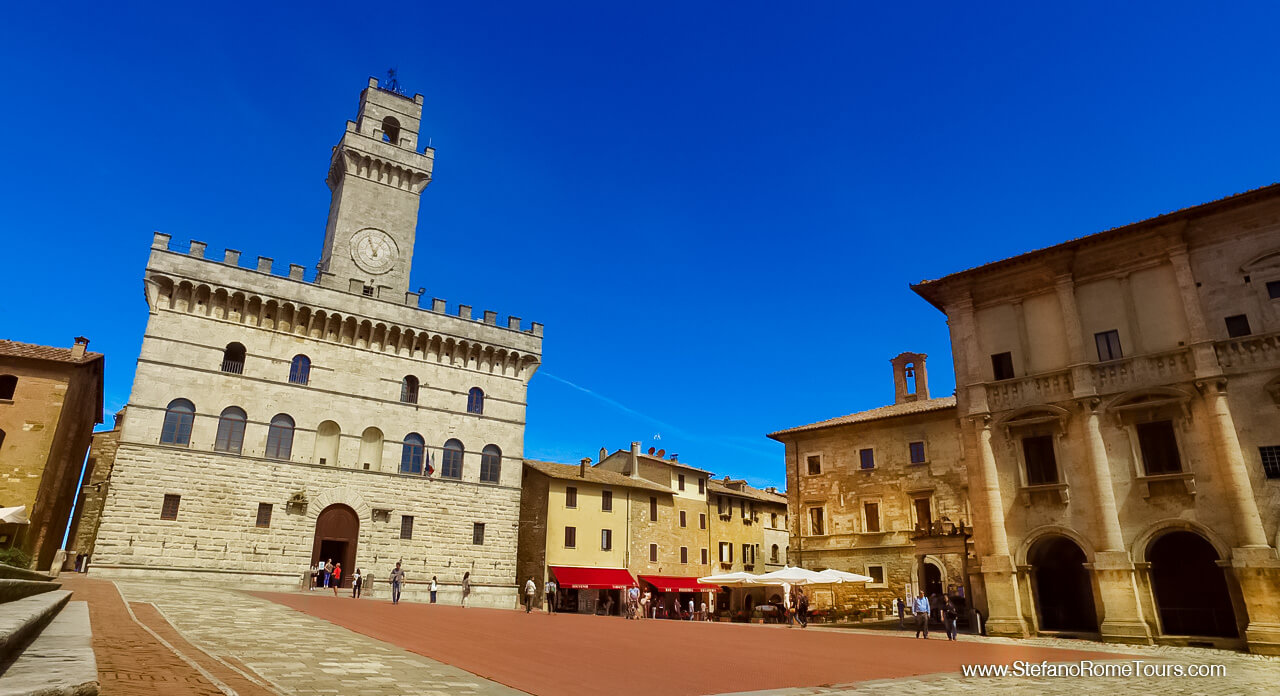 Pedestrian-friendly medieval lanes will lead you to many of Montepulciano's treasures: imposing architecture, local artisan shops, gastronomic boutiques, enoteche, and wine cellars with ample opportunities for wine tastings.
The upper area of Montepulciano vaults the spacious square Piazza Grande surrounded by magnificent palazzi and the Cathedral of Montepulciano. Not far from Piazza Grande is the 13th-century Fortress of Montepulciano which has been repeatedly destroyed and reconstructed following ongoing battles between Florence and Siena for control over Montepulciano.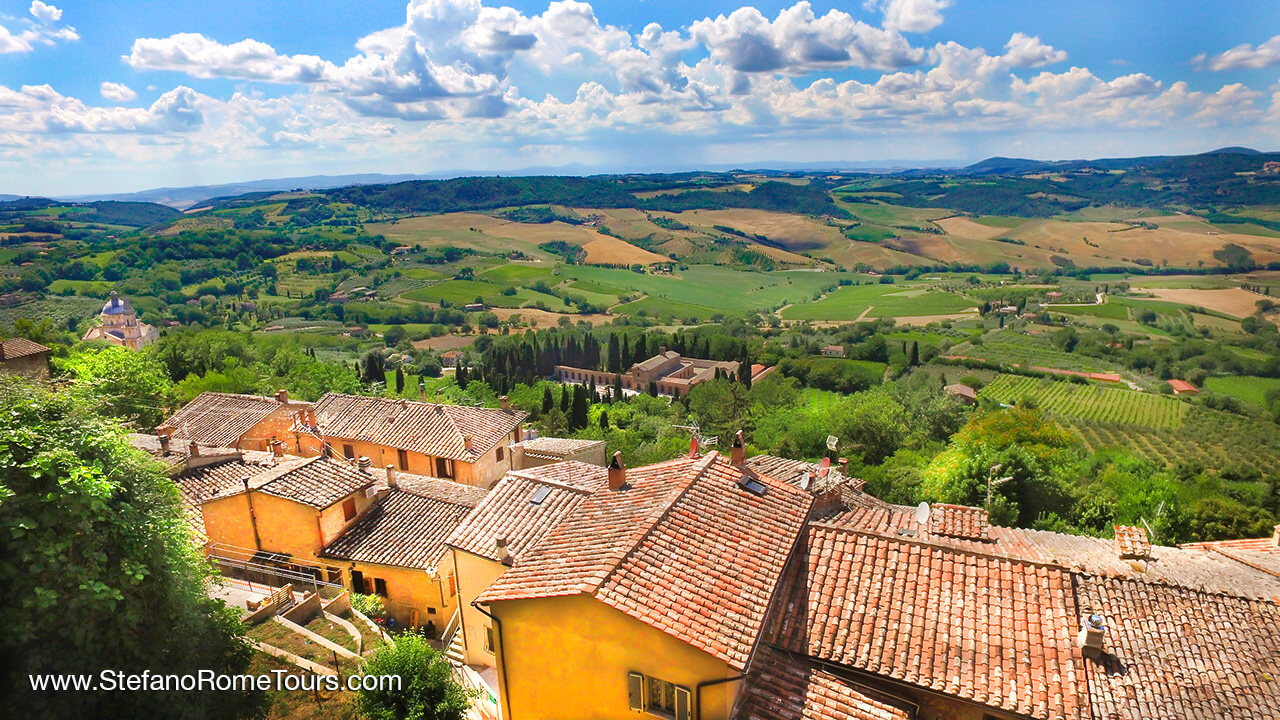 A stroll to the edge of the town's outer walls will reward you with picturesque vistas of the Tuscan countryside.
Italians' passion for food and wine is particularly strong in Tuscany! You may lunch at a local ristorante either in Montepulciano or Pienza. Relish a glass of local red with your Tuscan cuisine for the quintessential Italian lunch!
PIENZA - the Renaissance "utopian city"

Your Tuscany Post Cruise Tour continues with a visit to Pienza, an enchanting Renaissance utopia that revolutionized city planning. The town's historical center has been bestowed the prestigious honor of being a UNESCO World Heritage site.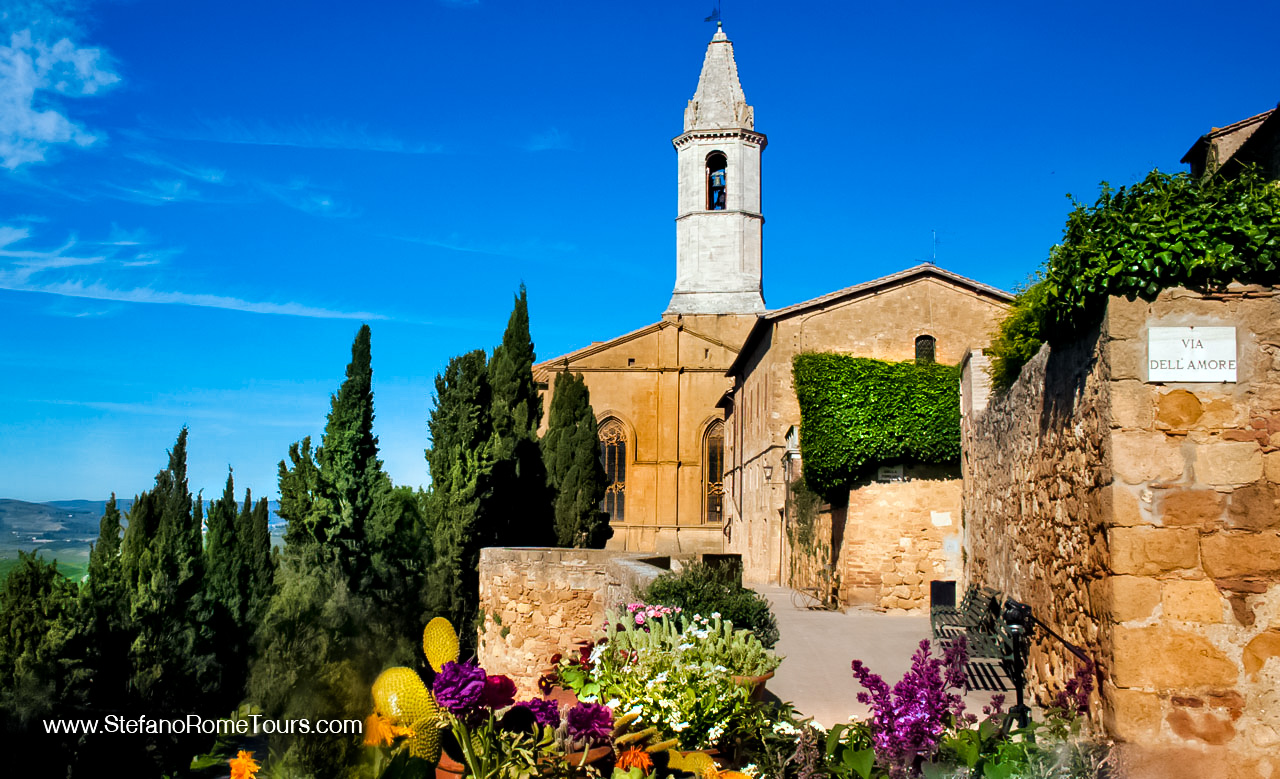 Pienza was named after Pope Pius II, the homegrown pope who transformed the existing village of Corsignano into his vision of the ultimate 15th-century Renaissance "utopian city" where the first time humanistic concepts were applied to create a model of ideal urban living, a plan that inspired its implementation to other Italian as well as European cities.
Charming nooks and crannies reveal local treasures within its shops and boutiques. Narrow romantic streets with endearing names like Via dell'Amore (Street of Love) and Via dell Bacio (Street of the Kiss), will lead to the top of city walls that will surprise you with a breathtaking panorama of Val d'Orcia - a valley worthy of its own place on the list of UNESCO's World Cultural Landscapes.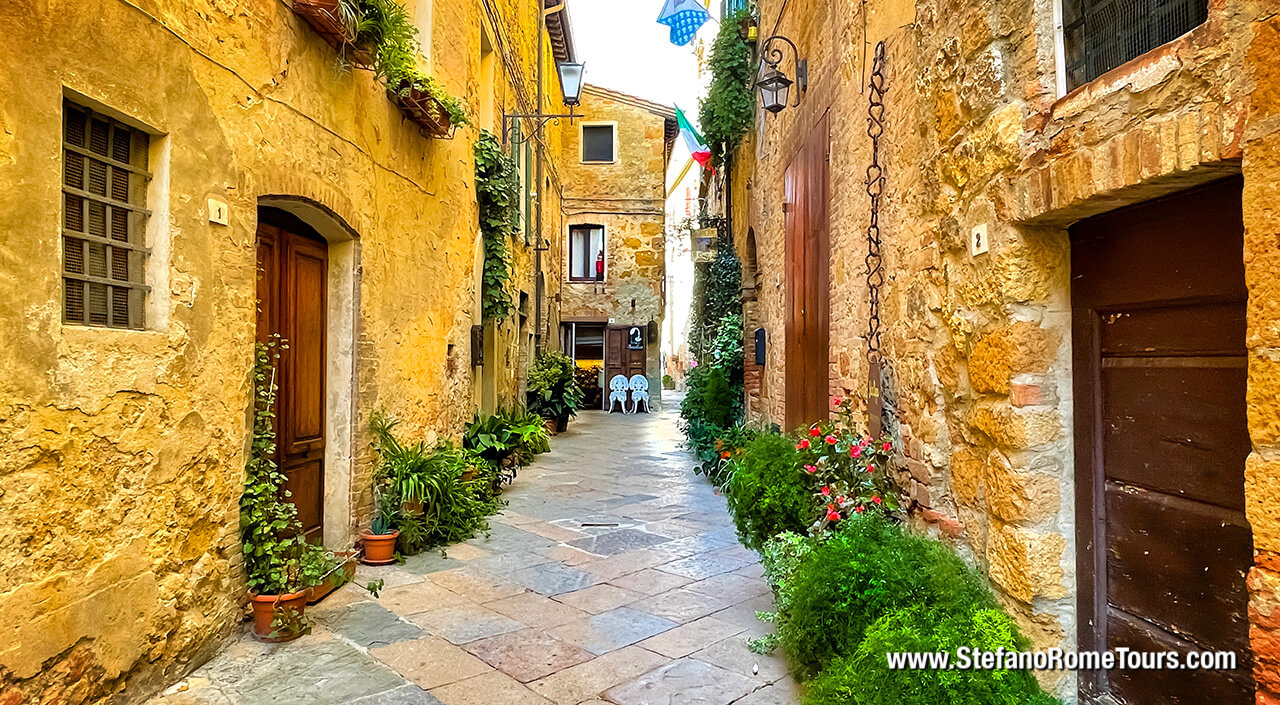 Those with a discerning palate for gastronomic delights will love Pienza's other claim to fame: Pecorino di Pienza, the local production of one of the finest pecorino cheese in Italy made from the milk of sheep that graze on the lush pastoral grasslands surrounding Pienza.
From soft and buttery fresh pecorino (pecorino fresco), to pecorino aged (pecorino stagionato) enriched by various coatings and mixed with different subtle flavors, you will uncover the distinct flavors the local cheeses at various locally owned gastronomic boutiques throughout Pienza.
Following your visit to Pienza, you will join your driver for a relaxing journey through the lovely Tuscan countryside to the Eternal City of Rome where you will be taken directly to your hotel.
We thank you for booking our Tuscany Post Cruise Tour to Montepulciano and Pienza and for choosing Stefano Rome Tours for your Italy Private Excursions. We look forward to showing you Italy!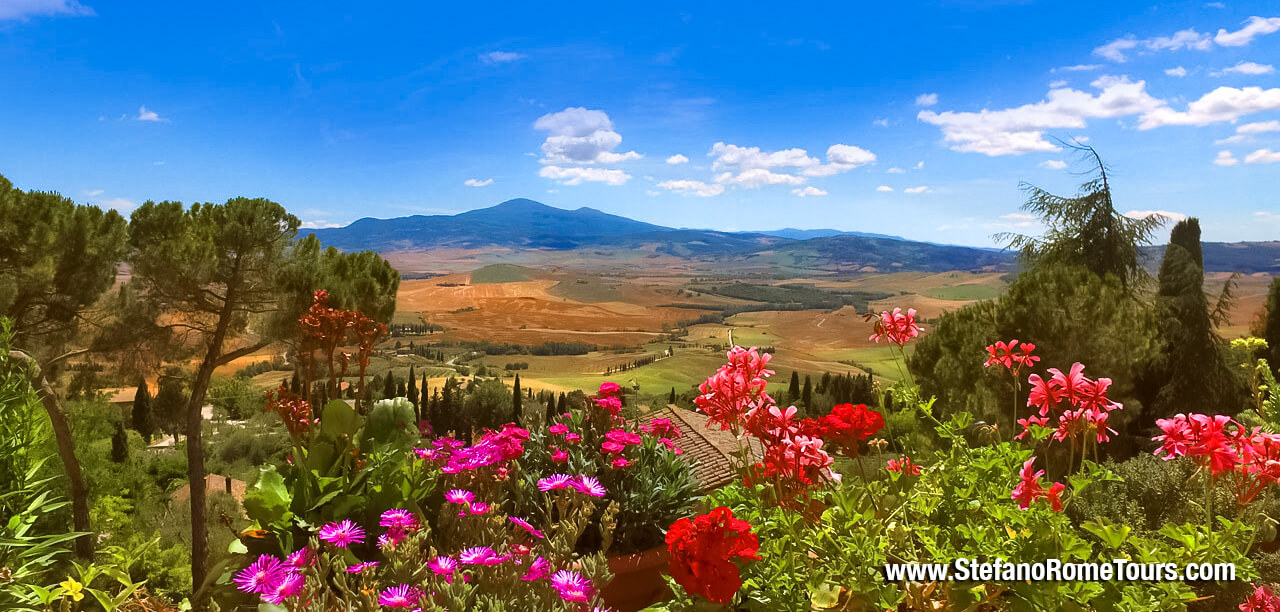 Important Information

Please READ the important information below as well as Read & Accept our TERMS OF SERVICE and Privacy Policy prior to placing your reservation request(s).



PAYMENT OPTIONS:
Payment for this Tuscany Post Cruise Tour to Montepulciano and Pienza can be made in Euro funds at the end of your journey directly to your driver, or you may prepay in advance via PayPal or Credit Card online when you Confirm your Tour.
CANCELLATION POLICY:
We kindly ask that cancellations be made at least 7 days in advance in writing via E-Mail. Cancellations by phone, text, or 3rd party who is not the person who booked the service are NOT accepted.
** PREPAID SERVICES can only be Refunded the Net Rate we receive from your prepayment. Net Rate is the actual service price minus the fees retained by PayPal/Credit Card that are not reimbursed to us in case of refunds. We can only refund the portion we receive from the PayPal/CC company.
EMAIL INQUIRIES / BOOKING REQUESTS
Please allow up to 24 hours for email correspondence in response to email inquiries and tour reservation requests.
We reply to ALL emails and booking requests we receive. If you don't receive correspondence from us within 24-48 hours please CHECK YOUR SPAM FOLDER, or send us an email from a different E-mail account.
LUGGAGE
Please inform us in your reservation (message box) of the total luggage you anticipate bringing (large check-in suitcases and small carry-on cases) so we can provide you with a suitable vehicle to safely accommodate all passengers and their luggage.
A minivan for up to 8 passengers can accommodate up to 6 suitcases and up to 6 carry-on cases in TOTAL.
Please do not leave any personal items and valuables inside the vehicle while away from the vehicle.
MEETING POINT AT CIVITAVECCHIA
For tours from Civitavecchia, your driver will meet you on the Pier next to your Ship at your tour's scheduled pick-up time holding a sign with the NAME in your reservation.
Do NOT leave the ship area, and do NOT take a shuttle bus outside the port.
Look for your driver in the same area on the Pier as ALL private drivers will be waiting for their clients. After you meet your driver you will be accompanied to your vehicle and your Rome private shore excursion will begin with a leisurely drive from Civitavecchia to Rome.
YOUR STEFANO ROME TOURS DRIVER
This Montepulciano and Pienza Tour provides an English-speaking Driver who is NOT a Licensed Tour Guide or a sommelier.
Italy has strict laws and regulations aimed to protect official licensed guides that make it unlawful for Drivers to act as tour guides or accompany guests to sightsee on foot away from the vehicle. In order for us to comply with Italy's laws, Drivers are required to remain with the vehicle while guests sightsee on their own away from the vehicle.
On this Montepulciano and Pienza Tour by car, you will SELF TOUR (unaccompanied by your driver) when away from the vehicle.
WINE TASTING IN MONTEPULCIANO
* Wine tasting fees vary, and it may cost anywhere between 5-15 Euros per person depending on the wine shop you wish to visit. Wine fees are paid directly to the wine shop.
* Wine tasting in Montepulciano is possible only in town at various wine shops operated by local wine producers. This tour does not include visits to wineries outside of the town of Montepulciano.
* Please taste wine responsibly, and never on an empty stomach. Excessive consumption of wine may interfere with the enjoyment of your tour. In case excessive consumption of wine and/or alcohol results in your desire to return to your hotel early, please be advised that you will not be reimbursed for the remaining portion of the tour, and will be charged the full fare of the tour as originally booked.
What is Vino Nobile di Montepulciano / Noble Wine of Montepulciano?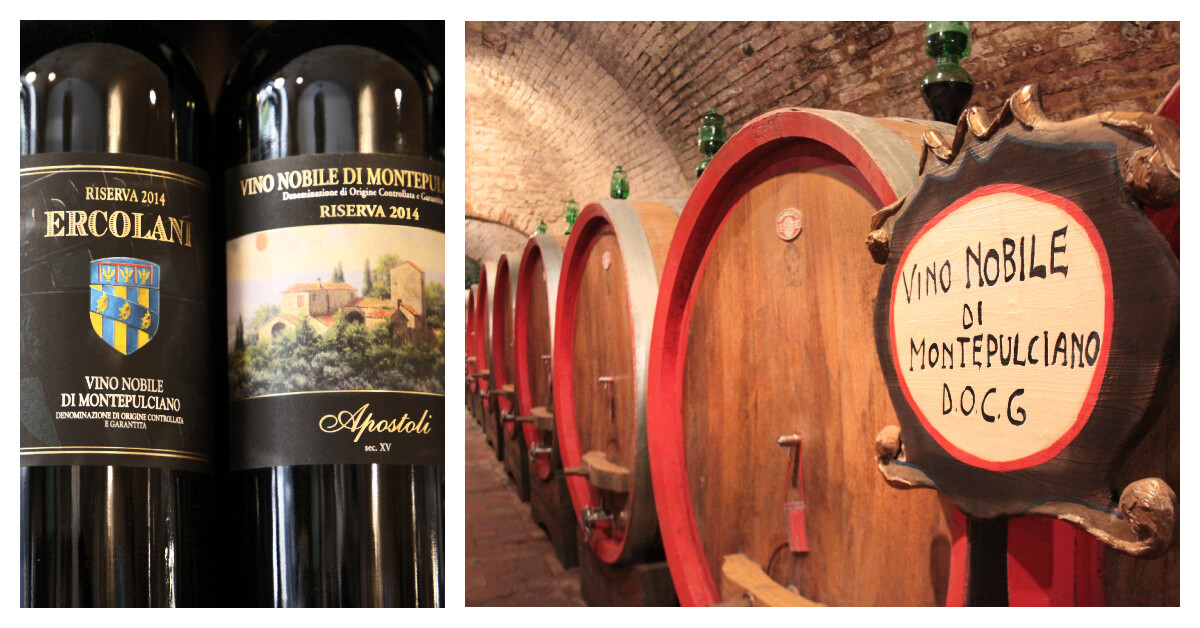 Tuscany is world-renowned for its many exceptional wines, but "Montepulciano is King of all wines" according to the famous poem, Bacchus in Tuscany written by the 17th-century Italian poet Francesco Redi.
Vino Nobile di Montepulciano (The Noble Wine of Montepulciano), is one of Tuscany's classic reds favored by royalty and aristocracy since Lorenzo de Medici in the 15th century.
Vino Nobile di Montepulciano has also been exalted to the coveted DOCG status - Denominazione di Origine Controllata e Garantita.
According to the stringent DOCG regulations, the wine must contain at least 70% Sangiovese grapes from vineyards surrounding Montepulciano, up to 20% Canaiolo grapes, and up to 20% other red varieties.
Vino Nobile must also be aged for two years in oak or chestnut barrels before being released. Riserva labels require three years of aging. The robust Vino Nobile di Montepulciano has found its special place in wine collectors' cellars and dinner tables around the world.